Ferrari admit they misjudged the cut-off qualifying time for Leclerc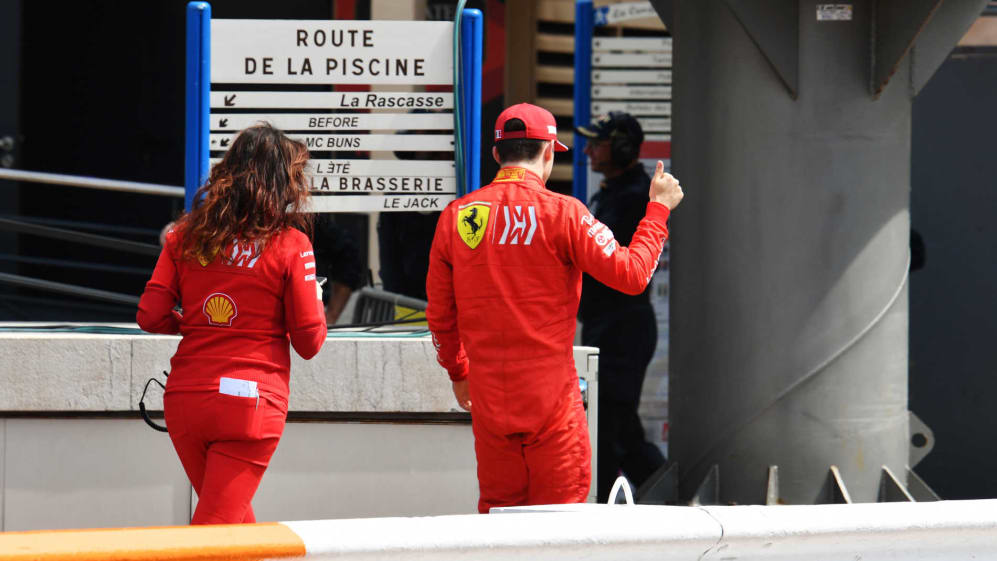 Answers. That's what Charles Leclerc demanded after he was surprisingly bumped out of qualifying at his home Grand Prix in Monaco in the opening segment of the session. Ferrari Team Principal Mattia Binotto was the man to deliver them, admitting the Italian team simply misjudged the lap time that Leclerc required to progress to Q2.
Leclerc showed a turn of speed in final practice that suggested he would be in the hunt for pole, and was inside the top 10 as the first segment of qualifying drew to a close. But as he sat in the garage, a flurry of drivers improved, dropping him into the elimination zone and out of the session.
READ MORE: 'I need some explanations' – Leclerc demands answers from Ferrari after shock Q1 exit in Monaco
"It's a very difficult one to take," said Leclerc, who will start Sunday's race in Monte Carlo from 15th, in the immediate aftermath. But what had happened? Ferrari boss Binotto doesn't usually speak to the media after qualifying, but the team arranged a press conference so he could explain...
"It is not a good day for us certainly," said the Italian. "I think we made a mistake. It has been a misjudgement, a wrong evaluation of what we call the cut-off time. The cut-off time is the threshold by when we believed we are comfortable to get into the next session.
"The cut-off time is calculated in real-time based on what we see on the track. When the cut-off time is calculated, we normally add a margin on top of it and the margin is good enough to afford for any tolerances, uncertainty, whatever might happen during the session normally.
"Certainly what happened today was the margin we applied was not sufficient. There are two reasons – the first is the track improvement has been very significant by the end of Q1. The second is that probably our margin did not considering enough variability due to drivers' maybe confidence by driving through Monaco.
"Certainly in Monaco, that margin needs to be increased in future no doubt."
Ferrari trail Mercedes by 96 points in the constructors' championship. They have a best finish of third in 2019, with the Silver Arrows scoring five successive one-twos. Given they are chasing, Binotto says the Scuderia are faced with having to take risks in order to catch up – and that was evident on Saturday.
"We are facing a situation where we need to catch up points in the championship and when you need to catch up you need to take some risks as well," he said. "By taking margin on everything we are doing. In the case of today, taking margin would mean to use a second set of tyres, to miss a set of tyres for Q2 and Q3.
"Today we took some risks to perform as well as we could in Q2 and Q3 against our competitors. But there is no doubt, when you look at that, the implication of entering into Q2 is even bigger than trying to challenge them in the final part of qualifying in Q3."
Binotto admitted the team "should have overruled" the data but "we didn't". He added: "When you've got tools and simulations, you should trust what you are doing." He also said that he isn't looking to change the team's procedures or the people in key positions surrounding strategy.
"We've got the right people," he said. "We've got the right procedures but we need to improve our tools. We are open to new opportunities of looking at what we did and how we may do it differently in the future. It is something we will address from the next race onwards, no doubt."