Ferrari confirm Binotto replaces Arrivabene as Team Principal
A major shake-up at Ferrari was expected after initial reports in Italy of a management restructure emerged on Monday, and the Scuderia have now confirmed Maurizio Arrivabene has been replaced as Team Principal by Mattia Binotto, who steps up from his role as Technical Director.
The Prancing Horse have opted to make the change after a tough 2018 campaign, which saw them fail to win either title despite a promising start to the season, with Mercedes securing a fifth successive double world championship.
A Ferrari statement said: "After four years of untiring commitment and dedication, Maurizio Arrivabene is leaving the team. The decision was taken together with the company's top management after lengthy discussions related to Maurizio's long term personal interests as well as those of the team itself.
"Ferrari would like to thank Maurizio for his valuable contribution to the team's increasing competiveness over the past few years, and wish him the best for his future endeavours.
"With immediate effect, Mattia Binotto will take over as Scuderia Ferrari's Team Principal. All technical areas will continue to report directly to Mattia."
It is understood there were tensions between Arrivabene - who had been chief of the iconic team since December 2014 - and Binotto last season, with the former under increasing pressure amid a string of team errors over the course of 2018.
The chances of a leadership change increased when John Elkann took over as Ferrari president midway through last term, following Sergio Marchionne's death, and the change was confirmed on Monday, with Binotto now tasked with leading Ferrari's quest to return to their heydays.
Binotto has risen through the Ferrari ranks over the last two decades with many crediting the Italian team's power unit gains to him, after he took over as power unit Chief Operating Officer ahead of 2015.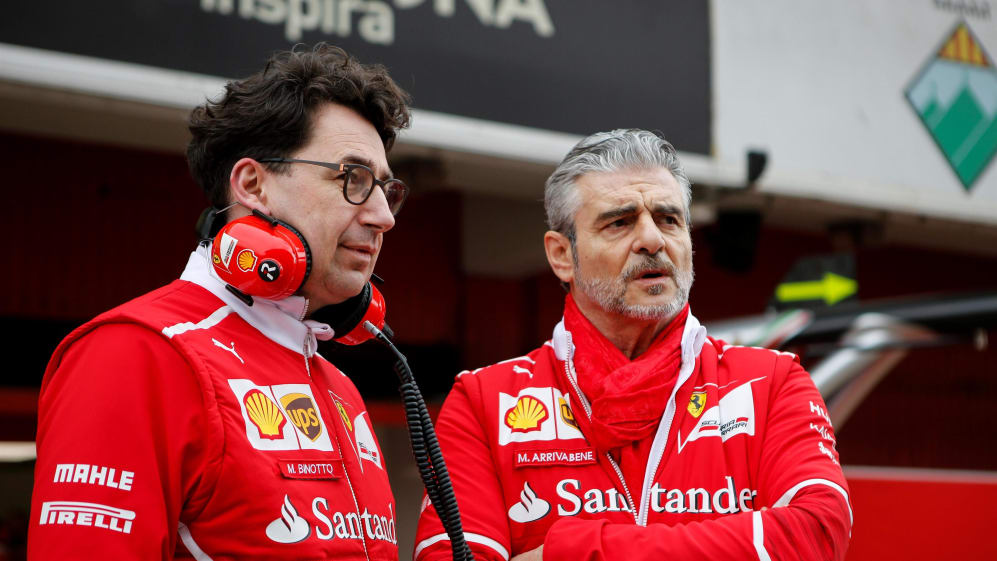 The news, first reported by La Gazzetta dello Sport on Monday, comes after Ferrari again lost out to Mercedes in the battle for both drivers' and constructors' championships last year, despite beginning the season with perhaps the strongest package on the grid.
Ferrari lost their way with development after the summer break, allowing Mercedes to pull clear in the constructors' race, and Lewis Hamilton ultimately got the better of Sebastian Vettel to clinch a fifth drivers' crown.
Lawrence Barretto [Senior Writer, F1.com] says…
So it's official. Maurizio Arrivabene is no longer at the helm at Ferrari. There has been talk of his exit for more than a year. He was even linked with a move to Italian football club Juventus. That talk then intensified towards the end of last season, particularly as tensions grew between him and Technical Director Mattia Binotto.
Binotto was the man it is widely believed former Ferrari President Sergio Marchionne – who passed away last July – had wanted to take the running of the team for next season. That tension threatened to become toxic. Ferrari were faced with a dilemma.
Arrivabene has led Ferrari throughout their most successful period for a decade, but his leadership style was questioned. In contrast, Binotto has played a huge role in Ferrari's engine gains in recent years as well as their recent improvements on the aero side.
That led to several teams being interested in enticing him away from Maranello. Given his success, in a reasonably short amount of time, it's no wonder Ferrari have moved quickly to lock him down, at the expense of Arrivabene.
A change of leadership at this stage is far from ideal, with only a few weeks to go until testing starts. And while strong technically and great with the staff, it's unclear whether Binotto has the commercial experience required to deliver in this role. But the deed has been done.
Binotto is a Ferrari lifer, has proved his worth for more than two decades and now has the opportunity to write himself into the Scuderia's legend, with Ferrari closer than ever to being champions again.