Ferrari explain pit stop error that led to mechanic injury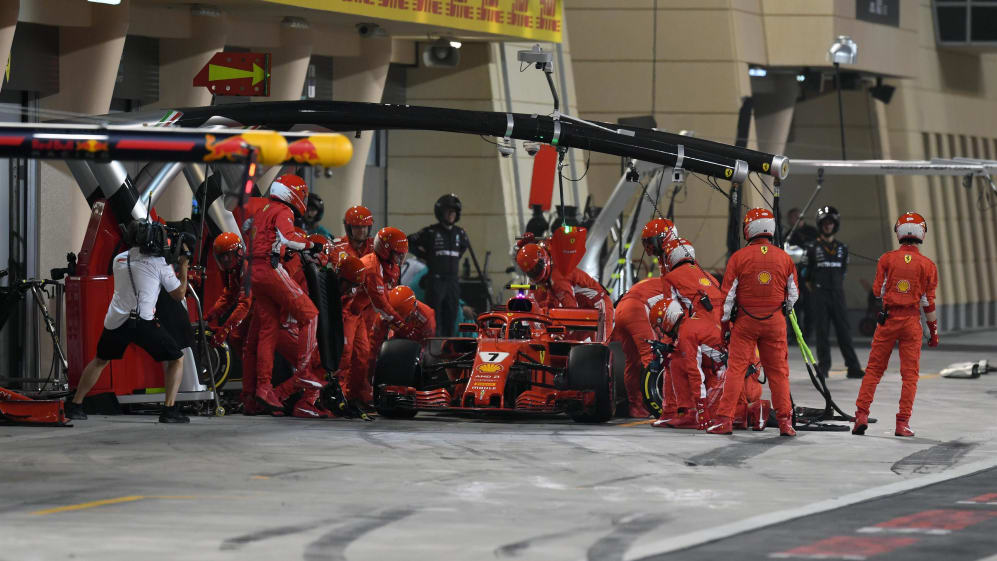 A sensor problem – that's what a Ferrari investigation has found was the reason for Kimi Raikkonen being instructed to leave his pit box too early in last weekend's Bahrain Grand Prix, resulting in one of his mechanics suffering a broken leg.
There was an issue removing the left-rear tyre when Raikkonen boxed for the second time in Sakhir, meaning pit crew member Francesco Cigarini was unable to fit the new tyre.
However, a green light was given to signal the pit stop was complete and Raikkonen duly pulled away, knocking Cigarini to the ground. He was taken to hospital for surgery, having suffered a double leg fracture.
Ferrari were handed a €50,000 fine for the unsafe release, which came hot on the heels of Haas's double unsafe release in Australia, with Ferrari Team Principal Maurizio Arrivabene saying the team made it a priority to uncover what had happened.
"The team was hurt," said Arrivabene. "We have a person who was injured, so it was in our interest to review the overall procedure.
"We have a procedure to ensure that the pit stops during the race are done in the most safe mode. In this case we have three factors – one involves human control, the other involves mechanical, the other involves [an] electronic device [sensor].
"What's happening there is we have a mishandling of the rear left. It was not perfectly read by the electronic device that gives the green light.
"We went through all the procedures together with the FIA, making sure that this thing doesn't happen again, and it's in our interest, because we care about our people, before anything else."
It appears Ferrari's system thought the tyre had been changed, as the wheelgun had been engaged and then disengaged. Measures have since put in place in a bid to avoid a repeat scenario.
Arrivabene said Cigarini was "fine" and went back home to Italy on Thursday.
He added: "I would like to thank our team doctor, the medical staff of the FIA and also the authorities in Bahrain.
"They immediately granted to us the best doctors in Bahrain to do the surgery and they were assisting us 24 hours [a day], so thanks to all of them."
Unsafe releases remained a big talking point in China on Friday, with McLaren the latest team to suffer an issue with Stoffel Vandoorne stopping in FP2 with a suspected loose wheel.