FIA confirm Formula 2 racers Fittipaldi and Pourchaire both recovering after Jeddah crash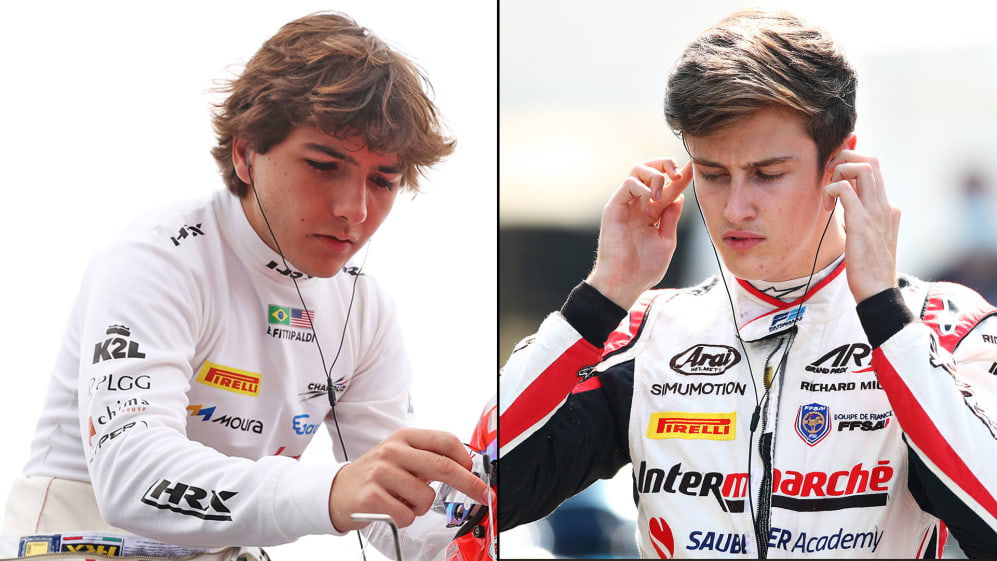 The FIA have provided an update on the condition of Formula 2 racers Enzo Fittipaldi and Theo Pourchaire, who were taken to hospital following a crash at the start of the Feature Race on Sunday in Saudi Arabia.
The statement confirmed that Pourchaire was discharged from hospital on Sunday evening after tests revealed that there were no ongoing issues.
Fittipaldi remained in hospital overnight for observation after suffering a fracture to his right heel and a lesion on his left eyebrow, but was said to be "making good progress."
READ MORE: F2 racers Pourchaire and Fittipaldi transferred to hospital after Jeddah crash
Both drivers had already provided updates from their social media channels, with Fittipaldi posting: "Hey guys, I am very grateful that I only broke my heel and have some cuts and bruises.
"Thank you all for the messages, as well as the FIA and medical staff for taking great care of me. I am very happy that Theo is ok. I will be back on track soon and faster than ever."
Oops! Error retrieving Twitter post
After being discharged from hospital on Sunday evening, Pourchaire said: "Hey everyone, just wanted to tell you that I'm globally fine! For the moment I don't know if it's already the end of the season for me.
"But the most important is not that, that was a really big one and Enzo is injured. I wish him the best recovery possible!"
The two drivers collided at the start of the Feature Race at Jeddah after Pourchaire stalled on the grid. Fittipaldi was unable to avoid Pourchaire and ran into the back of the stationary ART.
F2: Piastri wins shortened Saudi Arabian Feature Race as PREMA clinch teams' championship
Oops! Error retrieving Twitter post
The pair's crash led to a lengthy red flag, after which the race was shortened to 20 minutes and one lap.
However, the race was ended prematurely when Guilherme Samaia and Olli Caldwell came together. Oscar Piastri was confirmed as the race winner and awarded half points, along with the rest of the top 10.
The FIA statement read: "Following transfer to King Fahad Armed Forces Hospital, Jeddah, medical investigations revealed no ongoing issues for Pourchaire, who was discharged from their care that same evening.
"Fittipaldi was found to have a fracture on his right heel and a lesion on his left eyebrow. He spent the night in the ICU for observation and is making good progress."