FIA explain use of F1's 'yellow card' for Leclerc at Monza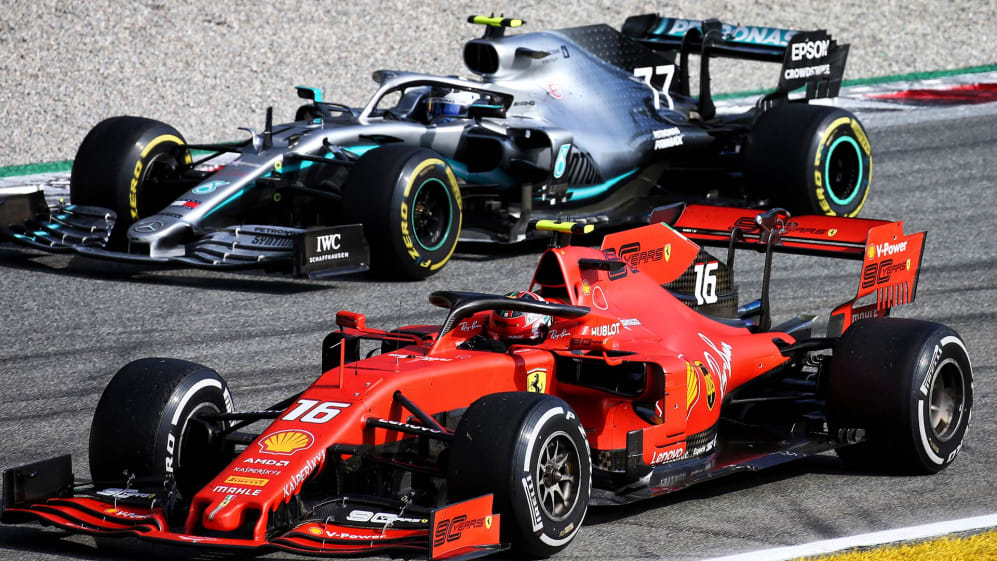 A black-and-white flag has long been available for use by stewards across the motorsport ladder, but rarely has it been used in Formula 1 over the last decade. But the warning made a return in Belgium earlier this month and then again in Italy, where it was shown to Charles Leclerc during his wheel-to-wheel battle with Lewis Hamilton. The FIA explains why…
Leclerc came under immense pressure from Hamilton during several phases of the Italian Grand Prix, with the latter forced off the track and into the run-off at one stage, triggering the stewards to show the black-and-white flag, the equivalent of football's yellow card.
Explaining why a warning was given, rather than a penalty, FIA F1 Race Director Michael Masi said: "The rules remain with regards to a car's width of room. It's quite obvious here that Charles has squeezed Lewis and, consistent with what happened last weekend in Spa with Pierre Gasly, as a result it was the bad sportsmanship flag, or the black-and-white flag, that was displayed to Car 16 [Leclerc] for the move and the squeeze in the braking area.
READ MORE: 'The new generation get away with a lot more' says Hamilton after tense Leclerc battle
"For small infringements that are, let's call it, a 'professional foul' but don't go beyond the line, we'll be absolutely using the black-and-white flag more and more. It's a sign to everyone that the driver's on notice because you only get one for the race. If you do it again, the drivers have all been advised that any other infraction will be referred to the stewards."
There was a rule put in place, and then it wasn't abided by today
After losing out to Red Bull's Max Verstappen in a wheel-to-wheel battle in Austria, with neither driver receiving a penalty there, Leclerc said he would "adjust, a little bit, my aggression". When asked if that was a concern, Masi replied: "I do not think aggression is probably the right word. That might be his words but I think - Is it hard racing? Yes. From that perspective I don't think you can compare what has happened in those instances versus these.
"It's ultimately the stewards' decision if somebody gets penalised or the bad sportsmanship flag, but if the stewards feel there was more to it then we absolutely have the capability of issuing a penalty and that's exactly where it sits. I think it was hard. The black-and-white was issued for the reason it was there. It's quite simple for me and a carbon copy of what Pierre [Gasly] did last weekend in Spa. It achieved its purpose."
Teams, drivers, F1 and the FIA have discussed racing and how penalties are handed out on several occasions this year, as they push towards an approach of – 'let them race' - and that has included talk about the black-and-white flag.
Hamilton said on Sunday that drivers have "constantly asked for consistency" and "there was a rule put in place, and then it wasn't abided by today". He added: "it seems like the new generation get away with a lot more in that space, of how they manoeuvre their car, compared to, I'd say, the more experienced drivers".
Discussions were held again at Spa, specifically with regards use of the black-and-white flag, according to Masi, who added that if the two drivers had touched, the stewards would have scrutinised it in "more detail".
"If there was resultant contact [in the Leclerc and Hamilton incident] we would have looked at it in a bit more detail, but effectively under the 'let them race philosophy' that the teams, the F1 Group, the drivers and the FIA have worked together on throughout the year, and giving the teams the advice at the last event in Spa, we will be using the black-and-white flag more often - at their request I must say," he said.