CONTRASTING OPINIONS: Leclerc & Verstappen on the dramatic pass that decided the Austrian GP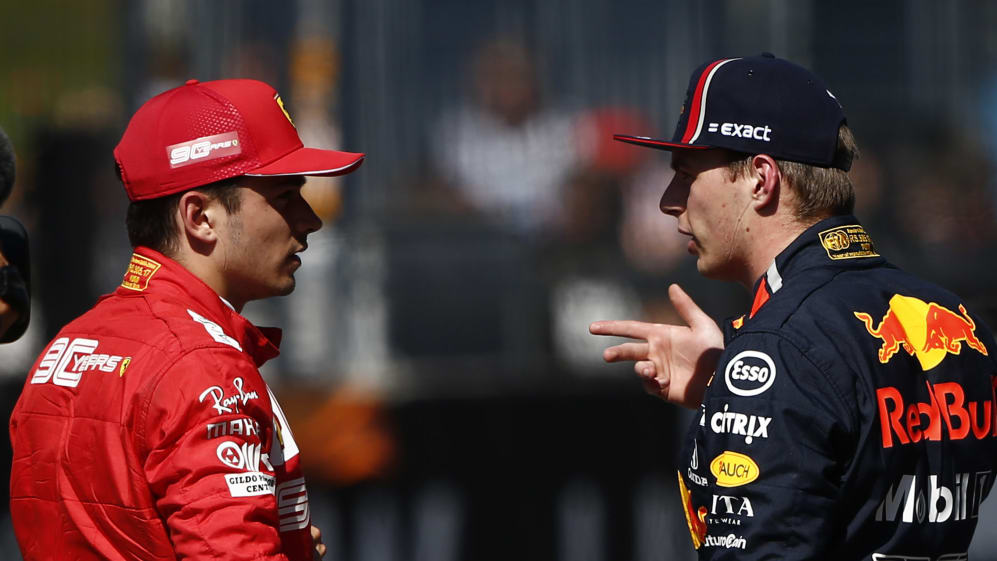 It was a stunning battle, and surely the first of many that we'll see between Max Verstappen and Charles Leclerc over the next few years: The two banging wheels at Turn 3 with two laps to go, with Verstappen coming out on top to win in Austria. Unsurprisingly, the duo had differing views of the incident, which is currently under investigation by the stewards…
This was a race where Verstappen was on a mission, having had a dreadful start to drop from second on the grid to seventh. His first stint was reasonable, but after his stop, the Dutchman came alive – and was comfortably the fastest car in the field. He didn't waste that pace, pulling off a string of moves to rise up to second, before setting his sights on Ferrari's Leclerc.
After lining him up for a couple of laps, Verstappen attacked the Ferrari on the run up the hill to Turn 3 but Leclerc held him off. Next time around, on lap 68, the Red Bull driver got ahead but Leclerc somehow managed to hang on around the outside to outdrag the Red Bull and retain the lead.
But on lap 69, Verstappen attacked again. This time, Leclerc didn't defend the inside line. Verstappen didn't need asking twice and stuck his Red Bull up the inside. That forced Leclerc wide and the two banged wheels, with Verstappen taking the lead and ultimately the win.
Verstappen's view:
Speaking in Parc Ferme imemdiately afterwards, Verstappen did not believe he did anything wrong. "It's hard racing otherwise we have to stay home," he said. "If those things are not allowed in racing, what is the point of being in F1?
"I don't think we should get a penalty for that," he added later. "I never opened [the steering wheel] but the problem is that in that corner there is a crest, so when you then go a bit deeper at such a tight angle you just understeer because of that crest.
"The car on the outside he has to wait a bit because we went quite deep. I never opened the steering wheel. I was in front. He just had to cut back on me but he tried to go around the outside which is not possible."
Leclerc's view:
Leclerc, unsurprisingly, didn't see it the same way as his rival. "I'll let the stewards decide but for me, it was pretty clear in the car," he said in parc ferme. "I don't know how it looked like from the outside."
When asked if he didn't think it was fair, Leclerc replied: "I don't know. I was on the outside, like the lap before, the lap before was completely fine, he left the space for a car width on the exit of the corner but he didn't on the other lap so we touched and I had to go wide, and then obviously I didn't have any chance to pass back so it's a shame."