FIA Friday press conference - Bahrain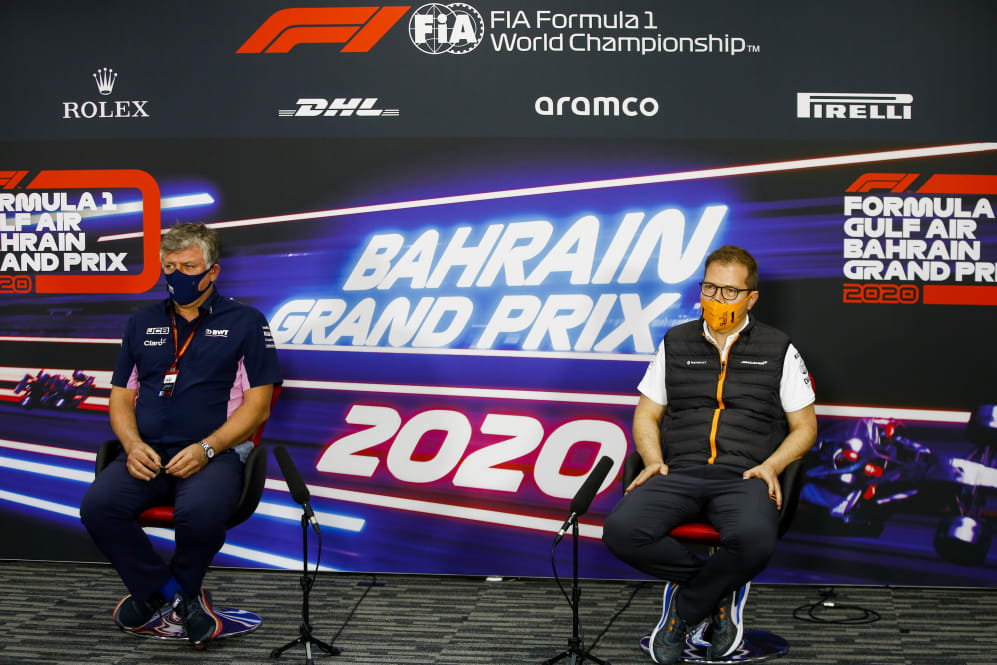 TEAM REPRESENTATIVES - Mattia BINOTTO (Ferrari – via video link), Otmar Szafnauer (Racing Point), Andreas Seidl (McLaren)
PART ONE
Q: Mattia, perhaps we could start with you please. This fight for P3 in the Constructors' Championship. Ferrari are 24 points behind Racing Point who are in third. Do you believe that your team is genuinely in the fight now?
Mattia Binotto: I believe it is very difficult. I believe the way we should approach it is race-by-race, try to confirm the progress that we have seen in the last races. I would say that's our objective. I think our objective has been, as summer time, try to improve, to progress, to make sure that at least we understood the weaknesses on the car and are capable of addressing them for next year. But certainly if we've got good results, as it has been at the last race weekend, it's not impossible – but again I think it will be very difficult. Every single race circuit is different. I think here in Bahrain, I don't think it will suit, eventually to our car, better than others. So finally it will be certainly an exciting end to the season for the third place but fifth would be more realistic rather than third.
Q: I'm going to put the same question to the two guys in the room with us. Andreas, perhaps we could start with you, McLaren currently P4 but just five points behind Racing Point.
Andreas Seidl: Yes, it's obviously a very intense battle, three more races to go and you can feel also within the team, the tension building-up but I think it's simply important that we approach these next three weekends in the same way that we did all season. It's important to simply focus on ourselves. We have a competitive car, we have a great team and two great drivers, so it's simply important now to maximise the race weekends again, similar to what we did many times this year, and then I hope we stay in this battle up to the last race. As I have said several times already, of course we want to fight for this P3 as long as we can but at the same time, for me, it's as important, independent of the outcome of the Championship, to see that we made a step forward again with the team, with the car, with the way how we work together. I'm very happy with what I'm seeing there, and that's the most important thing for me, in order to achieve our goal in the future, which is simply getting closer again to the front.
Q: And Otmar, for you, you're currently P3. Do you think you've got the pace to stay there?
Otmar Szafnauer: Well, we'll work hard to make sure we get the car where it needs to be over one lap at the next three races as well as on long-run pace and make sure we have clean races so we can finish both drivers. If we can achieve that, we'll work hard to maintain third place.
Q: Mattia, coming back to you, Carlos Sainz said in the press conference yesterday that one-and-a-half days of testing ahead of next year won't be enough for him to get familiar with everything at Ferrari. So what preparations have you got planned for him – and might they include a run in a two-year old car?
MB: Yeah, certainly one-and-a-half days is very short, is very little time. Obviously we are planning to organise something for Carlos, to make sure he can speed up somehow his integration with the team, with the engineers, with the car, with our way of working, our procedures. Simulator will be important in that respect. Obviously at the simulator he may work with his race team, his engineers, technicians but yes, as you said, we are currently trying to organise, January time eventually, to run with an old car, just to make sure again, he gets used to the team and our procedures and know the people.
Q: Andreas, coming to you. Carlos leaves, Daniel Ricciardo comes in. What are your preparations for him over the winter?
AS: The rules are pretty clear of what we can do, plus we also do not have the possibility at the moment at McLaren to run an old car, which means it's pretty straightforward in terms of him, Daniel, running the car. We only have the possibility in this single test with the three days but of course we are working hard within the team at the moment, together with Daniel from the first of January onwards, to integrate him into the team as quickly as possible. As Mattia said, there's a lot of things you can do also outside of the car in terms of preparation, together with the engineers in the simulator and so on. And then, Daniel is an experienced driver, we are an experienced team, so it's important to take it as it is, also in terms of regulations, and then get on with it, and then I'm sure we will be ready at the first race to have Daniel in a competitive position with us.
Q: And Otmar, very much the same question for you. You're involved in the driver merry-go-round as well, Sebastian Vettel coming in. What are your plans for his preparation?
OS: We too don't have the ability to run a two-year old car, so we'll be doing everything we can with Seb to get him integrated into the team, do a lot of sim work with him as well and then use the three days of testing that we have to the best of our ability to get him ready for the first race.
VIDEO CONFERENCE
Q: (Andrew Benson – BBC) This one's for Mattia. Mattia, on the one hand, Charles did a fantastic recovery drive in Turkey, picking up something like 35 seconds on Sebastian in 25 laps and overtaking him, and then made a mistake on the final lap and was very hard on himself. How do you talk to him about that situation – and in general how do you assess Charles' season?
MB: Probably, focusing on the race itself, as far as the quali, it has not been his best quali of the season. He made a mistake at the start, he made very, very few mistakes in driving in difficult conditions, only on the last corner. I think generally-speaking it has been an outstanding race because he has been very fast and, as you said, he has recovered a lot of time in the race itself. The race has not been perfect because of the small mistake but considering the conditions, which were very, very difficult, he made a fantastic race and I think he has proved how strong he is in driving in difficult situations and difficult conditions, and how fast he can be. I think that Charles does not need to prove how fast he is; I think everyone knows how good he is, driving, quali, race, difficult conditions. I think in that respect again, very well done. Obviously he was disappointed at the end of the race. We discussed, somehow, the radio comments but generally speaking, again, on the overall season, I think it has been an important season for him, very difficult from the competitiveness point of view of our car but I think that in terms of leader of the team, he is developing himself. He is very supportive, he understands when it's time to support the team, when it's time to push, when it's time to somehow really improve. He's aware that results of the future are somehow depending as well on his contribution. I think in that, he's really a leader. Not only a driver, he developed himself quite a lot this season. On top of that, he learned a lot as well in terms of driving, managing the tyres, race pace, and I think that in terms of, certainly his ability to drive, he improved again, during the season itself. So, I'm pretty sure Charles will be a strong driver in the future. He's already very strong but he will be even stronger – and certainly next year as well.
Q: (Luke Smith – Autosport) Another question for Mattia. Red Bull have said they really want to make a decision about their future engine supply by the end of November. Obviously a lot of that is dependent on an agreement to an engine freeze and a freeze and development. Ferrari have said in the past that it would not be in favour of this. I was just wondering, has that position changed at all? Where do you see things moving from there –and do you think there can be any way an engine freeze can be agreed for the future?
MB: I think what we said is there are already regulations in place where somehow Red Bull got a solution. They may be supplied by other manufacturers, that's no doubt. We understand there intention as well to keep using their Honda engine for the future. We had meetings in the last days with F1 and the FIA. I think as Ferrari, we understand the situation. We are somehow supportive in trying to anticipate by one season, one year, the freezing of the engines. That will mean as well trying to anticipate to 2025 the new regulations for the power unit. So, knowing the situation and understanding somehow the situations, it is not the first time that I think Ferrari is acting responsibility, in a responsible way, in that respect. So, we will support freezing by anticipating by one year the engines and the power unit.
Q: (Dieter Rencken – Racing Lines) Question for Mattia – I'm sorry, you seem to be getting them all in a row – but obviously with the budget cap coming in it's known that Ferrari would need to make some sort of personnel adjustments. You do have the soft landing, as we call it. In addition to that, I believe the Italian Government has recently introduced a freeze, or moratorium, on any retrenchment – so what sort of progress have you made in this regard please?
MB: Thanks for the question. I think the question is a good one, because very important at that stage, the soft landing has been decided, approved with all the teams, F1, FIA at the time. Knowing that the COVID situation, the fact that it has been very difficult to dismiss people, to lay off people in that period. Knowing that as well in terms of message, it would be completely wrong, I think, to lay off people when we are in such a COVID pandemic situation, and I think the fact that the pandemic is not finished and we are still have now, let me say, an emergency matter. The mechanism of the six months needs to be reviewed, and eventually we should try to postpone that mechanism, eventually by the end of the year. I think that, again, as social responsibility, it would be again, very bad to businesspeople during the COVID, and knowing that we need to do it very soon, we don't believe that would be the right approach – so it's something on which I'm very keen and I would like and I will discuss with FIA to understand, and with the other teams, is there any possibility to accommodate what is still an emergency situation? That's on one side. On the other side, as you said, how are we organising ourselves. Obviously we were trying to restructure our whole team. We've got somehow… we are trying to reallocate people on the road cars because we are still a very big company. These are some opportunities we've got – but it's a difficult exercise, on which we have started. The solution is not obvious.
Q: Andreas, you've got more car changes to make than most for next year with the switch to a Mercedes power unit. Can you give us an update as to how that 2021 car is coming along?
AS: Yeah, as you said, it's obviously a big task, switching to the Mercedes power unit for next year – but I have to say I'm very happy with the progress we're seeing there so, I would say car build is going along very well. The relationship, together with the guys from Brixworth, from Mercedes, has started also on a very good basis. There's a very good dialogue and technical exchange, so I'm very happy with that. This is obviously happening in parallel with aero development we have to do next year with the changes we have to do, especially to the rear of the car, to help Pirelli. I would say on target, no red lights there at the moment but thanks to a lot of power unit changes also recently at McLaren we have quite some experience also within the team to do that. How good we manage to do that, we will only see next year once we go testing.
Q: Otmar, a question about Checo. He's signing off in style this year, isn't' he? Over the last seven races, he's out-scored everyone except for Bottas and Hamilton. You've known him for seven years now. Is he driving better than ever?
OS: Yeah, Checo's always been a great racer on a Sunday, he's very calculated and, if he's got a competitive car he's difficult to overtake. He defends well and I think he makes very calculated manoeuvres on overtaking. So, if you're a smart racer on a Sunday, look after your tyres, you're going to score some good points. He's done a good job.
Q: A good job – but is this the best you've ever seen him?
OS: That's a good question. I've seen him for many races and many years. It's probably up there but he's had some fantastic races in the past too.
Q: (Christian Nimmervoll – Motorsport.com) Mattia, in 2012-2013, Mercedes was in quite a unique position because we had the Resource Restriction Agreement in place and a completely new formula in terms of the powertrain. Do you think Ferrari may have a similar chance at the moment? We have the budget cap kicking in next year and new rules coming in in 2022. Do you think there are similarities in the situation?
MB: I don't think it's a similar situation. I think at the time Mercedes were smart enough certainly to start developing long time before the other the power unit, so they had somehow and advantage in terms of timing by when they started developing the power unit itself. If you look at 2022 on the aero, which is the most important, we will all start by the 1st of January next year and I think that's the main difference. Certainly it's a big discontinuity in the regulations and I think that the stronger team in that respect will somehow be the strongest in terms of doing the best car. I think if there is any similarity it is only that there is a big change of regulations, but timing, quite different.
Q: Otmar, do you see any parallels between the new regs coming in and 2014?
OS: I think what Mattia just pointed out is absolutely right. Because of the situation we are in now we have all agreed that we are not going to start working on 2022 until January 1 and that allows everybody to start at the same time
Q: Andreas?
AS: Yeah, I have nothing really to add. In the end, I think, it's good in terms of timing that we shifted to the start of the allowance to work on the aerodynamics of the '22 car from the 1st of January onwards in parallel with the budget cap kicking in. At the same time it's also clear the new regulations also are an opportunity to a certain degree but you need to be realistic, especially with the three big teams, with all the infrastructure they have in place, the methods they have place, they have a big advantage at the moment compared to everyone. They will keep having this advantage also in the future and it will take time until all these new regulations, including the budget cap, will somehow wash out and actually then create a level playing field. But again, it's a positive direction and we're looking forward to this new chapter of Formula 1.
Q: (Scott Mitchell – The Race) Mattia, regarding the prospect of an early engine freeze and bringing forward the next generation of F1 engine. How complicated is all of this, particularly when you have the FIA's desire to bring in fully sustainable fuels and technology like that? It doesn't seem to be an easy situation to manage?
MB: Certainly it's not an easy one. First, to have a brand new format of power unit in 2025, we would need to have by the middle of next year clarity on the regulations. I think it will be quite a different power unit to today, because there, at least from a Ferrari point of view, there are important objectives that need to be set, as for example quite a different cost. It has to be more sustainable from a cost point of view, so I think the power unit itself should cost 50% more of less of what we are affording today and in order to achieve that I think it will be in order to decide what will be the technical format it is somehow a very difficult exercise. To see it from the sustainability, from a carbon footprint point of view, we need to set out objective which has to be very ambitious and I think that objective will somehow decide what will be the technologies or the technical format we will then decide. As I said, we need to have clear objectives to share and then we need to decide the technical format and I think in the mid of next year it should be clear and I think in that respect it will be very difficult and ambitious. The fuel will be very important, certainly in order to achieve carbon footprint neutral the fuel itself is a key element and a key component of the format, on which I think at the moment there is a completely open discussion and there is no clear evidence on where we should go. We need to be I suppose very proactive but very collaborative between manufacturers, F1 and FIA in order to progress very soon on the regulations, because again that will somehow define what's the future of F1 from 2025 to 2030 which is important to make sure that we are doing the right exercise. As you said, it is very ambitious, very tight but I think we are prepared to have that discussion, as I said, in a collaborative manner and I'm pretty sure we will do the right job all together. On freezing in 2022, I don't think that will be difficult. It is only a matter of deciding what we intend to do. We have some discussion at the moment with the FIA and F1, should we consider a mechanism of engine convergence, if there is any situation where eventually a manufacturer is really down on performance compared to the others, because then its freezing three years somehow as well the performance, the relative performance between manufacturers. I think those details will be important. We should not forget that in 2022 we are introducing the E10 fuel, 10%, so it's quite a significant change in the regulations and a significant change in the engine development so by the time we are introducing that fuel we are freezing and I think in that respect some risks are in place and so the risks will need to be managed and making sure that we are doing the proper job as manufacturers.
Q: (Christian Menath – motorsport-magazin.com) Mattia, on the engine convergence, as you call it, some others call it balance of performance, or whatever, how do you see that happening? Will you have just another chance to develop the engine further when it's actually frozen or do you get more fuel. How do you see it working?
MB: First, I don't think it is balance of performance as I don't think that the aim or objective is to somehow bring all the manufacturers to the same level of performance. That's not the case. That's why I call it engine convergence or power unit convergence as it's only a way of trying to help a manufacturer, which is really down in terms of performance compared to the others. But I don't think if we are helping that manufacturer we should bring him to the be the best manufacturer at all, so he should somehow try to catch up at a lower level compared to the others but somehow not too distant. How can we do that? I think that's part of the open discussion we have got today. I don't there is a solution. Certainly the easiest one is by managing or adapting the fuel flow but I don't think that there is a conclusion yet, it is all part of the discussion we are having.
Q: (Julianne Cerasoli – UOL Esporte, via email) It's been five months since F1 launched the We Race as One campaign. Hsve you been able to identify areas that need to be looked at more carefully in order to stimulate your teams to be more diverse? What are the next steps?
AS: First of all I think it was very important to launch this campaign at the beginning of going racing again. The topic of diversity, equality and inclusion is an important topic for the world and at the same time also for us at McLaren. We have launched different initiatives in previous months together with our employees in order to improve the situation also at McLaren. We simply want to make sure that everyone at McLaren has the same opportunities in order to show what he or she is able to do and at the same time it is also very important that simply getting into McLaren, everyone, independent of gender, religion etc, has the same chance to get into our company. That is something we spend a lot of time on at the moment as a team and I clearly see that we will make steps in the next months and years compared to the current situation.
OS: I tend to agree with Andreas. We at Racing Point have never discriminated on anything except for ability to do the job – race or gender or religion. Having said that, we too have put together a task force within our HR department to ensure that going forward we are even more inclusive and we give everyone an equal opportunity to come work at what is now Racing Point and what will be Aston Martin in the future.
MB: Yeah, certainly it is an important subject on which Ferrari is paying a lot of attention and I'm pretty sure we can do even more in the future. This year there are a couple of programmes I would like to mention. The first is salary equality between genders and Ferrari has been certified and is the very first company in Italy to have been certified on that matter. The second is the programme we got, Girls on Track, in partnership with the FIA, which again, I think is an important one, looking at the future, but, as I said, there is even more we can do and Ferrari will pay a lot of attention in the future to make sure that we can do better.
Q: (Dieter Rencken – Racing Lines) Otmar, your factory projects. Is that still on ice because of COVID or are you making progress there?
OS: Yeah, it is online, but the line and the timing has changed because of COVID. We are making progress. We are in the design phase now and all the departments are getting there input in to make sure it's the most efficient it can be and it's online and on target to be opened and launched in August of 2022.
Q: (Dieter Rencken – Racing Lines) Is this the full, original plan or have you cut back because of budget caps and wind tunnel freezes and all sorts of things?
OS: It's still the original plan. We have to make sure we right-size it. I'm sure with the budget cap now we are all learning what trade-offs we make to be able to stay under the budget. The plan for the factory is that if for some reason in the future the budget cap changes, the factory is scalable, but it hasn't changed much due to the budget cap.
TEAM REPRESENTATIVES - Simon ROBERTS (Williams), Guenther STEINER (Haas), Toyoharu TANABE (Honda)
PART TWO
Q: Guenther, how about an update on your 2021 driver line-up? What can you tell us?
Guenther Steiner: I haven't heard that question for a long time so thanks for asking! We plan to announce it before the season is ending but we don't know the exact date yet, but it's not long to wait. It's a maximum of two weeks, so please be patient.
Q: Is it results dependent?
GS: No. You mean Formula 2 results dependent? No. It's not results dependent. I need to disappoint you on that one.
Q: Now Romain and Kevin were in here yesterday and they said that your car is relatively easy to drive but if you bring in two rookies next year can you rely on their feedback to develop the car further, and how tough will it be for them at tracks like Baku?
GS: If we bring in rookies, if… I think next year if we bring in rookies therefore it's a good time to bring in rookies because the car next year will not be developed a lot because the freeze on the car, the homologation of the car, so you cannot make big changes, obviously we can make aero changes but the car will not change in the fundamentals, so it is a development and not as new development and next year our focus will be on 2022 anyway, so I think it's a transition year for us, so it would be a good year for rookies to come in, to learn being in Formula 1, getting to know the people that are around, how to go to press conferences and things like this, so I think it will be a good year, but the development will be very small next year.
Q: Tanabe-san, Turkey was a difficult weekend for Honda, made more difficult by Pierre having to start from the pit lane. Can you explain why you stopped work on his engine change?
Toyoharu Tanabe: Actually it was a very difficult weekend for us and following the failure on Pierre's PU at the Portuguese we discussed and then decided to change the PU if he did not qualify well. We submitted the change request to the FIA and then it was approved. And then later his starting grid was improved by the others' penalties. We changed our mind and then reported to the FIA. Unfortunately we already touched some of the parts to change the PU so in the end we got the penalty.
Q: And Tanabe-san, what is the latest on Red Bull's engine plans going forward? Helmut Marko recently visited Honda in Japan; was a decision about the future reached?
TT: I know the discussion is on-going between Honda and Red Bull but I believe at the moment no decision has been made yet. And also, I'm in charge of the technical management trackside so I don't know the very details of the discussions.
Q: Simon, first up, you missed Turkey after testing positive for COVID-19. How are you feeling?
Simon Roberts: Yeah, I feel very well thank you. I was very lucky, I only had mild symptom of losing a sense of taste. Apart from that, I felt absolutely fine so I feel that I kind of missed a bullet there but yeah, had to miss the race obviously, testing positive, so it was a bit disappointing but I'm here now so all good.
Q: Good, and tell us about the mood in the team? Is there a sense of frustration now that you're constantly finishing just outside the points?
SR: Yeah, I guess there is. It just focuses us even more to try harder and we're just trying to make sure we can get everything possible out of the car for these last three races. We don't want to walk away disappointed, thinking we didn't try everything we possibly could or left some stone unturned so the mood is… we're glad everyone's back, we're back to full strength now. The guys in Turkey did an amazing job. We had lots of people step in at short notice to support from the factory and that caused the guys in the factory, as well, to have to kind of shuffle around a little bit so that was a great team effort and it set us up quite nicely actually. As I say, we're at full strength now, for these last three so we've just got to get everything we can out of the car.
VIDEO CONFERENCE
Q: (Christian Nimmervoll – motorsport.com) Guenther, do you expect the driver announcement this weekend?
GS: No. I don't expect it this weekend, Christian.
Q: (Dieter Rencken – Racing Lines) Tanabe-san, what would Honda actually achieve through allowing Red Bull to acquire the IP for the engine? Would you still be getting the technical information? Would you still be running some form of research and development programme or would it just literally be give them the engines and let them get on with it and we're out of here?
TT: As I told you, I don't know the details of this project, so I don't know the project or not, but I believe we don't tell the details to the public so yeah, maybe some information will be distributed but at the moment no information for the public.
Q: (Christian Menath – Motorsport magazine) Two questions for Tanabe-san, both related to the race in Turkey. First of all, we've seen many drivers starting in second gear on the wet track but the Honda drivers all started with first gear. Is there a technical reason for that? And on the other side, some people said that the Honda teams had some problems with traction because of the vibrations of the engine. Is that true or is that just a myth?
TT: About the start, it was caused by many factors. So the system and procedure not only PU but also the chassis side and then our start strategy was not good for that condition, though we learned a lot from that slow start and we will improve that weak area for the future.
Q: (Edd Straw – The Race) Tanabe-san, Mattia Binotto has suggested that the next generation F1 engines should be much cheaper, maybe as much as 50% cheaper. How much do you think would have to change? What would have to be done to have F1 engines for the next generation, which are so cheap, such a big step? Is it possible?
TT: The discussion for the next generation Formula 1 engine has just started and then the people in the Formula 1, FIA and also the PU manufacturers are considering what is the best for this sport. Of course, we need to improve the efficiency of the PU which means that we have an ICE and the ERS system. At the moment, we have no clear direction yet but of course this is important, efficiency, also the cost of the PU for the entire PU manufacturers, also the teams. That's important, I think.
Q: Can I open this up to the other two guys please? How important is it that the engines get cheaper for the customer teams?
GS: I wouldn't call it cheaper. I think we need to make it more efficient, not as an engine but cost-wise. I think part of the new regulation, there needs to be a financial regulation, how much they can cost and that is not for me to decide how much it is because we don't make engines so it's more for the manufacturers who know how much it costs to develop this engine but for us, as a customer, it is important to be sustainable. If we can get the engine costs down, that makes sure that all the teams stay around because the engine cost is a big part of our budget at the moment. I understand the manufacturers cannot subsidise but I think they do already by swallowing all the development costs for the engines but they cannot subsidise the production of the engines and that's why they need to give us the cost of it, so very important.
Q: Guenther, what percentage of your budget is the power unit?
GS: I think it's about 10%.
Q: Simon, can we have your thoughts on this as well, please?
SR: I think the current PUs are so complex – they're amazing pieces of technology but that complexity drives costs and I think the future – as Guenther said – we have to look at sustainable power units, we have to think about the relevance to road car technology but we have to do it in a way that makes sense for everybody; makes sense for the teams, so we can afford to buy it and also makes sense for manufacturers that they can afford to develop those engines and battery packs but do it in a way that actually makes sense for them too. So as has been said already, it's very early days, looking at what's next, but I think it's a really important step for the sport. We need to consider it carefully.
Q: Simon staying with you and while we're talking about money, George spoke yesterday about the possibilities opening up for Williams under Dorilton's ownership. Has the cash injection arrived in time for the 2021 programme?
SR: So we are investing, right now, in the factory in a small way. We've got the opportunity now to kind of fix things that have been broken or things that we'd love to have done but just haven't been able to afford to in the past so nothing revolutionary but all good steps and all good progress. I think what George is really referring to is part of a long-term strategy, where we will invest in things and Dorilton will invest in things that will increase our performance, make us more competitive and help the team move forward.
Q: (Christian Nimmervoll – motorsport.com) Simon, do you expect to remain in place as team principal going into next season, and in case you don't, how's the headhunting going?
SR: Good question! I'd like to stay in place as team principal next season but yeah, we haven't had those discussions yet so who knows? Right now we're just focusing on getting through to the end of the season, trying to get some points and then we'll take it from there.
Q: (Dieter Rencken – Racing Lines) Guenther, I wonder if you could clarify what you've just said when you said that you thought your engine cost was about ten percent of your budget. According to my information, the FIA guidelines is about 20 million for a two car single season supply. Are you then saying your budget is 200 million which would be over the budget cap for next year?
GS: I think the FIA number is a little bit different and those are approximate, Dieter, so approximate doesn't mean exactly the number.
Q: Tanabe-san, we haven't had you in this press conference since Yuki Tsunoda tested for Alpha Tauri at Imola. Your impressions of how he got on? How impressed were you?
TT: I believe it was a good test. Only the purpose was Tsunoda learned the Formula 1 car. And the track condition was wet in the morning. He started with wet tyres and then the track condition was gradually getting drier and then he finally switched to the dry tyres. That condition gave him a lot of opportunity to learn the car's behaviour and then during the day he learned a lot, the steering (wheel) switch operation, also the radio communication. Additionally, for Honda and Japanese fans, it was good to see a Japanese driver driving a Formula 1. We haven't seen a Formula 1 driver recently so of course a decision is the team's responsibility, we don't know, but I hope we would like to see a Japanese driver in the near future.
Q: 2021?
TT: I don't know.
Q: (Phil Horton – Motorsportweek.com) Tanabe-san, you will introduce a new power unit for 2021. Given Mercedes's current superiority, is it realistic to believe a title challenge is possible?
TT: It's quite difficult to answer. Of course, we are developing our new PU for 2021, not only for performance but also reliability and then we know our position is still behind the Mercedes and then the other competitors don't sleep during the off-season so we have a very short off-season this year but everyone involved in Formula 1 makes maximum effort to win races, also the championship, so it's not quite easy to tell you we will win. On the other hand, we would be delighted to win more races and then try to be a challenger for the championship in 2021. So we keep working very hard on our PU for next year.
Q: Guenther and Simon, what did we learn during FP1 today and can you just give us an outline of what your expectations are for the rest of the weekend?
GS: I think I will start with the prototype tyres we ran first time here, the tyres for next year so we went out on them and we just learned… we still need to go into the data what they are doing, what they are not doing but otherwise we learned the normal stuff from FP1. You try a little bit the tyres you think you are not going to use so you can give them back and to do a short long run but nothing too exciting today except the prototype tyres which you don't test often but otherwise just another Friday on the track.
Q: Guenther, what feedback did you get from the drivers about the prototype tyres?
GS: I just left the debrief and they said… there was a little bit of discussion, how they feel. They were not very comfortable in the beginning. They are different, definitely different to the tyres now but I think running them the first time, we need to find a bit of a balance in the car going through the data and adapt the car more to the tyres. I think it would be too early to jump to conclusions after one run on a track which is improving by the minute, obviously, because it's green so we're running a second set this afternoon. Hopefully we learn a little bit more but in general it is like every time something new is coming, people don't like change, drivers don't like change so at the moment it's like 'oh I don't know if this is a good development or not' so we don't know basically.
SR: Yeah, so obviously we had Roy in the car this morning so we've had a pretty extensive test programme on both cars. You'll have seen us running various rakes and just basically gathering as much data as could. We ran the prototype tyres as well, obviously. I left the debrief before we actually got the drivers' comments so I can't really mention that but the main thing we focused on was getting all the right data and we did. It was not easy, it was pretty busy out there. The track was evolving but yeah, we stuck with it and got everything we wanted from the session.