FIA Friday press conference - Emilia Romagna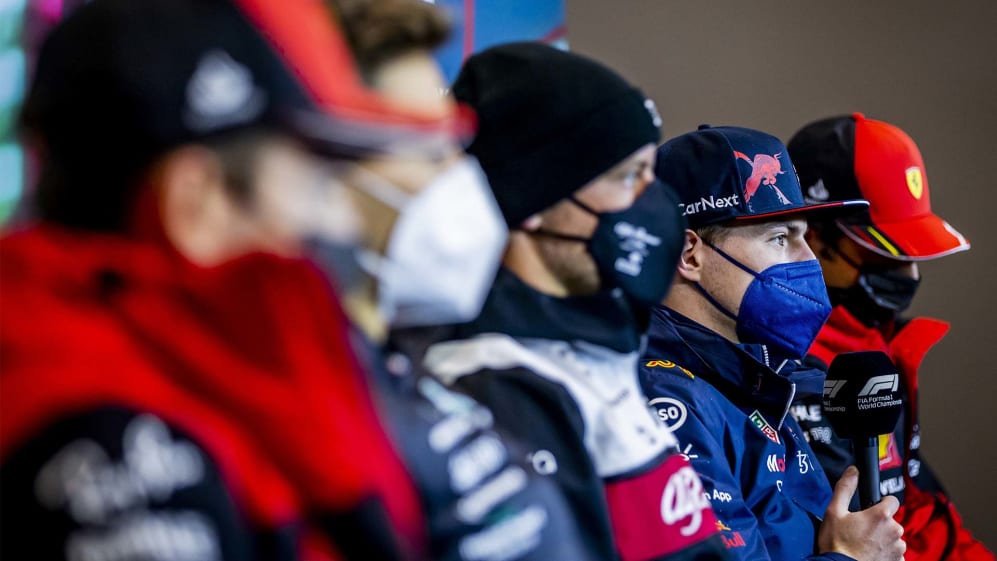 DRIVER GROUP 1 – Valtteri BOTTAS (Alfa Romeo), Charles LECLERC (Ferrari), Carlos SAINZ (Ferrari), Max VERSTAPPEN (Red Bull), George RUSSELL (Mercedes)
Q: Carlos, please, let's start with you. Many congratulations, two more years at Ferrari. Tell us what this new deal means to you and what your goals are for the next thirty or so months.
Carlos SAINZ: Thank you very much. Very happy, as you can imagine. After such a good first year with Ferrari. I think it was pretty straightforward that we wanted to continue together for another few years, and the fact that I've just signed a new contract with the team of my dreams since I was a kid, and the fact that now, even this team is fighting for more important things. We are on the way up, and we have a strong car, it's just a perfect situation for me. So, I'm very excited for what's coming and I'm looking forward for the future.
Q: Have you ever spent four years with the same team?
CS: No, never in my life. Longest was two years in McLaren and that's it really. So, I'm going to double it up this time.
Q: And let's bring it onto this weekend. Now you're racing for Ferrari at home in a competitive car. Just tell us what that feels like.
CS: It feels amazing. I think that was part of the beauty of announcing the contract extension here in Imola. Because we felt like it was a perfect occasion to do it. Ferrari; Imola; full grandstands, I think it's just the perfect scenario to try and put together a good weekend. I cannot wait. And yeah, can't wait to give the fans a good time.
Q: Charles, if we could come to you now. So you and Carlos are teammates for a few more years, can we just get your reaction to that news?
Charles LECLERC: I'm very happy. I mean, with Carlos, other than being a great guy, he's also a great driver and I think one of the most important things is that we feedback the team with the same things, we want the same things from the car. And this helps the team massively to work in the same direction for both of us. And it's also an advantage, I think, for both drivers to have a long-term vision in the team, and that we can work long term. So, it's great.
Q: Can we get your thoughts on this weekend? Just from a competitive point of view? Do you see any reason why you can't be battling at the front again this weekend?
CL: No, we don't see any reasons. I think the last two weekends, we were a bit pessimistic on the numbers we had. Here. It looks a little bit better. But let's wait and see. Obviously, it's raining today. Rain hasn't been one of our strengths in the last few years. So, we need to make sure that we start the weekend on the right foot and that we develop the car well for these conditions too.
Q: Max coming to you, please. So, the return of the Sprint this weekend: can we just get your thoughts on that and how rain today is going to affect your preparations.
Max VERSTAPPEN: I'm not a fan of the sprint but, I mean, it is what it is. And, of course, I came to Italy basically for a bit of sun but I don't know what happens. I mean, it's wet today. And well, I've never driven in the wet with this car. So, it's going to be interesting to see what's going to happen in practice and of course also later today with Qualifying. See what the weather will do. So, quite an important day.
Q: You won here last year: Does the RB18 have the performance to repeat that this year?
MV: We haven't driven, so I don't know.
Q: Max, you're confident that you can take that car to any racetrack this year and be competitive?
MV: I mean, so far we've been competitive at every track. Some a bit better than, of course, other tracks but yeah, we just have to keep on trying to improve the car and, of course, finish the races.
Q: Well, what assurances do you have from the team that the reliability issues are now behind you?
MV: I mean, I know that they always tried their very best and learn from the problems we had. Just looking forward to the weekend and see what will happen.
Q: George if we can come to you now. Fourth, fifth and third in the opening three races this year and you're now second in the World Championship. Has that been the maximum of what this car is capable?
George Russell: I think in terms of results, probably. There's obviously always more performance you can get from every single time you hit the circuit. I think it's been a reasonable start with the package we've got. I think we can come away from the first three races thinking we got some good results with the pace deficit we have to Ferrari and Red Bull. We think we're seven-tenths to a second behind them, yet we're sitting P2 in the Championship. But we know that we won't maintain this position unless we find more performance. So, you know, we need to keep on pushing.
Q: Do you have reason to believe that you can close that gap this weekend? Have you got new bits coming Do you think this track will suit the car better?
GR: No. I mean there's nothing substantial that's going to make a drastic difference this weekend. We're constantly trying new bits and pieces but in terms of an overall result, we are just too far behind to make a substantial difference in terms of overall results. So, we hope we are going to continue to close this gap but I still think it's too early in the season for us to make that deficit close up. We just need to keep going out there this weekend, another opportunity because it's going to be mixed conditions and we need to make the most of that.
Q: Valtteri, coming to you. How do you reflect on Melbourne? A bit bittersweet, I would imagine. Your Q3 run ended, but you got more points.
Valtteri BOTTAS: Yeah, definitely. I mean Sunday was positive. We again found out the race pace in the car is not bad and could make up some positions. But yeah, definitely the weakest point of the last race was the qualifying: not having just quite enough single lap pace. Maybe also compromised the setup a bit too much for the race, but yeah, still got some points. But again, pretty clear on areas where we need to improve and that's what we've been trying to do ahead of this weekend. Hopefully, we can have stronger quali. Obviously, the weekend format is different but hopefully we can be stronger.
Q: As you say, the weekend format is different. Can we just get your thoughts on the Sprint as well please?
VB: Obviously today, especially with mixed conditions. Having only one session to set up the car for the whole weekend is gonna be a bit of a challenge but at least we've had few races to understand the car and I think we've done good preparation for this weekend but it's gonna be interesting, definitely, with this format and this weather how it goes but we're ready for it.
Q: An opportunity?
VB: Absolutely
QUESTIONS FROM THE FLOOR
Q: (Mattias Brunner – Speedweek.com) Charles, when you are in the race simulator, do you actually practice also driving in the wet?
CL: No, not yet. Maybe one day but for now, we don't have this available yet on the simulator.
Q: (Dieter Rencken – Racing News 365) To all drivers, with a related question for George specifically. Now we're back in Europe, we've got the first chance of this new weekend format, so your individual thoughts please. And George, I believe the GPDA addressed a letter to Formula 1 and the FIA regarding the format and various other things. Could you elaborate please?
GR: Obviously with the GPDA, I've only been around for three years, but I think between all of the drivers we are incredibly united and we've got a constant communication with Formula 1 and FIA to try to improve our sport in every single aspect. It's forever developing, forever changing and I don't think there's anything more to elaborate at the moment. I think it's important that between the drivers, F1 and the FIA, we've all on the same page and we're all pushing in the same direction.
CL: On the format, I quite like the Friday, to be honest. Just because a normal Friday is normally pretty boring: we have FP1, FP2, FP3, lots of practice. Now, it's straight to the point so I quite like this. Then, for the Saturday I believe we could do something better. Either having a standout race that doesn't affect Sunday's race, to have a bit more action on the Saturday and people taking a bit more risk, but yeah, apart from that, for the Friday itself, I quite like it.
VB: I agree with Charles. In a way, it's nice to get going immediately. Like qualifying already today and everyday there's a session that is crucial for the weekend. I have a feeling with the current cars, with definitely being able to follow closer, I think maybe we have a chance to get a bit more out of the sprint and hopefully see a bit more action. So, from my side, yeah, let's wait and see how it is this weekend, and we discuss later
MV: The format, with the Sprint, it is what it is. Some like it, some don't. But I think it's more about how we are doing the press conferences and the media activities. I think it was better before, because now, our Thursday is very long, which officially is not really a day any more but actually for us is the same – or even more on a Thursday, and even more now on a Friday when you come in early. Coming in early is not a problem but your whole day is longer. So, I… with going to more races you would like to have a shorter weekend – but actually now with more races we are also having longer weekends, or at least more days that we are actually at the track and doing stuff. So, yeah, that definitely needs to change.
CS: I agree with Charles on the Sprint idea. It's something that we are discussing with FOM and FIA to maybe spice up a bit the Sprint weekend. I think there is good potential there, and obviously on a standard weekend, I agree with Max, we are going towards more number of races but for some reason that maybe we didn't expect this year, both Thursday and Friday have become a lot longer for the drivers and the amount of media that we are facing every day, and the amount of time that we are spending at the track in meetings and activities has increased a lot, even as we are going towards a higher number of races. So, we are going to need to find a way to control this in a more efficient way, let's say.
Q: (Ronald Vording – Motorsport.com) Question to Max. Usually at the start of the European season we see a lot of upgrades being introduced. Do you feel that's a bit more tricky now with the Sprint format, only one session ahead of qualifying and also with the weather we are facing today – so a bit more tricky perhaps, bringing new bits to the car and finding a good balance straightaway?
MV: It depends on how big your upgrade is. If you are confident in your package, or what you see in the wind tunnel, for example. It all depends also a bit how much risk you want to take. I guess that's different for every team.
Q: (Joost Nederpelt – NU.NL) Question to all drivers. This new generation of cars is a lot stiffer and lower to the ground, lower ride-height. So, does it make then harder to set-up for the rain?
CS: It's a good question. I think we need to run the cars first in the wet for the first proper time in a full wet circuit. Being cold, like it is today, I think it is going to be a good test to see how the new cars are behaving. How the new Pirelli tyres are behaving and what compromises we are going to need to take going into wet sessions. In the past, you would barely change the set-up for the wet. Now, I don't know if you would. Honestly, I just don't know what we will end up doing.
MV: Like Carlos said.
VB: Yeah, we'll find out today – or learn a lot more today.
Valtteri, do you think visibility might be better with the wake of the cars doing something different.
VB: It's a good question as well! I have no idea – we'll find out today! We haven't really run the cars in the wet.
Q: George?
GR: I think it's going to be interesting with the porpoising issues. Obviously we've seen it's been pretty violent for a lot of teams and a lot of drivers and obviously the DRS was removed in Melbourne for safety reasons to avoid anything happening. Obviously in the wet, over the bumps, whatever it may be… if we're porpoising, who knows? I don't know what the long-term solution is for Formula 1 – if there truly is a solution for removing this porpoising, or there is not. So, yeah, I don't know what the long-term future is: if we're going to have to just deal with this for the next three years or so.
Q: Charles?
CL: Yeah, I think FP1 will be very important to see all of these things. There are a lot of unknowns and it will be a bit clearer for everyone after FP1. But will be obviously a very important session for the rest of the weekend.
Q: (Jonathan Noble – motorsport.com) To Max primarily, and anyone else who wants to answer it. Regarding this Thursday and Friday now being busier for everybody. What format do you think would work better? Do you do all your media stuff on Thursday and change Friday's timetable? Or do you ban everyone coming to the track on a Thursday and it's a very strict three-day weekend?
MV: I think it doesn't matter if it's all on Thursday or all on Friday. It's more about… we do this, then we go outside, then we have to speak to all the individual medias… but they all ask the same question, and you're basically repeating yourself six or seven times. And you try, of course, to keep it interesting, to try to word it in a different way – but at the end of the day you say the same thing, right? So, we see in other sports as well, when they have a press conference, there are a lot of mics just brought together and, instead of giving the broadcasters, like two questions each, they all have, basically, whatever, six, eight, ten questions, just in one go and they can all broadcast it. So, I think that's also way more efficient and nicer for everyone. It doesn't matter if you have 20 mics lined-up all from different companies. You get a lot more out of the drivers. We already know that, if we leave here, we have to go outside and we have to repeat ourselves at least six to eight times. And it's just… when you start, it's exciting, the first two, when you continue to the other ones, it's going to be boring. It's not nice for them, it's not nice for us. So, I think we can be a lot more efficient with that.
Q: (Luke Smith – Autosport) Max, Charles spoke yesterday about your karting rivalry, said there were points where you guys hated each other, it was always you and him fighting at the front, back in karting. What are some of your memories from fighting Charles, and how cool is it to now be back, fighting potentially for World Championship this year?
MV: Yeah, it's good. I mean, we basically grew up, through go-karting from, I think, 12 years old. And of course, we were very similar in age. So, we already had, of course, a lot of go-karting battles, but also, we made our way through Formula 1 and not, of course, only the two of us, a lot of drivers we know including of course George, Carlos, we already saw each other at the go-karting tracks, and now we're all here in F1, basically fighting with top teams. And yeah, it's really nice to see that and I hope, of course, it can continue for a long time.
Q: (Claire Cottingham – Racefans.net) Questions you, Max. Obviously, it's been a couple of retirements that the team. How confident are you that the team have sorted out those niggles and what reassurances have they given you? Thank you.
MV: I mean, it's been different issues. So, we have been solving them but, of course, time will tell if it's working or not. I mean, it's difficult to say at the moment, but I know that the team always does their very best in solving all the issues. They are a bit unexpected, because testing actually was very smooth for us before we started the first race of the season. So yeah, well, we'll find out this weekend.
Q: (Ian Parkes – New York Times) To both Charles and Max. Charles, you obviously spoke about the karting rivalry yesterday. You mentioned at one point – jokingly of course – how much you hated one another because of the way things have gone, and Max, obviously just following on, how is the rivalry changed now? When do you recall the respect maturing between the pair of you from those karting days and how do you feel now going into this season now you're back, battling at the front again against one another? Thank you.
CL: I think it's a very different situation. We have matured a lot, we are much older even though we are still 25 years old, which is still quite young, but at this time there were episodes which make us hate each other, I'm pretty sure, in some occasions, but then you grow up. Obviously, we've both achieved one of our dreams, which was to arrive in Formula 1. And at that time, it was it was just a dream. Everything looked impossible. So it's, it's great now to be fighting in Formula 1. And there's a lot of respect for each other. So yes, it has changed for sure.
MV: Like Charles said, I mean, we've matured a lot! And we're both in Formula 1. We're we are two top teams and are fighting for race wins. What happened in go-karting, you can laugh about it now. Yeah, good times!
GR: Charles isn't laughing!
MV: He's laughing now! You made him laugh, George.
Q: (Adam Cooper – motorsport.com) For all of you. Have you had a chance to try Miami in the sim? Any thoughts on it? What kind of race we're going to see there?
CL: I don't even know how it looks like, to be honest. And I haven't tried it on the sim yet.
GR: I've done three laps when I was there for an event last year on a local sim but I actually forgot by now! So, no. We'll do that next week.
VB: I did last week. Proper running there in the sim. And actually, was nice to see, that it seems to be a really good track for overtaking. Like, I think the way the track has been planned, I think, from my side, it looks positive. It should be good ood racing. Yeah, pretty long straights and a couple of really good overtaking opportunities. So, let's see how it is done in real life but to me on paper, it looks good. And I'm sure as an event it's going to be pretty amazing.
MV: I haven't driven it on the on the simulator yet. But I mean, at the end of the day, it also doesn't matter how to track looks like, as long as we're quick, that's what I care about.
CS: Having run it but look forward to doing it in the sim, I think next week, and have a first look.
Q: (Umberto Zapelloni - Il Foglio) Question for Charles, two days ago, you test… you made some laps with the older Ferrari of Gilles in Fiorano. Which are your feelings about that car, and your thoughts about Gilles?
CL: Gilles was a legend for Ferrari and for Formula 1. For the personality he had outside the car, and for changing the way people perceive him whenever he was in the car, with so much passion, aggressivity and obviously the fight with… so yeah, it's it was a lot of emotion to be driving his car. And the cars back then was crazy. I mean, we keep speaking about safety. But I think for us drivers until you actually drive one of those cars… you can feel what they were going through while driving. I mean, it's unbelievable. And yeah, it was a very playful car. Very oversteer-y car but very fun to drive and I really really enjoyed it
How hard did you push?
CL: Not very hard, because they kept the same tyres as the one they had on the car for the last few years in the museum! So it was like wood! But, but it was fun.
Q: (Dieter Rencken – Racing News 365) When Ayrton Senna was asked who the best driver and his opinion was, he identified a karting driver, Terry Fullerton, who didn't make it beyond karting, basically. From your karting careers, who do you think was the best driver who didn't make it into Formula 1?
CS: It is difficult. Is a very difficult question. There's so much talent out there that could have made it to Formula 1 but in the end Formula 1 is 20 guys and there's never going to be space for all the talent out there. I don't know I've raced against so many good drivers that is so difficult to put one of them. I feel like if I say one maybe… I'm friends with all of them, and maybe one is going to tell me 'how you didn't mention me!' you know what I mean? I'm good friends with a lot of people that are that I raced against in the lower categories, and I have obviously three to five guys that I think they would have done a very good job in Formula 1 but they couldn't make it. I mentioned one now, then the other one maybe might tell me no. Maybe I can tell you in private.
MV: For me, it's more about that karting is not Formula 1. So, if you are very good and go-karting, there is no guarantee that you will be good in Formula 1. Of course, a lot of good racing drivers in, all different kinds of categories. Not only of course, Formula 1, but there were a lot of good go-karting drivers who jumped into a racing car and actually didn't live up to their potential. And also, the other way around. Some drivers who were not that amazing in go-karting but were actually really good in cars. So yeah, it's very difficult to say that, when this guy was really quick in go-karting, he would have made it to Formula 1. There is just no guarantee.
CS: I agree with Max, it was more lower categories instead of karting.
VB: Yeah, similar lines to Max. It's really such a steep learning curve throughout your career. And obviously, some drivers develop earlier, some might develop a bit later. And the ones who keep working, keep learning, eventually they might get there. But yeah, it is sad in a way that there's so much talent always… almost like wasted and not having the opportunity to get to Formula 1. In my karting days in Finland, there was so many promising drivers, but zero financial support. And yeah, it's a shame and it's not a fair sport, for sure. And also, you need to be right place at the right time. But best go-kart driver I ever saw on track the same time, was a guy called Jussi Kohtala. He actually runs a go kart team nowadays. He was amazing – but he never had the chance to even go to junior formula.
GR: I think similar comments to all of the guys next to me, I think, it is so difficult to make that step from karting, and every single year you progress, the budgets are just getting larger and larger and larger. And sometimes that talent is diluted. And I think as a sport, we need to find a way to make sure that we have the very best talent and progression through the ranks. But I mean, for me when I did my first year in European karting, you know, the guys who were winning and who were at the front, was Max, Charles. And Alex Albon, was winning the years before us as well. And here we are together in Formula 1. So, you know, there's been some exceptional drivers we've all come up against, but I think the drivers who I would rank at the top are all the ones who are sat alongside me at the moment.
CL: In karting, it's a question that I asked myself when I was younger. You arrive to all the races and you ask yourself, how many of us will one day be in Formula 1? The many names that I thought about are now in Formula 1 – most of them here - but then there are three of them, where I remember thinking that they will get Formula 1, and at the end for luck, and also for different reasons, they didn't make it. Dennis Olson, Ben Barnicoat and Nicklas Nielsen. But they all still in racing, I think, and they are doing very, very well. But it also shows that even when you have, I think, most of the things you get to Formula 1, sometimes there's also the luck that plays into it: to be at the right place at the right time. And all of these plays a part in it. I'm pretty sure, I've forgot some names too from back then. I definitely remember being young and asking myself who of us will be in Formula 1. It's great to see that so many of us now are.
DRIVER GROUP 2 – Alex ALBON (Williams), Sebastian VETTEL ( Aston Martin), Zhou GUANYU (Alfa Romeo), Alex ALBON (Williams), Kevin MAGNUSSEN (Haas)
Q: Pierre, if we could start with you, please. Home race for the team, the factory just 15 kilometres away. What's possible for you and the guys and girls at AlphaTauri this weekend?
Pierre GASLY: Well, everything's possible. Especially looking at the weather forecast. I think it should be a pretty interesting weekend. So now the, the energy is really high in the in the garage and in everybody. Everybody inside the team is very excited about that race, obviously being our real home race of the season. And also myself, I must say it's been quite a while since we drove in these conditions, conditions that I really enjoy. So excited to get out there.
Q: And you've always gone well, here you qualified fifth last year finished the race seventh. What's the secret to a good lap of this Imola circuit?
PG: A good car? That's I think that's the secret of Formula 1. No, I mean, it's been generally always been very good for us. And I must say it's a track I personally like, very technical, quite challenging, very high speed. Quite old school as well. And I've always enjoyed driving here. The past few years, the guy was really good so hopefully we have another strong weekend. But yeah, I'm confident we can get some good points.
Q: The weather is going to mix things up. Does the sprint require a different approach from you in the cockpit?
PG: Imola, we approach it as a normal race. There is no need to approach it in a different way. Obviously, this year's going to be more important than it was last year. Last year, it felt like it was mainly a race between the between the Mercedes and the Red Bulls, whereas this year, we have a real thing to gain from it. So I think we'll just approach it as any other race and try to set ourselves in the best spot possible for Sunday.
Q: Sebastian, if we could come to you. Let's start by talking about Italy. What kind of reception do you get these days from the tifosi? Once a Ferrari driver, always a Ferrari driver?
Sebastian VETTEL: Well, the weekend is just starting. So obviously… You know, yesterday, we walked the track but it was wet, but there was still some fans around. It's nice to come here and this year in particular to know that there will be people in the grandstands. It's a great track a lot of memories growing up as a child watching the races here but it felt a bit dull for the last two years without any people. So I'm looking forward to having the tifosi back obviously, you know, great memories, and very special to be here and to race here.
Q: Now, it was a difficult weekend for Aston Martin in Australia, can we just get your assessment of the car and the team at the moment?
SV: Well the car is not quick, not quick enough, we know that, in comparison to the opposition. There's still a lot of work to do. When it comes to the team and the effort that is going in, I would say the spirit is unbroken. Doesn't feel great when you come out of the session and you're not where you think you could have been or where you wanted to be. But we know that a lot of stuff is coming and we will see in the next few weeks and months whether it's going in the in the right direction. But as I said, the atmosphere is good. We take it on the chin and try to move forward.
Q: Kevin, coming to you now, Melbourne was a little bit of a disappointment by the standards of Bahrain and Saudi Arabia. Do you and the team understand what the problems were last time out?
Kevin MAGNUSSEN: I'd say partly. We started the weekend with the car not really in the right spot, if you want. And we were a little bit slow to react and then in qualifying we improved the car, but I messed up the first lap, and there was a red flag and I didn't get any good lap in Q1 so I was out of Q1. So then it was an uphill battle from there. In the race we were pretty fast. But you know, we went for a strategy where you know, if there was safety car around the first of the medium runners that would kind of ruin our race, and it did. So, you know, it was one of those weekends. And, you know, there's no reason to be down from it. We have a good car and I'm sure we will show that here as well.
Q: And this is your first sprint weekend. Does it require a different approach? What's the plan going forward this weekend?
KM: I would say pretty similar approach, except you've got to commit to your set-up and stuff after FP1. Then qualifying, parc fermé and you can't change the car. So it's a little more condensed and a little more, I would say, pressure in FP1 to hit the ground running, but you know, this weekend, it's going be wet today, so it's going to be more about just finding a good rhythm and trying to have a good qualifying the wet and then, it should be alright from there
Q: And is the team viewing this as something of a home race as well?
KM: Yeah, they do. I mean, there's a lot of Italians in Haas, and, you know, a big part of the team is based in Italy. So there's a bit of a home feeling, but we have we have a few home races over the season.
Q: Zhou, let's come to you now. So 11th in the last two races, that must get frustrating after a while?
Zhou GUANYU: Well, yeah, last race we missed by 0.3 to Alex, so it was hurting a little bit. But nevertheless, I think if we look in a positive way at it, I think after all three races, the worst position was P11, so we'll take that. And yeah, the last two races being up and down and in terms of experience, I definitely gained quite a lot, especially in Melbourne. It was a completely new circuit for me, for the first time. And so I tried to get into the rhythm from P1 to P3, then in order to push through in qualifying and the race. But again, this weekend is something like Kevin said, it will be my first ever sprint race weekend. So it'll be another different kind of challenge coming ahead, and especially with the weather. So as a team, definitely, you know, we're working in the right path. And we're building up the confidence for myself, and also the team that we are gradually gaining more speed on track. So that's always something positive to see.
Q: Melbourne was a new track, how much easier is it for you to be coming back to a place you know?
ZG: Yes, definitely. It's easier, but it's not that much easier. Just because this weather forecast this weekend is going to be quite tricky – wet Friday, maybe dry [Sprint] and then who knows on Sundays. For me to be the first time driving this car in the rain, I have no experience and I don't have any expectations yet for how it will feel. But I think from P1, we have to be in a rhythm reasonably quick or quicker than the last few races, so then that can pass in a good window for qualifying. But yeah, like Kevin said, after P1 you pretty much have to do the car set-up for the whole weekend. So that puts extra pressure on drivers but also for the teams.
Q: Alex, coming to you now a tremendous race to 10th place last time out in Melbourne, you've scored 198 points in your Formula 1 career, what did that single point in Australia mean to you?
Alex ALBON: It was special. It was among the best points scoring races I've had in Formula 1. So it did mean a lot. And obviously, for the team as well. We didn't have the best start to the year. But to get away with a point already this early on in the season, yeah, it meant a lot.
Q: And what about the pace of the car generally? Are you going to have to continue doing something a bit different strategy-wise to score more points?
AA: I mean, we have to see but of course, we are struggling to get into Q2 at the moment. And when you are starting at the back, you do need to be opportunistic in your strategy and it did work what we did and I think that's credit to the team because you know, when you're in that position, you can go for opportunities and strategies that people won't take risks for. And so you know, we will keep that mindset for sure going into the future. I think we also have the car to be able to do that kind of stuff. We were quick on those C2 tyres and that put us in a position where we could afford to do something like that.
Q: And come on, first sprint weekend we better get your thoughts on that.?
AA: It's interesting. These guys have already touched upon it but we don't have much time to get used to… to get into qualifying. The track is complete us and most drivers, I imagine, haven't driven the car in the wet yet. At least [they have] on an artificially wet track. So we're going to be getting up to speed as quickly as possible. And in free practice you don't have much time before qualifying. So you want to push but obviously a costly crash won't do you any favours so it's treading the line.
QUESTIONS FROM THE FLOOR
Q: (Luke Smith - Autosport) We've got the new race weekend format this year where we've got a lot of media activity on a Friday morning. You guys have been in pretty early this morning. Thursdays still seem quite busy, though. Max Verstappen has been quite clear in his criticism about the current format. What are your thoughts on it? Should we go back to the old format? Or do you like the new weekends?
AA: I think we should consider it [going back]. We've done what we've done to reduce the load on everyone. But at the same time, it seems that we've created more load. And it does seem on Fridays, especially right now, we would love to be talking with engineers and getting ready for a very busy weekend. But instead we have media duties, which is fine. But then on Thursday we were also pretty busy. And it hasn't really changed Thursdays. So I think, for us, we will have a discussion and see where we can improve things. I think it benefits everyone as well for it to happen.
ZG: Yeah, obviously, I haven't experienced the old one, but I was there as like a test driver for the other team in the past. But it seems to be like was the new format, it didn't really increase our time to be spending with the engineers. It's just more that we do more media activity, so that we don't get to finish on Thursday earlier. I think if anything we finish the same time but then we start Friday, the same or earlier than before. I think Max already mentioned. So I think it's something that we can take into consideration. Maybe try to, you know, do some changes. That would be nice.
KM: Well, if the reason for the change was to make the weekend shorter that certain certainly hasn't worked. But, you know, for me, that's okay. My problem with it is that you go through a lot of interviews in a weekend. And it's hard because you're answering the exact same question. So although it's about the subject that you're very excited about, that wears off, through Thursday and then into Friday, and you know, it becomes a bit hard to be authentic at the end, when you've answered the same question 30 times. But you know, it's not really up to me.
SV: I think Kevin hit the nail on the head. So the incentive was to make it shorter, it hasn't worked. So I think we need to improve. We can improve. The main thing is you want us to be excited if you have the same questions for an hour, it's not going to be. I think we've been all been to the TV and basically our excitement is not at its peak. I don't know I think we need to find a better way.
PG: I totally agree with all the comments.
Q: (Mathias Brunner – Speedweek) Sebastian, how do you tackle this weekend when you know that today is wet and Saturday and Sunday in all likelihood will be dry?
SV: Maybe not. I don't know. There's still hope! No, I think it's going to be busy today and very intense because you have very short time, it's wet. It was touched on earlier. Alex said we didn't drive these cars in the wet yet. So we have zero experience on these tyres as well. Lots of things to come today and we have to adapt quickly. So I think today is very exciting. From where we are, I think the rain helps us, or potentially can help us to mix things up. So that's exciting about today. Then for tomorrow, hopefully we find ourselves in a place higher up than usual and we have a great weekend from there. I think you're right, it's going to be dry tomorrow and most likely Sunday. It's not the easiest track to overtake. We will see with the rules change how it impacts on this track this year. But yeah, for now, I think we are busy with today.
Q: (Dieter Rencken – Racing News 365) Sebastian, could you elaborate on the letter the GPDA sent to the FIA into Formula 1 regarding amongst other things, the weekend format? I believe there were various factors that you had raised?
SV: Yeah, I think at this stage I'd prefer to not disclose any details. I mean, no big secrets, but obviously, it's fairly normal, you know, if I remember the last couple of years, there's always been some points, various natures – weekend format, safety, the tracks, calendar, lots of things that we addressed. And, you know, we've always been in contact with both FIA and FOM. And it's no different this year, from our side, we've been sending a couple of things filled with questions and on some things we are still waiting for an answer. So maybe it's a busy period for the FIA. But yeah, I think the subject, there are no big secrets. But the first attempt is always to keep it sort of disclosed (sic). And then yeah, we'll see what happens with it.
Q: (Christian Nimmervoll – motorsport-total.com). Seb it's most likely going to take three to four years to see the effects of what's happening at the factory right now. That's probably going to require a new contract on your end. Have you made up your mind about this, to be there to reap the rewards?
SV: Well, it's a no brainer. My contract ended ends at the end of this season. Obviously, it's not the year that everyone in the team hoped for, at least the start of the season, but I think it would be bad to write it off already. It's only race three, it's new regulations, there are so many things we are currently struggling with when it comes to performance with our car, extracting the performance… I think others have the same or similar problems. So lots of things that we can still understand and learn and the next weeks and months will be very important to set the direction for this year, but also for learning and knowing what to do in the next three, four years, whatever you mentioned [as the] horizon. So I feel that it would be wrong to write this season off, absolutely wrong. It's just started. I only had one race and didn't even finish that race. So plenty of things we can still improve and learn, and then in a couple of weeks and months, I think we are in a better place to judge where we really are. Because the spirit is good the team is you know willing to very willing to be at the front at the minute we're not it's not a secret. But lots of work going in.
Q: And Sebastian, your long-term future with the team?
SV: As I said, I don't know. No secrets, it will depend on obviously how this year goes and then take it from there.
Q: (Adam Cooper – motorsport.com) For all of you, just wondering if you've done Miami in the sim yet or if not maybe you've seen videos or pictures, if you've got any thoughts on the track and what kind of race we might have there?
PG: Well, I've tried it and I must say it looks pretty awesome. I really liked the layout. Quite a lot of high-speed content, quite challenging, unusual type of corners, extremely long corners, very long straights. I think we should have some pretty good American entertainment, good entertainment the whole weekend, so very excited about it and the location is unique. So very hyped about the weekend.
SV: I haven't seen much yet. Had to go in the sim, it will come. But yeah, I think it's great to explore new venues and obviously it's an exciting city.
KM: I haven't driven anything thing in the sim, but looking forward to going there.
ZG: For me the same. I haven't actually tried the track it. But of course going to the first time to Miami is quite nice. I think the atmosphere that weekend will be very fun.
AA: Same here haven't driven it yet. So looks like Red Bull only are the only ones who have it. But yeah. let's see.
Q: (Claire Cottingham – racefans.net) Sebastian, again, just regarding your future and things. There were some reports that Christian Horner had spoken to you about coming to join Red Bull, I just wondered how, how true they were. They don't look that true. And if you had any thoughts about what your future would be, if it wasn't Aston Martin?
SV: I haven't spoken with Christian for a while. I don't know. So, not true. I don't know, I mean, time will tell. At the minute I think the focus is on the now and on a mountain ahead of us that we try to climb, and we won't climb it in the day, we won't climate in the month, but we will choose the path that we climb, which will determine the next three to four years. So that's why I feel it's really important to focus on that. And it takes all the attention. And then, I don't know, one day there will be a day for all of us where this journey ends and some other journey will start, whatever that might be. I am I'm not sure… I definitely won't sit on the other side, in terms of asking questions to drivers. I don't think that will be my strength.
PG: You would be a painful journalist as well. Yeah, no, don't do that to us.
SV: Remind me if I even get close! . So yeah, I don't know. Lots of things. I mean, obviously I've thought about it before, before signing the current contract. But yeah, plenty of ideas. But who knows.
Q: (Carlo Platella – Formula Passion) To all the drivers. I don't know if any of you have seen the new Formula E qualifying format, with a tournament based on head-to-head duels to define the starting order. Do you think this could fit to Formula 1 instead of sprint race? Thank you.
AA: I think it would be quite boring for the ones who are at the back every time. You might get a lot of the same cars constantly in what is it? The top eight? And I think Formula E is a little bit more unpredictable in that sense, you can have a bit more one-on-ones with different teams and different drivers, but F1 is a little bit more routine in that way. I don't think I don't think it would add anything. But I mean, it's maybe up to these guys, I don't know.
ZG: Yeah, I saw it. I watched it for the first time. I don't want to watch it again. Because it was so long! I don't know how you guys felt? I felt it was very long, you know, just to see who was on pole, because you have two cars, two cars, always fighting for just going through to the next stage. So I think it won't work, like Alex said, there's too much car performance difference here. So it wouldn't be fair to anyone anyway.
Q: (Christian Nimmervoll – motorsport-total.com) Seb, following up on your future, you said it's probably going to depend on this year. What's required for you to make up your mind taking out another two, three years of your life to stay with the team?
SV: In all honesty, I had an amazing 15 years or so looking back, and I was in a position to you know, win championships, win a lot of races, fight for positions, get a lot of podiums, and obviously, you know, the taste was great. It's not a secret that if you're not in a position to be there that it's a different taste. You need to find a different sort of motivation. But yeah, I think ultimately, I'm willing to be tasting the same again. That's the nature of the sport. For some of the guys in the room it's a little bit different because they're still very early in their careers and they didn't have a team or car yet where they were able to show what they can do. So it's different, clearly a different position but that is, I think, one of the big deciders. But, you know, the team is growing, there's a lot of things it looks very promising. The answer is time will tell. But those will be the key things that I will be looking at to see how promising is it looking in the future? And how soon, because obviously, you know, I'm not really old, I think physically I have a lot of years left, it's not a problem at all. But, yeah, I think that's ultimately the goal to win and fight for podiums and victories, which currently, we're far away from. But, as I said, there's plenty of work, so that that's also very exciting, to know where we are now and to take the little steps and define the path for the future.
Q: (Andrew Benson - BBC) Just for everybody. I know it's late. But on the new rules, is it easier to raise closer together this year? I know it's easier to follow, but it is easier to actually race closer? How much of that might be due to the increased DRS effect rather than the car philosophy itself? And do the tyres actually allow you to push closer to the limit for much longer as they were intended to do? Thanks.
PG: Well, personally, I do feel it is it is an improvement compared to last year on all aspects. So I'm pretty happy so far with what we've seen. I do believe we can raise closer to each other. Tyres are slightly less sensitive compared to last year. Can we do better than what we have? Maybe… And probably. But it's clearly a step in the right direction. So racing-wise, I must say it has been more enjoyable, closer racing, more battles. And yeah, it's just been more fun on my side. I think the targets were matched and yeah, if in the future we can make another step in that direction. I think that will be amazing for all people involved in the sport.
SV: I don't have that much experience yet. But, you know, it's very easy to judge straightaway. I think also testing, I think you can follow closer, there is less drag effect as well. We do rely on the DRS probably more than in the past, to some extent. The interesting bit would be to take the DRS off and see how the racing really is, if you are able to overtake a lot better than, let's say, in the past. I would be a bit… I'm only a bit cautious for the DRS, because it was brought in as an assistance to help overtaking but now it feels a bit like it's the only thing that allows you to overtake at times. So ideally, we have set of regulation that allows us to follow and race without DRS. You know, DRS hasn't been there for 70 years. It was brought in 10 years ago to help, as an experiment. And yeah, I think an overtake should always be an effort and not dictated by you being in the zone and you get the DRS. The race in Jeddah, where you had the leaders braking for the DRS line to try and be the second one to cross that line, that's a different type of racing. So I don't I don't think we should go that way. So we will see. We're still early in the in the project. Definitely you can follow closer. Overtaking is still hard, but it should be an effort and it should be a reward when you manage to overtake.
DRIVER GROUP 3 – Daniel RICCIARDO (McLaren), Lewis HAMILTON (Mercedes), Lance STROLL (Aston Martin)
Q: Let's kick things off Daniel, if we can start with you please? Are you still on a high after Melbourne. Of your eight home grands prix, was that the most memorable?
Daniel RICCIARDO: It was, it was pretty awesome, I think. Yeah, the atmosphere and everything. It was, was a smooth weekend on track. You know, the result was good. It's not one I'll parade or anything. But of course just to have a strong weekend was nice from a team perspective as well, when, you know, it wasn't looking like that after race one. So, that was cool. But yeah, it was more just the atmosphere. It was it was nuts. I mean, everyone that was there got to experience it. And even getting out of the car after the race, where you park in the pits and all the fans are there along the fence. And you see all drivers given them all high fives and stuff, it felt it felt pretty cool. It was a nice atmosphere for sure.
Q: And it looks like the car was better there. Was that track specific? Or have you made a little bit of a breakthrough with it?
DR: I think mostly track specific. You know, we're certainly trying to learn more about the car. And we are learning more about it each time we're on the track. And yeah, a few little bits and pieces here and there. But it was just probably the nature of the circuit, you know, it worked to our strengths. What that means this weekend? I honestly don't know yet. Especially if it is wet. There's been very limited wet running this year. A few of us got to do it in testing in Barcelona, I think that was all, so yeah, probably a bit a bit unknown at the moment.
Q: You've had a good run here in 2020. finishing on the podium. Where have you set your expectations this time?
DR: Ha! Yeah, I don't know. I mean, I would love that feeling again. And yeah, that was also Lewis' first shoey as well, so that was a pretty memorable moment for both of us. So, I would I would definitely invite that again, that opportunity, but we'll see. I'll push. Hopefully, that means a good result. But I couldn't tell you at the moment where I'm expecting to end up.
Q: Well, Lewis, how memorable was that shoey?
Lewis HAMILTON: Scarred me for life! I'll never get over the fact that I had some of your toe jam. That's pretty bad. But no, it was pretty good, obviously an amazing experience to be on the podium with Daniel and this is a great race here. So much great history.
Q: Can we talk bigger picture? Total Wolf says your chances of winning the world championship this year are at about 20%? Would you agree with him?
LH: I mean, I'm not a mathematician so I don't really know what the percentage chances Are. But it's definitely tough. It's a tall order. That's for sure.
Q: But still very much in your sights?
LH: Yeah, I mean, there's a long, long way to go. You've seen in the previous year you've seen how much happens in in a season. Still so many races to go. There's still time for us to turn this around. There's still time for us to fix this car and extract the full potential and that's what I know that all the team are working flat out to try to achieve.
Q: And what can we expect from the car this weekend? Do you think you can make a step forward with it here?
LH: I'm hoping that we… Every time I get in the car I'm hoping that it's going to be feel better. Ultimately, it's fundamentally is still the same car. I know that everyone at factory has been working very hard over Easter to try and bring even the smallest bits of improvement to the car. So we don't have any anything that's groundbreaking, that's going to change our result, but we hope that we do move slightly forward this weekend.
Q: And Lewis, just before we move on, can we talk football? Chelsea Football Club. Do you fancy it?
LH: Fancy what?
Q: Do you fancy buying the club? Playing for the club?
LH: Being an owner? Yeah, I do, very much.
Q: Is there any truth to the stories?
LH: Yeah. I mean, look, I've been a football fan since I was a kid. I played football from probably from the age of four until I was 17. I was in teams every year. I played in the school team every year through my childhood. I've been to numerous games. When I was young… Around the corner from where I lived, I used to play football with all the kids and a couple of my close friends at the time, I really wanted to fit in. I was the only kid of colour there. But I know that the kids all supported someone different. One was Tottenham and one was Man U, and I remember switching between these teams when I was younger and getting home and my sister punching me several times in the arm, my sister Sam, basically beating me saying 'you have to support Arsenal'. So I remember at five or six years old that I then became a supporter of Arsenal. But my Uncle Terry is a big Blues fan. I've been to so many games with him to watch Arsenal and Chelsea play. And ultimately I'm a sporting fan. It is the biggest sport in the world. And Chelsea is the one of the biggest clubs in the world, and most successful. And when I heard about this opportunity, I was like, 'wow, this is this is one of the greatest opportunities to be a part of something so great'.
Q: Good luck with that. Thank you very much. Esteban, let's come to you now. It's been a great start to the season for you with three consecutive points finishes. How do you sum up? Is this what you were expecting coming into Bahrain?
Esteban OCON: Yeah, it's been a good start to the season. For sure, to be three times in the points out of three races is a strong start to the season for sure, and probably the best part of my career so far. So, that's very good. I think we have a competitive car, a car that's capable of qualifying quite high up, as we've seen in Jeddah. It's going to be up to us now to put it all together. And you know, we are pushing the developments very much with the factory trying to get some parts in as early as we can, because we are not far off the front. So that's very encouraging. And that makes the show even better for everyone. You know, it's very tight, it's closer than it was last year. And I think that's good for everybody.
Q: You've got a new floor here this weekend. What do you expect from it?
EO: Yeah, so Fernando will run the new floor this weekend. So, as I said, great that we bring all these little updates as soon as we can. Fernando will be testing that over this weekend and if everything works as it should I will have that in Miami.
Q: And just a final question for me on overtaking. We've got just one DRTS zone here at Imola. Do you expect to see lots of overtaking on Sunday? And Saturday?
EO: It's always pretty difficult to overtake here. But I think what made it tricky in the last couple years was the last two corners, you know, following closely was difficult, I think we discussed it and it should be quite a lot easier and you should exit the corner quite a lot closer than before. But yeah, I mean, we've seen the conditions, how it is today. That brings, of course, a lot of opportunities and there could be a high chance that we are going to go straight into qualifying, so yeah, they are going to be some opportunities to take.
Q: Mick, coming to you. Do you expect your car to be more competitive here than it was in Melbourne?
MS: Well, I hope so. I think that obviously Melbourne didn't really reflect the performance that we have generally. I think it was a difficult Friday that kind of led things to be more difficult than they were actually. So hopefully we'll be back in a position where we can fight and also be consistently with the midfield guys and on top of the midfield.
Q: Do you feel the sprint gives you more opportunities?
MS: We'll have to wait and see. I think we haven't had that many weekends. And surely last year was kind of difficult with the car. So we'll see how it is this year with a more performing car and if it's coming our way or not.
Q: And with the points going down to eighth in the Sprint, does it require a change of approach from you in the cockpit?
MS: I guess not directly. It's just a matter of driving fast and trying to be in that top eight and then obviously have a good weekend overall.
Q: Lance, thank you for waiting coming to you. It's been a difficult start to the season for you and the team. Where are your expectation levels coming into this race?
Lancer STROLL: I'm looking forward to it. You know, it's a great track, somewhere I've always enjoyed coming to even before Formula 1. And yeah, the weather looks like it will be interesting today and, you know, maybe for the rest of the weekend, so yeah, looking forward to racing here.
Q: Do you guys understand the issues with your car?
LS: Yeah, we definitely know our limitations and the things we have to work on. So it's figuring out how we can improve some of those issues going forward. And yeah, get further up the field.
QUESTIONS FROM THE FLOOR
Q: (Alan Baldwin – Reuters) Lewis, even you've explained very well how an Arsenal fan gets to be involved with Chelsea. I just wondered if you could explain how Serena gets involved. Did you discuss it with her? Were you both approached? Or how did that link up happen?
LH: We did speak about it. We spoke multiple times. Serena and I are very close. So we're constantly in touch. You know, she's a phenomenal athlete and woman. We spoke about it, she asked me what my thoughts were on it. And I told her that I'll be I'm going to be a part of it. And she was excited to join.
Q: (Rebecca Clancy – The Times) Lewis, sorry, just to go on about the Chelsea bid. How did it actually happen from your side? Were you approached? Where did it all start? Where did the talks begin?
LH: Well, naturally, I heard about it in the news about… Everyone's obviously aware of it. And yeah, we were contacted and so Martin took time to speak to me on the phone and explain his and his team's goals if they were to win the bid, which was incredibly exciting, and it was very much aligned with my values and again, it's … As a kid I remember I remember collecting all the stickers. I don't know if you remember, when you go down to the store and get those books and you had to then trade cards. I remember filling all those up as a kid and trading them for pennies, trading them for sweets with other kids, for the most valuable cards. And when I was younger I was trying I was trying to be the best player I could be and actually play for a team. So I was trying to try out for Stevenage Borough when I was younger, but then I ended up following the racing space, but I could have only ever dreamed of being part of a team and a natural, integral part of a team, so that's for me the most exciting thing.
QUESTIONS FROM THE FLOOR
Q: (Christian Nimmervoll – motorsport-total.com) Lewis if you manage to win number eight this year or next year, does that change the chances of you signing a new contract or doesn't it affect it at all?
LH: That's firstly a really tall order. And that's not something that's immediately at the forefront of my mind. I think we're all sent these challenges through our through our journeys and through our lives and this is one that I'm really enjoying. I'm really enjoying spending more time with the team, deeper dives into engineering, into aero characteristics, development of the simulator and the simulation tools. I think it's enabled me to become even more involved in development which is exciting. I think I still feel fresh and still feel young, to be honest, even though I'm around all these youngsters here. So, I don't think that's going to be the deciding factor whether I continue or not. I plan to be here.
Q: (Dieter Rencken – Racing News 365) Lewis, again on the Chelsea Football Club thing, if you don't mind. Given the controversial ownership at the moment, given the fact that when Roman Abramovich purchased the team back in 2010 (sic), there were suggestions that the Kremlin was actually involved. And then given your human rights interest, is it something savoury about the deal, dealing with these sort of people?
LH: Well, I mean, firstly, we're trying to acquire a team and move it forward. This is a team, this is all about the community. That's what really makes a football team. It's the people in and around it. They've done and been quite leading in the work in D&I and becoming more diverse and progressive. So, it's not that we're associating ourselves with previous owners. Our goal is to continue some of the work that they've already done and have even more of an impact and engage more with the community.
Q: (Matt Kew – Autosport) A question for Lewis again. Having won the final race at Indianapolis Motor Speedway, having to wait for Austin, seeing how that's grown. And now we're on the eve of the Miami Grand Prix. Just how pleased are you personally to see F1 finally crack in America in a big way?
LH: Yeah, I mean, growing up knowing how amazing the sport is and seeing that there was still quite a disconnect between the US and the rest of the world in terms of the passion for this sport, it's really amazing to see that we've cracked it and there's a growing love in the States. There are massive sporting fans out there. And I mean, Miami is going to be an experience for all of us, for the racing community, for those that are the fans out there that are watching, the fans that are going to be flying in that maybe have never been there before. The US has a lot to offer in that space. So it's super exciting.
Q: (Ian Parkes – New York Times) Another question for Lewis on Chelsea. Lewis, football clubs are notorious for losing money. Chelsea's last financial accounts, they lost £145.6 million after tax. So what have you been promised or told that your investment will get you? And what are you hoping it will achieve? Because I can't imagine you're making that investment to lose money. Thank you.
LH: Yeah, I mean, naturally, that's never the idea of an investment. But firstly, the investment to be a part of something as big as this is the excitement. That's first and foremost what comes to mind. And then yes, of course, it is a business venture. But through the discussions we've had, how the team plan to manage this team moving forward and improve that, and slowly decrease those losses and turn it into a profit-making organisation, that's going to take a lot of work. There are so many moving parts, I don't have the strategy to all that. We haven't yet won the bid. I'm sure that will come afterwards. But the people, the team, the consortium, it's a consortium of lifetime Chelsea fans and others that have come to it later like myself. There's not anyone that's a part of it, that is a part of that consortium that's with the mindset of losing. I already think Chelsea already has a winning mindset. But I think we can do better with how we move it forward.
Q: (Luke Smith – Autosport) For Lewis and Daniel. We've got Miami coming up next, Vegas next year. Very exciting, but there is some uncertainty about Monaco's future, that maybe it needs a revised deal or maybe some changes. You're both Monaco winners, how important is it to keep that on the calendar and its place within Formula 1?
DR: Yeah, I mean, Monaco is special. I think the thing is, I love the addition of some of these new circuits, new cities that we're going to. I'm all for it, because it's also like new experiences and engaging another audience which is fun, and it keeps the sport growing, so I like… I think as Lewis touched on earlier, like kind of sharing the sport with more of the globe, and ultimately sharing our passion with more people. So I think with that you still want… There are those core F1 venues and circuits such as Monaco. It's a special weekend. For sure, like the race, it's one of the most tricky circuits to overtake so, you know, I'm not sure it provides like the ultimate viewing experience on a Sunday but the weekend experience and just everything that is Monaco is special and unique. And yeah, winning it or not, I think going there as an F1 driver and having that and experiencing all the emotions that go with competing in Monaco, it's unique. And I'm very, very happy to have that, and have experienced that in my career. I guess I would wish, you know, call it the next generation to also experience that because it is special.
LH: I mean, I second what Daniel said. I mean, it's one of the crown jewels of our sport. So I'm not really sure it would be great to lose it. There are good bits… I guess that the difficult part is that the racing itself is not that spectacular. But everyone that goes enjoys it. It is a prime location. Adjusting the track is not easy, because it's the second smallest country in the world. I think it's the second or third smallest country? Second, right? And so, yeah, we don't have a lot of space there. Many of us live in Monaco. But it is just that that icon status it has, the history that it has that is so appealing to drivers, but also I think to those that are watching.
Q: (Edd Straw – The Race) Question for Lewis again, again on Chelsea. You've talked about the need to create business opportunities and initiatives for the longer term, for life beyond Formula 1. This sounds like an opportunity that engages you and fits in with your passion for football. So is this something you'd see as if it comes off being something you're quite hands on involved with in the longer term? And also, how do you see it fitting in with some of the other initiatives you've been pushing in the past few years?
LH: Well, at the moment my primary focus is continuing in Formula 1, and this isn't my first business venture or investment. But yeah, it's something I'm excited about, I would say early on I'm for sure not going to be able to be hands on as the other people that are a part of it. But again, we haven't won it yet. But if we do, there's lots of opportunity to get involved more and more over time, which is super exciting. And particularly beyond racing, of wanting to help with the success they've already had, and help it be even more successful. The part where we're very aligned is DNI, for example, and what they've already done there, you've seen that, in that sport, there is still a lot of work to be done to be more diverse and more inclusive. It's an amazing platform to bring in and educate a lot of the amazing fans that are out there. And there's some amazing talent within the team already that have really stood up against discrimination, and worked very closely with the organisation to move forward. And I know that's really important for I think the fans of Chelsea. The community is heavily invested in that also. So I think it's important.
Q: Let's bring in some of the others on this. So, would you consider buying a team investing in a team in another sport. Lance?
LS: Right now, I'm kind of working with my dad in Formula 1. We're in this project with Aston Martin, and it's extremely exciting and there's definitely a huge amount of opportunity in sport. For example, Formula 1 right now, I think it's a very exciting time for Formula 1, you know. The rules have changed, I think the sport is growing. I think the valuations of the teams are increasing tremendously, as you know. Some changes have been made. The budget cap money, better money distribution through the teams. So, you know, I think there's definitely a lot of opportunity in sport. We've seen how the NFL over the last 20 years has changed, and the valuations of the team's went from to 200-300 million to 3.5, 4 billion, you know, in the span of 20 years, which is incredible. And I hope to see our sport in that trajectory, I think it would be great for all the teams. But there's definitely a huge amount of opportunity in sports. You're seeing some sports, like the NFL, the NBA, they've kind of maybe tailed off now at their maximum valuation and potential, but there's certainly a lot of other sports and teams that I think have a lot of potential and therefore are great investments and, you know, great opportunities.
MS: Well, I guess if it's something that, that you support, I guess as Lewis does, then surely it's something that you should follow up. Right now I'm obviously starting off my career in Formula 1, so that's where my thoughts are at. And I don't really think about investments right now.
EO: I think I need to achieve a bit more in Formula 1 before thinking about investing in something as big as that but yeah, I was just saying to Lewis that if that works out for him, congrats, because it shows how much success he's had in Formula 1, and achieving something, getting into football and hopefully being part of owning Chelsea is something massive. So yeah, congrats to him. And I hope I can be as successful in my sport as he's actually now and I can invest in something I like in the future.
DR: I'm a sports fan for sure. So is it of interest? Yes. But you know at what stage? Yeah, I don't know. But I love sport. And I think to any venture or adventure, if it's the same thing, it helps if you're really passionate about it. And yeah, so the thought of it and things like that is really exciting. For now, obviously, I'm not involved in anything, but for sure, maybe one day it's of interest.
Q: (Adam Cooper motorsport.com) Have any of you tried Miami in the same and if not, maybe you've seen videos or pictures. Any thoughts on the track? And what kind of race we might have?
DR: I haven't seen much yet. So I'll be on the sim after this weekend to do that do the prep for it. So yeah, I guess I'd love to add some more but I can't really yet.
LH: I haven't no, but I plan to after this, same as anyone.
EO: Next week for me.
MS: Not yet.
LS: Not yet.
DRIVER GROUP 4 – Yuki TSUNODA (AlphaTauri), Fernando ALONSO (Alpine), Lando NORRIS (McLaren), Sergio PÉREZ (Red Bull), Nicholas LATIFI (Williams)
(Opening segment missing)
Q: And what kind of challenges does the condensed format of the sprint weekend give you?
Nicholas LATIFI: I think it's… it's the same challenges for everybody really. I think maybe the only unique thing with the one this year is that obviously it's still very early in the season so everyone's still… teams and drivers are still learning the cars and with the sprint weekends last year, obviously FP1 was very… kind of intense, you just kind of had to get on it and I was quite a fan of these weekends. This weekend in particular and today it seems like it might not be so much driving in FP1, and then with the weather and then going straight into qualifying. Yeah it could be could be interesting but it's the same challenge for everyone so it should make it exciting.
Q: Fernando, can we just start by talking about Imola? It's a place where you've had so much success. Once a Ferrari driver always a Ferrari driver; I'm assuming you get a warm welcome here. Just give us your thoughts on being back here.
Fernando ALONSO: Yeah, obviously great memories and on Imola, even though I think all the memories that I have, I was not on a Ferrari car and it was the enemy on those races. But yeah, still a good place for the sport and a lot of things happened here in this circuit. I didn't have a great race last year so that's my most recent memory and I want to change that and hopefully we have a good weekend.
Q: Well, how would you rate your chances of improving on last year? I mean, given the pace of the car in Melbourne, what do you think you can do here?
FA: I think it's going to be an interesting weekend because the rain. Obviously we were very fast in Australia. We were very competitive also in Saudi so the car is really fast at the moment, it feels really good. But yeah, I think with this sprint format, obviously, we have only one free practice to set up the car and to make some decisions, and then you go into qualifying and parc fermé and you cannot touch the car anymore. So being wet right now, I think that will add a challenge for everyone so we need to be sharp on our decisions and hopefully, as I said, have a clean weekend and finish the race.
Q: You're running a new floor this weekend. What do you expect it to give you?
FA: Well, there is obviously an updated floor on my car this weekend and hopefully we will see more performance with this. With the current weather again that will be impossible to test in FP1 so we will go, I guess, into the weekend somehow blind into this result and we will find out Sunday afternoon if it was a good step or bad step. And yeah, hopefully it's more performance and we can have it in Miami with both cars.
Q: Lando, coming to you now, a great result for the team in Melbourne last time out. Are we witnessing a genuine resurgence from the team?
Lando NORRIS: A little bit, I guess. Just a lot of things we're learning every weekend and trying to improve on. I guess we knew after race one how much we would have to… how much time and effort we have to put into making progress from where we were, and I think a lot of that has shown so far. I mean, honestly, there's only so much you can do over the first three weeks of driving the car, and we've not bought anything big, you know, it's only been small things and it's been more about optimising them and just seeing what we can do on the new circuits that we actually go to. So I guess a combination of few different things have led to us getting here and making the progress that we've seen. But all in good terms, you know. There's good things with the team and everyone's very motivated to keep pushing and to keep trying to score more results like we did in Australia, because everyone loves that in a way. So we're getting there but I've said many times, we have a lot of work we need to keep doing.
Q: Can you go better than you did in Melbourne? You got a podium here last year, what chance another podium?
LN: Probably a little bit slimmer than this time last year but you never know. Like Fernando said, there's so many differences here and challenges for everyone: challenges for the engineers, how we set up the cars for the rain and maybe not so much for the rain. John has set up the car more for Saturday and Sunday when it might be drier and trying to find the compromises between that but also for us as drivers. Only a few people have driven in the wet conditions in Barcelona so… I wasn't one of them so it's going to be a little bit harder for the people who didn't, in such a short period of time, to get up to speed and find the limits in these cars with these tyres we have this year. So yeah, a lot of challenges. And of course therefore there's a lot of opportunities for everyone and hopefully we can be the team and I can be the driver who tries to take advantage of some of them.
Q: Now, Lando, you've done a lot of racing in Italy during your career. Does this feel like a home from home race for you somehow?
LN: No.
Q: How much do you relish in racing in Italy again then?
LN: I mean, I do love it honestly. I know a lot of people from here and I guess like in karting a lot of the racing is around Italy. In this way you spend a lot of time growing up is here so yeah, I don't know if I will class it as a home away from home but I have a lot of fans here, a lot of supporters who are here in Italy, and so on so it's nice to come back and nice to see a lot of the fans back already, even in these terrible conditions. So I feel for them but yeah, I guess nice to be back, racing here and mainly for the fans to be allowed to be coming back to the circuit, that's the main thing.
Q: I'm going to try this home race theme with you now, Yuki, because you are staying at home this weekend so does it feel like a home race for you?
Yuki TSUNODA: For me, it's definitely… like you said, my home away from here, it's like, really less than 30 minutes. It's different to other racetracks, but also all of the team are really motivated as well so we're looking forward to it. I really love this track, as well, not last year, but yeah, this year, hopefully. My experience here will work well and we'll see what's going to happen.
Q: Let's talk about on-track performance. It was a difficult weekend for the team in Melbourne, particularly in the race. Do you understand the issues now?
YT: I didn't have any issues on Australia so I was just slow. So currently I think the issue is the reliability and pretty much every race week we have some car issue so I think currently we are facing those big issues but hopefully that will be solved in the future soon but currently I don't feel much like worrying or something like that, about reliability. Just we focus on what we have to do, and also the performance. We are lacking slightly what we weren't expecting so hopefully the new updates, again, will work here but we'll see. Like Fernando says it's gonna be a really challenging race week, like these terrible conditions and also first time this year for the sprint format so anything can happen so just ready for it, yeah.
Q: And Sergio, coming to you now. Great qualifying from you here last year, a great race last time out in Melbourne. Just how confident do you feel coming into this weekend?
Sergio PEREZ: Well, I think it's quite a different weekend, you know, with the sprint race in place, Qualifying today, straightaway after FP1 in these wet conditions. It's going to be very interesting. I think it's the first time we were going to be driving these cars in these conditions properly. And yeah, I think it's a nice challenge for all of us.
Q: And Checo one more thing, can you give us your thoughts on the pecking order in Formula 1 at the moment in terms of, particularly, Red Bull Racing and Ferrari? How close do you feel you are?
SP: I feel we are close? I think, certainly in Melbourne, they were probably two steps ahead, especially on race day they were very strong. I think our deg was quite high come raceday. We have some understanding on what went wrong. Hopefully we are able to fix it and be a lot closer on Sunday and in qualifying. Yeah, we'll see what we are able to do this weekend. I think everyone is quite close. I think the pecking order we saw last weekend like anyone can do a really, really good lap time in qualifying and in the race so I think as the season is progressing, the teams are getting closer.
Q: (Jesus Balseiro – Diario AS) Fernando, because of the rain, there's a possibility that we go straight to qualifying today. Would you like this to happen more often so qualifying would maybe be more open or unpredictable?
FA: Probably not, I would say because especially this year's cars, I think, require a little bit of fine tuning on the setup. It's not like the previous generation of cars that we knew very well and we could arrive to the circuit after the simulator or whatever and the car was working very close to optimal. I think this year, you need some time to fine tune everything. So if we go into qualify I think that will be a little bit of… yeah, for me, you know, for everyone - drivers, teams, setups and things. So yeah, let's see if we can do the FP1. If not, yeah, let's see how it goes. But in a way after Spa last year, I feel that we don't have any plan, if something like that repeat. You know, if today was raining a lot the whole day. I don't know what is the plan, you know, into tomorrow, something like that. And that's a little bit of
a concern so let's see. I think the rain should ease off a little bit from now on so it should be okay this afternoon.
Q: Why don't we open this to the other guys here? Lando, for example, going straight into qualifying, is that a good thing or a bad thing?
LN: I wouldn't like it every weekend. Like Fernando said, these cars are not easy to set up but I guess once in a while it's something exciting, something different, it's a big challenge for us as drivers, I guess probably more than anything, you know, to jump in and find the limit. And maybe people would like that more, maybe you can stand out more in those types of situations where you have a very limited time. And I guess if you're into qualifying, you have laps, you know two or three laps in qualifying to try and find the limit. So yeah, I think it'd be a cool thing to do every now and then but it's not something I'd probably prefer over the whole year. You know, you want time to set up the car well and get comfortable with the car and so on so we'll see.
Q: (Luke Smith – Autosport) Checo, reliability has been a weak point for Red Bull so far this season. After Australia what talks have you had with the team in terms of fixes in place and what have they told you that's giving you confidence that it won't be an issue moving forward?
SP: Well, first of all what gives us hope is that all the issues, all the reliability problems we've had we understood them and we were able to fix them. So from now on, hopefully, there are no more surprises. Something unexpected can happen still, but we feel like we've come on top of them and yeah, that will be critical for us on our side, you know, as a team to make sure we are able to collect the points where we are able to get weekend by weekend because yeah, so far it's been extremely painful.
Q: (Adam Cooper - motorsport.com) Another one for Checo: we saw the videos of you with a demo car in Miami. You obviously had a chance to look around, Any thoughts on the track, what kind of race we're going to have? And for the other guys, I don't know if anyone's had a chance to study or try it on the sim yet.
SP: I don't want to give anything away because obviously here are some drivers so… It was a good production. Someone took my helmet away from me, so I'm still looking for my helmet. I don't know where it is so far. So hopefully I'm able to find it later.
Q: Have you driven it on the sim recently?
SP: Yes on the sim. I think it's a good a good circuit. I think it's… it has a little bit of a twisty area that it's quite difficult to get right and the visibility can be difficult. But I think racing can be good with all those long straights so yeah, I just hope the asphalt can be good and we can have good racing because yeah, when we come to new circuits we will find some good surprises.
Q: Yuki, have you driven the track on the sim
YT: Yeah, I drove already. It's really tricky. I mean different, especially in sector three, like it's such tight corners. If a safety car happens, I guess it's gonna be like a real traffic jam there because like it's super tight. Even like a hot lap is still quite slow corners so it's gonna be interesting to see but… yeah, like Checo says, hopefully that overtaking will be key for that track. And yeah, I guess I'm really looking forward to it.
LT: No, I've not driven it and I don't even know what it looks like.
FA: Same. I didn't drive yet.
NL: Yep, the same. I haven't driven it yet.
Q: (Claire Cottingham - Racefans.net) Lando, in terms of the struggles that you've had at the beginning of the season - obviously you said Melbourne has been a bit of a turnaround for you, but having a sprint qualifying this weekend, is that going to hinder or help you moving forward to try and work out the issues that you've got with this car?
LN: If anything, more than likely just slow them down, I guess. I don't think it'll hinder us because you know, there's still a lot of different opportunities which arise and therefore we can try and take advantage of them. But yeah, I guess we're still figuring out a lot of things with the car, we want just as much running as possible to kind of keep the learning going consistently so when you have something like this, you can't try as many things with the car, you don't learn as much from FP1 in terms of… you don't have the time to do aero runs and all of this kind of stuff. So it definitely slows down the rate of development you can… or understanding you can you can gain. But we're still learning from different conditions so we will still be able to learn different things over practice, qualifying and the race and so on but maybe just not as much as what we would on a normal weekend.
Q: (Carlos Miguel – MARCA) A couple of questions for Fernando: the first is do you believe that the new floor can improve the tyre degradation of your car in the race? And when you see the renovation of Carlos Sainz is this the proof when you talk about the great feature of Carlos?
FA: On the new floor, no, I don't think that it will link with the tyre degradation too much. I think we had some problems in Bahrain, it's true, but in Saudi we had no problems with the tyre degradation we were looking comfortable for P6 or P5 so yeah, I think that's more track dependent and how we set up the car or how we drive the car or how lucky or unlucky we are with traffic so I don't think that the floor will make a huge change on that. It's more up to us. And on Carlos' new contract, yeah, happy for him obviously and for Ferrari, I think they did good, you know, to continue with him, after a good season last year and a good start now. Obviously, they have the fastest car now. So it's good to see Carlos on that car for a few more years. And with these new regulations should stay a very competitive package.
Q: (Matt Coch – speedcafe.com) Fernando, we've heard Lewis talk about potentially getting involved in ownership of the Chelsea Football Club. Along similar lines, a few years ago you came close to founding a cycling team, which obviously didn't happen. Do you still have interest in being involved in a cycling team? Or have you revisited the idea in the years since or something similar?
FA: I think, first of all there are very different topics and passions. You know, cycling for me has been my passion for all my life. And I've been cycling all my life. And I've been involved on professional
cycling, friends and a lot of projects around that so when I thought about the professional cycling team, I have a lot of knowledge about, you know, what I was going into. I'm not saying Lewis doesn't have (that) but I think football is a little bit bigger than that and, I don't think that there are too many similarities there. On the second part of the question, no, I'm not planning now to move forward that project. I started many other things, meanwhile, and they are more interesting at the moment.
Q: Is anyone else thinking of investing in a sports team? Checo?
SP: I haven't. I think at the moment I will focus… full focus on the job.
NL: No, I have my sports team so all good.
Q: (Luke Smith - Autosport) A question for all five of you: we've had the first few races now with the new regulations and the idea of making it easier to follow and hopefully battle wheel to wheel. I just wanted to know your thoughts; has F1 achieved what it set out to do with these new regs? And how much of a test do you think this weekend will be on quite a tricky track to overtake?
SP: Yeah, I think certainly we are able to follow closer. I think racing has improved. I think we've had good racing up to now but as well, we've been to circuits that generally has had good good racing. So I think I'm happy with these regs. I just feel like we are all learning from them at the moment, all the drivers, all the teams, no one is at 100% yet so there is still a lot of improvement that will be done and we are all figuring out how to race the best in these conditions. But certainly, racing is different to before.
YT: Yeah, I think pretty much the same comments as Checo. Just interesting how the visibility is especially in the rain conditions. How different it is compared to last year's car. Last year's car was really hard to see when it's rain conditions, especially in Spa? And how the new cars behave for that one. Hopefully, that visibility will be better. If it's so I think even in rain condition, I think overtaking will be possible and it will be a more exciting race. So yeah, we'll see.
LN: Yeah, of course, the thing has been met. There's a lot of evidence so far that things are in the right direction. I don't know if it's hit all the exact numbers and whatever that has been but it's been made to have better racing, closer racing, more overtaking and I think every race you've had so far has been exactly that. So yeah, I think what's done is good. I think it's been a good show so far, there's been a lot of racing, it's shaken the order up a little bit, and so on. So I think the reason for changing everything and doing what they've done has worked. So I think it's a good job.
FA: I agree with all the comments, but maybe to be a little bit more negative on some others because I think we still… it's easy to follow cars, for sure. Aerodynamically I think we don't lose as much downforce as before but the tyres are still an issue. To follow cars, you still damage a lot the tyres. On wet conditions, I didn't drive in Barcelona, because we had this problem with the car in the morning. But I guess it's gonna be difficult, these cars on the low speed, you know, corners, and the slower that you run, obviously, in wet conditions, that will be a challenge, also on the wet tyres, and to put temperature in them. And also, the new regs are supposed to bring all the cars closer together and multiple teams could win races and drivers and things like that and I think the order of the qualifying is still team by team, you know, not drivers by drivers so there's still a thing that the sport in general should keep looking into that and improved it.
NL: Yeah, I think from the aerodynamics side and the following I mean, that's been clear. I think every driver feels it's much easier to follow compared to last year. Yeah, I think over the next years, I mean, hopefully the rules do close the field up a bit along the lines of what Fernando was saying. But yeah, I mean, when I get back home on Monday and I watch the races back, I mean, it's clear. And as a fan of the sport as well, the races are more exciting than they had been in the previous years so I think that's a good first step for these first years regulations.