Feature
FIA Friday press conference – Italy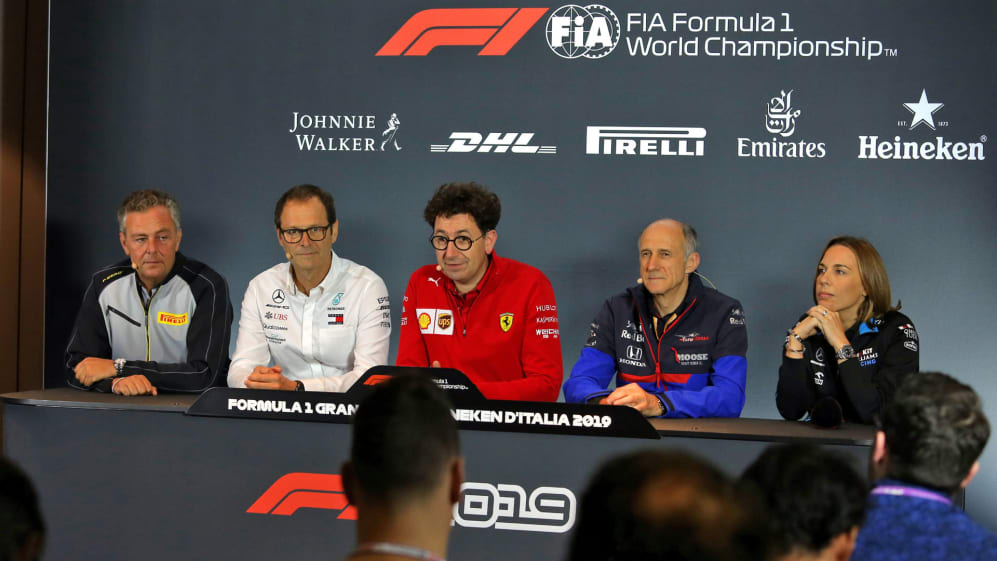 TEAM REPRESENTATIVES – Claire WILLIAMS (Williams), Franz TOST (Toro Rosso), Mattia BINOTTO (Ferrari), Mario ISOLA (Pirelli), Aldo COSTA (Mercedes)
Q: Question to all of you to start with. There was confirmation this week that the Italian Grand Prix will remain on the Formula 1 calendar for at least another five years. How important is it to for the sport to retain races and tracks like this one?
Mattia BINOTTO: Obviously we are very happy with the announcement at first because the Italian Grand Prix – and we believe this obviously as Ferrari but for the sport and the fans – having one race in Italy is key. Fundamental. We've celebrated this season the 90th season of Scuderia Ferrari but as well the 90th year of the Italian Grand Prix – so it is something which is part of the F1 history and we cannot miss it.
Franz?
Franz TOST: I think it's very important and really good news that Monza stays in the calendar because, as we all know, Monza is an essential link to Formula 1, to the history of Formula 1 with highlights but also with tragedies. For me, Monza is one of the most important tracks regarding the history, like Silverstone – there should also be one race in Germany – like Monaco, Spa. These are the tracks where, in Europe we have to have races because the history matters to us.
Claire?
Claire WILLIAMS: I would totally agree with what everybody has said already. Monza is a historic race; the Italian Grand Prix should remain on Formula 1's calendar. As much as it's great to have all these new tracks we're going to in lots of far-flung places across the world, Formula 1 having races remaining in its heartland is absolutely critical to our sport. It's a wonderful track. The fans here are fantastic – as much as predominantly they're Ferrari fans, I know there are a few Williams fans in the crowd as well, and that's great. There's nothing better than racing in places where you have so many fans turn up to cheer you on.
Mario?
Mario ISOLA: I cannot add a lot more. Monza is our real home race because the company is half an hour from here, so on top of the reasons mentioned by them, I fully agree. It's feeling at home, it's great for the fans, great for everybody, so happy to have Monza in the calendar for a long time.
Feeling at home – stay at home as well?
MI: Yes, sleeping at home, not at a hotel. Fantastic.
Aldo?
Aldo COSTA: I can give you the petrolhead answer. It has been my first circuit as a fan, where to see a Formula 1 race, and then, yeah, career has developed with Minardi, Ferrari, Mercedes, a lot of memories. It has been an incredible story around this circuit, and I'm very happy that it will be kept for the future.
Q: Staying with you, Aldo, news broke today that you're joining Dallara next year. Can you just tell us why you've made that change, and tell us about the new role as well?
AC: Yes. It has been, of course, a difficult decision. I have spent, until now, eight years in England at Mercedes and it has been really a fantastic experience: a fantastic experience with the people, with the team. In the team you should see which harmony is there and how great is working for the team. Unfortunately my family stayed in Italy and for us it was quite tough, and at the end, I decided to take an opportunity that will allow me to further develop as an engineer and, in the meantime, to stay closer to home. So, coming back to my land and try to develop the Dallara Group to the next step, and try to develop new talents – something that I love. And, I love as well, working on different cars and not only Formula 1. So, fantastic opportunity combined with a different lifestyle and yeah, was a perfect choice for me.
Q: Eight years at Mercedes, as you say, but more than 30 years in Formula One. How do you reflect on your career so far – your Formula 1 career?
AC: Yeah, it has been amazing. I have done three big, long cycles. This is what I like. Minardi; Ferrari; Mercedes: building up a team; building up an organisation; building up processes; building up design capabilities. So, yeah, it has been a career, wonderful for me and a lot of nice memories in all the three environments. And now, yeah, I'm starting the fourth long cycle – I hope.
Q: Franz, you spoke last weekend about how you were going to manage Pierre Gasly on his return to Toro Rosso. So, how do you assess his performance at Spa?
FT: He showed in Spa a very, very good race. A very good performance. I think that Pierre is back underway and he will also come up with good results – hopefully here in Monza as well and I am quite positive. Unfortunately here he has to start from the back of the grid because we change the power unit on his car but nevertheless – and Daniil showed it last week in Spa – it's possible as well, scoring points and starting at the back of the grid. He gets more and more familiar with the car. The team, he knew already. There's nothing special. And he is making the progress which we expected.
Q: Monza hasn't been a happy hunting ground for Toro Rosso in the last few years – in the hybrid era. Pierre is at the back but what you do you think you can achieve this weekend with that car?
FT: It depends which weather it is. If it's wet, I think we've a good chance because Daniil was quite happy today with the car and the wet conditions. I hope that we can show this performance as well under dry conditions as it looks like tomorrow – Saturday – will be dry but Sunday could be wet. If we get the set-up together, especially from the aerodynamic side, I think that we are quite competitive because, with the Step 4 engine from Honda, we made a step forward, and therefore I don't think that we have any disadvantage.
Q: Claire, coming onto you, while we're talking about performance, we saw your team take a step forward in Hungary a couple of races ago. What can we expect from you this weekend on a very different type of circuit?
CW: I think probably similar levels of performance to that which you saw in Spa. These circuits are particularly penalising when you've got quite a lot of drag on car, which unfortunately we do at the moment. So, it's going to probably be another tough weekend for both George and Robert. I think, probably, long run pace in Spa was better than we expected it to be. The guys had a vaguely decent race. They were able to fight with somebody else rather than just themselves. But, again, Sunday's going to be difficult for us. Maybe depending on the weather, we might be able to capitalise, is there's a bit more of a lottery going on – but I think we're probably more looking forward to Singapore than racing on Sunday afternoon here.
Q: And where are you at in your understanding of this year's car? In terms of, do you understand the deficiencies enough to be able to implement the correct changes into next year's car?
CW: I think we're probably pretty – very – clear on where the deficiencies are. We need more downforce, we need less drag. And obviously the aerodynamics team are working really hard on that. As you all know, we bought a significant package to Germany. We're still trying to capture a lot of data to truly understand how much that performance did bring for us – and we continue to bring test items to each and every race to dial out some of the issues that we have across other issues that we're facing at the moment around some of the mechanical areas on the cars. So, we're doing all of that. We've got a very clear pathway moving forwards. A lot of that work will continue to ensure we improve this year's chassis but also so that we bring performance items this year that will have an impact on the FW43 – the 2020 car.
Q: Mario, coming to you. It's the Temple of Speed this weekend. The cars exceed 200mph on four occasions around the lap here at Monza. How do those speeds affect tyre performance?
MI: Yes, Monza is a circuit where you need a lot of traction, where you need to protect the rear tyres. There is not a lot of downforce on the cars because they need the speed, so there is an additional stress on the tyres, I believe. We have a good tyre choice, then a lot will be on weather, because the weather forecast is, for the moment, on a wet race, and maybe we will see a lap record tomorrow in qualifying. That should be dry – but I think it's not easy for the teams to understand the weather this weekend, so the stress on the tyres is quite high – but more on that is how to understand the condition of the circuit.
Q: Now, looking further ahead than this weekend, big week for you next week when you begin testing the 18-inch tyres with Renault at Paul Ricard. Can you just enlighten us a little bit more about what the programme is for that test?
MI: Yeah. We are ready. We start with a baseline, obviously. The test will be more on construction. That is what happens usually, when you have a new size, a new challenge. I have not a clear idea what to expect. We started already the F2 tests with 18-inches. That is going quite well, so hopefully we have the same result with Formula 1. It's obviously more… I don't want to call it a 'shakedown', because we are going to test for two days and we have a programme that is quite big. We want to test different solutions to have a better idea. We have these three sessions to understand and assess the baseline for next year and then, obviously, we will have a full year of development next year to finalise. The challenge is big, as I've said many times, and happy and excited to start very soon.
Q: Mattia, wonderful celebration of Ferrari's history on Wednesday evening in Milan. What was it like from your point of view – lots of former team-mates there?
Mattia BINOTTO: It was fantastic to see so many people there, our fans, the passion. The number of people, the guests, was very, very high. The entire square of the Piazza del Duomo was full of people. I think it was a great celebration, because firstly we hoped people would come after such a bad start to the season I would say, but then here it's where you can really feel the passion of the tifosi of Ferrari. It was incredible. We had many drivers of Ferrari of the past. We got people who somehow had been part of the Ferrari history and I think to see all these people on the stage was something impressive. And from my personal point of view as well being there on the stage and to see so many people it is something that is giving you a boost of energy. After Spa as well it was a great way as well to somehow celebrate the very first victory of the season but certainly a big boost for this weekend as well here in Monza.
Q: Now talking of Spa, Sebastian spoke yesterday about his tyre difficulties. Are you able to explain why he suffered more than Charles in that race?
MB: Obviously after Belgium we did some analysis. I think at first we all had quite high degradation on the medium. That's true not only for Ferrari but looking as well to our competitors. We believe the degradation was similar but unexpected at least for us that degradation was high on the medium compared to the soft. Obviously also we had a very early pit stop on Sebastian, so let's say that he got a disadvantage on tyre degradation by the time he was on the track with the other guys on the same compound. Most of the difference between him and the others was simply tyre degradation and not his own pace. Obviously we had to pit him very soon to protect ourselves to Hamilton but that somehow as well put him in a bad position, trying to compete and be on the same pace as the others.
QUESTIONS FROM THE FLOOR
Q: (Frédéric Ferret – l'Equipe) A question to Mattia. Is being the team principal of Ferrari as difficult as you were expecting and what kind of difficulties have you already met since you became the boss?
MB: I would say it is more enjoyable than what I was expecting, rather than difficult. The reason why it is enjoyable is because I think we have got a great team and a great team spirit and that is somehow giving to the team principal the right confidence and boost and again our tifosi, as I just mentioned before. I think these are circumstances where you may somehow play your role in a proper manner. I would not say difficult but certainly the pressure is there. The first part of the season has been difficult and somehow to manage the situation is never easy. It's true with the fans, with the media and it's true within the team. But somehow that will make us even stronger in the future by making sure that we have been able and capable of managing the start of this season.
Q: (Dieter Rencken – Racing Lines/racefans.net) To the four team representatives: Guenther Steiner this week in his team's preview questioned the need for standardized or prescription parts and a budget cap – basically saying 'don't tell us how much money we can spend and then tell us how to spend it'. Would you agree with that?
CW: I think I've made Williams' perspective on this very clear. We very much agree with the cost cap and you know standardization of part again all talks towards cost saving or cost efficiency in Formula 1 and again that's something we are very much in favour of.
FT: I am also very much in favour of what the FIA and FOM suggest, what hopefully will come within the regulations and I think for me it's clear and there is nothing more to say.
MB: What Guenther said is not, let me say, a new position for Ferrari since the very starts. We were arguing the standardisation at first because, as he said, there is a budget cap somehow to control the costs and whatever you may do at the end you may standardise but the budget cap, at least for the top teams, will be the level of expenditure for the season. We believe that standardisation may even be a risk for Formula 1 in the future, because at first you don't know what is the reliability on standard parts at the very start. We had a situation as well, if we look back at F2 for example, on a standard clutch, for many races they simply had to start behind the safety car because the clutch was not reliable enough. So we may accept standardisation but we need to make sure at first that it is reliable, that the level of quality is the right one, that the level of performance is what you may expect for an F1. And more than that we need to make sure that we do not have extra indirect cost by simply developing a standard component. We believes that for most of the standard components that we are proposing currently for 2021, we will all needs to redesign our car, we will need somehow to make sure that whatever is the new component is properly functioning and that's extra cost. That maybe it's not costs that you have from 2021 onwards but it will be extra cost from now until 2021.
AC: We are in a similar position. We accept the cost cap. It is a measure that will for sure impact how our teams develops thing, as Ferrari, Red Bull for sure, I don't know who else. So we accept the challenge. In terms of standardisation, the same concern Mattia was expressing. We need to make sure they are reliable. They will require a lot of redesign around, so we are not convinced that they will be a real cost reduction. The cost reduction can be negligible. But the cost cap will definitely be something quite big for the big teams.
Q: (Ian Parkes – New York Times) – A question for to the three team principals and Mario, if you have an opinion. When Michael Masi took over from the late Charlie Whiting he naturally had very big shoes to fill. He's been in the role now for six months, so I just wondered if you could give me an idea of what you have come to expect from Michael and the role he has done so far?
MB: I think Michael is doing very well since Australia and if you look over the first races I don't there have been, from a race director's point of view, any mistakes or big mistakes. And as you said it has not been easy for him, obviously in Australia first, because it's, let me say, with no advice he had to jump into the role. But since then he's doing really a pretty good job and I'm really happy.
FT: I can only agree with Mattia said. Michael is doing a fantastic job because it was not easy for him because as you said they were big steps he had to go in and he fulfilled it and he is doing the best possible job he can do in this position and so far I would not say that the made any wrong decision we are quite happy with him.
CW: I don't have much to add. I agree with what Mattia and Franz have said.
MI: I agree. Our position is probably slightly different compared to the teams. We are working with the FIA every day on many subjects. We have different reference people now. Obviously it's difficult to replace Charlie and Michael has probably a slightly different role compared to Charlie – Charlie was a bit everywhere. He was our… I don't want say unique reference, but every time we needed something we went to Charlie, and now in the FIA there is a slightly different organization so we have different people but I believe Michael is doing an excellent job.
Q: (Scott Mitchell – Autosport) A question to Mattia and maybe Aldo as well if you feel you would like to comment. With what needs to be resolved with the 2021 rules, do you expect that it will be resolved within the time that has been set or do you think it could rumble on beyond that either by the bigger teams delaying it or by veto or anything like that?
MB: Well, by the end of October we need to vote and I'm pretty sure that regulations will somehow be somehow voted and accepted by that date. I think obviously the current effort is that when we come to the end of October we are in the best position in terms of compromise or agreement. But regs will be voted and obviously later as well, as they can still be discussed and eventually modified if we may find let me say at least if not unanimity but a majority on what can be the intent. I'm not expecting anything wrong by the end of October. It's only a matter of collaborating as much as we can from now to there to have to have the first set of regulations which are as best as we can and continuing on them for the future.
AC: Nothing else to add.
Q: Franz or Claire anything you'd like to add?
FT: The major topics must be fixed until the end of October. This is what we agreed. We can't delay it anymore, because discussions are going on without any results then. I think that currently the different working groups are doing good jobs. We have next week another meeting in Geneva where we hope we will fully decide some important things and as I said before the end of October it must fixed. Maybe afterwards there will be some small fine-tuning but the regulation must stand.
Q: (Dan Knutson – Auto Action, Speedsport) Claire, we all know how much Frank loves to be at the race track; he was at Spa, first time out of Britain at a race (sic). How much of a thrill was that for him and how much of a good medicine for him?
CW: Yeah, it's always great when Frank's at the track, I think not just for our team – our team thoroughly enjoy having him there. He is our leader, he is our inspiration and just to have him there gives everybody a really boost - but I think for a lot of people in the paddock as well who know Frank, I think they, as well, find it a real joy to have him around. Obviously because he can't fly any more, Silverstone is invariably the one race that he can get to but we obviously saw how much he enjoyed being at Silverstone, put a plan in place to have him driven over to Spa and he loved the drive. If nothing else, it was great for him to get out of the office and it was great for him to be at the race track, I think. As everybody knows, Frank lives and breathes Formula One. As he says, this is his oxygen, it's what keeps him going and I think if we can put a plan in place to bring him to more races by car then we will. I think he's talking about driving to half the races next year. I think that means he's going to have to set off pretty early for a lot of them. It's great for him and I think it's great for Formula One as well.
Q: (Andrew Benson – BBC Sport) Mattia, the Ferrari's got a very different performance profile from the Mercedes this year and I think it's fair to say it's only competitive at certain types of tracks, so far, anyway. Is that something that's going to continue for the rest of the year? Is it something that you can't change without a philosophy change on the car? And are you doing a philosophy change on the car for next year?
MB: Certainly there is quite different characteristics or let's say that as Ferrari we are certainly lacking in grip-limited areas and this is where we need to improve, and whenever we may got to circuits where there are a lot of corners and where grip-limited is important or maximum downforce will be required to be fast, we are certainly showing our main weakness. How we are addressing that by the end of this season? I don't think so because the gap is too big in that area. Can we improve the situation? Certainly we are working to address it. And are we putting too much effort into this season or should we concentrate on next year? We are trying to address the issue. Being that the regulations are now stable from now to next year, we believe that whatever we may do this season will be useful for the next one. So yes, there is a gap, it will remain; hopefully we may close it.
Q: (Daniel Horvath – The Paddock Magazine) Claire you touched earlier on the improvements you are working on. That's your view, how much of a re-set does the team need and what changes can we expect considering 2020?
CW: Yeah, there's been a huge re-set at Williams which I've talked about a lot this year and a re-set invariably takes an inordinate amount of time and time that you wish could go a whole lot faster but we have put in a lot of change in the business and a lot of change that unfortunately a lot of people when they tune in on a Sunday afternoon, they don't get to really see, but change does take time to bed its way in. But we've made those changes, we've made a lot of changes over nine months, not just to what we do from a performance perspective on the car but also to how we operate and function as a business, to make sure that Williams really is set up to be prosperous in the future and that's been really important to us and something that we've put a huge amount of energy and time into. I think we're starting to see the results of some of that work that we've done but it is a journey for us, this is going to take us a long time to get ourselves back into the midfield and I suppose we just keep asking for patience and for people not to expect that suddenly the light switch will come on and we will suddenly find ourselves back fighting for P4 and P5, particularly when you look at the competition out there at the moment. The guys ahead of us are doing a fantastic job and it's up to us to keep taking that fight. And we will. The ambition at Williams is still there. The spirit within our team is probably stronger than it's ever been. I think we've really galvanised our team this year into knowing, understanding what the vision, what the mission is for Williams moving forward and put a timeline in place so people know and understand what they're working to and I think that's probably a critical part of what we've been doing over the past few months at Williams. We've clearly still got some work to do on some personnel issues and we've obviously still got to find the performance and that's the work that the guys across the engineering functions are working really hard on at the factory at the moment, and I'm just hoping that next year's campaign is a whole lot more successful for us than this year's one, because this is the second year of pain for Williams and we don't want to find ourselves at the back of the grid next year. We're doing everything to make sure that we don't. Certainly '21, hopefully, will be a whole lot brighter for us as we continue that campaign of work and then with the new regulations that we're hoping will be signed off at the end of October will all contribute to making or putting Williams in a better place and giving us greater opportunity moving forward.
Q: (Thomas Maher – FormulaSpy.com) Claire, Jamie Chadwick is here this weekend. Can you outline more about what her role is here this weekend and over the next couple of months and whether there is the possibility we might see her maybe in some older Formula One machinery at some point?
CW: Yes, Jamie joins us tomorrow. She's actually in an F3 test today. I hope I'm allowed to say that… She's doing that today. She'll join us – this is, I think, her third race weekend that she's joined us at and it's all part of the driver academy programme that we have in place at Williams, that we established this year and it's working really well for us. It's all about obviously taking young talent that we can find and helping develop them, but also for them to help Williams develop. Jamie has been an instrumental part in that this year and when she come to the races with us, when she's trackside she shadows basically, she watches what's going on in engineering briefings, she listens to the drivers, she obviously watches all the track action and she just learns how a Formula One weekend operates. I think she's yet to announce her plans for 2020 but I know she's got a lot of offers on the table, not surprising considering the job that she did in the W Series this year and just the personality that she has and the ambition and the drive that she has as well, I think it will take her a long way. As for our plans for Jamie, moving forward, we're obviously working out what we're going to be doing from a race driver perspective for 2020 at the moment, and once we've resolved that then we will start looking and thinking about the plans for the driver academy and who we have in there.
Q: (Luigi Perna – La Gazzetta dello Sport) Mattia, you planned to put your new power units back here in Monza. Did you use it already today and in this case is it working as you expected?
MB: Yeah, we used the new power already in FP1, that's normally our normal way of proceeding so on the Friday to make sure everything is working properly and making sure that we are at least tuning the mapping in the best way for Saturday and qualifying and the race. Yes, so far so good. Obviously we had very little running this morning apart from in the wet which are quite different conditions compared to the top speed we may expect for the rest of the weekend and certainly for tomorrow but yeah, we're all good.
Q: (Davide Russo – NewsF1.it) Mattia, it's your first time here as Ferrari team principal so what's your expectation and sensation for the race?
MB: Ok. At first, I didn't realise it, I didn't think about it because it's not my very first time here in Monza which is even more important. Expectations? No doubt that after Spa the expectations can only be high. This is a circuit with long straights and we know that our strengths are on the straights but we know as well from Belgium that we just finished the race a second ahead of our competitors and so there is no margin there. It has been a great and perfect weekend for us in Spa. We know that we can do well here in Monza only if we have a perfect weekend.
Q: (Dieter Rencken – Racing Lines, Racefans.net) Mattia, I wonder if you can clarify a comment that you made earlier on when you said that the regulations will have to be voted for by the 31st of October? We were under the impression that the international sporting code was being used which is why it was deferred from 30th of June to the 31st of October. Has that changed?
MB: No, no. We all agreed by a meeting to postpone it because some more time was required but we are all aware and fully aware that we cannot postpone it even more so that will be the deadline by when we need to vote. To postpone it further would mean not to be ready in 2021.
Q: (Dieter Rencken – Racing Lines, Racefans.net) … vote side, because the international sporting code doesn't make provision for a vote.
MB: We should have that to the FIA and F1 but I think their intention is to vote to make sure that somehow all the teams are agreeing.
Q: (Alessandro Bucci – ItaliaRacing.net) Franz, about the aerodynamic content of STR14, how is the ambivalent state of that part after the summer break?
FT: After the summer break. All the new upgrades we've decided to put on the car before the summer break, because in the summer break they don't do anything, and OK, here in Monza a new aero package so all the teams with a different rear wing configuration and also front wing some changes and then we will come up with smaller upgrades to Singapore and some changes on the floor for Suzuka and Mexico we will see then. This is still in the wind tunnel. Don't know yet.