FIA Friday press conference - Russia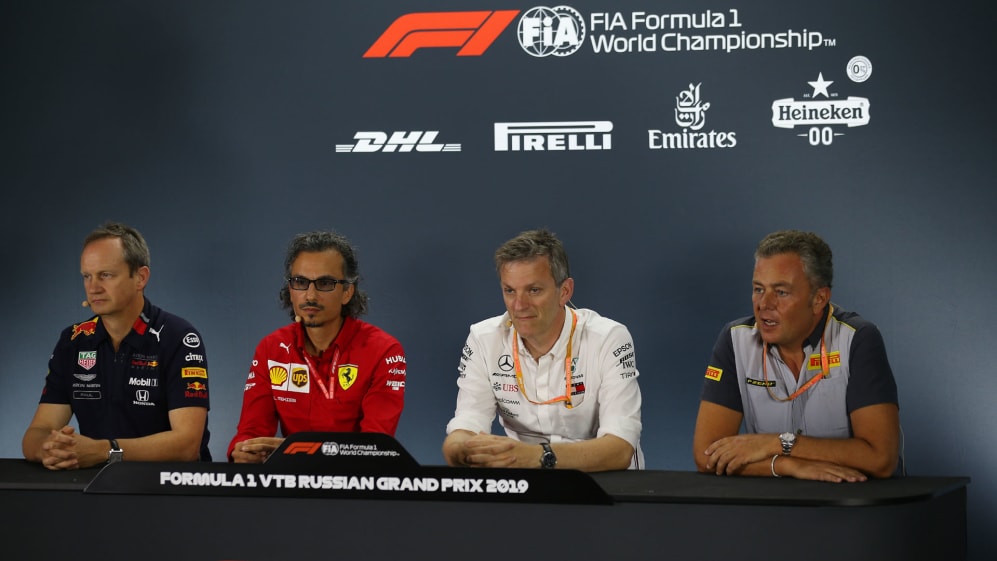 TEAM REPRESENTATIVES – Laurent MEKIES (Ferrari), Paul MONAGHAN (Red Bull Racing), James ALLISON (Mercedes), Mario ISOLA (Pirelli)
PRESS CONFERENCE
Q: Laurent, if we could start with you please. Ferrari have had a tremendous run since the summer break but can we start by talking about the Singapore Grand Prix. Lots of upgrades on your car. Were you surprised – at all surprised – by the impact they had?
Laurent Mekies: Well, you know, like you say, we brought a lot of new parts to Singapore, so you are always hoping they will perform at best. If anything, yes, we were a bit surprised to be able to close the gap as much as we did. Nonetheless, we are conscious that the gaps are very small. These guys [Mercedes] or these guys [Red Bull Racing] could have won the race equally, so it was just good to be back in the fight there, and here I guess we'll have another good data point to understand if it's going to be the case everywhere or if it's going to be a lot more work needed.
Q: How tight was the call to pit Sebastian on Lap 19. What did you see on the data that led to that decision?
LM: I think from a strategy point of view, it was clear that we had to pit that lap, and that's the call the guys made and that was good. Obviously, what surprised everybody is that the undercut, so-called now, was very, very powerful, to the extent that we ended up not only in front of Lewis but also in front of Charles. I think the important thing is that it put both our cars in the lead.
Q: James, while we're talking about Singapore, it was clear to Ferrari to pit Sebastian on lap 19. Why didn't you do the same?
James Allison: It wasn't maybe quite so clear to us! I think the thing that surprised Laurent also surprised us, which is just the dramatic power of that undercut. Had we better anticipated that it would have been clear also to us.
Q: Can we expect a more aggressive strategy from Mercedes this weekend?
JA: No, not necessarily. I think everyone tries to play the strategy like a game of poker. You try to line the odds up in your favour. You can't make a winning move at every turn, you just try to do the thing that, nine times out of ten, is going to play out correctly. And that's not really a matter of aggression or being passive. It's just trying to figure out what is the best likely outcome.
Q: And did your car perform in line with expectations in Singapore?
JA: No. We were taken aback by the pace of our competition. It's an annoying business, Formula 1. You can think you're going to be good and then find that you get a whipping. We were pretty much where we thought we'd be on race pace but, in Singapore, if you don't put it on pole, then you line up to be beaten – and that's what happened.
Q: Paul: you saw what Ferrari saw. How clear was it to you to pit Max on the same lap as Sebastian?
Paul Monaghan: Pretty clear. Max was quite vocal in his assessment of the situation we found ourselves in so we got on with it and pitted him.
Q: You went to Singapore as one of the pre-race favourites – so was your car performing in line with expectations or…?
PM: Well, it depends how you claim your expectations. We were not as quick as we'd hoped to be, relative to our opposition. So, if our car performed to its limit, the others were better than us. A little bit disappointed and you lick your wounds and move on, don't you? You don't dwell on the race, you learn from it, and we hope we bring the lessons here in subsequent races and into next year.
Q: While we're talking Singapore Mario, just quick question for you, did the three Safety Car periods help to keep the Hard tyre alive? Without them, would it have been a two-stop race?
Mario Isola: It's difficult to reply to your question because, as usual, the Hard tyre is not tested for long stints during the free practice, so we can just make estimation – but it happens often during the race that we have a different scenario. So yes, on the paper, it should have lasted for all the race but in terms of performance, and keeping the performance to the end of the race, it's difficult. Obviously the Safety Car is helping the performance life of the tyre. With the Hard tyre, it could have been difficult to switch-on the tyre, a worn tyre, after the Safety Car but they were able to do that – so happy with the final result.
Q: Laurent, back to you. Any reason to think you can't make it four in a row this weekend?
LM: Well, you know, as we said, Singapore was for sure a good result and as you said, Spa and Monza were also good races – but if you look carefully, it was extremely tight in Spa, that's the reality of it. It was extremely tight in Monza, we had these guys behind us for 50 laps. It was better than expected in Singapore, with everything that is so specific about Singapore. So, here will be, I guess, a real answer for us when it comes to what's going to be the pace from now until the end of the season.
Q: James, this weekend, your competitiveness relative to Ferrari in particular?
JA: I think it would be a brave man who would put his house on any one of these three teams because it looks pretty challengingly close at the front. So, I have no idea. We're going to have to work well in FP2 and FP3 to be able to do well in qualifying and in the race. At the moment, it's too difficult to say whether that's going to happen – which I guess is fun for everyone else but a bit more stressful for us.
Q: Paul, this weekend you're taking a lot of penalties. I suppose with Suzuka in mind. How important is it for Red Bull to perform well in Japan, home race of Honda?
PM: Well, we haven't taken penalties here solely for Suzuka. We are in our first year with Honda and, if you look at it, we've not had an engine fail or anything like that. All the engines in the pool are still there. As part of the programme to get ourselves more competitive, we've opted to take just five places here. It will dent us from necessarily being with these guys on lap one – but it's looking beyond Suzuka, we're into next year. It would be nice for us to go well in Suzuka, wouldn't it? But I dare say the gentlemen to my left will have something to say about that.
Q: Mario, its recently been confirmed there will be an extra tyre test in October for next year. Which teams are going to participate in that test and what are you expecting to achieve at that test.
MI: The target of the test is to finalise the development for 2020. We had some addition requests in June and July, so it was difficult to change our development at that time and we made a proposal to have an extra test to test a new compound with a wider working range, especially on the Hard levels. That is not possible in Paul Ricard – that was the last test in September – and, luckily, three guys were available to run the test, so we will have one day each, Mercedes, Ferrari and Red Bull. That is a very good opportunity for us to finalise the product for next year.
QUESTIONS FROM THE FLOOR
Q: (Scott Mitchell – Autosport) To James, Laurent and Paul. We don't have the finalised 2021 rules yet. We've had bits to look at, things that may or may not change. How much progress or exploration have you been able to do with these rules and how intense is that going to make it behind the scenes now you've got this season to finish, 2020 to focus on and then a big rule change in 2021?
JA: Well, big rule changes are pretty challenging whenever they come. This one is certainly, drafted is a lot, lot bigger than most and that will make it extra-specially challenging. I would say that, however, the precise nature of those rules is still being discussed. And so the actual amount of work that can be done right now is relatively limited because, precisely where those rules shake out is not yet fixed. But it's going to be difficult.
LM: Yeah, I think on that front we have been pretty much repeating the same thing all the way through. You know, it's… we have a very good show right now and we are always a little bit cautious about having such a big change of the magnitude that James describes coming – because there could be a lot of unintended consequences and it's something that we are still obviously discussing with the stakeholders to make sure we don't end up with something that is not as good as what we have now. So, as far as Ferrari is concerned, we always felt that Formula 1 DNA was having very different cars and therefore the idea of having some areas very much standardised and some other areas with more limitation is something that we are still hoping to get into better place for 2021.
PM: To answer your question directly, it's a big challenge, isn't it? We want to challenge these guys next, we are obliged to look at the 2021 regulations now and, as has been discussed, the negotiation is ongoing as to how they will fall out. So, our resources are being pushed and pulled in many directions and the change proposed for 2021 is enormous. It's not an evolution as we from '16 into '17, you may argue, and yeah, it's going to be mighty challenging.
Q: (Dieter Rencken – Racing Lines/racefans.net) To all four, how difficult is it to squeeze this additional tyre test into the schedule particularly given the logistics between now and the end of the year and then to the three team representatives, which drivers will you be using and James, will it be Esteban Ocon?
PM: Very difficult indeed. As was just asked, we're heading to Suzuka and clearly with Honda we want to be in the best shape we can be and now we are being pulled to Barcelona as well, so it's mighty challenging. But we will do it. We've said we will do it; we'll run a car. I think at the moment Mr Dennis is down to drive it. Jake Dennis, I believe, is going to drive it. He's driven our car plenty of times before and he'll be fine, he'll do a good job for us and we'll go and do a tyre test.
LM: I think, as James mentioned it early on, and Mario as well, we have been asking so many times things to Pirelli, I think it was only our duty to be able to do this test when they actually ask us to go and test this latest evolution. So, yes, logistically it is complicated but Sebastian will drive there and at the very end of the test he will just fly straight to Japan. But we felt it was, again, a duty towards everything we are asking to Pirelli to support the fact that we all want better tyres and that was the best way to achieve that.
JA: A similar story. It's tough but it's doable. The aim of getting better tyres is a noble one. We're just leaning heavily on people who are knackered but they'll step up and do it and in answer to your specific question I think Esteban is going to drive it.
MI: We are grateful to the teams that accepted to test for us. I fully understand that it is a big effort of them to fit this tyre test into the calendar, which is very, very busy. It will be the same next year with an additional race, so we are finalizing also the plan for next year. Testing is very important for us. We need to validate our tyres on track. We cannot change the product during the year. We have to do the best we can do during the season in order to homologate a good product for the following season and the only opportunity is to have a proper test calendar. I understand how difficult it is, and thanks to, not just these three teams, but all the teams, because in previous test sessions all the teams were available to test for us and we can do our job. We have a lot of requests, different requests coming from different people and we are trying to summarise them in order to have a shared document with everybody agreeing on that and we try to do our job in the best possible way.
Q: (Lawrence Edmondson – ESPN) Laurent, you mentioned that there might be some unintended consequences of these 2021 changes. To all the three team representatives, do you also share that concern and if so what is it that's concerning you?
PM: Well, I can't put words into Laurent's mouth. We have concerns over the draft regulations. I think it would inappropriate to share them as individual items in this forum. As has been discussed, the negotiation is ongoing and if don't participate we can't influence it. If we have concerns, we will raise them. If they are the same as Ferrari's then it probably adds to the argument. But yes, there are concerns as to the nature of the rules and the drafting thereof.
LM: I think as we discussed before, we are completely in favour of things that could reduce cost, financial regulations and budget cap and so on. We are a bit more nervous and cautious for what it means for Formula 1 when it comes to getting the cars to look alike or getting the cars to be having a lot more standard parts. That's basically where the difference lies. We could also add that, ironically, to get ready for these 2021 regulations has actually a significant cost implication when it comes to the R&D work that needs to be done. Paul touched a little bit on that earlier. You have to run different programmes in parallel and it comes at a cost.
JA: Not too dissimilar to the other two. I'd just preface it by saying that the discussions about what the regulations will be are still ongoing, so you don't want to get into too much detail, but the concerns do all fall in the striking the right balance between the desire of a team to be able to produce performance by good design, by good engineering and the desire of the sport to equalise out things. The sport is, to a degree, a Darwinian competition and that's part of its spice and there needs to be a good balance struck between the desire of the individual teams to fight for their best opportunities and the desire maybe of the owners to level everything our and have it that sort of any team on any day could win.
Q: (Beatrice Zamuner – motorlat) Laurent, given Ferrari's momentum, are planning on bringing any further updates for the rest of the season or are you just focusing on 2020 and 2021?
LM: I think it's that time of the year when we are all switching our attentions to 2020 so I don't think there will be anything significant from now until the end of the season. As you mentioned, on top of that, you also need to start to thinking about what's going to happen next. So the short answer is there won't be anything significant anymore.
Q: (Valery Kartashev – Racing News Agency) My question is to the three team representatives? How many people work directly on the car in your team and how difficult is it going to be for you to keep all of them in the team with the budget cap coming?
JA: What do you mean by work on the car?
Q: Engineers, people who design this car?
JA: OK. Forgive me, that's not a number I want to share in public, because why would we want to just volunteer that? But it's a reasonable number of people both in engine world and chassis world and our challenge will be to take the budget cap as a new set of regulatory constraints, just as at the moment we have to meet a mass limit or we have to set our car out to get the maximum amount of downforce in the constraints of the Article 3 parts of the regulation. Now we also have some financial regulations and it's really no different dealing with those than it is dealing with all the other constraints you face when designing and making car. Our challenge will be to read those regulations, take them as they written and just figure out how to make the quickest possible car within those constraints. It will be an interesting challenge but one that like every other regulation change there has been we will try to rise to.
LM: Very similar to James. We will be looking at it as a new set of regulations that we will try to comply with. Yes, so people will always be put at the first place, so the priority will be to protect the workforce and the structures before thinking to cut something else.
PM: Similar really. We don't build the team structure to have fat in there. So everybody has a significant role. We'll try to protect all of those. We'll comply with the financial rules. There's still a little bit of drafting going on and yeah, we will adapt and comply and go from there.
Q: (Dieter Rencken – Racing Lines, Racefans.net) This morning the FIA announced that it had postponed the brake tender. What were the cost, safety and performance implications of standardised brakes, please?
PM: Unclear, at this moment in time. The draft specification was being prepared. From what we saw, there were potential cost savings but equally there were some specification changes required to be able to run all the parts as we currently run them, and that was not, for me, concluded. There were quite significant changes in some areas so all said and done, I couldn't tell you exactly what it was because we hadn't finalised our work.
LM: I think it will be very difficult to put a number on it, for all the reasons that are linked to the lack of full definition of the 2021 regulations so it would be difficult to project how much will actually be saved. There will be a saving, for sure because we will stop doing some R&D work and so forth and so on. Nevertheless, we will discover them right now and I think you will only be able to put a figure on it, only after a year or two of operations when you know the regulations, when you know what the car looks like and you know what is actually your need, so it's a bit early on for that.
JA: I haven't got much to add to what the other folk have said. I think it's a pragmatic decision. Brakes are very long lead-time items, you have to decide where you are headed with them quite a long time before you use them and the picture is too open. The destination of the 2021 regulations is too open at the moment, to design, with confidence, a standard set of stuff that then the entire grid is saddled with for that year if we get it wrong. It is pragmatic to step back, see how things develop and then re-consider in the future, perhaps under less pressure when the regulations are not being fought on all fronts.
Q: (Scott Mitchell – Autosport) You've all talked about the significance of the 2021 changes and the fact that we don't have defined rules yet, so given that the season is 18 months away, what would be the ideal start time for you to be working on these cars? And when you get this defined rule set, is that going to be enough time to do things exactly the way you want to do them?
JA: Well, a sort of facile answer to that is that there's always enough time, it just depends on the quality of what you do changes, depending on how much time you have. There was a time, I'm sure you remember, where the Brawn team managed to put a brand new engine in their car and win a championship in a matter of a few weeks, because they had to do it. So you can do a lot of things in a short amount of time but the standard lead-time for working on a new car is a little over a year so you want to be working sort of November/December of the year before the year before so 14 months or so. A bigger rule change you would maybe want a bit more of a run-up at it than that. But if there was less time you would still do it, it would just be a bit more of a finger in the air job.
LM: Very similar to James. I think, as James said, we could make up the time for most of the items, you will just deliver something a bit more rough and I think in that specific case it's probably more important that we get the regulations right, even if it comes at a later stage, even. If it means something is delayed to the following years than to have something early that we have then not happy with.
PM: I think, as Laurent said, it would be preferable to have rules that we all agree on before we embark. If that pushes it back a little bit, we can still do a car and whoever's finger is lucky in the air may well be lucky at the start of the season, you never know. It would also depend on how we chose to divvy up our resources for the 2020 car. So we have our own resources to deploy and the time question, well, it's the same for all of us once we get going and we'll do it.
Q: (Laurence Edmonson – ESPN) One alternative that's been proposed to standard parts is open source parts; do you think that's something that could work, is there any fundamental issues with doing that and will it also help to reduce costs but maybe in a different way?
PM: Red Bull are supportive of the open source proposal. What parts you put in and take out needs a little bit of thought. I think it protects the sport from any errors in the standard parts that could take us into 2021 with a legacy of problems and difficulties and we're happy to participate in that open source proposal.
LM: Yeah, I think it's better than to have standard parts for all the reasons Paul explained. It's probably slightly complicated to come up with yet another way to classify parts for the F1 cars but we are supportive of the fact that if it can avoid risk associated with having to have parts (unclear) then it's good news.
JA: It's quite a new idea and a reasonable amount of chat is going to be needed to turn it from promising concept into a deliverable reality but like the others, I think it's worthy of exploring. I think it will take a decree of patience because anything that's open source – imagine we're coming up to 2021 – everyone designs up to the wire and then releases and goes racing so you couldn't sit there waiting for the open sources design to come from a competitor, thinking I won't do that myself, I'll just wait for it to appear on the internet, because by the time it appeared it would be too late. So really you're talking about a system that will build up over the seasons and a database of data that will effectively mean that the best design eventually percolates through all the teams and it ceases to be an area where any of us would particularly want to spend development money because a good design is out there, but that's the thing that will require a little bit of patience, but I think it is a fairly robust way - if you have that patience - of making progress.
Q: (Alessandro Gargantini – Autosprint) Laurent, question on the Ferrari Driver Academy; you are also in charge of this programme. We know Charles is coming from the programme. This weekend we have Robert Shwartzman who is very well positioned to put his hands on the (F3) title so I would like to ask you how does Ferrari consider the junior programme, how is it investing in this and think it's the right direction to grow talent?
LM: Well, I think the answer is in the question. The fact that we have Charles in the car today for us is the most straight answer to that. He's coming from our driving academy, he has been with us for years, it's been incredible to see him growing through that academy and to see him running the red car. We have seven drivers, from 15 to 19 years old that are lining up next in the academy. As you say, Robert Shwartzman has a good chance to fight and hopefully to win the F3 title this weekend so it means that the next generation is pushing and for us it's completely key to what's going to happen post-2021 and it's certainly something that we're taking very much as a central point of our strategy.
Q: While we're talking young driver programmes, perhaps Paul you could tell us a little bit about what's going on with the Red Bull programme?
PM: Well, we have numerous contracted drivers and they're all still with us the following year. We're incredibly lucky to have such a talent pool and we'll do our utmost to draw the best from it.
Q: James, anything about Mercedes young drivers coming through?
JA: No, nothing that I'd wish to share here.