FIA Friday press conference - United States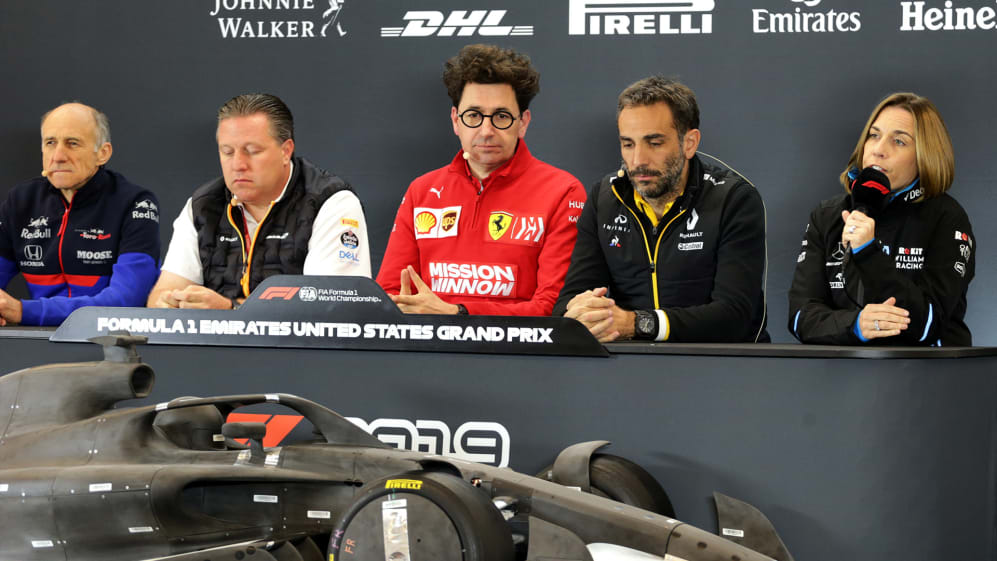 PRESS CONFERENCE
Q: The 2021 regulations are now locked-in, having been unanimously ratified by the World Council, so can we start please by getting your thoughts on them. Perhaps Mattia, you could start?
Mattia BINOTTO: Obviously, as you said, it has been voted. As Ferrari we are part of the World Council, we voted as well in favour. We believe it is the right moment to look for a discontinuity, for our sport, it has to be sustainable, we are all aware of that. We need to work hard as well in the future on a more sustainable, green, as well, sport. There is a still much to work on, so if there is anything, I would avoid to say that it is locked down. I think this is still at a starting point where altogether now we need to collaborate, improve furthermore what is certainly a good set of regulations, but still much to develop, improve and certainly as well, looking at a more sustainable sport in the future, on the power unit, on the fuel, whatever can be done. I think that's a responsibility we've all got together. So far, we collaborate well with FIA and F1 but still much to do.
Q: Cyril?
Cyril ABITEBOUL: Yes, I think it's good that it's done. It's an important milestone but, as mentioned by Mattia, there is so much more to be one. I would still acknowledge a number of innovations in this set of regulations, because there will be a new set of regulations with the financial regulations that will complement technical and sporting. Otherwise it's a compromise. Some people would have liked it to be a bit different, maybe a bit more open or a budget cap a bit lower, things like that – but it's a first step, in my opinion a good step, it's in Renault's opinion a step that's going in the right direction for a sustainable sport, so let's see what's coming next but it's good now that we have clarity on what's coming up for 2021. We can all now start building up this beautiful car that we have ahead of us, and start spending towards this new regulation.
Q: Claire, your thoughts?
Claire WILLIAMS: I think from a Williams perspective we're delighted that that new regulations were approved by the World Motor Sport Council. They're everything that we've wanted to see from the various perspectives, whether they be technical and most clearly the financial regulations that are coming on board for 2021 are exactly where we wanted to be. We understand that they're a first step, moving forward but they're certainly a right step in the direction that we wanted to ensure that the sport – but also teams like ours – remain sustainable for the future. I think we're all very aware of how unsustainable at the moment Formula 1 is from a cost perspective. So, to have a level of cost-capping at this first juncture is really important to teams like ours. I don't think that can be underestimated. The technical regulations as well are a step in the right direction. I think there's probably some tweaking to do – but I think certainly as a first step they're exactly what we wanted to see.
Q: Zak?
Zak BROWN: I agree with everything that's been said before me. I think it's a good day for Formula 1. I think it's going to be exciting, 2021, because there'll be much change. I think through this process, the Formula 1 teams got closer relationships with each other, which is something that, while we certainly still don't all agree on everything, I think relationships have been built for the better of the sport. I also think working with Chase and Ross and the FIA, that's been a good process. I'm sure we all would like to see some things modified but that's always going to be the case. In our case, I think the budget cap, there was one area we would like to have seen something more aggressive, quicker, it would have been that, but it is what it is and I think most importantly we have clear direction moving forward.
Q: And Franz?
Franz TOST: All the parties have done a good job. That means Liberty Media, the FIA and the teams to come up with these new regulations – because all the main topics are covered. What are the main topics? The cost cap – because we need to come down with the costs in Formula 1; b) the money distribution: it's more fair than it was before. Then the new technical regulations; the new sporting regulations and as well the governance. I think that's an important time frame to bring everything within next year and then 2021 in the right direction. It's a new start for Formula 1 and I hope it will be a successful start.
Q: Zak, you've worked hard at restructuring McLaren over the last 18 months, so how much personal satisfaction does the prospect of P4 in the Constructors' Championship give you?
ZB: I'm very pleased with the season so far. There are still three races to go. We had a poor Mexico which I think was a good reminder that, while we've had a good year, with three races to go there's plenty of points still up for grabs but certainly the off-season progress, the people that we've brought on board, Andreas leading the team, James Key, Andrea Stella getting promoted, and really all the men and women at McLaren. Our relationship with Renault, they've been an excellent partner. I'd like to give them a lot of credit for our success this year and our improvements. And yeah, it's certainly a lot more enjoyable being at this Austin US Grand Prix than it was this time last year.
Q: Cyril, while we're talking about restructurings, you announced a reorganisation of your aero department this morning. Just tell us a little bit more about that. Why have you done that?
CA: I think it's fairly straightforward what we're trying to achieve. This year has been marked be an amount of satisfaction but also some struggles. It's clear that this position of P4 that we had last year is going to be challenging to retain this year, to say the least, against Zak. But I'm happy that it's a Renault powertrain that's going to maintain that spot in the future. We're also in a close fight against Franz and Toro Rosso, and Racing Point, so a number of challenges. We've been focussed on growing, in terms of quantity, making up the numbers, it had to be done, but in parallel we need also to look for a bit stronger technical leadership and making the team stronger in that area where we were a bit lean at that level, so that's exactly what we've gone by restructuring our aero department with a mix of external recruitment and internal promotion. So, I'm not going to go into the specifics but we all hope it's going to support our best, all that there is to offer because aero department is a big department with very nice facilities, state-of-the-art equipment, so they need to know to deliver more.
Q: Claire, Nico Hülkenberg has ruled out a move to Williams in 2020 and Nicholas Latifi is doing FP1 for the remainder of the season except for Abu Dhabi. Is that an indication of your plans for next year?
CW: No, the plan was always to have Nicholas Latifi in the car for these practice session that you're seeing him in, in the next couple of races and in Mexico as well. It's no clear indication. We've made it very clear in the media that we won't be making our driver announcement for that second seat for 2020 until after Abu Dhabi this year.
Q: Franz, Pierre Gasly said yesterday that your car hasn't changed much since he's been back with the team – yet the results have been strong in the last few races. If what he says is the case, how do you explain the upturn in performance in recent races?
FT: Maybe he slept not so good here. The car made some progress because we came up with a lot of aero updates, and don't forget that also Honda also came with a new fuel, in Suzuka, which brought us a good performance advantage. Nevertheless, Pierre gets also more and more familiar with the car and with the team, and therefore he is showing a good performance and we are happy about this.
Q: And you've finished in the points here for the last five years. Do you think you can do it again this weekend?
FT: I hope so. This is the target. It's not only to finish in the points. We should be really good in the points, to score a lot of points, not only one or two points. But we will see. Our competitors are very strong and it will become an interesting race.
Q: Mattia, what's your analysis of last weekend's race in Mexico? Have you had a chance to look through what happened and how you can help yourself this weekend?
MB: Well, what happened? Certainly when starting on the first row it's always difficult somehow not to get the best result in the race but I think what happened is that first maybe we were not fast enough in the race, because if being faster they could not have undercut us. That's the first analysis. Generally speaking, sometimes to win you need to take some more risks. And risk to me means somehow brave and brave enough means that maybe when Albon stopped we should not have stopped with Charles, staying out. But in doing that means that we were pretty sure the tyres would not have lasted to the end by stopping at that time, which was wrong, wrong assumption. So it means that in terms of tyre modelling, tyres understanding, there was still some tuning that was required. So now, they're looking back at all the data. We are furthermore trying to improve our tyre model for a better understanding and that will give us in the future probably a better opportunity for a better choice.
QUESTIONS FROM THE FLOOR
Q: (Frederic Ferret – L'Equipe) Question to Mattia. Your two drivers are fighting for the third place in the Championship. Is it an important thing for you? And the one who will finish ahead of the other, will be the team leader for next year?
MB: OK. What is important for us, at first is to confirm the second place in the Constructors', and hopefully we can do it here this weekend. What is still important for us is to add some victories for Ferrari team in the last few races. And I think very last is third place in the Drivers'. And then whoever will be… not important. With that said, the start of next year, not at all.
Q: (Dieter Rencken – Racing Line / Racefans.net) A question to Mattia. Obviously, you are on the WMSC and you voted in favour of the regulations. You also have a veto. Had you any stage considered triggering the veto about any aspect of the regulations or at the very least voting against the set of regulations?
MB: As first, as we said, we voted in favour, so we are happy with the new set of regulations or if not happy then we are at least convinced it is the right way to go. Did we consider it in the past? I think as many times we answered to the same question, for us it was more important to collaborate with F1 and the FIA to makes sure that by the end of October we got the best package to be voted and I think that's where we put our focus and put our effort. That's all.
Q: (Abhishek Aggarwal - INDIAinF1.com) Mattia, last week in the post-race press conference Vettel mentioned that Ferrari cars are quickest in a straight line and the fact that the power unit is great, it's just that there's less downforce and that when the tyres get a bit older there's some pressure. Now, given the fact that this track is more favourable with regard to downforce do you think Ferrari will have an edge this weekend?
MB: No. I think of this as two different points. First, we are still lacking downforce compared to our competitors and that's an area of weakness, something that we improved all through the season. I think that today we've got a good package but not good enough and we are very aware that having downforce is important, certainly on some circuits, like Budapest and Mexico. But if you look from Budapest to Mexico we did a great step forward in the right direction. So we will need to add further downforce, we will need to add further downforce for next season and that is important for the race pace, tyre degradation and so on. Adding downforce will mean adding drag and we will be slower then on the straight. But still today we believe we've got a good engine and that's in our favour and we hope to keep the same advantage in the future.
Q: (Scott Mitchell – Autosport) To all five please. The final regulations came out yesterday. They've been described as immature and underdeveloped in recent weeks. Now you've got the initial tranche of provisional regulations, I guess, are there any early red flags or concerns about areas that needs further development or are particularly green?
FT: No. So far we have now a good basis on the technical regulations as well as the sporting regulations. Of course there will be further discussions and some fine tuning but the most important pillars are fixed and the rest then we will see.
ZB: I agree with Franz. There are no red flags. Fine tuning the regulations… they're quite complex and long and new, so I'm sure there will be questions, comments and modifications but nothing that appears to be alarming and no big, gaping holes at the moment.
MB: No big issues. Certainly all the teams will start developing the cars for 2021 and put more effort and I'm pretty sure by putting more effort into it we will find out eventually some areas that will need to be further improved. But again, I think what will be important is the process of discussions, the process of regs modifications, which means as well a governance we need to put in place and that will be key from now to the start of 2021 and the earlier we do that the better it will be.
CA: To pick up from where Mattia left it: to confirm all details of the governance, because in order to make changes as we develop the cars and as we face some unknowns or some loopholes, we need to see how we can fix what is missing from the regulations. The other aspect, the other chapter that is maybe not developed enough is maybe the roadmap on the engine side. We exactly know where we are on 2021, but fuel, bio-fuel, freeze, partial freeze, progressive freeze, complete freeze? In our opinion those aspects need to be addressed so that the economic side of the engine activity is also sustainable – just as sustainable as the chassis side.
CW: I would agree with what everyone has said so far. I don't think there are any red flags in there. I would also probably say use of the word 'immature' would be slightly unfair to the countless people that have put a huge amount of effort into these regulations on the side of the FIA and F1. A lot of people have been involved and a lot of people have spent many, many hours making sure that these regulations are in the best possible place that they can be up until this point. And I agree with everyone else that there is just some tweaking that needs to be done to them.
Q: (Bernardo Becht – Correio do Povo) With the cost cap coming and these new regulations – for Zak and Claire, the teams most concerned – won't there be two development teams for two cars until the cost cap coming in, stars to take place. Won't it be harder to catch up? Ferrari and Mercedes will have two teams working to develop a 2020 and 2021 car. Won't it be harder to catch up later, with less money, when there is a cost cap working?
ZB: It's hard to catch them right now. Ferrari and Mercedes are fantastic racing teams and they have tremendous resources. Yeah, this is going to be a journey, the cost cap. There will be a lot of spending in '20 that will have implications for '21. And of course once you get a head start when you see regulations, whether it's on the power unit front, stability over time tends to bring things together. So, I think Ferrari and Mercedes are in a great position and we're all trying to catch up and it will take some time.
CW: Yeah, obviously, I think we're in a slightly different position to McLaren. Our budget is much smaller than theirs. For teams like ours, for Alfa, for Haas, they're operating on considerably less budget than the rest of the grid. It's a really difficult piece of work at the moment to try to marry up the programmes we are running for not just this year but for next year and '21. But I would say it is probably the lesser of two evils. We did try, in the Strategy Group, to see if we could bring the cost cap in earlier, so the bigger teams wouldn't have to spend all this money they're worried about spending for next year. That would be clearly a bonus. There's clearly going to need to be some convergence, which I'm sure we will see – we've got stability on these regulations for five years from '21 and beyond. It is difficult. It is incredibly difficult. But these regulations, particularly as I said earlier, the financial regulations that we are seeing, are the right things for teams like ours that are truly independent and rely solely on sponsorship.
FT: Yeah, I mean it's clear that the top teams have an advantage. They will use the next year, even this year already for developing the '21 car. They will have this performance advantage for '21. The cost cap, real, will count from 2022 and '23 onwards – 2021 will be a difficult one. But this was discussed anyway.
Q: (Joe Saward – Autoweek) We're talking about saving money and we're increasing the number of races. Now, there is a cost to that, financial and human. I'd like to hear your views on whether 25 races is too much? To everyone.
CW: Twenty-five is a lot of races, you quite right. Looking at 22 for next year is an awful lot and all the teams are having to look at the impact of that on personnel, just purely from a lifestyle perspective and having that work-life balance, it's incredibly difficult. We've all got support personnel that we can rotate in and out. I think obviously for the bigger teams it might be an easier challenge from that perspective: they have a bigger budget in order to bring in more people in order to support that rotation. It is difficult. From a financial perspective though there is an offset, so obviously we go to more races, there is more money in the pot that then gets distributed. So really from an offset financial piece, it's not the end of the world. It's more managing people, the people we have working for us and not putting too much pressure on them for 25 weekends a year.
CA: I think it's a good summary. I'm pretty sure that the figures can work, so it can still be economically positive to expand the calendar, to increase the number of races, but as Claire mentioned it's really a stretch for everyone and I think the main questions is a question of quantity versus quality. But having said that we live in a world where we need to have as much and as frequent touch points as possible with the fans, with the media, with digital, creating content. We are in a world of content, where you need market share, you need to visible, you need the exposure. It's a difficult one, probably not one for us to answer, probably one for the promoter mainly. It's a stretch for all of us. In my opinion the measure made on the sporting side to sort of reduce the weekend are going in the right direction, it doesn't really balance enough of what an expansion of the calendar will mean in the future.
MB: I think there is not a clear answer, and by not having a clear answer it means it's a good question. I think we are not all convinced at the moment. I think it's part of the discussions we may need to have with F1. It is a compromise at the end. It is an extra effort financially and I'm even not too sure it will be to our benefit. It depends on where we are going racing in the extra races. How much are the revenues for those ones. There are a lot of points that will need to be addressed on the number of races. But still, again, it's a matter of being positive, collaborative and finding all together the right answer.
ZB: I think my only build is I'd like to maybe see alternating races as a potential solution. I think when you have new countries that want to embrace Formula 1, that is a good things and it exposes us to new parts of the world, but maybe instead of having 25 races, which I think is achievable, though it would require doing things differently than we do today, then I think maybe alternating some races on the calendar would be a good compromise to grow the sport without straining the system as much as I think 25 races would.
FT: There is nothing to add, everything has been mentioned.
Q: (Jean-Louis Doublet – Agence France Presse) The track looks much bumpier this year than it was last year; do you think it could create problems with the integrity of the cars during the race?
FT: So far I don't expect any problems. The engineers have time to analyse all the data and then I'm convinced they will find a correct set-up, even for a bumpy track. I don't expect any problems in this case.
ZB: It certainly looked bumpy from what I saw on the screens from the first session. I've not had a chance to speak with the drivers to get their feedback. I'm not worried about the integrity of the car. Could catch a driver or two out in the race, there were definitely a few drivers going off the track so it could create some excitement.
MB: Yeah, certainly bumpy. I think that to say right now that it will not affect the reliability would be very brave because later on in the race weekend we may find the opposite. As a matter of fact this morning, with Charles, we had a small inconvenience due to, we believe, on a bump, a small issue happened just as an example so yes, it needs to be managed, we all need to be aware of it and making sure that it doesn't affect the result.
CA: Not much to add. I think it's in addition to the reliability, it can also affect the set-ups and finding the proper balance between sector one with the understeer that you can create on those bumps, that you can fight but to the expense of what you get in sector and stability and oversteer. So it will be a compromise, might be an interesting chance for all of us.
CW: Our engineers were talking about it this morning, how bumpy it is and Nicolas was reporting particularly turn one and two were particularly difficult to get round, I think. Just from our perspective, we've had a lot of race attrition over the past three or four races and we just would like a very clean weekend so that our poor manufacturing guys don't have to do a whole lot of work after this race going into Brazil.
Q: (John Massengale – Speed City Radio) Zak, do technology fans need to worry about the 2021 rules with cost caps? Cars look great but technology fans don't want F1 not to be at the pinnacle.
ZB: No, I don't think they have anything to worry about. Formula One's always been the pinnacle of motor sport, unbelievable technologies and I think where things are going with the broadcasts and social media I think the way that we communicate with fans via technology is actually just going to increase so I think fans have plenty to be excited about for the future of Formula One.
Q: (Graham Harris – Motorsport Monday, MotorsportWeek.com) For Franz, Zak and Cyril with perhaps some comments from Mattia and Claire: that dreaded word Brexit looks like it's headed sometime before January 31. With Zak and Franz and Cyril having facilities in and out of the European Union, what measures have you taken that your daily workload isn't increased and there are no problems going forward. And perhaps Claire and Mattia, have you made any preparations for Brexit, has it wasted a lot of money so far? Any other comments?
CA: I have to say that I have lost this plot a bit recently but yeah, we're working, we have some measures in place. I think we know how things are going to take place and shape up for anything related to races. We are not totally clear on the logistics between our two factories, one being in France, the other one being in the UK, that could cause some delay and that's still unclear. We are working with the Renault-Nissan Group on the logistics side to make sure that we understand exactly… we have access to the authorities and then they will be able to help us in that respect so we are lucky to be part of a group in that respect. On the personnel side – because we've recruited a lot, 24 nationalities working in our factory in the UK, obviously we don't want to lose these people, so we understand that there will be some sort of grandfathering, some measures to protect them, at least for initial years, until we know a bit more about the exact measures but again, I think we first need clarity about Brexit itself.
FT: I was at the wind tunnel in Bicester on Tuesday when we discussed this topic for quite a long time. You know the major issues are logistics and of course the people, the employees who are working there, not coming from England and currently it's difficult to make a plan and a programme because we don't know all… at least the final process. Once this is out, once first of all if they decide the Brexit, that they know what they do, or what they want to do and then we have to sit once more together and find the best possible way.
ZB: We have a team back at the factory, a little Brexit working group so we're prepared for it. I think it will impact everyone's business to a certain degree but fortunately it's been going on long enough that I don't think there will be any surprises and we'll be working around it accordingly.
Q: Mattia, any Brexit thoughts?
MB: No, not really. We do not have a working group, at least in Maranello on that one. Obviously we will need to take care for our people we've got, for UK people in Italy but it's not worrying us, certainly.
CW: Like Zak says, we've had a steering committee on this for the past year now because there are clearly a lot of touch points that are going to have an impact when it eventually does happen around personnel in particular. I think Cyril said he has 24 nationalities, we have 28. There are a lot of considerations on obviously not just the people who are working for us but their families as well, whether they are based with those people in the UK or whether they are in Europe. There are issues around foreign exchange, around freight, crossing through borders, people crossing through borders, so there's a lot of working that's going on and obviously with the continued uncertainty that makes life a bit difficult so we're looking forward to the whole thing being resolved sooner rather than later and we can all move on from that.
Q: (Dieter Rencken – Racing Lines / Racefans.net) I believe you've very recently received your draft commercial offers, let's call it the Concorde Agreement. Is this is a good document, acceptable document for your business models or is it just a good starting point for negotiations?
MB: So through that, we just voted the new set of regulations but the entire Concorde Agreement needs to be discussed and agreed and signed, that's on the commercial button, the governance as well. Working group have been set, to start discussing the details of the documents. I think it's only after having seen the details that we may assess where we are and what's required.
ZB: Same as Mattia. We're going through it, it's a long complicated document, no major red flags and we've got the necessary people within our group going through it to all contribute to questions, comments that we have so I think like any legal document, there'll be lots of commentary but we're pretty comfortable with what's been presented.
FT: The basis is OK, we are working on it, our people and so far I haven't seen any big dramas or red flags. I think the document itself is so far acceptable. Once more, we are still studying it.
CA: Well, I hope and believe that the principles of Concorde are more or less in a good place. Maybe not everyone will agree with that but I'm talking really about the key principles but clearly we are not dealing with the details… You are both looking at me. Am I going too far? No, frankly I don't expect any major renegotiations of Concorde terms, what's been proposed, because that's something also that's part of the discussion of the whole package, even though it's not been signed up so anyone is free to sign or not to sign but clearly I expect that the details of the drafting of the document to take much longer - we all know that when one lawyer gets involved so at least we have twelve lawyers. So that's going to take a bit of time probably to get a grid.
CW: I don't have much to add. Everyone has said what I would say. We're looking through it and we haven't seen any red flags to date.