FIA post-qualifying press conference - Austria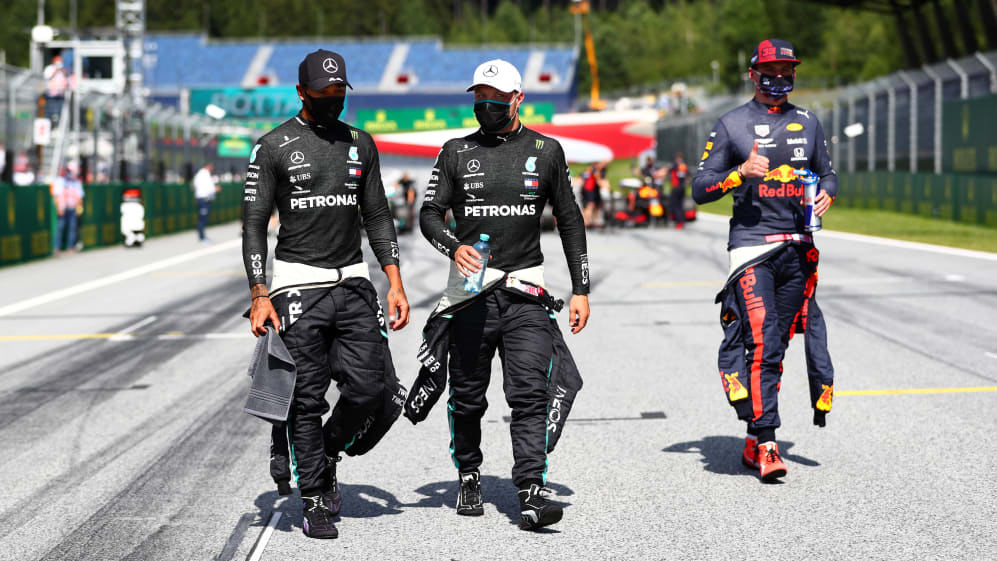 1. Valtteri BOTTAS ( Mercedes), 2. Lewis HAMILTON (Mercedes), 3. Max VERSTAPPEN (Red Bull)
TRACK INTERVIEWS
(Conducted by Paul Di Resta)
Q: Valtteri, that's race one of 2020 and you've qualified on pole position. What is this like? You've been dreaming about this for a long time and obviously envisioned it – but to get the job done must to nice.
Valtteri Bottas: Yeah, it feels really good. I've missed these feelings, y'know, after the qualifying. Shakes. It's something special, when you push the car to the limit. Obviously been preparing for this for a long time and it feels so good. Can't say more than that. Our team, amazing job. We seem to be in our own league.
Q: And obviously Mercedes have given you a great car. I guess you saw that in the winter but they've continued their progression, and what a gap you've got to your rivals.
VB: It's very impressive to see. It's only the first qualifying of the season but I'm so impressed, so thanks everyone in the team, all the factories. It's a truly amazing car to drive. Obviously, a good result today but tomorrow is what matters.
Q: Lewis, it's on the front row. You've looked in control all weekend but I guess you must be happy with a one-two for Mercedes and you're lining up alongside Valtteri.
Lewis Hamilton: Yes, it's a great job by Valtteri. I mean this is a great start to the season and happy to be here.
Q: And obviously, going into the race tomorrow, Mercedes are in a great position to try and do this but just give us a sense of just how good this team is, given that you've arrived here another year and you look like you're in good spirits and good fighting.
LH: I think we show year-on-year that we continue to be the best team. I think that's because we are open-minded, we are current with the times, the guys that I work with, they're never too stubborn to admit they might be wrong at some stages, and we're constantly always learning from each other and always pushing the boundaries and there's not really any politics within the team, so it's a unit, a united team that we've pushed together. That's why every year we come back. Because that's not necessarily always the same in teams.
Q: And just lastly, seeing it was quite a lot of traffic at the end of that to start that final run there. Was that confusing or did that affect you, your last lap?
LH: No, no, not confusing. I came around Turn Four and I think there was a big puff of dust and I didn't know where the car was or anything like that but I managed to see that Valtteri was just about to come back on the track, and yeah, fortunately it didn't really affect the lap, and he kept his position and so did I. So…
Q: Max, the best of the rest again but lining up tomorrow on the Medium tyre, you must be pretty happy about that.
Max Verstappen: Yeah. I mean, I'm happy first of all to be P3 but also yeah, we have a different starting tyre. It's going to be interesting; it's going to be quite a bit warmer tomorrow, so yeah, I hope that's going to play in our advantage – but clearly today Mercedes was on a different level unfortunately. Let's see how we can do tomorrow.
Q: We're expecting warmer temperatures tomorrow. You came alive last year when it got hotter, you didn't get off-put by the shaky start but you managed to fight to the end. Do you think this Red Bull this year will allow you to attack Mercedes?
MV: Last year we were also a little off in qualifying so I expect we are a bit better in the race. Now, I'm the only one on a different tyre in the top ten, so yeah, I'm just looking forward to it. We have nothing to lose, so I'll try to make it as difficult as possible for them.
PRESS CONFERENCE
Q: Valtteri, many congratulations, what an electrifying session. What a great car. What a lap at the start of Q3. Just talk us through the session.
VB: Obviously the first thing what I said on the interview on the grid was that I've definitely missed this kind of adrenaline rush and the feeling you get from pushing these machines to the limit and, you know, trying to be at your personal peak and concentration and performance. It's so much fun. And I really enjoyed the session. For me, the qualifying was… I finally managed to unlock some performance from myself and from the car for the qualifying. There were certain corners that I sometimes got them right but mostly I was just a bit off. Just throughout the qualifying I managed to build the confidence and found the areas that I was missing and managed to get some good laps and put the pieces together and , just like I said, just really, really enjoyed and just surprised obviously with the gap to the other teams, and it just shows the strength – the amazing strength of this team and it's just so impressive.
Q: Was there more time on the table after that first run in Q3, or was that run the run. Was it near-perfect?
VB: No, I think there was a bit more time on the table. I think I was slightly up on my second lap until I ran a bit wide in Turn Four on the gravel and went off the track. So that was my mistake. It wasn't quite perfect but it was super-close with Lewis, so I'm glad it was good enough.
Q: Lewis, you are half a second faster than the first non-Mercedes car. Just how much confidence does that give you at the start of this season?
LH: Well, we definitely didn't expect to have that gap but it's just a true showing of all the great work everyone back at the factory continues to do. Valtteri did a fantastic job today with his lap and it's amazing. I don't really know what to say. We did not expect to have that sort of gap. We thought we were definitely quick enough to be fighting for the lead – but there were different showings from the other teams: sometimes quick, sometimes a little bit further behind. Yeah, so that's the true showing of our car and we plan to try to improve on that.
Q: And what about your own car during Q3? Were you happy with it?
LH: Yeah, the car was great. Just didn't manage to put the greatest laps together. So, work for myself today and just go back to the drawing board and work harder.
Q: Max, are you surprised by the gap to the Mercedes.
MV: Well, I was not entirely happy with the balance. Some corners were good, some were not, so then the gap can be a bit bigger but still I think, yeah, half a second is quite a decent gap. What can you say about it? We just need to work harder and try to close that. I'm happy that in Q2 I could squeeze a lap on the Medium tyre out, so we're starting with that. Let's see. Maybe tomorrow is a bit warmer; maybe that helps a bit. Hopefully also the race. We've never been the quickest over one lap on this track and hopefully in the race it will come a bit closer. But yeah, I don't know. Still, best of the rest, I's a good start into the season and now we just have to work to close that gap.
Q: Do you think you'll need to do something different tomorrow to stand a chance of beating these guys?
MV: I don't know. I guess time will tell and we'll find out during the race. I've just going to try the best we can from our side and see how the tyres are holding on, and we'll see.
VIDEO CONFERENCE
Q: (Christian Menath – motorsport-magazin.com) Question for both Mercedes drivers. Considering the gap you had today, do you expect to fight just between the two of you tomorrow or also with Max with his different strategy?
VB: For sure, race and long runs it's always a different story and we've seen many times that Red Bull has had a good race car and the race depends on so many different things – and we haven't been able to compare any of the teams on longer runs that maybe ten laps – so we didn't take anything… with the mentality that it's going to be easy for us. We are prepared for threat from other teams, not just the two of us, so… and we do expect it.
Lewis, your thoughts.
LH: I agree with Valtteri. Not really very much more to say. I think it's going to be a close race still. He's on the medium tyre so a slightly different strategy and they're very quick on race pace – so it should be a lot closer tomorrow, I would expect.
Q: (Alan Baldwin – Reuters) Question for Max. You and Charles had a good battle last year but the Ferraris are way off the pace at the moment – not just Ferrari but the Ferrari-powered teams. I just wondered for your thoughts on that and why that might be.
MV: Well, I guess you have to ask Ferrari about that! The engineers. I don't know, I'm driving with the Honda-powered car so I have no information why that is.
Shall we just get the Mercedes drivers' thoughts on that. Lewis? Ferrari's pace?
LH: Where are they? I don't know.
Quite far back. Sebastian didn't make it through to Q3.
LH: Not expecting them to be that far behind but, as Max said, I don't know what their reasons are, so… VB: Just really surprising.
Q: (Scott Mitchell – The Race) Question to all three: how did you find it now that you're leaning on the car again and searching for those last few thousandths of a second. It's a short lap here so everything counts and obviously there was a suggestion that there may be a few people that could be rusty after such a long time off.
LH: It felt great. Honestly the training and rehabilitation work that I was able to do during the period of time has meant that I've come back feeling fitter and back to doing what we do best. It doesn't make qualifying any easier and it doesn't make extracting the maximum from the car any easier but I think it was a pretty solid opening two days.
Valtteri, you touched on the adrenaline earlier. Any more thoughts.
VB: I think there was a slight ramp-up in my performance during the weekend. I think it was getting better and better and I was getting more and more confident with everything – especially throughout the qualifying and today, but by the end of the qualifying it felt as usual and not really… I can't say that I've been away from the car for so long a time.
Max.
MV: For me it felt pretty much the same as always. I never really stopped racing. I've been also doing some track days. That helps. I mean, it's not a Formula One car but still, you're driving it to the limit and it doesn't matter what car it is, if you drive it to the limit, you are working and you are trying to push yourself to the limit, so when I jump back in the F1 car, a few laps, you get used to the speed, and the cornering, of course, but yeah, once we got to qualifying it felt like you never really left. Anyway, we have so much time in practice to drive, I think it's quite easy to get back into it.
Q: Well, Max, you were one of the few drivers not to test a Formula One car prior to coming here. Just how many laps did it take yesterday to feel comfortable?
MV: Not many. Also you build up the weekend, right, so you're not straightaway (inaudible) but yeah, I think anyway, as a Formula One driver, it shouldn't take you too many laps to get used to it.
Q: (Luke Smith – Autosport) Question for Lewis: we know the drivers have been talking a lot about an anti-racism message and showing support ahead of tomorrow's race; are you happy with how these talks have gone? Are you happy with the support that your peers have shown you and what about your own plans ahead of tomorrow's race? Are you planning to take a knee?
LH: Honestly, I don't have any plans at the moment. I've not thought that far forward but I'm sure over the evening we will… we spoke a bit in the drivers' briefing and yup, interesting but it's good that we're kind of all at least in discussion and I don't know what we'll see tomorrow. I think, potentially, people paying their respects in their own ways.
Q: (Alex Kalinauckas – Autosport) Question for Lewis. Lewis, you mentioned seeing a cloud of dust when you got out of your car, presumably from Valtteri's off. How much of a distraction was that and were there any yellow flags that you had to contend with as well?
LH: Not that I saw, no. I came round the corner, I got on the power and I was… I thought that Valtteri perhaps had just gone wide and come back on the track further up the road so I was looking out for the gravel on the track and for a car on the track but there was nothing there so I continued. Then I saw, as I was going into – I think it was turn six – that Valtteri was much further to the left, yeah, so it happened pretty quick. It was a pretty big puff of dust.
Q: (Chris Medland – Racer) Question to Lewis just following up from what you just said about the driver meeting and you said it was interesting, what was being discussed in there. Is there anything you've maybe been unhappy with from the other drivers, or any sort of lack of support you've felt or on the other side has there been anything particularly positive that you'd like to highlight?
LH: Well, just in the meeting I just acknowledged a lot of the drivers that… obviously there was an interpretation of a message that I had posted, asking for people to speak out and their silence and just saying thank-you to those who have said something on their social media platforms 'cos they've got a great voice, a great platform and then encouraging the others that haven't to say something and I just described the scenario that silence is generally really complicit so there still is some silence in some cases but I think it's also part of a dialogue of people trying to understand, because there are still people that don't fully understand exactly what is happening and what are the reasons for these protests. So I continue to try and be that guide, try to influence and make people (inaudible) what they can with it.
Q: (Laurence Edmondson – ESPN) Question to both Mercedes drivers – I hope it hasn't been answered already but obviously Max is starting on the medium tyre and you're starting on the soft, was there ever a consideration to try and start on the medium or did you just feel that there wasn't enough pace advantage over the rest of the field to risk that in Q2?
VB: I'm sure that the team has analysed all the possible options obviously for the race start tyre, so yeah, we decided before qualifying it's just going to be soft that we're going to go for but yes, we thought about it before but all the indications for us to be performing at our best in the race against others we decided to go for the soft. LH: Pretty much the same.
Q: (Erik van Haren – De Telegraaf) Question for Max: Max, we talked about going for the World title in Barcelona in February and then you said it will be painful if the gap to Mercedes was like half a second at the beginning of the season, so what's your feeling now, looking at the gap today?
MV: Well, it's of course not what we want so we'll analyse… but anyway, I was not very happy with the overall balance we had in the car so as soon as we can solve that a bit better then maybe it already looks a bit nicer – that doesn't say we would have beaten them but let's see. It's eight races, we have another weekend here anyway so we'll just take this on board, learn a lot, try this weekend and hopefully we can do better next week. There are no dramas yet, maybe in Holland it is but I don't care. I just focus on myself and the team, you know, and then we'll see what happens.
Q: (Scott Mitchell – The Race) Question for the Mercedes drivers: we obviously saw you using the DAS system in a Grand Prix weekend for the first time and again in qualifying. Is it already a part of the natural toolset that you have, does it feel natural using it and is it the sort of thing that you can actually feel the result of when you start your qualifying lap or is it more hidden in the data?
LH: No, it's something you can feel, the adjustments that you are able to make, you do feel it and yeah, I think it's obviously proven to be fully legal and it's something that we're proud of and we are still trying to get on top of it in terms of understanding it so it's not been used a massive amount but we will, I think, understand it more and more as we go through it. VB: Yeah, I think I really agree with that's how it is. I think there's still probably more potential in depending tracks and conditions but yes, we have been using it and it's becoming quite natural too. Obviously it's not a massive thing in terms of performance but every small thing helps and when we put lots of small things together it can be big.
Q: Max, just on this topic, would you like to see Red Bull use its own version of DAS this season?
MV: Well, I think they've already answered it, right, with such a short calendar it would be hard to implement but let's see. I would like to see a lot of things on the car but you just have to be realistic.
Q: (Ben Hunt – The Sun) Couple of questions: just wanted to find out from Max your point of view: are you entirely satisfied with the FIA and their decision with regard to the protest that Red Bull made over the DAS system? And to the Mercedes drivers, did you fear that you may have it taken away, were there any concerns that you would lose that ability to use it?
MV: Well, it's not up to me really to judge that is it? I leave that up to the team. I'm also not the one protesting, I'm just focused on putting the laps in. LH: I found out really late last night. It wasn't a concern to me because I'd spoken to James and all the team and I trust the team implicitly and so I knew that I was comfortable with our position and that the great idea was legal, as I said, and so there were no problems. VB: Also for me, I didn't really expect to have anything in the car that would be illegal at the start of the weekend so I guess the team was prepared to have some issues with other teams thinking it is illegal but obviously I trust that we don't have anything illegal in the car so I had no worries at any point.
Q: (Chris Medland – Racer) Max, we spoke earlier about the gap to Mercedes and how big that might be but we saw the midfield was potentially closer in testing. Are you surprised how close it got to you in Q3? I think Lando was only just over a tenth behind you.
MV: Yeah, but I was never worried that they would jump ahead of us. It's a short lap and if you're happy with the balance then you can do a good lap so no, I'm not too worried about that.
Q: (Phil Duncan – PA) Lewis, earlier this week you called for the grid to be united. Do you think tomorrow, before the race, we see some drivers go down on their knee and some not going down on their knee. Do you think that shows that the sport isn't united and perhaps there's an issue there?
LH: Well, we know there's an issue so we don't need an experience like tomorrow to prove that there is an issue.
Q: (Alex Kalinauckas – Autosport) Max, we understand that you and your teammate were running different specifications when it came to the nose and the front wing. What can you tell us were the reasons behind that and how much of a difference does it make having the newer front wing?
MV: Well, there was only one set so yeah, they gave it to me. We are still understanding the difference between the wings but it's different philosophies behind it. I can't really tell you how much of a difference it is because I don't know. Yeah, we're learning, we're understanding different things.
Q: (Christian Menath – Motorsport-magazin.com) It looked like Lewis had the edge in the first sector but Valtteri in the second one; this was the case a number of times. Is this right or wrong and do you have an explanation for that?
VB: I think (unclear) pretty small, small differences but maybe turn one or sometimes the corner that I couldn't quite get it right but also this weekend I was the first car out so there were a few times that I had no tow at all and the first sector is quite a bit of straight so it could be explained also with that. LH: No no, ultimately Valtteri just did a better job today.