FIA post-qualifying press conference – Austria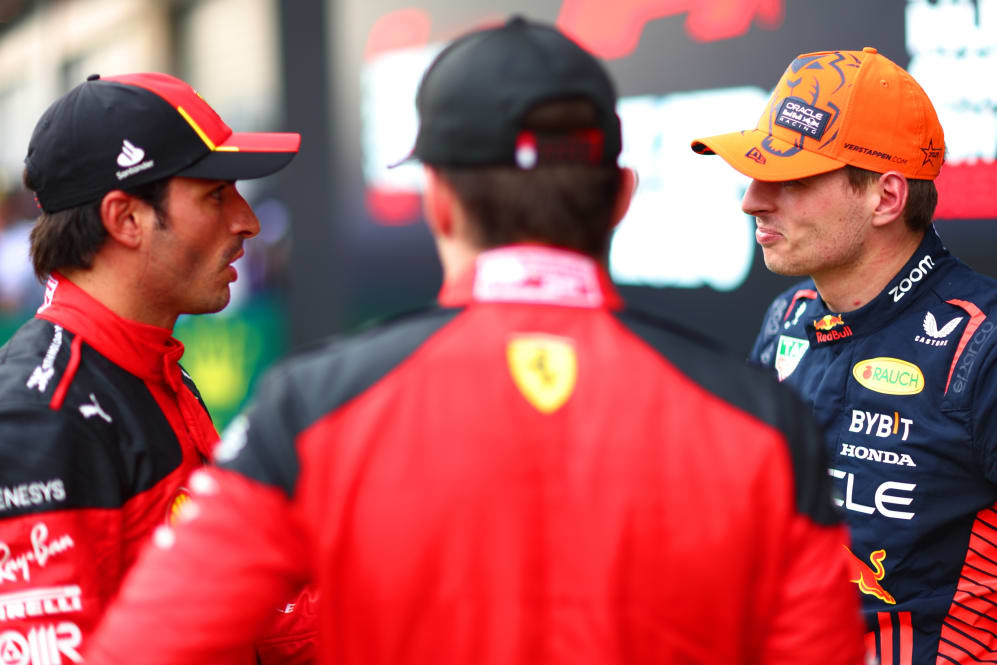 DRIVERS
1 – Max VERSTAPPEN (Red Bull Racing)
2 – Charles LECLERC (Ferrari)
3 – Carlos SAINZ (Ferrari)
PARC FERMÉ INTERVIEWS
(Conducted by Jolyon Palmer)
Q: Max, congratulations. Another pole position, four in a row. Was that one an easy one for you? Or was that plenty going on?
Max VERSTAPPEN: No, it was very difficult because of all the track limits. You know, we don't do this on purpose. But with these speeds and all these high-speed corners, it's so hard to judge the white line, really. And that's why I think you could see today a lot of people getting caught out, including myself. So honestly, it was about surviving. Even in Q3, like the first lap, you just want a banker lap, which takes out the joy a little bit, but I think it still did a good enough lap. So yeah, very happy with being on pole. But it's still a very long weekend ahead as well.
Q: Yeah, your team-mate really suffered with track limits. Three times with laps taken away in Q2. Why was it so bad this time? Is it worse this year, or this session seemed particularly tough?
MV: It's always very tricky around here every year, and the cars are big, they are heavy, but yeah, just to judge it on a line this wide with these speeds is incredibly hard.
Q: Anyway, you're in pole position, looking for win number five in a row. Big home support for Red Bull. How's that feeling for you?
MV: Yeah, I mean, we know that this is quite a different weekend, with the whole format, but of course I'm very happy with today. Tomorrow, again, very different day I think. But at least the car is quick and that's I think the most important.
Q: All right, well, good luck for the weekend. Charles, what a lap, that was flair at its best right at the end there. Was that heart in mouth?
Charles LECLERC: Yeah, it feels good to finally have a clean Qualifying again and to be on the front row, back on the front row. The feeling has been a bit better in the last few races. And then in Q1, Q2, it was all about building up to that lap in Q3 and then I managed to put everything that I wanted in the last lap of Q3. Very close to Max. Not enough today, but overall I don't think we expected to be so close to the Red Bulls. So it's a good step forward. First of all, I would like to thank all the guys back at the factory. I mean, it's only qualifying but the work they've done in the last two or three weeks in order to bring the package earlier than what was planned was really, really impressive and that helped us to have a good performance today. Now we need to confirm that in the race obviously, tomorrow and Sunday.
Q: And it seems with the upgrade you found immediate pace in practice. Was it just straightaway dialled in? Or did you have to work through the hour of practice earlier on to get it tuned?
CL: No, it was already feeling quite OK in practice, very difficult to understand. And also everybody is so close. So it was very tricky. It was all about putting everything together and we did it today. So, happy.
Q: And you won here last year. You had a great battle with Max in the past as well. Can you do anything for race day? Your race pace in Montréal was pretty good.
CL: Yeah, race pace looked quite good in Montréal. But again, consistency is where we need to focus so we really have to see on Sunday if we've got the same pace as in Montréal but Red Bull for now is quicker on race day, so it's going to be difficult, but if we can put them in difficulty we'll do it all.
Q: OK, good luck. Carlos, great job, up in the top three again. Two Ferraris in the top three. How was the lap out there?
Carlos SAINZ: It was good. I think we had a strong Quali as a team and definitely feels like we made some progress recently. Closer to Max also, maybe unexpected through that Qualifying, so overall we need to be quite happy.
Q: And what's the mindset now. This is setting the grid for the Grand Prix on Sunday. Tomorrow is a brand new day, there could be some wet weather in play as well. Do you focus straightaway on trying to improve something for tomorrow's qualifying?
CS: No, I think we have still a lot of weekend ahead of us. At least for today we put ourselves in a good position for Sunday to try and get a podium with both cars. And yeah, I think tomorrow will be a different day with different forecasts, different track conditions. So it could also be a very, very different picture. And we just need to stay focused.
Q: And have you got anything in your locker to improve a bit in terms of performance for tomorrow's Sprint shootout? Can you get onto terms with Max maybe over one lap?
CS: Obviously, we are in parc fermé, so it's not like we can improve the car a lot from today to tomorrow but we will look into the smallest details and into the smallest things to see if we can pick up a tenth or two from today to tomorrow. But I think the conditions tomorrow are going to be anyway very different.
PRESS CONFERENCE
Q: You've done it again, Max, quickest in all three segments of qualifying. Just how good was that final lap of Q3? And how good was the car?
MV: I think it was good enough, but around here to get the perfect lap together it's not that easy. And plus today, I think, it was very difficult with the track limits as well. You leave a little bit of margin, I think, especially for me in the last sector. But yeah, the lap was fine. It's just tricky. You have the high-speed corners and the very low-speed corners, and sometimes the balance can be… You want bit more front or whatever for the low-speed, less for the high-speed, it's difficult to always get that right. But yeah, happy of course to be first. I mean, around here, short lap, the margins are very small, we always see that, but to be ahead is good for us.
Q: Can we just get your thoughts on the track limits? Why do you think so many drivers were running wide this afternoon?
MV: Yeah, I mean, it is, I think one of the worst tracks for it, with the track limits. Also, especially towards the end, the tyres are getting really hot so they're not as agile anymore as well compared to the beginning of the lap. But it's super hard to judge around here. You have all the compressions as well, where if you hit it slightly wrong, the car immediately drops away from you or understeers and then it's super easy to go over the white line. And I think today it looked very silly. It almost looked like we were amateurs out there, the amount of lap times that were getting deleted. And also, some of them were so marginal, where even we spoke about it in the briefing before that, when it's very marginal, it's impossible to judge if it's out or in, and they were still getting deleted. So I don't think it was a good look today. Of course, people can say, 'Yeah, well, then you just stay within the white lines'. Well, if it was that easy, then you can take my car and try it. But probably you won't even get up to speed in time. But yeah, it is super tricky. And I think today showed that. I think it's still not easy to have a clear rule about it, because on most tracks, it works really well. But on some tracks, you might need something different. Because of course a lot of the tracks we share it with MotoGP or whatever, bike championships in general. And of course, they want something else outside of the kerbs than what we would like. I mean, for us putting gravel there, it's fine. But for a bike, it's a bit different. So we need to think about maybe different solutions.
Q: Just a word on the top three. It's the same three drivers in this post Quali press conferences as last year, but did you expect Charles to be as close as he was today?
MV: Honestly, I didn't know what to expect. So I didn't really think about it. I was already busy enough just getting my car to where it was in Qualifying. And then you know, around here it always is very close. And I think that showed again today.
Q: And with only one practice session, do you feel the long run pace is there?
MV: I don't know. I mean, again, it was probably not enough information. But that's the same for everyone, right? So I guess we'll find out. I don't know tomorrow what the weather will do. But on Sunday, we'll definitely find out.
Q: Charles, coming to you. That was undoubtedly a great lap at the end of Q3. Was there any more in it? Or was that the limit?
CL: There's always something more. I think Turn 3 was not ideal. Turn 1 had quite a bit of snaps. We tried to add a bit more front wing for the last run in Q3 and it probably was a tiny bit too much. But at the end it's part of the game. Very, very close to pole position, which is a good sign. But we all know that our weakness is the race. So we are waiting for the race to try and see if we confirm the positive signs that we've seen in Montréal. And as I said earlier, the team has done a great job by putting so much effort into bringing the upgrades earlier than what was planned. And that helped us to have a good feeling with the car today.
Q: Given the upgrades that Ferrari has brought here. How significant is this front row?
CL: Again, all the effort is made to make our race pace better. So it is great to be on the front row. It is great to be close again to pole position, or at least to be fighting for it. But on the other hand, we still need to wait, because the points are scored on Sunday. And since the beginning of season that's where the struggles are for us.
Q: What did you learn in this qualifying session that can help you in Sprint Qualifying tomorrow? Do you think Sprint pole could be on the cards?
CL: Tomorrow it's raining so I don't think there's much we can learn from today to bring to tomorrow. But yeah, it will be exciting.
Q: Alright. Very well done to you. Carlos, great job by you as well. You were in the top three in all segments of Qualifying. Just how good were your laps and how good was the car?
CS: Yeah, feeling comfortable and feeling good out there today since FP1, which is a good sign, because it looks like we're getting a bit into a better rhythm as the season progresses. Yeah. Good Qualifying, good lap. Obviously, you can always find a bit more lap time when you look back at it but yeah, I think we can be proud as a team with the progress we're making. As Charles said, the team did a tremendous effort to bring an upgrade package to this race when it was not meant to be and probably it has helped us to be here today. So thank you for that. And now we will have to wait to the race to see how much real progress we've done, because we know that is where our struggles happen.
Q: Wait for the race. But how does the car feel to drive with these upgrades? Does it feel different?
CS: A bit different, at least for me this weekend the high speed feels a bit more together. Barcelona, we were struggling a lot in the high-speed corners. And this weekend, the high-speed corners have been a better situation for us, better confidence, more consistent car. Again, that's part of the job that we wanted to do. But also the race pace is what we want to improve and we will need to see how we compare there to Max and to the Mercedes.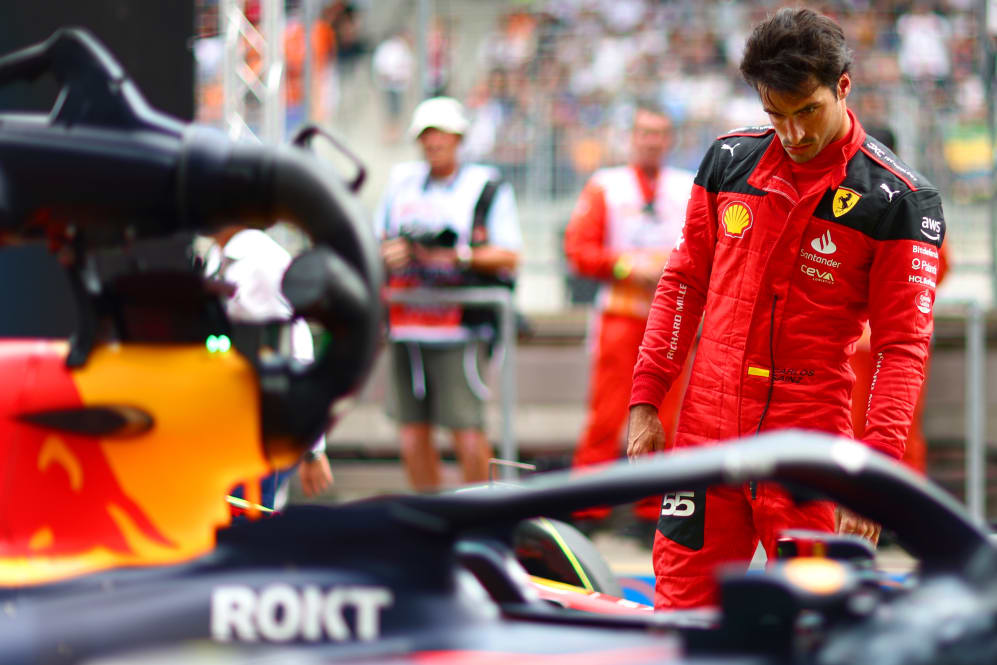 QUESTIONS FROM THE FLOOR
Q: (Alex Kalinauckas – Autosport) Max, you said you thought you left a bit of margin in the final sector. I just wondered if that changed during the session, because you lost that time early in Q2 to track limits there?
MV: Yeah, but also there I was leaving margin, just I ran out of road. I was not on the limit, but sometimes when you hit the compression wrong, you lose the lap time apparently. For me, it was still a very close call. But I mean, of course in Q3, you're going faster than in Q2, but it's just finding your margins. But definitely in Q3 I was a bit more aware of where to put the car not to risk, you know, being looked into.
Q: (Scott Mitchell-Malm – The Race) To Max initially, but then also the Ferrari drivers, just on that Turn 10 stuff. It sounds like from the factors you're describing there, Max, that it almost becomes a bit to more luck than judgement on some laps. Is that fair? Or is it on you drivers to rein it in if you have to? Is that just a slightly weird corner?
MV: I mean, if you saw the amount of lap times that were getting deleted today by the amount of drivers, it's clearly not that easy. And I don't think we're all idiots out there, right? Normally, we're quite good on how to judge where the limit is, but this track, I think, because of the layout as well and the way the tyres operate – they overheat quite a bit through the lap – it is just very difficult. So yeah, most tracks I think it's fine how we operate it, but some tracks we might need to look into it. But at the moment also had no real answers of how to do that. But I think we've already tried on a few tracks where to paint a bit of a wider white line, which I thought helped a bit because I think the white line in some places is quite narrow with the high speeds we are achieving in that particular corner, so this is maybe something we can look into.
CL: Yeah, I agree. I agree with everything. This track is particularly tricky, especially Turn 10, because the nature of the corner is that the car is getting lighter in the middle of the corner because there's this drop in the track and then however the car is positioned there it has a big influence on the exit and from where we are, so low in the car, we cannot see anything. I think the helmet cam is very representative of what we are seeing, and we are not seeing at all the white lines, so yeah, hopefully in the future in tracks like this we can have a bit more margin and that they understand that from the car it is just impossible to judge.
Q: And what do you think about a wider white line as Max has just suggested?
CL: Yeah, why not in some corners, like Turn 4 I think it definitely makes sense. I think Turn 4 is one of those corners where if you are really, really close to the gravel, you can, by one centimetre or two centimetres, you can be out, which then this definitely makes sense. I don't know how much it will change for the last sector, because with the high speed there, I think we need to find another solution.
MV: Turn 1. Turn 1 also, like there's a yellow sausage. I mean, if you hit that already, and you slow down, but it still puts you out of the white line and your lap time gets cancelled. So yeah, it's not ideal
CS: Yeah, I think there's the issue of the visibility, that we don't see exactly where our tyres are. So it makes it very difficult to judge whether we are in or out. We have the issue also that we don't feel the white line. So if at least if we could feel a white line, if we are on top of it or not that could also help us to a judgement. It is a very particular track, for sure. But there are corners like Turn 1, Turn 4, Turn 6 that I got flagged also, where there is a natural limit, that is the kerb, there is a natural limit that is the gravel in those corners and still if you're going two centimetres wide, you are in the gravel, or you are in the kerb, you're losing lap time but still we get penalised for track limits, which for me also doesn't make more sense because you're not gaining an advantage by going over the track limits. So I think the rule of the track limits should be whether you're gaining an advantage or not also. For me, the main issue this Qualifying was how long the FIA was taking to decide. I mean, I went wide in, I think in Turn 1 in Q2, run two. I was P2 and because we didn't know and the FIA couldn't tell us whether I was going to get the flag thrown away, or the lap thrown away or not, I had to go and use another set of tyres, which obviously is quite a bit of an issue going into tomorrow. In the end, the lap was not deleted. So yeah, it's like there's so many track limits that even the FIA cannot keep up no? So, hopefully we can improve that, because it makes our life extremely difficult in the car and we need to keep finding a solution.
Q: (Christian Menath – Motorsport-Magazin.com) Charles, one year ago in Austria you won. You were not fastest in Qualifying which was not very usual last year. But then you dominated the race with race pace. I think you overtook Max three times in the race. Do you have an understanding why you were so fast in the race last year, because the pattern was already there last year that the race wasn't Ferrari strength. So do you understand why you were that strong last year? And do you see any parallels to this year?
CL: Well, I mean, we have two very different cars since last year, and even though on the Sunday they were starting to be signs at that point of the season that Red Bull was a little bit stronger, I think the difference was much smaller than what it has been this year. This year it's to a much bigger extent. So I would be very surprised if we are doing the same race as last year. I hope so, and will do absolutely everything for this, but I will be very surprised if we've got as good of a pace as last year. But again, we don't know. I think that's where we need to confirm the upgrades that we've put on the car, whether we've gained the performance that we expected in the race, but there's definitely not the amount of lap time that was for the first part of the season in the race in that upgrade yet.
Q: (Carlos Miguel Gomez – Marca) Carlos is not normal to speak about the Sunday because today's Friday but this Sprint weekend are you planning to attack in the second corner and get in the lead on Sunday?
CS: Always. I think in the starts you always attack, no? I attacked Max in Barcelona. You always go on the attack mode because in F1 you either attack or you get attacked. So, you better be the one attacking, which I think is what we all do in lap one and it's in our nature as drivers and it's true that it depends on who is in front of you. Like if it's your team-mate or if it's a car that is anyway going to be much quicker in the race then you, then you judge and you judge how much risk you are willing to take,. which is natural also in in every driver, but the mindset is always to try and move forward at the start.
Q: (Pavel Fabrice – Sport 1 AMC) A question to both Ferrari drivers. Charles, you seem to have been pretty lost in Spain and then Canada was a very good race. But Carlos mentioned in the conference yesterday that may have been flattered by the track itself and the zero deg and that Ferrari still doesn't have all the answers but with the upgraded car here and this very solid result right now, do you feel in the car this might be the turnaround you were hoping for?
CL: It's too early to say. I think we need a few other races. And as I said earlier, I think the most important thing is to see those improvements in the race, where in some weekends we were fine on Medium tyres, let's say, and then we would struggle a lot on the Soft or on the Hard. Sometimes it was the other way around. I think we've been struggling in this first part of the season with consistency. So yeah, we need a bit more time before saying that our struggles are gone.
Q: (Ian Parkes - New York Times) This isn't the first time we've come to this track and we've bemoaned track limits. So why is it that nothing has been done, even though you guys. every time we come here, keep on mentioning it and moaning about it and we have all these laps deleted?
MV: Well, I think the problem is that… We luckily got rid of these stupid yellow kerbs in most of the corners because that was just destroying the car. But the problem is… It can be easily solved by just putting gravel next to the kerbs, but like I said, the bikes don't want that. Then, this track in general, like we all said before, it's just harder to judge the track limit. So it's just a very difficult thing to come up with, because you also don't want the promoters, you know, the track in general, that they put gravel in and have to take it away again, it's costing a lot of money as well, so that's not really a good solution as well. So yeah, it's something we will talk about again in the drivers' meeting and maybe we can find a solution.
CL: Yeah, my personal preference would be to use the red and white kerb. I think that's what we did some years ago here, and this is working well, because at least we can feel where the limit of the track is, whenever you are on that red and white kerb, you can feel that you are on it. And this was a good reference. The white line is only visual. And as we said earlier, we cannot see it. So it's very easy to be five centimetres out of the white line. Whereas the kerb you can actually feel where you are. And it's a bit easier to judge.
CS: Yeah, I think we just need to work together and co-operate to find a solution. I think recently, the FIA has been a lot more open to collaborate and to cooperate and find a solution. But I think you're right saying why there's nothing being done. And I think it's simply because we haven't found a solution or we haven't put enough emphasis on finding a solution. And that's what we will have to do, because I think what we saw today with so many laps being deleted, so many drivers getting caught out, so many laps that even they couldn't keep up with deleting so many laps, that we need to we need to find a way to correct it. And we will sit down and hopefully for next year it's done. If not, then it means we're not making much progress.
Q: (Jesus Balseiro – Diario AS) A question to Carlos and maybe Charles. If this was the grid for the Sprint, would you be racing for the win? I mean, can you beat a Red Bull in a shorter race or not even that?
CS: A short stint on the Sprint race is still a pretty long stint for the tyres that we might use. Because we are talking about 20-something laps, which is more or less the stint length that you do on a normal race, so deg, race pace still plays a massive part in that. It is true that last year we managed to put Max under pressure and beat him eventually. But it's a different year, a different car. They've become a lot stronger since then. Actually, I think Austria last year was their only, or the last weak race let's say, if we put it that way. Since then they've been amazing in the race. It will be extremely difficult to fight them. But anything can happen, like always in F1. You never know.
CL: Yeah, I agree. I mean, if it's dry, especially, I think there's this new rule that after the first lap now we can activate DRS during the Sprint, if I'm not wrong, which obviously helps us a little bit as with DRS here you can stay within one second a little bit easier. But again, they've got a lot of pace, so it's going to be difficult anyway.
Q: (Alex Kalinauckas – Autosport) Charles, just going back to your final run in Q3. You mentioned earlier that there were some moments at the early corners In the lap where you lost a little bit of time. What about the final corners? It looked pretty exciting on the outside. How did it feel in the car?
CL: Well, I pushed. This was my weakness for Q1 and Q2 and I knew this last lap I had to make the difference there, or at least go for it and see what happened. It worked well and I had two good last corners. But that was the weakness for the rest of Qualifying. So I'm happy I put everything together in the last lap of Q3.