Feature
FIA post-qualifying press conference – Bahrain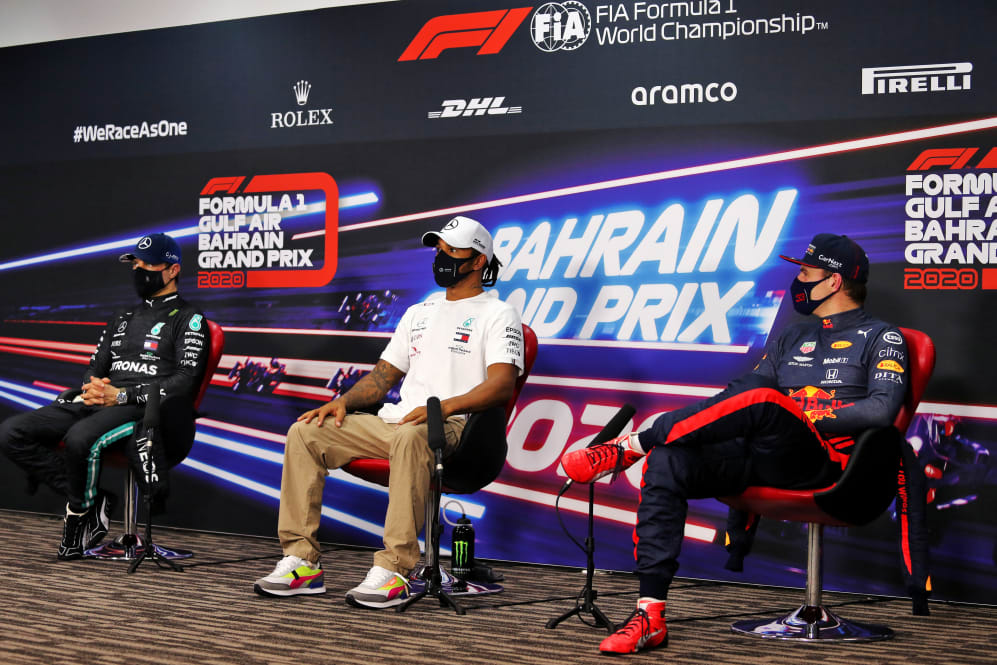 1. Lewis HAMILTON (Mercedes), 2. Valtteri BOTTAS (Mercedes), 3. Max VERSTAPPEN (Red Bull)
TRACK INTERVIEWS
(Conducted by David Coulthard)
Q: Max, a very familiar qualifying position for you. It did look at one point like you were really putting Valtteri under pressure for that front row. Did you leave anything out on the race track?
Max VERSTAPPEN: No, I don't think so. My lap was pretty good, just lacking a bit of rear grip in the lower speed corners to my liking. Overall I think it was quite a decent qualifying and let's see how we will go tomorrow in the race because it is very hard on tyres, so I hope we made the right compromise on that.
Q: You say you made the compromise so what can we expect tomorrow? From what you've seen through free practice how hard can you push the Mercedes?
MV: It's always a bit difficult to say. I definitely do think they picked up their pace today so tomorrow it will be hard to beat but we have different tyres available so let's see whether that works to our advantage or not. I just hope it will be an exciting race; that's the most important thing.
Q: Your teammate Alex lines up beside you, as a sort of rear gunner. Does that give you extra support when you are going into what is a tricky first corner here.
MV: Yeah, well let's see what happens. I'll just try to focus on myself and try to stay close to the Mercedes cars and I'll see if somebody can follow us.
Q: Valtteri, well story of the season really. You are close but just a little bit lacking in the outright performance to Lewis. You have the opportunity to see the live data during qualifying, where were you better than Lewis on the lap and where did he have the legs on you today?
Valtteri BOTTAS: I don't really know actually. It felt good and that's the problem, when it feels good and that you are extracting everything out of the car but the lap time is not there. That's the most confusing part. Yeah, I can't really say much at the moment. There were no mistakes and the last lap I thought was really good. It's just like small things here and there. There's no one clear corner, so I need to find out, but at least it's another front row lock-out for us.
Q: That gives you a good opportunity as it is a tricky run down to that first corner. It sounds to me that instinctively you know that was a tidy lap and you say the time is just not there. Do you think that you have an underlying issue in terms of the performance of the car or do you think it's just one of those things, today the car doesn't give you the feedback?
VB: I don't think there's any underlying issue really with the performance of the car. I think it's there and the long runs were good so I'm looking forward to tomorrow.
Q: Lewis, your 98th pole. By the end of the season you could have done a century. That could be a nice number to round out what has been a championship-winning year. It doesn't look like the celebration of winning that seventh title slowed you down any!
Lewis HAMILTON: That's because I didn't really celebrate too much. I really didn't celebrate to be honest. I was training and making sure I was ready for this; keeping my mind and my eye on the ball. This is the continuation of what we are able to do together as a team. I continue to be amazed by my guys that work so hard weekend-in, weekend-out. Now they're away from their families for three weeks. No matter the seasons throw at us it's always a really tough year and I appreciate them. To be out here in Bahrain and put laps like that together… I came today and I was like 'let's just have fun and enjoy'. That's the most important thing: to enjoy what you are doing. I think with the pressure a little bit off, it's a bit of a release to go and drive like I just did.
Q: I've heard you before that you've never driven the perfect lap. That you aspire to it but there's always somewhere you could have improved. So what was this Bahrain pole like?
LH: What was the lap like?
Q: If there was more time to be gained, could you? And why didn't you?
LH: I am on the ragged edge naturally. You know how it is on a lap. It's about trying to find that perfect balance. You want to take quite a lot on the way in and keep the exit. You want to have your cake and eat it. It's about just chipping away at it during the lap. I think the lap started off really well. There was probably a little bit of time in Turn 1. Just a little underperformed I would say a little bit towards the apex but after that it was good. Six was a little slow; I probably could have gone a little better there. I could talk you through the lap and I can tell you there is always a little bit here and there but the next lap I go out maybe I'll improve there and lose somewhere else. Otherwise it was a very clean lap. I generally stayed about two and a half tenths up throughout it, so I was really happy with it.
PRESS CONFERENCE
Q: Lewis, a tremendous lap to taker the 98th pole of your career and your 10th of 2020. You found half a second on your final lap of Q3. How pleased were you with how it all came together?
LH: Yeah, well it has been a good weekend so far in terms of the steps we have taken and understanding the car. It was quite a difficult day yesterday, with practice and using different tyres; it was quiet confusing. But today has been a good day. We did some really good work overnight and the decisions we took after P3 into qualifying were pretty spot on. I was really happy with the car from the get-go in Q1. All the laps had been good and then I got to Q3 and Q3 run one was OK, but there was plenty of room for improvement. Fortunately I managed to do that on the last night, so really happy with that and really grateful to the guys who I think this weekend seem a little bit more relaxed, naturally, as the pressure is off. I think we are all enjoying it a lot more. It's definitely more enjoyable when you don't have the pressure as much and you can just do what you do to the best of your ability without any additional added pressure.
Q: After the slippery conditions of Turkey last time out, how much fun was it to push on a track like this?
LH: Oh man, it's been night and day. To go from there to here where it's a really aggressive track surface on our tyres, naturally. It's not even too hot here. In times before we have come here and it's been 50˚C or 60˚C, track temp I mean. The track is not even at 30˚C. But it's high-speed corners and there's a lot of surface temperature that we create with these tyres. That's why you see us going out and doing these laps, back to what we used to do earlier on in the season. The car feels so much better when the tyres are working naturally, so I much preferred driving this weekend.
Q: Valtteri, you pulled yourself onto the front row in the dying moments of the session. Just talk us through the lap at the end of Q3?
VB: The end of Q3 lap was actually really good. It felt like there was not much more to really find, that was the feeling when I crossed the line, so I was pleased with that. But obviously it wasn't enough for pole and I was quite surprised when I saw the gap. I think we ended up with quite different set-ups, with Lewis, and we'll see if that makes any difference tomorrow. He's had a really good weekend overall, every session and all the time I've had the feeling that I definitely have the speed but I haven't quite put it all together. I got it together at the end but obviously it wasn't enough.
Q: Is it unusual for Lewis and you to have different set-ups?
VB: No, not at all. There have been times when it has been nearly identical and times when it has been different. That's how it goes.
Q: Max just one tenth of a second off Valtteri in P2. How good was your final lap in Q3?
MV: Yeah, it was alright to be honest. Just following a bit the track progression and stuff and yeah, not much to say really, it was alright.
Q: Are you pleased with your car's performance relative to the Mercedes so far this weekend?
MV: you always want more. But it's more important to just stay realistic and work on the little things, right? And there is of course still some work to do. Overall, I think the weekend in general was pretty positive, just lacking a little bit too much in qualifying I think. I don't know why that was exactly. We have to find out. But first we'll see what we can do tomorrow. It's quite aggressive on tyres here so hopefully it will be quite an interesting race.
Q: Do you think you are in the running for victory tomorrow?
MV: This is always difficult to say at the moment. First we'll have a good sleep and then find out tomorrow.
Q: How much track evolution was there during the session?
MV: I think initially in Q1 it was really big, because you have to drive off the rubber of the previous categories. I don't know what was driving before, the Porsches I think. I was one of the first cars on track, which was maybe not the best choice but the lap was good enough. From Q2 to Q3 the steps were smaller but the evolution was there.
VIDEO CONFERENCE
Q: (Christian Menath – motorsport-magazin.com) Question for both Mercedes drivers. You did a lot of testing yesterday with the 2021 Pirelli tyre. Do you think you are a bit on the back foot when it comes to race simulations for this weekend?
VB: I would say that we compromised performance for this weekend to try to learn about the tyres that could be the tyres for next year. Obviously as a team we have won the Constructors'. Lewis has won the Driver's so it's better to focus on the future. So, for sure a little bit compromised as you're trying different tyres. As a driver it's more difficult to find the rhythm and, for sure, we lacked a bit of long runs with the car on tyres. I believe we still have a strong car but, as always, there is question marks. I think Red Bull is pretty good on the race pace.
Lewis, more question marks as a result of running the prototype tyre yesterday?
LH: A bit like what Valtteri said. Naturally, it's a small compromise but I think ultimately it was the right decision for us in terms of the findings and the learnings that we decided to try to gain. I'm pretty happy with where I have my car, I think. It's not the first time we've raced here so we'll have just make do with what we have. The Red Bull's and Max have been incredibly fast this weekend, as we've seen through practice. I think maybe in the race they're potentially faster than us, so we will see that tomorrow. Hopefully it's close between us.
MV: At least you enjoyed driving the prototype tyres, right?
LH: [laughs] How did you like it?
MV: I thought I was having difficulties – and then I was behind you, and then I saw you driving and thought 'mmmm… I think I'm good'.
LH: Yeah… drifting.
MV: Maybe they should make it a drift championship next year…
Q: (Phil Duncan – PA) Question for Lewis please. You can get to a century of poles before the end of the year, so with the title in the bag, how much of a motivating factor is that and how proud would you be of reaching three figures? It's a feat that no other driver has got anywhere near to doing before.
LH: I really haven't even thought that far, and honestly I think it's been such an incredible year so anything from now is just an added bonus. I think it's close between the three of us and we've got a couple of tricky races ahead of us, I think, also. It's not something I'm thinking about. I'll get there eventually but it's not necessary it's in the next two – but I'll be pushing as hard as I can, that's for sure.
Q: (Scott Mitchell – The Race) Question for Lewis, and maybe Valtteri if he's got anything to add. Mercedes said it's stopped developing the 2020 car a while ago – so is it surprising to still have an advantage of several tenths over the Red Bull? And do you expect the knock-on effect to be significant as that obviously has an impact on preparations for 2021 and then you can devote more work next year to 2022 etcetera, etcetera.
LH: I think… the thing is, we're always learning about our car, even if we're not bringing upgrades. They are still developing, naturally, it is still fundamentally the same car next year so we're constantly trying to understand the characteristics of our car more and the demands and things that we need to move the car forwards, so there's a lot of work that goes on in the background. Yes, we have not brought updates because there are shifts and changes for next year and if definitely is amazing that we have been able to continue to improve. Whilst we've not brought updates we have continued to improve through the season, particularly after we've stopped developing the car because we're understanding the tyres more and understanding the whole package more and more and refining how we use it more and more, so I think it's been a really interesting process – but that's how it often goes. I think we're in a good position in terms of trying to prepare for next year but I haven't' been to the wind tunnel or anything, I haven't been back to the factory hardly at all this year, so I have no idea where the next package is – but I have naturally full faith in the squad back at the factory. But you've seen the Red Bulls also continuing to improve. I think they have a very, very good car and perhaps with some more development of their engine I think they would even closer next year.
Valtteri, anything you'd like to add?
VB: No, I think Lewis said pretty much everything, nothing to add.
Max, are you surprised by the gap to Mercedes?
MV: No, not really. I mean we are pushing hard, of course, to close it but we know there are some weaknesses in the car that we can't fix this year so we have to wait until next year. Of course, I would have liked to be closer but we're just learning about this car. Of course we know we have to make some changes for next year and we will try to put it all together for next year and hopefully then we will be closer.
Q: (Alex Kalinauckas – Autosport) Question to the two Mercedes drivers please, and following up on what Lewis said at the start about the good work you guys, or the team, did overnight. The team also said that you didn't do much or any set-up work on the cars because you were focussed on understanding those 2021 tyres, so how much did that change what you had to do when you finally got out on track in FP3 today, and were you still finding handling improvements as qualifying went on?
LH: It felt like a test day, a tyre test say, the days that I generally am not a fan of. I hate test days…
MV: I love them!
LH: Oh God! Fortunately it didn't last too long, fortunately, but when you're hopping between different tyres and you're feeling different things, it makes it very difficult to know where the balance is. As you go on from one to the next you forget what the balance is on the most important tyre, which is the tyre that you're racing on, so it can be very, very confusing and, at times, frustrating. You've just got to remember what the goal is. I still think that we got a decent amount of information at the end of yesterday, and I didn't feel too compromised in terms of getting the set-up for today. Once you set the set-up for qualifying obviously it is what it is – but I think we looked pretty good with the direction that we took, I think. In terms of where we are tomorrow, we haven't had any real long runs on the Medium or the Hard tyre, so it will be interesting to see how that goes tomorrow.
Valtteri?
VB: Yeah, you definitely lose some time for the set-up work but it's nothing new really, this season. We've had races where it's been racing on Friday or race weekend with just one practice but looking back this weekend, if I'd have had one more session I'd have probably tried something different based on the result today in qualifying – but the rule is when you qualify, you can't change the car any more, that's what it is, but I just really hope it's good for the race trim.
Q: (Ben Hunt – The Sun) A question from memory here but I think that was Lewis's tenth pole of the season, now looking for his 11th win of the year. I just wondered if there's anything that Valtteri and Max think that they can do just to stop him in his tracks because we know he's run away with the title but he keeps winning even now that the pressure of that has gone? Is there anything that they can do to stop him?
VB: Is there anything to stop Lewis? Of course there, we're trying. I've tried my best and even though he's got the title this year, knowing him from the previous years and how he is as a racing driver and how most racing drivers are – you're here to win, you try everything you can – and I'm here to win as well. I know that starting from second on the grid, there's all the opportunities but you need a perfect race. For sure, we'll push hard and try and not give up. I'm pretty sure that's what Max is thinking as well.
MV: Well, I think, as Lewis is showing, he's definitely one of the best drivers ever in Formula 1 but at the moment I don't have the same, like, equal chances, let's say it like that. That doesn't take away anything from Lewis but yeah, I'm just pushing as hard as I can with the material I have and sometimes it's closer, sometimes it's a bit further away. Some races it looks pretty competitive. Today was less competitive.
Q: (Christian Nimmervoll – motorsport.com) Lewis, during qualifying we could see on the driver performance page that the first mini sectors of your pole lap actually weren't quicker than the one before, only towards the end of the first sector you really started to push. Was that a conscious decision to save tyres or did you just mess up in the first corner?
LH: Hunh. Attention to detail, that's super detail.
MV: It sure is like +0.005s or something.
LH: Well, I guess I can't really answer that too well because it's giving away trade secrets. I can tell you that I didn't make any mistakes. Look, we do these really slow out laps and each time we're trying to have the tyres in the optimal window for the start and each time we go out, they can vary between one and five degrees so most of often the result of that discrepancy is tyre temp and they generally get better to a point in the lap and then they start going over temp and then you start struggling with the tyre a little bit more and so that's some of the answer.
Q: (Andrew Benson – BBC Sport) On the subject of the 2021 tyres – this is for all three of you – most of the drivers appear to have been pretty unhappy with them. Is there any going to be any pressure or has there already been any pressure applied to Pirelli or the teams to stick with the current tyres next year?
LH: Come on Max, give it what you've got man. Come on. We need you.
MV: You want me to repeat what I said yesterday? I think it's important that we discuss these things, you know? Yeah, I think that's the most important… we just have to talk to Pirelli and I hope they also listen a bit to the drivers. We anyway are cutting the downforce with the floor, right, so I think naturally the pressure on the tyres will be a bit less. I mean with the pressure we run in the tyres anyway it's almost like a balloon, so I don't think you can go much higher so I don't think we need… well, if they would be faster than yeah, great, amazing, but I don't think they are and of course the cars are not fully set up for these tyres but honestly, the difference we had yesterday in practice is not set-up, like you can adjust a few things but if the tyre is not turning, it's not working, then you can turn the car upside, it's not going to be the same speed. Yeah. I hope we will not use them but let's see. Was that an honest answer?
LH: I already said too much yesterday about it. The problem is for me is that I – I mentioned it yesterday – I see all the guys from Pirelli and I really have so much respect for the guys here. I think I've got a good relationship with the majority of them. It's difficult for us drivers to say… we try to be constructive, we try to be supportive in the back and nothing changes. And then even when we say something not too positive in the media nothing changes so… I do miss the tyre war that used to happen in Formula 1. I think with that it's great. When you don't have any competition you've got no one to base yourself on. Just imagine us as a team or for Max and his team and none of us were here, they wouldn't develop as they do now because they're chasing and competing against other people. Formula 1 needs to do something different in the future and that's something we need to do.
VB: There's not much more to add. Obviously our understanding with the new tyres, the main difference was in terms of reliability, so they got a lot heavier like just because there's more material to try and prevent any punctures or failures that we had which is an important thing, but then on the other hand, the performance was not quite there, as expected, so quite a bit slower and not that nice feeling to drive. I wasn't a big fan of those tyres, personally, but obviously… I don't know who decides in the end what tyres we're going to be using next year but we'll see.
LH: Can I just say that the tyre that we do have right now it's been a really good tyre, it really has. It's been the best tyre that Pirelli has given us apart from that hyper or ultra or whatever it was, the hypersoft, which was a good compound for one lap, it was pretty awesome. I'm personally happy to continue with the tyre that we have. Of course we would want more grip moving forwards but that's definitely not what we've been given so far.