FIA post-qualifying press conference - Bahrain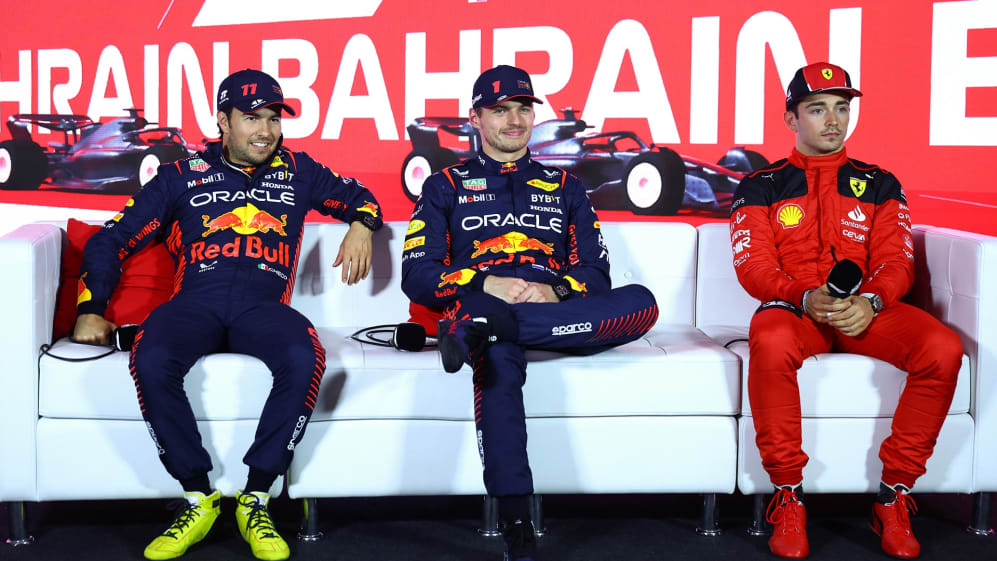 DRIVERS
1 – Max VERSTAPPEN (Red Bull Racing), 2 – Sergio PÉREZ (Red Bull Racing), 3 – Charles LECLERC (Ferrari)
TRACK INTERVIEWS
(Conducted by David Coulthard)
Q: Charles, we saw you getting out of the car and we suddenly thought, is there an issue with the Ferrari but it's strategic?
Charles LECLERC: No, there wasn't any issue. I think we were in a fight for pole, which was a good surprise, to be honest, because I did not expect that after testing and after the free practices that were a little bit difficult. We managed to find that pace for the quali lap, which was great. However, we need to keep in our mind that in the race run we seem to be a little bit on the back foot compared to Red Bull. And I think we are in a better place starting third with new tyres than starting first with old, or a bit further up [than third]. I don't know if we will have gotten pole or not. But it would have been close.
Q: Now you were the pole king last year. That session, though, as we were watching the times being traded between yourselves, the Red Bull, the Aston Martin or Fernando, it seems a lot tighter. It's certainly a lot tighter than what the pre-season testing had predicted.
CL: Yes. I hope it will also be like that on the race runs. But yeah, it was very, very close actually. Aston Martin was really quick. Mercedes, also, was really quick at some points of the qualifying. And we are much closer than what we expected, which is looking good for the future. I think it makes Formula 1 more exciting. So I'm looking forward to the rest of the races.
Q: There's a glint in your eye. Do you have a feeling about tomorrow?
CL: Well, again, let's say that in the race run we seem to have a bit of a weakness for now. Having a new tyre will help us tomorrow. But I don't know how much the picture will change with that. But it's going in the right direction at least.
Q: Well done. Thank you, a top-three finish. We're going to hear now from Checo Pérez. Checo, pretty tight there with Max, just a tenth between you. It's been tight all weekend. How was your lap? Did you leave anything behind?
Sergio PÉREZ: Yeah, I mean, it has been a really tight qualifying. I don't remember such a tight qualifying battle from Q1 to Q2, you know, the competition it's really marginal. So you cannot leave anything on the table to maximise your grid position. In the end I wasn't totally comfortable with the balance. I believe, certainly, that you can always improve a tenth on your lap. But I think to get this start for the team is really special.
Q: You say you're not comfortable with the balance. This is all about one-lap performance. Of course, the race tomorrow it's about those long runs. Do you think the balance will be more suited to the race run for you?
SP: Yeah, if anything, we prepared much more to do the race. You know, we have more of a Sunday race car at the moment underneath us. We knew we had to do some compromises for quali, which we ended up doing. They were not ideal, but hopefully tomorrow it pays out and we can have a very strong race car.
Q: Well, that's ominous for your competition to know that was a compromised qualifying car. And you've just put it in P2! Congratulations. Thank you. And now it's time to hear from our pole position man. Max, congratulations, your 21st pole position on your father's 51st birthday. So that's a good father's present.
Max VERSTAPPEN: Yeah. I hope he was watching. I'm pretty sure he was watching. But yeah, I think it's been a bit of a tough start to the weekend yesterday and today, not really finding my rhythm. But luckily, in qualifying, I think we managed to put the best pieces together. And, of course, very happy to be on pole, and for the whole team, coming off of last year and again having such a strong car with Checo up there as well. Yeah, it's amazing. And I'm looking forward to tomorrow.
Q: Put us in the cockpit. There's been some minor changes to the floor heights, minor changes to the construction of the Pirelli tyre. How does the car feel relative to the first evolution, year one of this regulation?
MV: Well, I think compared to last year everyone knows a bit more what they're doing with the car. So naturally, I think you already start off better and more competitive. And then, yeah, the changes I think slowed down the car bit, but we are still going faster. So that's of course a great thing to see. And I think again, you know, throughout the year, you will see that everyone is increasing their performance again, a lot and that's the beautiful thing about Formula 1.
Q: Did you honestly expect it to be so tight? You know, the gap to Ferrari. Fernando Alonso was not that far away as well.
MV: I was actually positively surprised being on pole after the struggles I had in practice. So that's positive and normally our race car is better. So let's see.
PRESS CONFERENCE
Q: Max, this was the moment of truth and you've continued where you left off last year. How happy does this make you?
MV: I'm particularly happy because my whole weekend up until qualifying was very difficult. I couldn't really find the comfortable balance I had in testing and I was just struggling a lot to just get the car together, really. I went into Q1 and everything already felt a bit better, but it was still not, let's say, perfect. So yeah, I'm very happy then in Q3 that we could put these laps in. I still think it's not perfect, but in a better direction. So, for sure, for the next race we will have to analyse a bit why from the test to the race weekend it's so different for us, and also for me driving wise. But nevertheless, we are sitting here with two cars. So coming off last year I think this is again a very strong start for us. So yeah, very happy with that.
Q: How much have you had to change the car this weekend?
MV: A lot. I went left and right and back to the middle and found a bit of a compromise. So that's a bit unusual that you make such big changes. But, like I said, luckily in qualifying that's probably the best balance I've had throughout the weekend so far.
Q: Given those struggles, how good was that final lap in Q3?
MV: Yeah, the laps were good. Yeah, you come out of qualifying and you always immediately analyse your lap, right? And yeah, overall, pretty pleased.
Q: So what about the race? How confident are you feeling in the long run?
MV: That should normally be our stronger point than the one-lap pace. So hopefully we can show that again tomorrow.
Q: Checo, coming to you now. This is Red Bull's first front row start, here in Bahrain. So a great result for the team. Anything more to come from you in qualifying on that final lap?
SP: Just like Max said, you know, the balance has been really different from testing. We've done plenty of kilometres here but we came to the race weekend and we found a very different balance to testing. So, we've been working our way through, we've been making massive changes from one side to the other. I think in the end, we knew we had to compromise a bit the quali-pace for tomorrow's race. So hopefully that will pay out tomorrow. Generally, I wasn't that comfortable with my balance in Qualifying. But I think, as I progress, I was able to learn my way around the balance I had and get a good Q3 lap in the end, but not enough to beat Max.
Q: Checo, you talk about how the balance has changed from testing to this weekend. Can you just tell us a little bit more about that? What have been the struggles exactly?
SP: Well, I wouldn't go too much in detail. It's just that we found quite a different car to what we had in testing and we don't understand what's the reason behind it: could be wind; the relative temperature; many variants that I think after the weekend, we will have a bit more of an idea. But for now, we've got a focus for tomorrow.
Q: Is this the same car that you had in testing? Or has it got upgrades on it?
SP: As far as I know, it's the same.
Q: Okay, looking ahead to tomorrow. Where do you see the main challenges coming from? Do you think Charles is going to be quick? Can you challenge Max for the win?
SP: Well, the Ferraris definitely picked up throughout. I think there were sandbagging a bit through the first days of testing and in during the weekend. They're definitely there. They're very strong. So, I will expect them to be in the fight for tomorrow's race. And you can already see, you know, that it is not only Red Bull and Ferrari there are plenty of other teams that have joined the competition. So, I mean, if you don't get a perfect lap in Q2, Q1, you really have to put more tyres on, so yeah, the competition has increased certain for this season.
Q: Charles, coming to you, Checo says you've been sandbagging until now. Is that the case?
CL: I don't know. Definitely not as much as…
MV: Maybe you found a sandbag in the car?
CL: I didn't find it myself. And I'm not aware of it. I mean, we found a lot of performance in Qualifying. But I mean, 'a lot of performance', we were in the fight, which is something that I probably did not expect. So, it's a good surprise. To tell you where we found the performance, I'm not really sure, so we need to look into that. Because as much as we need to understand the bad days, I think we also need to understand the good days. That's how we will improve but good that it's like that. But we also need to be realistic. I mean, those guys, and also Aston Martin, seems to be really, really quick in the race. Which is why I think, we made that choice in Q3 to be willing to lose one or two positions at the start, but having new tyres to put all the chances on our side, which I'm sure is the right choice. But let's see tomorrow.
Q: Look, if you had another go in Q3, do you think pole position would have been possible?
CL: I mean, I hate saying yes, it will have been or… I mean, it's difficult to say but for sure, seeing the margin on the first set, I knew there was a bit of time to find. So, it will have been close.
Q: Just looking ahead to tomorrow, the long run pace of the car versus Red Bull. How do you see it?
CL: They are quick, they are really quick. Hopefully we have another good surprise tomorrow. Of course, for now, we don't know in which conditions they were running in FP2 when they were doing the race simulations. Looking at FP2, they are very quick.
QUESTIONS FROM THE FLOOR
Q: (Frédéric Ferret – L'Equipe) Question to Charles. We saw that a small part of your car fell down on Q1. Do you think you missed some performance without it?
CL: I don't think so. I haven't seen the team but I was told on the radio that it was all fine.
Q: (Alex Kalinauckas – Autosport) Another question to Charles on the same topic, please. What was the part that fell off? And what did they feel like when you braked for Turn One because we saw you locking up? Was it a result of that?
CL: The part I honestly don't know. Because I haven't seen any images of it whatsoever.
MV: It was the sandbag.
CL: Yeah, probably! But the lock-up I think was just me being too optimistic in braking for Turn One. I don't think it's… I mean, I didn't feel anything particularly weird.
Q: (Luke Smith – The Athletic) Max, you said in the TV interview before coming here that it was a positive surprise to get pole. What's your reasoning behind that? Were you surprised because the other teams were so close? And it was a tough fight? Or was it more of a surprise that you got the most out of the car given the balance issues you discussed?
MV: Yeah, I mean, after testing I was very happy and then then I jumped in the car in FP1 and it was a big shock. I just couldn't get the balance right through all the practice sessions. And that's why I think what we achieved in qualifying was very good. I mean, qualifying to race is anyway a different car in terms of how it behaves, but you still want to be quick over one lap and that was a big struggle for me. Yeah, we just need to analyse everything what got onto the car for the race weekend, even if it's the same part but new, just to check everything for next weekend again.
Q: (Christian Menath – Motorsport-Magazin.com) Question first part for you Charles: would you be happy with P3 tomorrow? And for the Red Bull drivers, who do you think is your main competitor in the race?
CL: No, I think we are only happy if we win. But again, realistically, they seem to be very, very quick. So I think in those weekends where we are a little bit underneath, that's exactly those weekend that we need to maximise and, and try to get what we can in terms of points. So yeah, if a win is possible tomorrow, I will go for it. If not, we'll try and get the maximum points.
MV: They are all very close to us. Of course, we have shown really good race pace but we still need to show that tomorrow, and a lot of things can happen also during a race, which sometimes is not in your control. So yeah, we just, of course, need to focus on ourselves and try to do the best we can. And hopefully no crazy things will happen.
Q: (Ronald Vording – Motorsport.com) Max but the other two can add if the if they want to. Are you surprised that the field as a whole seems to be much closer this year? The gap between you and Nick in P19 in Q1 was only 1.1s Are you surprised by that? And secondly, is it extra proof that the direction that F1 went in really pays off now?
MV: Not really a surprise. If you look at most of the cars, they all copied each other so everyone is getting smarter over the years anyway, with the same regulations. And if you see that one car, particularly, is doing quite well over a year, you'll try to copy some things and that's why of course, naturally everyone is getting closer and in general, of course, understanding the car bit better.
SP: Yeah, certainly the competition is a lot closer now. You can see it straight from Q1. You cannot do a mistake, even if you are in a top car. So yeah, that's nice in a way. And it will only get closer as the season progresses. So we welcome the competition.
CL: Yeah, for the field closer, I will probably wait and see tomorrow so in the race pace, but in qualifying for sure, it seems that we are all closer, which I think is great. It's more exciting and qualifying sessions like Q1 and Q2, which for us, for the top teams, whenever we had that big margin we could do a little bit of whatever we want. Now it seems to be a bit more on the limit so it's nice.
Q: (Niharika Ghorpade – Sportskeeda) From the data in the last two days, where do you think Aston Martin fits in because they were already looking good FP1 to FP3? And do you see the field bunching up more after the first three tracks, which are very different in characteristics?
CL: Oh, they've shown a very promising race pace in FP2, but again, FP2, it's very difficult to judge because you don't know the fuel level they had in the car. But I think they will be strong in the race, probably quicker than what they've shown in qualifying, even though they were pretty close. But yeah, let's wait and see tomorrow.
MV: Yeah, for sure, they look very competitive. And I think already not only this year but last year. Their car was maybe not that amazing but I think in race pace, they were always quite strong compared to their competitors. So they probably took that also into this year. So for sure, they will be very competitive in the race, but a bit difficult to tell. But again, like I said before, a lot of things can happen throughout the race, with certain safety car moments or whatever, you need to make the right calls at the right time as well. You don't even need to have the fastest car then of course to win
SP: Well, they've been really strong, in the conditions yesterday, today so yeah, definitely expected them to be around us and obviously for tomorrow they will be a threat so it will be very close battle I think with a few cars racing each other throughout the race and you know, if there is a safety car at the right time for you, then it can change the story with this track that is pretty high deg.
Q: Checo, you know, a lot of a lot of the people in that team very well. You've been having a few chats? Got inside information?
SP: Yeah, they're very good on tyres. I know John is really good guy, and they're very good. They generally have been really strong. I think that's one of the strongest points of them. They rely a lot on that. The way they operate when I was there, it was always biased to the race weekend so I think tomorrow we can expect a very strong Aston Martin.
Q: (Jeremy Satis – AutoHebdo) Charles, obviously race pace was a bit of a weakness compared to Ferrari last year for you. Are you optimistic that you made a step forward on this?
CL: Again, the goal is to always try and improve. I think we improved our process of… throughout the race trying to take care more of these tyres but if I look in FP2 we are still quite a bit slower than Red Bull in terms of pace and tyre degradation. So we still need to see tomorrow and see where we are exactly but if we focus on ourselves, yes, I feel like we have done a step forward but I'm not sure it's enough.
Q: (Alex Kalinauckas – Autosport) First to Charles and then to the two Red Bull drivers: Charles, can you please just explain what do you expect to gain by using that extra set of softs at the start tomorrow? Is it really going to be a big benefit does the team feel and again the Red Bull drivers, do you feel that potentially could be a threat at the start of the race tomorrow?
CL: Well, a bit more grip but yeah, I don't know if it will be a game changer.
MV: Everyone said we don't need an out lap so it should be okay.
Q: (Claire Cottingham – Racefans.net) There's going to be a change to the qualifying format later this year, going to be tested at two races beginning at Imola in which you have to use hard tyres in Q1, medium tyres in Q2 and soft tyres in Q3. What differences if any will this make to how you approach the qualifying sessions? And would it have made much difference if that format had been in place today? Can I just get your thoughts on that?
MV: I hope it's not going to be cold in Imola, otherwise it's going to be quite tricky but yeah, it's the same for everyone but I don't think we need to actually do these kinds of things in qualifying. I don't really see the benefit of it. It's better if we make sure that all the cars are close to each other and more competitive instead of spicing things up in that way, which I think is probably for the show.
SP: Yeah, just think it's for the show. I think we don't need that when you see the qualifying we had today, how close everything was. We do not really need to change anything. But we'll see, we'll see once we try it but I don't think there's a need to change something that is working well.
CL: Yeah, I don't feel there was a need for change for that but let's try and see.