FIA post-qualifying press conference - Italy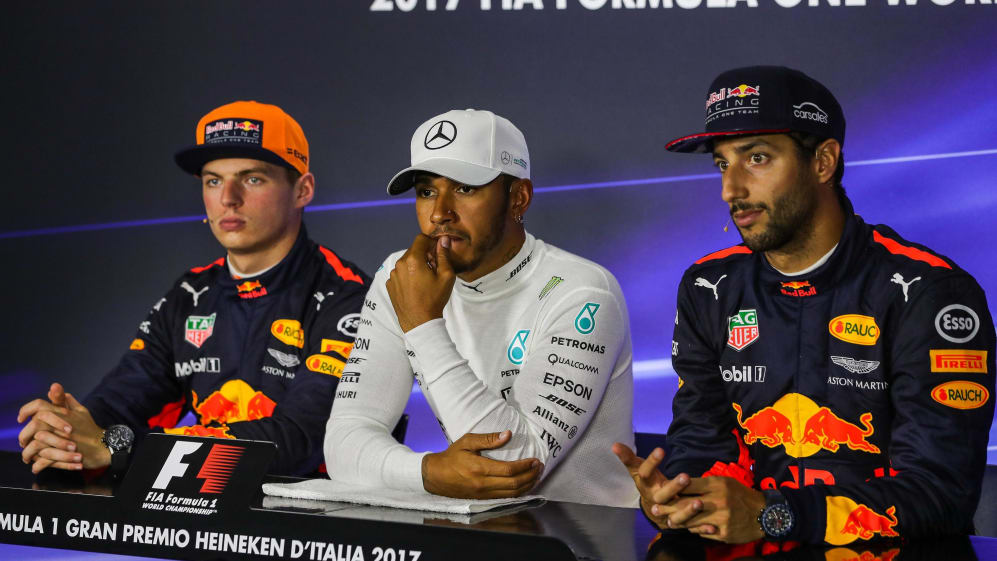 DRIVERS: 1 – Lewis HAMILTON (Mercedes) 2 – Max VERSTAPPEN (Red Bull) 3 – Daniel RICCIARDO (Red Bull)
GRID INTERVIEWS
(Conducted by Davide Valsecchi)
Lewis your lap was wonderful, 1.1 seconds in front of this guy. You were amazing.
Lewis HAMILTON: Thank you man, grazie. I appreciate your excitement. I'm just as exvited.
We'll give him the chance to take the helmet off, and in this time, wonderful, first row. I'm sorry for you, you will not start from the front row but your lap was amazing and your performance in Q3 was just a step over.
Max VERSTAPPEN: Yeah, it was a tricky qualifying, but I think also in the beginning of Q3 also sliding around a lot. But then I tried to cool down the tyres and in my final run everything worked pretty well, so happy with second.
Very well done. Ricciardo, tell me how was your lap. You were struggling on this circuit but today, from the outside, it was just amazing looking at you champions driving so well.
Daniel RICCIARDO: It was fun. Q1 and Q2 were quite terrible actually. I was struggling a lot and then Q3 we just seemed to get a bit better rhythm, the tyre had more grip. At the end we were pushing a lot but it was close. I'm glad we could do qualifying for all the fans. It was important we did this today.
Thank you so much, very well done. Lewis, just half an hour ago you were playing your Playstation and now you broke the record and made the history of this sport?
LH: Yeah, firstly, Italy I love you. I'm so happy to be here. Even though we're in Ferrari's homeland we have such great support here, even for Mercedes, so I really appreciate all the love. To do this here at such a historic circuit, such a beautiful country… I'm going to have some pasta tonight to celebrate.
Please, tell me about tomorrow, how will it be, the race? One of your contenders is not there with you and so tell me, front row, first corner, not easy to manage, so how will it be, your race tomorrow?
LH: Obviously it depends on the weather. I heard it's going to be dry tomorrow, so hopefully it's a normal Italian beautiful day. It's going to be tough potentially with the temperatures. It's great to see that Red Bull are up there, they obviously did a fantastic job. I have not seen the list of where everyone is, but honestly, I came across the line and I didn't know if I had it, but it felt like a good lap. But, I can't believe it – 69. I can't believe it; I'm so grateful. God bless you guys.
PRESS CONFERENCE
Lewis Hamilton, record breaking 69th Formula One pole position and less spoken about but also significant, all-time record polesitter here at the Italian Grand Prix? Congratulations Lewis, you punched the air as you crossed the line after a qualifying lap, so I guess it's significant, it clearly means a lot to you for a lot of reasons. And I guess every record up to now is something where you have been chasing and from now on it's up to the others to catch you.
LH: Yeah, it's very hard to find the word to explain how I feel, I'm trying to figure it all out right this second. These guys definitely made me work for it today, which I'm grateful for. The weather has been incredibly tricky for us all. Yeah, I can't believe that so much time has passed, so many great experiences, a lot of difficult times. But what a day. To come here in this beautiful country and with this usually English weather and to be massively challenged. It was very difficult to see out there; it was very difficult to see the lines and very easy to make mistakes, as always in the rain. The second to last lap was OK at the beginning and then I backed out of it, hoping I'd get one more lap and there's a lot of pressure for that last lap. There could have been a red flag, a yellow flag or something like that, so a lot to risk, but I gave it everything. It probably won't sink in for a long time. I've got to say a big thank you to my team for making it all possible, the guys back at the factory for continuing to support me and for Mercedes, we've got a lot of the sponsors here from Petronas and from Mercedes Benz, who have been sponsoring me for a long, long time and supporting me and being right behind. So I'm grateful for that. And to my family, hi! Thank you so much for all the support. I can't believe it's been 10 years but I'm really grateful for all the support. And also for the fans. I enjoyed chatting with them just before qualifying, or during the break, and I'm grateful to FOM for allowing us to do that because it's usually not allowed. But yeah, an epic day and truly blessed.
Very well done. Max, great performance today, you had provisional pole right up until the last car crossed the line – Lewis. Your feelings on how you went today and where do you believe you'll start the grand prix tomorrow and what do you think you can do from there?
MV: Yeah, I think start 15th. That's what they told me, we'll see tomorrow. It was quite a good qualifying I think. Everything was working well. Just in Q3 I was maybe not as happy as I was in Q1 and Q2, just sliding around a bit more and just couldn't get the grip, especially in the last sector. But my final lap was pretty OK and I head I was on pole and my engineer was telling me all the sector times and I said "stop, stop, just tell me what Lewis is doing" because he was the one to beat. He said "he's going purple" and I was like, well, to be second here with the car, the whole package we have I think we did a very good job and it was nice again to drive in the wet.
Daniel, it was intermediates in Q1 and Q2 but the order really changed about in Q3 moving onto the wet tyres. Ferrari fell away at that point. Can you put into words for us what was different about Q3 from Q1 and Q2 and thoughts about your own performance?
DR: Yeah, Q1 and Q2 were nowhere. If you heard, I don't know, but on my radio I wasn't too impressed, just with the level of grip. We were struggling with everything and we were just slow. It just felt like the tyres were... as if we didn't have blankets on them or something. So it was just cold and slippery. We got into Q3 so we weren't nowhere, but for normally our competitiveness in the wet, certainly struggling and then Q3 we went out on the extremes and to be honest already on the out lap I had a lot more grip than I had in Q1 or in Q2. I think there's something there, whether we learnt it, or we'll have a look, but it was a different car in Q3 so… I think we topped it early on in that session, in Q3, and then obviously Max came through Lewis and we had a charge at the end. It was close – not Lewis' lap at the end, I mean not Lewis' lap at the end, but close with Max behind, and I think with Lance behind, all within a few tenths. It was alright in the end, good recovery, nice to be up here on a Saturday. We'll obviously fall away back a bit tomorrow. I think 18th is where I'll start. If I didn't put in a good Q3, I probably would start 19th, so we're good, we're alright. Yeah, Q3 was a saviour!
QUESTIONS FROM THE FLOOR
Q: (Ysef Harding – Xiro Xone News) Lewis, many, many congratulations on a historic pole position. They say it's not the destination it's the journey: what has this journey been like as you continue to light the stat-book up with all the milestones that you have had this year.
LH: Well, firstly, I just actually wanted to recognise and acknowledge these two here who've done a fantastic job today which really shows their ability and while they perhaps don't have the right package currently, hopefully in the future they do, because we need to see these guys up here with us more, battling. They should be in the fight with us. With Ferrari and Mercedes. So, fingers crossed. They've clearly shown today the capabilities.
I've read that some people say it's not about the journey or where you begin, it's about the finish. I tend to think it's tends to be more important about the beginning and the middle and not necessarily where you're going, so yeah, about the journey. I think there's been so much learnt over these years. So much growing, as there will continue to be growing to do. Today was a real challenge with the break. You're in the zone for a second and then you get out of the car, you have 15 minutes to chill, then you get ready, get in the car, then you have to get back out, it was a real challenge to try to continuously try to keep your mind, not drained of energy while being in the zone but trying to step out of it and step back into. After playing the Playstation I was kind of a bit nervous whether or not I still was in the zone! But I was grateful when I got back out. Racing in the rain is… being in the wet in these cars is as great as its been in the other cars that we've had – but it's such a challenge and this is such an epic circuit because unlike the new circuits the grip is often off-line – which is a normal characteristic of an older circuit, and so you get to utilise that. So, going out, finding where the grip is, as opposed to a new surface – like the straight for example – which a lot of the new tracks have, makes it a lot more fun. So, I really, really enjoyed it.
Q: (Peter Farkas – Auto Motor) Gentleman, at some phases it seemed quite difficult to choose which tyre to be on. Could you explain what was the difference in behaviour and were you satisfied with the Intermediate and the Wet tyre – and which parts of the track were particularly critical?
MV: I think the whole year already, the Inter, compared to the years before when I was driving, I think it's really difficult. Really hard to switch on. Last year, for example, all the time when we went to an Inter, you felt quite comfortable. The tyre was working, it was quite a soft tyre. And now it just feels very hard. Locking a lot, so you just can't create any temperature in the tyres because you're sliding around everywhere and that's why it was very tricky. It was actually, for my feeling, dry enough for an Intermediate but still the Wets were faster: they were a bit softer, creating a bit better temperature so you can attack the brakes better. That was very difficult in Q1. Then in Q2 at one point the Inters became a bit better because it was quite dry. Then in Q3 it started raining again quite a bit, so straight away we said, let's go back to the extremes, and that was definitely the right choice.
And Lewis, which were the trickiest parts of the circuit, in these conditions today? And also, the pit straight was a bit dicey at the very beginning.
LH: Yeah, the pit straight was always, being that it's a new surface, the water really stays on it. It doesn't disappear. So, the first part, definitely, picking up the braking zone into Turn One. And then probably out of Turn Two, traction's terrible there. And then you get to the mid-section which is fun and it's not too bad. I would say Ascari was challenging, particularly the exit. Definitely… probably the most challenging part.
DR: It should have been Inters, I felt, with the level of water. I don't know if it was Q1 or Q2 – it's a long day – but the point where we went off extremes to Inters, I was sure the Inter would just be a lot more grip, but it just felt like it never really switched on. Just a very cold feeling and really low grip. I think the problem is then, because you can't get into the tyre, because you're sliding around and can't really attack it, then it's not really gaining temperature – so, unless it was drying a lot it was hard to get the Inter to work. At least that's what we found today. It was a surprise, for sure, I thought the Inter would have been stronger in those conditions.
Q: (Dan Knutson – Auto Action / Speed Sport) Daniel, when you took the TV camera into the Mercedes garage, did you spot anything interesting on the car?
DR: Yeah, a lot. I drew up a few things. There's this gap that's about 5.6mm below the rear end plate and that's key. So I definitely saw a lot. These guys were busy playing Playstation, I think! I was just playing around, trying to entertain the fans. I know Lewis touched on it, but, yeah, it was very nice of them to stay out in the rain today and I'm glad that we got it done. At least the wait was worthwhile.
Q: (Peter Windsor – F1 Racing) To questions for Lewis. One, did you have the same feeling about the Intermediates as the two guys either side of you, and secondly, can you talk a little bit more about the balance between it being fun to drive in the wet and all the challenges that come from driving in the wet and how much fun is that car of yours in those conditions – and how much of the character of the car comes through still in the wet?
LH: The Inters, definitely it was a problem for everyone. I think we went out of them and… yeah… people are probably wondering what it means when you're in the window and everything like that but it's all about temperature, obviously and basically, when you're below the temperature they're just rock solid and so when you turn in they're just sliding and they're not working with the asphalt. Then, if you're lucky, and it's a little bit drier… we were basically just on the crossover and then a lot more rain came down, I think for Q3, so we really had to come in, it made no sense being out on that tyre. We just couldn't go fast enough to generate enough heat and it because very, very tricky. Easy to spin off. And when you got back on the extremes, massive difference, a lot more grip, a lot more traction, tyres were working, clearing the water better. But, y'know, in Formual One you generally set the car up for the dry. Unless you know it's a wet weekend where you can then focus on a softer set-up, here in the dry it's more a stiffer setup you would go for – so when you get to the wet, you're driving a stiff car and there's not a lot of give, the flexibility in the car is very little. It definitely makes it a little trickier. But then it means it's more like a… I don't want to say a bull, because of these guys, but yeah, it's a lot harder to tame it, because it's so much more pitchy, and snappy, and then finding the groove, finding the dry patches, how quickly you get on power, it's easy to go too deep into a corner and then you've got these long straights and you don't get the exit onto those long straights. It was an amazing challenge and one that I love. And I know these guys enjoy it too.
Q: (Inaudible) Lewis, congratulations, could you please describe what it means to you to have a record that has been held Michael for a very very long time?
LH: I wish I was better with words, to be honest. I wish I had something really… something iconic to say but… I heard that it's only switched hands a couple of times in the fifty years or whatever it is – sixty years or whatever. It's just, again, a bit like at the last race, just growing up, watching this sport as we all have and witnessing greatness in other individuals such as Michael and just dreaming of one day doing what he's doing or they're doing and then actually to be there many years later. We are… and I am living proof that dreams are something that can come true so I think it's really cool for young kids to be watching today because it's probably hard to imagine it but I was once going there, in their position and dreaming of doing what I'm doing today which they perhaps are and very proud for what we, as a family, have achieved and it's crazy. If I stopped now… but you know Vettel's not far behind so I've got to keep going, I've got to keep extending it otherwise he might catch it and so I'll stick around for a while and try to make life hell for him.
Q: (Ben Hunt – The Sun) Gents, were you surprised that nothing was done for about two hours to clear the standing water from the track?
LH: What could they have done?
Q: (Ben Hunt – The Sun) The blower didn't go out until two hours…
LH: It was still raining so it wouldn't have made any… by the time the blower would have gone a hundred meters the water would have been back where it was. Maybe we could have gone out and if all us cars were out there maybe we could have cleaned a bit of a line. But we saw Grosjean go off so it was tricky.
Q: (Livio Oricchio – GloboEsporte.com) To all of you: I don't want to throw water on your enthusiasm for this wonderful qualifying by projecting the race tomorrow. Probably dry conditions; what do you project for the race, all of you, considering the unusual grid; Stroll second, Ocon third, Ferrari in the back, Kimi fifth, Sebastian sixth?
LH: I think it's… well we will see. Hopefully it's dry but obviously today would have cleaned the track so tomorrow is going to be green and obviously depending on the temperatures it's going to make a difference but yeah, I've only just remembered so unfortunate for these guys because they did such a great job, it would have been awesome to have kept them there and had them more of a buffer to the guys behind but it's great to see the youngsters… did you say Ocon and Stroll? Wow, that's awesome. All these young kids coming through, keep me on my toes. I think it's great because I know Ocon and Lance have also been driving so well this year and to come into a series when the cars have changed, a lot more physical than they had before, much more of a challenge, really thrown in at the deep end, they've done a great job, so to come to this awesome circuit and be where they are shows great promise for their futures.
__MV: We'll see tomorrow. No but it's not a great starting position but I think in terms of pace we can definitely get into the points but it's a bit of a shame for me that Williams and Force India, they star__t that far up so that's why I think they will gain quite a bit of time on us in the first three laps but we will try our best and we'll see where it ends up.
DR: Aaaah, probably challenge Lewis for the win!
Q: (Frank Woestenburg – De Telegraaf) Max, after the red flag it took quite a long time before the session was restarted. Do you think it took too long and that maybe… and do you think the people who make the decisions are maybe too conservative?
MV: To be honest, we did qualifying so I'm happy that we did it today instead of tomorrow, otherwise we wouldn't be sitting here, I think.
Q: (Peter Windsor – F1 Racing) Just a general question to all three: of course it's only hypothetical but in a similar situation in future, would it be practical to allow everybody to go to wet set-up for qualifying, even if we knew the race was dry, just to get it out there? Would it make any difference anyway and could you do it that quickly, could you convert the cars?
DR: I think it would take quite a long time. Yeah, I don't know. It would help with grip, I don't know how much it would help with aquaplaning and stuff. Yeah, for the amount of time and effort it would take it's probably not worth the actual reward in my opinion.
LH: I think it would be kind of neat to be able to change the set-up, as long as you get… on Sunday, you can't change the set-up for Sunday if it's going to be dry for example but it would be kind of neat, it would put in a little bit more of spice in the dynamics. Adding downforce would have also helped today, switched on the intermediate, for example maybe.
Q: (Natalya Panteleeva – Automotorgr.ru) Daniel, you said that you have finished with your tradition with shoey…
MV: He has a lot of tradition. You don't know Dan yet.
Q: (Natalya Panteleeva – Automotorgr.ru) … but when you become World Champion, will you carry on the tradition to have a drink from your shoe or will be invent something new?
LH: Like eat your socks!
DR: I don't know. We'll see. Hopefully I'm not old by then. If I am old by then, maybe I'll also think drinking out of my shoe is disgusting.
LH: How old are you now?
DR: 28.
LH: I thought you were at least 35.
DR: I don't know. To be honest, it's a good question but I haven't thought about anything like that. Even when I did the shoey I didn't expect it to become a bit of a thing.
LH: You did.
DR: I didn't really, it wasn't… You've still yet to do one so… We'll see, hopefully I'll get to cross that bridge one day, one day soon and maybe, maybe. Thanks for having faith.