FIA post-qualifying press conference - Miami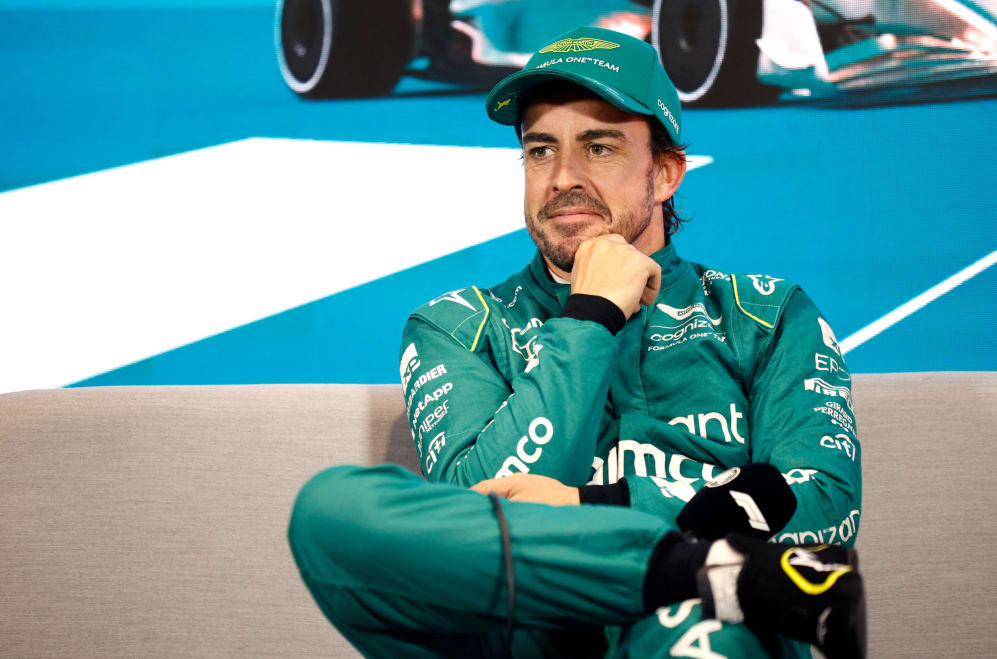 DRIVERS
1 – Sergio PÉREZ (Red Bull Racing), 2 – Fernando ALONSO (Aston Martin), 3 – Carlos SAINZ (Ferrari)
PARC FERMÉ INTERVIEWS
(Conducted by Danica Patrick)
Q: Carlos, great job out there. How was the track? The drivers have been talking about how slippery it is. And it looks like it's been challenging. Your team-mate spun again in Qualifying. Is it really tough out there?
Carlos SAINZ: Yeah, it was a very tricky Quali for all. I think it's very difficult to find the right feeling with the tyres around this tarmac and it was a fight the whole way through Quali and very easy to make mistakes. It was getting windier and windier, which for our cars and for our car in particular is quite tricky to drive. But yeah, in general, a decent outcome. P3 is more or less where we were targeting to be, but I think today we would have been even better.
Q: Do you think that the tyre degradation is going to play a big role tomorrow with the heat and being able to stay where you're at or move forward?
CS: Yeah, it's the big unknown going into tomorrow. How is our car going to perform in the heat and in the race runs. Normally, it's our weakness, but I think this weekend we should try and make a better job than in the last one. And I think that could bring us to the podium, which would be a good result.
Q: Do you think that the changes with the DRS zone being shorter will be an advantage for you guys against Red Bull?
CS: No, I think the Red Bull is the Red Bull. They are just very quick. But then everyone else, it's going to be a good fight with Fernando, with Mercedes that are a bit behind. The other Aston. I don't know. I think it's going to be an exciting race.
Q: Did you have anything left out there?
CS: Yeah, plenty, actually today, yes, because obviously with the red flag I think we all had a quite a lot of lap time to come in the second run. I was actually doing a very good first sector when the red flag came out, but it's how it goes. We're P3, which is more than where we were planning to be.
Q: Okay, good luck. Fernando, well that was exciting. Tell me about your Qualifying?
Fernando ALONSO: Yeah, it was a good qualifying. I think FP3 was a bit messy for us. We tried different set-ups and they didn't work, but the team obviously put the car in a more known place after the first four races and the car came alive in Qualifying. So yeah, certainly happy with P2 obviously, first row of the grid. Let's see what we can do.
Q: How's the balance of the car?
FA: Perfect. I did enjoy every lap, you know. It was so enjoyable to drive, especially the low-speed corners here are quite tricky, you go quite close to the walls between Turns 11 and 16, so you need to have that confidence in the car to really attack qualifying and I had the confidence today, so I was very pleased.
Q: How hard is it here, where it's been very slippery for everyone, to be able to push really hard and still get the most out of the car. Do you think that's going to be really difficult tomorrow and you'll see mistakes?
FA: Yeah, probably. I think it was difficult the whole weekend. It is a very narrow racing line that we are cleaning and it gets quite grippy but offline it gets quite slippery. Yeah, we need to have an eye on the weather as well. There are some forecasts that says rain tomorrow. If that comes, obviously it's going to be a new thing.
Q: You've been having an excellent season. Tell me, give me a reason? What is it? Are you inspired? Is it the new team?
FA: I think I've been always motivated, I mean always working hard, but I didn't have probably, you know, the team believing on my performance, on my ability to set-up the car as well and to move forward. And also, I never had as fast a car as I have now, so you know I think that's the reason. I didn't change anything but Aston Martin changed everything on me.
Q: Checo, they're excited here! How about you? Great job.
Sergio PÉREZ: I think it's been my worst weekend up to qualifying really, I just couldn't figure out how to pull those tenths that I was missing all the time to Max and to the Ferraris. I mean, I was just re-setting everything, we did a small change into Qualifying and everything became more alive. And I think with this tarmac we were just playing a bit with the tools and we put the lap in when it mattered.
Q: You've been a little hard on yourself. You said it's been a bad weekend. Why is that? What is it that you were missing?
SP: Just everything. It wasn't coming together. It's one of those weekends where I was just struggling for balance, confidence. This tarmac is very sensitive to temperature, so thank you to everyone.
Q: You're racing hard against Max for the championship and we're already talking about it so much in race five. Tell me about that? Is that already stressful and distracting? Or are you thriving?
SP: No, I'm enjoying it. I'm just thinking race by race. I will go out and cheer for my team because they've done a tremendous job and, yeah, just see what happens tomorrow. You know, tomorrow. It's a new opportunity. Starting from pole. We are the ones that have some effort to lose, but we will just go out there and try to enjoy this amazing crowd.
PRESS CONFERENCE
Q: Checo, many congratulations. What a session for you. Just how pleased are you with that first lap in Q3?
SP: I'm very pleased, you know, because it's been a very difficult weekend for me up to Qualifying. I think this tarmac is just very different to anything else. And I was just trying to figure out how to get the maximum out of the car, out of the balance, because even on my final lap, I was still finding things out that were working better. So we haven't had a straightforward weekend. So it tastes a lot better once you deliver under such a bad weekend.
Q: Just as a reference point was Max finding things easier on the other side of the garage, and were you worried about a repeat of Melbourne?
SP: No, it wasn't as bad. I think if things turned to bad, probably I will be P4 or P3. But no, Melbourne, hopefully never again. But I was just far and literally far with balance with confidence. And I think it's one of those weekends where if things don't go in your favour, then you just start to lose confidence and you start to overthink things. And yeah, I'm just so pleased that I delivered when it mattered, because I had a pretty good idea through Qualifying. I think I managed to learn a lot. And yeah, just put the lap when it really mattered.
Q: It seems like you're still learning. So how many question marks do you have going into the race tomorrow?
SP: I think the race it's a lot easier. And already yesterday I had a very good pace, although I was struggling for balance. Straightaway, we put fuel in the car and things come more naturally to me. The problem was putting the tyres up to temperature and taking that little 10th, you know, of peak grip, I was struggling with that massively.
Q: Now with mistakes from Max and from Charles, it's a slightly unusual front of the grid for us tomorrow. How do you see it panning out? Who are who your main challengers?
SP: Well, at the moment these two guys obviously. I'm mainly focusing now on getting a good start and being able to manage our first stint. I think it will be really helpful for all of us to be able to do that. You know, it's a very long race and still a lot can happen tomorrow.
Q: Fernando, coming to you. What a session for you. Your best qualifying of the year so far. The trend remains upwards for you and Aston Martin.
FA: Yeah, it was a good qualifying. I think we've been up and down in the last two events. I think Baku was very difficult with only one free practice. Here, with a more normal weekend, we've been experimenting a little bit with set-up and different options on the car. And yeah, I think we put it all together for Qualifying, the car felt good. And yeah, obviously the Q3 was stopped with a red flag at the end, so we don't know what lap time, at the end, everyone could achieve. I think there was a lot of pace in the car still because the Q3 lap was made on a used tyre on the first attempt. So up to the yellow flag I was a few tenths already better than the lap before. So yeah, I think that it was something more than the car, but obviously we take the first row of the grid and let's see what we can do.
Q: Well how much confidence does this give you going into the race tomorrow?
FA: A lot. I think Sunday is our day, normally. I think the car take care of the tyre normally very good, and we have a very good race pace and we struggle a little bit on Saturday. So, when we start higher up normally things are a little bit easier. But yeah, we have a strong opposition behind. Ferrari has been very strong this weekend and in Baku, some upgrades also on their car. Max obviously will come, eventually in the race, quite fast. So yeah, a lot of things to take care of in the mirrors. But we will do our race, we will score as many points as possible and our main competitors, Mercedes, they had a difficult weekend so far, so we need to keep outscoring them.
Q: Fernando, we've seen you and Checo on the front row before this year in Jeddah. We saw what happened there on the opening lap…
FA: Nice!
Q: What are your objectives tomorrow? Can you win this Grand Prix?
FA: I don't think that we have to target a win, especially after how the weekend went. I think even the podium is going to be difficult but, you know, we do our race. We've been doing this the whole season, we are in a privileged position, we never expected to be here. So, every lap we do, every race lap that we will do tomorrow in these kind of positions is a gift at the moment. So, I think the team is enjoying it. We will try to pass Checo into Turn 1, because we love to lead the race, at least for a few laps. And after that, it's just… we will end up in the position we deserve. If it's P5, it's going to be P5. If it's P7, P7. If it's another podium it will be fantastic. But I think it's going to be a tough race.
Q: Carlos, coming to you now. Very well done, your best qualifying of the year. You seem much happier with the car this weekend. Is that how you see it?
CS: Yeah, definitely. It's been back to the feeling I had in Australia. So yeah, it kind of confirms that Baku was an outlier and a very strange weekend for me. The strangest probably in my F1 career – I'm not going to lie – and the toughest. But now, back in Miami, the feeling straight away from FP1 was back to normal. I was on the pace, I've been in the pace from FP2 to FP3, building it up through Qualifying. Bit of a pity that we couldn't extract the performance of the car today because there was definitely a lot more in it. But yeah, with the red flags and things, and with the new tyre being so peaky around here, it's always difficult to put it together.
Q: Carlos, what's changed in the space of seven days?
CS: We've changed a few things but it's a tough sport to comprehend sometimes. I'm not going to lie. It's a very tough sport to understand. Sometimes you just put the car on track and there's things that are not working or not feeling how they should and, yes, we have tonnes of sensors, tonnes of data but it's sometimes very difficult to spot exactly what's happening but I was so sure and so convinced after Baku that there was something that was not quite right, that it kind of confirms the fact that this weekend everything feels normal again and I'm back to where I was in Melbourne in terms of pure pace.
Q: How on edge is the car around here? We've seen Charles make a couple of mistakes, of course in Qualifying. Is it difficult to drive?
CS: It is very difficult, yeah. I had my moments through the high speed section also in FP3, which kind of confirms that the car around there, it's just very tricky. We have a very peaky car, a very, let's say, unstable car in the high speed and the sometimes generates mistakes – in this case accidents – but both Charles and I were trying everything we can, you know, to put the car on the limit, to put it where the car deserves to be, which in my opinion, this weekend, it's just behind the Red Bulls. But yeah, in Q3, I didn't have the best lap in the first run and Fernando beat us. So yeah, we will make sure that we try to take the car to do what it can do.
Q: So where are your battles tomorrow? Who are you fighting?
CS: I think it will be an interesting start. I think it always is around here. I think last year there was also a decent difference between inside and outside into Turn 1, and we will see how it pans out, no? But I think we're fighting the Astons… who is behind me, P4? Magnussen? Interesting! Kevin, strange one, but he sometimes can pull it off, like we've seen many times. I think with Fernando and for sure Max will come from behind and will pass us both, it's normally what should happen because in race pace we saw like, we've seen this year six, eight-tenths of difference, which is around a 50-something lap race is a big, big gap.
QUESTIONS FROM THE FLOOR
Q: (Jesús Balseiro – Diario AS) Question for the two Spanish drivers. Fernando, this good, unexpected result, how much is Fernando responsible and how much is the car? And Carlos, what's the plan at the start? Is it worth going for some places, trying to attack Fernando? Do you think the first stint is that important? Or what's the plan for you?
FA: I don't know. I've been probably in the top four to five every qualifying except the Baku Sprint qualifying. So, I think that was the aim for today. Obviously free practice was a little bit of a concern, that we were not that competitive. We took some risk also in Q1. Unfortunately for Lance it was the problem there, but yeah, our aim is to have a simple weekend, not to do too crazy things and put the car in the position we deserve, which normally on Sundays we are a little bit more competitive. And keep learning about the car. And I don't know but I think today has been a good day. But obviously Max didn't complete the lap, Charles also had some issues and we just, as I said, put the lap and delivered the job in Q3, which is why we are paying off.
CS: Yeah, I mean the plan at the start, like always, is to attack because that's what starts are there for you know? Try and gain as many positions as possible and then, normally what we've seen this year is that the Aston and Fernando are a bit quicker in race pace than what we are, because they take better care of tyres, they have less deg, or whatever it is – which we are still trying to find out, and still trying to improve in our car. But let's see how overtaking is, let's see where we are after lap one and in the end, it's like Fernando said: we will finish the race where we deserve and it will be another good learning point.
Q: (Pedro Fermín Flores – TheGodflores) How will you feel being the first Hispanic drivers with a Spanish language being seated there? How do you feel?
SP: I reply in Spanish? I think I'm just really happy because I really like these two guys. I think we get on well and probably it doesn't mean much for us right now but when we look at it in a few years, we will remember this day and hopefully we can share the podium tomorrow, it will be really nice, for one day. It just shows that still the Hispanic community can fight.
FA: I will not say anything wrong, but I will answer in Spanish. (Answers in Spanish)
Q: Translation in English?
FA: Very, very bad things! Yes. I was saying that, as Checo said, it is quite a big day and yeah, we should reply in Spanish as well because a lot of following in Formula 1 and in sports in general and the world, so many millions of people are speaking Spanish and I was just replying in Spanish.
CS: Yeah, very happy to be here, of course, and be part of this this time. To my right, there are two very talented drivers but also two very good persons that I enjoy being around with. We always have good conversations, we always get on very well between each other and this is also why it's particularly fun to be sharing the front row, but also, I agree with Checo that it would be even better to share a bit of champagne.
Q: (Rodrigo Franca – Car Magazine, Brazil) Sergio, speaking about that, there's a lot of Latinos here in Miami and it's almost the Latin American capital here. How special is it to be on the front row in pole position? And how special would it be to win here, like a second home Grand Prix for you?
SP: Yeah, it's a very special weekend for me. I have a lot of friends. Obviously, the Mexican and Latin community here is very big, so it will be really special for me to get the victory. It will be even more special. I think all the wins are super good but this one will mean a little bit more. But still a very long race ahead. I'm not really thinking about that. For now, I just found focus on my race preparation and yeah, get through it.
Q: (Jake Boxall-Legge – Autosport) Sergio, you mentioned that you made a few changes to the car before qualifying and you'd be able to get something else out of it. Could you detail a little bit about what those changes were? What you were kind of missing with the car and what it gave you?
SP: I was mainly missing confidence. When I was looking at the data and seeing what Max was able to do, I could not see… I could simply not do that and I was struggling a lot. It was not small differences, it was quite big. And yeah, we did a good one good change, which I won't go into too much in detail obviously but also just learning about the asphalt, I think, through qualifying and playing with a balance and finding that rhythm was much more important than I really thought so I really got a good understanding in qualifying finally. So yeah, now looking forward myself for tomorrow. I'm sure that will be able to translate that into a race pace.
Q: (Alex Davies – The Athletic) With shortened DRS zones, curious how you feel about those shorter zones and how you think things might play out tomorrow as a result?
CS: I think yesterday we already expressed our feelings to the FIA about the situation of the DRS. We got very specific feedback and it is something that is going to work probably differently in the next few races. But for me, I don't think 75 metres of DRS changes what's going to happen tomorrow. It's probably maybe not in the direction that this sport was going with a show and with overtaking and trying to make overtaking easier to shorten the DRS zones, but it is also not like 75 metres of DRS or whatever they've done is going to change the whole race. I don't think it's going to be a very different picture and overtaking like always in F1 is always a challenge, it's always difficult and I expect it to be difficult tomorrow.
SP: I agree with Carlos, with a lot of what he said.
Q: (Matt Coch – Speedcafe.com) Just on the lack of grip on the circuit, is the result of it just being a new surface and dusty or is there something else and has the grip offline improved to the point where passing will be possible tomorrow?
FA: I think it was down to being the first cars, probably, on the circuit. We don't have any support races; I think Porsche Cup or whatever is racing here but probably we are missing F3, F2 or other categories to help us to clean the circuit. This is going to be better next year. But offline is quite dusty. It's going to be difficult to overtake someone because the dust that you put in the tyre it will remain for the following two or three corners. So it's going to be difficult but I think the grip level was okay. By now in qualifying I think the racing line grip feels good. But I think it was just a coincidence that it was too new and we were the first cars to race on this new asphalt.
SP: Yeah, I really hope that it evolves through the future. Hopefully next year it can be even better. And I think the big problem is offline as well. If you go a little bit off, then that's it really, you have like ice out of the racing line. So that to me is the biggest concern and hopefully that can be the biggest improvement. And hopefully, they can do another step. They've done a really good job for this weekend but hopefully when we come back next year it can be a bit more raceable, this asphalt where we can be offline and have more racing.
CS: Yeah, I actually think the tarmac has a very high grip in the racing line. Actually, the grip is very good. It's just the contrast that there is between the racing line and offline is what, compared to other circuits, is what is the most difficult thing to manage and to handle, especially in cooldown laps when you're cooling the tyres and when you're overtaking people offline it is very tricky, but I think this surface and this tarmac is better than what it was last year and just needs some ageing and need some more racing on top.