FIA post-qualifying press conference - Monaco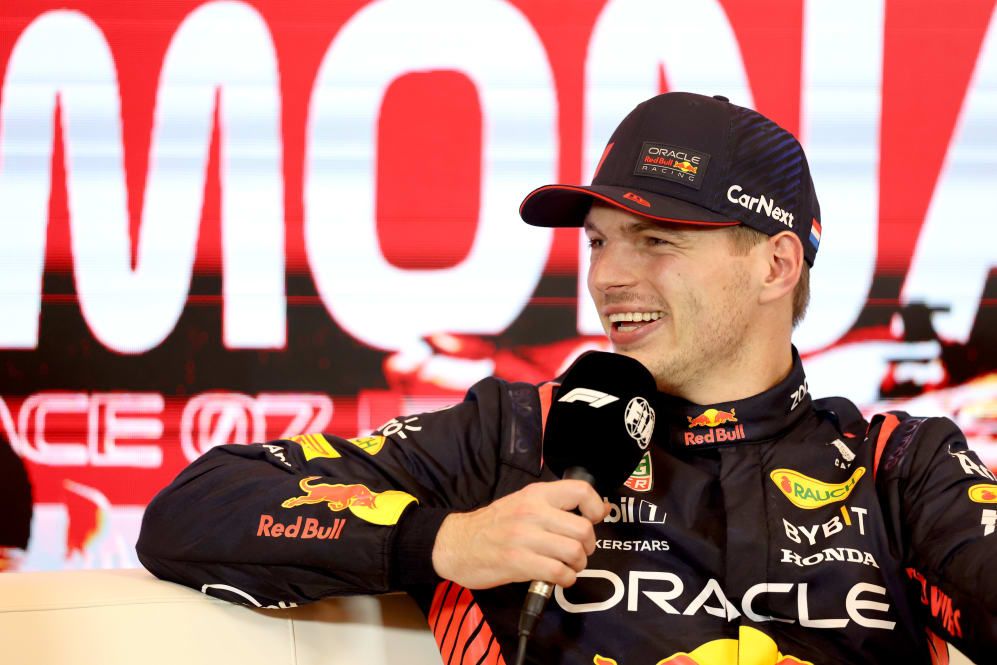 DRIVERS
1 – Max VERSTAPPEN (Red Bull Racing), 2 – Fernando ALONSO (Aston Martin), 3 – Charles LECLERC (Ferrari)
PARC FERMÉ INTERVIEWS
(Conducted by Loïc Duval)
Q: Charles, being home, not three in a row but it's been a fantastic qualifying – thank you gentlemen – what do you think about today?
Charles LECLERC: I'm not satisfied with P3, but on the other hand we need to look at the situation we are in with the car. It was a very tricky Qualifying, a bad weekend for me, especially I struggle a lot with the car. We struggle a lot on bumps compared to the other cars, but in Qualifying the car was a bit more alive, I was a bit more at ease with the car and we managed to do P3, very close to the pole position. So all in all, you know, happy, but I would have preferred to be first of course.
Q: Checo last year was third on the grid and he won the race. Everything is possible, as you know, here in Monaco. What do you need for tomorrow just to get that extra thing to be able to win at home and to bring that trophy to your fans?
CL: I guess a little bit more luck than the other years, but apart from that, I don't know how is the forecast. Yesterday it looked like maybe we'll have some rain. So if it's the case then everything is possible and I'll go for it anyway and let's see where we end up.
Q: Max, what a what a lap in Qualifying. What a final sector. I mean you were behind, you know, after the first two sectors. I mean yesterday you were unhappy after FP1 and at the end of the day you are again on pole position, your first one here in Monaco, how do you feel?
Max VERSTAPPEN: Yeah, very happy. I mean, we knew that this was going to be a little bit of a struggle for us this weekend to get everything together. Yesterday it wasn't the best start but I think we kept on improving and kept on being better. But then in Qualifying you need to go all out and risk it all. My first sector wasn't ideal in my final lap – I think Turn 1 was a bit cautious – but then I knew that I was behind, so in the last sector I just gave it everything I had. I clipped a few barriers, but of course very happy to be on pole here for the first time.
Q: As you know, in Monaco you didn't have so many opportunities to try a start so far in free practice, it's really important for tomorrow. It is what you need to win the race. And at the end of the day, even though we are in Monaco, we know that it's only 44% of the polesitters that win. What do you need for tomorrow?
MV: Yeah, we need a clean start. I mean, it's a short run to Turn 1 and you know in Monaco a lot of things can happen, right? Safety car, rain, you name it. There's always a bit of chaos involved but I think race pace-wise here the car is quick, so that is not the problem but we just need to keep it clean and calm.
Q: Fernando, you told your team that you were driving like an animal during Qualifying, we could see it, we could see the emotion, we could see the passion. It was missing just a little bit. That final sector, actually, that's all. You were always really competitive in Sector 1, Sector 2. How do you feel now?
Fernando ALONSO: Yeah, I feel good. Obviously pole position means a lot here in Monaco but you know today Max was a little bit faster, which is a shame, but I think first row on the grid for us is quite a big thing here. As you said, the last sector seems to be our weakest point of the circuit. Let's see tomorrow, what we can do in terms of a strategy, if there is any weather coming or something, but we will try to win.
Q: And what about those few metres from the first row to the first corner? Do you think you have that opportunity to go and cross that first corner in P1?
FA: I mean, it's very short into Turn 1, but yeah, we have normally a good starts this year. Max is a little inconsistent, so maybe it's one of those bad ones tomorrow.
PRESS CONFERENCE
Q: Max, that was an adrenaline-filled session for everybody. And a stunning final lap by you. Your first pole in Monaco. Is this the best pole of your career?
MV: No, I don't think so, but it was good enough. And I'm just happy to get my first pole here. You know, it's always super hectic. And finally, you know, we also had just clean running in Q3 as well, so that was nice for everyone to just push to the limit. And yeah, I mean, the whole qualifying went pretty well. I struggled a bit to put it in the first lap, with warm-up, with the tyres, and just putting it all together, all the sectors. But I knew that the last lap I had to do it, because they improved. And I also knew going into the last sector I was down on them. So I had to push flat out in the last sector, risk everything to get back the lap time. And luckily, we did.
Q: You were three tenths down going into that last sector. Can you just describe what you did at the end of that final lap?
MV: Touched a few walls! Guard rails and walls. And yeah, I mean, I was always quite quick in the last sector but yeah, I definitely pushed a bit harder on the last lap.
Q: And what about the car? You said you weren't happy with it at the start of the weekend? What are your biggest concerns going into a 78-lap race around Monaco?
MV: I mean, the race should be OK. It's just about having a clean start. I mean, there's always chaos involved in Monaco. But I think our race pace, in general the behaviour of the car on the tyres is fine. But it was all about just putting that together over one lap, which I knew was going to be a little bit harder for us here in Monaco, just with how our car is, the characteristics of it. But still to be first here is great for the whole team.
Q: Are you surprised by how close it is at the front between you, Fernando and Charles?
MV: Not really, I mean, I knew that going into this weekend it was going to be tight around here. And yeah, it has proven that in Qualifying.
Q: Alright, many congratulations, thank you. Fernando, coming to you now, sensational stuff as well. Less than a tenth separating you and Max. Did you think you'd done enough after the first run?
FA: Yeah, you never know here in Monaco. As Max said now, you know, anything can happen. There are always couple of incidents, yellows, you know, red flags. So it's better to put a lap on the board and just be at the front. So when they told me that we were P1, just Tsunoda and Max completing the laps, I knew that the possibility was there to be P2. But yeah, I think even if it feels very close, the proposition, we have to be happy. I think we came here with some concerns about our performance on Saturdays. We seem very good on Sundays and taking care of the tyres – degradation is very good on our car. But we struggle a little bit on the street circuits to put the temperature and to hit the lap in Q3. And we're starting in the first row of the grid in Monaco, so I think it's job done today.
Q: Is there anything you could have done differently on that final lap?
FA: I don't think so. I think both laps in Q3, we were increasing the level of risk into uncomfortable level, let's say. And I think both laps in Q3 were… yeah… a little bit over the limit sometimes but everything went fine. Last sector seems our weakest part of the circuit. Already in FP3, we were I think eighth quickest team in the last sector, so there is something going on there that we need to analyse a little bit, maybe going into Singapore or wherever is then the next opportunity we have.
Q: Let's look at the positives: in the last seven years the driver starting second has won here more than the driver starting on pole position. How do you rate your chances tomorrow?
FA: Great, looking at that! Let's see. I think it's a long race. I don't think that overtaking opportunities will come at all, as it is Monaco, but this is a very demanding race: on the car; on the gearbox; on the brakes. You know, there are a lot of things that you need to take care of over 78 laps. So, we have to be focused, very concentrated, we have to be sharp on the strategy, pit stops. You know, anything can happen. If an opportunity comes, we will take it.
Q: Charles, coming to you now. Not quite three poles in a row for you here at home, but a hugely impressive performance nonetheless. How satisfied are you feeling right now?
CL: Disappointed with third but at the same time, I think I need to look at the weekend as a whole. I've been struggling with the car like crazy. We've had a lot of problems with bottoming, especially over the hill to Turn 3 and Turn 13 also. In Qualifying, it was the same but with the new tyres, you can extract a bit more and I managed to put everything I wanted in one lap. Wasn't enough for the pole, but anyway, I think that was the maximum we could do today.
Q: If you'd had a cleaner run into Qualifying through practice, do you think pole position might have been on today?
CL: No, I don't think so. Because even looking back at the lap in Q3, honestly, the lap was really good. So yeah, I don't think there was much more.
Q: So, let's throw it ahead to the grand prix tomorrow. What do you think you can do?
CL: Well, I mean, as Fernando said, it's not the track where you can overtake and even if we could overtake, I think that in terms of race pace, we are a little bit behind. But let's see, I mean the forecast, I haven't seen the forecast recently, last time I checked it, there was some rain around. So, if this is the case, then there will be a little bit of luck into play too. And hopefully we can take the right choices and make up some positions.
Q: So, are you going to be doing a rain dance tonight?
CL: No, no, no, I'm not that desperate. If it's dry, Monaco is also nice with dry. I mean, the last few years the rain didn't really play in my favour. So, if it can be a dry race, and we can stay on the podium, that will be already a good weekend considering the difficulties we've had.
QUESTIONS FROM THE FLOOR
Q: (Frédéric Ferret – L'Equipe) Question to Fernando and Charles. How do you rate your last lap, compared to all the qualification lap you did in Monaco? And how do you rate your chance of winning?
CL: I think our last lap, we were speaking with Fernando, and we go into Turn 3, 4, 13 especially, and you're just like 'OK, let's see what happens!' You release the brakes and you don't see anything because the car is moving like crazy with the bumps. I really struggled with that, the whole weekend, and yeah, in Q3, you just go for it and see what happens. So, it was a good feeling. Whether it was my best lap around Monaco, I don't think so. I think last year was a pretty good qualifying, but I was also more at ease with the car. But it's always exciting in Monaco, and it always feels amazing. Then our chances for the win, again, as I said, I think it's going to be difficult if it's a normal race.
FA: Yeah, difficult to compare. I mean, all the qualifying here in Monaco, they are quite exciting. Adrenaline is very high around the lap. Maybe with these cars, they decide to be extra because visibility is very compromised with the front wheels and the wheel arch on top of the wheels. There are a couple of corners that we cannot see us as we were able to do in the past. So, Turn, maybe 8? The last corner, 19, is just a guess, because there is no way you can see the barrier. So that's adding a little bit of stress, for sure, in the lap. But yeah, I was happy. One of the best laps for me in Monaco, for sure. And the chances to win tomorrow, as I said before, I think we need the help from Max, but we cannot… I mean, take it for granted that all three cars will finish the race with no issues. This is Monaco and it's going to be demanding.
Q: Max, are you going to help him?
MV: I mean, I like to see Fernando win but I also like to see myself win. It's a tough one. I'll think about it!
Q: (Ronald Vording – Motorsport.com) To Max. Thursday, you said that the first run of Q3 would be important not to be vulnerable to a late red flag. So, was being the last man in the final run, was that the plan, to probably get the best track conditions, or did it depend on things happening before in Q3?
MV: No, it was just how I thought we would have the best chance of putting it on pole. You know, every car reacts a little bit differently with how the tyres warm up over a lap, and for us that was the right choice to do it like that.
Q: (Christian Menath – Motorsport-magazin.com) Another one for Max on the same topic. I think you were the only top guy doing two laps on the first tyre set. Were the tyres 100 per cent ready then in the last attempt, or was that probably the reason why you were so fast in the last sector and not really in the first two sectors?
MV: I think my out-lap wasn't ideal. I had to drive a little bit slower than I would have liked because unfortunately, there were a few cars in front of me who I think aborted maybe and then went again. So, it definitely wasn't an ideal start to the lap. So maybe that's why my Sector One was a little bit down and then it all started to come up. Because it's all about confidence as well around here. When you don't feel like the tyres are fully ready, you don't hit the brakes as hard into Turn One and everything is a little bit compromised. A lot of things come into play, you know, to have a perfect lap here.
Q: (Luke Smith – The Athletic) That was probably one of the most exciting qualifying sessions we've had for quite some time and I know Monaco gets a pretty bad rap at times for its lack of overtaking in the races – but does a session like that for you guys really sum up the magic of Monaco, just what an iconic track it can be, how exciting it is and why it's unparalleled by anything on the calendar?
MV: If it ends up in a good result, I'm happy, otherwise I don't care! Nah, it's of course, a lot of adrenaline. I can feel that every time you jump in the car, you know, your heart rate probably is a bit higher than on other tracks when you do a qualifying lap. Because you know that when you make one tiny misjudgement or whatever, you end up in the wall. And yeah, definitely from all the street circuits we do, this one over a Quali lap, definitely the hardest, I think, to nail and you feel it when you jump out of the car. You're full of adrenaline and your heart rate is still higher than other Qualifyings.
FA: Yeah, similar. I think the lap is high adrenaline and I think if we see also how it looks on TV, when I was sitting in the car, you see the whole Monaco today on a sunny day, I think is a very unique place. Even last year when there were talks that maybe Monaco was not on the calendar for the future it doesn't sound right. It has to be always.
CL: Yeah, exactly. Nothing to add. It's just such an exciting day, then race day, yes, it is not the most exciting race in terms of overtaking but the Saturday is just incredible. The feeling that we have over the Quali lap is so good and yeah, it's like nowhere else on the calendar. So yeah, it feels really good.
Q: (Jesus Balseiro – Diario AS) Fernando, do you feel this is the closest you have been to race win maybe in the last 10 years and if so, how are you facing tomorrow? Are you going to attack harder? Are you going to risk more? What are you doing tomorrow?
FA: I think I risk enough today. So, tomorrow, as I said, we will try to finish the race to see the chequered flag, try to take the maximum points. If there is a normal Monaco race, we should be on the podium, more or less securing the positions that we see here in this moment. And, as I said, if there is an opportunity or mechanical failure from Max or a bad pit stop or lucky strategy or whatever, we will take it. But if not, there is not [anything] coming from our side that we risk more or less and then we will have a chance to win. There is no way you will overtake anyone, so it's just avoiding a mistake, which sounds a boring race on Sundays in Monaco and from the outside looks easy but it is still extremely difficult to keep the car in good shape and on those streets for 78 laps.
Q: (Andrew Benson – BBC Sport) Fernando, it's taken you a long time to get back to this position to be competing for pole position at Monaco and it's felt like all year that people have been sort of willing you on. Lots of people have been willing you on to success. What's it been feeling like for you to be finally back in this position?
FA: It feels great. I always had self confidence in what I could do in terms of driving – overconfidence sometimes – but that's part of my DNA probably, but it is a proof maybe for people outside. There were a lot of new fans maybe coming as well from 2014 or 15 or Drive To Survive or all these things, that they only saw me fighting for Q3s or something like that or retiring in the race with some smoke at the back. So, now I think they are surprised that they see me fighting a little bit towards the front. But for me it's just… it is OK and I'm enjoying but it is more enjoyable that people or new fans can see that we are fast.
Q: (Jake Boxall-Legge – Autosport) Charles, you mentioned that you were struggling like crazy throughout the Qualifying session and that you were a little bit more at ease with your car last year than you were this year with your new car. Could you just explain what the 2022 car gave you that this year's car doesn't necessarily do?
CL: I think it's on bumps especially. If we look at the on-boards of the different cars, check my head and it's crazy. It's going from left to right, especially on top of the hill, Turn 3 and Turn 13. It's very, very tricky. Last year, it was much better and much easier to see the road. So the car will absorb much more the bumps and that was much easier to be consistent. So yeah, that is the biggest difference.
Q: (Carlos Miguel – Marca) Fernando, do you think that maybe one of the weakest point of the Dutch rock you have near you is the grip in the starting moments. Do you believe you can pass Max on the start and if you think that could help you, the rain tomorrow?
FA: The start has been very good for us this year, it's true. And Max maybe has been a little bit inconsistent sometimes. When he's good, it's as good as we are and sometimes a little bit worse. The thing is that the distance to Turn 1 I think is too short, for whatever start performance you have, and it's too narrow, I think, to try. Let's see tomorrow how it goes but it is maybe not in my head at the moment, that it's that opportunity or nothing. I think it's, as I said, a long race that we will focus on it. And the rain? I think it will not help, to be honest. I prefer a dry race. We have a better chance to secure big points from a dry race and on a chaotic, rainy day it will only help the people out of position and I think we are in position at the moment.
Q: (Pedro Fermin Flores – TheGodFlores) Questions for Max and Fernando. Max, for you, how do you feel having this youngest Fernando pushing you to the limits? And Fernando the second one for you is so personal, please can you tell us the truth about your new passion – garden flowers? Are you thinking about a new job in the future after 2026?
MV: No, for me it's nothing of a surprise. I grew up watching Fernando in F1 and I liked his style and for him to still be here at 41 it's very impressive and I think it's a great example for people out there, if you stay committed and believe in yourself, believe in the opportunities that come to you, then you can show something like he's doing right now. But, of course, you need also a lot of natural raw talent with that.
FA: There are no flowers here. It was only Miami and…
MV: Smelling good?
FA: Yeah, you and Checo were talking a lot, so I have to wait in the TV pen for a long time and there were a couple of flowers and I love flowers. But yeah, yesterday the team is now putting some extra flowers in the motorhome, so I have some in my room as well.
MV: I have some plants at home as well.
FA: I can go in my free time. We talk tomorrow night - depends how aggressive you are in the race.