FIA post-race press conference - Bahrain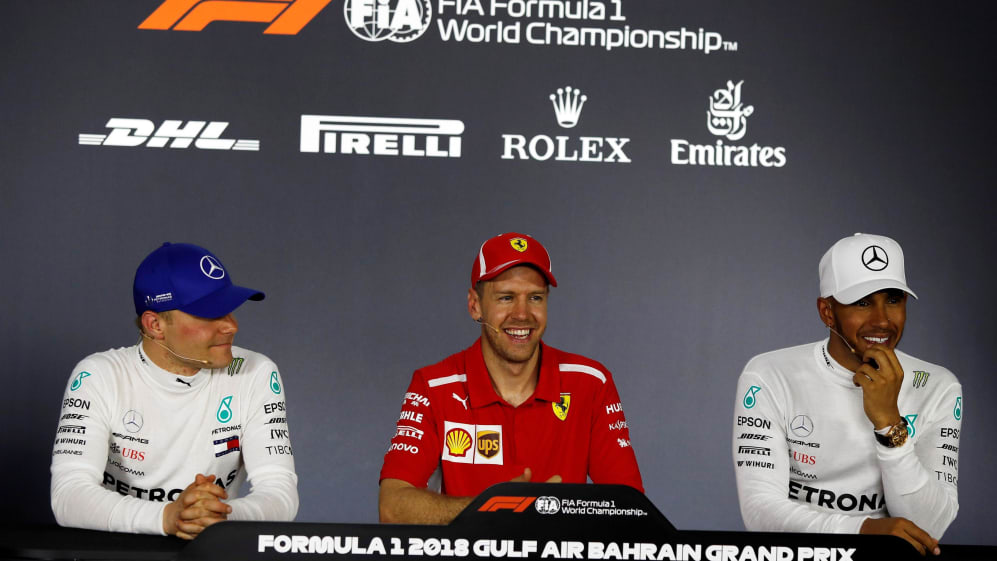 DRIVERS: 1 – Sebastian VETTEL (Ferrari) 2 – Valtteri BOTTAS (Mercedes) 3 – Lewis HAMILTON (Mercedes)
PODIUM INTERVIEWS
(Conducted by David Coulthard)
Q: Sebastian, you had to work for that one!
Sebastian Vettel: Yeah, I think I came on the race with about 10 laps to go, "I have everything under control". I don't know if they broadcast that. That was a lie; there was nothing under control. When they told me the pace of Valtteri at that time, there was no way I could do that. I was making the maths inside the car with 10 laps togo, at that pace, he's going to catch me! I tried to keep it as clean as possible. Both Mercedes at the end of their stints were very strong, already in the first one. I think by going onto the prime… obviously they saw what we did, but going onto to the medium tyre, I thought that's check mate, because we had to come in again. That was the original plan, but then we diverted obviously, and the tyres, I tried to make them last, nursed them as much as I can, and it worked. But just! There wasn't much… I guess at the end of the straight for Valtteri, he had a bit of a sniff, but fortunately he ran out of laps, so very happy.
Q: Well, it's great – your 49th victory from your 200th start. I'll just bring Valtteri in here: so give us the mind set inside the car? You're hunting him down, so you've got the gap within DRS, what were you saying in your mind as you got up close to the Ferrari gearbox?
Valtteri Bottas: I was seeing red.
Q: I get that! There was a lot of red. You just ran out of laps there, but the emotion in the cockpit?
VB: Yeah, you know, I knew that because we were on the harder compound that he would struggle in the end, and he started to struggle, so I was just trying to get every corner perfect, every lap perfect, trying to catch him, but it was just not quite enough. But you are focusing on making everything perfect.
Q: So, Seb, you feel you had him completely under control, you were making a race of it?
SV: Yeah, well, as I said, obviously coming out I knew we would have quite a gap because I pitted one or two laps sooner but then I wasn't sure what they were on about. As I said, they were on the harder compound, meaning there is no stop necessary for them and it turned it out to be a greater strategy – it put us under a lot of stress and pressure. I think we had nothing to lose at that point, trying to stay out, trying to win, or I guess finish third. It worked – just. So, really pleased. If you manage to get the win under these conditions it tastes even better, so really happy.
Q: Quick message to Seb for next time. Are you going to get him? You can look him in the eye, you don't need to look at his gearbox.
VB: Well, you know, being second with such a close margin and having good pace at the end is extremely disappointing, so for sure I will try to get them next time.
Q: OK, well done. Lewis, congratulations on the podium, difficult weekend. We heard you frustrated in the car, there were some radio communication issues. We could hear what you were saying, but somehow your team couldn't. Talk us through that. You should be happy with a third place, but you seem a bit disappointed?
Lewis Hamilton: No not at all, I'm happy! Firstly, congratulations to Sebastian and Valtteri did an exceptional job this weekend. I'm really happy to have… I started ninth, so third is not bad at all. It's damage limitation. I think there were some frustrating points during the race where they couldn't hear me, so I had to choose particular points during which I could speak to them. So communication was really difficult. When you're trying to catch Sebastian who was 25 seconds ahead, to know exactly what you need to do in order to not kill your tyres but make it so that you can catch him at the end, it's difficult and if you're not getting that feedback, it makes it kind of frustrating.
Q: Quick message to your fans here?
LH: Big thank you to everyone in Bahrain, all the British flags here, thank you for coming out and supporting us, I appreciate it.
Q: Seb, coming back to you, leading the championship. I think we have to go back to something like 1982 since the guy that won the first two races of the season didn't win the championship. You're all about stats…
SV: Well, they had less races in 1982, so probably… I don't believe in all those things. Sometimes they work for you, sometimes against you. It doesn't matter – we won and it's a great feeling tonight. Bit sad, because I think in the pit stop with Kimi one of our mechanics got injured, so send him the best regards, I'm sure the guys are looking after him. Overall, a mixed day, knowing that, then one car retiring, but fortunately we managed to stay ahead of those two.
PRESS CONFERENCE – QUESTIONS FROM THE FLOOR
Q: (Louis Dekker – NOS) Lewis, I believe, if my ears are correct, you used the word 'dickhead' after the race concerning Max Verstappen and the overtake and the contact. Is that correct? And more importantly, is there an opinion you have on the contact you had with Max in the beginning stages of the race? Who was wrong, or was it just a racing incident?
SV: Can I answer that question?
Yes.
SV: I think it's not fair… I mean, I don't know what Lewis did. We've all been in that situation, we fight someone, we go sometimes wheel-to-wheel, it's close and you have a lot of adrenalin going, do you think comparing to football, if you have a microphone on a football player's mouth, that everything he says is something nice and is a nice message when the guy tackles him and maybe sometimes he fouls him or not. So I don't think it's justified to give us these kind of shit questions and making up a story out of nothing, if we are just racing and we are full of adrenalin and sometime we say these things. I mean if I hit you in your face, you're not going to say "oh, Sebastian, that wasn't nice". It's a human reaction. Sometimes I feel it's all a bit blown up and artificial if we have these questions, trying to make a story out of nothing. So, it's not personal, don't take it personal. So I think we should cut it right there, so now if Lewis can answer.
Q: I'll just apologise for any colourful language in Sebastian's answer there. Now over to you, Lewis.
LH: Honestly, I don't really remember it. I think maybe it was when we were talking afterwards? Ultimately, I had a coming together with Max and it was an unnecessary collision. There needs to be a certain respect between drivers and ultimately… maybe I need to go and watch the manoeuvre again, but it didn't feel like a respectful manoeuvre, but ultimately it was a silly manoeuvre for himself, because he didn't finish the race. And obviously he's tending to make quite a few mistakes recently, so it was just unnecessary for him to do that. I can't really remember at what stage of the race it was or why we were even in that position, but yeah, I don't really care to be honest.
Q: (Heikki Kulta – Turun Sanomat) Valtteri, after Australia, does this result put your championship fight in the balance or would you have needed that victory?
VB: It's difficult to say about the balance in terms of championship, title fight because it's only race two out of 21 so obviously, I got some points today but Sebastian, who's leading the Championship definitely got more points. It's early days – but anyway a lot better than two weeks ago. And even today, the race pace we had was actually slightly better than we expected coming into today. So, that was positive. I think this weekend has really opened up our eyes in terms of how much we still have work to do with the car in certain conditions. It's really fast – but like yesterday we could spot some weaknesses of the car and even today. It's been an important weekend. We need to make sure we keep improving those negatives we have to Ferrari.
Q: (Scott Mitchell – Autosport) A question for Sebastian. Do you think that the performance for this weekend is… how much of it is down to improvements that you've made with Ferrari and how much is it maybe not quite being at the same level as in Australia.
SV: It's a difficult one. I can't speak for them but I think it's always a combination of things. You try to put so many things together and sometimes you succeed more than other times. I think probably the circuit came our way. I think mostly the fact I had a better feel with the car, we worked on the setup helped us to extract more. It was more consistent on one lap but also in the race. So, I felt just healthier and more in control. So, as I said, how much they struggled, I don't know. I think they looked pretty handy at the end of the stints, at least, and in qualifying the gap wasn't massive. So, I think overall it's been close but obviously, it's good to be just ahead.
Q: (Arrackal Alexander – Gulf Auto Zone) Congratulations on the win. My first question to Vettel is: what have you to say about the car you won with and going into Shanghai are you confident with this car. The second question is to Bottas, it is you had a problem coming in where you almost caught up with him and there was a lot of smoke coming out through the front. What exactly was that? And did it have a problem. Did it have anything to do with being in second. And third one to Lewis Hamilton. Coming in from ninth and going all the way up to third congratulations – but what happened to the car and what one gathers from your conference earlier there was some problem with communication. What did that have to do with just coming in third, and what are your plans going into Shanghai?
SV: You start, otherwise we won't remember.
LH: That was a long question. Communication, it was just the helmet radio so they could hear wind but they couldn't hear my voice. Obviously, there's turbulence in the car, that's what they could hear rather than my voice. So, that's an area we need to improve – but it's not always the case. Just must have been something busted this weekend. Yeah, luckily we go from here with good points still and a good finish. I'm really, as I said, happy with third but going into Shanghai, it's a good track for me in general. So, I'm hoping to turn the tables a little bit that weekend – but it's going to be obviously hard. The Ferrari's have shown incredible pace the last couple of races, so yeah…
Q: Seb, talking about going to Shanghai…
SV: Yeah, I mean, as I've touched on many times this weekend, I had more confidence in the car, a better feel. I don't know how to explain the best way but if you have more confidence and the car's responding to your input then ultimately you go faster because you know what to expect and you can anticipate and overall you are happier. I think that's the main step that we did for this weekend, working for the setup. Now Shanghai's a completely different course, with different conditions. Usually it's quite a bit cooler there. So, we'll see when we get there – but yeah, it's a tricky one to get everything right. The setup again will be crucial for us. It seems a bit more difficult to get into the window but if we do like this weekend, and we find the sweet spot, then I'm pretty confident that we can do well there as well.
Q: Valtteri?
VB: When you're closing up, the car ahead, it was obviously going to be very close with Sebastian in the end. I was trying everything I could to get to the distance to try and overtake. And in the braking zones, when you get close you lose some downforce because of the turbulent air. It affects mainly the front end, so that's why it's a little easier to lock the front wheels under braking. So, that's the smoke. But didn't really go wide in any corners, but it's just when you're pushing the limits, that can happen.
Q: (Luis Vasconcelos – Formula Press) Valtteri, your second stint was not very linear. Initially you gained 3.5s in the first ten laps but then on the next ten laps you lost four seconds and only by lap 44 you really started catching up. Were you trying to save tyres or you only reacted when it was clear he was not going to stop again?
VB: Initially I was trying to get a feel of the medium tyre which felt very good but suddenly it started to drop a little bit and knowing that I had to finish the race, at that middle part of the stint, I decided to take it a tiny bit easier, to kind of save for the end, but also I lost a lot of time with the backmarkers, I think more than Sebastian. I think for this track, the rule of blue flags seems like you need to get too close to get the blue flag switched on because you already lose a lot of time when you try to get there but I guess that's the same for everyone. But yeah, in the end, tried to get everything out of the tyres and pretty much two laps to go I started to struggle with the tyres so yeah, long stint.
Q: (Livio Oricchio – GloboEsporte.com) Sebastian, at one moment in the race your lap times were very high, more than seven seconds slower than yesterday. Were you controlling the pace, knowing that you should be racing to the end and knowing also that both Mercedes drivers were on mediums and you were on soft?
SV: Yes, funny you mentioned that. I was thinking the same thing, I was thinking somewhere mid-race that the lap times we were doing, if only now I could have one lap like qualifying the gap would be massive to Valtteri and I could have a breather, I could breathe again. But yeah, obviously when we're racing we are on the same set of tyres, they're not getting better. We were running down the fuel so you should get faster but obviously sliding more and more. You're not able to push as hard as in qualifying, I think that's where the gap is coming from plus I think everybody had to manage the race a little bit.
We had a virtual safety car for two laps, two and a half, three laps, something like this, so you save a bit of fuel but we still had to do some fuel saving, so it slows you down again a little bit and you have to manage (it). Obviously our plan was a bit different when we started, I lost a little bit at the end of the first stint, Valtteri was closing in, and then, I think, I knew we didn't have the freedom any more to react so that's the advantage if you are behind, you can wait and obviously Valtteri did that and they decided to go on a different strategy, trying to win the race so you can't blame them.
But for us, the plan initially was a bit different but then our only chance really, as the tyres were holding on quite well, was to stay out and it just worked. I think we had nothing to lose. Obviously if we pitted again with five laps to go we finish third but equally I felt if we pitted 15 or 20 laps to go, it would be difficult to make progress because I guess the medium tyres were more consistent, then it would have been much harder to get past Lewis, initially, who was ahead, if we had a normal stop and then chase down Valtteri. So that's what we did and obviously we responded well after it looked like they put us in checkmate. I'm obviously extremely happy that we could still come out on top.
Q: (Sushma Athilat - Radio Mirchi) I just wanted to congratulate you. Do you know Bahrain really looks forward to Formula One every twelve months. I'm sure every country is especially excited to receive you all but do you have a message for the people of Bahrain?
SV: Well, obviously now you've had the Grand Prix for many years and I think especially switching to a night race in 2014 I think it just looks cool. You have the sparks coming out, it's great. Obviously if you're on the podium or on the in-lap or the parade lap, after the chequered flag you have the fireworks. Obviously I was lucky the last two years to come in first. It's a great race, people are enjoying… just outside the paddock, I think there's quite a good vibe. There's the go-kart track busy. Usually it's a fun weekend and it's great to see that there's more people coming. I think it wouldn't hurt if there were still more people, especially from outside, but for sure all the Bahraini people… you have the posters everywhere hanging and the people are really proud and happy to have the Grand Prix, so it's nice to be part of that.
VB: Yeah, I was lucky this weekend to meet some local fans who had got access to the paddock as guests of our team, just by being very supportive. Our team picked up a few of them and it was really nice to meet and speak a little bit about the local culture but for me it's always been a good place to come for racing and even some years for testing so always enjoy it. The sun is shining, people are friendly. For me the track has been good in the past so it's a bonus as well.
LH: I think they've pretty much covered it. I said something on the podium. I love it here and the fans are amazing.
Q: (Mario Salvini – La Gazzetta dello Sport) Sebastian, I guess you know perfectly well when the last time a Ferrari driver won the first two events in a season and what happened at the end of that year…
SV: No. Last year we went to Australia, China and then here, right? Well, I guess it was Michael then. Fernando, he won the first race, I remember, in 2010. That's so long ago. Well, look, we have a very very long season ahead of us. It's clear that we need to improve, we have to improve our car, our package. I guess everybody's trying to do the same so the competition is very high. Needless to say that Valtteri and Lewis are pushing very hard. Obviously, Kimi, alongside, is pushing incredibly hard.
The two Red Bull guys with Max and Daniel are pushing hard. Then there's a bit more of a gap but I think those three teams and six drivers are very very close to each other. Even if now, for us, the first two races went amazingly, for others maybe not so much, there's still a long long way and a long season, a lot of races, a lot of things that can happen so it's a bit pointless to try and look forward as I said. It will be important to improve and be quick everywhere you go. That helps. The quicker you are, the quicker your package is, the more you are one unit with your car, the happier you feel, the more you're able to extract when it really matters.
Q: (Andrew Benson – BBC Sport) Seb, when did you decide that you had to switch to a one stop. Were you effectively forced into it and at what point did you make the call? And also, where would you rate that win among your many?
SV: Well, fortunately I have a lot to chose from. I'm not sure I remember all of them now but certainly it felt great. If you compare Australia and here it's a different race, needless to say. Obviously the way Australia happened… it was quite intense the last stint in Australia with Lewis pushing from behind but I was a bit more comfortable there because I knew the track is more difficult to overtake (on) whereas here, I knew that if Valtteri gets close with the DRS he can really be a threat. My tyres were done, ten laps to go I think I went on the radio and said I have everything under control – I had nothing under control. I was hoping that they tell Valtteri that Sebastian's controlling the pace and tell him to turn the engine so that I can relax a bit but obviously that wasn't the case, he wasn't told.
I'm sure if I was on the radio saying that my tyres were done, then they would have told him 'come on now, keep pushing.' I think he was pushing, nevertheless, but yeah, overall obviously a great way to win. I think I mentioned before the sad part is that obviously one of our mechanics got injured. I will go straight away to find out what's going on and hopefully he's in good hands and in good care and makes a speedy recovery. If that happens, you celebrate as a team but at the same time you look after each other. Hopefully it's not too bad. As I said, hopefully he's in good hands and gets the best care he can right now and then has not too long of a break because I know the guy and he loves racing so let's see.
Ah, the strategy, sorry, I forgot. They have different plans and when they told me the plan I first had to think what was that again, when we talked about it. It wasn't the first or second option. I had to think a little bit but then I got it and I looked up on the tower and I saw Gasly was in P4 so I thought the gap would be quite big and we have nothing to lose and go for the one stop and try to make the tyres last but it wasn't our intended strategy at first. When did they tell me? I don't know, probably something like twenty-something laps to go. With 15 laps to go I was still very comfortable and then there was a big step around ten laps to go where, the tyre just dropped off and the last five laps were really difficult.