FIA post-race press conference - Brazil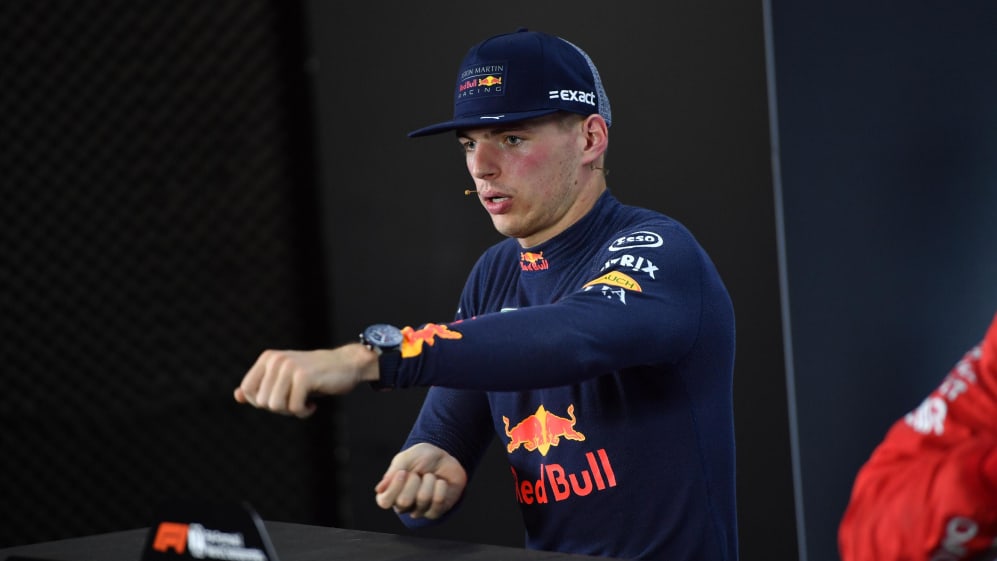 Winner: Lewis HAMILTON (Mercedes), 2. Max VERSTAPPEN (Red Bull), 3. Kimi RAIKKONEN (Ferrari)
TRACK INTERVIEWS
(Conducted by Paul Di Resta)
Q: Max, can you tell us what happened?
Max Verstappen: I don't know what to say, I mean, you do everything well, you go through the field, we had a great car, and then by such an idiot you get taken out while he is being lapped. I have no words.
Q: What a fight it was. I don't think anyone quite expected that after yesterday. I mean, the moves you were making early on, very bold into Turn 1, pushing your way through and using everything you had.
MV: I think it was better than expected today. The car was working brilliantly today. The team also gave me the right strategy, we could be going quite well on the supersoft, so we did quite a long stint. But, yeah, I don't know what to say. Still I'm happy with second, but we should have won today.
Q: Yeah, like you say, it was almost back-to-back victories, does it give you confidence going into next year that something is going to come of this machine?
MV: Well, we should have more power, so we'll be even better.
Q: All the best. Kimi, late pressure from Daniel coming in, but a good race from you?
Kimi Raikkonen: Yeah, it was good. Not easy, but there was some battling, so it was fun. Obviously we hoped for better but not the easiest.
Q: Ferrari's tyres choice didn't look like it worked out in the end, these guys looked very strong at the beginning, certainly Max on the supersoft. Do you think that was wrong?
KR: I don't know. My tyre was good, but it was difficult to pass and it took too long to pass. You cannot replay on other tyres, so we don't know.
Q: Lewis, that's 2018 Constructors' champion as well. And you can see what that means to Toto Wolff – the barriers have fallen over twice here in Parc Ferme, which is unusual. Lewis, what does that mean to the team?
Lewis Hamilton: Honestly, these guys have worked so hard the last six years and it's been an incredible journey for them. This is what everyone works for the whole year, you know. Everyone wakes up and goes to work every day and tries to bring the best out of themselves and they really pull together as a unit. I've always told you how much of an honour it is to drive for them, and this was the best style we could do it, because we were struggling. We had problems with the engine. Also he passed us like we were a sitting duck at one stage, but obviously they made a mistake and that brought us back into contention. I'm just so proud of everyone. Everyone back home, thank you so much for your continued efforts. For all our partners, for all our sponsors, who without we would not be here, powering along to a win in Brazil. So, God bless you, thank you.
Q: What goes through your mind when you see Verstappen spin? Did you know he was going to be back on a charge and coming strong?
LH: I saw it happen and it wasn't something that… I wasn't surprised by it or anything like that. I saw them racing but they weren't racing for the same position. In my mind, I would have been in a different frame of mind. Fortunately he was able to keep going, no one got hurt, and they kept going, it's a racing incident I guess. Max is that go-getter guy and every now and then it bites you. But I'm really, really proud; I don't care about anyone else.
Q: I've got one last question for you. Big credit to you, that's 49 wins in the turbo-hybrid era of Formula 1. That's 50% of all the races. A lot of that's owed to you, isn't it?
LH: I keep telling you, I'm just a chink in the chain. They give me the tools and I try to do the best I can with it. I'm proud that I'm able to sometimes bring a little bit more than is needed or that it's capable of, but that's what I live for.
QUESTIONS FROM THE FLOOR
Q: (Scott Mitchell – Autosport) Max, I can only imagine the frustration, the emotions at the end of the race for you. Can you just explain what happened between you and Esteban after the race? We saw your altercation. Did he do anything to antagonise you and will you try and speak to him at once when emotions have settled down later on?
MV: I don't really have a lot to comment on that, except that he was being a pussy.
Q: (Rodrigo Franca – Revista VIP) From a drivers' point of view, how do you see the future of Formula One to attract a young audience as self-driving cars and electric cars are being developed so quickly? And if you see a future better between Formula E and Formula One?
LH: It's a difficult one because I'm conflicted. The gasses that we emit with our cars are not particularly helpful for the climate and for the world, so on one side that's a concern for me but on the other side, as a racing fan, I'm a petrol head and I will always be a petrol head. There will never be a time when I'm an electric head. I hope, at least, in my period of time, it's always going to be a fuelled car with at least some sort of V-shaped engine, with some sort of sound. I think it's great what Formula E are doing and it's a great start, it's great to see all the top brands - Audi, BMW, Mercedes – are all getting heavily invested because, particularly on the roads – just coming here, for example – you see the traffic every single day, there are thousands and thousands of cars on the road. There's the same in every country you go to so the sooner we can get rid of the majority of those cars and then turn them into hybrids, then I think that would be a massive difference, but there are a lot of other things we can do around the world with businesses to help with those emissions. But I don't think you are ever going to compare Formula One and Formula E. Maybe in five, ten years maybe, but the technology that we have, it's quite far advanced compared to what they would be having and they're slower than Formula Ford at the moment so they've got a long way to catch the speed of a Formula One car. I don't know if that's their target but I think it's really impressive. I've been watching their cars on social media and they look pretty cool, so I wish them all the best and looking forward to seeing it progress.
MV: I think the boss clearly said of Formula E already that they don't want to compete or be seen competing against Formula One so I guess that says enough. It's just a different category. It seems like it's getting more interesting, of course, with all the big car manufacturers joining in but at the moment I'm happy where I am and I will probably be one of the last people in the world to try and buy the last barrels of oil.
KR: Nothing to add, really. Formula E looks nice but…
Q: (Livio Oricchio – Globoesporte.com) Max, you have more of an opportunity to talk about the incident with Ocon in a more extended way. Do you think that just one stop and go of ten seconds, against the work of 900 people in your team, that this punishment is enough?
MV: I think at the end of the day it doesn't really matter what penalty he gets. I already have the penalty of not winning the race so even if you disqualify him, give him two drive-throughs or whatever, it's not going to make a difference to our race. I don't know what the right penalty would be but, like I said, of course they have the right to unlap themselves but you have to be careful. I think that has always been the case.
Q: Max, can you just tell us how badly damaged your car was after the incident with Ocon?
MV: So, you know all the cut-outs you have on the side of the floor, that whole area, so I guess that's this wide(about 15-20cms) that was completely gone so it was pretty bad. I lost a lot of downforce. I had to lock a lot of tools on the steering wheel but that was still not enough. But still the car was quick. We could have been much faster, for sure.
Q: (Dario Coronel – Gran Premioweb) Lewis, today your celebration was very emotional. Why?
LH: I think it was probably an explosion of the last race in Mexico winning the World Championship… I didn't really feel the celebration there because I knew that we still had another championship to win and I really needed to remain focused for the team and I really came here, to build up to here, just really focused on making sure that I could deliver for them. Naturally the will to want to win is so high for everyone and the stakes are high. Ultimately, you could make mistakes and all these different things but we didn't or I didn't on the track, for example, so to come in and see my guys who I've come along this great journey with and we've had a lot of success but we've still remained fierce and competitive and I think our relationship is better than it's ever been so just that bond, it was just a great great moment, plus it was a really hard race. I was constantly, like, talking to the car: 'come on, keep going, keep going' because we had this engine problem and I knew I could see Max just in my mirrors so I was doing qualifying laps every lap to keep him behind, which is how racing should be really anyway. Unfortunately that's not the case a lot of the time this year but… We've just won the World Championship for the fifth time so that's real history in the making for the team and if I was to stop today, for example, Mercedes would always remember this day and that I was a part of it, and that's cool.
Q: (Arjan Schouten – AD) Max, over the last days, you've told us a lot of times that this is not a circuit for Red Bull, winning was not an option. Ending 1.6s from the winner, with a spin, what does that say about your chances in Abu Dhabi in two weeks?
MV: I don't know, because this was much better than expected to be honest. I expected to be good in the race but not this good. We will have to wait and see.
Q: (Mattheus Sacramento – ESPN Brazil) Max, there was a similar incident – not exactly the same – but in 2001 in Brazil with Jos Verstappen and Montoya. You're too young, I'm not sure if you ever heard of it. Montoya was in first place and Jos was 16th I guess and they had a crash. I just wanted to know if you knew that or if that came back to your mind in some ways, that impacts the way you saw Ocon?
MV: Well, I think that was completely different but yeah, that happens. I don't know what you want me to say, it's always bad when you get taken out from the lead.