FIA post-race press conference - Brazil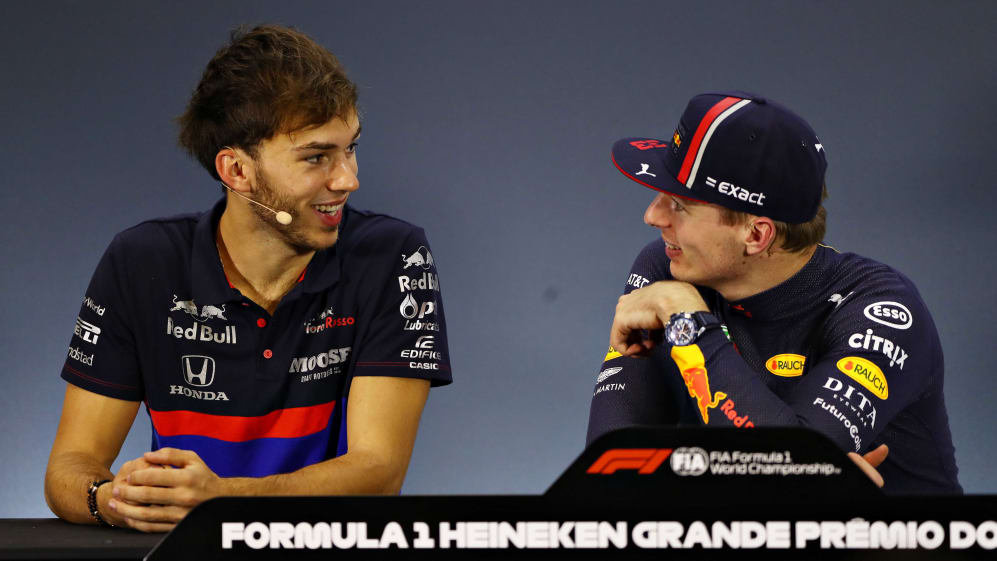 1. Max Verstappen (Red Bull), 2. Pierre Gasly (Toro Rosso), 3. Lewis Hamilton (Mercedes)
TRACK INTERVIEWS
(Conducted by Rubens Barrichello)
Q: What a great race Max. You looked unbeatable today. Did it feel like, driving, that if you had been on any tyres you would have been unbeatable?
Max Verstappen: Well, Lewis was very quick, so I had to keep pushing. All the time with the strategy he pitted one lap earlier so we had to be really on top of our pit stops. But yeah, two times we had a good move with him, so all the time that brought us back into first and yeah, from there onwards I could control the race with the tyres I had. Unbelievable. It was a lot of fun out there and of course great to win the race.
Q: With the speed, whenever you overtook the Ferrari onto the last corner, did you think you had that speed to overtake Lewis at the same time?
MV: Well, I was behind so I was pushing flat out on my our lap to try to be close to him and it was my only shot. Because of that I was close into the DRS. We knew that we had great top speed the whole weekend already, so yeah, then still of course it's a guess but very happy to get past.
Q: Well done to you and Honda, it's a great achievement. Lewis and Pierre, how was this final move. Lewis, when you went to the inside, did you think that you had the gap to go, that you had the speed to get past him on the straight?
Lewis Hamilton: Honestly, I didn't, but he did a great job, he was very fair with where he positioned the car. I massively apologise to Albon. I went for a move… the gap was kind of there, but obviously it closed right at the end and completely my fault. But still, a great race. Max did a fantastic job today. They just outclassed us in terms of overall performance. We couldn't keep up with them on the straights. Honestly, I raced my heart out,. I gave it everything. I left nothing on the table and I took a lot of risks today, as you saw.
Q: As you always do. The Brazilians love you. When you are here it's always pure racing, so we saw pure racing today. [With] Max, do you think any strategy would have done the case with him today. He looked unbeatable today?
LH: We threw everything and the sink at it. Honestly, we could keep up with them in the corners but they were outshining us on the straights, therefore I don't think there was anything we could do.
Q: Well done. Hey, Pierre! After a tough season, is it good to be back on that podium, the podium that you deserve since a long time ago?
Pierre Gasly: It's my first podium in Formula 1 and yeah for sure I will never forget it. It's such a special moment, I don't know what to say. It's so emotional and also to get it with these guys, with Toro Rosso; they gave me a fantastic car since I came back and I'm just so happy for Honda, for Toro Rosso, it's amazing day.
Q: I know it's your first [F1] podium but I meant that because you've been on the podium for so long in your career that it's good to be on the podium in Formula 1 isn't it?
PG: I've been many times on the podium and you kind of forget it and that's what I love about motor sport – these emotions, the fight. I just kept believing until the end. I saw they were battling and I tried to push as much as I could and the opportunity came to us. A great finish with Lewis as well. I was like trying to get low in the car, trying to get each kp/h I could, but no, to these guys just a big congrats and a big thanks.
Q: Well done to you and to Honda. To hold on to that last straight, that corner alongside Lewis must be…
PG: I was strained. I told my engine to give me everything it had and I think without the progress have made it would have never been possible. I am just so happy; I don't know what to say.
PRESS CONFERENCE
Q: Max, can you just explain to us what happened there. It was an inch-perfect race from you. How do you sum it all up?
MV: Err, long summary! A lot of things happened. I think the start was good enough. I was happy about that. Then, the first stint everything looked quite good. Towards the end of that stint, yeah, just the tyres started to wear off a bit and then I had the traffic with the Williams cars and Lewis of course pitted that lap. It was not very nice. Actually, I did my pit stop and I came out also Robert came out and he almost took me out, I went into the wall. I had to brake there…
Q: Did you lose any time there?
MV: Yeah, I almost caught the anti-stall, so yeah, it was very close. Then my out lap: luckily for me Lewis got stuck in the middle sector with Charles, so I pushed up to them and luckily I could get by Charles into Turn 12 and then I still had the tow and the DRS of Lewis and yeah, I was on full power and DRS open and I could get Lewis into Turn 1. From there onwards in that stint we managed the tyres quite well. I was waiting for Mercedes to react again but luckily we had enough of a gap to go one lap longer, so we did that. Good pit stop from the guys as well. I think it was 1.9 seconds, so that was incredible. And then on the medium tyre Lewis was pushing hard and I think we were quite closely matched and I think if there wouldn't be a safety car it would have been a good fight towards the end of the race. But of course then the safety car came out and I think there the team did a really good job calling me in again for soft tyres. At the time I was a bit like, 'is there going to work, I'm not sure'. But immediately in the re-start I had a good tow off Lewis and went around the outside. We had a good battle in Turn 1 and again in Turn 4. And then you could see that the tyre advantage really helped me of course and we could stay in first and control the race.
Q: How much did you enjoy your battling with Lewis today?
MV: Yeah, it was good. If you can battle against the world champion it's always better than battling someone for P10 or whatever. I think it was a good battle and we gave each other enough room, just enough but I think it was cool.
Q: Can you just talk us through that last re-start as well, because you got on the power very late?
MV: Yeah, it was just the way I wanted to do it, so it worked out well. I immediately had a gap so it was good.
Q: Is that something you learn in karting?
MV: Yeah, I guess so. You do many re-starts in go-karting. Many things happen all the time. F3 as well, I guess. In F1, you know, we have done so many, not even you being the guy in the lead, but you are in the group. There are always things you can do better, things you can learn.
Q: Pierre, first podium, just give us your emotions.
PG: It's just the best day of my life. As a kid you dream about being in Formula One, and then when it happens it becomes the best day of your life and then after you dream about your first podium. To be fair, I didn't think this would happen, coming back with Toro Rosso during the second part of the season. I just kept working on myself, tried to push the team as much as I could, telling them, OK, we need to make the best out of all the opportunities we have until the end of the year. And today it just came to us. We had a really strong race before that in P7, behind the top teams, and then, when they started to battle. First the Ferrari, and then I was like: 'OK, this looks quite similar to Bahrain 2018, in P4', and then after I knew Lewis would try something. And then yeah, we just managed to get past the two and yeah, quite intense finish and just incredible to get my first podium in Formula 1.
Q: What were your expectations coming into the race?
PG: Starting in P6, I felt good in the car the whole weekend. I think we managed to get the car exactly where I wanted. I said OK, if we finish best of the rest again in the race, this will be amazing for us. So, that's what we were doing. The whole race we had good pace. I was controlling the gap with the guys behind but we always had quite a safe margin. I could push quite nice. Even at the beginning of the race I could see that Albon and Charles weren't pulling away so much, so I think the car was working really well. With all the safety cars it was like: 'OK, let's see what happens,' and just tried to stay there and get the best out of what happens.
Q: Can you just describe the view from up on the podium?
PG: It's crazy. These guys are used to it. You get used to being on the podium in the lower series, and then after coming into Formula One, it's a feeling you miss. I was really missing it. My last podium was in Formula 2 when I was champion in 2016. And then, it's something you want to experience, especially in Formula 1 and yeah, today, to be in the middle, in second place between Max and Lewis, my first podium in F1 is just… yeah, just insane, and amazing and really emotional for me.
Q: Lewis, coming to you. Such an eventful race for you. Talking about your pace specific to Max, is there anything you could have done differently, strategically or otherwise, that you think could have led to you being faster than him today.
LH: No, I don't think so. Firstly congratulations to Max and Pierre, it's really awesome to see, especially through the experience and journey he's gone through from being in one team then to the next. To come through is really awesome. We had a close battle right to towards the end. Ultimately, it was a very tough weekend for us, a really tough race, trying to keep up with Max. The Red Bulls have had great race pace, particularly the second half of the season, which is often the case each year. So, fighting him, staying consistent, trying to stay on his tail through the race was… I was giving it absolutely everything. And then obviously we got him through the pitstop and then I got caught up behind a Ferrari and then he just blitzed past me on the straight and there was nothing I could do. Then we had another scenario. But at the end it was kind of… it was impossible at the end with the tyre deficit that we had. I made the call to pit, as they said, I'd only lose one position and it ended up being two. So, I gave it everything. I took a lot of risk at the end and I apologise to Alex. Obviously had no intention of coming together. It's probably the first time I've come together with someone for a long, long time but I saw a door open and I kind of went for it, and it closed very, very quickly. I went straight to him after the race to apologise. Nonetheless, I think it was a great race and it's great again to see the youngsters coming and driving so well. I'm battling as hard as I can to stay in the mix.
Q: And Lewis, if you had, for example, put the Medium tyre on instead of a second set of Softs at that first pit stop, do you think it could have been any different?
LH: I don't know. I'd have to think about it. Strategy-wise, I think the team did a really, really good job with the strategy and, again, it wasn't their decision at the end, they offered it as an opportunity for me, and I didn't think losing one place, it would be so bad considering I'd only come out having lost one place and give me a chance to quickly get past Albon – but it wasn't the case obviously. I think, when I came out of that first stop, I thought to myself I should have been on the Medium because it generally was a relatively easy overlap – but again, he would have just overtaken me on his out-lap anyway, so I would have still got stuck up by the Ferrari. And it probably would have been hard to have kept up with him with the pace of the Soft. We gave it everything, we threw everything we could at it, and we live to fight another day and I hope we have more great races like that.
QUESTIONS FROM THE FLOOR
Q: (Frederic Ferret – L'Equipe) Question to Max. As you drove earlier the Toro Rosso and Pierre was your team-mate at the beginning of the season, how did you rate this podium. And question to Lewis and Pierre: how was the battle between the two of you?
MV: How I rate Pierre's podium? Incredible. Of course, he anyway already had a great race. I think you were best of the rest, right? That's already a good result and then yeah, you just stay out of trouble and other people, of course, make mistakes and you profit from that. I think it's great to see Pierre up here. Now it's also the second podium for Toro Rosso already this year, so I think they are very happy with this, and yeah, like I said, I'm very happy to see Pierre up on the podium. I always knew he was a very quick driver. I think this year in the beginning maybe didn't work out the way it should but, as you can see, I think Pierre is very strong and, at Toro Rosso again, he regrouped and he had already before this race a lot of good results. So, this is even, I think, a bigger motivation.
Q: Pierre, your battle with Lewis.
PG: Intense. You see your first podium coming together and then you've got the World Champion behind you pushing you to the limit. I tried to defend the best way I could, and coming out of the last corner, just flat out and hoping that the engine can give you every single horsepower it can get. I was pressing the overtake button, trying to get low inside the cockpit and I could see his front wing and I was like: 'please don't pass me on the light' 'cos I'm going to be so pissed off if it happens. I really wanted to keep that second place. And yeah, I must say Honda have been improving so much over the last few months. And then yeah, without this progress it would never have been possible to hold that second place to a Mercedes. Just insane. I think the only thing we have to say is a big congrats and a big thank you to Honda today.
Q: And Lewis?
LH: I was very much the same. I was 'snucking' down, trying… he did a fantastic job. He put the car in the right place in every section of the track, was very fair and didn't make any mistakes. So, hat off to him. He did a fantastic job. The Honda's obviously made some big steps and it's great to see another manufacturer as strong as they are now. It means that hopefully next year we're going to have a serious three-way, four-way battle and that's great for Formula 1.
How was your car handling after the contact with Alex Albon?
LH: I've had worse! It was OK. I didn't really seem to lose anything. I never like to see damage on my car, I never like colliding with other drivers and so, naturally for a youngster like Alex, who's been driving fantastically well, it's not easy to be a team-mate for sure, of a well-experienced driver like Max but he's been doing great and I can assure you I know exactly how he feels right now. And I can assure you, it's not intentional, that's why I went to apologise to him – and I'm sure I'll see him shortly after this.
Q: (Scott Mitchell – Autosport) To Lewis and Max, I don't know if you've seen the incident between Charles and Seb but the two Ferraris colliding was obviously another big story from the race. You two have both got experience of what it's like when you've got an intense fight with your team-mate but one which is usually respectful – but sometimes goes over the line. With what's going on with Seb and Charles this year, have you seen that as a weakness within that team and are you surprised that it has eventually come to blows like it has today?
MV: I think it's always difficult to comment on that when you're not inside the team. You don't know what happened because you don't know all the details. I think it's very difficult to comment on that. I also haven't seen the footage so I can't comment on the incident itself.
Q: Lewis?
LH: I've not seen it. Naturally it's never a great one between team mates. I've experienced it first hand. It's never a great thing for a team. I'm sure it wasn't' intentional but naturally you've got to… the burden is that there's so many people behind you, it's not just about you. When all those people are relying on you to do your job, and something like that happens. It's not a great feeling. As I said, I haven't seen it.
Q: (Gianfranco Papini – MomentoGP) Lewis, you're surrounded by promising drivers, two young stars. You were young 12 years ago…
LH: Hey man, I'm still young.
Q: (Gianfranco Papini – MomentoGP) You had intense battles with other fellow colleagues like them. What is your opinion about this new generation of F1 drivers?
LH: Well, naturally when you get older you look down on the younger drivers and you think… you point the finger at the… no, I'm kidding. No, it's inevitable that the youngsters are going to come through. There's often a wave of young talent that manages to make its way through to Formula One and as I said, I think Formula One's got a lot of new young blood with a lot of potential and they really are the future of the sport. And as I said, I think fortunately I feel that whilst the number shows a little bit higher, I feel like I'm able to still kick it with these guys and so I'm excited for the future racing with these guys and as I've said, if we can get these teams to be closer then we're going to see more awesome battles like today and I think that would be great.
Q: (Lars Van Soest – De Telegraaf) Max, how would you rate this weekend comparing it to all your other wins and other good weekends?
MV: You can never compare weekends but it's been very positive and I'm just very happy with the progress we have been making I think in the last few races. Just having a whole clean weekend I think is what we are always after and I think that's what happened this weekend. Of course it's great at the end of day to also win the race and yeah, it's promising also for next year. I think we've learned a lot of stuff in the last few races so hopefully it's a good sign to have put a start to next year.
Q: (Marcelo Teixeira – Reuters) Lewis, how do you see your move on Albon late in the race? Did you think it was not the right time to try it or just a racing incident?
LH: It's always a big question, when is the right time to try it. We only had a lap and a half, I think it was, to go. An opportunity came, I was quicker through turn nine and I was within shooting distance so I gave it a shot. Ultimately, in my mind, I'm trying to catch Max… it was highly unlikely but that was the goal. I think I've got a penalty so I totally accept the blame as I was coming from behind, and as I said before, it's not naturally an intention, you don't hardly ever see me do that, collisions with anyone so… In hindsight, I could have waited, to come across the line but hindsight's always a great thing. I will live to fight another day. That won't be the last time that he's in the position for a podium and he'll have many more great races so I hope that as hard as it is a pill to swallow, I hope that he can learn from the experience also.
Q: (Velimer Veljko Jukik – Avtofocus) Max, we have seen quite an advantage in this race, beside your driving skill. Can you attribute this to management of tyres, tactics or was it just pure power?
MV: It's a team effort today, I think. The car was working well, I was trying to be as consistent as I could be and the guys did a great job in the pit stops and strategy so I think all that together gave us the victory today. Power was very good, like I said it was a team effort and Honda is part of the team.
Q: Lewis, can we please just get your reaction to the five second-penalty?
LH: I just answered it. I fully accept the responsibility. I fully accept I was coming from behind so I'm the one that touched him, not the other way round. I've not seen the incident so I don't know how bad it was but as I said, it looked like there was an opportunity so I went for it and it didn't quite work out and I apologise to Alex and put my hand up and move forwards.
Q: (Dario Coronel – Granpremioweb.com) For Max and Pierre; it's the first one-two for the Honda engine in 28 years. How do you feel?
MV: Yeah, I always get reminded with the stats. The pole was the last time in 1991 here in Brazil and then… I think it's a good time to start doing these things again. We keep relying on the results from the nineties. I think Honda is definitely on a very good way like Pierre said before. Throughout the season they have been improving massively so just very pleased with it.
PG: Yeah, a similar comment. I think all the work, not only this season but since they came back into Formula One, they have had some tough times and they just kept developing, kept working hard and bringing the upgrades, some things worked, some other things didn't work but at the end of the day, they are the ones who have improved the most. The attitude and the work they are putting in is just unbelievable and they have been supporting me since quite a few years now, since I was in Super Formula and to be part of the journey with them is just fantastic so today I think I am really happy to be P1 and P2 with Max and really happy we can give them this result.
Q: (Frederic Ferret – L'Equipe) Pierre, when did you begin to start thinking you could be on the podium? Before the Ferrari accident, before the Albon?
PG: No, no, I'm not a crazy guy you know. I'm objective. At that time I was like… after Valtteri (retired) we were P6, I knew that we had the pace to stay there so I was like OK, I'm going to see if I could try something at the re-start but in terms of pace I knew that that's where we were at the time and of course the Ferraris came together so we were in P4. I thought OK, I might have a chance to try something again at the re-start. Actually Lewis, I think… yeah, you pitted so I think I was third. I must say at that time I was hoping the safety car could last slightly longer, I was like I would not mind if we cross the line behind the safety car. And then after we went again and of course I knew Lewis with fresher tyres would try to go for the win and would try to pass quickly so I just thought OK, if I try to stay close, if an opportunity comes I'll take it. Sometimes things work out the way you want and you need to be… so yeah, we were second and yeah, during that last lap, I saw Lewis was behind whereas we had a gap behind so I knew there was a podium on the cards. I was happy with that but I really wanted to hold on to that second place.