FIA post-race press conference - Hungary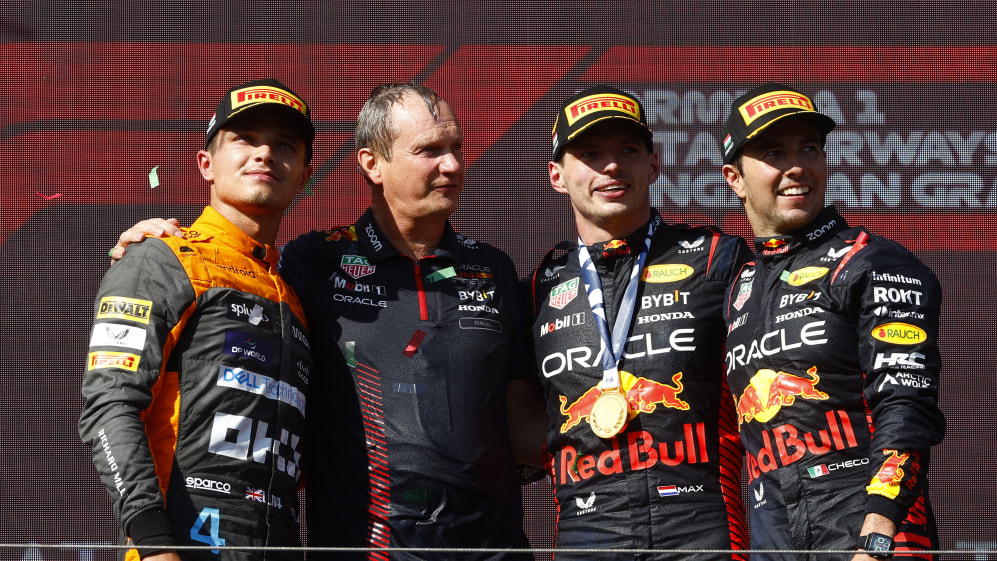 DRIVERS
1 – Max VERSTAPPEN (Red Bull Racing), 2 – Lando NORRIS (McLaren), 3 – Sergio PÉREZ (Red Bull Racing)
TRACK INTERVIEWS
(Conducted by Nico Rosberg)
Q: Checo, what a phenomenal recovery that was, and what a pace you had there. Are you happy with that?
Sergio PÉREZ: Yeah, we got close to P2. Unfortunately, we to a lot of backmarkers. The track was unbelievably dirty off-line, so in the last laps I had some pick-up going through the backmarkers and then yeah, that meant I lost a few seconds, and then I recovered towards the end but it was just too late – but anyway, I think overall it was a great strategy by the team and we managed to have an excellent result.
Q: Christian Horner was saying that it's so important for you now to rebuild your confidence. Is a day like this today exactly what you need for that?
SP: Yeah, definitely. I think this sort of performance, sort of days, do help. From now on I just look forward to basically be on the podium every single weekend. So, yeah, let's keep it up.
Q: I think we're just seeing that pass you had with Piastri. Take us through that. Was that, like, really, really on the edge there?
SP: Yeah, it was, because we were on very similar age tyres, basically we pitted at the same lap. So we were on fresh tyres, I went for it around the outside. We touched into T1 and then into T2 we touched again. So it was a little bit close but hard racing, I would say.
Q: Lando, P2 again, and what an incredible pace that was in the race today.
Lando NORRIS: Thanks, yeah. Thank you.
Q: You have a lot of fans here, the grandstands are going crazy.
LN: I know, I know. I've got good fans. Thank you very much. Tough race. Not an easy one, especially with Checo catching at the end, but yeah, he didn't have enough pace to catch up so I'm happy. I had to fight for a little bit in the beginning, I got a little screwed-over in Turn 1 but another podium for us, for McLaren, it's amazing.
Q: It's the second podium for you in succession. It's the first time you're had successive podiums. So, is the win coming next now, or what?
LN: If Max retires, or something, then maybe. At the minute, the guys are too quick. Unless they make mistakes or something happens… but at the moment, I think we're very happy with the progress we've made, to go from where we were four, five races ago, struggling to get out of Q1 sometimes, to fighting for poles, and fighting for podiums, we'll take it for now, and our time will come later on in the year.
Q: What do you put it down to? How have you managed to make such an incredibly massive jump forward in terms of pace, like, mid-season now. I mean, with that upgrade. What was happening there? It's amazing.
LN: Just the obvious answer: a lot of hard work; great teamwork; everyone back in the factory did an amazing job. I think we knew it in the beginning: we were going to struggle and we looked pretty poor. We got a lot of abuse for McLaren, saying we weren't doing a good-enough job. I'm happy we finally proved some people wrong.
Q: Max, congratulations, yet another win. Take us through that start from the dirty side, that was incredible.
Max VERSTAPPEN: Yeah, finally we had a really good start, so very happy with that, we've been working on that quite a bit to try really get the good bite. And then I knew, of course, that when I had the inside, that corner was mine. [Watches replay] It's close!
Q: We can see it here, you run Lewis out a little bit wide, right? Just to make sure you hold position.
MV: Yeah, it was just late on the brakes, you know, a heavy car. Luckily, it all worked out well. And basically, from there onwards I could do my race and today the car was really, really quick.
Q: You've been complaining about the car balance, just slippery and sliding all the time, you said, all weekend – but today you were happy?
MV: Yeah, I think over one lap this weekend it was a bit of a struggle but maybe it was probably a good thing for today. So yeah, the car was good on any tyre. We could look after the tyre wear and basically that's why we could create such a big gap.
Q: I have to take you through the statistics. I mean it's 12 wins in a row now for Red Bull, beating historic record from McLaren, and also you, seven wins in a row, you're nearing the historic record from Sebastian Vettel eh?
MV: You have done this!
Q: I got seven, so we're equal on that, so stop here please! Do you care about the statistics?
MV: For the team, 12 wins in a row is just incredible. What we've been going through the last three years is just unbelievable, and hopefully we can keep this momentum going for a long time, and also just to work with the whole team, it's always very enjoyable. It's always good to look into… like yesterday, for example, to keep pushing, always wanting to do better – but then a day like today, is just perfect.
PRESS CONFERENCE
Q: Max, seven consecutive wins for you. A record 12-in-a-row for Red Bull Racing. History has been made. What a day for you and for the team.
MV: Yeah, I think it was a pretty perfect day. It already started with the actual start, where we had a good launch, for once, and yeah, we then could look after our tyres quite well, and every stint just eked out a bit more of a gap, and the car was honestly really enjoyable to drive today, so basically, with the balance I had yesterday actually worked very well for today.
Q: Now, tell us a little bit more about this success you and the team are having. Just, what is it like to ride this wave that you're on at the moment?
MV: Of course, it's really enjoyable to work with the whole team and to have this kind of success. I think people probably forget how tough it is to win 12 in a row. Even when you have the fastest car. It's easy to make mistakes – or have an off weekend – but I think so far, of course, there were weekends when the gap was probably a bit smaller than we would have liked, but then also we had a few weekends where we also surprised ourselves and had a really good race, for example. So, yeah, I hope that we can just keep that momentum going, keep on trying to learn from the car, from the upgrades we're bringing to the car, towards the end of the season, and also going into next year.
Q: Have you experienced anything like this before, in your career?
MV: They are very rare, days like this, I think, that it's that good. I think last year, Spa, for example, was probably pretty similar – but then of course I had to start from the back, so yeah, very rare. Normally, it's not that easy or straightforward.
Q: And Max, this is your 24th win since the start of last season. Where's this going to end? What more can you achieve together the team?
MV: Hopefully, I don't stay on 44. That would be terrible. Yeah, I need to get 45 quickly.
Q: Just a quick word on the race itself and that run to the first corner with Lewis alongside you.
MV: Yeah, I think as soon as I released the clutch, immediately I felt like I had good bite, no wheelspin like in Silverstone. Good run, then I knew of course I had the inside and that was going to be my corner in Turn 1. We braked quite late but then yeah, did my thing through Turn 2 as well, and from then onwards, I could just build up the pace slowly.
Q: Lando, coming to you next. First up. Max's trophy. What happened there on the podium.
LN: I'm not sure. Yeah. I'm not sure. Max just placed it too close to the edge!
MV: I'm going to take it off next time.
LN: Yeah, just hold it. I don't know. It fell over, I guess. Not my problem. It's his!
Q: Lando, don't want to take anything away from you, because you've had a tremendous day, the first time you've taken consecutive podiums in your Formula 1 career. Just how different are the emotions here, compared to Silverstone last time out?
LN: It's very different. I guess we're very happy because it's my first time I've had consecutive podiums. To be P2, I guess is a fantastic result in a car that probably shouldn't be P2 – but I don't know, I guess it's not my race. I don't have the fans there – but the fans here were also pretty good, also there's all the papaya fans dressed in papaya here, supporting us as usual.
MV: I struggle to understand what papaya colour is…
LN: Well, when they're shouting 'Lando' I think it makes sense! Yeah, it's great. I'm just enjoying every podium. It's still… I don't quite have, what, 44? Is it 44 podiums or 44 wins? Damn! OK. Shit! I've got a long way to go. They're all still fresh for me, and my trainer is still learning how to bring me a fresh set of clothes, and things like that. So yes, I'm still enjoying all of them. It's not quite Silverstone – I don't think anything ever quite will be Silverstone – but it's another podium in a place we probably weren't expecting a podium, which probably makes it even more special again.
Q: And talk us through the opening lap? You seemed frustrated after the race by Turn 1 but then that very opportunistic overtake of Lewis Hamilton at Turn 2.
LN: Yeah. I don't know, sometimes you win on it and sometimes you lose. I guess I had a decent start. I kind of went with Max and Lewis and I couldn't go to the right, I had a big slipstream, so I came pretty much halfway alongside Lewis. It was tough to know what to do. If I brake early, then it's easy for the people to go up the inside of me. I just kind of had to brake where I wanted to brake, and I tried to turn in, but every time I tried to turn in, Max was trying to turn in, or sorry, Lewis was trying to turn in and I got caught out, simple as that. But it happens and obviously Oscar got through, which was great. And Lewis stayed ahead, which was frustrating, but then I managed to stay on the outside. I was a bit surprised, because I would have thought he'd run me a bit wider but he didn't. So it was close. I'm sure he was still trying but it's very easy to lock up into Turn 2, so even going into the corner I went back of a couple clicks on brake balance just to attack a little bit more. And it worked out. So I think that saved our race today. I don't think… If I didn't get past Lewis there, I don't think I would have overtaken him today because their race pace was very strong. Their general pace was very strong. I just think they didn't execute a very good race and that overtake made me get a podium.
Q: Lando, would you agree that McLaren had the second fastest car this weekend?
LN: That's tough to say. I think between us and Mercedes we're pretty tied. If you look at tyre degradation, Mercedes are way, way better than we are. Always have been. Mercedes have always been very, very strong with tyre deg. If you look at yesterday, the Mercedes was quite a bit quicker with Lewis, so I'm going to be the guy that says, no. And I believe that Mercedes are very close, but it's tight. I think, like I said, if Lewis stayed ahead in Turn 2 they would have beaten us today and I probably wouldn't be on the podium at all. And then you'd be saying, 'ah, Mercedes are quicker', but just because I overtook him you think McLaren are quicker. So, it's tight. They're doing a good job. But also McLaren. I'm very happy with them. They've done an excellent job.
Q: Very well done. Thank you for that. Checo, coming to you, now. What a drive by you. Very well done. Ninth to third on a track where it's very difficult to overtake. How good was this race for you?
SP: It was good. But very tough, especially starting on the Hard compound. It felt very low grip initially. But just to follow around and to overtake, you know, there were times where basically we just had one line because offline was a lot of rubber and we were damaging a lot the tyres. So it was not easy to overtake out there today. As usual, you know, it's a track that is very difficult to overtake at. But I think we might we managed to execute a good strategy.
Q: You drove a very aggressive race. What was your mindset coming into the Grand Prix?
SP: Basically, just to maximise it, try to try to get the biggest amount of points possible. I was looking forward to getting onto the podium. So I knew that I had to do some overtaking there.
Q: There was a bit of pressure from Lewis Hamilton at the end. How difficult was it to manage the gap to him?
SP: It was quite difficult because we were going through the back markers, Lando and myself. I was chasing Lando. But yeah, going offline, I had like two very bad laps just cleaning up my tyres. And it was when Lewis was coming up, but luckily, they cleaned up and I think towards the end I had him under control. We were doing sort of similar [times] or a few tenths off, but not enough to be overtaken, so it was good. Unfortunately, at the end, we pitted on the same lap as Piastri, so I think I had to use my tyres a lot harder than I wanted to.
Q: Final one from me. We spoke to Max about this yesterday, just your thoughts on the upgrades that Red Bull have brought to the car this weekend?
SP: I think we saw yesterday that the gap over one lap is very small. It was like five tenths between the top 10, so it was super small. But hopefully we are able to see the real pace of the car in Belgium, which should suit the car a bit better. So we'll see there.
QUESTIONS FROM THE FLOOR
Q: (Luke Smith – The Athletic) Lando, going into this weekend you seemed to suggest that maybe a repeat of Silverstone might not be on the cards so much, but has this surprised you, how well you performed this weekend and does it maybe suggest that it wasn't so track specific and you guys can keep this run of form going?
LN: I would say so. Genuinely I don't think we expected to be here this weekend, especially in P2. Both Red Bulls are way quicker. So the expectation to be ahead of them is, like, basically a zero straight away. Mercedes were on pole here last year, and their car has been pretty good. I know Lewis complains a lot of how amazing our car is and how bad theirs is, but they don't have a bad car. And they haven't all season…
MV: You were so quick in high speed.
LN: I know. And we're just… I don't know if he said it..
MV: You were flat in Qualifying in Turn 4. I think in 11, if I would drive that car I couldn't hold my neck straight. So fast!
LN: And then I get to the slow-speed and it's terrible. But yeah, like, I don't know what the question is, you've ruined the whole thing, mate.
MV: Sorry!
LN: The expectation was not to be on the podium. I guess it's a lower-speed circuit, there's no super high-speed. You have Turn 4 and Turn 11, which are pretty high speed, but compared to Silverstone, it's not like an eighth-gear, flat out, Copse, Stowe kind of corner. So we just lowered the expectation. We didn't expect to be quite as good. But actually, this tarmac provides good grip, and that's a good thing for us. A hot day like today made things even harder than they would have been. I think Friday, the long run pace was very competitive. Today, we struggled more than we would have liked. But we know this is an area for improvement. So yeah, I think it's a positive surprise, again, to be where we are. But we have the same pace as Mercedes, it's just we've done a better job. So I have to thank the whole team for that.
MV: You will fly in Spa. Everyone should go and stand in Pouhon, because you will be flat.
LN: One-handed. Blindfolded as well.
MV: Take your rear wing off.
LN: I don't need it. It doesn't do anything!
Q: (Ronald Vording – Motorsport.com) It's a question to Max. You already said that the balance worked perfectly well for today. But how do you explain the difference between the one-lap feeling and the race pace being so big as it was? And also, did you already know yesterday that you maybe deliberately gave up something for Qualifying to be even stronger in the race.
MV: We tried a few different things with the car in terms of set-up in Qualifying, which probably worked very well for today. But I mean, we tried so many things throughout the whole weekend, and it never worked on one lap. So it might have also been that we just didn't make our tyres work well over one lap. Because you know, in the race, everything heats up and it runs hotter for a long period of time. So yeah, you need probably very different balance for that and basically yesterday it was understeering a lot today it's warmer, ambient and track, so probably it all came to me anyway. And that's why I probably had such a nice balance today.
Q: (Niharika Ghorpade – Sportskeeda) Lando, you've had two races worth of mileage with these new upgrades. What is your understanding of the car so far, and apart from the tyre management or tyre degradation what other improvements do you think are needed?
LN: Yeah, three races now with this upgrade package all of which we see clearly been a lot more positive. It is two things. One, it's just more load, just more grip. I go round the corners a bit quicker. While doing that, I guess we've tried to improve some of the handling balance issues that we have, which I guess is another part of it. You don't just want a car which has got a lot of downforce but drives terribly. You need a car which drives well and also has a lot of downforce. We've improved the load side and the downforce and we've improved ever so slightly the handling and with both of them, we've had a good improvement in tyre degradation at the same time. Of course, I would just say let's do another step. Simple as that. But I think there are still some things from a handling side of it that I would like to be improved. But it's tough. You're always going to be complaining, which is the thing, like Max was complaining yesterday. I've never seen him complain so much. Today, it's mega. It comes and goes in little things but even if your car is a lot quicker, you're still going to have some issues here and there. So it's a combination of targeting slow speed corners and load, at the same time handling. If we can improve both of these together, that's already pretty the biggest step we need and we'll probably take away any weaknesses we have and then we'll just be strong and it'll be trying to raise the bar from that side of it. So I think we have a clear plan of action for how to do it and what we need. But actually turning it into something real is the difficulty. The guys are doing a very good job. Everyone in the factory is working extremely hard. Days like today motivate them even more and make them work even harder, which is a good bonus.
Q: (Axelle Valliere – motorsinside.com) Lando, apart from the upgrades what impact did your performance at Silverstone have, like did it boost your confidence behind the wheel, like a click?
LN: I would say so. I think my general pace and ability to put laps together and things like this has improved, not as much as I would like. Again, like I said an interview the other day, the car still doesn't handle anywhere like what I would want from a car. If you said what do you need from a perfect car, I feel like it's really far away from what I want. But it's head is a little bit in that direction, which is a good thing for me, it's how I want to be able to drive and push the car. But it has improved my confidence, I guess. We had a car which was inconsistent and I didn't know even last year at times, even last year when we looked good and I looked confident maybe. There's still plenty of times last year when I had no idea how to drive the car. I would come in and they would say what's the problem. From one lap to another it just changes and I don't know how to improve and so on. And now I feel like it's a slightly clearer direction that I need to be working in which is a good thing. I can just focus on more simple things with my driving and little things like this help be here today. So it improved my confidence quite a bit, not to the level that I still want but to go out and drive how I want and feel confident and just drive freely and not have to think about it too much. It makes a big difference, the more like for me. Maybe it's my how my brain works but the more I think the worst I do. And I haven't seen every way of life that way. So the more I think the worse I do and now I have to think less which is a good thing.
Q: (Jake Boxhall-Legge – Autosport) Lando, you were asked to cast your verdict on whether you would prefer Plan A or Plan C. You said the tyres weren't bad but not that great. First of all, could you explain what the differences between Plan A and C were? And just to Max and Sergio, obviously very very hot day out there. How did the tyres hold up?
LN:I can answer that one for them. Their tyres were mega and they got newer through the stint. You don't even ask Red Bull guys how the tyres are; their tyres are just fine. My Plan A and Plan C 20? Master
MV: Plan F?
LN: Yeah, there was a Plan F in there.
MV: Copy.
LN: I don't know, I'm not going to tell you. It was just different strategies I guess. And yeah, I guess we had to make a decision if you wanted to use a hard tyre or medium tyre. Maybe that clears it up. Maybe you can put it together then. But it was just trying to decide would we have done another hard tyre but the hard tyres didn't look incredible and the speed on the medium was quite a bit stronger. So we went obviously for medium in the end as well. So that was the reasoning for it, yeah.
MV: Yeah. You have those days where everything is just… you can put any tyre on. Could have put a soft on as well at the end, it would have been fine.
Q: (Daniel Majer – Rally Café) On the 35th lap of the Grand Prix we've just passed the halfway mark of the season so I would like to ask you to rate the first half of the season but not yourself, each other, because I know that Max doesn't like to give the ratings teams have. He doesn't want to give four years ago so would you please rate each other season so far?
LN: I'll rate Max, Max can rate Checo.
SP: Average, no, for Max?
LN: You weren't on pole yesterday, so I'll give you a seven. That let down… five. I mean, you're 4.4
MV: I was expecting 6.9.
LN: No, I think obviously it's clear. He's 9.69 for Max.
Q: Max, can you rate your teammate for us?
MV: I don't like to give out numbers because you never do justice to it. I hate it. I really hated it at school. Letters you could also have, right. You got A, B, C. Never really had a lot of As at school.
Q: Give us give us your thoughts on Checo.
MV: I think as a team in general, to have won all the race so far has been good. We're first and second in the championship so it's been good. It doesn't matter if it's perfect. It's never perfect but if it's really good, it's fine. We just need to keep on working. Sometimes you have a few tough moments where you make mistakes, you learn from them, you become a better driver and you move on. That's how it goes. Some things are also out of your control. Honestly, I felt sorry for you the first few races, because that was really not lovely, to drive.
LN: It wasn't. I know. Yesterday, Lewis complained of how tough it was finishing outside first position.
Try racing in 19th and 20th. He's never done that in his life. So that's the only thing that Lewis hasn't done that in Formula 1.
MV: First of all, I think it's quite incredible to see where they were in Bahrain and where they are now, McLaren. But I think Lando has done extremely well. But this is also not a surprise to me. It's just good to see finally that when you have a competent car that you can do a good job and he's here in P2, twice. It doesn't need a number even.
SP: I think from where they were in Bahrain or not even in Bahrain before Silverstone, the step that they made these last two races on very different tracks layouts, I think it's impressive. And I do expect to see Lando a lot more up here. So yeah, they've done an incredible job. High number.
Q: (Zsolt Godina – F1vilag.hu) Formula 1 announced yesterday that the Hungarian Grand Prix will remain on the calendar until at least 2032. Can you please tell us your feelings on that? What are your best memories from here and why you like the circuit?
MV: Yeah, I think that's great. I love driving here. It's a very technical track. I remember before I even started F3 and I came here testing in Formula Renault, I think it was at the time, and it was a very difficult track to learn at the time, to get it right. And I still come here driving GT cars, for example. It's just a lot of fun. It's not the biggest track but it feels like you're driving a big go-kart around basically. It's a lot of fun. So it's good that it stays on the calendar and it's close to Budapest which is a fun city as well. So it's great.
LN: Not a lot more to add. Highlight is probably today. I've always enjoyed this track. Same thing: I drove here in Formula Renault, in 2016/2015 already so I've been coming here for a long time. We did many tests here. It's quite a common track. It's challenging. It's got its punishments, but I enjoyed, especially when it's a day like today, so I'm happy it's staying on the calendar. And like we saw the fans outside, it's not often you get the passion from it and they're very passionate and they travel from all over the world to come here. But the Hungarians and everyone that stays here and lives here also love racing. So that's always an extra bonus on the whole weekend.
SP: Yeah, certainly they do love racing and they're all over the city, not just at the circuit, they're back at the hotels. They really make a massive effort. They really follow the sport and it's great to have these sort of venues, that people you see that they really enjoy. And I think the circuit itself is so technical. For me, it's my highlight. I've never been on the podium here so it's my first time on the podium so I'm happy that it stays here.