FIA post-race press conference - Italy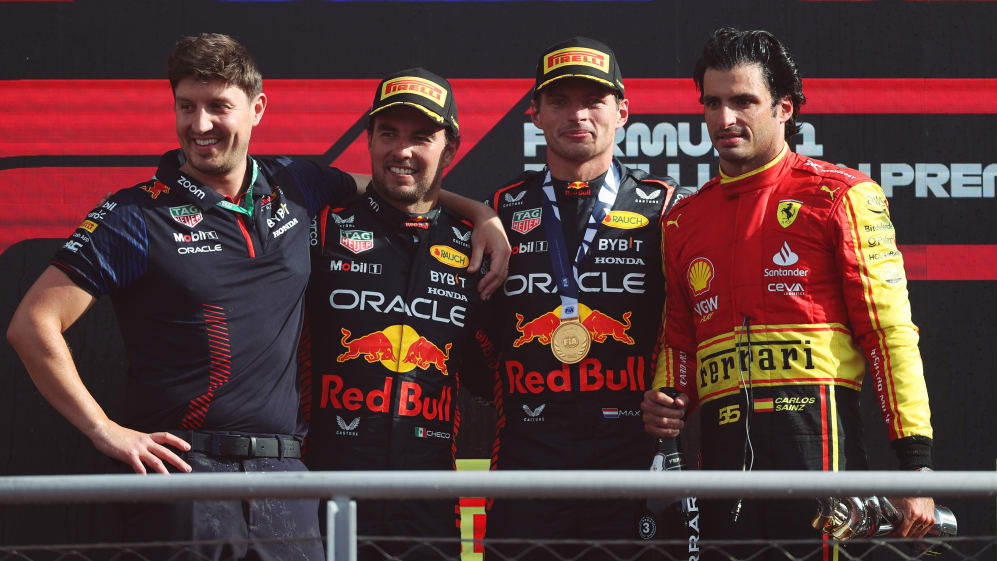 DRIVERS
1 – Max VERSTAPPEN (Red Bull Racing), 2 – Sergio PÉREZ (Red Bull Racing), 3 – Carlos SAINZ (Ferrari)
TRACK INTERVIEWS
(Conducted by Nico Rosberg)
Q: Well, Carlos, what an incredible Formula 1 race we saw out there and especially also thanks to your defending. I mean that was just unbelievable. How hard was that out there?
Carlos SAINZ: Very tough, very tough. It's cannot get any tougher than what it was today. Honestly, the whole race pushing very, very hard to keep the Red Bulls behind and that obviously made me use the rear tyres a lot, trying to keep up with them and trying to keep them behind. And in the end, I ended up paying a bit the price with the rear tyres, but I did everything I could to defend with all the cars that I could and, yeah, brought it home in P3, but it was a tough one for sure.
Q: And that battle with your team-mate. Oh my goodness, that was close.
CS: It was tough. Tough, hard racing. It's always been a pleasure to race Charles whenever we've had the chance. And today was the same. Great racer, same as Max and Checo, you know, we had fun out there today and I hope you guys enjoyed it.
Q: I think the Red Bull car was just too fast again today. So can you still be happy with that P3 here at Monza, the home race?
CS: I think we just need to keep working on our pace, on our tyres understanding. I think today it was obvious that we were wearing the tyres a bit more and we were just lacking a bit of pace. But it's definitely a big step forward compared to Zandvoort. This weekend we've been best of the rest, which is a good result for the team given the circumstances.
Q: Checo, what a great to catch-up you did in that race. Can you be happy with P2?
Sergio PÉREZ: I think it was basically the maximum we could have achieved today. It was so difficult to overtake, a lot harder than we really thought. I think we were lacking some straight-line speed. We were having some great exits out of Parabolica but still it was not enough. I was most of the time 0.2s, 0.3s [slower]. 0.2 would give me a chance, but 0.3 I would not even get close. So to get through Charles and then to get through Carlos it was pretty insane, because I had to use a lot my tyres.
Q: I mean, you were trying everything and being creative, trying outside lines at Parabolica and everything. Did you at times think that this is not going to work?
SP: Yeah, I really thought that at times, especially in the beginning, you know, like, I couldn't get close to Charles because we were stuck in the DRS. I started to put the pressure on Charles and he lost the DRS from Carlos. And then yeah, it was also a lot of fighting with him and in then in the end we managed to get both of them.
Q: Your pace in the race when you were clear was really looking good, all weekend. Do you think you're going to be able to find some progress now for the rest of the season to get closer to Max?
SP: Yeah, I think we've done a lot of progress on the set-up side. I am feeling a lot more comfortable in the car, so I do expect that we will see the best form in the next races.
Q: Max Verstappen, unbelievable once again. Another record – 10 in a row. Does that mean something to you? Is that special?
Max VERSTAPPEN: Yeah, I mean, I never would have believed that that was possible. But we had to work for it today and that made it definitely a lot more fun.
Q: Yeah, I mean, we're looking at one of those moments of battling with Carlos all the way through the beginning of the race. How hard was that?
MV: Yeah, we had good space and I think we were good on the tyres, but they had a lot of top speed and it was so hard to get close and get a move into Turn 1. So I had to force him into a mistake. And luckily, it came at some point, where he locked up, and then I had better traction, of course, out of Turn 2 and basically from there onwards we could do our own race.
Q: Did you doubt at one point, like, 'oh man, maybe I'm not going to be able to win this today'?
MV: I was just trying to stay patient. It was still a very long race. I could see them struggling a lot with the rear tyres, so I just had to pick my moment.
Q: And after that, just awesome car, felt great, yeah?
MV: Everything felt good. We had to nurse a little issue at the end but we had luckily the gap behind, so I could easily back off.
PRESS CONFERENCE
Q: Max, very well done. Ten wins in a row. No one has ever done that before. What does this record mean to you?
MV: Yeah, I think, of course, it's something you don't expect to happen. I never thought at the beginning of the season that something like this was possible. So yeah, very proud. But also just very happy with the race. In general, we had good pace again, we could look after our tyres. It was quite an interesting little battle in the beginning, you know, to try and get a move into Turn 1, but we just didn't have the top speed to do so. So I had to wait for a tiny mistake or tiny lock-up or whatever. And, at one point, you know, Carlos had a little lock-up, which then made me have a good run out of Turn 2 and once I got in the lead, yeah, I could just focus on my own pace. And yeah, the car felt really nice to drive.
Q: Max, I'm sorry to drag you back to this record. But other drivers have won races, other drivers have won World Championships, but no one has done what you've just done.
MV: That's correct! Honestly, I'm just very proud also, you know, of the whole team effort, the whole year already. I mean, what we are doing at the moment, winning every race this year, is something that we definitely are enjoying, because I don't think these kinds of seasons come around very often. And that's the same, of course, with winning 10 in a row.
Q: Any messages from Sebastian Vettel prior to the race or even since the race?
MV: No. I mean, I've haven't had my phone yet. So we'll check later.
Q: Now, bringing it back to the race, then. We saw some really good racing today. Better than we've seen other race tracks. Why do you think that was?
MV: I think, in general, it's still hard to pass around here. I think, up at the front it was also because we were behind them, so we were faster and we had to pass. So I don't know. I don't think it's track-specific. Also, you know, here in Qualifying, sometimes you can maybe jump one or two places, but then in the race drop back. So that naturally, of course, creates more overtaking or at least a chance of possible fights. So I don't think it's always the track.
Q: OK, final one from me. You said earlier that you were nursing a little issue at the end. Can you tell us any more about that?
MV: I haven't spoken to the team yet about that issue. Or what the issue was really. So yeah, they just told me what I had to do and I did that to the end. Luckily, of course, we had the gap behind, so I could just take it quite easy to the end.
Q: Singapore next. How do you see that race?
MV: A little bit more difficult, I think for us. But we'll see. We'll do our best and of course we'll try to go in there and try to win it again. But it's not, let's say, going to be the strongest weekend for us.
SP: Yeah, it was, all the way through fighting, basically. First getting through George, which wasn't very easy. Had to take the escape road into Turn Two a few times. Once I managed to clear him, the team told me to box but at the same lap, Carlos boxed, so I decided to stay out, thinking that we can extend a little bit more, to build a little bit more of a tyre delta, but then we were in the risk of undercut to George and we ended-up behind the Ferraris. And once Charles had the DRS from Carlos, it was very hard to put him under pressure. Towards 10, 11 laps, he lost the DRS from Carlos and that really made my race, you know? When I was able to pass I had some contacts, like, I think into Turn Four, I had no space, and ended-up touching. Luckily there was no damage for any of us. And then with Carlos as well. It was another very tight fight but that's expected for those positions.
Q: You came into the weekend wanting to have a clean weekend. You've come away with a podium. Just how pleased are you with how it's all gone.
SP: Very pleased – but we had a terrible Saturday in terms of the issues we had in FP3 with the car that really put us back in Qualifying. So, I think we could have a better starting position, which definitely will have put us a lot closer in the fight for victory. But certainly, we made a lot of progress, which is a positive thing. I think we've done very good set of directions, and then some work with the suspension as well. And I'm able to feel quite a lot more comfortable.
Q: Max think Singapore is going to be slightly harder for you guys than this weekend in Italy. You won there last year in Singapore, just can we get your thoughts?
SP: I think so. I agree with Max, I think it's going to be a weekend where basically anything can happened, and hopefully we are able to have a very strong Saturday, because if you don't start in the front row, it's very unlikely that you will have a shot at the victory. So hopefully we can repeat what we did last year there.
Q: Carlos, coming to you now. What a place to take your first podium of the season! Pressure all the way. What's your overriding emotion when you look back on it all?
CS: Obviously very, very happy now, because a P3 in Monza in front of the tifosi is as good as it can get – at least for this weekend, because clearly Red Bull were, in the end, quite a bit quicker than us today, as we expected. It was a day to try and I tried everything I could to keep them behind, especially that first stint in front of Max. It probably nearly cost me a podium, because it meant that I was wearing a lot my tyres and using the tyres more than probably what I would have liked, and making me very vulnerable towards the end of the stints, and always under a lot of pressure by Max first, than Checo, than Charles. In the end I could make it on to P3 because we made it – but it was a tough one. A very tough one.
Q: Was there any moment in that first stint when you had Max behind you, that you thought, 'hang on, I can win this?'
CS: Yeah, halfway through it. I felt like I had fairly under control but then I think I… around lap 10 to 12, I started filling the rear left tyre giving up a lot, like a lot earlier than I would have expected. At that point, I realised I had used my tyres too much and probably to keep Max behind, I had worn that rear-left tyre too much and that I was going to suffer a lot for the rest of the race because it was going to probably make me box early into a hard tyre. And then the second stint was going to be very long. It's exactly what happened and my feeling was correct. But yeah, honestly, I didn't expect to degrade so much but it was clear that I was pushing very, very hard to keep them behind. Probably harder than what the car, or what I should have done.
Q: Can we talk team orders? What were you told prior to the race about battling with Charles, because it got pretty spicy at the end?
CS: We obviously knew that the car that is in DRS is always going to be feeling like it's the quicker car – but we know that around this track, once you get into that DRS, you feel quicker and we knew that. But at the same time, we know we were both fighting for a podium in Monza. So, there was always going to be a bit of a fight, a bit of a battle. In the end, we kept it clean. There were a couple of nice moves here and there, tight battles. But I think today, honestly, I enjoyed battling Max, battling Checo, battling Charles. I think it was a good day for F1. As you said, a good show. And I just did everything I could to stay in front and it worked.
QUESTIONS FROM THE FLOOR
Q: (Alex Kalinauckas – Autosport) Question to Carlos. Carlos, did you have yourself DRS at any point during that race? And given that majority of your rivals seem to be benefiting from it, did that make it extra hard to keep the tyres alive?
CS: Yeah, I've had it before, in places like Austria or Canada where, once you get into a DRS, you can manage the tyres a bit better because they pull you on the straight and then you can control the exits and the traction and the medium-to-high speed a bit more. And today I never really had the chance to to feel that, and I had to push quite a lot in the corners, to try and keep that gap and defend into Turn One, and in the end, it was just never possible for me to manage those tyres. It nearly cost me, as I said, the podium, but, as I said today, I didn't want to go home with a feeling that I haven't tried, and I didn't try to win, and stay ahead. I was committed to trying, and to make sure I was going to use all the life of those tyres to try to stay ahead. Nearly managed to do that in the first stint, but in the end, the stints are just a bit too long for us right now.
Q: (Ronald Vording – motorsport.com) Question to all three, starting with Max, please. It's basically a follow-up on the DRS question. DRS seemed a bit less powerful here with the low downforce set-ups, and, as a result of that, we saw more action into the braking zones instead of just passing someone on the straight. Did it make it a bit more enjoyable for you guys? And do you think having a little bit less DRS effect might be a way forward Formula 1? Thank you.
MV: No, I think in most tracks, we still struggled to follow or pass. I mean, at the beginning of the year, a lot of people were complaining about passing. Of course, we had the luxury being a quick car, we could still pass like in Miami. I think everyone was complaining in Miami about the passing – remember in the briefings – with DRS? I think the cars are getting more and more efficient and they have more downforce. So it's harder to follow and then they're more efficient on the straight. And yeah, of course naturally here there's less DRS effect because there's almost no wing on the car. But I think it really depends on which track. Also here, for example, if Carlos, he was putting the car in the middle under braking into Turn One, it's almost impossible to do something, because if I go for it and he just moves a little bit to the right, there is no space anymore. So, for me, there was never really an option to actually fight in the braking zone today.
SP: Yeah, I really agree. I think, definitely less DRS is not the way forward. I remember we were discussing to actually increase the effect because yeah, the cars are getting harder to follow. I think here, the DRS effect like Max says is really, really small. So, I don't think in other places we can race with less DRS. If anything, we needed the DRS more in some places to be able to have better racing.
MV: In Singapore we need more DRS than the straight allows.
CS: No, I think what you saw today is a bit of a coincidence where we had a lot of top speed with no DRS. And Red Bull had just enough top speed with DRS and slipstream and battery to get to us under braking and that generated a good fun battle. But in 99% of the tracks, I think we're going to need DRS and we're going to need a powerful DRS because these cars from the beginning of the year, like Max said, it's starting to become a bit like 2021 or 2020 where it is difficult to follow. Obviously Monza is a special case because you don't only have the DRs, you also have very long straights of slipstreaming, which helps a bit more the car behind but I think in the rest of the tracks, we're going to need the DRS.
Q: (Carlos Miguel Gomez – Marca) Carlos, would you like to be the new Minister of Defence of Spain? One part of the question! And the second question is about the fight with Charles. Do you believe in any moment and the moment when Charles touched your car, that maybe your race is finished?
CS: I'm happy to share Minister of Defence titles of Spain, and Checo Mexican, no? We can have a dinner, a political dinner, no?
SP: Minister of attacks as well, we need that title!
CS: Depends on the weekend. We can be Minister of attack or defence. And yeah, it's a nice title, I find it quite funny when I see these memes out there. Then for Charles, no, I never felt too much of a risk. Obviously with a teammate you're always a bit more tense, a bit more space because it's the last thing you want in Monza in front of the tifosi, the two Ferraris to touch. But I think we had a tough battle. It was for an important position and we managed to keep it clean. And it was good fun. As I said, I had fun with Charles but I also had fun with with Max and Checo. I would have preferred to be the one attacking than the one defending , I'm not going to lie, but today was my turn to defend and I feel like I did that well.
Q: (Niharika Ghorpade – SportsKeeda) Carlos, we've seen in the past that your car tends to deg in clean air and dirty air. And today, despite the pushing, despite the battles, you didn't seem to have a massive loss in performance. So Charles suggested that it might be the low downforce package. What is your understanding of the degradation in this race today with your car?
CS: If you compare us to Mercedes and other teams, it looked like we did have some decent pace this weekend. If you compare us to Red Bull, they were clearly quicker for me, especially from lap five, lap six once the tyres coming to temperature and you're driving on a hotter tyre and with less grip than the first five laps when the tyre is new. There is where you clearly feel that the Red Bull can make a difference and can either manage more but keep a good pace or they can either just push more for a faster pace and deg less. It's difficult. We are trying to find the solution and the way forward. I do believe a lot of is still aerodynamics and we still need to keep working on our aero package for next year. For this year, I think it's what we have and that's why there are so dominant in the races.
Q: (Jesús Balseiro – Diario AS) To Carlos, did you miss a bit of team orders at the end? Wasn't it a bit risky to lose a podium in this special race for Ferrari?
CS: I would have understand it both ways. If they would have given team orders, I would have understand. If I would have been Charles trying to get a podium, obviously I wouldn't have liked the team orders. So it completely depends on the position you're in. I'm not going to lie, it is very depending on a very subjective position or feeling. I think it was on the limit but it was nice teammates, hard, F1 battle you know, which in the end is also I guess what you guys want to see. And I had fun doing it.
Q: (Florian Niedermair – Motorsport-magazin.com) There were a few teams going for a two stop strategy today although before the race, everybody expected this to be an easy one stopper? Was there more tyre degradation than you expected before the race or was it in line with your expectations?
MV: I think today was a bit warmer so for sure there was a little bit more deg I guess. But also for me, it was a bit difficult to compare because on Friday I ran a different setup than what I did yesterday. So I still had to see in the race how everything was going and of course the first 15 laps behind Carlos of course hurts your tyres a little bit more. But then once I was in clean air, it was very clear that for us it was for sure a one stop, but possibly a little bit more deg then it was on Friday, but then again on Friday we'd never really got to do a lot of laps in a row because of red flags and stuff.
SP: Yeah, I think nobody had that much idea how the deg was going to be. I don't know who brought the red flag there in the end on Friday… No one it switched on, I can see! So nobody really did more than four laps, five laps and you don't get to see what the tyre is going to do and also it was hotter today so I think it was a bit of a combination in the regard that the degradation was a little bit higher.
CS: It did feel high deg for me. It did feel more like a two-stop than a one-stop. In the end we committed to a one stop because that's what our numbers suggested before the race but honestly, I was probably five laps short in each of these things. The last four laps I did on the medium I did it with zero rubber left. And the last five laps, ten laps I did with the hard I did them with zero rubber left, that's why I was sliding around so much and that's why I guess if other teams had a similar feeling committed to a two stop, because for me a one stop was very tight and very on the limit.
Q: (Alex Kalinauckas – Autosport) Carlos, this has been a really impressive weekend overall. You were just Max in FP1, you led FP2 and FP3, pole yesterday. Really impressive in defence and leading early on today. Do you think this is your best weekend overall in F1?
CS: Well, I'm not sure in F1. I've done other strong weekends in F1 that maybe got a bit unnoticed when I was in the midfield where I felt I extracted everything out of the car. Of this year, for sure, of my Ferrari career probably. Of my F1 career, it's a tough call but I felt like this weekend I was on it from the beginning, comfortable with the car especially over one lap. I felt really, really at home and I could put together strong laps yesterday and snatch pole but today was again a bit tougher and it shows me exactly where we need to keep working on and where I will put my head down and keep pushing the team to keep working on our tyre understanding and our race pace understanding.