FIA post-race press conference - Mexico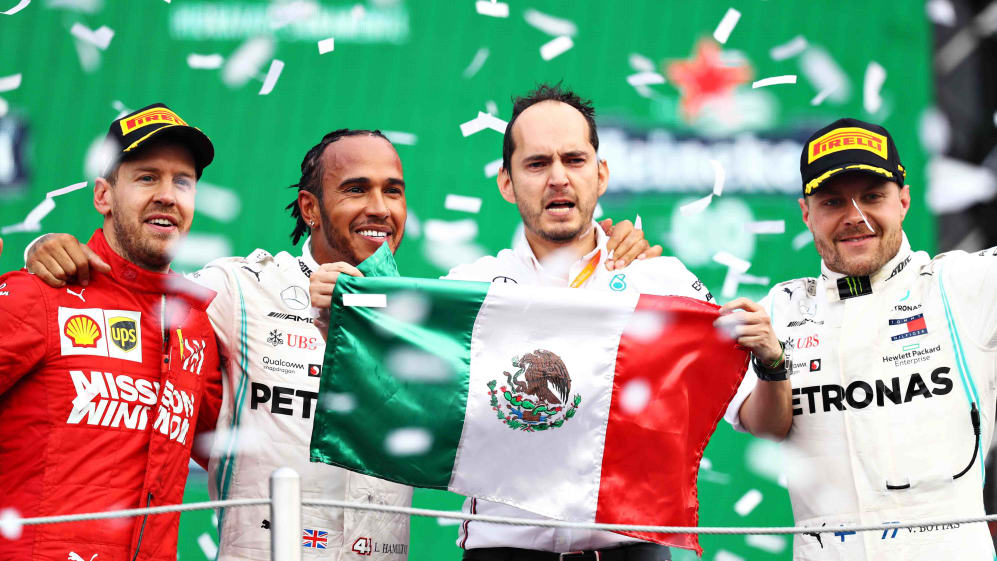 1. Lewis Hamilton (Mercedes), 2. Sebastian Vettel (Ferrari), 3. Valtteri Bottas (Mercedes)
TRACK INTERVIEWS (Conducted by Jenson Button)
Q: Lewis, you've have had some pretty epic victories and a lot of them come through sheer aggression and excitement. This one was a very different victory it seems. Looking after these tyres like you did was immense. Lewis HAMILTON: Firstly, we've got to applaud this incredible crowd. This is like the best crowd I think I've ever seen. We've never seen anything like this. Today is an incredible result. I have to say a huge thanks to my team – Mercedes and our partners here. The guys have continued to work incredibly hard and stay focused. We came here thinking that we were on the back foot, knowing that it's a difficult race for us, tut we pulled through. I had a quite a bit of damage on my car, so the race was quite a bit of a struggle. I just kept my head down. It seemed like a long second stint, but ah man, I'm so grateful for today.
Q: Awesome, great to hear. It must a real mix of emotions. The last two years you come here and you haven't been on the podium but you clinched the championship. This year, you come and dominate and win but you have to wait a little bit longer for the championship? LH: Yeah, I don't mind. I love racing, man, and I just take it one race at a time honestly. As I said, this is a race I've wanted to win for some time but it's always been a little bit tricky for us. So, I'm incredibly humbled by today's opportunity, for the car holding together as it did, and for the team being so sufficient and executing the best strategy. Just to hold up the Ferraris was not so easy at the end but I hope people enjoyed the race.
Q: Congratulations, go and enjoy this amazing crowd. Seb, I'm sure it's not quite the result you were after. You looked really exciting in the first stint. You were able to put in some really good lap times. I thought you were going to pop out behind Lewis and make it happen but you didn't quite have that? Sebastian VETTEL: Not really. I think surprisingly the hard tyres worked really well. It was a very intense race, because there was no break and obviously I had Valtteri behind me giving me some pressure in the final stint, before I could focus on Lewis in the front. But yeah, I think Lewis, he was just cruising for most of the second stint, up to the point that the attack was arriving and then I guess he had enough tyres left so… Yeah, I'm happy, because I think it was a good race, but I think here and there maybe with strategy we could have been a bit sharper. But overall, it's a great crowd.
Q: It's amazing, the support these guys give you must really mean a lot? SV: Yeah… I didn't hear what you said! Q: I said that these guys give you so much support. It must mean a lot. SV: You can tell! I didn't hear what you said. It's incredible. It's one of the best races for that, so looking forward to the podium.
Q: Great job. Valtteri: I'll bet it's a bit bittersweet after yesterday – the issue in qualifying – getting winded is never a nice feeling. But the pace today, and your aggression was really coming through. Valtteri BOTTAS: Yeah, I enjoyed. Considering yesterday it was a good result. Very happy about the pace I had in the race. The start was quite tricky, I dropped a place there, so I had to come back a little bit. Yeah, I don't think we could have done much more today from where I started, so looking at that it was pretty good.
Q: You seem really confident in the car. In the last few races you seem to have upped your game, which is necessary with a team-mate like Lewis. Are you feeling really good in the car? Is this promising for the rest of the season? VB: yeah, feeling good. Definitely a lot better than the same time last year. So feeling like I have the pace and the confidence and happy feeling in the car. I just need to continue and I look forward to next weekend.
PRESS CONFERENCE
Q: Sebastian Vettel, our second-placed finisher. Great race by you, Seb. Couple of things: first of all, at the start we saw you flexing your muscles on the run down to Turn 1 to Lewis? SV: Not really. I didn't see him. He came after the race as well and asked, but no intention to push him or anything. Obviously, as soon as I saw, I obviously got off and I tried to get in Charles' tow and I checked the mirrors on the right and the mirrors on the left and that's when I saw Lewis and then, you know, I tried to go right but before that point I didn't see him. We see quite well in the mirrors but there is still obviously an angle that you can't see.
Q: You said a little bit earlier to Jenson Button that you could have been a bit sharper on strategy today as a team. What did you mean by that? You pitted at half distance, do you think you left yourself too much to do? SV: Not really. I think in the end… after the race it's always easy to say but I think we were confident that we split the cars, we covered both options. Obviously in Lewis' shoes and Mercedes' shoes they had nothing to lose so they might as well from that early to make it. And Lewis did well managing his tyres in the second stint, and just cruising up to the point where we arrived. It worked finally but neither them nor us expected the tyres to last that long. We saw a lot of graining on Friday and so did they actually, they saw a bit more than us, so it was a bit of a surprise that today we didn't have any and that made the difference. You might as well try, so it's a brave call. In the end if it works you look great, if it doesn't then you've tried. I think if it was so straightforward for them, the thinking of fitting the hard so early and easily making it to the end, then they should have pitted Valtteri as well, but you can see that obviously he stayed out with me, long, to try and make sure that you make the one stop work and you don't fall off any cliffs. As I said, we tried everything but ultimately… yeah, maybe we could have been a bit braver, but then it's a lot of unknown and you don't want to do anything stupid at that point. And second, I think you could see that in the race trim we were just missing a little bit of pace. Valtteri was closing in at the end of the first stint. Lewis was fairly easily closing in during the first stint as well. So I think it's also fair to say that they were just a bit quicker than us.
Q: Thanks. Valtteri we'll come to you in just a moment, but we're joined now by our winner Lewis Hamilton. Congratulations Lewis. Now, given the pace of Ferrari and Red Bull this weekend, how surprised are you to be sitting in the middle? LH: I think probably for both of us it's a bit of a surprise. We came into the weekend… I can only talk about my side, and not having 'Bonno' for the first time in seven years and the challenge of having two new engineers step up into different roles and trying to keep the balance of pressure and make sure we deliver and ultimately make Bonno proud was not easy. We come to Mexico, we always struggle here with our tyres, last year we lost by like 60 seconds or something. I think we finished like fourth but we were a long way away from these guys and on Friday their pace, particularly the Red Bulls, their pace was quite stronger than ours. Seb went like eight or nine laps further than I could make the tyres go. But we just kept our heads down and tried to work on trying to get the most out of our car and it wasn't great through qualifying but the race pace, once we got through all the commotion at the beginning, he tried his best to… SV: Not really. As I said, I didn't really try, I just didn't see you! LH: I'm messing with you. SV: But if I had seen you, yes, I would have tried. LH: And then I obviously got torpedoed. I thought at some stage I'd get torpedoed by Max. And then after that trying to keep up with Seb was a real challenge. A first and third is a true showing of real strength and depth with our team and it's a real pleasant surprise really, because we didn't expect our tyres to go as far as they did. We didn't think we could manage a one-stop and we made it work.
Q: You said you were expecting a bit of action from Max early on in the race. Talk us through those opening corners? LH: I actually got a really good start, so I was pulling up to Charles and Seb is coming across, coming across, coming across and I'm thinking 'I'm on the white line, I don't have anywhere further to go'. And he just keeps coming. So I had to avoid crashing with him, going on the grass. Avoid his wheels as well, otherwise I could have caused a big collision for him. Then I was surrounded by a bunch of cars, I braked into Turn 1, and all of a sudden Max is alongside me. If you've seen races before, I always leave Max a lot of space – it's the smartest thing you can do. But there wasn't a lot of space to give him space. I think he had an oversteer moment or something and then I got a massive hit from behind. Then I nearly took him out… SV: He hit you? LH: Yeah. We were going through the corner, you were about to go into Turn 2, my back end came out and I nearly took you out and then we went straight over the grass. It was hair-raising. SV: Ah, that's why there was such a big gap and there was Albon all of a sudden… LH: Yeah, me and Max went through the grass together, came out and there were other cars coming by. I thought I was going to get hit by other cars. But I managed to get my bearings and keep my head down. I was not expecting to have that pace and to be able to keep up with the Ferraris but it worked and even with a damaged car. Obviously Seb went a lot further and I think so did Valtteri, he did a fantastic job to come from sixth. I thought I was going to struggle at the end with Seb, with 10-lap younger tyres. SV: More than 10. Was it just 10? LH: Maybe more than 10. But I just managed to save enough in the early phase while he was doing that long run, which I was able to utilise. Particularly those last seven laps were the important ones and I kept him behind.
Q: Great race, thank you Lewis. Valtteri, as Lewis said, great race from sixth to third. How was the car and were you suffering any after effects from your crash yesterday? VB: I think it was a good day considering the circumstances. And looking back to yesterday it was a pretty good contrast in a good way for today. The car felt good. It felt as good as before the crash and obviously the team made a really good in getting it back together, so thanks to the boys again for that. From my side no problem really. Small headache in the morning but I wasn't sure if it was from the tequila or the crash. Anyway, all good. I felt good in the car and I'm pleased for today, even though I lost some positions at the start and I lost a lot of time behind the McLarens but I had really strong pace in both of the stints and as a team we maximised today for sure.
QUESTIONS FROM THE FLOOR
Q: (Frédéric Ferret – L'Equipe) Question to Sebastian. We heard you during the race questioning the strategy of the team two times: about the Plan C and going to box. Do you think afterwards that one of these two strategies could have been better for the victory? SV: I think, as Lewis said as well, obviously before the race we were quite sure that you need to get to a certain lap to make the one-stop work and when Lewis pitted, that wasn't the case yet. Obviously, you know, we were one and two and the two-stop looked like the better strategy and faster strategy so we split the cars, and obviously if you go for the one-stop, you might as well go for the one stop properly and not, sort-of, half-hearted, so when Lewis pitted, I think it was borderline and probably a bit too early but, as he said, he made the tyres last well and had enough towards the end. Plus, I think we didn't see any graining in the race, which we did on Friday, which I think made the biggest difference. So, then, after that, you can argue maybe we could have taken more risk – but at that point you're really driving into the unknown. I think what they tried to do is fit the Hard, see if it makes it. If it doesn't make it, you might as well fit another set at the end and there's your two stops. When you are sitting in P3 and then having the option to finish, maybe, first or fifth. I think you may as well try. So, that's one. The second one, I think is just the laps when Valtteri was closing through traffic. Maybe we could have boxed one lap sooner because I hit that traffic quite hard and there was Sainz – or Norris, I don't know – one McLaren and a Toro Rosso fighting each other very hard and I lost, like, three seconds just on that lap. That didn't help but obviously it's also difficult to foresee that these two guys on that lap will have a major fight. So, I think nothing big. As I said, I think we tried everything. Two and One stop, and you have to give it to Lewis, he drove well, he made the tyres last and I think Mercedes in the race was maybe just a little bit quicker than us.
Q: (Christian Nimmervoll – motorsport-total.com) Lewis, after the incident with Max, was there any damage to the car and, if yes, did it actually cost you lap time? LH: Yeah, a big part of the side of my rear floor was missing. I didn't actually know how much was missing or what was damaged but the balance was quite a lot different. The rear end was quite weak so I was particularly sliding around a lot in the high-speed, so I had to change my settings quite a lot and had to drive it a little bit differently because I couldn't attack the same way on the entry of corners because the rear stability wasn't the same. I'll probably find out later on just how much we were losing but I would imagine a good couple of tenths probably, just from rear floor damage. It's quite a sensitive area around where the tyres is. But why I'm probably even more happy that I was able to make these tyres last the way we did. And to do it here in Mexico is pretty special.
Q: (Lawrence Edmondson – ESPN) Question for Valtteri. Your contact with Max in the stadium section, can you talk us through what happened there? And also, to all three drivers: Max – do you treat him differently when you're racing against him and do you think he's probably the most aggressive driver out there? VB: Yeah, for me, just out of nowhere he appeared on the inside into Turn 13 and, you know, I couldn't disappear from there. He just dived in and we touched. He got a puncture from that, so… yeah, I couldn't really avoid him, so I think he earned his own puncture, definitely. But… I don't know, every driver is obviously different. Some are more aggressive, some are less. I haven't raced very closely for some time with all of them, so I can't say in detail for all the drivers.
Lewis, you touched on this earlier. Do you treat Max differently to other drivers? LH: Err… yep. I think every driver is slightly different. Some are smarter; some are like very smart, aggressive and some are silly with it. And so, through those experiences of racing with people, you give some more space and others you don't have to. They're quite respectful. But yeah, Max, it's very likely you're going to come together with Max if you don't give him extra space, so most of the time you do. But as I said, in my experience, I didn't have a lot of space to give him extra space. But I don't think it was intentional or anything like that. It was just… he's a magnet for those kind of things but yeah, nonetheless, I managed to keep the car together and in a straight line, fortunately.
Sebastian. Max? SV: Yes and yes.
Can you put a bit more flesh on the bone? SV: No, just copy-paste. It's true.
Q: (Omar Alvarez – Graining) This is question for Lewis. What do you think, from your point of view, is missing from Ferrari? What is Ferrari doing wrong? They show pace. They show the speed and on the race day something happened. What do you think is missing in Ferrari? LH: Honestly, I usually get paid for that kind of advice, so I probably wouldn't tell you exactly what it is! I don't know. They've done a great job. The second half of the season has been obviously spectacularly for them. They came with a slightly different philosophy, I think, to some of the other teams. There's generally a little bit less downforce through corners but faster in straights – which has worked really well because in a lot of tracks, positioning is everything and you can't get past them down the straights and they're just about quick enough in a straight line. But we managed to… I guess we managed to overlap them, or outdo them, particularly with great tyre usage within the race, and strategy. You don't too often see me and Valtteri, our team like falling over each other. With us, they did a great job with that but sometimes Ferrari has that and it's been unfortunate for one – or two – of the drivers. But Seb's been driving great recently so it's been good to see him back up there, driving so well. Naturally we want to have closer wheel-to-wheel races but on some of these tracks you can't get too close, unfortunately. [to Seb] You're sticking around for a little bit longer, right? Good good.
Sebastian, I feel we should give you the right of reply. What do you feel you've been lacking on Sundays? SV: Well, if you want to be just pure and honest, then I think our car is good in a straight line: one because we have an efficient car, so that's credit to us; two because I think we've done a really good job on the power unit front, so compliments to Maranello. But we are lacking downforce which leads into maybe a weaker race pace, leads onto struggling a bit more on Sundays when it's about managing the tyres and successive laps, whereas in qualifying I think we can extract a bit more from our car, cover our weakness a bit more with fresh tyres on the car. With new tyres you can mask a little bit the problems here and there. So that would be just the straightforward, technical answer. To do better, I think we need to put things a little bit more together. I think we have all the ingredients; we have the people; we have the intelligence. So I think we just need to make sure things fall into place and once they do, I think things will start to click. Obviously Mercedes have proven in the last years that it is possible. I think they just got stronger and stronger throughout, which is credit to them as a team, credit to obviously Valtteri and Lewis, and in particular Lewis over the last years. They have shown what is possible, they are the benchmark and it's up to us to do a better job in the future. Easily said, not so easily done but yeah, I think you also have to give credit where credit is due and both Mercedes and Lewis have been too strong in the last couple of years.
Q: (Luis Vasconcelos – Formula Press) Questions for the Mercedes drivers. Valtteri, you managed to catch Sebastian pretty quickly at the start of the second stint. Twice you had DRS, didn't seem to make any difference, what would you have needed to have been able to attack. And Lewis, this is the first time you had to deal with Alex Albon in a race. In the first 15 laps you were behind him, what impression did he make on you? VB: Yeah, got pretty good pace in the race in general, that was the feeling in general. Got close to Sebastian at a good rate. Sometimes got DRS, got close enough but I think mostly it was because of some backmarkers. Or he had a bit of a lock-up or something – but there was just not quite enough pace difference to make a move for the overtake. I was trying everything I could to get as close as I could but yeah, to get closer than 1.5s or one second is so tricky, and to overtake them, you need to be right in the gearbox, going to the main straight, because our speed on the straight is nearly the same when I have the DRS and they don't. So, it was pretty impossible today and Sebastian didn't really do any proper mistakes. So, that would have been needed, or massive help by backmarkers. There was no opportunities.
Lewis, Alex Albon? LH: I don't really remember a lot. He was obviously just in front of me for a while – and then he pitted, right? He was driving really well, not making any, or too many mistakes. I think this year has been… it's a real challenge to go up against a driver that's been spoken so highly of by so many people and built up onto a pedestal. And to come in so young, and with all the difficulties he's had in his life as well – his life story is quite an interesting one – against all adversity. It was quite cool to just sit and view him for a second. He pitted very early, I'm not quite exactly sure why but they obviously then went onto the two-stop strategy and I didn't really see him again after that. But he's got a bright future ahead of him. I hope Red Bull give him the support over the years. It's very, very important because they often spit drivers out pretty quick if they don't always do the job. I hope they're good to him.
Q: (Alan Baldwin – Reuters) Lewis, this sport has American owners, they're trying to grow the sport in America. You're very much a household name in the United States, you've got a lot of friends there. How big a deal is it for you to win the title in America? LH: Honestly I hadn't really thought about it. There is obviously an exciting market for me. The most important one for me is England. I'm constantly trying to grow with the fan base we have in the UK and I think the Silverstone Grand Prix is obviously spectacular but the US is getting more and more popular there. I've obviously done quite a few shows out there and definitely becoming more and more known in the States but it's quite a diverse country. I think my story and my family's story is something that a lot of people in different countries can relate to. America's always a cool place to live. They do it their own way, it's different. It's not England with the British Grand Prix, which is so special in its own way. It's not the Mexican Grand Prix which is … there were so many people here. It's unbelievable. It's its own unique amazing Grand Prix. The track is fantastic and it's been a good hunting ground for me so very excited to go there and who knows whether we can get the job done, who knows? We'll hopefully have a good race there.
Q: (Jack Benyon – Autosport) Lewis, where do you rank that race in terms of your best of the season and also you mentioned adversity ; obviously Ferrari have been very strong since the summer break but this weekend you've been without your engineer as well so a lot of adversity to face. Could have you done that earlier in your career or is that something that's come with experience to find that resolve and dig deep in races like that? LH: Experience naturally counts for a huge amount. Honestly I don't remember every single race this year. I think we've had good races but it definitely feels like one of the better races that I've had, particularly with the things that were thrown at us at the beginning. And also with the build-up: knowing Bono wasn't coming, I'm thinking, Jeez, in this intense fight for this championship… you could look at it as a disadvantage but me and Bono pulled together – he did a huge amount of work as did Marcus and Dom who've both stepped up into new roles. I've never worked so closely with Dom before and Marcus stepped into big shoes. It's not easy to work alongside… I would say a World Champion in this sport, who generally demand quite a lot but because I have experienced him as my number two he kind of knew how it worked and he's generally a very laid back individual. And then on top of that, Bono was on the radio, we were texting all weekend and I really just wanted to make him very proud this weekend. He's devoted so much of his life to me for these seven years so yeah, I really wanted to do… I'm sure he's happy with today's race. I'd like to think that I can be really proud of today's performance, particularly with the damaged car and the stuff we went through at the beginning. And what's crazy is that I've – God knows how many races I've done, must be close to 300 races and it just never gets old and it always feels new. It's a different journey each one, different emotions you go through in the gap before, you know. We had all the stuff last week with the media in terms of the stories that came out last week and then came to this week and an emotional rollercoaster and then obviously Bono's not coming and then come to Mexico which is a very very hard race to win.. didn't expect to win, that's for sure but it's a great great feeling, very humbling.
Q: (Ben Hunt – The Sun) Lewis, just checking what your plans are now between these two races: do you lie low, do you have public appearances, do you have all that sort of stuff to worry about as well as obviously focusing on this championship that you can win at next time out? LH: Yeah, I head to the States. Me and Toto have an event together in Madison Square… Times Square, sorry, Times Square which is kind of cool. I think Valtteri's going to do the thing in LA. Then I've a photoshoot and then I fly off to Austin, get there probably Thursday or something like that and then straight into the same kind of week but I get there tomorrow, I get into my normal training regime. Naturally I like being in the States so it's a pretty calm build-up. Shouldn't be a problem.
Q: (Carlos Alberto Velazquez – Reforma News) Lewis, last three years you've celebrated here. Are you going to miss the celebration of the championship here in Mexico or do you miss Mexico as a place to celebrate? LH: Honestly I prefer the way it's happened today, I think, as the previous times we've won here, championship-wise, I've finished like eighth or 13th or something crazy so you see someone else on the podium, celebrating a win but I've won a championship, so you're a bit conflicted because you wanted to do better in the race but you've got the overall job done. But today and this weekend, I knew it was unlikely that I was going to be able to win the championship here because Valtteri's been driving so well but I just wanted to take it one race at a time, I wanted to try and win this race. It actually feels better than perhaps it's felt in the past. We've still got more races to fight for so…
Q: (Jonathan Chora – First Drive Mexico) Seb, what do you think was the main mistake for this race? And also, were you expecting a more exciting race here in Mexico? SV: I don't think there were any major mistakes so as I tried to explain earlier I think we've done well. We tried everything so I don't think it was a mistake that we are not as quick to make things happen and force things to happen. I think it was quite exciting. Obviously we always knew that it's difficult to pass and have a lot of overtakes because of the nature of the track and being so critical on downforce, up in the altitude it's very difficult to follow, sliding the tyres is what hurts us most and then to get closer is really really difficult. But I don't know… the top four cars at the end, within four, five, six, seven seconds I believe. It definitely was very tense, I was hoping that in the last 15 laps to go, I was hoping that in the next five laps to close the gap and start a fight; ten laps to go I was hoping that in the next five laps I'm closing the gap. It was definitely tense but obviously Lewis drove well and didn't make any mistakes and managed his race. I enjoyed it but would have obviously enjoyed more to have a bit of a fight at the end but we were just not quick enough to do so.
Q: (Yhacbec Lopez – Motorlat) Lewis, you said last week that you thought the Mercedes power unit lacked power. Do you think the same today? LH: We haven't changed anything so that is still an area that we… reliability has been fantastic through the year but it has been an area of less progress for us as we know. We see the Honda and the Ferrari really stepping up their game on the engine front so we've got work to do in that regard but the engine has done well this weekend, considering usually this a really tricky one for our engine, it has been ever since we've been coming here with the altitude for our turbo but I'm really happy with how it performed this weekend.