FIA Team Principal Press Conference – Bahrain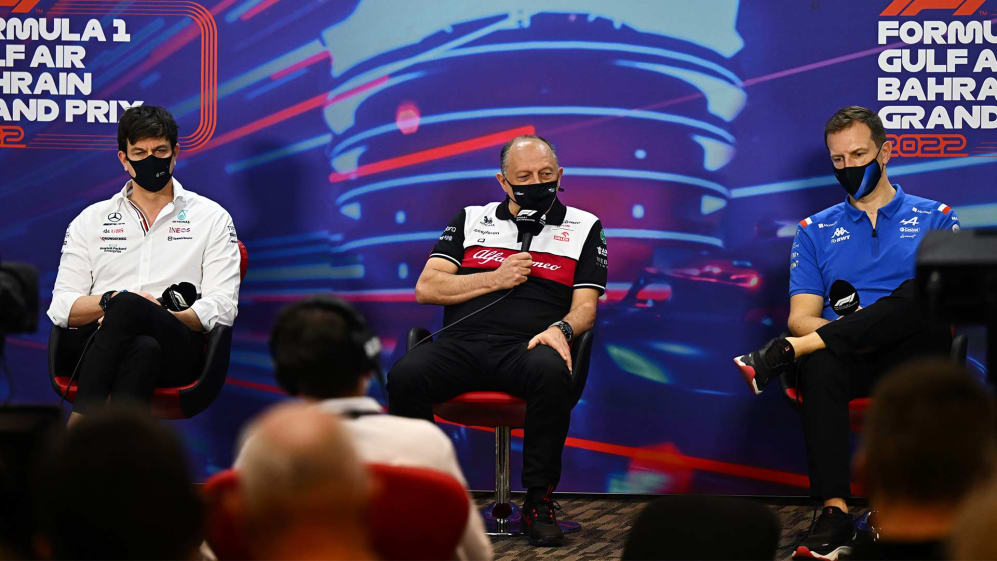 PART ONE - TEAM REPRESENTATIVES
Toto WOLFF (Mercedes), Frédéric VASSEUR (Alfa Romeo), Laurent ROSSI (Alpine)
Q: Laurent, first of all, congratulations on victory over night at Sebring but let's talk Formula 1. Fernando Alonso said after practice yesterday that he was surprised by the car's competitiveness. Were you?
Laurent Rossi: Well, I guess he was pleasantly surprised versus the last report from two weeks ago. At the same time, we have been working towards that, so I am not that surprised. And, then again, the two cars are in a slightly different position at the moment. So, let's see tonight how it reads out.
Q: What is the mood in the camp at Alpine at the minute as we come into this new season?
LR: Everyone is very excited. It's a very good mood, on the back of a good season last year. Everyone is motivated. They know that the cars are going to be reshuffled. We had decent tests and, indeed, the first runs here are rather promising, so everyone is working hard but with a big smile, so hopefully we keep that and we continue the victory rings that we had in Sebring, even though it's going to be hard to get those top positions.
Q: Just before we move on, quick word on Otmar Szafnauer, who's been with the team for just over a week now. How is he settling in? Has he made any suggestions of how you can improve things?
LR: Oh yeah. He already made suggestions on the day he arrived because he was observing us already last year, so there's a couple of things that he could see, that he could bring in, and then, now he knows the team a bit better, he's been already instrumental in helping us prioritising a couple of things operationally speaking, fixing a lot of things as well and also planning for the long term. So I'm very happy Otmar is making a difference already.
Q: Fred, Valtteri in particular was very positive about the car after practice yesterday. How encouraged were you?
Fred Vasseur: Yeah, we did a good FP2 yesterday but the FP1 was much more difficult for us. But, you know the most important is to be there on quali and for the race, not in FP1 or FP2, and so far everybody is a World Champion, and we just have to be there when it will be the money time, and not before.
Q: It is still the winter world championship but just how encouraged are you by the potential of your car.
FV: For sure it is much better to be there in FP2 than not – and I'm quite pleased with the result of the first sessions and the test last week but nobody knows exactly in which condition the others are running the car and we will see tonight. I think that tonight, everybody will push on the engine, everybody will run with Soft and with low fuel data.
Q: So much is new at Alfa Romeo this year. Are you impressed with how quickly everyone is settling in?
FV: You are speaking about the drivers? The rest of the team is the same. For sure we have a new line-up, but Valtteri is well-known and I think Zhou is a very good guy, that is very easy to work with, and the collaboration started very well. Now that you know that it is quite easy to be in a good mood before the results, and it is not my first season in motorsport and we will see after the first races where we are.
Q: Toto, are you surprised by what the timesheets have thrown up so far this weekend?
TW: Well, surprised? In a way, yes, because you set your expectations and so far we couldn't reach them – but I guess you just need to understand and learn from there on. As I always say, every season the points go to zero and particularly in a season where the regs have changed considerably, you have no entitlement whatsoever to performance. Now that we have to understand better. Like Fred said, in qualifying and in the race tomorrow, we don't really know where we stand, and if it's not good enough then this team will prove that we can just grind ourselves out of non-performance.
Q: Do you think you can challenge for victory this weekend?
TW: Well, as it stands, when we make our assumptions based on the free practice sessions, no. I think Red Bull is in a league of their own, and then then there is a bunch of teams that are within a corridor of fuel weight and engine modes – but even there, it's great to see that teams like Fred's and Laurent's are right there in the free practice sessions. And also, this is what I said, the regulations were made in order to bunch the field up and that's what's going to happen.
Q: What is the mood in the camp? How is everybody dealing with what's been a difficult pre-season?
TW: You know we'd rather be a second quicker than everybody else and disappear into the sunset, but that's not the case now. We started the season well in Barcelona and then went backwards from there on. So, now it's about really understanding. Whatever we do now is, in a way, a process. We can do things quickly and we can do more sophisticated and profound changes over the mid-term – and this is what we are aiming to do.
QUESTIONS FROM THE FLOOR
Q: (Luke Smith – Autosport) To all three, Andreas Seidl and McLaren have been talking a lot this week about the relationship between A and B teams and the benefits to both sides. McLaren have suggested that there needs to be tighter runs in terms of what transfer there is between teams, said yesterday it should just be engine and gearbox and nothing more. What are your views on that. I know you're in three very different positions, and particularly for Toto being an A team, what do you get from customer teams?
TW: I think we haven't even started the season. We have seen a certain pecking order in free practice and in the test sessions and obviously there are some teams, including ourselves, that haven't met our own expectations, and others have over-performed. But you need to give credit to the ones that have been fast and the once we can see what the real order is, then we can actually try to, first, find performance within ourselves, and then see what we can do long term in the way that the regulations can be shaped. I can tell you from our side, with Aston Martin, we're sharing a tunnel but that's pretty much it: there are no conversations, no exchanges, not anything else.
FV: At the other end you have a regulation, the regulation is monitored by the FIA and I think so far the FIA have nothing to do on this. The rule is clear and we have to just follow the rule, that on our side we are working with Ferrari, we have the cassette and the engine, and this is it. I'm OK.
LR: Clearly no A-B-team game for us. We are looking at what's happening out there but so far the rules are being respected, as far as I can tell, so it's good. In the interests of sports, obviously, I think Andreas was talking about the fact that we want to avoid too many pairings, because at the end of the day we want to have ten teams racing and not like five duos. I guess that's what Andreas was pointing out – but so far, so good.
Q: (Claire Cottingham – Racefans.net) Toto, Lewis has obviously been speaking about how unhappy he is with how the car's feeling, George sort-of mentioned it yesterday in the press conference as well. What conversations are you having with your drivers to reassure them that things might change in the future – and how are you managing to lift the spirits? I know it's really early days but how are you managing to lift the spirits of the team to know that there is more positivity in the future.
TW: Well, the conversations are happening in the team and in the team means also between the drivers. It's the first thing we do in the morning; we pick up the phone and we chat about things. We have won, and it's not to say it in an arrogant way, we've won eight Constructors' Championships in a row, so this team has done well in the past, we didn't always have the easiest of times, we climbed our way back to a championship against a big engine performance of our competitor, and even last year, where we felt that we started much worse off, we still were able to take it all the way to the last race. And, if it were the case that we're on the back foot, we all know that we've done it before, and in a way, it's a challenging situation but you need to see the positives. Whatever we learn now will make us strong in the future. The regulations are meant to stay for a long time, so let's go for it.
Q: (Phil Duncan – PA) Toto, you've said here that Mercedes won't be able to win and Lewis said the same thing last night. Do you think you'll be in this position for one, two, three, four races? Do you think you'll not be in a winning position for a little while yet? And do you think then that means you won't be able to challenge for the title? I know it's early days of course, but…
TW: Again, purely based on assumptions that we've seen in terms of pace, I don't think we can match the leaders' performance at the moment. I personally believe there are simple solutions to get the performance back, that start to crystalise, and it's 23 races. Even if you lose a race or two, or you end-up outside of the podium, nobody is protected against DNFs, or crashes, in a way. And we've seen last year that they played a big role, so we will give it whatever we can, bring updates as quickly as we can and understand the car more and try to find performance.
Q: (Adam Cooper – Motorsport.com) It's clear that COVID protocols have been relaxed in the paddock and in the world generally. Are you more nervous this year about your team members and especially drivers testing positive than you were last year – and how have your own internal protocols changed? Are you doing less testing than before or is it the same?
LR: Well, we definitely do a bit less, technically speaking, but we still self-impose the test before coming and a test every other day, a healthy measure to make sure we don't spread it around. Nothing more.
FV: We are following the protocols in place in each country. Now, to be nervous, it's more for the racing side because it's also a bit less dangerous. And for the team, I think that we are less nervous because we know that the risk is a bit less. You have always a risk on the drivers, as we saw last week with Daniel, or this could happen, or this week with Seb. I'm not sure that we can be fully protected for this.
TW: I think wherever we go the jurisdictions provide us with the law, what you have to apply to. And we're still being diligent within the factory but I think we need to have a common strategy, all the teams and FIA, FOM and for everybody in the paddock in order for how we're relaxing the rules. And you can see in the UK and other countries, that's pretty much going to be relaxed completely and COVID is going to be seen as a flu that you can judge yourself whether you want to go to work or not. So, I believe in the next few weeks we are going to see a pattern that Formula 1 will follow.
Q: (Scott Mitchell – The Race) To Toto, but also to the other two please. Since the second test, Ferrari in particular have been challenging, or wanting the FIA to clarify whether or not what Mercedes have done with the wing mirrors is in line with the spirit of the regulations, whether they should be manipulating aero performance, that kind of thing. Where do you see that debate? Is that something that's going to be allowed for this season, could it be stopped for next season? And how do you think that should be resolved? Thank you.
TW: I think absolutely fair enough that a team questions stuff that's on another car, so that's business as usual. We tried to be as diligent as we can be, particularly in an age of new regulations, you want to have the FIA involved in every step you take, and that's what we have done. Not to take any risks.
FV: Yes, honestly it's business as usual, as Toto said before. Because each week you have a request to the FIA coming from a team on a technical point, just to get a clarification. And now that it's up to the FIA to take a decision, and for me, it's business-as-usual but this time the request came to the journalist – but no big difference for us.
LR: Well, I mean I'm the most shocked of anyone but it's the most healthy. This is how the sport has been growing over time, by having very clever engineers trying to find optimisation in what the regulations leave us in terms of interpretation. I think the FIA is here to decide whether it has been pushed too far or not, the interpretation of the rules, and they apply the corrections when needed. I mean, the flexi-wings, if you really go back in time, for instance, wings will always be flexible, it depends on the amount of effort you put on it. It's just a natural evolution of the sport.
Q: (Dieter Rencken – Racing News 365) To all three, how hopeful are you that the FIA report into the events of Abu Dhabi will be released in full and should it be released in full?
TW: So far, what I have seen from the new regime within the FIA is that transparency is well understood in a day and age where everything is almost crystal clear because you guys are doing a thorough and the web is just being able to distribute things quickly, there is no other way than being transparent and Mohammed Ben Sulayem has so far done all that. I don't know what the outcome of the World Motor Sport Council is going to be but I don't believe that they have anything to hide personally.
FV: I think it will be disclosed today, the transparency is important as Toto said, but on the other hand at one stage we have to turn the page and be focused on the current season. I can perfectly understand the consequences of what happened last year but I think now we are on the first race of 2022 and we have to move ahead.
TW: And I completely agree with Fred, by the way. We need to turn the page. It's done now. After the World Motor Sport Council has come together and issued the investigation it's in nobody's interest and not in our interest to continue the discussion about Abu Dhabi.
LR: Yeah, well I mean the most important thing is that governing bodies have taken steps, the VAR and all. This is good and will prevent such situations to occur again and then this Abu Dhabi is so 2021. For me the same thing. We turn the page, new season, let's go.
Q: (Christian Nimmervoll – Motorsport.com) Toto, Christian Horner recently gave an interview where he described you as finance guy who may leave F1 on his superyacht at some point, living in a fancy Monaco tax exile apartment, which we could all see on Netflix. Is there anything you would like to respond to Christian?
TW: No. And not to Laurent either.
Q: (Luke Smith – Autosport) We have had the first trial of the three-day weekend format, condensing everything. What are your thoughts on it so far? Did it really make a change on Thursday? I know it's early days but some of the feeling is that Thursday was still quite busy. What kind of impact has it had on your team so far?
LR: On the principle I think it's going to be much because indeed it is less days spent at the track. In reality at the moment it's a bit hard on the teams because we all discover the cars and have reliability issues so it's a bit of a drain on the teams to put everything together. Just for us for instance, nothing has happened smoothly, neither at Barcelona, Bahrain tests, or today. We have had our share of problems and that puts the team under duress but I think in the long term, yes it's better.
FV: We clearly have to go into this direction. If we want to do more races we have to also spend less days on track per events. As Laurent said, at the first event of the season it's always a bit chaotic and it's not the easiest one, but at one stage you have to go and I'm OK with this.
TW: I'm confused. I haven't seen any difference to the previous weekend format. I think the press conference is earlier on a Saturday. If we are in a European time zone we are meeting at what is it 9 o'clock, two and a half hours before the session, so that's clearly not good. But apart from that I haven't seen any difference.
Q: (Ian Parkes – New York Times) Initial question to Toto. Toto can you explain the exact technical issues, the problems with your car? You said there are simple solutions. Can you expand on that as well. Does that lend itself to suggest that a solution will be found sooner rather than later? And a question to Fred. Fred, George Russell said last night after practice that he felt Mercedes was actually slower than Alfa Romeo. If you'd been told this yesterday morning that a Mercedes driver would be saying that at the end of the day, how surprised would you have been?
FV: First, we'll have the discussion with Russell tonight. I was confident on the fact that we will have a good pace but nothing is done and let's wait for the quali and the race. It's even difficult to make some comments, the right comments, after the sessions sometimes, so after the quali, I don't do it before.
TW: My opinion first of all to that question is that the Alfa Romeo/Sauber entity have a great track record, stable, strong shareholding and Fred has all the pedigree in all the other series and now they have a driver who they can benchmark easily against someone like Lewis. The regulations have been done a in a way that the team that were further back in the classification had a tiny bit more aero time. From where I stand, Sauber has done a really strong job and also having a car that ticks many boxes and whether they are ahead or not you just have to show respect to any other team and this is not only because Fred is my mate but also because you see where the Haas is driving around and everybody else. It's what I said before: it could be completely different. Don't think that the pecking order of 2021 or before will be the pecking order at the beginning of 2022. We are seeing that so let's just get used to it. And as for the simple solutions with us, I think probably its simpler to say what works. It's less items. We need to look at every single area on the car, be it aero, be it the weight, be it the power unit, all of that. In Formula 1 there is never one solution but I think there is low-hanging fruit that we need to tackle for the next races, which will improve our overall performance and then there are more complex things and we're tackling each of those.
Q: (Dieter Rencken – Racing News 365) If we look at the current regulations, even making allowances for COVID, it took four years to frame them. We are now four years away from the next set of regulations. So at which stage should we be starting and conceptualising them? And given the fact that there are suspicions that the ship that caught fire in the Atlantic, the VW ship, that that was sparked by a lithium ion fault or fire, is it the right way to go for a sport that travels so much to actually want to increase the battery power by 300%?
TW: I think that in a way what's happening in the world may change or will have an influence on what our preconceptions were before. I wasn't aware that the fire was caused by a faulty battery on the cargo ship, but it's changing, whether there is a going to be a larger percentage of vehicles that are going to stay with conventional combustion. I think Formula 1 has done the right thing to develop fuels that will be able to propel these cars. I think that's a good step. I think we need to be able to justify that whatever we do in terms in of fuel can really be something that is available on the pump station and therefore give a good sustainable solution for every road car that is out there. And I believe that with the 50/50 solution we have for 2026 we should be in the right ballpark, considering what is happening right now.
Q: Do we need to start formulating these regulations now?
TW: I think the regulations are being formulated. The fuel groups work together in defining what the formula should be and we are not far away from engine regulations to be done. I think we need the commitment from the newcomers, so the whole package is ready to go and everybody can start to develop solutions.
FW: I think that the F1, we don't have to be shy with what we are doing that the engine suppliers they invested a fortune over the last 10 years on the hybrid system and we have probably the most efficient engine of the world today. We just have to communicate3 on this. I think it is the most important thing, to show to the world that it is not just about plastic bottles. OK, we can pay attention to this but that are spending a fortune to develop these kinds of engine. I think sometime we are missing the most important thing.
LR: We've been indeed discussing a lot the future regulations, extensive last year in particular, so we are not far away from converging, as Toto said. I think it is there or thereabout. It is also the right time to potentially think about the next set of regulations and again, as Fred was saying, we are on top of the technology game so we might as well stay there and be proposing, offering solutions. In our case, for instance, we are advocating for a potential other avenues such as hydrogen as a fuel. It is worth investigating. It is difficult to put in place but it is worth investigating. So as long as the sport is continuing to be like spearheading advances it is healthy.
Q: (Jon Noble – Motosport.com) Two questions, the first for Laurent. Did you find an answer for Esteban's sidepod problem yesterday and will a new part be flown out ahead of today? And for Toto, is the critical performance factor still that balance between chasing downforce, performance with the ride height versus 'porpoising' and how much of a concern is it going forward that we are going to venues where you won't have three days' of testing to dial it out? We're straight into race weekends at high speed and bumpy tracks.
LR: Yeah, it looks like we are angling towards a possibly defective prototype part. The problem is that the piece we suspect is defective we didn't recover it. It's somewhere on the track. We're pretty sure it's the problem. There's a new part coming but it won't be here in time for this afternoon, so we will have it tomorrow. If we have a red flag perhaps we will fit it in. Otherwise we will carry on the way it is.
TW: Yeah, it's one of the factors, because obviously many if not most teams have developed the car with a very low ride height and the porpoising made it impossible to run the car out there. I think there are various solutions that teams have deployed, some more successful, some less and we are probably on the less successful side. It is now really about clarifying where it is we want to go. But it is just one of five or six issues where we believe there is big performance to gain.
Q: (Adam Cooper – Motorsport.com) For Toto and Laurent. How much effort was required to adapt to the E10 over the winter and what sort of impact has it had or has it been fairly neutral in terms of how you run the power units?
TW: It's very simple because every fuel supplier had to add 10% Ethanol. Ethanol is one formula, there is nothing you can change. And then it's the normal development steps on the 90% remaining fuel; how much performance can you actually add from one year to the other in the conventional part of the fuel. Some will have done a good job, some a neutral one, some less good.
LR: It's pretty straightforward indeed. We know that more alcohol changes the way you set your engine in terms of ignition timing and all those things, to adapt it and then you try to recoup what you lose on the one hand. That's what we have been chasing. It's pretty straightforward.
Q: (Luke Smith – Autosport) Toto, you gave a very open interview to The Times lately when you are at Harvard, talking about mental health. You've talked about mental health in the past but it did seem to be another step forward in terms of your stories and what you were sharing. What kind of reaction have you seen both from the Mercedes team and the F1 paddock and how important is it to breaking the stigma around mental health in motorsport to be so open and honest?
TW: I was always someone that has been open with his close environment. For example, Fred know all about it and it's not like the flavour of the month to talk about your own suffering in terms of mental health, but it is time now that people aren't perceived in having it all, the Formula 1 lifestyle, all smiley, winning a few races and championships. And I remember when I was younger I saw these people and I thought 'well, they are not having those issues to battle' and what I want to do is… there has been a big community around professional sports people that have come out to show that us as business people and entrepreneurs are no different to everybody else. What I want to do is to encourage people and give hope to seek help and to work on it and not see it as a stigma of being a dysfunctionality or not feeling adequate but on the contrary, it is a superpower, and it is no different than diabetes or any other illness that is not the stigma as it is.
PART TWO - TEAM REPRESENTATIVES
Franz TOST (AlphaTauri), Christian HORNER (Red Bull Racing), Guenther STEINER (Haas)
Q: Christian, let's start with you. The car has been impressively quick so far this weekend. How much confidence is there inside the team?
Christian Horner: Well, the whole technical team have done a tremendous job. I mean last year was such an intense title fight. That obviously drew us into developing RB16B later into the season than would have been ideal for such a new set of regulations. So I think the hard work, the long days, the weekends that have worked by the whole technical group to come out with a car that… we felt we would very much be on the back foot coming into this season, but I think we have got a good foundation. It's going to be a season of hard development but yeah, confidence is high in the group. It's great to see that number one on the car and that gives everybody a real lift and excited to be going racing again.
Q: What is the goal for the remainder of this weekend? Will you be disappointed if you are not on the podium?
CH: It's impossible to know where our opponents are. Ferrari have looked quick from the first lap of testing. Mercedes haven't shown their full potential yet, so I think what's important for us is that we focus on ourselves and that we extract every bit of performance we can from the car. We are still learning about it all the time, every session, and hopefully that is good enough to be on the podium at the end of tomorrow.
Q: Guenther, there has been a lot of change in recent weeks for the team. How are things settling down now?
Guenther Steiner: I would say everything is back to normal. The last three weeks were very intense, the last four weeks. But now we just focus on being at the race track and getting the best we can from drivers and car and just go racing.
Q: The car looks competitive. Is it performing in line with your expectations?
GS: I could say yes, but it's performing how we anticipated but we didn't know what the other people are doing but we will see this afternoon where we really stand and if it isn't good enough then we will keep on pushing, because our pre-season testing wasn't ideal, to say the least. We had a lot of reliability issues with the car, we did the least mileage of all the teams and we are still trying to find or work on the set-ups, because we haven't done any real set-up work. Our best test session was yesterday. But hopefully we can get something good out of the car this season.
Q: And what kind of impact is Kevin Magnussen having on the team and on Mick Schumacher as well?
GS: I think on the team it's like he was never gone. I mean, it's like '20 finished and '22 started because he knows most of the people and most of the people know him and that was one of the reasons why got him back into the team, to have a quick start, you know. Up to now it's going fine. Hopefully Mick looks up to Kevin and tries to beat him and then we have got something to develop Mick and also for Kevin not to have an easy life. I'm pretty sure up to now they work well together, but it is early days.
Q: How long do you think it will take Kevin to get back up to speed?
GS: Difficult to say. I don't think it will take him long. After three or four races I think we are up to speed.
Q: Franz, coming to you now, it's been a solid start to the campaign for AlphaTauri. How pleased are you with how things are going?
Franz Tost: So far everything is going quite well;. It's a completely new car and the team did quite a good job because I think that the car is competitive and I'm, looking forward to the start of the season.
Q: What can we expect from your two drivers this year? Let's start with Pierre Gasly. What do you want to see from him?
FT: Pierre is in his fifth season in Formula 1 now. He has now really matured and he is also experienced and he know the team very well. He knows the car. He is familiar with the technical side so therefore I expect him to be all the time in Qualifying 3. I hope also that he will have some podium finishes and to score as many points as possible.
Q: And Yuki?
FT: Yuki is in his second season and I must say that he did really good tests, in Barcelona as well as here in Bahrain. Many laps, fast lap times, without any crash. Without any spin and I expect also from him a big step forward and I'm quite optimistic for this season.
QUESTIONS FROM THE FLOOR
Q: (Dieter Rencken – Racing News 365) Christian, you said earlier on that you through you might find yourselves on the back foot coming here after the intense battle last year. How difficult was it during the off-season to balance your resource and also going into the off-season obviously you were still developing last season's car?
CH: It's a matter of spinning two plates and I think we did just enough on 16B, last years, to make sure that we were competitive throughout the season but at the same time embracing the biggest regulation change probably on the chassis for the last 40 year and I think the whole technical team have done an incredible job and have worked incredibly hard during that period. Others elected to go earlier based on where they were in the championship, so yeah, it's been a really intense winter, a very busy winter but of course seeing that driver's trophy come back to Milton Keynes and the number one on the car was the biggest motivation that the team needed.
Q: (Edd Straw – The Race) Franz, yesterday your drivers were pretty in P1, not so happy in P2. Has the engineering team got a good understanding of what the problem was and a way to solve it so that the car is strong in the qualifying and race conditions in the night running?
FT: Yeah, in FP2 we had some problems with heating up the front tyres. The drivers complained about understeering and they generally had much less grip than in FP1. We just have to prepare the set-up in the proper way and then I think the problems must be sorted out.
Q: (Claire Cottingham – Racefans.net) Christian, you just said Mercedes haven't shown their full potential yet, obviously it's very early in the season but Toto was saying they do have a lot of work to do and they feel that Red Bull is the strongest at the moment. Do you think there are many concerns? Do you think there's mind games being played here by Mercedes or do you think that they are really actually struggling?
CH: I think that when you watch their car on the circuit it obviously doesn't look easy for their drivers at the moment but what we do know is their ability to bounce back. They've had difficult pre-seasons before and then gone and won the first race. I think until we've seen not just this race but probably a sample of three or four races, you're not going to get a true picture of form and of course with the regulations being so immature, the development rate is going to be fast, it's going to be steep and of course a team like Mercedes with the strength and depth that they have will bounce back very, very quickly if they are on the back foot. So I think until we see the first sample of qualifying this evening and then the race tomorrow, it's difficult to make any assumptions.
Q: (Jon Noble – Motorsport.com) Christian, the development war this year is going to be absolutely intense and flat out but under the budget cap, how does that process change for you? What are you unable to do this year that you've been able to do in the past, because the budget is set? And do things like crashes and damage actually have an impact on pulling back your development plans?
CH: Yeah, the budget cap, I think, pretty much every team is pretty close to the limit this year. It's very aggressive so you have to be very strategic in how you apply your funds to developments and I think rather than just running as fast as you can and getting as much performance from the car you've got to be much more selective in what you chose, based on its cost. So it drives efficiency. Now of course the added complication that we have at the moment with the cap is with what we see going on in the world and inflationary prices going… in the UK we are probably pretty close to 10% inflation at the moment and with freight, with logistics, fuel costs, that's having a significant impact. I think we discussed this very briefly yesterday but I think it's going to end up in the next financial meeting to come up with – hopefully – some emergency measures to ensure there's relief on that because that has a one-to-one consequence on jobs and livelihoods.
Q: (Christian Nimmervoll – Motorsport.com) Christian, you recently signed Max in what is probably the longest contract in F1 until 2028. How important is that for potential talks with engine manufacturers, in terms of being able to tell them 'look guys, for three years when the new regulations start, you will most likely have the best driver in F1' at a point when Lewis is most likely in retirement already?
CH: Well, as you're aware, we're in the process of making our own engine, so the conversation with ourselves was relatively straightforward. But no, it shows a great commitment from Max to the team to the project. I think that it shows commitment from Red Bull to him, from him to Red Bull and I think he's very excited about the project that we're working on and having that commitment for the long term in the future just puts in tremendous stability into the team and it's just something that we don't have to be diluting our attention on throughout this season or for many ahead.
Q: (Dieter Rencken – Racing News 365) Given the fact that one of the main reasons for the budget cap was actually to ensure that the playing field was a bit more level, if all 10 teams are operating to the budget cap, could a case actually be made to increase it for all of them, and thereby improve the technology of Formula 1?
GS: That's a difficult question. You always can improve but I think in the first instance we need to make sure that the playing field is level and to have a good show, good racing, that is not going back to the old days when some teams spent three times as much as some other teams. Obviously if you spend more money, technology can be advanced, you're fully right on that one, but the regulations come in play as well there so it's needs to go hand-in-hand. There's a lot of things in the detail which would need to be solved but how much you want to do, to improve technology by giving more money – or, should we try to get better technology by using the same money? It's a question, the question to me, Dieter.
CH: It's an interesting question because originally the cap was supposed to be at $175m and then during the pandemic it was lowered to $140m this year, $135m next year and it feels like almost an over-adjustment, because at the point it was agreed we were unsure what was going to happen in the world. But as I said, I think the most important thing is to look at some of these issues that weren't foreseen within the cap, things like inflation because that has a direct impact in just the price of the cost of people going to work. When you fill up your car these days it's close to double the value that it was a few months ago. That's a collective problem, it's a problem for Formula 1 as well as the teams but I think again it's a one-to-one ratio that if, as Guenther says, if the racing is better, I think we're seeing the sport in great health, we're seeing new partners, new sponsors, promoters, more revenue is flowing into the sport so it's always a mechanism that is worth looking at, cash-in versus cash-out and I think if that ratio is right, then yes, for future years it would be interesting to look at that cap level.
FT: Generally, as you know, I was always fighting for the cost cap and I think that the cost cap should be respected but I understand also that we have some unforeseen topics. It's the inflation, it's the logistic costs and therefore maybe teams will sit together to discuss something. We will see what will be the outcome.
Q: (Adam Cooper – Motorsport.com) It's obvious that COVID restrictions have been relaxed in the paddock and the world generally. Are you a little bit more nervous this year than last year, that you might lose a driver for a race or two? And also, how have your own internal protocols changed within the team, because we heard that Red Bull, for example, has cut back on testing?
FT: We still take COVID very seriously because we can see that the numbers in different countries are increasing but, at least at Scuderia AlphaTauri, all the team members and all the employees are vaccinated and this is a big advantage. That means, up to now at least, I got the experience from some people at Scuderia AlphaTauri, if they got COVID it's like influenza, nothing more, nothing less. After two or three days, they have some symptoms with higher temperature and everything has gone away but nevertheless, we at Scuderia AlphaTauri take it really serious. We wear the masks in the factory still. We have, every day in the morning, temperature checks and we have also PCR tests just to prevent that any people get this COVID.
CH: I think it's something that we're learning to live with. It's something that's not going away and in many respects it's even increasing, particularly in the UK at the moment but we follow the guidelines of the UK policy and obviously FIA protocol and I think we're just learning to live with it and I think all members of the team has, as Franz has intimated, they're fully vaccinated when they come to the races, so you put in as much precaution as you can but it's ever present, it's probably even in this room as we speak now. You just hope that nobody gets too sick from it.
GS: Yes, as Franz and Christian have said, we need to live with that. I think it doesn't go away completely and we just need to deal with it. For me, as they both said, the vaccinations were important. It's the right set-up. At some stage it will go away but at the moment we just need to deal with it, different regulations, different countries when we go to races and we just adapt to that one and we are in three places and we adapt to rules set there, the rules, United States, UK and Italy so we just live with it and hope for the best and try to do our best by getting everybody vaccinated.
Q: (Ian Parks – New York Times) Christian, I don't know whether you read this week, Toto gave a very honest and open interview to the Times with regard to his mental health. I was wondering, given the serious nature of mental health in sport, and given the rivalry between you, whether you have any degree or sympathy for him on that subject? And to all three of you, given the high profile positions that you've been in for many years now, whether it's something that you've encountered?
CH: Yeah, I think all credit to Toto for having the courage to talk out about his issues with mental health. It is something that there is much more of a spotlight on these days and I think that it is something in this business that we are acutely aware of and something that we're looking to be pro-active on. I'm fortunate that I haven't had issues personally but I've had members of… friends that I know who have suffered as a result of mental health issues so of course, it is an important topic and I think it is very good to highlight it. I think to be able to talk out about it is a positive thing so yes, I'm not going to… as I say, all credit to Toto for having the confidence to talk out about his own personal issues.
GS: Yeah, what Toto was very courageous but I think he did the right thing. Hopefully a lot of people which have got mental health issues come out with it because that's the only way to solve them is being open about it. You don't have to tell everybody but at least you go and speak with the people who know and mental health is sometimes is treated like something you shouldn't have. I classify it as anything else which is wrong with your system, so people need to be open about it and by Toto coming out hopefully people understand that, that even people like Toto have issues and they deal with it and they should do as well. I fortunately didn't have issues but there are a lot of people [who do] and for me the way to sort them out is just to go and see consulting, if you have some issues. Be open about it and get it done and fair play to Toto, to be so open about it. I really hope that a lot of people follow [him] and deal with it.
FT: You must see the person as a complete [entity] and the mental health is not separated from the physical health therefore you must look that you generally live a healthy way of life, which means take care of nutrition – no sugar, less pasta, potatoes all this kind of stuff, eat vegetables and so on and so on. Then, make sport and to rest and this is what we tell to our people that these are the most important pillars for your health. If you are physically in a good shape then your mental [health] is also OK and you don't have any problems. This is what we tell to our members of the team and especially in the race team, we do a lot of exercises, also because of the pit stop training and so on and we tell the people how they have to take care of themselves. We have doctors in our team who make the training programme and we have physiotherapists and we put a lot of effort into this, that the people live a healthy style.
Q: (Claire Cottingham – Racefans.net) Guenther, both your drivers were incredibly happy yesterday and we were all getting a bit on the Haas hype train. I just wondered what your expectations are? I know you've worked incredibly hard on this season's car, but what are your real expectations and are we to believe the timing screens and the excitement that's come from FP1 and 2?
GS: I hope we are happy tonight. That is more important that we are happy tonight. Yesterday as a good day for us but I don't know the expectations. It seems to me we are going in the right direction. At least, I think we got rid of being the end of the field. At least we've got something to fight for, what it is, I don't really know what the other people ran yesterday. I think some of the cars are as fast as us if not faster but we have got something that we can develop and try to get there, so coming into the race track you know you can fight with it. Like last year, you came in here and you participated and you went home, you know, so really looking forward to it and I think the drivers are happy because they see potential in the car.
Q: (Jon Noble – Motorsport.com) Guenther, your step forward in form already this year has reopened the debate in some of your rivals about A teams and B teams and partnerships and customers. Do you have any worries that if you do have a big step forward this year there will be a bit of a political war in the paddock or do you take it as a compliment, a positive thing that if you're upsetting your rivals you must be doing a good thing?
GS: All of that, what you said Jonathan. This is normally coming out with us. If it seems that we are competitive we just copy the other people. If we are not competitive, everyone forgets about us. We just deal with it. Let's see what is coming towards us and then deal with it but I'm not losing any sleep over it now.
Q: (Dieter Rencken – Racing News365) What are your expectations about the FIA report into the events in Abu Dhabi last year? Will it and should it be released and then a separate question to Guenther: have you met with Oliver Oakes who seems to be proxy for the Mazepin family who is here in Bahrain? Have you met with him at all?
GS: No, I didn't meet with him. The FIA report, I don't know what is in it and the FIA will decide whether they make it public or not. I think the meeting – is it today? – as we speak, so let's wait. If they publish it, fine. I think the FIA has put measures in place to change some of the things and hopefully they go well, but if the report comes out or not, I'm not really… I think we were there and we know quite a lot, so whatever the report is I don't think that's big news for the teams in there, not anyway for me. If they want to publish it, if there is a need to publish it, fine, if not, fine as well. I've no real opinion on that one.
CH: I think the FIA… they've taken action, I think most importantly with regulations. They've looked to clarify things, moving forward. They've introduced changes and I think that's the thing that's probably the most important and relevant. I think that the report, whether it gets published or not, is for their own benefit and I think they've taken the action, so I think really it really is now time to turn the page. We're here in 2022, first race and we're looking forward, we're not continually looking backwards so yeah, it will be nice to draw a line under it.
FT: I agree with Christian, past is past and let's look forward and let's hope that we will have a good season without any reports.
Q: (Adam Cooper – Motorsport.com) Going back to the COVID issue, are we now getting close to a situation where a driver with a positive test should be allowed to race if he feels fits and obviously extra measures are in place around him?
FT: If he feels fit and if he doesn't have a temperature, for example, why not?
CH: Yes, I feel we will get to a stage at some point it will come down to his physical condition. It'll be no different to any other virus that you could pick up.
GS: Yeah, I agree with you, it should be treated as a 'flu pretty soon, and if you have a 'flu, you decide yourself what you're going to do. Nobody else is deciding for you so if the doctor says OK, the person which has got it is OK, why not?