FIA Team Principals press conference - Azerbaijan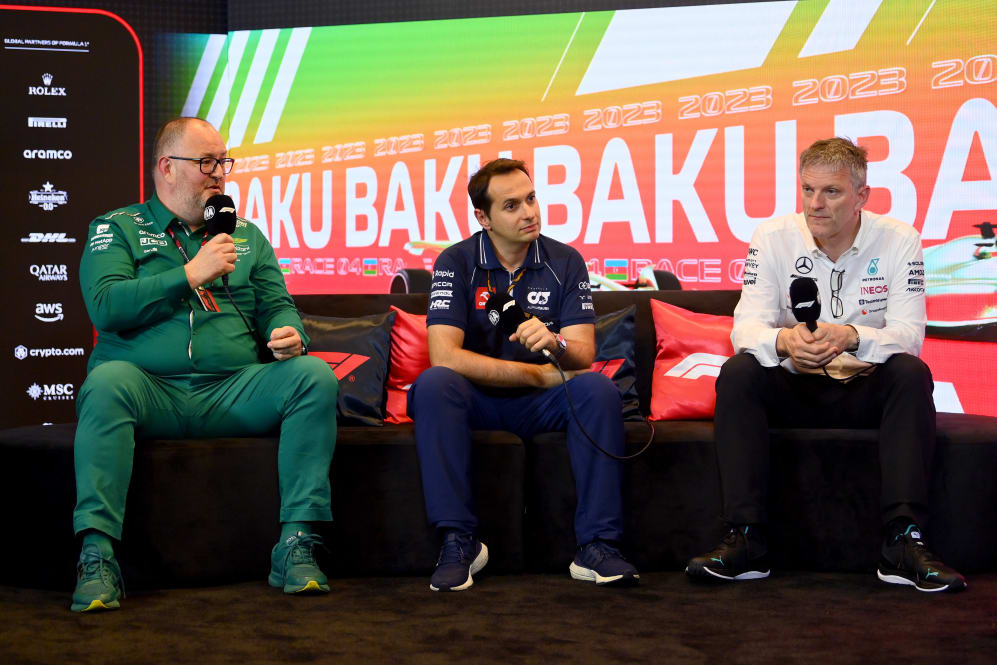 PART ONE - TEAM REPRESENTATIVES
Tom MCCULLOUGH (Aston Martin), Marco PERRONE (AlhaTauri), James ALLISON (Mercedes)
Q: Tom, that is practice for the weekend done. How prepared are you feeling?
Tom McCULLOUGH: Fully prepared Tom! Obviously it's been pretty full-on for everyone. Red flag in the middle is not ideal – but worse for Alpine than the rest of us. Just a matter of trying to get the order one data that we set to get, understand a bit the car balance, the tyres, where we're going to be on all the main metrics – because as you're alluding to, we head into parc fermé conditions into the next session, so you're going to rely a lot on your simulation tools and hopefully test runs done, fully ready.
Q: A lot has changed since last year, namely the asphalt. What were the drivers saying about that?
TM: Yeah, the track seems good. We know from the walk around the track they've done a really good job resurfacing the track. The bumps, the grip, everything was good. So, that helps us get into the track pretty quickly. Big evolution with a new track but overall, positive first session.
Q: Tom, just one final question about the Sprint from me. Of course, no more practice. Do you have more questions than answers going into the business end of this weekend?
TM: Yes. Obviously you usually have a few more sessions to get ready, low fuel, high fuel, so trying to get everything done on what it typically a highly evolving track, is not ideal – but simulation tools put you in a good place, you're just looking at your data now, correlating back to that and trying to make all the right decisions forecasting ahead, for what's going to be two very different qualifying sessions, different times of the day, different track temperatures, different tyre compounds, Sprint race, main race, track evolving so yeah, we've got it all covered!
Q: There's a lot going on! You mentioned the two qualifying sessions we've got. Of course, this evening's one for the race on Sunday, tomorrow for the Sprint. Do you think we're going to get the same grid for both Qualifying sessions?
TM: I think in Baku you've always got the chance of jeopardy, so 'no', I'd say to that. There's a lot of cars relatively close on pace as well, so it's going to be a matter of who makes the most of it. The drivers have spoken quite a bit about turning up Saturday morning, straight onto a Medium tyre first run, one lap, bang, gotta do it. So, I think it will be a bit different because the cars are so close up and down the grid. So yeah, looking forward to seeing how that rattles along.
Q: And looking more generally at the 2023 season, the AMR23 looks very competitive. Just how much easier is it to extract a lap-time from this car compared to last year?
TM: I think when the car's not as competitive as you want, you spend a lot of time soul-searching, trying things. I think when the car is a bit more competitive, you're just more trying to follow the race weekend, understand the tyres, get the most out of the car with your simulation tools. So, it's definitely easier. This time last year, we had a lot of porpoising and bouncing just adds a whole new dimension to things as well. So, definitely easier having a car which is a bit more forgiving to work with.
Q: And Tom, final one from me. You've worked with many great racing drivers in your career. This is the first time you've worked with Fernando Alonso. What's he brought to the team?
TM: Obviously a wealth of experience. Drivers are one of the best sensors in the car, so we've got a lot of very smart people, a lot of very good sensors but from a global optimisation side of things, having a driver who really knows, who's walked the path several times, seen evolution through a race weekend, knows what you need at this track, other tracks, he's been great. He's on it straight away and he's very efficient with how he feeds back on the car too. So it's like, these issues are all there but these are the ones we need to all focus on and I need to do a bit more from my side, you need to do a bit more here, short-term and then medium- long-term. So yeah, great, really good fun working with experienced drivers. You always learn from them.
Q: And looking from the outside-in. He seems to be across absolutely everything. Is that the reality?
TM: He's pushing us all. He wants to do well, you know, he's covered every single… he knows you've got to get everything right. And everyone up and down the pit-lane is really good, so you can't just rest on your laurels and say 'we've had a good start'. You've just got to keep pushing in every area to lift the level.
Q: Marco if we could come to you know, welcome to the press conference Great to have you join us. Let's start by talking about FP1 for you. Yuki hits the wall. How much damage to his car first of all?
Marco PERRONE: We're OK for Qualifying. We had some damage to the rear end-plate. He went, after five minutes, back on track, so everything is fine.
Q: And Nyck seemed to have a very competitive session. You're happy with the straight line speed of the car in particular?
MP: Yeah, yeah, we are quite competitive. He is very competitive here. Very happy about how both drivers actually entered into the rhythm or considering also Yuki and the issue he had. So yeah, positive.
Q: And what about the changes to the Sprint format this weekend? Can we just get your thoughts from a sporting director's point of view?
MP: Personal point of view, I like the changes. I'm a big fan of those changes. I liked the process that brought us to reach these agreements in, the Sporting Regulations. All the teams have worked really as a unique team, the sporting directors, the FIA, F1. To be fair, it has been a tough period of three weeks, where everybody started to nail and understand the various regulations. We found, I would say, a solution that, in my opinion, works quite well. .
Q: The big news coming into the weekend was Franz Tost's impending departure from the team. It's going to be AlphaTauri/Toro Rosso's first change of team principal in its history. How much will the team miss him?
MP: I think a lot. A really, really lot. Because he's always present. He's always present as a helper. He's always there. You can always feel , you can always go to him and ask questions. He's a big presence in the team, so we will miss him.
Q: Is that his greatest quality as a leader?
MP: He has many, many qualities. I enjoy working, working with him. To be fair, he's very straightforward. He's very direct. He's very clear. And we actually have a very good relationship.
Q: And of course, Laurent Mekies is going to be coming back to the team. You've worked with Laurent?
MP: Yeah. Correct, from 2011 to 2014. Yeah. So, we were together on the pit-wall during my first season. He was my chief race engineer when I started being a strategy engineer.
Q: And how has the team received the news that Laurent is coming back in the role of team principal?
MP: It's a very good feeling. Many people know him still there. And the feedback is very positive.
Q: James, thank you for waiting. Good to have you back in an FIA press conference. Can we start with FP1, a word on progress with the cars and also a brake issue was being reported over the radio, if you could tell us anything about that?
James ALLISON: Lewis went out with the Brake-By-Wire set to passive mode. So that's not… he'll get around the lap safely but it's not high performance mode. Just had to come in and do a switch setting to get that back to good shape. I think in George's case, the brakes were just a bit spongy. So that'll all get sorted out for the next session.
Q: And what about these changes to the Sprint format? Is it something you welcome?
JA: Well, I personally like the fact that it's… free practice is ace because you get to learn about the car but I think all of us like the adrenaline of the qualifying and the races more than the practice. So, although it feels loaded with fear and jeopardy, the fact that you get into the paying end of the weekend that much quicker; that there's four scary sessions instead of two, that's more fun, I think for all of us.
Q: And do you think we'll see the drivers being more aggressive in the Sprint now that it no longer sets the grid for the grand prix on Sunday itself?
JA: I doubt whether that will be the biggest difference. I think the fact that this track is very much an overtaking track, will mean that they'll take their opportunities where they can, but I doubt whether the fact that it doesn't set the grid will completely change their approach.
Q: How much are you enjoying being back at the racetrack in your role as technical director?
JA: Well, just being back at the racetrack is a lot of fun. I've not been here for ages and, it is a place that is always fun to be at. It was fun getting on the plane to come out here, because you sit in the queue to get your check-in ticket and stuff and you see a whole heap of faces you haven't seen for ages in all different teams. And that's a pleasure as well, because there is a certain sort of family feeling to being around the paddock. So yeah, lots of fun coming back.
Q: And can you explain to us why you've effectively swapped roles with Mike Elliott?
JA: Well, because, between the pair of us, we reckon that we would be able to cover the ground better with him doing my old role and me doing his old role. We've both got certain skills, and after a couple of years of trying it that way around, I think a sober reflection of what we're both good at, meant that it would be a little more powerful swapping around.
Q: And what is your assessment of Mercedes current level of competitiveness?
JA: Little hard to know, because if you go off Melbourne, I think we were arguably the second quickest car there. But if you look at Bahrain, we were fourth quickest. I think we're on an improving trend, but the tracks are quite different in the opening phase of this year and it's a little too early to tell. What I do know is that there is all manner of opportunity to improve the car. And that we intend to do that.
Q: And you think W14 is a potential race winner.
JA: Yeah, why not?
QUESTIONS FROM THE FLOOR
Q: (Ian Parkes – New York Times) James, welcome back first of all, even though you've not technically been away, appreciate that. James, will it be fair to suggest that, given the string of updates that we know, are due to come on board for the W14 that will have had Mike's hand over it, that we won't really see your influence until the W15 perhaps?
JA: I think that sort of question is often asked in one form or another, and it betrays – forgive me – it betrays a certain lack of understanding of how our factories actually work. I mean, our factories, the grid's factories. It's many hundreds of people, a thousand-plus people in some cases. You don't have one person's hand on a car, it's just not how it works at all. Each person puts their shoulder to the wheel, and if the whole place is well set-up and well organised, that wheel turns more and more effectively. Even the great Adrian Newey would probably tell you that if you pinned him down hard enough. It is a very big team effort. And when I say that Mike and I would be slightly stronger, as a pairing, the other way around, it means that we're able to put our respective shoulders to that wheel slightly more effectively, and help it turn just a little bit faster. I hope that that shoulder that I'm placing on that wheel will help from this point forward, and not a W14/W15 thing. But it is just a big team effort, the whole thing.
Q: (Jon Noble – Motorsport.com) Another one to James. What's your assessment on the W14? Do you think it provides the platform for the long term and can develop into a world champion winner? Or do you think you need a wholesale clean sheet revamp for next season to go down a different path?
JA: I don't think any of us would ever consider a wholesale revamp clean sheet, a good or prosperous approach. If the rules change, then of course, you have to change with them. But engineering is about iteration. And in all likelihood, if you tear things up, you are going to… I'm going to mix metaphors horrifically here… but you are going to just throw away an awful lot of baby along with a small amount of bathwater. Because all of these cars, from the top to the bottom of the grid, are unbelievably good cars. It's merely a question of how competitive are you? Are you the best in the whole world? And necessarily, you are going to use the platform you have, and you're going to choose the paths forward that allow it to get better in the fastest possible way. And almost never – in fact, never – would you ever tear things up and say 'enough with that, let's change and do something completely different.
Q: (Adam Cooper – Motorsport.com) Question for all three of you on the Sprints. As discussed earlier, the whole point of this new format is to encourage drivers to push in the Sprint because it doesn't affect their grid position, etc. But obviously, there's also discussion about what's the motivation if you're running 15th in the Sprint to carry on and risk the car? Now, we asked the drivers yesterday and they more or less said 'we're racers we'll keep pushing' but is it really up to them? And are there scenarios where you guys tell them to rein it in, even to park the car if they've had a first lap problem or something? Or do you have Plan B's where you turn it into a 17-lap test session if you lose the front wing on the first lap and come into the pits?
TM: Yeah, I think like the driver said to you, we're all racers at the end of the day. And I think at a circuit like this, as we've seen over the years, Safety Cars, red flags, anything can happen, so we're going to be fighting all the way to the end. The test session, you are going to use that 17-lap race to help you learn as much as you can do for the main race. So, if you've had a problem, and you're on a certain tyre, and you want to try another tyre, potentially you could do that, but really hoping that what you're going to see tomorrow is a whole group of cars fighting all the way to the end. And the jeopardy here, this track, even right until near the end, we saw a red flag restart not that long ago here where you've got a great race for a few laps as well. So, we'll be fighting to the end, Adam.
Q: Tom, are you going to have to rely on the sprint for your long run data this weekend?
TM: It was such huge track evolution. We tried to do some at the start of Free Practice One, but you're really going to be using that data that you get in the sprint race to help you understand the tyres. Again, different track temperatures between the Sprint race and the main race, you got a lot to factor in, different fuel loads, evolving track, but yes, every time we run these cars we learn, and we'll try to use the most out of that to do as good a job as we can do come Sunday.
MP: He already said, I would say, everything. I would say there are technical reason why we want to race up to the last seconds of the Sprint. And there are also the reason that we are all racers here. Drivers, engineers, mechanics, so we wouldn't come here just to park the car.
JA: I don't really think I can add to that. Tom covered off all the angles with his first answers.
Q: (Edd Straw – The Race) One for you, James. There's obviously been a lot of talk about the development direction of this car since Toto talked about the need to change it in Bahrain. Can you just explain a little bit what we'll see, in broad terms in the upcoming races? Obviously, we know Imola, there's going to be a bit of a change of sidepod, because Mike talked about that in Bahrain. But how do you see these upgrades phasing-in over the coming races? And how big a difference can actually be made in terms of the direction? If you can somehow define what's meant by that?
JA: Well, I won't attempt to define what's meant by that! This is often discussed out in your world, but we'll just be trying to add downforce to the car, trying not to add too much drag for the downforce we're adding to the car. We'll be trying to improve the balance of the car, I think probably there isn't a car out there with a perfect balance, and ours is very much less than perfect. And we'll be trying to work on that aerodynamically, and in terms of platform control with the suspension. But you know, there's no great revelations there. All the things that will make our car faster would make every car on the grid faster. And the trick is to try to make sure we're bringing them quickly enough that we make a relative improvement on our competitors. But there's no magic to that. So it's not particularly mysterious.
Q: (Matt Kew – Autosport) I have a question for Tom. From what you said earlier about deploying Alonso's experience and after working with Vettel. In what scenario then would it be most desirable to work with a young hotshot driver – presuming the person they're up against, the more experienced driver is still competitive?
TM: So we always just want the fastest drivers in our car. That helps us look better and get better results. Every time you change driver, whether it's an experienced driver, a young driver or mid-experienced driver, they always bring something different to the game. No two drivers drive the same. Being able to get the most out of a car, in all the different conditions that a driver has to do, whether it's the wet, whether it's Qualifying, whether it's race, looking after tyre management, first lap of the race. So, I don't know if I fully answered your question there but for us, any experience of driver, especially a talented driver, is great fun to work with.
Q: (Jake Boxall-Legge – Autosport) Obviously, we've seen the Aston Martin's got great traction coming out of the corners, but perhaps straight line speed hasn't been there. With this new rear wing, do you feel like you're going to be competitive, particularly on the straight line speed? And then perhaps for everybody to come in on this, we've had a couple of years of these cars now and the way the downforce is generated is a little bit different. So, how much of a compromise is it around here compared to the previous generation car?
TM: Yeah, so we did the first three races with a certain rear wing on the car. As you're aware, the efficiency of those tracks is not as high as this track here, even though Melbourne and Jeddah are quite high. From a cost cap side of things we can't make everything we want, from a car development side of things, we can't just front load all the parts. So we took a decision in the design phase to do the first three races with the rear wing that we had. You make a lot of these decisions quite a long way in advance when the development of the car's actually happening too. We always knew coming here we'd need to be faster in the last sector. It's such an efficient sector that, not only for the lap time, but also for raceability, you need to be strong. So we came here with quite a wide range of options and we split the cars in FP1, just to get ourselves some data. You don't quite know the grip level, the track and how the tyres are going to work. So you know, correlating our tools is what we've been doing pre-event. We'll be doing it now. And hopefully make the right decisions for the rest of the weekend.
Q: Tom, while we've got you, just your thoughts on the regulations and dialling the cars into this racetrack specifically?
TM: This year's car, for us and I think for most teams, is a lot easier than last year. We had the porpoising element and the bouncing and at this circuit the ride wasn't particularly good either. But the combination of the resurfacing of the track, the combination of the FIA regulation changes, which obviously did help that, and the car development and what we've learned – you know, we learned a hell of a lot last year – so, we've been able to apply that into practice, turn up here with a much easier car to work with. But as James touched on earlier, it's all about being competitive. And you know, that's what we're all trying to do. It's tight margins.
MP: Similar to what Tom said. Actually, this year the regulations are fairly easier compared to last year. Also, this track was, as Tom said, very different compared to last year in many aspects, regarding the asphalt, regarding the bumps. So definitely we operate in, I would say, an easier window this year.
JA: Same thing. Last year, fairly tricky, but the 15 millimetres on the floor height coupled with the resurfacing, it just feels like a normal sort of place now.
Q: (Pedro Fermín Flores – The GodFlores) Two short questions for Tom. Please ask something about this… Sorry for asking this, because your answers will be spoilers for your colleagues. I will ask you about if you know what happened with the DRS in Fernando's car today? And also if at these speeds, the DRS is one of the main targets for your team in a short time because it's necessary to have more speed on the street?
TM: First of all, coming to the issue we had with Fernando's car, we could see in the data that Lance's rear wing was working as intended, Fernando's wasn't always working as intended. So we took some precautionary checks and elected to go out at the end, a bit later, once we'd physically looked at all the hardware. As far as the DRS switch as we call it, so how much drag you can reduce when you deploy the DRS, a combination of the efficiency of the wings we've been running, the tracks we've been going to, where we are with the car, the DRS switch, you always want more. The car is a stable platform for us to work with. And it's an area that we're just looking at to be more aggressive, just to help qualifying and also to help your ability to overtake. So you always want to be faster in a straight line.
Q: (Adam Cooper – Motorsport.com) Can I ask all three of you about the fourth power unit? How much of a welcome bonus is that, getting that partway into the season? Obviously, it's partly being done because of the shootout and so on? And can you now make it to the end on four, or have you now switched your plan to assuming you're going to use a fifth somewhere towards the end of the year?
JA: It's sort of one of those things like the tide, it just lifts most of the boats equally. I don't think anyone's got horrific problems with their PU reliability this year. So I think mostly it will land evenly across the teams. So it doesn't change a huge amount from a team perspective. We need to now just figure out how to deploy the extra PU in the best way through the year to get the best effect from it. But not a huge effect.
MP: Pretty much the same. We don't expect this to have a huge effect. We welcomed the change in the number of PUs in that respect. Obviously, considering the extra amount of qualifying actually we have, the fact that the Sprint could be, I would say, potentially more challenging for all drivers because they are not linked… the result is no more linked with the race anymore. That's what we discussed during the sporting advisory committee with F1, FIA and all teams. And in the end, we went through this process and this was the latest decision.
TM: Nothing further to add really they've both covered it well
Q: (Ian Parkes – New York Times) Another one for yourself, James. In your previous role as CTO, you oversaw a number of projects, including Mercedes' involvement with the Americas' Cup, which I know you were very proud of. In switching back to TD, are you allowed anytime to focus on that particular type of project or other things that you were involved with?
JA: I've still got a small involvement in the boat project. And something which a TD would ordinarily not have the space for, but the fact that Mike and I are sharing work between us – him looking more at the long term, me fighting in the season – actually gives me a slightly smaller space than a traditional TD has to work in. It gives me a little bit of room to keep some continuity with a project that I put some effort into previously.
Q: (Jon Noble – Motorsport.com) Tom, there was an era in Formula 1 where drivers would struggle to remain competitive beyond their mid-30s. But Fernando has shown you can be competitive in your 40s. Are there aspects of modern Formula 1 that are allowing this like power steering, the fact that races aren't flat out qualifying laps for the entire duration?
TM: I still think they're pretty tough to drive, Singapore for a couple of hours for example. I think Fernando's really hungry. He's working and training really hard. You know, when we met him at the back end of last year, we obviously worked with him in Abu Dhabi and he's so self-critical and so wants to push himself to another level and over the winter has just worked even harder. I think maybe as you get older, do you need to work harder than a 20-year-old? Maybe you do. But he's so motivated, so up for the challenge, and seems to be doing okay at the moment.
Q: James, can we just get your thoughts on this, because Lewis isn't the youngest driver on the grid anymore. What do you put the longevity of these guys down to?
JA: I think in the case of Lewis… I haven't worked with Fernando for a bit, but I can speak for Lewis, I guess. The main thing I put it down to isn't the sport or the way the sport has gone, but just the slightly freakish nature of the gifts that Lewis was handed. He is dedicated in the way that Tom described Fernando being, self-critical in the way that Tom described Fernando being, and still able to pedal the car like a young man. So I think that's more to do with the two end visuals than it is to do with the sport.
PART TWO - TEAM REPRESENTATIVES
Alessandro ALUNNI BRAVI (Alfa Romeo), James VOWLES (Williams), Frédéric VASSEUR (Ferrari)
Q: Fred, let's start by talking about FP1. Just give us a summary, if you could, of how the only practice session of the weekend has gone for Ferrari.
Frédéric VASSEUR: So far, so good. I think that the FP1 went pretty well for us, that even if it's difficult to compare with the other teams, because we don't know their approach for the weekend, as it's the first one with this format, but at the end, if we are focused on ourselves, the balance was quite OK. Both drivers were very happy with the car. And I think that we have a good opportunity.
Q: What about the revised format of the sprint weekend? Do you welcome that?
FV: Yeah, I think it's very exciting for everybody. We were discussing together before the press conference, and I think that it's also good to have something new, with a new format, a new challenge for the teams. For sure, it's a tricky one and if it's not going well, it's very difficult to react, because it's so intense that you have to start with a good pace, that if it's not, it's tough. But for the fan, I think it's also a very good one, where every single session is crucial and every single session will be key for the weekend also, because even the Quali, if you don't start the first Quali on the good pace, I think it's quite difficult to react for the second one. I think it's a good step but let's try this weekend. On the top, to start the first time in Baku is a challenge. But I'm more than pleased with this.
Q: How did the red flag affect your preparations?
FV: One hour is quite short to prepare the Quali, the Sprint race, the long race, and we were all convinced that one hour would be very short, but for sure 40 minutes it's even shorter.
Q: Fred, let's look at the season as a whole so far now, what is your assessment of your car? What are its strengths and weaknesses?
FV: First, if you speak about the Championship, I think that we were not opportunistic at all, that we are in a much better shape than the points are saying, and we missed a couple of opportunities, mainly the first one in Bahrain, and then we got the penalty with Charles and we had a poor outcome in Melbourne. In terms of performance, I think that we made a huge step forward in Melbourne, in terms of understanding the balance of the car, and the situation of the car, and it was quite clear on the pace. And I hope this weekend will be the confirmation of the path that we took in Melbourne.
Q: And can I ask you about Laurent Mekies now? He's going to become the new team principal of AlphaTauri at some point. First question: how much is Ferrari going to miss Laurent?
FV: First, personally, I will miss Laurent because we have a very good personal relationship. But for Ferrari, we are speaking about an organisation with more than 1000 people and I can't speak about individuals. That we have to take it as an opportunity to reshuffle the team, to reorganise the team. And it's more personally that I will miss Laurent. For sure he made a huge contribution to the team over the last years. But again, we have to take it as a new chapter and an opportunity.
Q: How much longer is he going to continue working for Ferrari?
FV: This is the question mark, because we have a long term contract and I was a bit surprised with the press release.
Q: OK, look, what about Charles Leclerc, because there's a lot of talk in the media
FV: I'm not alone in the press conference!
Q: We're going to come to the other guys, I promise, but he's a hot topic at the minute. He's been linked with Mercedes. What has Ferrari got to do to convince him to stay beyond 2024?
FV: I'm not sure about what you said about Mercedes. It's not what Charles said yesterday. Charles' confirmed yesterday that he is committed to the project and he wants to be world champion with Ferrari.
Q: So you're confident that he will stay?
FV: for sure you don't have to be focused on the last two races that we want to build up something with our drivers. I have always said that drivers are key in a project and that you have to build up the team around them and it's what we are doing today.
Q: Fred, thank you very much. James, coming to you now. Interesting too. Fred talked about building a team around a driver. You've obviously experienced that in a previous life. Is that something you're going to try and create at Williams?
James VOWLES: I don't know if it's so much building it around the driver but making sure, probably more importantly that they are integrated as part of the foundations and development that we want to do going forward. So centering on one individual or two can sometimes cause you problems. They will be, though, a part of, clearly, what makes it successful, not in one year, but in multiple years' time. And you do need to have them as part of that journey.
Q: OK. Let's bring it on to the here and now. How was FP1 for Williams?
JV: It was good. I think Fred summed it up very well. You only need to use one tyre in that session. But there were a number of different strategies playing out up and down the field. So for example, I think it was Aston and Mercedes only used one tyre and there were some that used three tyres, and it shuffles the order quite significantly. But we have one hour, as Fred pointed out, probably more like 40 minutes, and of those there were 20, I think, roughly speaking, yellow flags. So even then you got a handful of laps. But in that session, you need to figure out what you're going to do with two very different qualifying formats, in terms of time a day, and two very different races in terms of the fuel loads that you'd be having on board. And simply none of us would have done all the homework required for all of those sessions.
Q: So given the jeopardy that we saw in FP1, do you still welcome the changes to the Sprint format?
JV: For me, I think this is a real positive change. I think even more so, if I put myself as a fan, I would go and buy a ticket for Saturday or I would certainly sit at home and watch it. It's a whole qualifying and race contained within one. And you get the opportunity really to almost reset again on Sunday from what you learned before. I think, possibly, as impressively for me, these regulations and there's a lot of them, were produced with the help of the FIA and the teams working very closely together, in a matter of days, which is a close working relationship that perhaps we haven't enjoyed previously, but very impressive to see work now.
Q: Now, Alex said yesterday that he thought in Melbourne, you guys were the fifth quickest car. How much of an opportunity is Baku for you, given the slippery nature of your car, the good straight line speed that you have?
JV: I think you summed up the question well… Even the answer well! The car characteristic is clearly that in a straight line, we're typically one of the faster cars and Baku is about a huge amount of straights. It doesn't take long when you're running around the track to realise there's quite a bit to that back straight. But ultimately, we still have a number of corners, especially slow speed corners that don't necessarily suit the characteristics of the car either. So it's a balancing act. But my perception, so far, is I'm not expecting anything to dramatically different in terms of order up and down the grid from what we experienced in the first three races.
Q: OK, and just a question about you and how you're getting on at Williams. How useful was that month-long spring break, just for you to be in the office every day at Grove, firmly get your feet under the table if you like? Was it a useful time for you?
JV: Yeah, without question, I was very content or happy that we certainly had that time. Because when the racing is happening… So, for example, now we've got five races in six weeks, you want to maximise every hour that you can in the factory. The hard graft that makes a fast car is taking place, not here at the track, that's the tip of the iceberg, but back in the UK, in my case. And spending every minute I can with them to make sure that we're getting not just the most out of squeezing really every millisecond out of this car, but more importantly, putting the right system structures in place going forward. You want every second you can dedicated to that task. So for me that period of time was very focused on that. And it was good also to really bed in and learn a lot more about the team and what makes them click, what really brings the team together. And that opportunity without the pressure of races just meant that I was able to do that.
Q: Final one from me, is about the job of team principal. We've just been talking to Fred about Laurent Mekies, who's going to AlphaTauri. He is an engineer by training. We've got Andrea Stella now at McLaren, an engineer, you, a former engineer, Mike Krack at Aston Martin, a former engineer. It seems to be a prerequisite now that a team principal is a former engineer. Is that how you see it and why is it useful to have that experience?
JV: Fred, you're an engineer.
FV: I think it's for Toto this one!
JV: I think you need a balancing act between the two. Toto is very different! An incredible businessman, but probably, in many ways, a better engineer than me, I think. Joking aside, I think now you need to have a good understanding of finance, business and engineering at the same time, because you have to be entirely integrated, integrated into the organisation and what you're doing. And I think the understanding of how the car works, how the race team works, how you develop and build timescales on things, especially within the cost gap, because everything's being constrained, is an asset. And I think that might be why you're seeing people migrate that way.
Q: Alessandro, can we just start with a summary from you about how FP1 went?
Alessandro ALUNNI BRAVI: Well, it was quite a good session for us, it was starting to the weekend, of course, as Fred and James said. The approach was a bit different because we need to prepare for both qualifying and also the Sunday race so it was, for our team, quite demanding because we need to reduce the window of setup adjustment and things that we want to test. It's difficult to say where we are because we tested different compounds at different times in the session, and we don't know the full level of the other competitors. But for us, the first feedback was quite positive and it was a good start.
Q: And can we get your thoughts on the sprint format? Do you like the fact, for example, that Saturday is now a standalone day effectively?
AAB: For us, it was a good step, it was a good move especially because we think that to have a competitive session each day is very important, and to be relevant for the fans, each track day, is very important so it's a good move and, of course, for our team to have an additional element of jeopardy could be interesting. We can have more opportunities, especially if the top guys will make mistakes so I see these as a positive move and as James said, it was really, really amazing the job that has been done with the FIA in order to have this format ready in less than two weeks.
Q: And looking at the season as a whole, you've scored points in two of the opening three races. What about the pace of the car, though? Is it where you were hoping it would be at the start of the season?
AAB: We expected more. Of course, we had a good start in Bahrain but then the last two races were not at the level that we wanted to be in terms of overall performance of the car. There is not a specific area that needs to be improved. We need to address all the areas of the car and we are working, we are all focused on bringing upgrades that can improve our performance. Of course, these last two races and this track are really specific and maybe are not sweet for our car but we need to maximise the opportunities and then to bring upgrades that will work immediately.
Q: Where is Alfa Romeo's battle this year? Is it with McLaren? Is it Alpine, where do you see yourselves?
AAB: I think that it is clear that there are four teams now - maybe five with Alpine - that are ahead of us. Then there is a group of teams including Williams, ourselves as Formula 1 teams that are fighting in this group for one or two positions in each Grand Prix. So I think that will be difficult to say if we are either of these groups. It depends on the characteristics of the track, it depends on when we bring the upgrade so I will say that until the very last race we will be fighting between us. Of course we want to stay ahead of this group but I think that the battle will be really tough until the very last lap.
QUESTIONS FROM THE FLOOR
Q: (Jesus Balseiro – Diario AS) Fred, you spoke about Charles, about building a team around a driver. Do you mean you want to build a team around Charles? What's Carlos's situation in that?
FV: No, no, no. That it's a good one because I think that there was a kind of misunderstanding yesterday. The question was about Charles and I said that we have to build up the team around the drivers and I didn't say that we want to build up the team around Charles, that I think for me the drivers are a key pillar of the performance, not just in terms of pure performance, pure driving and performance into the car but they have to be also somehow keen to the development into the project, midterm and long term, and I want to have two drivers fully committed and it's the case with Charles and Carlos.
Q: (Luke Smith – The Athletic) Fred, on Laurent, for clarity, you said about his long term contract. What's Laurent going to be doing until he joins AlphaTauri? Will he be on gardening leave, is he factory based? What's the plan?
FV: So far he's on the pit wall with me and now we have to discuss with Toro Rosso(sic) and perhaps Red Bull - I don't know but you never know - about the future and the details of this.
Q: (Adam Cooper – Motorsport.com) For all three of you, James kind of alluded to this earlier, the relationship between the teams and the FIA and F1 in connection with the detail of the regulations but looking at the bigger picture, how positive was it that all you guys sat around in the F1 Commission and you basically came to a unanimous agreement on these changes and that you're willing to do the sort of things that Formula 1 wants to do to improve the show?
AAB: I think that all the teams together with the FIA and the commercial side agrees that we need to develop our sport, we need to have a better event. The introduction of new venues, the change of format goes in this direction. Of course, this is a work that we have to do all together, cannot be just one of the stakeholders promoting these changes. And I think that is good and we showed this also when we agreed on the Concorde Agreement few years ago, that there is a group of teams now that has a common interest that we can discuss for the common benefit. There is, of course, rivalry on track but when it matters, and we need to discuss about our future, about our business model, we are all together and we can work well with the FIA, and with the FOM.
JV: Very similar. I think we can all see the growth the sport is having worldwide and there was a very strong meeting, I think it took place in Australia, where actually you saw everyone around the table coming together and personal agendas, politics got put aside. And we spoke about how do we make this sport better? And the rules, really, you see today are out of the back of that meeting. The F1 Commission was an extension of that and it's a positive environment. It's one that I think we all recognise where we want to be and where we want to grow to, and we can't do that by fighting against each other.
FV: It's not very often that we are all aligned but for once, I think that we had a common interest to develop something new, that in F1 is clearly changing and growing up everywhere and that it's part of the development of F1 but it's true that – I don't know if it was James - but when we spoke about FP2 before, it was quite boring, because even for us on the pit wall sometimes we don't know about the level of fuel of the others and you have no comparison, but you're just focused on yourself and in this case, I can imagine that for the fans, the spectators and tele-spectators, it could be a bit painful but this format is very dynamic and I think it was quite easy to collaborate together and to be all pushing in the same direction.
Q: (Matt Kew – Autosport) James, having closely monitored the quality of junior series grids in your previous role and now working with Logan who obviously Williams has supported in his young career, is the flow of young drivers into F1 steady and reliable enough and when it's not, are there exact reasons why the F2 field and its champion miss out?
JV: Interesting question. So every now and again, you see some exceptional drivers come through the grid. I think if I took the case of Lewis, for example, and George, both of them, which is from my previous place, it was very evident in junior series to a certain extent that they were future champions going forward. And in Lewis's year, there were a number of drivers that made it to Formula 1 as well, same with George, in the case of Lando. You seem to have bursts of them; for whatever reason groups of drivers that move together through the junior series and it's highly competitive. In terms of where we are today I'd say the same thing. There's some incredibly exciting names coming through that many would not have heard of because they're 8, 9, 10, 11,12, some are 14, 15. So they're at an age that simply wouldn't appear on everyone's radar but there's some real, real talent coming through at the moment. And I would argue the same in Formula 3 at the moment, which is clearly a series that we, as Williams, are focused on with the recent signing with Luke Browning as the result of that. But there's some real talent in that. What's difficult is obviously, for them, they have very limited time on a world stage to really demonstrate what they're doing and I think the level each year is just globally going up and up.
Q: (Pedro Fermín Flores – TheGodFlores) Fred, you say that the next step for Laurent Mekies must be the excuse with Toro Rosso and Red Bull. I asked you, the future of Laurent Mekies on the pit wall of Ferrari is only a question for Ferrari? And if this is right, how many races do you wish to be with him in the pit wall at Ferrari?
FV: I think that first we have to clarify the details of the agreement and to know exactly when Laurent will start in the future team, in the future position and then I will take action and I will consider what we have to do in the interest of Ferrari. But so far he has a contract with Ferrari and he has a long term contract with Ferrari. I have said what I have to say.
Q: (Luke Smith – The Athletic) For all three of you and picking up what James said about the global growth of F1 but particularly in the United States, Miami last year was the first new event in the US since Austin joined the calendar. What kind of impact do you think Miami made in terms of showing what F1 could do in the US, pulling off these kinds of events and a way to, I guess, embiggen and increase F1's footprint in the United States?
FV: Yeah, I think it's part of the development of F1. Clearly, I think the biggest impact on F1, if you ever look over the last two or three seasons, it's what's happened perhaps with Netflix. But if you speak about events, I think Austin was a mega one two years ago and then we had Miami last year and then we will have Las Vegas this season and it's true that in the US it's growing up massively. The culture is a bit different, it means that we perhaps need also to adapt a bit ourselves to this in every single area. It's not just about the show or the setup but I think that it's a big opportunity for us because so far we were a world championship, but 85% focus on Europe and if we want to be honest with ourselves, I think that a real championship has to cover all the world and I think the step that the F1 is doing in the US is a mega opportunity for us.
JV: Very much agreed. I think that probably the best summary of it is if I look at my marketing schedules. Miami, there wasn't a minute free and it's for a good reason. It's because the market is growing at an exceptional rate. It's a country that's embraced Formula 1 and it doesn't take long to look at the growth figures to realise that actually we're getting an acceptance there. It's now appearing as a conversation, as a sport, as a medium that people want to discuss. And as Fred said, different approach, different way of doing things but it's really beneficial for the sport, and I can't wait for Las Vegas. I think that's going to be another level.
AAB: I fully agree with both of you, of course, the US market brought to Formula 1 a lot of benefit and for me one of the biggest changes was the different audience. We have a younger generation following us, a high rate of females that is very important for all our partners as well. So Miami, I would say, opened the door to a different way, to organise an event with the focus more on the spectators with the increasing of promotional activities off track and on track. And of course, you have a very different level of audience; you have the spectators in the grandstands, you have a lot of guests in the Paddock Club so it's an event that covers, I would say, different needs and it opens the door. So I think we need to follow this direction and of course to expand - I would say - the calendar, not in terms of the number of races but in terms of having different venues, different characteristics. Of course, we keep our DNA and traditional races but all these new venues have brought something important to Formula 1. Miami is an example and we think Las Vegas will even add something more.
JV: I've heard there's real water in Miami this year, is that the case?
Q: (Adam Cooper – Motorsport.com) Alessandro, can you give us an update of what Andreas has been up to back in Hinwil? Does he now have a full picture of how things work there? What needs to be done? Is he already making changes, bringing in new people and so on.
AAB: I would say that Andreas started from the very first day to have a clear picture. He's a very clever guy and of course he found a good organization and we are just analysing where to improve, in which area. Changes have already been put in place from the very beginning. As I always said, his focus is not just on our future but he's working on a daily basis for the year and now. So it's a work that is going in parallel. We want to deliver strong results in the next three years because we build our future now. We cannot wait for 2026 as many are thinking and Andreas is focused on both. Of course we have targets; we need to grow as a team. We needed to prepare our structure for when Audi will join in 2026 and we will become a works team. But we cannot wait for this time to make changes and to improve.
Q: (Luke Smith – The Athletic) Alessandro, picking up on Tom's question earlier about the skill set a team principal needs, obviously you're not an engineer but you bring a very different perspective. What's your take on that in terms of how, as a team principal, running an F1 team as you are now, and adapting your skills to that role?
AAB: First of all, we have a bit of a different structure compared to the other teams because, as you know, all the functions are split between the different individuals and their side is our Group CEO and of course, he has engineering skills, being an engineer, and I'm more on the commercial side, but I think that the most important characteristic for a manager - so whoever is the team principle - is to have the ability to select the people to identify the profile that suits the organisation and to give them the right tools to work in the very best way. I think that this is the most important characteristic. It's not engineering skills or legal skills, whatever, but to select the right people and to make them work within the group in the very best way.