FIA Team Principals press conference – Azerbaijan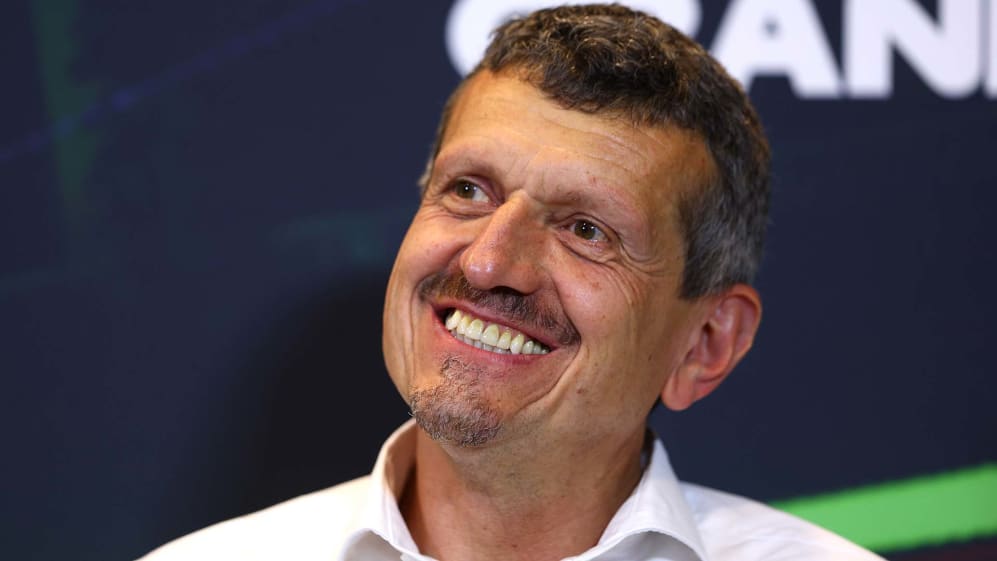 TEAM REPRESENTATIVES
Mattia BINOTTO (Ferrari), Toto WOLFF (Mercedes), Guenther STEINER (Haas)
Q: Guenther, we'll come to you first. Talk to us about progress this weekend first, because the last three races have been tough for the team. Do you feel you're making more progress here?
Guenther STEINER: That will be a short answer, because we didn't make any yesterday. So, I think, between FP1 looked pretty good and FP2, We weren't where we wanted to be. So, the guys worked overnight, obviously, to try to get back where we want to be. But I'm not sure. So, we have to wait for FP3.
Q: But what about these last three races? What have been the issues with the car?
GS: I don't remember them all. Because we had so many. I mean, honestly, actually, I cannot… I don't want to say them all here. We always… I think the car was… we made good progress in Spain, with the car, with the set-up, and the car was competitive. But we never could get any points, you know? Because we made mistakes, either in qualifying or the race. So, it was quite disappointing and frustrating, the last races. But I think the car was, in the last races, good to get into the points but we didn't materialise any of them. So, hopefully, we can get the car back where we want to have it here, and try to get some points because now, a few races, we didn't get any, and, as I said, it's getting frustrating for everybody. But we know we've got a good car and we just need to keep our heads up and keep on working hard on it.
Q: It's getting frustrating, yes – but do you feel you've slipped back relative to your midfield rivals?
GS: I think the midfield this year, there is never… it is not as clear as it was maybe the years before, depending on which race you are, there is always another car on top of the midfield, you know? So, sometimes you're better, sometimes you're worse because it's so close together. So, I cannot really answer if we slipped back I don't think so. Because in some of the races like Barcelona, we weren't bad, you know? Also Miami. So difficult to say. But it's difficult to say in general, because there is always a change in the midfield, who is good and who is bad depending on the racetrack.
Q: And what about upgrades? What can you tell us?
GS: We will bring some upgrades. We are still working on some of the things where we want to bring a good package, not just a little bit and hopefully, for answer, the race after, we bring something.
Q: And what about Mick Schumacher? He's now had two big crashes this season. How have they impacted his confidence and your budget?
GS: I mean, his confidence obviously, I spoke with him in the last week, for sure it's a little bit… he needs to come back, to gain that confidence back somehow, but it's difficult, you know? But he will make it. Budget-wise, obviously, it's a big hit. But it's not only the budget, it's also the production of the parts. We cannot keep up with it. You've got one set or two sets of moulds, and you cannot make more, and in a moment we go through parts, there is no tomorrow, because the races are so close together, to each other. So, it's very difficult to keep up and obviously cost a lot of money as well.
Q: Looking at his Monaco crash, can you put a number on that for us, what it costs?
GS: No, we haven't gone through it, but it's never cheap when a car breaks in two.
Q: Toto, let's talk about this weekend. So far it doesn't look to have been a straightforward one for Mercedes. How's progress?
Toto WOLFF: It's like Guenther says, you're a bit better on one racetrack, and worse on the other one. I think where we are is a realistic assessment: we're third on the road. Sometimes we are a bit closer to the Ferrari and Red Bulls, sometimes we fall a little back and sometimes we are challenged by the good cars of the midfield. And this is just how it is at the moment and we need to work ourselves out of it. It's science, physics and not mystics. And that can sometimes take time.
Q: Is there a sense of frustration starting to build that you haven't been able to maintain that Barcelona form?
TW: I think it is a normal consequence if you have been successful over many years, that suddenly you find yourself in such a dip, and you're doing your normal work that has been successful in the past but it just doesn't bring the results, and it's clear that sometimes a feeling of frustration keeps creeping in. But we are very honest about it. There's a lot to look forward for, we know that there is inherent performance in the car. We just haven't been able to unlock it properly.
Q: What are the issues here, specifically in Baku?
TW: We are facing the same issues when the car is not quick, and that is we have a porpoising – but others like Ferrari has it too here, even a bit worse. But at different pieces of the track, we are bottoming-out badly, which affects our aerodynamic, and affects our straight-line speed greatly. And as a consequence, the ride is not very good. And this can cost several tenths, and yesterday we were losing a second on all straights to Ferrari and Red Bull.
Q: Can we talk driver contracts now? Sergio Pérez has just signed with Red Bull Racing until the end of 2024. And given that Lewis' contract only goes until the end of '23, and you said last time that you didn't want to leave it as late as you did with him, then, is his future firmly on your radar now?
TW: Are we starting talking 2024 contracts? June 2022? No, we are in a happy place with Lewis and there is no doubt that we are embarking the season and the next one in a good place. But it's too early to discuss 2024. But having said that, I couldn't wish for a better driver pairing.
Q: One final one for me. In other news, Lewis is producing a film about Formula 1. Has he asked you to star in it?
TW: Well, we've discussed the kind of narrative and how that's all going to come together. And certainly there's… if it comes, it's going to be a great movie.
Q: And I'm sure he's told you that Brad Pitt is playing you. Is that right?
TW: I don't think I can say too much. But if it were like this, I think that's cool.
Q: Mattia, let's start by talking about this porpoising, because Toto just said that you have it perhaps worse than Mercedes at this racetrack? Is that how you see it?
Mattia BINOTTO: We got it. I think yesterday, we were certainly bouncing and bottoming. Is it worse to Mercedes? I don't know, honestly, I have not had a look to how bad it was on their car. I think that is the consequence of the fact that we are going soft, softer and softer, lower and lower. And it's great to see that the car maybe can afford it without losing too much performance, both on the straight, and in the corners. Now, it's always a compromise. I think that the recent package introducing Spain is a step forward compared to the past, in terms of bouncing phenomenon and behaviours. We are looking as well in the future for better improvements. And today we are bouncing but I don't think it's a limitation to our performance.
Q: Can we throw it back to Monaco next, obviously a disappointing race for you guys. What lessons did you learn there?
MB: Monaco. First, I think that the car has been, once again, competitive, it showed that on different type of circuits and layouts, the car can prove to be to be fast. And I think we are again on the first line in Quali, which was great. I think that is where we need to start from. So, after seven races, still our car is showing and proving to be competitive. And then obviously, in the race, I think it has been a succession of quite difficult situations to be managed on the pit-wall, in terms of strategy. Finally, I think we didn't get the best out of it. And not finishing here with a victory. But I think that's showing that sometimes between targets and ambitions, it can still be a, let me say, a gap. And as a team, we are always trying to have lessons learned from that, try to build our experience, try to build our improvements, our tools to make sure that we can do better in the future. So, I think what happened overall, yes, certainly, there should have been an unlucky mistake at some stage because not finishing first when you are one-two, something was not great. But I don't think that the team overall made bad decisions. I think that the decision we took was based on the numbers we had at the time, which probably were not accurate enough to make the right judgement and finally we didn't finish where we would have. I think all decision we made in Monaco was try to finish one and two and not only for a single victory, which may be was too ambitious, but I think if a team is always looking for the best, it's at least the right attitude.
Q: Mattia, can I just pick you up on something that you said. You said the numbers weren't correct? Was that the crux of the problem, is that you went into the race with the wrong numbers?
MB: I don't think that we went into the race with the wrong numbers. When on the first pit from Extreme to Intermediates, when Sergio Pérez, which was certainly the earliest he could have stopped without being too much in traffic, he just stopped behind Norris. It would not have been the case for us to stop earlier; we would have been certainly in traffic. But simply waiting for them, Charles got an 11-second advantage on Sergio, which is a big number; Carlos almost four seconds, and normally you know that, when you got such a gap and such an advantage, you can simply wait for your competitors to make the first move, and then try to react. And, as I said, Checo went out on Intermediate, certainly was fast, he was stuck behind Norris on the first out-lap. And then Norris came in. And at that time, Charles got almost 10 seconds advantage and in a lap, we simply went off, the advantage went off and things that no-one could have imagined – and it's not a matter of going to the race with no numbers – no-one would have imagined that 10 seconds difference between performance between those two tyres at that stage of the race. We never drove on Wet tyres in Monaco on 18-inches before the time. So, you do not start collecting, having data from the past. Lewis was on Intermediate at that time. I think he was gaining on us four seconds per lap, but not 10. So, I think it took us on surprise. So, that's why I'm saying that the team. I think covering Checo, was not a wrong intention but that lap has been very significant in terms of how it turned out.
Q: Sorry to linger on Monaco, just one final question for me about it. It's just Charles, how has he dealt with the disappointment of the last two races? Because Barcelona as well, another victory potentially going missing.
MB: I think his disappointment is our disappointment as well. I think he was certainly disappointed as we were, and when you need to turn that into positive, I think as a group, as a team, you try to look at what happened and try to have lessons learned, and try really to look forward. I think that, already, the day after, we slept on the race and we started having our internal discussion, looking at all the numbers, try to review the race decisions and why we decided that and that. I think it came out that it was not an obvious call. And that's why I think we cannot blame the team – and myself I think – for the decision we took at the time, but certainly something to learn from it, to try to improve our tools furthermore, and ready here for Baku. Try to at least fight again.
QUESTIONS FROM THE FLOOR
Q: (Matt Kew – Autosport) A question to Mattia. We saw the Ferrari sporting the Miami-spec rear wing for second practice. And while I don't expect you to divulge engine modes, were there further changes you made to get those gains in the fast final sector, without losing out in the first half a lap?
MB: I think when you decide for a certain rear wing, you do it based on your simulations – offline simulations – in terms of race preparations. We know that coming here in Baku, the long straight is an important one, in terms of lap time, and you cannot certainly lose too much time on the straight itself. So, simulating, I think the rear wing we were running in FP2 was the right choice for the weekend. We didn't apply and use it in FP1, simply because we believe not only you've got a green track, drivers need to get confident through the lap and it was more important for us to start as a baseline on the rear wing that we knew, with some more downforce but at least to get the baseline of the setup and then moving on a lower downforce. I think that, after FP2, pretty happy with the way that the rear wing was at least working, the very first time we used it this season. Again, matching with the data we were expecting from simulations, it's where we are starting from for the rest of the weekend.
Q: (Jon Noble – motorsport.com) To, all three of you, the drivers, one-third of the way through the season seem a bit frustrated and weary of the porpoising. That constant bouncing, constant frustrations with the set-up. George Russell suggested yesterday it's got to the point where F1 needs to think seriously about: do we want these cars now for the next four years, to endure this for a lot more time? Do we need to rethink the concept, or do something? Do you think we stick with these current cars and the way they continue to porpoise? Or do we need to rethink something to alleviate these porpoising problems?
GS: I think it's a bit early to say we give up on what we have done here. We have done just a few races with these cars. And you know, these engineers are very good, and they will find a solution before we need to do something dramatic. I think we need to wait a little bit longer. If we can fix it, I call it, you know that everybody's in a good place, and otherwise, I think there will be a time when we say: 'how could we do this different?' Or 'if we change the regulation, can we make it go away?' But in the moment, I think we need to stick with this regulation because I think, in general, they are not working badly. So, we cannot just immediately do something different. Maybe, as Toto said before, they've got a big issue with it and maybe George is taking a little bit of a way out of it, you know? Toto would never think about this, by the way…
TW: I think we've seen cars that don't have the issue. And then others who have it have it worse, clearly. I can talk for our two drivers: they are having issues and it goes to a point that even a physio can't fix it sometimes. So, we need to see how that develops. And understand also why it's much tougher in some cars than in others.
MB: Yeah, first, overall, if we judge the Formula 1, I don't think they are the least comfortable cars to drive, in terms of formula motorsport. And I think that it's a challenge for the drivers, no doubt. But still, I think those cars are quite comfortable to drive. It's a challenge, a technical challenge, I think we look at ourselves, we made already some progress, as Guenther said, I think in the future, we can do more progress. So, certainly too early to judge. I'm pretty sure we will find a solution, medium-long term. And it's a challenge. As all the others. So, I think it's we need to accept it. It's certainly something on which we need all to better understand to improve, but happy to do that.
Q: (Claire Cottingham – Racefans) Question for all three, if possible. We were speaking a bit yesterday to the drivers about the Race Directors and the fact that we've got two and that they've been flip-flopping and things like that. And the consistency. I just wondered your thoughts on the consistency, if maybe there should be a third added or we should just have one throughout the full season? Thank you.
MB: Certainly not an easy job. I think when you are there and you need to sit and decide, it's not an easy one – as the strategy one. These guys need some more experience, it's not something which you learn from the very first race. If I look at the start of the season, certainly as Ferrari we cannot be happy with that. I think often we have been disadvantaged by decisions, but that's the way it is. We understand the difficulty. I think in order to make them improve, we need to help them as well. I think it has to be a collaborative, let me say, collaboration between the teams and the Race Directors, to make sure they understand, they improve as fast as possible. Because no doubt that so far in the season, sometimes they was no consistency in decisions, I think we cannot deny that. As we cannot deny it's not an easy job. So, it will take some time. We just need to hasten it as much as possible.
TW: Yeah, like Mattia said, it's a difficult job because you're also in the spotlight and certainly, Monaco, when you're thrown into this weather condition, climate, and then suddenly you need to make decisions, that is very, very difficult. And I think the more races will pass, the more experience they will get, the more they will cope also with the pressure that Formula 1 brings with it. But they are part of Formula 1, as are the teams, as the teams make mistakes, and sometimes you really blame, because a wheels not on the car, or you get the strategy wrong, so, in the same way the Race Director is in the firing line. So, it's… I think the same for everyone.
GS: Yeah, I agree with Mattia and Toto, what they said. And also, after last year, the Abu Dhabi race, the Race Director is a lot more in the spotlight than in the years before. So, everybody looks at them and every little mistake, they are more criticised than before and that cannot be easy, but we just have to give them a little bit of time and I think they will get there. I think they came in, not having done, as a Race Director, Formula 1 before, they are doing a decent job.
Q: (Scott Mitchell – The Race) Mattia, just on engine reliability. You changed a lot about the engine for this season. The first few races, the reliability looked really good. There's been a couple of problems in the last couple of weekends: Monaco in particular, for the customer teams and it seemed to be consistent with the MGU-K. Was there any common issue with that part and has that component changed in specification at all with the introduction of the second power unit, because I think the homologation for ERS components was a bit later in the season than the combustion engine which was pre-season?
MB: As first, reliability is always a challenge, especially for a power unit and you are always trying to look for better performance, increasing performance, but then to ensure the reliability it's never certainly easy. Our power unit department made, I think, an incredible job from last year to this season in terms of improving the performance and certainly that somehow has affected, or somehow has put at risk the reliability. As you said, I think the start of this season has been great. We had some issues in the last couple of races, a spin with Charles and in Monaco as well with our customer teams. These are always concerns. I don't think that we can simply say these are easy ones to be fixed or these are ones somehow you fix in a race only. So they are concerns but I think it's, as they are concerns, I know that our team is very strong as well in trying to ensure the reliability for the next races, cope with it, try to make sure that in terms of usage we are more protected and for the medium long term, try to address it. The components are very similar in terms of electrical motors to the ones of last year. We introduced an evolution by the end of last season, increasing the voltage and certainly, let me say the overall experience we've got so far on those electrical motors are reduced compared to what we had before, so still somethings to learn, to improve, to address but it's not a short term concern as well.
Q: (Filip Cleeren – motorsport.com) To all three of you, it seems like the discussion about potential salary cap for drivers has flared up in recent weeks. Can I have your opinion on that and also is there a potential knock-on effect for young drivers trying to find backers if their return on investment is limited?
TW: Certainly, it has come up as a controversial topic. We can see that we are facing a very difficult situation in Formula 1 overall. The sport is booming and Formula 1 is earning more money and that trickles down to the teams but we have a cost cap. We have $140m for a thousand people. With inflation, we haven't been able to even pay the inflation and I think the talk about 30 or 40 million dollar salary allowance is inadequate when you take that perspective. Now, clearly, the drivers will have an opinion on that and maybe as a driver I would say the same thing but US American leagues, that are the most successful in the world, have introduced salary caps 15 years ago. It works pretty well over there and Formula 1 is looking at it without an immediate solution to it, but I think, like all the other sports in the world, we need to find a way of how we can act sustainably and become independent from sovereign funds or state-owned teams and therefore it is certainly clear that this is going to be one of the main areas because you can't simply have a salary bill in some of the top teams that is 30, 40, 50m when the rest of the team needs to be divided in $140m. But having said that, they are tremendous superstars, they deserve to be among the top earners in the sport. In terms of direct salaries they already are and then we need to find a way of unlocking the endorsement… the capability of doing endorsement deals which is two thirds if not more for US American sports teams but certainly, direct salaries, Formula 1 drivers are paid the most.
MB: I think that Toto already covered most of the points and the overview is shared and I think it's right. Having said that, it's a tricky one to be addressed and I'm not sure there is a solution, honestly. It's not only a tricky one, I think it's not even an urgent one. The salary cap for drivers will affect only three, four maximum teams, not more than that and those teams that will be affected are already in long-term agreements with their drivers, so long that I think it's again not something that we need to put in place for next year. It will not be before maybe 2026. Having said that, there is plenty of time to look at the points and understand the sustainability that Toto was mentioning. We need to take our time, reflect on it, not as an urgent matter.
Q: Mattia, the second part of the question about there being a knock-on effect for young drivers seeking investors?
MB: It's one of the points that needs to be discussed and looked at because we need to promote young generations and in order to promote young generations somehow the way it's working today is having people that somehow are investing on drivers for a return later on so yes, it may have a knock-on effect. How to mitigate that in case we go for a salary cap I have not the solution to this, that's why I think it's a tricky one, so while I understand the point, while we understand the importance of it, I don't think that anyone today has got a solution. If there will be a solution, again, I don't know. We will take our time.
GS: I think there's not a lot more to be added here. I think where we can learn lessons from is American big league sports. There is a lot going on there and we just need to see how it is done there and learn from it. We don't have to copy it but there is a lot being done and just looking at it for mid- to long-term, how this can be resolved so this lack of parity between the team budget and the drivers budget is not so big any more but obviously you will have always the problem that who is going to invest in a race car driver if he cannot make the money back. It's very difficult to sort.
TW: By the way, one more point. We shouldn't be including the top earners in the team. I think in order to make it sustainable, everyone should be covered by the cost cap and it's only the drivers but it's also the team principals and the senior management.
Q: (Adam Cooper – motorsport.com) Mattia and Toto, any thoughts on the departure of Peter Bayer and the job he's one over the last few years. He's obviously been a very important link between you and the FIA and also thoughts on his interim replacement, and especially Mattia, any concerns that someone with close links to another team is now in that job, even if it is temporary?
TW: Yeah, we worked with Peter Bayer for quite some time and he was a rational guy. I personally enjoyed having him as a sparring partner but the FIA is changing its structure and its organisation and the president has to make his decisions and we certainly shouldn't interfere into any of those decisions. I think he has a vision about where he wants to have the FIA and if part of that is a change of organisation, we need to respect it. As for Shaila-Ann, she was at the FIA before she joined us. She was chief executive officer of one of the largest sports agencies before and what the positive is of having Shaila-Ann in this position, she's one about governance and transparency. She's a lawyer and I think this is something which we have always criticised in the past that things weren't always as transparent and as clear for the teams. I think this is one of the key topics that she will be trying to implement and that is good news for all of the teams.
MB: As Toto said, I think we enjoyed the collaboration with Peter. He was always very transparent, I think fair between teams and rational in the way he was moving on with the topics and the subject, he certainly had a lot of competencies and experience, but as Toto said, I think that there is a new organisation or reorganisation within the FIA, it's down to the new president to move on, to decide his own team and we fully respect the choices. So I think in that we are accepting and somehow even looking at the future trying to make sure that we have properly collaborating and making sure that the FIA becomes stronger and stronger.
Now, on the concerns of Shaila-Ann, yes, certainly it's a concern. I think she is a great person. She's got a lot of experience. She will certainly be capable of doing the job, I'm pretty sure of that. It's a concern, but it's only a concern. I think it's down to them to make sure that there will be no conflicts of interest at all, to behave properly and it's down to the president to ensure it and I have trust that they will do it. As Ferrari, it's a concern but pretty sure that we will… through the behaviours, though the decisions they will prove it's a wrong concern.
Q: (Aaron Decker – Racing News 365) Toto, you said before that porpoising is costing you a lot on the straight. Are you also afraid that maybe the engine is less strong this year than Ferrari and engine of Red Bull?
TW: I think our engine guys made a great job in understanding how we can optimise the software and the deployment of the power unit since the beginning of the year. So our problem here is not the engine, we have a car that is that is too draggy so the drivers made the comment that it seems like we are having a parachute behind the car. So we need to, I think, between the draggy car, and the bottoming, this is the main effect that we are seeing here on the straight. In Barcelona we had a big rear wing and the car was pretty stable on the straight and we were among the quickest, but there's never one thing and certainly the engine is not the area that I would want to point at that stage.
Q: (Jon Noble – motorsport.com) Mattia, the post-race protest in Monaco, were you satisfied with FIA's interpretation of the pit lane exit rules? And do you now have any safety concerns that drivers can now flirt with a line that beforehand had a very strict limit on it?
MB: We discussed before, I think there have been some inconsistency in decisions. Other things, this is one of the decisions with which we are not happy. We made the protests, I think we knew what would have been the output, but I think it was right for us to protest just to show at least that we were not in agreement with the decision at the time, and still we believe it was not the right decision. And as a matter of fact, they had to change the Race Director notes here in in Baku. They had to change the pit entry. I think they are already starting discussing maybe we should change back the international sporting code to make it right. So overall, I think that type of, let me say, discussions, actions, show that there was certainly an inconsistency in Monaco. Now that's the way they decided, we will accept and we are accepting, as matter of fact, we even didn't make any appeal. It was nothing against Red Bull, honestly. I think it's a fair fight between the two teams at the moment. Happy to move on with the fair fights. It was more for us to show to FIA that, at the moment, we are unhappy with the type of decisions they are taking, knowing that the output would have been negative.
Q: (Dieter Rencken – Racing News 365) I noticed a slight difference in terminology between Toto's answer about the salary situation and Mattia's. Toto used use the word salary allowance, whereas Mattia spoke about a salary cap. Regardless of whether it's what the top three or the drivers only or whatever, my understanding is that there would actually be an allowance within an overall budget cap for the drivers and that teams would be allowed to pay the drivers over and above that, if they so wished. Could you comment on that, please?
MB: I can start. I think you're right. I was wrong myself in calling it cap, I should have called it allowance, because this is the right way to approach at least the exercise. The solution you are trying to describe I think is one of the solution we discussed but is not the solution we at least so far agreed because things that, as I said before, there is not an easy solution. So it will be an allowance in case but still many discussion will need to be in place and it will take time.
TW: Yeah, clearly, just repeat what Mattia said, it's not a short-term thing. Contracts need to be respected. And clearly, in the US American Leagues, the team owners, the management can decide where to deploy the salaries. They have a squad of 80 or 90 people and you can still decide to go for a big superstar and out-pay all the other top people in the other teams. So the allowance is certainly one of the possible solutions going forward, so that the team can decide where it wants to deploy the investment.
TEAM REPRESENTATIVES
Tom McCULLOUGH (Aston Martin), Guillaume DEZOTEUX (AlphaTauri), Mario ISOLA (Pirelli)
Q: Tom, we're going to start with you. Let's talk updated cars, first of all. Aston have been using the updated car for a couple of races now, how's progress?
Tom McCULLOUGH: We've been updating the car actually race on race but the bigger updates as you say, the sidepod and the diffuser quite visible in Barcelona. We've now been through the Barcelona race weekend, Monaco and a Friday here in Baku; three very different tracks which asked very different things of the car. I think what we've seen with the continuous development we've been bringing to the track is that we've got a car that's a bit more workable. We can use it in wider operating windows. And that just means we can just focus on optimising the car in a more traditional way at a race weekend, getting the most out of the tyres, understanding the grip, limited content versus apparent limited content, getting the right set-up on the car. It's a bit more back to normal. At the start of the year, we were heavily dominated by certain characteristics which meant that we were pinned from a set-up side of things. So it's a lot more fun, a lot easier. Still plenty of work to do.
Q: And how much potential does this car have?
TM: I think potential is always going to be there for everyone up and down the grid at the moment. It's such new regulations. We started the year (in a) certain direction, we've slightly changed but all the developments that have been coming to the track and are coming to the track, are encouraging going forwards. But everyone… you know, nobody stands still, Tom, so we're going to be trying to push as hard as we can do and get as competitive as we can.
Q: Now you've said already that you were developing the car race on race but of course the big upgrade came in Barcelona. How has all of that affected your ability to develop the car going forward, given the cost cap and all those restrictions?
TM: The cost cap's a very real thing for everyone now, so everything we're doing, we have to look at it from a bang-for-buck side of things, something the team was obviously used to doing for many years in the old days. And we've really had to get back into that. We'd set aside a certain amount of development budget, knowing that with such new regulations, there would be potential to really develop the car. And we're now in the process of developing as hard as we can do, back at the factory and just deciding which of the bits and when is it right to bring them to the track to help us be more competitive.
Q: Let's throw it back to Monaco now. It went very well, particularly for Sebastian. If we just focus on that, in the context of him, having worked with the team for 18 months, was that one of his best performances?
TM: I think the first two or three races a year ago were a little bit hard for him getting used to us and we had such a difficult time actually in pre-season testing when he hardly got to use the car. So we suddenly turned up in Bahrain at the first race and that was very tough for him but after three or four races, I actually think it was Monaco last year when he really got into his swing, it was his first… I feel really comfortable, off we go. He's always been strong on street circuits, here as well. Sat on the podium many times as you know. He's been very comfortable in the team, I'd say sort of from midway through last year and he absolutely loves working in the team. I think he thrives in the environment and really enjoy working with him.
Q: Now, slightly left field question, but we've seen a shift in some of the intra team rivalries this year, at Red Bull Racing for example, where Sergio Pérez has made a step forward relative to his team-mate, Max Verstappen. Have you seen something similar at Aston Martin? Do these cars suit one of your drivers more than the other?
TM: I think both our drivers actually have pretty similar requirements for the car, which is quite useful. It's interesting you touch on Sergio. We worked with him for many years and you know a very, very talented driver, but you suddenly go into a team like Red Bull, with Max Verstappen as your team-mate, it must be pretty daunting. But I'm really happy to see him slowly building those relationships which are key to understanding how to get the most out of yourself, the team around you, the car and I think he's just going to go from strength to strength, it's going be great for us all to watch.
Q: But within Aston Martin, you don't see a shift either way between Lance and Seb?
TM: I think if you look at the numbers, last year the amount of time the guys scored points, how close they were in qualifying, we're seeing that again this year. Obviously Sebastian had a bit of a difficult start, missing the first two races, but when actually weekends they are close to each other, often within a 10th in qualifying. For the moment we're pretty happy with how things are going.
Q: Thank you, Tom. I'm sure we'll hear more from you later. Guillaume coming to you now. Your car has shown good pace this year, yet points haven't necessarily followed. How would you sum up the opening 1/3 of this season?
Guillaume DEZOTEUX: It's been a difficult start to the season for us. The car pace is definitely worth more than the points we have so far. The first three races of the season we had quite a lot of bad luck, with almost every time a safety car coming out just after our pit stop in the race. So that's not really much you can do about. In Imola we had a strong weekend, also in Miami. A couple of mistakes but generally we've been more competitive. Barcelona has been challenging. The track condition, the very hot track temp was something that didn't really suit our package, and that we need to improve. And since Monaco and I think here in Baku, the car showed good performance. In the twisty, low-speed corners, we have quite a good mechanical grip, we found a way to make the car comfortable for the drivers, so they're able to push it to the limit to get close to the walls. So hopefully this weekend, we can put it together and bring home some good points.
Q: How much of a disappointment was Monaco, given the mechanical grip that you've just talked about?
GD: Monaco was a very disappointing result for all of us. Obviously, we've been fast in all three free practice sessions and we made a mistake in Quali. We couldn't we couldn't pass through Q1 and from there on it has been all very, very difficult. Obviously the race conditions starting from the back, even if the car pace was good, it was never possible to really catch up with the group in front.
Q: Now you are Head of Vehicle Performance at AlphaTauri. How different of these 2022 cars to work on compared to what we had before?
GD: They are very different, both in terms of aerodynamic characteristics, but also in terms of set-up. Also, the cars are quite a bit heavier, they are bouncing quite a lot, as you can all witness. And obviously in terms of set-up, the compromises are always very difficult to find. And in the tight midfield in which we compete, obviously small differences are making big steps into the final position. So, we are constantly chasing this compromise between making a car a little bit maybe easier to drive against a car which extracts the absolute performance from the aerodynamics. And this compromise changes on a track-by-track basis and obviously all our focus is on extracting this best compromise.
Q: Final one from me. Yuki sits ahead of Pierre in the world championship standings, in what areas do you see Yuki taking a step forward this year?
GD: So Yuki took a big step forward compared to last year, he has more experience, he knows the tracks. He knows his engineers and mechanics. So the relationship is improving constantly. I think it's a very difficult and challenging championship for the young drivers. There are little opportunities for testing. The winter test is very busy. And there are a lot of engineering targets for understanding about the car. So it's difficult to dedicate time to the driver and let him learn about the car and don't change it too much. So I think this conflicts a little bit with the rookie driver discovering the tracks and the cars. So for sure he is building up from last year a lot and now he's able to be more consistent. His feedback has improved a lot. His engineers understand better what he needs to go fast. And it got closer to Pierre, which is very positive because it's also pushing Pierre. So I'm really happy with the with this situation now.
Q: Thank you very much. And we'll hear more from you in a minute. Mario, thank you for waiting. Now Guillaume talked about bouncing there. What effect does this bouncing have on these 18-inch tyres?
Mario ISOLA: It is an additional load on tyres, so that is there when we prepare our prescriptions, but unfortunately something that is not visible in the simulations that are coming from the team so race by race, we try to understand how this bouncing is affecting the tyres. It's part of our job and there is a clear additional load as I said.
Q: Now, last weekend Monaco, this weekend Azerbaijan, next weekend Canada, and all with the softest tyres in the range. Can you just tell us a little bit about how hard it is to adapt the tyres to these three different tracks?
MI: You know we have a range of five compounds and we have to choose the best three, or the most suitable three compounds, for each event. Clearly we are talking about different tracks, different characteristics. All the three tracks are not very severe in terms of lateral load on the tyres. The asphalt is quite smooth. That's why our choice was on the on the soft side of the range, but they have different characteristics. So for sure, Monaco is a unique circuit where you should need a specific compound for this street circuit. But we cannot develop a specific compound for it. In Baku, I believe it's a sensible choice, as well as Montreal. They are a bit more similar. with long straights, traction and braking is required. Obviously in Baku we have much higher speed, but at the end of the day that's the choice for the three races.
Q: And can you tell us a little bit about what we learnt in Friday practice yesterday? And do you have any concerns over the tires given what happened last year?
MI: Nothing unexpected, I can say that we decided to raise the rear pressure by one psi because the telemetry data we receive after P2 are showing an increased severity compared to the simulation, so obviously we can react with the pressure. We had a little bit of abrasion, depending on teams and drivers. I believe that all the three compounds are working well. We don't have a lot of data on the hard because teams were a lot more focused on the medium and the soft. I'm expecting a one stop race. So they need to understand which are the limits of these two compounds. Also the timing of the race is different with FP1, FP3 and the race at the same time, that is something that is not happening in a normal race weekend. So I believe the teams in FP3 have the chance again to test the tyres also with a view to the race, not just the qualifying.
QUESTIONS FROM THE FLOOR
Q: (Jon Noble – Motorsport.com) To Mario, two questions for you. First of all, after Monaco there were some quite critical remarks from Sebastian Vettel and Jos Verstappen and about the wet tyres saying they were too hard, didn't perform as well as wet tyres should. Were those comments justified? Are you satisfied with the performance of the wets? And secondly, the tyre pressure raise this weekend. There has been a little bit of a trend recently for pressures to creep up. Is this a result of teams playing around with pressures? Is it a result of the simulation prediction not being in line and is it having an impact on the competitive performance of the relative teams?
MI: OK, starting from the wet tyres. Wet tyres are always difficult to understand. I believe that Monaco is not the right track to make a proper assessment of the wet tyre. You know that we have only one compound for wet and one compound, one product for the intermediate tyre. And it has to work everywhere, in 23, 23 different circuits. So we have to find the best compromise. In addition, we don't have a lot of opportunities to test the wetter intermediate tyres. We recently ran a test with Ferrari in Fiorano. At the moment it's the only test that is scheduled for this year in order to develop a better product for next year. We are working together with the FIA and the teams to find additional availabilities from the teams. But if we don't have the possibility to test the tyres, we don't have the possibility to develop the tyres. So, I would first of all like to wait for other wet races to understand if and where we have to develop this product. Also, if you remember the pre-season testing Barcelona, we decided to wet the track for half a day to give the possibility to the teams to test the new product and there was a very little running on the extreme wet tyre, they were more focused on the intermediate. So to come to an end of this answer, we need to test, otherwise we cannot develop a new tyre for the future, and that we need to properly assess the performance of the wet tyre to react to that. The second question about the pressure. We have a new product, we have new cars. Last year we were testing with the mule cars that were obviously different and also developing the downforce in a different way. That's why last year with the mule cars we used lower pressure compared to this year. Now we have simulations coming from the teams, the cars are quite faster. If you compare the lap times from last year to this year, in general, they are not as much slower than one second per lap. That means that the performance is quite good. Consider that the teams are uploading their simulations with a target of the performance at the end of the year, so we are already closer to the end, the estimated end-of-year performance. Our system to define the prescriptions is quite robust. We are using the same system that we have used in the past. But it's applied to the new products and the new package. That's why you can find different pressure from last year to this era. I fully understand that after what happened last year here in Baku a lot of people were focused on the delta pressure here in Baku, but if you compare Monaco, we had an increase of pressure in Monaco on a low severity circuit and that is a consequence of the new package and the new product. So we define the pressure always in the same way. I don't believe that is affecting specifically one team or another team, it's one psi difference to compensate this additional severity that we have seen in the telemetry data from yesterday. You had another bit of a question? No. OK.
Q: (Edd Straw – The Race ) For Tom. Now you've got into normal running with this car and you've understood it a bit, can you give a bit of an overview of its strengths and weaknesses? What are the limitations you're currently doing battle with?
TM: We've tried it three very different tracks so far, so we're still learning is the honest answer. I think we've got a wider operating window that we can set the car up in, which you really needing to go between Barcelona, which has obviously got a lot of high speed, grip-limited content, and then you go to Monaco and here, where the circuit efficiency is the biggest difference, there's a lot more low-speed content here. So, I think it just gives us a bit more freedom. We can just move the car around a bit and we're not just pinned to a certain point because of certain issues. So we can start making the trays that we used to make in the past a bit, a little bit, as Guillaume was saying, tuning what you've got really. So it's back to being a bit more of a normal car with an operating window that we can work with.
Q: (Jon Noble – Motorsport.com) To the two team representatives, we're a third of the way through the season now and the porpoising appears as bad this weekend as it's been throughout the start the season. Are teams improving on it? Do you think we'll get to a point where it's dialled out completely or is it something that's inherent this concept of Karma to live with for years to come?
GD: So it's a difficult topic, very, very complicated, as you know. We have not been dramatically affected by it, maybe in the beginning in winter testing when we were scanning a wide range of set-up direction, but it has not impacted us much to be honest. It's obviously a bit of a moving target and we can see across the grid that some cars are more affected than others, but from our perspective, is not really a main focus for now.
TM: Yeah, not really too much more to add. I think what is clear is that a lot of our development tools, and I don't think we're unique in this, didn't really show that this was going to be as much of a problem as it was. And now it's a matter of developing your tools to better replicate that to be able to do a better job. We've got a set of regulations, we're trying to make the car as fast as possible within those regulations and we think most teams can totally stop the bouncing, porpoising, but everyone wants to go fast as well. And that's just a compromises we're playing.
Q: Has the situation improved with the upgraded car?
TM: Yeah, I think throughout the year we've been improving that, but we're definitely in a better place now than we were at the start of the year.
Q: (Dieter Rencken – Racing News 365) Tom, I've heard the team say a few times that you'd budgeted for the B version or the alternate version or whatever you'd like to call it. But it's not simple household economics that if you spend money in an area, regardless of whether it's budgeted or not, you have less to spend elsewhere on upgrades on people or facilities or whatever?
TM: We have a budget in all areas of the team, as always, and as you're saying some of them are to do with a budget cap too. Development in Formula 1 with such new regulations is always very important, so we set aside our usual development budget, we then obviously reviewed that with the regulations, we reviewed that with the cost cap and you're forever seeing how you can increase that development budget, because ultimately we're all here to go as fast as we can do. Throughout the development phase of the car, in our simulation tools, wind tunnel, CFD, the simulator we sort of had quite a few different threads and we had come to the conclusion that a certain way was the way to go. Once we started to commit to that it's just about looking at the value engineering you can do with the money you've got to get the fastest car to the track as soon as possible and keep developing that. When you bring updates to the track, you learn more and more as well. When we first went to Barcelona and the pre-season testing that wasn't called testing, but you know the one I mean, we learned a lot. We learned that our tools weren't giving us a good enough information and we had to probe those harder, ask some difficult questions and improve and that's engineering. That's the fun side of engineering to be honest.