FIA team principals press conference - Belgium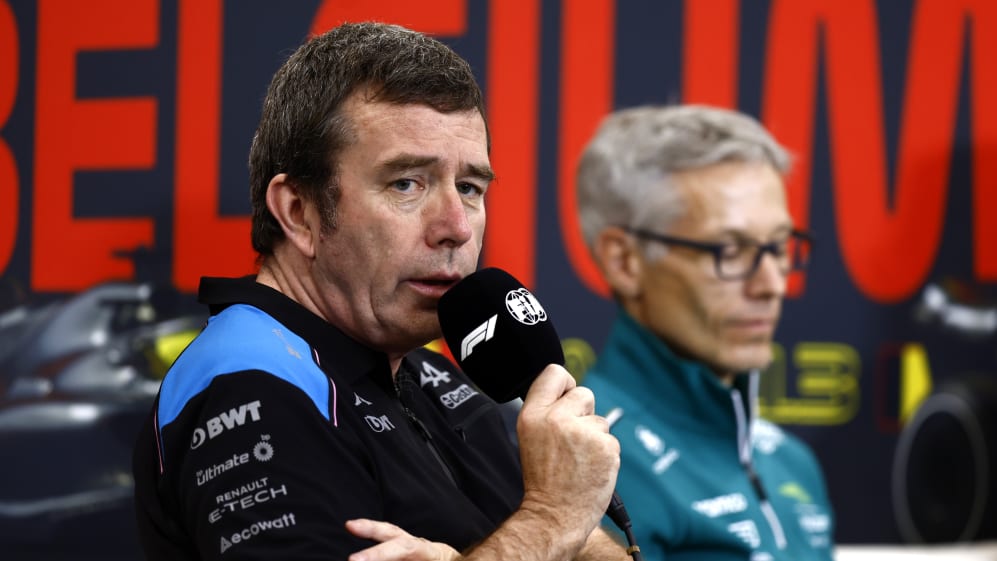 TEAM REPRESENTATIVES
Bruno FAMIN (Alpine), Mike KRACK (Aston Martin), Alessandro ALUNNI BRAVI (Alfa Romeo), Christian HORNER (Red Bull Racing)
Q: Bruno, if we could start with you please. News has just come through of some management changes at Alpine. Perhaps you could talk us through what's going on?
Bruno FAMIN: Yes, good afternoon everyone. At Alpine we have a fascinating project, Alpine as a brand. Two weeks we launched phase two of that project with a very ambitious plan for new road cars, for expansion and so on. What is really super-interesting for all of us is that project is based on motorsport, motorsport programmes. The key one, of course, is Formula One, not only but that's it. It's really a great challenge to be part of this project. So, after the phase two of the brand, we are going to the phase two of the Formula 1 project. We have ambition as well, and we have decided to make some changes in order to go faster in reaching the level of performance we are aiming for.
Q: Can you explain the decision to part ways with, first of all, Otmar Szafnauer?
BF: I think with Otmar and with Alan – it's the same with Alan Permane, it's the same that means they are great people, we really thank them for all what they brought to the team, for a very long time for Alan, 34 years in Enstone. More recently with Otmar but he secured the fourth place on the Championship last year which was a good achievement, but we were not on the same line on how… on the timeline to recover the level… or to reach the level of performance we are aiming for. Mutually we agreed to split our ways, and that's it.
Q: And you have taken over the interim role but for a permanent team principal, are you going to promote from within, or are you going to promote from elsewhere.
BF: I've just been appointed two weeks ago as a vice president, motorsport at Alpine. Of course, we have been discussing that topic with the top management for weeks and now I will really assess with the whole teams, what is the real situation and what will be the plan then. I will take the necessary time to do this assessment and we will decide later on.
Q: Can we get your assessment of the season so far for the team?
BF: The season so far, the season do not match our expectation, clearly. We were fourth last year, we know that the top three is very strong, but we were aiming to keep that fourth place and maybe fight a little bit for the third. We are not where we wanted and we work hard with all the teams, with the Enstone guys, with the Viry-Châtillon guys in order to extract the best possible performance of our car.
Q: Mike, if I could come to you now please…
Mike KRACK: No such big changes!
Q: After such a strong start to the season, six podiums in eight races your competitiveness has dropped away in the last three, how do you explain it?
MK: We have made developments to the car lately and it is true what you say, we have dropped. We have dropped in the pecking order. We have lost ground a little bit to the fastest cars but also, we have seen that other competitor cars have slipped in-between and that made us drop back slightly. Now, we have gone through a big cycle of analysis over the last races because you have different tracks that we have now in terms of characteristics. We had the Hungaroring, we had Silverstone, we had Barcelona than also the outlier in Canada where we were very competitive, and it takes you a little bit of time to understand all of that. To understand what's going on and understand what problems you have and what you might have introduced and might not have introduced, so we're quite confident that we've found what the main problems are. Now it is about making the correct changes to get them solved.
Q: You know what the next question is: what conclusions did you reach? What are the problems?
MK: Well, you know, when you develop your car… these cars are very complex. So, it is not any more than you just add downforce, downforce, downforce, downforce. Very often you introduce characteristic changes on your car, or you create other effects – and maybe this is what happened. Again, we have to now iron-out these issues that we have introduced. The next question will be when? As quick as possible.
Q: Do you agree with Fernando Alonso's assessment that it is now the fifth-fastest car in Formula 1.
MK: Yes.
Q: OK. And do you think you can pull it back to the second-fastest car in the second half of the season?
MK: Yeah. I mean under normal circumstances, you would say to gain three positions in such a field, over the short time of 11 events, it's very hard and very ambitious. On the other hand, the gaps are very small. We have seen how much we have lost, and I think the most important is to recover that and try to recover a little bit more.
Q: Alessandro, and incredible Qualifying performance by Alfa Romeo in Hungary. First time you've had both drivers in Q3 this season. How much of a boost was it for the team?
Alessandro ALUNNI BRAVI: Of course, it was a boost, but as I said on Saturday, immediately after the Qualifying session, we need to complete our work during the race. It doesn't matter to be fast in qualifying, and then to not score points in the race. So, we didn't execute the race as it was necessary to do, and we know we cannot afford to miss such kind of opportunities. Our car this year is not consistently performing at that level, so when we have an opportunity like that, we need to execute perfectly the race. This was not the case. Of course, we have analysed what happened. We had, I would say, a brake system problem on Zhou's car – so it was not the drivers' fault. This for me is important. It was some elements that we didn't fix correctly on the car, so the start… it was a problem with the start, and this jeopardised also the race of Valtteri because he was blocked, and he lost three positions at the first corner and he was not positioned the car in the right way for the second corner and the third corner. So, we place ourselves in P12 and P18 after three corners, and of course this completely destroyed our race. This is a good learning from the team. The weekend finished after the chequered flag on Sunday, not after the Qualifying session. So, it was a good boost, but we need to have a proper weekend and to score points.
Q: Can we look at the positives of last weekend though? Can you explain to us why the car was so effective over one lap?
AAB: We have seen this during the Championship so far, that in a low-efficiency track, our car is performing much better. When the level of grip is higher and the hot temperature, we are able to extract more performance from the car. All those elements were there in Budapest, and this has allowed us to enter into Q3. There was also the Alternative Tyre Allocation during that weekend that introduced an element of jeopardy, of course. And we have prepared all the weekend to be focussed and ready in Q1. For instance, in FP3, we have been using the Hard tyres compound. We are the only team, together with Stroll and the AlphaTauri, to have the Hard tyres in FP3, and I think that we were ready in the Q1 to get out the most of our car, and this helped the drivers in terms of confidence and ourselves to then access Q2. And then we build up on this all the Qualifying session. So, there were these elements that played a role for our performance.
Q: The driver silly season. Can we talk about that now. It is in full-swing. We know that Valtteri has a contract for next year. When can we expect news about who's going to be driving your other car?
AAB: Of course, we always said that stability for us is important. We are a team that is in a transformation process, and we try to be as much stable as possible in all areas. Of course, we are looking for improvement and opportunities. There will be time after the summer shutdown to sit down with Zhou and look at what will be the best solution for both of us. Our target is to keep both drivers in our team next year but, of course, there must be all the elements in place to have a win-win situation.
Q: Christian, thank you for waiting. Now, what a season it has been for Red Bull Racing. 11 races, 11 wins, breaking a 35-year-old record in the process. Did you take time to pause and celebrate this week?
Christian HORNER: Not really. I mean, we go the whole team together, obviously as we usually do after a race on a Monday, and it was a very special debrief. I mean, to have achieved that kind of milestone, to have won all 11 races this year, 12 in a row since Abu Dhabi last year. 19 out of the last 20, is frankly something unprecedented, and I think that it's just testimony to the hard work, the effort, the commitment that goes on behind the scenes. Because it's not so much what you see trackside, it's what you see behind the scenes, in the factory, throughout all the different departments, each having to go that extra yard. And all the men and women back in Milton Keynes are doing an outstanding job and to have achieved this 35-year record, the first time since 1988, is something that we're all incredibly proud of.
Q: Tell us a little bit more about what's going on behind the scenes. As the leader of the group, how different are the challenges for you during a season like this?
CH: The challenges are always different because, when you're the hunter, you've got everybody focussed on the target ahead of you; when you suddenly become the hunted, it's a different type of pressure. And, of course, we have numerous approaches from all these guys, chasing all our staff, sponsors, you name it. And I think getting there is one thing, staying there is another. But I think the spirit, the culture that we have within the team is something that we've got great strength in depth and have enjoyed great continuity over a long period of time, which again is so important in this business.
Q: Is it difficult to maintain the intensity levels?
CH: I don't think so. I think we're very much taking it one race at a time, one session at a time. And I think you have to focus like that. And, you know, nobody's allowing their mind to drift. And I think that it's a long, long championship and I think there's a lot going on behind the scenes with Red Bull Powertrains, as that's gearing up as well in the background in Milton Keynes, with 2026 not being all that far away now. So, plenty to keep people focused on.
Q: We saw a very aggressive race to third place from Checo in Hungary. How much of a relief was that for you?
CH: I thought Checo did a great job on Sunday. He got voted Driver of the Day and I thought some of his overtaking moves were outstanding. And I think for him that was a big, big confidence boost. You know, to go from ninth on the grid, particularly in Budapest, to the podium, it was a big drive from him. And I think that he did it the hard way. He didn't benefit through strategy or Safety Cars or anything along those lines. And I think that will hopefully unlock the confidence he's been lacking on a Saturday, that we've seen in abundance on a Sunday. So hopefully that will have fired him up for this weekend.
Q: And how big a part have you played in his return to form?
CH: Well, look, I think it's always a team effort. I think every driver is different. Some need an arm around the shoulder, some need a kick up the butt. You know, Checo is definitely the arm around the shoulder type of character. And I think that we're just doing our best to support him as a team, you know, to give him the help to achieve what we know he's capable of.
Q: And looking at the wider Red Bull family, can you give us your thoughts on Daniel Ricciardo's performance last weekend? He qualified 13th, finished 13th.
CH: I thought in very difficult circumstances for him, getting dropped in the car he'd never sat in before, I thought he did very, very well. I thought, you know, to qualify, and in the top 13. He was a little unlucky at the start of the race, but then when you look at his pace, his race pace, particularly that long run on the medium tyre in the second half the race, his pace was extremely good. And I thought for a comeback drive in difficult circumstances. He actually acquitted himself very, very well.
Q: Did he exceed your expectations?
Ch: I think he met it. I mean, seeing what he did at Silverstone the previous Tuesday in the tyre test, you know, I think after that, expectations changed. And, yeah, I think he met all expectations. What it's brought to AlphaTauri is a huge amount of experience and possibly some direction, obviously with the experience that he brings as a Grand Prix winner.
QUESTIONS FROM THE FLOOR
Q: (Jon Noble – Motorsport.com) Bruno, you said that Otmar and Alan and yourselves couldn't agree on the timeline for recovery. How far apart were your two timelines? And what are you going to do to hit your timeline that they couldn't achieve to hit theirs?
BF: I think we are not talking about figures. I think we have a different view of the way of doing it and, of course, it's true also in terms of timeline, but I think we are not exactly the same in doing the things.
Q: (Scott Mitchell-Malm – The Race) Another question to Bruno. The overhauls and changes at the top of the team go back before the Alpine rebrand, it happened when it was operating as the Renault team as well. So since you've been there, why do you think this level of upheaval or dysfunction has existed? And why will it be different now? How will it be run differently now to avoid that?
BF: What is important to us is the project. I think we have a clear project, a clear objective and it's not only the Formula 1 team that has a strategy, it's the full brand, and both are totally linked. I'm confident that we will make it work. I don't know what happened before. I think, as I said, we are now launching phase two of the Alpine project, phase one started in '21. We improved a lot of things in Enstone and in Viry, we are moving the team forward and we will continue doing that.
Q: (David Croft – Sky Sports F1) Bruno, a question to you, or a three-part question. Two weeks into the job, was it your decision to sack Otmar and Alan Permane? Or was that orders from on high that you were following? What exactly are your expectations for the team at Enstone? And how realistic are they, given that from the F1 Commission meeting this morning, we know that your engine is so down on power that you're looking for a performance boost when the engines are frozen?
BF: So, we decided together with Alan and Otmar to split our ways. It's a mutual agreement, first. So, on maybe the last one, because I don't remember the middle one…
Q: (David Croft – Sky Sports F1) What are your expectations?
BF: The expectations. This one, I got it. The expectations are to be able to fight for wins and for titles as soon as possible. Of course, the way is going to be a bit long, but the expectations are those ones. The top teams are super strong. Everybody has more or less the same objective, and we know it's going to be difficult, but our expectations are those ones, really to fight for titles. And then that means for wins and then we are going to be focused on that.
Q: (David Croft – Sky Sports F1) And how can you do that with the engine as it currently is?
BF: The engine is… What is the expression you said? So down? Yeah, I don't think it's so down, it's down, it's not the best engine of the grid, for sure. We made huge steps between '21 and '22. But it's still not the best engine and the FIA put the topic on the table, because I understand there was a kind of agreement when the engine freeze was decided, and the FIA put the topic on the table and that's it. I don't think the engine, the powertrain is so down, that we cannot improve the package. In fact, the goal is really to improve our package: the chassis, the engine, which is a bit difficult in the present time, for sure, but the integration can always be improved and this is what we're going to do.
Q: Bruno. How involved in the reshuffle has Luca de Meo been?
BF: The reshuffle of the team it's a decision of the top management of course. So it's not something which has been decided from one day to another and we have been talking for a week. And it's not because I have been appointed, two weeks ago, Vice President Motosport that I started working two weeks ago. And it's already quite a long story and I'm working on it with the top management.
Q: (Luke Smith – The Athletic) Bruno, I know you said you're moving on to phase two of your plans now, but in the last eight days, you've lost Otmar Szafnauer, Pat Fry to Williams, Alan Permane, Laurent Rossi, as well, as CEO. It's a big, big change. So what kind of steps can be taken to ensure there's a strong leadership moving forward, because there seems to be a state of flux at the moment. And how much has this set back the 100-race plan for Alpine.
BF: What is happening is the second stage of the Alpine rocket, if I may say. It's not going backwards, it's moving forwards. Of course, it's a lot of change. But it's an opportunity also, to have a new foundation, or to consolidate the foundation and to go farther and faster. The key objective is the one I mentioned recently: we need to win, we aim for winning races and championships as soon as possible. We need to constantly improve our cars, the full package, from race to race, from year to year. And we know that it's not easy. We know that the change of regulation is generally a good milestone for changing the ranking. And I think it's quite a reasonable target, but it will not be a step, it's improving constantly up to that.
Q: (Christian Nimmervoll – Motorsport.com) Christian, Daniel Ricciardo hasn't made a secret of the fact that he's taking a step back to AlphaTauri because he's hoping to get back to Red Bull Racing. In case there was a vacancy until the end of '24 for whatever reason, be it Checo's performance, or him getting sick or whatever. Is Daniel next in line, or would you also consider looking elsewhere with the likes of Nico Hülkenberg, for example?
CH: Well, obviously, the reason that Daniel was brought back into the seat is not because he has long term aspirations to be an AlphaTauri driver for the next five years. You know, he sees it as the quickest route to getting back into a competitive seat. And I think that, you know, clearly his objectives are on a 2025 Red Bull Racing seat when we have obviously a vacancy. Now, Daniel has an opportunity between now and the end of the year to demonstrate that he hasn't lost any of his form. And then obviously, a decision will be made as to whether he remains in that seat for a further 12 months. But it would, you know, obviously be very clear that AlphaTauri drivers and Toro Rosso before that drivers have been placed there to develop them as potential Red Bull Racing candidates and Daniel's very aware of that, and that's his objective, but that wouldn't be before 2025.
Q: (Adam Cooper – Motorsport.com) Bruno, a couple of years ago when Laurent was looking for a new team principal, I think he basically knocked on the doors of all the team bosses and said 'would you like to come work for us? One of the people that we assume he spoke to was Mattia Binotto. He's now available and given his experience, his knowledge of the power unit side of things, is he a guy that would be on your list?
BF: Well, we're not at that stage. I think I'm going to, with all my direct reports, assess what is the situation, think about what are the priorities in Enstone, to consolidate the things and we will define if we need a new structure or not and when that will be done, we will see.
Q: (Claire Cottingham – Racefans.net) A completely different question, for Mike and Christian, on the F1 Commission. I just wondered why it was decided against [banning tyre blankets] for 2024 despite Pirelli saying they were happy with how the progression was going ahead.
MK: At the end of the day, I think there was a long discussion where all the stakeholders went through the pros and cons. And at the end all of us decided that we need a bit more development on them and postponed by one year.
CH: Your question is nearly as sharp as Tom's suit here. But at some point… yeah, very ambitious in this weather, I mean mate, have you seen the weather outside?
Q: It's not raining in here, though.
CH: OK. But going for the desert suit in Spa is always very brave. I think that it's just too early in the process, Pirelli. We did a test recently with Pirelli. I think they've made good progress but I think there was a collective decision that it's not quite ready for 2024.
Q: (Ian Parkes - New York Times) Question initially to you Bruno: you use the term 'mutual agreement'. That seems very hard to believe that two people of the standing of Otmar and Alan would suddenly put their hands up and say 'yeah, you know what, we'll leave' particularly when we spoke to Otmar on Sunday. He seemed very confident at that particular point after the Hungarian Grand Prix, that he was going to be allowed to continue with the 100-race plan. So what has happened between Sunday evening and today for this to all of a sudden kick off and those two guys to go? And to Mike and Christian, can you just give us your thoughts on F1 losing two very well known and popular characters in Otmar and Alan?
BF: We have been discussing for a while about what we needed to do on the timeline for the evolution we required in Alpine F1 teams and we discussed, we are confident it can make it. On that one stage you realise that we are not on the same paths and then we decide to split ways.
CH: Yeah, well firstly it's very much Alpine business and nothing to do with us, but as far as the individuals are concerned, Otmar has obviously been around for a little while and he's always been very straightforward to deal with and had good knowledge of the business. I think for Alan, or Bat as I think he's better known in the pit lane, 34 years in any job is a truly remarkable achievement. I think to go from Benetton to Renault to whatever… Lotus, back to Renault to Alpine, he's been one of the mainstays there. And obviously been there through the World Championship periods of Michael Schumacher and Fernando Alonso. So a hugely competent guy. I doubt he's going to be unemployed for too long. But just hats off to what he's done with that team, particularly, one has to look at the difficult periods when they were looking at insolvency and the issues with shareholders and the transfer for all the team. That's when the team needs clear guidance and leadership and mainstays and I was particularly impressed at that point in time that he was a solid pillar. So best of luck for him for the future.
MK: Yeah, I can only echo what Christian said. Obviously, the decision that Alpine has taken we have to respect. Certainly we lose two respected personalities in the paddock. I don't think either that we will have lost them. Maybe it's just a short break.
Q: (Matt Kew – Autosport) Alessandro, despite the greater investment for this year, as you said the car has not been consistent. The CEO of Audi who was sat there a year ago and announced the F1 programme has been replaced. There's reports that the engine programming is behind. So with all that in mind, can you please give us an update on the state of the 2026 project, please?
AAB: First of all, I'm happy to hear that the Audi project is behind the shadow. We don't have this kind of information and it's always difficult from the external people to understand what is the status of development of such an important programme like a new PU manufacturer entering to Formula 1. So concerning our programme, the programme is on the right route. We are working hard to develop the team in these next two seasons. We know that there are constraints linked also to the financial regulations but we are with Andreas Seidel addressing all our weaknesses and try to seek all the best opportunities in the market to bring quality into our team and to develop our facilities. So there is no change for us, nor for Audi. Audi project is based not on a single individual but is a project for all the company that has been, I would say, welcome at any level. And I think that there is no change. We work as a team, all together, to be ready for 2026. This doesn't mean that the challenge is easy. We have such a strong competitor, we need to be really humble and to work on a daily basis at our best because the competition is extremely high for everybody, and especially in the PU manufacturer side, I think that the competition in 2026 will be really, really strong. So we just need to be focused on our job and nothing change with the departure of Mr Duesmann.
Q: (Rodrigo Franca - Car magazine, Brazi) Christian, you mentioned 1988; I imagine that you at that time would be dreaming of being a racing car driver and would you imagine beating that record, 35 years after that? And comparing McLaren '88 to Red Bull this year, what do you see that's different, that is in common? And would you have Ayrton Senna and Alain Prost in your team as a team principal?
CH: Okay, there's a few questions in there. Look, first of all, 1988 I was still in short trousers but watching Formula 1 as a fan, and to see Alain Prost and Ayrton Senna do what they did that year and I think it was only in Monza with a backmarker that prevented them from a clean sweep and it was a remarkable, remarkable performance. And to imagine that that record has lasted 35 years, that even with the dominance we've seen in recent years, that it's stood the test of time shows what a remarkable achievement it was, and an iconic team at that point. Ron Dennis was a very, very strong leader and team leader who I always had a huge amount of respect for, so to think that we've managed to finally exceed that is hugely gratifying. And I think that there's a couple of common partners that were involved at that point in time as well, one being Honda, who obviously had provided the engine at that time, would have been V10s or turbo-powered engines at that point in time. And for them to have done the same for us and provided the power units which achieve these results is truly impressive and should be recognised in their contribution. Obviously, TAG Heuer were there with McLaren and they're now there with ourselves. And in terms of the drivers, it's so difficult to compare drivers from different generations but Ayrton Senna and Alain Prost, both legends of the sport and I think Max is rapidly joining that group, so always difficult to compare different generations.
Q: Were you a Senna or a Prost fan back then?
CH: I was very much in the Nigel Mansell camp, our Nige. It was great racing. Nigel was handicapped that year with an uncompetitive car unfortunately, but yeah, it's an incredible thing.
Would I have what? Senna and Prost?
CH: Well, they got pretty sparky between the two of them. And two alphas is always a difficult one to manage, so it was nice to watch that one from the sidelines.