FIA Team Principals press conference – Great Britain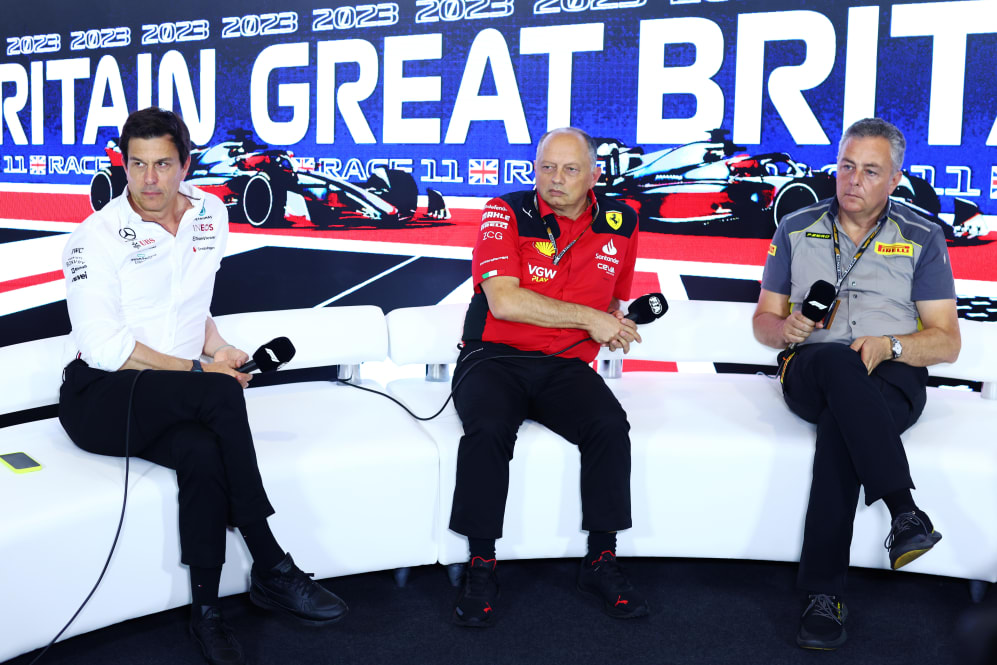 PART ONE TEAM REPRESENTATIVES Toto WOLFF (Mercedes), Frederic VASSEUR (Ferrari), Mario ISOLA (Pirelli)
Q: Mario, can we start with you, because we've seen some new tyre constructions introduced at this race. How were they performing in FP1? And, tell us what's new as well?
Mario ISOLA: What is new is just the material that we wanted to introduce in 2024 but looking at the performance of the cars, we decided to anticipate it and FP1 was in-line with our expectations – don't forget they already tested the tyres in Barcelona and the feedback was good. When I say good, I mean they didn't feel any difference, compared to the previous construction. And obviously FP2 is the more representative session for us. So, I want to wait for FP2 to better understand – but I'm not expecting anything strange, compared to the previous construction.
Q: Now, some drivers have said that these tyres are heavier than expected – and I'm quoting some of them there – what was expected and what is your response to that?
MI: Yes. They are heavier. One set is 400g heavier than the previous ones, so I believe it is not making a big difference. Obviously we already informed the FIA some time ago on the new weight. It was decided to keep the same minimum weight for the cars. That's not our decision: we just told them what is the difference in average weight. The tyres can be slightly different, because the weight, we have a tolerance of 100g so clearly if you have all the tyres at the limit on weight: they can be 600g heavier, or 650g, but other sets are slightly lighter. So, it's always like this. It was always like this in the past, it's also like this now.
Q: While we're talking 2024-spec, can we throw it forward to next week where there is the final test of the tyres without tyre blankets.
MI: We have Tuesday/Wednesday. It's not the final test because we have other tests planned for the rest of the season – but after this test the F1 Commission is going to decide if, for 2024, we ban the blankets or not. What we are doing is that, after the test, we are doing a report: an executive summary for team principals so they don't have to read 40 or 50 pages – I hope you are happy, just three pages with a summary, you're welcome! – with a summary of the test. Obviously we will also supply all the data to the tyre expert of the team. So it's not just the summary for them. And then I hope they are going to decide based on the data. If we want to continue for another year with blankets, we will do that.
Q: What is the data telling you Mario? Do you think Formula 1 is ready?
MI: It depends on what you mean with 'ready'. The new tyres, or the tyres that work without blankets are different than current tyres. So you cannot expect that you have a warm-up phase that is exactly the same as the warm-up phase of the current tyres that are heated at 70°C. We didn't have the possibility to test the tyres in all of the conditions – because we don't have cold conditions at the moment, and when we tested in cold conditions – I remember at one test with Mercedes, for example, in Paul Ricard – it was at the beginning of the season with the compounds that are not the final version of the compounds. So we were in the early stages of the development. So, the point is that we have to accept that, when tyres are running without blankets, they are different. We need to understand which is the impact on race strategies – because obviously we don't want the show to be damaged by the new situation – but the direction that we agreed with all the F1 stakeholders is to reduce the impact on the environment and make the sport more sustainable, and this is what we are doing.
Q: Mario, can we bring in Fred and Toto on this topic. So, it's almost time to make this decision about tyre blankets for 2024. Fred, let's start with you, what are your thoughts?
Frédéric VASSEUR: As Mario said, it's a bit too early because we didn't receive the report – but pretty in-line with Mario, I think that in the normal circumstances that we did the test – I think it was Bahrain – and it went pretty well. But the concern is not this one: the concern is that when we go on the low track in energy, and you will have cold conditions, in the extreme conditions – for example, Las Vegas, if you go there, you race at night and it's 4°C, what could be the outcome of this? I think on 95 per cent of the conditions, it will be OK and they are doing a good job and honestly I think a couple of teams did the test and it went pretty well – but we are not able to anticipate what could be the situation in the extreme conditions – and this we have to wait for the report from Mr Pirelli.
Toto, your thoughts please.
Toto WOLFF: I would have said exactly what Fred said.
Q: Now, Toto, can I stick with you then. Let's talk about this weekend, first of all. You've got the new front wing, we've just had a practice session, what can you tell us?
TW: It was a valuable session because it was not only the front wing, we tested a few aero parts and then obviously seeing how the new tyres performed and generally we got the programme done. We didn't run the Soft tyre, so it's difficult to judge where we would have ended-up – but it's not important. That was not our aim. It was really to see whether we can collect some data on the interesting bits. So that was good. Generally, I'm happy with FP1.
Q: After what you called a bruising experience in Austria last weekend, do you think Mercedes can bounce back here?
TW: I'm of the firm belief that we have everything that's needed to bounce back. We had a bad weekend and these cars are not only fast but for everyone are unpredictable. We've seen other teams – be it Ferrari or Aston Martin – also having these outliers, even within Red Bull, Checo has been in and out. So yeah, we very much hope that this was a track that was an outlier for us – but you know, it's not like we're going here with super-high expectations and it's all full of roses. It's not. We still need to improve the car.
Q: Hollywood is in town this weekend Toto and, of course, Mercedes has been heavily involved in the adaptation of the cars that they're using at Apex Grand Prix. How excited are you to see the production process in action?
TW: Yeah, we've been involved pretty early and I think when we had the first discussions, we sent Brad to a driving school in France, going through the Formula cars from Formula 4 all the way up – and we tried to be helpful with the narrative. Lewis is an executive producer, so he wanted to make sure when the movie comes out, it's as realistic as possible. And we had a few laughs – but I think it's a very good narrative, and the effort they've put in, we helped them – it was Fred's idea, I think – to use an F2 car and build the bodywork around it that looks like an F1 car. And then the garages and the pit wall, all of it, we tried to be helpful and give them the designs so they could be as realistic as possible. And then you see now, that is such an effort. I spoke to the director a few weeks ago and said: "where are you?" expecting him to tell me he's in Hollywood – but he said: "I'm in my apartment in Brackley," so it's not all great with being a movie director. But yeah, massive, when you go in the garage and the whole set-up they have behind it, really unbelievable.
Q: Fred, coming to you, so tell us about your involvement. Was it your idea to adapt an F2 car?
FV: We had some discussion a couple of months ago, perhaps a bit more than one year, and I'm not sure for the fans it's a big difference. I think the job done on the car is amazing, and I'm not an expert of all these things but when you go into the garage, you have the feeling that it's a proper F1 team, and even better than some teams. It's amazing what they did and I hope that it will be at the level expected, because it would be a huge push for the F1.
Q: Let's talk about Ferrari now. Your race pace has been good at both of the last two races, that's pre- and post- the upgrade. So, do you feel that you're now on top of the tyre degradation issues that you've had in the past?
FV: No, I think it's… you have to do a reset every single weekend. As Toto said before, that we are in a group from P2 to P10, that you can move from one session to the other one, from the top to the bottom and you don't have to come to the next event full of conviction. But I think the most important is to have an open mind and to continue to push – but nothing is done and I hope that it will stay like this until the end of the season.
Q: What did the upgrades give you in Austria?
FV: P2!
Q: … in terms of performance on the track, Fred?
FV: I will provide the testimonial later on. No, but you know we were looking for more consistency and drivability from the car, from the beginning of the season. And I think we did a decent step forward. Barcelona first one, but Barcelona was quite difficult and Montréal went much better for us. And then we did another step in Austria. We are going on this direction, we are focused on this and we did the two decent steps. But it's not the end, that we have still 12 or 13 races to go, and it will be a long fight. It means that we don't have to imagine that it's done, that the job is done and we will be in an easy situation until the end, that it would be each weekend depending of the track layout, the tarmac, the weather condition. It will be a full reset and it's so tight that for one-tenth or two-tenths, you can move from the top to the bottom.
Q: Carlos Sainz won here last year Fred. Do you fancy your chances this weekend?
FV: We'll have probably a better picture tonight after FP2 – but if you consider the last two races, I think we are still a step down compared to Max, and it will be a challenge – but at least to be in front of the others and you don't know what could happen.
Q: In front of the Mercedes?
FV: …yes!
TW: Ain't gonna happen!
QUESTIONS FROM THE FLOOR
Q: (Luke Smith – The Athletic) Toto, question for you, the team's obviously been on a big journey to turn this car around. I remember in Bahrain after qualifying, you were quite frank about that package not going to be competitive at any point – what were the emotions like for you in that early part of the season, when you realised this car wasn't going to get to where it was in the early part of the season, that all of the work over the winter hadn't made that step you had been hoping for?
TW: Well, you're bringing me back emotionally to frustrating days. I think these cars are just very different in the way you develop them and you look at them, than any previous regulations. It's not trivial at all to develop the tools and assess them in the right way, to have the quickest car. And I believe that only one team has gotten that right so far, and obviously they carry that advantage with them. They are not stopping. And all of us behind: Ferrari, Aston Martin, and us – and you can see sometimes Alpine – we are all in a very tight bunch. Like Fred said: I believe, if everybody runs the same tyre in that previous session, we're all within tenth or two. So it shows they're tricky. And it continues to be an interesting journey. But at the end of the day, it's mega: we need to break the run of a team that is the benchmark at the moment on merit, good engineering and a very good driver. Then we just got to go there. None of us has another choice than to catch up.
Q: (Alan Baldwin – Reuters) Question for Fred and Toto. We have 11 teams here this weekend, one of them fictitious, but when it comes to 10 or 11 teams in real life, where do you stand? There's a lot of pressure obviously on having an 11th team perhaps. Has your position changed at all in the last few months? Or is it still a question of maybe just 10 teams and if anyone wants to come in, they have to buy into an existing team?
TW: Yeah, pretty much unchanged. I mean, we have no visibility of who the applications came from, and what the proposals are, I think all the stakeholders – and I think mainly the FIA and FOM – will decide on such a new entry, will assess if the proposal is accretive for Formula 1? What does it bring us in terms of marketing and interest, and whether they want to think about introducing that. Our position was very clear: buy a team. But you know, there's a lot of consequences. When you look at qualifying sessions, I mean already now we're looking like on a go-kart track, we're tripping over each other. There is a safety concern: we haven't got the logistics, where to put an eleventh team. Here in Silverstone, we can accommodate the Hollywood people but on other circuits, we can't. Then people like Audi and the venture capital funds, have been buying into F1 teams for considerably higher valuations. And so all of that is a picture that the FIA and FOM have to access. And, as I said before, if a team can contribute to the positive development of Formula 1, then… and in a way that the other teams have done, over the many years, have suffered over the many years… yeah, we have to look at it.
FV: For once, I'm pretty aligned with Toto, that first you can't compare the impact of the movie and the impact of a team. Have a look at what happened last week. It was already a mess in Spielberg on track, with the track limits. Imagine if you have 10 per cent more infringements. But more seriously, we didn't change at all the position, that I think it could make sense for the F1 only if it's a huge push in every single direction. Very often we are speaking about the nationality of the team but for me it's absolutely not an argument. F1 is not just a UK championship because we have 70 per cent of the teams based in the UK. The attractivity of the F1 is much more based on the nationality of the drivers and so it's nothing to do with the nationality of the team.
Q: So, like Toto, Fred, buy a team. Is that your position? Buy an existing team?
FV: Yeah. Also today, we have a huge boom around the F1 but you have to keep in mind a couple of years ago the owners of the team made a huge effort, when the crisis was there, and it's a kind of benefit today – but again, if there is a huge push for the Championship, for the F1, for everybody, all the stakeholders. Why not? But I don't see we're at that point today. TW: There is no mature sports league in the world, whether it's a national football championship, or the Champions League, the NBA, the NFL, the NHL, where such situation is possible, where you say I'm setting up a team and I'm joining, thank you very much for making me part of the prize fund. You have to give to qualify; you have to go through the ranks; you have to showcase the commitment to the Championship that we've done over the many years. But, to repeat what I said, and Fred, if it's creative, then we must look at it. So far, what we've seen hasn't convinced the teams – but we haven't seen the applications and submissions that were made to the FIA and to Stefano, and they will judge whether that is positive for Formula 1 or not. But in any case, from a teams' owner side, is there no leagues which just increased the entries, because that just dilutes the whole league. I think if it's accretive then obviously not.
Q: (Matt Kew – Autosport) Toto, just to follow up on that, if you were to base a model on other championships, then that means lower down, you'd have promotions, and then teams that finished bottom of F1 would get relegated. Is that something therefore you'd be in favour of?
TW: No, I'm looking more at the American franchises. If everybody in the NFL agrees – the teams that own the franchise there, so it's different to us – agrees to have another entry, to let another team in because of the right reasons, the right ownership, etc, etc, then that team is being admitted into the championship. And the same with most of the professional leagues in the US. We are a franchise, and this is how I would look at it.
Q: (Alasdair Reid – The Times) Toto, accepting that you you've said often you want to beat Red Bull fair and square with better engineering, do you worry that the extent of their dominance at the moment – 19 of the past 20 races or something like that – that people will start to turn off, they just find it too boring, too predictable, they just go away from the sport.
TW: From a fan's perspective, I look at it and say, yeah, the risk is there. But the risk was there over the eight years that we were winning, and I would have said the same thing back then. You have the same team, the same driver winning all over, it becomes less variable. But, you know, as I said then, being in the positive situation, I would also say today that this is a meritocracy. And it's honest. And when a team and the driver are just so far ahead, it's because they're simply doing a better job than everybody else, within the regulatory framework. And there is no way around it.
Q: (Scott Mitchell-Malm – The Race) Mario, with the introduction of the new specification of tyre here, and with the comment that we heard from the drivers in FP1, it's almost a continuation of what we've heard sometimes where drivers, in the heat of the moment, make rash judgements critical of the Pirelli product. You're at the moment tendering for the tyre supply longer term, so given some of the criticism that Pirelli has had, and sometimes it has been unjust, you're dealing with the fastest heaviest F1 cars in history, does it ever feel that it's not worth it, that you need to question why would you continue doing this when you get unfair or unjust criticisms quite often?
Mario ISOLA: I believe that it's quite normal when you are the sole supplier to get some criticism. What I always say is that if the criticism is good, or to improve, it's always more than welcome. I understand that drivers sometimes are not happy about the performance or the behaviour of the tyre. But sometimes also, there are some strange situations. For example, last year we had the first year with the new cars and the new 18-inch tyres and I remember that all the drivers were happy. They said, 'finally, we don't have overheating, we can attack' and we had a lot of races with a lot of action on track. And this year, they come back criticising the overheating. And we have the same tyres as last year. So I guess how it is possible that there is something else? So we should always consider the package, not just the tyres, the tyres are working on a car that is made with some regulation. So if the regulation changes, we have to understand if now we don't have anything that we didn't have last year, why it happened. We can improve, obviously, but we have some constraint, we have to develop a tyre now that is able to work without blankets. So we are focused on that. If we have to work on a tyre with less overheating, it's another direction. We can do that. We are happy to do that. But we have to agree on a single direction. Because with 25 days of testing per year, we cannot do everything. So, I believe that there are many constraints that are more than understandable because we are racing for 22 races this year, 24 next year, the calendar is quite busy. We cannot ask the teams to do more than what they are doing at the moment, because I understand the effort they're putting in giving us the car for testing. But it's still quite limited. Happy with the situation compared to the past, but still limited, and we are trying to do our best. Criticising the tyre sometimes, it's easy, but I mean, I listen to the drivers because they are the heroes of our sport and they must be happy but it's not always easy to make them happy.
Q: (Jon Noble – Motorsport.com) To Toto and Fred, you've both changed development path in your car this season, but probably not been able to do as much as you wanted, due to architecture, cooling, side impact structures….
TW: Cost cap…
Q: (Jon Noble – Motorsport.com) …Cost cap. How much is the current version of your car a compromise on what you want to do? And how much more of a step is in the pipeline for next year and a jump needed to close that gap to Red Bull?
FV: Yeah, I think Toto is right. The main driver of this is the cost cap, that you can't do a new project that it was probably the case a couple of years ago. It means that you have to adapt your project to the situation and in these conditions I think we did a decent step forward. You have also to consider that the regulation is much more prescriptive than before and it's quite difficult to do a big step into the season. But we are, as everybody, we're already working on the project of next year, trying to correct the direction. TW: Yeah, again, I share Fred's opinion. The cost cap is a real constraint now. Because you cannot just go for a B-spec car. We know that we have… Lewis and George have been pretty vocal about what they would want to change in the car and that's simply not possible because we are lacking the financial corridor. And that's why we're looking very much at next year to change these things. What was the second question? Biggest step? Well, you know, when I asked Niki, many years ago, what do you want to concentrate on for this year's championship and win it or next year's he would say both. So I think it's always continuing to develop those cars is important for our understanding. At the same time you mustn't waste resource when you go to a, let's say, different layout of car next year. So it's balancing it out. But I guess that many teams are already quite a large chunk of development into next year.
Q: (Ian Parkes – New York Times) Toto, just getting back to the 11th team situation. Just, first of all, politely to point out that the NHL is one sport that has actually expanded with new franchises in recent years. Based on that, and based on your earlier comment, where you said that a potential new team has to contribute in a positive way, how does a new team do that before it even has an entry? What does it have to prove to F1 and the current teams, in particular, to show itself, that it's worthy of a place? And also, surely an 11th of a bigger pie is much better than a 10th of a smaller pie going forward?
TW: So, first of all, the NHL has added teams and I'm very aware of it, because they have decided to do so, all the stakeholders. We have done that in the past when Formula 1 was on the brink of losing teams, because of bankruptcy. We increased the numbers of teams and nobody complained about that. On the contrary. We felt that we needed to make sure that we have 10 teams on the grid and not lose any. So these two factors are very different with the NHL to the current situation. And for the second point: I still have the belief that this is a league of franchises. And when someone comes in, then it should be like in the NFL, where you say what is it that the new team brings to the party? And that, I repeat, is for the FIA and FOM to decide. We can comment from the sidelines here and obviously our standpoint is clear, because we would only want to have a team that brings something to the cake, like you say, and an 11th team brings more than what they cost the other team, more show, more exciting drivers and like Fred said, the team's nationality plays no role. We have an American team since a long time, we need to have a good points system that we attract more drivers from the US, that we make them eligible for a Super Licence. We need to support young drivers like Logan Sargeant to give them enough time. Because like we've seen with Fernando in Spain, you've got a race at the front. If you're not racing at the front your fellow countrymen are not going to follow. These are the things we have to do. And if one of the applications has demonstrated to the FIA and to FOM that it is beneficial that they join, we can just stay welcome, you know. At that stage, we have to embrace the decision that's been taken and say, OK, let's work on this together.
Q: (Adam Cooper – Motorsport.com) A question for Toto. Some of us went to Red Bull Powertrains yesterday, we saw a lot of your former colleagues working there. How difficult has it been for HPP to replace all those people? And given all the experience that was lost, how confident are you that the company hasn't been weakened, especially in the context of the 2026 project?
TW: I think what I said before is that it is a very ambitious project with Red Bull Powertrains and a very courageous project. HPP has 1,000 employees and lost some to Red Bull in the same way we lost some to Ferrari, and we lost some to Renault. And indeed, the other way around. You know, we are not bragging about any people that have joined us from Red Bull. I won't mention any names. We have a constant influx of Red Bull people, as we have from the other teams. I mean, the two of us are often discussing that. So, you know that is happening all the time. And so, the people they've hired, we wish them the best. Some of them were retired in our organisation and ended up there in a leading position, but that's fine. They've been given a second lifeline.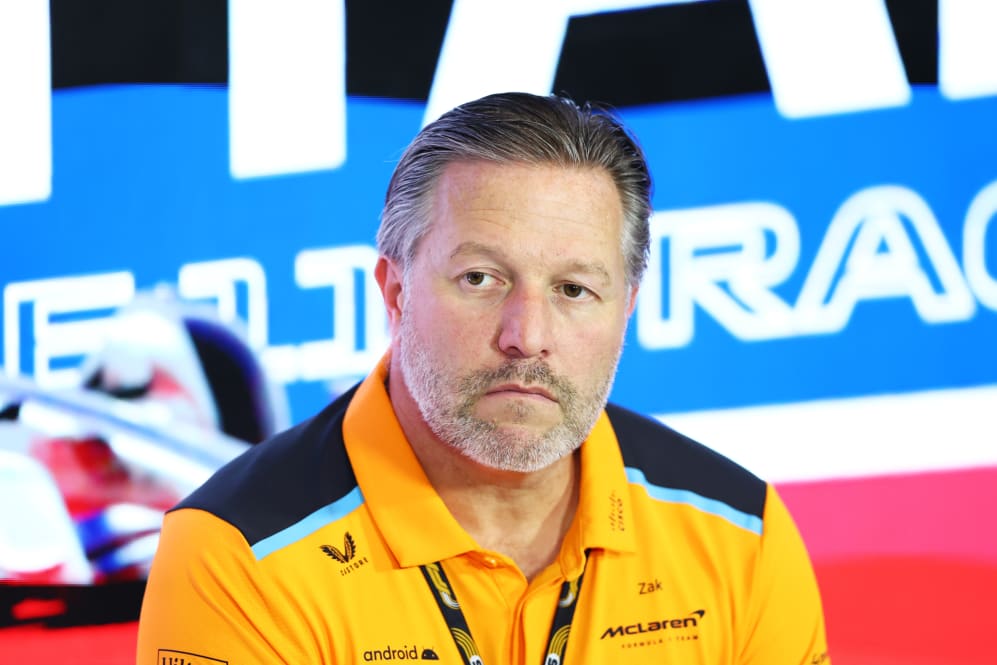 PART TWO TEAM REPRESENTATIVES James VOWLES (Williams), Mike KRACK (Aston Martin), Zak BROWN (McLaren)
Q: Zak, can I start with you, please? Tremendous race for the team in Austria. You've got more upgrades here. Are expectations growing by the race at McLaren?
Zak BROWN: I think we need to be careful to keep our expectations in check. Austria was definitely a nice step forward. Free Practice 1 looked pretty good here. Of course, no one is standing still. It's extremely close. It was good to get the upgrades on Oscar's car this weekend. So let's see how we go. But it is definitely a step forward and gives us some nice momentum.
Q: Do you feel that you've found a fertile development path with the MCL60 now?
ZB: Yeah, I think Andrea and all the men and women at McLaren have done a great job improving the car. So it definitely is a step forward, a momentum builder, and I think is a nod to the work that Andrea and all the team have done to restructure and go about the development of the car. So I kind of feel like our season started in Austria.
Q: A message for the fans? What's possible this weekend?
ZB: I think both cars in Q3. You know, the top four teams still have fantastic pace. But we'd like to be an irritant over the course of the season. But I feel like we're in the game now.
Q: OK. Now, in part one of this press conference, there was a lot of talk about an 11th team, because of course the film is here this weekend with us. Can we get your thoughts on that? Would you welcome an 11th team in Formula 1?
ZB: Well, there's been a lot of debate about this, and everyone has an opinion, but there's really only two entities that make the decision, Formula 1 and the FIA. So I think, you know, everything has been submitted to them from my point of view. I think it would be easiest if they bought one of the 10 teams, and then that way, there wouldn't have to be this debate. But you know, to me, it's all about being accretive to the sport. What are they bringing to the table? What's the appropriate size? Franchise fee? I think when we started this journey five, six years ago, the sport was radically different. So yeah, let's see what happens. I think it's in the hands of the decision makers, and hopefully, there'll be a decision soon.
Q: An 11th team would affect the details of a new Concorde agreement. Where are we at with that process now?
ZB: We're starting to talk about it. So there's no significant conversations going on. At the moment, from my point of view, I think the sport's working really well. So I don't think there's a lot to discuss. I think we should just kind of continue, maybe a little bit of refinement here and there. But ultimately waiting to be formally approached to start conversations.
Q: Zak, thank you. I'm sure there'll be more questions in a moment for you. Can I put that 11th team question to Mike and to James. Mike, first of all, with you, would you welcome an 11th team in Formula 1?
Mike KRACK: Yeah, I think the whole discussion is something that shows the attractiveness of the sport. That many, many teams want to join it. It's great for the sport. It's great for the fans, to have this discussion. I think it has to be right. I think it has to be decided in the right way. And we will see what happens as Zak said the decision is with the FIA and F1. So I think the right decision will be taken.
James VOWLES: I mean, same view as the others. It's a sign of how strong the sport is, that we have so much interest in growing the grid from where we are today. What's really worth mentioning and nothing against it but it has to grow the pot sufficiently. At the moment, actually, if you look at the earnings, the profit, most teams lose money. That's the result today, and we need to make sure we keep growing the pot as a result of things. And very much welcome someone that grows the pot further, as simple as that. We all get a bigger pie and we get a bigger slice of the pie. And that makes somewhat sense. There's the option and opportunity to clearly buy one of the existing entities, I take Zak's point, that already exists on paper. But our perspective is we very much welcome it. We just need to make sure that the pot is widened sufficiently that it makes sense.
Q: James, staying with you. Can we talk about 800 races next or 799 as it is this weekend? Just tell us a little bit about the impact that the heritage of Williams has had on you personally and tell us is there a favourite race, a favourite car, a favourite Williams driver in the team's history that you have?
JV: First and foremost, I was joined by a few in the Experience Centre at Williams just a few nights ago. And basically, dining in and amongst championship-winning cars, it's quite a special situation. And for me, there's a number of special cars. You'll often find me, if you can't find me in the office, I'll be in the Experience Centre, fundamentally sitting between something like the 14B or the 15C, somewhere in that ballpark. And that's where I go to think. And so yes, and I did my contract wrong, I should have included one of those, that was a mistake. But irrespective, there's a huge legacy and a huge amount of history. And it doesn't take long to walk around the Experience Centre to feel that. There's nine Constructors' World Championships. Mercedes had eight. And that's a tremendous amount. It's a huge, huge legacy that follows this organisation and 800 Grands Prix cements that. The livery we have on the car I hope represents that. It represents a nod to Frank, to how he started the organisation in 1977. It's a nod to England, which is the home Grand Prix for it, to the United Kingdom, fundamentally within the flag that's on the car. So, all those things I hope are represented into it. But it was the first win for this team, the 100th win for this team and it has good history.
ZB: I tend to disagree. I'd say FW11B, the British Grand Prix. That was probably the best British Grand Prix of all time, that Nigel won in '87.
JV: It was a great move, a great dummy move. But you're right. Lots more to it. But you're right on Silverstone.
Q: Well, Mike, are you going to weigh in on this conversation?
MK: No.
Q: James, in terms of performance FP1 looked very strong for Alex. Just what can we expect from the team and the FW45 here?
JV: I think we look strong, but we were more focused on Qualifying than others. Some teams didn't even run the soft tyre, we ran it quite late on. So, we'll keep our feet on the ground. But what I can say is from Montréal onwards, we put an update on the car that allows us, if we get everything right, to score a point. We didn't get everything right in Austria. That's the reality behind it. But we have the opportunity to be there or thereabouts. And I think the same applies to this weekend. I think what you're seeing from the outset, it's a positive start. But to give you an idea, Logan's lap wasn't bad at all, just very early on and fell back as the track improvement ramped up, and other people did their laps and things. The main thing is we're learning with the package we've got and really just doing the best we can by moving forward relative to a highly competitive group. To Zak's point, I'd say there's almost five fast teams now. The McLaren is pushing in and around there. What they did in Austria was impressive. But four, sadly here with my colleague, four really strong teams and that just means there's just two places at the end of the top 10 that we're fighting for at the moment.
Q: Alright. Best of luck. Thank you. And Mike, coming to you now. A good haul of points for you guys last weekend in Austria, but the car wasn't as competitive as we've seen it in previous races. Do you understand why?
Mike KRACK: Yeah, I mean, after the race. But that is something that happens after each race. There's a lot of analysis going on. I think we have to analyse what are the particularities of the circuit compared to other circuits. Where would this have put us? Fernando said yesterday, also traditionally, it was also not the greatest track for us, which I have to agree. But we need to get to the bottom of it and move on. I think the British Grand Prix this week is something that is really very exciting for all of us. We have new bits on the car that we tested this morning. So we're looking ahead to do the best possible this weekend.
Q: Just one more follow up on that. Do you think the problems in Austria were track specific? Is that what you're saying?
MK: Yeah, I think that is the case. So we have seen some circuits where we were really strong. We have seen others where we've been more struggling. But all in all, I think when we say competitive or non-competitive, we came away with 21 points. So I think it's not a bad result.
Q: And you feel you've hit the ground running here at Silverstone? Are your first impressions good?
MK: Yeah, as happens often when you have a Sprint weekend, the following weekend's [practice] is just a test session. It was the case for us. Fernando had the big rake on the car. We had a big test programme for both cars. And at the end, we fitted a set of softs, it was more like a look and see. And it felt good. Both drivers were happy with what how the car behaves. So we're quite confident for the next sessions.
QUESTIONS FROM THE FLOOR
Q: (Ed Spencer – Total-motorsport.com) Zak, there are plenty of Google Chrome logos around the circuit. You've got a new livery based on Chrome. Is there a possibility that you may ask Google to become your new title sponsor for the future?
ZB: Google is an awesome partner. There are not many more impressive companies out there. It's exciting that we're able to do – as James is doing – a kind of a nod to our history and the future. Of course, we had great success with a chrome livery when we last won a World Championship, which was too long ago: 2008. And to be able to do something that's a nod to our past, while we're celebrating our 60-year anniversary, but also very much looking forward to the future, so I think these are exciting times. What all the teams are doing with their sponsors that are all really a nod to the fans, to give them something exciting to look forward to at all these different races.
Q: (Matt Kew – Autosport) Zak, McLaren have repurposed the old factory. You've hired Rob Marshall, David Sanchez, etc, etc. None of these are particularly cheap moves that you have made to boost McLaren up. So under the cost cap, what are you doing to ensure absolute compliance and are there areas of the business where you've had to take money away from to ensure you're still under?
ZB: First thing we did is we reduced our catering bill! We had some inefficiencies in our spend. We weren't operating our own wind tunnel, we were renting a wind tunnel, so that comes at a higher cost than if you're just paying operational expenses for your own. So yeah, we've had to make some tough decisions, but also, with some of our new technologies coming online, they're actually financially more efficient and so we're able to redirect some of that inefficient spend into additional headcount.
Q: (Luke Smith - The Athletic) James, picking up on talking about the past with Williams cars. I wanted to ask you about Brawn and when you went into that 2009 season. Obviously you'd come off the back of such a rough 2008 but what were the emotions in the team like around that pre-season period when you put that car on the track for the first time and realised just how quick it was and did you dare to believe that it could maybe fight for a championship that year given all the team had been through?
JV: It was an interesting emotional journey because obviously we all lost our jobs in December 2008. Everyone stayed in the factory, every single person, to basically go on to build the car that was the Brawn GP car. But that car was developed in three wind tunnels separately so if you had asked me is it going to be quick, I would have told you, yes. First time it actually hit the track was Stowe circuit here at Silverstone. I remember at the time we were operating at the back of one articulated truck, that was it, and HPP on the power unit side all turned up and were wondering where to set up laptops, and we thought 'anywhere you like particularly, the ground is here'. We had nothing. The car did 50 laps on those tyres, we put it back into the truck, then it went to Barcelona where everyone else had been testing for a period of time. And as cars got released, we started looking at them going 'that's odd, that's what our car looked like a year ago or six months ago'. And so it wasn't… I'm not going to say a surprise when we turned up, but the first laps we ever did, Jenson went out… It was the same tyres by the way that we had at Stowe, so 50 laps at Stowe 'school', went out, came back in again and I remember the debrief quite distinctly. He said 'I'm sorry, the car balance is just terrible. It's not feeling good at all.' We made some adjustments, sent him back out, he came back in again and said 'no, the car balance is not there.' Walked into the timing screen where he was three and a half seconds a lap faster than anyone. Oddly enough, the car balance was fine after that. But that was the year. The year was just these… I could write a story about every single moment through it, as could many of my colleagues that were there with me. It was a fairy tale really by the description of it, but we had an idea just based on what we could see from other competitors and what we knew our car was at the time.
Q: (Josh Sutill – The Race) Zak, Alex Palou is having a great season in IndyCar. He's a driver you want for your IndyCar team. How impressed have you been with him this year and are you worried that any of your rivals in the F1 paddock might try and snap him up for next year?
ZB: Alex has been very impressive in IndyCar. The competition there is fierce, so for him to win as many races as he has, in the fashion in which he's done it, is very impressive. He's our reserve driver and will be joining us at the end of the year for the remaining Formula 1 races, so he's definitely a strong, strong talent.
Q: (Alan Baldwin – Reuters) For Zak and James: you had a meeting at Downing Street in the week to discuss various things and one of the things I was told that you particularly discussed was the consequences, post-Brexit, for teams, the British-based teams. I just wondered if you could detail some of those consequences that you've been having to deal with, in particular examples, whether it's permits, movement, carnets, generally getting stuff in and out of the country?
JV: The main thing is this: we're doing a couple of hundred carnets at the moment to move items in and out, and one of the restrictions that imposes is, for example, should we go to Imola, which is what we did, and items get damaged, you still have to return everything back to the UK. Furthermore, in terms of calendar construct, you can't go UK, Imola, Canada, for example. You have to go UK, Imola, back to the UK, clear items and a carnet, then on to other countries. So there's a movement of componentry that isn't helpful at the moment to the sport, including optimising the calendar. And there's the movement of people as well, that is difficult. So there's elements of, definitely more latency, more lost time getting through airports on both sides than there were previously. Now, there are exceptions in place. It was a very good conversation. I think it's certainly, from what I understand, the first time we've engaged really well with Government and the Government was very receptive to where we are. They understand where British motor sport is at, they're supportive of it, and there are various items in place, for example, for musicians. I know it's very different, it's one musical instrument, but a little bit more freedom around that. And there's discussion whether that can apply to motor sport as well.
ZB: Just as James said, those were some of the issues that were discussed. I think it was great that Stefano pulled that all together. Governments are very supportive of Formula 1, recognise how much Formula 1 contributes to the economy and the entertainment in the country. And I think , as James pointed out, it's more around the logistics and supply chain, that if we can work together to free up, it will make everyone's life a little bit easier.
Q: (Adam Cooper - Motorsport.com) We're going to have another go at a 24-race calendar next year. How tough is that going to be? Is 24 the absolute limit? And are you relieved to at least see some attempt to streamline the calendar with Middle Eastern races grouped together, for example?
MK: Yeah, the 24 races has been debated a lot. We have also the double headers, the triple headers. I think, all in all, it is probably not far from the limit of what we can do or what we can accept. But I think it is down to the teams to find ways of making this sustainable for their employees. I think all the teams do that, discuss that, try to find solutions. But again, it shows the strength of the sport and it is something that we have all agreed to and now we have to find ways of making it happen in a sustainable way for everybody.
JV: I think Mike said it well. It's an optimisation problem. Clearly, we can't just keep throwing the same people at it. We have to rethink, almost to a certain extent, how we are running racing organisations. But there are racing series that are doing 32 or more weekends a year. It's just an optimisation problem. How do we make a life that is sustainable for everyone whilst continuing to perform.
ZB: I think 24 is the limit. Stefano is going to set it as such. There's a demand for probably 30 Grands Prix. So I'd like to see a day where you have 24 Grand Prix, but in order to embrace more markets, maybe you have 20 fixed Grands Prix and eight rotational so you're in 28 markets 24 times a year. I think that would be a great way to keep the calendar where it is but yet still have calendar growth. And the schedule has definitely been improved this year from a logistics point of view and it's not easy, because each territory has a reason why they want something on a certain date or there's other events or holidays, things of that nature. So it's top of mind for all of us and I have no doubt it'll just continue to improve.
Q: (Jake Boxhall-Legge – Autosport) We've had a lot of discussion recently in the media about the 2026 regulations and some of your fellow team principals have been perhaps calling for a little bit of change. So for Mike, are there any causes of concern from Honda, or is everything looking good? And for both James and Zak, are you kept in the loop with this because obviously, you're going to have to choose to continue potential partnerships and things like that?
MK: Yeah, it's interesting that these comments come up now. I think the working groups are on it already for a while, more than a year already, and we're working on it. I think we need to be careful. Some of the regulations that we have in '26 were instrumental for people to come back, Honda in this case, or for others to join. So we cannot dilute them now just because we have another look at it a bit later. So, all in all, I think it is important that we work together as teams with the FIA, with F1, to find the best possible solution for these new tasks, new regulations with a more equal split between the different energies. I think time will tell. There is working groups going on, there was one on Thursday I understand, so I'm quite confident that the will find a proper product
ZB: Yeah, ultimately not concerned because everyone in Formula 1 is extremely smart and so whatever the final regulations are, they'll figure it out. We have a great partner in Mercedes Benz who have a fantastic history in the sport, so they do keep us in the loop. Obviously, we have an interest in making sure that the regulations are fit for purpose, but I have no doubt they will be, not even on the power unit side but the chassis side as well and there's still work in progress.
JV: I think that summed it up well. There is active discussion, as Mike said, there was a TAC on Thursday, where this is being talked about continuously. And we'll arrive at a solution. The direction of travel is quite clear: moving to sustainable fuels, moving to an engine formula that is prescribed. Now we just need to put a package around it that is good for the show but the direction of movement is one where we're working together.
Q: (Adam Nicholson – Total-motorsport.com) It was announced for Hungary and Italy that the new qualifying tyre format is going to be tested. Just thoughts on that? Obviously, there's the environmental impact, but on track do you think it will have a significant impact, and how much?
JV: Obviously I think it was Imola that we were due to try it and it didn't happen. It was put on to the SAC two years ago and it's sort of come through to now and to 2023. The idea is good. I'm not sure what it's going to do. There's always a little bit of concern, where you're slightly on the slower side. Is it going to be as easy to get the harder tyres to work? Are we actually going to split the field out? But the concept of trying it is exactly why we are doing it. We're unsure of what the other circumstances will be, what will happen to the field spread. In many ways, there'll be positives. On that harder tyre in the first session, you'll be able to not just get one lap out of it, as is the case today perhaps in Silverstone with the soft tyre, but multiple laps so you'll see more cars going around the track, more laps being completed. Probably positive for the sport, positive outcome for it but will it make a bigger gap or make it more predictable, unsure yet, which is exactly why we're running it as a format. So open minded and it might present a new direction of travel.
MK: I think the key word here, is what James said, the open-mindedness. We need to try different things. I think Stefano also highlights this all the time. And in this case, the idea behind it is less tyres, more sustainable, so I think we have to applaud that initiative.
ZB: Nothing to add.
Q: (Simon Abberly – Nevis Radio) Mike, obviously substantial investment in Aston Martin, you've got a shiny new factory just outside the circuit. You've got a wind tunnel, I believe, coming online in the next year or so I believe. With the development you've had this year, do you think this is still part of the upward trajectory that Lawrence has got for you or is there more in the pipeline? Or is this kind of where you're at?
MK: We better do. No, I think it is a clear statement of intent from Lawrence to build this campus, to put this all into life. Where we are now, what we have achieved in this year had nothing to do with that because we moved in couple of weeks ago. So now it's about taking the next step, getting everybody settled in the new facility, taking into service the wind tunnel, as you have said, when it is ready and then move on and make the next step. So I hope there will be more to come.
Q : What is the most impressive aspect of the new factory?
MK : For me, it is clearly the improvement in communication that you have between all team members. You have a very, very large design office, you have very large areas where people can talk, people can meet and I think this is key. Before, you had people that maybe were working with you, but for 10 years you didn't see them, because they were just in a completely different building, in a different location. So it has been a big boost for every one of us to be together with all the team members, to be together with all the colleagues and I'm quite sure that we will benefit from that.
Q: (Jon Noble - Motorsport.com) Going back to the '26 issue, one of the concerns voiced is that Formula 1 will become an ICE championship, that it will all be down to the engine performance. Especially to James and Zak, you need to make a decision on your engine partner for that period. Is your impression that the ICE will be more important for competitiveness and how difficult does that make it for you committing to a power unit you don't know how it's performing?
JV: I think in any power unit regulation change you can win or you can lose out as a result of it. Mercedes did a very, very good job across the 2013/'14 changes, an example of that. Probably if you go the years before then again, there were power unit suppliers that were slightly above but it did also settle out fairly quickly afterwards, well into a uniform formula. I think Zak said it well, we have a great relationship with Mercedes and a long history behind it and they've been strong in the sport for 20 years. My view on things is that whoever you go with, you will forge your alliance and I think it will settle down to a very sensible position very quickly shortly afterwards. And it would be wrong to say the chassis still doesn't have a large impact on it because I still think in the regulations, as raw as they are at the moment, there's lots of potential to do better or worse than your competitors.
ZB: Yeah, I agree with everything James said. We've got a great partnership with Mercedes, so pretty hard to imagine them not getting it right, regardless of wherever the final rules shake out. And it's always a combination, isn't it, of driver, chassis and power unit to put out a competitive car. So I don't think that'll be any different, whether that was this regulation or next regulation or the regulation after that.
Q: (Sam Cooper - PlanetF1.com) Zak, we've seen that Lando's a step ahead, in terms of upgrades, of Oscar. Is that going to be the case going ahead for the rest of the season? And has Oscar spoken to you about that? Is he annoyed a little bit that he's lagging behind his teammate?
ZB: It's only one race. We originally were going to have the upgrades for Silverstone and everyone back at the factory did a great job to be able to pull forward one set. Of course you can split them but then you have a parc fermé risk if you have an issue. Oscar is a team player. We communicated with him early on. We're kind of one upgrade at a time, so there is no fixed rule, but obviously just given Lando's experience, it made sense to put it on the most experienced driver and Oscar now has what Lando had a week later, so all good.