FIA team principals press conference - Italy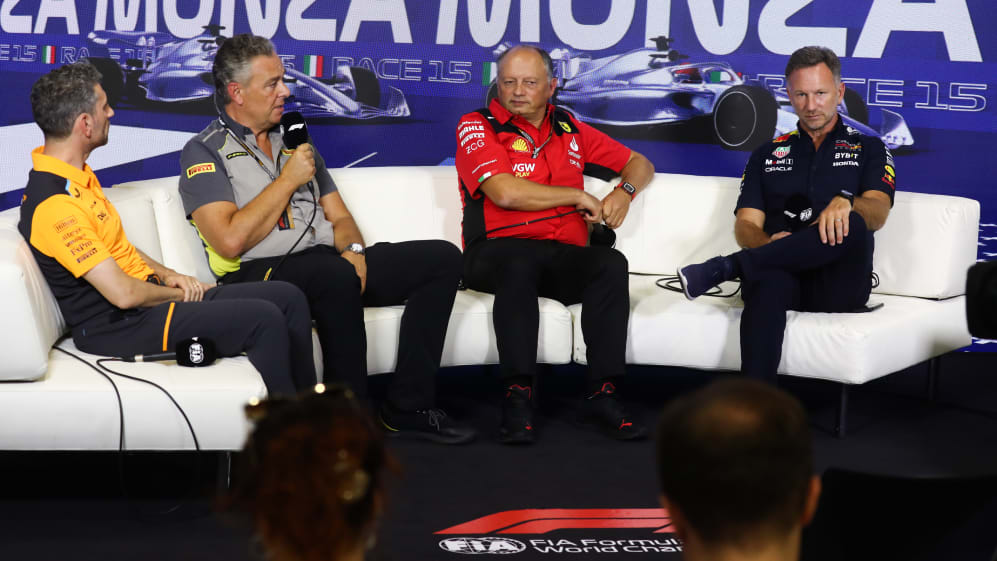 TEAM REPRESENTATIVES : Andrea STELLA (McLaren), Mario ISOLA (Pirelli), Frédéric VASSEUR (Ferrari), Christian HORNER (Red Bull Racing)
Q: Fred, can we start with you please. Your first race on Italian soil as team principal of Ferrari. How is this different to anything you've done before?
Frédéric VASSEUR: From the beginning of the week, I am trying to say that it is not different, to keep everybody calm and focused – but the reality is that it is a bit different. We've had a tonne of guests from the beginning of the weekend, we've had tifosi at the factory every single day of the week. For sure it's different. It's a lot of emotion but we have to try to keep it under control.
Q: What reaction are you getting from the tifosi? What are they saying to you?
FV: They are very enthusiastic and positive and it's a good push and a good motivation for the team and I hope that we will be able to give them something on Sunday.
Q: And Fred, it is, of course, your first race here as Ferrari boss but can you remember the first time you came to Monza?
FV: I think it was for the F3. The Grand Prix della Lotteria di Monza or something like this was 30 years ago – or a bit more.
Q: Tell us about performance then, we've just had FP1. How much confidence do you have in Ferrari's low downforce package?
FV: This morning the FP1 went pretty well. Now it is quite difficult, that we used to have a reference, compared to the other on the usual format. Today it's a bit different, we didn't have the same run plan, we don't know exactly what level of fuel and setup of the engine that everyone is using. We are much more used to the normal format – but it looks OK. The balance was OK and we are focused on ourselves. I think we will have a better picture tonight.
Q: Enrico Cardile told us in the press conference last week that Ferrari is on top of all of the issues with the current car. So, can you solve them in the short-term or are we going to have to wait until 2024?
FV: When you want to improve, you have to do two steps. The first one is to understand where you are weak and the second one is to fix it. I think we have probably a better picture of true weakness today and we are working on it, try to improve before the end of the season but it's not an easy one with the calendar and at least for next year.
Q: Well, let's talk about next year. You have told the media that the car is going to be very different. When you look at the progress made by McLaren, for example…
FV: You are making the question and the answer! Because last time you ask 'will you carry over the car?' I say 'no', and I answer the car will be completely different.
Q: But Fred, knowing the jumps that other teams have made, do you think that you can in one winter join Red Bull at the front?
FV: Honestly, I think it's not the question. Today, the best job is to do the best job that we can. To try to improve on ourselves, to improve on ourselves, to work on ourselves, to fix the weaknesses that we have on the car. Then we will see the outcome – because I am not in the wind tunnel of Christian and I don't know what they are doing. It means that we just have to be focussed on ourselves and not try always to compare with the others – at least during the development. Next year will be another story.
Q: Final one from me then. What is the goal this weekend? Do you think a podium is achievable, as we saw with Charles at Spa, a couple of races ago?
FV: If we did it at Spa, we can imagine to be able to do it in Monza. On the other hand, if you have looked from the beginning of the season, it's so tight and such a big mix. I would say that Max is perhaps in a different situation but between P2 and P11-P12, every single weekend it is a different order. It means that the focus is not to make a forecast and prediction and it is to work on the car that we have and try to get the best from it.
Q: Christian, you've been a thorn in Ferrari's side for many years now. I wanted to start by asking: what kind of reception you get and the team gets from the tifosi?
Christian HORNER: Well, to be honest, I mean, they're so enthusiastic and obviously very, very passionate but always also respectful. It's a noisy crowd and a very supportive crowd of anything in red – but we've always had a good rapport and always a fantastic reception whenever we come here.
Q: Fred first came here 30 years ago. When was your first trip?
CH: Well, obviously I'm not quite as old as Fred. I first came here in… I think I drove here in 1997 at a test, in the fog in October. It just struck me just how fast the circuit is. I was scared driving at most circuits in those times, but it was scary because it was so narrow, and so fast. And there's such an atmosphere when you drive into the park and so on here. It's just phenomenal. The Temple of Speed is a very apt name for this place.
Q: Your record-breaking winning streak continued at Zandvoort last weekend. Let's talk about that first of all. How is this run of success affecting the team?
CH: Everybody is just immensely proud of what we're doing and enjoying this golden moment for the team. So to have won 13 consecutive races this season, and for Max to match that record of consecutive victories for a driver, was a phenomenal achievement in Zandvoort, despite the weather doing its best to upset things. Yeah, it's incredible. Motivation is sky-high in the factory. It was interesting hearing Fred saying he'd like to know what's going on in our wind tunnel – but we're hardly ever in our wind tunnel. It's incredibly, to be honest with you, and testimony to everything going on behind the scenes, because the race team and what you see track-side is the front face, is the shop window of what we do – but what goes on behind the scenes, the long hours, the hard work through all the different department that go into producing these incredible cars.
Q: What emotions do you feel coming into a weekend now. How nervous are you about this winning streak, and do you dread losing it?
CH: Well look, you've just got to take things one step at a time. You guys have been asking about a winning streak since about Race Three. So, you get used to that, and I think from our perspective as a team, we just try to take things one session at a time, one qualifying at a time, one race at a time and stay in the now, rather than project too far into the future.
Q: Max had everything thrown at him last weekend yet he still came out on top. Have you ever worked with a driver so impervious to pressure?
CH: Last week again was insane. The amount of pressure. The noise on the grid, the atmosphere, the demand from the crowd. It's basically like being in a three-day techno-party throughout that weekend. To see how he dealt with that. I mean, Qualifying was the first challenge, then in the race, the rain on the grid, and obviously we pitted at the end of the second lap and that had dropped him down the order. A lot of drivers, it would have got to them at that point, but he kept his head, he kept calm and then his pace from thereafter was absolutely phenomenal and again, another very impressive race, a masterclass from him and under such pressure it's very impressive how he deals with that.
Q: But have you worked with a driver like him before?
CH: No. Sebastian Vettel was a different driver and achieved incredibly impressive results but a very different character to Max. The way he deals with that pressure, when you've got the royal family queuing up at your car to wish you well, just before you step in, and whatever else in his home country, I mean, it's hugely impressive, the way that he's dealt with that expectation and that pressure. The only reason we're racing in Zandvoort is because of him. That's a big burden on his shoulders.
Q: No signs of him tightening up at any point?
CH: No. To be honest, I think in Q1 when he went straight on at the first turn, and then we didn't get a lap, he got baulked and the weather was coming, that was probably the… but it was more on the pitwall that we were conscious of getting a lap in than certainly him on the car. Despite trying circumstances, he copes with it incredibly well.
Q: Mario, home race for Pirelli. Do you do anything differently this weekend?
Mario ISOLA: No, not really, apart from that we have a different format for the tyre allocation that obviously is impacting our operation. But the rest is the same.
Q: I meant more off-track really. Do you stay at home?
MI: I stay at home, yeah! I can sleep at home. That's good for people travelling as much as we do. It's a good opportunity.
Q: You mentioned the ATA – the Alternative Tyre Allocation – what is your assessment of how it went the last time we trialled it, in Budapest?
MI: I am positive about that. I heard some drivers complaining about the new format. I believe that, with some fine-tuning it could work. In Budapest, we had FP1, that was affected by rain, and so it was decided to stay on the same format in order to understand if it works or if we need – not Pirelli, when I say 'we' it looks like Pirelli, no, it's the sport that wants to go in this direction. Tell your drivers not to complain about the lack of tyres – no, I'm joking. I'm positive we have seen this FP1 with a lot of cars running, different strategies: somebody using the Hard; somebody using the Medium or the Soft, so all the three compounds can be a good option for the race. We decided to go one step softer, this thanks to the format, because they have for the race, at least two sets of Hards; two sets of Medium; two sets of Softs. A good breakdown for the race. The qualifying format is different but in a normal, standard format, obviously all the teams are focusing on keeping as many Soft as possible for Qualifying and this is affecting the race allocation, so I'm still positive on it and I'm sure we can find a good solution for the future.
Q: Talking about the future, you're mid-negotiation with Formula 1 about a renewal with Pirelli. What can you tell us? What's the latest?
MI: No news compared to the last time we spoke. We presented our offer. Obviously, the tender is quite complicated and there are a lot of details that must be discussed with F1 and with the FIA, with the teams. It is not only for Formula 1, but also for the support series, like Formula 2, Formula 3, and F1 Academy. So it's quite a complex package. And I hope and I'm still positive for that.
Q: Is there a deadline by which…
MI: No. The only deadline was for us to present the technical specification, the technical document and for the FIA to tell us if we are an approved bidder, which happened a few months ago, and now the commercial negotiation has no deadline.
Q: Alright, final one from me. While we're talking about the future, can we look at next week? It's going to be a busy one for Pirelli. You've got a test taking place here at Monza, you've got a test as well at the same time at Fiorano. What is your goal for those two tests?
MI: For Monza, we decided to continue developing the no-blankets tyre, even if the tender is not decided yet, because unfortunately, in Spa it was wet, so we had no possibility to test the prototypes that we had available. And in these prototypes, we have some concepts that we want to develop for the future. It's also interesting for us to understand. We use Formula 1 to develop technology and knowhow for the company, so that is a good opportunity. For Fiorano it is slightly different. We know that we have to improve the Wet tyre, because it is difficult to test the Wet tyre. And we can go only in Paul Ricard, on the short circuit, where we have sprinklers, or in Fiorano, but unfortunately both are low severity circuits and when we go to Spa, when we go to Silverstone and we put a lot of energy on the tyres the result is different. Drivers overheat the tyre and they lose performance. So we need to consider that indication coming from Spa in order to improve the Wet tyre. And we have to finalise also the development of the Intermediate without blankets for next year.
Q: Alright, thank you very much. Andrea, thank you for waiting. Let's talk about Monza first of all. How different is it coming here as the team principal of McLaren to when you were working at Ferrari?
Andrea STELLA: Definitely still quite busy. We know a lot of people in the paddock, we have friends coming, so it makes it definitely busy. It's emotional. It's a place that I like. I have so many memories. Some of them of success, so it's, you know, it's just a great experience. I try, now that I come as a team principal to try and disconnect as much as possible. You know, like, making sure that we keep being a bright guidance to the team, keep the focus, but inside myself definitely emotional.
Q: And what a place to celebrate 60 years of the team, the actual birthday being tomorrow, if I'm right.
AS: The actual birthday is tomorrow – just a phenomenal achievement for our team. We at McLaren have a strong sense of belonging, we are proud to be carrying this incredible legacy. And for me, when I get to the MTC, I normally enter from the far end of the boulevard. So I actually walk the boulevard with all the cars. And you know, it's such a reminder of the privilege that we have. Myself in my position, everyone working at McLaren, and it gives us even more motivation and determination to add our part to this legacy.
Q: Well, let's talk about that bit, the performance. How much confidence do you have in the low-downforce package that you brought here?
AS: Well, low downforce, like I said in Spa, was on the to-do list at the start of the season and it was after just improving the general efficiency of the car. We had no time to address that for Spa. We had some quite rapid corrective work to be able to come here to Monza and have some low drag solutions. We saw these solutions split across the cars this morning. We are happy that the data we saw were matching the expectation. So now we are left to pick the right one for the race. And we hope to do better than what we were doing in Spa in dry conditions.
Q: Talking more generally, you've hit a rich seam of performance with this car. You're competitive at every track we go to. How much longer are you going to continue to develop it or is the focus now on 2024?
AS: So, the focus itself on development has stopped. We are now working on next year's car. I think this is pretty much what has happened in every team. This doesn't mean that we won't have any new part, because actually there's a time lag between the development at the factory and the delivery of parts trackside. So we will see some new parts coming in the next couple of races. And we hope that by improving our performance, we will be able to consolidate the good results we have had lately, and possibly lean on the podiums once more before the end of the season.
Q: Final one from me, talking about Zandvoort. A missed opportunity, but I wanted to ask you about the radio traffic that was going on between Lando and his race engineer. It got pretty heated. Can we just get your thoughts on what was said and what you've done about it since the race?
AS: Right. So, at the time Lando made the comment that I understand was broadcast, he was obviously frustrated. He was frustrated because he realised that we were missing an opportunity by staying out one lap too much. And this is because the pit wall misread the situation. So Lando was addressing it. This is what champions do. We like this character. You know, we want to be heavily challenged by the driver. And we can be heavily challenged because our culture is strong. We can bear with that, you know. We'd rather have this kind of challenge rather than a passive driver that just takes everything and doesn't contribute to the development of the team. So for us this episode is not a problem at all. I think we all also should be careful in extracting a single comment out of context and being over-judgmental about it. Actually, the review after Zandvoort has been very constructive and I'm very pleased with the, again, reinforcing the culture that we saw in the team and the drivers.
QUESTIONS FROM THE FLOOR
Q: (Diletta Colombo – Automoto) A question for Christian. Were you pleased with Liam's performance last week?
CH: Yes. I mean, in very difficult circumstances, in a car he'd never driven and having missed out on the Friday running, at a tricky track, in rainy conditions, it was very tough for him, but I thought he acquitted himself very well, very maturely and he did a solid job during the race, so. So yeah, I think he ticked all the boxes.
Q: (Luke Smith – The Athletic) Another question about Liam. This is an unexpected opportunity for him to show his credentials in F1 machinery and deal with the pressures of being on the grid. How serious a chance is this for him to stake a claim to a seat within the Red Bull family either in 2024 or beyond?
CH: Well, it's a great opportunity for him. I mean, for any driver to get themselves in a Grand Prix car, you've got to make the most of it. And this is a golden moment in his career, for him to demonstrate what he's capable of. So, we're obviously following his progress very closely. And, you know, Daniel's misfortune was Liam's good fortune. So you know, it's down to him to make the best use of it.
Q: (Niharika Ghorpade – Sportskeeda) Christian, with the growing pressure on the sport to deliver an entertaining season or level the playing field are you worried at any point that there could be regulatory intervention to slow down your dominance? And to the other two team principals, do you think it would be fair for a regulation to be brought in to do so?
CH: Well, look, regulations are pretty stable. We have three sets of regulations now: Technical, Sporting and Financial. The Technical and Sporting playing fields seem to be reasonably content. The Financial one, there seems to be a little bit of manoeuvring now and again on. But I think that regulations are stable for the next couple of years. And we fully expect our competitors… I mean, look at the jump that McLaren made recently. We fully expect there to be convergence, you know, even this year, before we head into 2024. I'm not aware of any draconian, significant regulation changes in the pipeline. We have that already for 2026, which will be a complete reset. Despite the fact that we've done a lot of winning this year, a lot of the races, including the last race, [have been] pretty entertaining. Or certainly, from where we were sitting, [Zandvoort] was. So yeah, I don't think that the sport is lacking entertainment at this point in time. FV: I'm not a big fan of the balance of performance or any kind of artifice like this, it's not the DNA at all of Formula 1. And on the top, we have already the wind tunnel allocation, with a kind of balance, not balance of performance but balance of allocation and it's enough.
AS: Yeah, I agree. We don't want to have any help. We want to close the gap by our own means. And we like this challenge. And that's what we want for the next couple of years.
Q: (Adam Cooper – Motorsport.com) Can I have your thoughts on Lewis extending for two more years and what it means to the sport? And also, are you surprised that he's willing to go for 19 consecutive seasons? Guys like Michael, Kimi and Fernando, they all took time out and had a kind of reset.
CH: Well, I think it's great that he's extended. Yeah, he's a big name in Formula 1. He's a global name throughout sport, and obviously, the most successful driver in Formula 1's history. So for him to be extending that relationship, I think is good news for the sport. I think it's always great to race against him and yeah, he obviously is fit and motivated. I think, you know, Fernando's setting a new bar for what the age limit is in Formula 1. And it just shows that, you know, age is no barrier if you have the motivation and commitment and passion to do it. FV: I think that, personally, but I'm not the only one, we were not surprised with the extension. It's good for the sport. I think that Lewis is a mega driver and it's very important for F1 to keep him on board and on the top. He's still doing a mega job also, if you compare with his teammate, that is still there and he's doing the odd mistakes and so on so we need to have drivers like Lewis on the grid and it's a good move.
AS: Yeah, I fully subscribe to what Christian and Fred said, and specifically for Fernando, knowing him well, I absolutely am not surprised that he can do that because of his ethos, because of his talent, because of his intelligence. And it's very interesting for everyone, I think, to see that you can achieve that even if age keeps clocking.
Q: (Scott Mitchell-Malm – The Race) Andrea, just to follow up on your answer about Lando's radio comments. When he was here yesterday, he was talking about how, when he hears back some of the stuff he says, he's almost disappointed. He said he hates how it sounds, because in the car, he feels like he's calm and then he hears it and realises he wasn't. You've obviously suggested there that it's not too much of a drama. Where do you draw the line? Because obviously, you need to give the drivers freedom to vent in an emotional situation but you also don't want them saying anything under the sun that could potentially demotivate the people they're talking to?
AS: In terms of the motivation… You know, I talked about culture before and this means that you have awareness of what racing is, you have awareness of how you should take drivers' comments, and just make use of it, as long as they are constructive and just dismiss all the rest. We are very aware of that and Lando himself, he is aware that he came across as tough to the team but then he dealt with it immediately after the race, just with the quality of the person and the driver that we all know. So, for the team the matter is closed and overall, for the team, we have grown. So we have no problem at all with that. In terms of how Lando perceives himself, I'm sure he will make some adaptations to his tone and pitch and so, potentially, in some time we will hear Lando speaking in a slightly different way, such that he comes across in a way that is more close to what he expects of himself. But for us, we are happy. And we just have to make sure we support him as well as he deserves.
Q: (Christian Nimmervoll – Motorsport-Total) Christian, Lando yesterday said in the press conference that he would basically be open to going against Max in a Red Bull car if there was an approach. Are you considering an approach for either '24 or '25 when Checo's contract ends, or '26 when Lando is a free agent again?
CH: Look, Lando is a great driver, there's no doubt about that, and you can see his potential is growing. But he's a McLaren driver, you have to respect the agreements that are in place. But he's one of a few drivers at the moment that… He's doing a great job in the sport and of course we have our drivers confirmed for '24. In '25 we have one seat open and as you can imagine, there's not a shortage of interest in that seat but it's a long way away at the moment.
Q: (Jon Noble - motorsport.com) To the three team bosses, there's a flexi-wing clampdown coming for Singapore. Do you share the FIA's opinion that some of your rivals have been pushing the boundaries too much and do you sense with the new requirements, there's going to be a bit of a collateral fallout and all teams are going to have to make a few changes to ensure compliance?
AS: The FIA they have a lot of information, they can see things that other teams can't see in terms of respecting cars. So they are very competent. So we 100% trust their judgement and their approach and if they thought that it was the time to release a Technical Directive then it means that there is a reason for that. We are not very concerned about that, to be honest, so we take the positive that if the FIA felt it was needed, it means that there is something to clamp down and for us I think is good news.
FV: By definition, a TD is a clarification of the regulation. It means that there was already a regulation in place. and we are, as someone said, that we have to trust the FIA that if they consider that they have to do the TD it's probably that the regulation was not clear enough and we trust the FIA in this direction to do that.
CH: Yeah, I think Fred's summed it up there. It's not something that affects us. We've seen a few rubbery nose boxes, shall we say, so we'll see those get addressed, I guess, in Singapore.
Q: (Ed Spencer – Total-motorsport.com) Christian, Lando touched on Max yesterday, basically said he was one of the fastest drivers ever to compete in F1. Where would you rank Max in terms of the all-time greats? Do you think he's already on the top of the tree? Or is he still mid-pack at the moment?
CH: Well, I never worked with Fangio or Jackie Stewart, but maybe I should have put Stewart before Fangio, if Sir Jackie was here! But what Max Verstappen is achieving is quite phenomenal. He is an exceptional talent. What he's managed to do in the last few years has been quite remarkable and with the amount of victories he has, the records that he's been breaking, if he wins, hopefully, and defends his driver's title this year, then he joins some very illustrious names in the sport. Now it's always very difficult to judge against those and we're fortunate that one of the most successful drivers of all time is still competing, and as we've just heard, extending their tenure in Formula 1. It's always difficult to compare generations but you have to start to include him in the bracket of some of the greatest that this sport has seen.
Q: (Ronald Vording - Motorsport.com) Christian, yesterday Max reacted to Toto Wolff suggesting that the RB19 we see now might suit his driving style a little bit better than Checo, and Toto thinks that might explain the difference between the two of them. Max said, 'I just adapt myself to whatever car I've got'. But what's your view on that suggestion?
CH: Well, I think I completely agree with Max. It shows a total lack of understanding of how a race car and team develop, if Toto thinks that we're developing a car around a single driver. You develop a car to be as quick as you can and sometimes quick cars are difficult cars. That's what's historically been the case. And I think that drivers adapt. The good drivers that you see in wet conditions, mixed conditions, varied conditions, the elite [drivers], they adapt quickly and I think that's one of his key skill sets is his ability to adapt to the feeling and the grip levels that a car gives him. But there's certainly no direction to say 'oh, we tailor something to suit one specific driver', we're just trying to design and build the fastest car that that we can, that our tools, our simulation or our wind tunnel provide us with that direction.
Q: Christian, Max has spoken about Baku being a breakthrough for him with the RB19, what did he find there?
CH: I think he just found… he's just playing with his driving style and what's remarkable about him is that when you see how he uses the tools within the car, how he varies his style, it's truly impressive, and his ability to adapt to conditions, to circumstances. Quite often you'll see it on the first lap of a practice; quite often he'll go straight to the top of the charts because he's got this inner confidence in being at one with the car.
Q: (Adam Cooper - Motorsport.com) For the three team bosses: going back to the tyre tender, Franz Tost said last week that it's a bit late for an announcement of a change of supplier for '25. Do you agree? Is it already getting too late for Bridgestone to do a test programme, be ready for '25 and then a whole different car in '26?
CH: It's never too late. It depends, as with all these… Pirelli is a great company and I'm sure in their tender that they've offered generous terms to the promoter, to the teams. And you know, we'd love to… There's many, many millions of reasons that we would love to continue with Pirelli. So, you know, they're a great tyre company, they've given us a great service and hopefully there's, as I say, several million reasons that that will continue.
FV: It's not just about the millions of reasons. But more seriously, and technically, I think that it's true that it's quite challenging. Also, because we are speaking about one type of tyre for 2025 and probably another one for 2026. It means that you will have to develop two different tyres or construction or perhaps dimensions in the next two or three years. And as Mario said before, you have also doing the junior series and so it means that it's a very, very large panel. I don't know if it's too late, it's not my job, but it's a challenge.
AS: Well, I agree on the million reasons obviously. And in terms of timing, I would say that for us as teams it's not a problem but seen from a tyre manufacturer point of view, it looks like it's getting tight so hopefully we'll see the decision soon.