FIA Team Principals press conference - Mexico City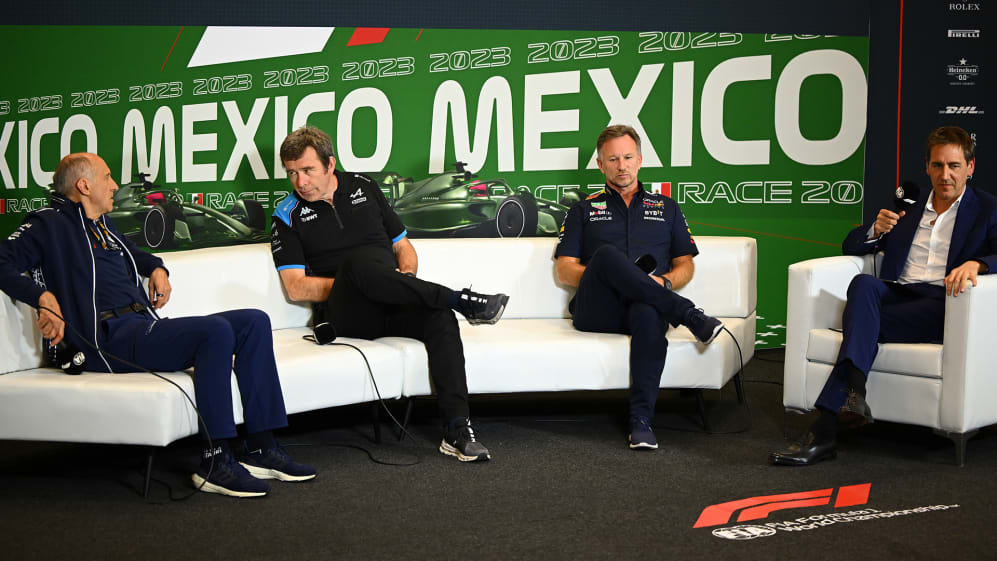 PART 1 - TEAM REPRESENTATIVES
Dave ROBSON (Williams), Xevi PUJOLAR (Alfa Romeo), Ayao KOMATSU (Haas)
Q: Xevi can we start with you and specifically Théo Pourchaire. He was your young driver in FP1 but he didn't actually set a lap-time. What were his issues?
Xevi PUJOLAR: Yeah. Unfortunately, today was his session in FP1, as the first session for a young driver. We had a problem with the brake-by-wire system. We had a development item on the car, and unfortunately, it didn't work. We tried to fix it during the session but then it was obvious that we had to remove the gearbox and to fix it. So, it was not… We couldn't set any proper running with him.
Q: Hugely disappointing for him, is he going to get another go in the car later this year?
XP: We have got another young driver session to do later in the season but we still haven't decided who will be driving for that session.
Q: Now, let's look at this race going forward. It was one of your strongest in the second half of last year. Have you seen enough in FP1 that you feel better prepared for this race than you were in Austin last weekend?
XP: I think still too early, especially with a session with a prototype tyres. And when we look in Austin, at one timed lap, we were good. Then, in race pace, we were struggling more. So, here last year, we were strong, both in qualifying and also in the race. We'll try to replicate what we did last year, or even better, but we have to see in FP2, and then not even in FP2. I think we have to see. Everything is so close that we have to see how everything is evolving through the weekend.
Q: Xevi, it's been a rollercoaster ride with the C43, this year, hasn't it? Peaks and troughs: Qatar very strong, double points finish. And then, as you say, we then go to Austin, and it's not so competitive. Why is that? What are the issues with the car?
XP: I think it's the same for all three sitting here, I will say, because everything is very close. We try to push with upgrades. They try to push as well. We bring upgrades and it doesn't take much to jump to the front. The front of the group or the back is just very little difference. Sometimes even at one lap, you can be okay but then in the race you're struggling a bit more, from track to track with different tyres, different conditions. It doesn't take much. We had a very good race in Doha, for example, in Doha Sprint event on Saturday, pace was quite difficult. But then on Sunday, it was quite good for us with both Cars on the points. In Austin, it was a bit different. Qualifying was good – but then struggling more. Here hopefully we can be strong along the weekend. That's our target. We've got another chance because we had an improvement in development last race. So, here we will optimise ta bit more. Track is also a bit different with less bumps. So, let's see. Let's hope it goes in our direction.
Q: In what conditions is the car at its best? What kind of circuit layout? What kind of compound of tyres?
XP: I don't think now we've got… Because at the beginning of the season, I would say, OK, maybe when it's towards lower speed and hotter temperatures, warmer temperatures, we were better. But now everything is so close that, for example, we've been working quite a lot in all the conditions. Ambient, also towards lower track temperatures, or higher speeds in Doha, we had higher cornering speeds also in Austin. We were good in these conditions but then I think it's just for each specific condition and how we are in the race. If you can be more in free air, or not, I think then everything changes quite a lot, how the lap will evolve: do you have a good lap one in the race? Where are you relative to your competitors? And that can change quite a bit. So I would say, at the moment, it's just you try to maximise everything all the time, because we are all very close.
Q: Well, how do you look at the last four races, and specifically, when we think of the Constructors' Championship, you're P8, just four points now ahead of Haas, how do you see it playing out?
XP: For us the target is still P7, ahead of Williams. But, as you say, now also AlphaTauri, they are strong, Haas had also the upgrade, they are strong as well. So we've got now races here, and São Paulo is a race where things can change very quickly. For us, this race weekend and São Paulo I think are crucial to see on which way it will evolve, if that P7 is realistic or not.
Q: Ayao, let's come to you now. Can we start by talking about Oliver Bearman. He was, what, 0.3-0.4s off Nico Hülkenberg? How good a job did he do for you in FP1?
Ayao KOMATSU: I don't think you can fault him: he's done really well. But all the way from the initial preparation, he's been very professional, very, very easy to deal with in every single process, I have nothing to complain. And then today, with the calmness, procedures he understood, he understood the objectives of every single run. He didn't put a foot wrong, really. I mean, he didn't maximise the Soft tyre. That lap-time difference you talked about, Nico's lap wasn't great either so you can't read too much into it, but in terms of his feedback, it was really good, engagement with his engineers, really, really good job. Really impressed.
Q: Did anything surprise you about him?
AK: The surprise is how well he managed everything, really. Honestly, I can't pick a moment from all the way through that preparation where something was frustrating or difficult, including his management. It's been a really smooth process. It's been a pleasure to work with him and his management team.
Q: Let's talk upgrades now. You took them to Austin. What conclusions did you draw there?
AK: It's still early days, because obviously Austin is a Sprint weekend. One hour to sort the car out with a completely brand new package. So, in the qualifying, for sure, we didn't get the maximum out of it, drivers didn't get the maximum out of it. In the Sprint it still showed some issues we had before with our original spec. That's why we took the decision to start both cars from the pit lane. You can say, OK, you qualified P14 with Kev, why did you start from the pit lane? But if you look at how we went in the Sprint, he was quickly going to fall from P14 backwards, so we made a decision: OK, a mistake's been made, rectify that, put the car in the best condition for the race, see what we can do. And I think you can see, especially from Nico's second stint, it was very, very strong. Even the first stint was decent. Third stint with Kevin, free air, was strong. So, we did make some progress. Main thing we are looking for is consistency, better tyre management and driveability. So we haven't concluded 100%, we've got more work to do, but there's some initial signs there that will be useful next year.
Q: What were the drivers saying in the post-race debrief?
AK: Post-race debrief, again, main thing was, for instance, Nico's second stint, we should have probably maximised that a bit more. The strength is that we could do that stint. And then Kevin, again with the second stint, we had something we still don't understand with the tyres, that wasn't competitive – but first and third stint, he was pretty happy, and third stint he could push more than he anticipated, if you like. That is actually a positive sign, the fact that we could maybe push the tyres a bit more with this package. It's far from being conclusive but, yeah, initial impressions, those are the key things.
Q: Ayao, could I ask you now to reflect on the 2023 season, how it's gone from a performance point of view?
AK: That's a difficult question. Obviously our launch car, it had a decent one-lap pace but really, we were eating-up tyres, so depending on circuit conditions, if it's hot or cold, front-limited, rear-limited, tarmac roughness, it changes, but really our weakness in race pace and behaviour in traffic – I'm sure you guys experienced something similar – that was extreme. And also, the ride of the car hasn't been great, so certain weaknesses we identified after, let's say, four races, those were the main issues. We tried to develop the original car but we weren't really finding the performance, and that's when we decided to change direction, and that's the package we got in Austin. But the fact the Austin car wasn't outright, let's say, five-tenths quicker was because we didn't press the button straight away, because we are still trying to get performance out of the launch car, shall we say, by developing it, but unfortunately we didn't find it. So, lesson learnt is that really that decision-making, how far we keep going in this direction, when we going to have to make the decision to switch? Because when you switch package, or completely the concept, you're going to lose lots of downforce to start off with. You have to recover it. So, that's the difficult decision – but yeah, I mean, it's difficult to really fault anyone in the team, but that's the decision process that probably we could have done better this year.
Q: And did you see enough in Austin to confirm in your mind that it was the right decision to switch when you did?
AK: I don't think we saw enough in the Austin package itself, but of course that Austin package carries on in the wind tunnel and I know how it's going in the wind tunnel at this minute, so we are finding more performance, so I'm sure that's not a wrong direction. Is it 100% the right direction? Probably not. We still need to find out more but certainly it's a better direction.
Q: And Ayao, how do you see this battle in Constructors' Championship? It's close between the three of you in here, AlphaTauri as well. Which racetracks do you think will suit your car of these last four?
AK: Honestly, I really echo Xevi's comment. It's just so close and small things can tip it over. I mean, if you look at our Sprint performance in Austin. OK, we changed the car spec but Sprint versus race, it was a totally different story. And then Qatar, we weren't expecting to qualifying that far ahead, and our Sprint performance was strong. So, honestly we have the same approach as Xevi: you have to go flat-out, maximum effort, every single track try to adapt as quickly as possible, improve as quickly as possible. And then, when the battles sort out, you cannot say, 'oh, next track we're not good, let's give up on it, focus on Abu Dhabi', or something like that. Every single race we have to try to squeeze everything out of it.
Q: Dave, Thank You for waiting. Let's come to you now. So, your pace looked very good in FP1. Was it a surprise? Because Alex Albon told us yesterday that he wasn't expecting much this weekend.
Dave ROBSON: Yes, quite a big surprise, if I'm honest. We still don't fully understand why. I think it's quite clear that Alex was very confident and happy in the car, right from the first lap, which makes a big difference. But obviously, the debrief is going on now. So. I'm not exactly sure whether they're able to pick it apart. But yeah, it's definitely a surprise. A nice way to start the weekend but a bit of a surprise.
Q: Dave, can you tell us a little bit about the radio conversations that were going on at Williams during the session, in terms of the feedback you were getting from the drivers and what the engineers were saying as well?
DR: Much the same as normal. I mean, the feedback was coming back from Alex. Maybe, if anything, it was a bit quieter than normal, because he didn't have too much to complain about. The balance of the car is pretty good. And he felt confident straightaway, but yeah, there's the usual things coming back from us to him. It's more about managing temperatures here. So, brake temperatures are inevitably hot, power unit's running hot, we will take a little bit of care of that. But otherwise, fairly normal and quiet session.
Q: And are you going to focus on one-lap pace here? I mean, how important is qualifying?
DR: Well, I think that's something we need to try and work out tonight. Because I think, here of all places, the race pace between the different cars can vary a lot, depending on how everyone is on top of the cooling. So, I don't think it's necessarily just about having the most downforce or the best balance. Potentially on Sunday, if people don't have the right levels of cooling, and struggle to follow, the race could be a bit different. So, we're going to have to figure that out. Qualifying is important. Overtaking, if all the cars were well managed, is not easy here. So, I think we'll have to take a view after P2 on where we think everyone else is, and how they're lining up for race pace, and then we'll decide how to how to cut our pace.
Q: Can we talk about Logan Sargeant, now? He got his first point in Formula 1 last Sunday. How much confidence do you think he'll take from that? Do you have you seen any difference in him already this weekend?
DR: Absolutely. I think he is quite happy, as you expect, bouncy, enthusiastic, desperate to get back in the car yesterday and get back out on track. So, I think he drove a really good race on Sunday. Obviously, in the end, we benefited from other people's issues. But nonetheless, he got himself into that position, was really very close to Alex on the road. And he drove better and better as the weekend went on, which given that Friday was difficult, I think it actually showed a tremendous amount of mental strength and ability for him to just keep pushing at it. And then on Sunday, his race pace was very strong and he got a good reward as a result. And now he's looking to go and do it again.
Q: Can you tell us a little bit about Logan's season as a whole? Where's he made the biggest gains since Bahrain?
DR: It's interesting. Preparing for another interview, looking back over some of the notes from earlier in the season, you forget that in Bahrain, he was really very, very good. So, the Bahrain race was outstanding. Obviously we went into that race off the back of three days of testing, which helped, but nonetheless, his pace was strong, everything was good. Qualifying in Saudi Arabia got off to a really good start. So, he had a really good start. His pace, and his general approach to everything was really strong. And then we went through that group of circuits that he hadn't been to before and some of them are really tough. I'm sure these guys would agree, you go somewhere like Melbourne and it's not an easy track. And that probably hurt his confidence a bit. And then he sort-of came back strong when we hit the European season. Not able to get points, but still looking much better. And then we had a few rough races where he damaged the car a bit and that's affected the spec, probably affected his confidence a little bit. And now hopefully, starting last weekend, we've seen it back on the way up again.
Q: And when you look at the data, where are the biggest differences between him and Alex?
DR: It's really quite small. I think… certainly over one-lap pace is very small things. When it comes to the racing, I think maybe, as with all rookies, it's difficult to get on top of how you need to race these cars, to have a decent stint pace. You can't go off too hard on the tyres, you've got to look after them. Still think that, as we go to different tracks with different layouts, different compounds, temperatures, roughness, I think it's genuinely quite difficult to explain to everyone how complicated it is, and how seemingly small and innocuous changes can have big impacts. And I think that's still somewhere where he struggles to get his head around it a little bit. And obviously, with the Sprint events, it's particularly difficult, because you don't get to see any of Alex's proper race data. Even the Sprint race is not like the grand prix. And so, I think that just means he… last weekend, he did an exceptional job of going in cold, effectively, on Sunday and showing really good pace and good management from the start.
Q: A final one for me, Dave. Pat Fry starts at Williams next week. What kind of impact are you expecting him to have on the team?
DR: That's a good question. I've obviously known Pat a long time. We worked together at McLaren. So, he will definitely come in with some good ideas. I think he just adds to what is already a good technical team. He's got a big job to do, to work out how we best organise ourselves and take the whole operation forwards, but I'm sure in the meantime, he'll be desperate to get involved with the day-to-day running of this car and the development of next year's. So he will definitely have some good ideas and some different views on things. And I'm sure we'll have an awful lot of discussion starting, yeah, next week, I think.
Q: Will we see him at a race this year?
DR: I think so. Yes. I'm sure we will.
QUESTIONS FROM THE FLOOR
Q: (Luke Smith – The Athletic) Ayao, question for you. Picking up on what you said about Ollie and his FP1 running, I remember in 2016 you ran Charles Leclerc for four FP1 sessions. How much of a reading for how good a driver is going to become do you get in just this one hour, hour-and-a-half session? Could you see when you worked with Charles, for example, the signs that we've gone on to see in such a great grand prix driver?
AK: I think it's a bit difficult to make a direct comparison, really. But honestly, if I just think about today, he's done so well. Really, really, well. I really can't fault him today. So, we got another session planned with him in Abu Dhabi. So really looking forward to that. And then yeah, hopefully more sessions next year as well. So it's very promising.
Q: (Alex Kalinauckas – Autosport) Xevi, please. It's actually a question about a bit earlier-on in your career and your experience of working with Max Verstappen when he arrived in Formula 1. Just wondered, could you talk us through what was he like when he first joined? What was his motivation? And what drove him to succeed in Formula 1? Thanks.
XP: I think for me, he was very impressive from day one, from the first test. On the way he was always asking. Curiosity to push everything around him on the car, on the people working for him. And then the skills on the driving. But, I think the most impressive on the way how he is pushing. On the way he's pushing himself, but he's pushing everyone around, just to extract everything from the performance side.
Q: (Luke Smith – The Athletic) Dave, a question for you about Alex's role with the team this year. He's obviously getting on in terms of F1 races, becoming something of a veteran now. But, have you seen him take another big step forward in terms of his leadership? His performance has been amazing, but how he sort of builds the team around him this year?
DR: Yes, definitely. I think rather than a big step, I think almost every weekend you see growing amount of confidence in Alex to lead the team. I think he's become increasingly confident in his own views and opinions of where the weaknesses are in the car. He then feeds that into us, obviously. He's then straight back into the simulator back at Grove, working on the solution. So, I think that whole loop is just increasing his confidence. He knows that what he's saying is right. We can see where the solutions potentially are in the simulator. And now it's up to us as the engineering team to work out how we deliver them. But yeah, he's feedback is just getting better and better. And his confidence in his leadership is also the same.
Q: (Adam Cooper – Motorsport.com) Obviously there's been a lot of talk about planks in the last four or five days and the fact that only four cars were tested. Obviously, we understand that's the FIA protocol, that they just take a sample, but would you have had any objections if they came and did the whole field, all the finishers, and checked everybody and would you actually feel more comfortable now, knowing which guys were legal or not legal?
XP: I think from my side, I'll leave it to them to decide which car needs to be tested and I'm happy if they do either way.
AK: Yeah, I don't really have much to add. You know, we know what the regulations are. Each team decides on the margins, how much to push for it. Sprint event, normal race weekend, again, that affects your margin. So yeah, it's, it's fine. No problem.
DR: Yeah, I agree with these two. I mean, I think the way the regulation is policed at the moment, testing all cars at the end of every race, it's just not practical. I think it would take so long that I think everyone would get frustrated by that. I think the spot checks and the severity of the penalty is enough that I think, most of the time, most or all of the cars will be legal. So I think it's fine as it is.
Q: (Jose Gabriel – Soy Referee) A question about Alex Albon for Dave. Obviously, today was P2 in the first practice. How does he manage to get the best out of the car, because obviously Williams, in the last years, has not been fast, but him, somehow, over one lap pace has been able to extract everything from the car. So how is he working? And how you feel he is doing to maximise the car?
DR: Yes, I suppose some of that comes back to the earlier question. So, this car obviously has had a reasonable amount of input from Alex over the last couple of years. So I think the car is better than it has been in recent years. And it still has issues, for sure. Today, I think the car for whatever reason was just good straight out of the box. So the set-up work that Alex had done on the simulator clearly helped. I'm sure everyone else will come towards us and we'll see how the rest of the weekend goes on. But for sure, he has a good understanding when the car is working well, or when it's not working when in some corners but well in others, he's quite capable of adapting to that without getting too frustrated. So he is very good at making the most of what we're able to give him and in the background that continual sort of medium-term development of the car is going on and he's leading that and so as we bring the improved parts to the car, if it delivers what he has asked for, then inevitably he finds the lap time.
Q: (Alex Kalinauckas – Autosport) Another question to Dave, please. Just looking ahead a couple of races to the new track coming in Vegas, could you just please explain what is the challenge for a race team rocking up at a brand new venue and understanding the track surface? I know you have simulated data, but that can be very different at various tracks particularly ones that are being built as we speak.
DR: Yeah. Very good question. It is tough. I think that combination of the track surface, which we know very little about the moment, and how that will interact with the tyres will dictate so much of how the weekend pans out. Obviously, in terms of the layout of the track, we've got a good understanding of that and we can we can run it in the simulator and get a rough idea. But I think going into a new track like that, one of the main things will be that we go with a clear starting position but we also have a whole host of options lined up ready to cover whatever actually happened. I don't think anyone… Certainly we can't predict exactly how the car will behave in Vegas, so we will go there with plenty of options. So whatever happens we're able to cover that off as quickly as possible.
Q: (Adam Cooper – Motorsport.com) Another Vegas question for all three of you on the challenges of Vegas, and specifically the temperature in terms of tyres. And I guess, general car cooling is the total opposite of here. So any thoughts on that? And how cold is it likely to be with a qualifying session basically ending at 1am?
AK: Yeah, certainly that will be a challenge, exactly what temperature we're going to get how the tyres are going to behave. So that will dictate largely how we are going to run qualifying, how are we going to run the car spec etc. So, in terms of preparation, again, you put your best estimate out on out on the table, but really, depending on how the tyres are reacting, right. And that's not only the temperature of the track surface, general overall grip level as well. So, for us, it's just doing enough homework, then being ready with options, so that we can react quickly.
Q: Ayao, do you relish the challenge of a new venue, a new race track?
AK: Yeah, it's always exciting. Obviously, when you see a certain layout and you know the weakness of the car, you think, 'oh my God, this is not going to suit,' but yeah, it's always exciting.
Q: Xevi, Dave?
XP: Yeah, I think similar to what has been said, I also like a new challenge, a new track. But then also what could be the conditions, no? We'll be preparing also the homework and preparing all the 'what ifs'. What if that happens, or if we find these conditions, or if the tyres they don't perform, or we struggle in terms of map or graining or whatever is the issue that we have got there, to have a plan, just as a containment for that.
DR: Yeah, I think in terms of the conditions, with them being as cool as we're expecting them to be, I think the interesting thing is what we do now that we live in this cost cap world, because I think previously we'd have probably made a new, small cooling package and traded in the cooling we didn't need for downforce, there may have been a few other things on the car we would have done. But now we've got to say, 'well, is it worth doing that?' Particularly as you get towards the end of the season, that may depend on how much attrition and expense you've had to spend on that in the previous months. But yeah, I think it's quite a good example of how in a cost gap world do you choose to optimise the package for that particular circuit? Because the parts you could make, you probably won't use anywhere else. So, do you want to do it? Or do you not? And in part that depends on what you think these other guys will do. So, the whole thing becomes quite a nice little game theory problem.
Q: (Scott Mitchell-Malm – The Race) A question for Ayao, please on Ollie, and the job that he's done. His pace, the communication and the general demeanour seemed outstanding, especially for someone who's only 18. I know it's hard to draw conclusions from a rookie FP1 appearance, but is that as good an impression as a driver can make in the circumstances? And was it better than you expected?
AK: Answer to both of your questions: yes. I don't think you can expect much better. And then yeah, certainly, better than my expectations were. Not that my expectation was low. But that was so professional and he didn't put a foot wrong. The communication and the feedback were really good as well. So really, I've got nothing to complain about. It was really impressive FP1.
Q: (Luke Smith – The Athletic) Picking up on what you said about going to new circuits, and particularly for Vegas. We went to Qatar, for example, and we had the tyre issues that emerged. There are certain things you can never really predict. How possible is it to really get a good reading of what Vegas will be like for the cars and for the teams, given there are so many unknowns? How much of a disparity do you reckon there could be?
AK: Honestly, it's similar to my answer to Adam, but rather than trying to predict something we haven't got capability to predict perfectly, it's more about managing unknowns. So, really just to simulate those accurate simulations in your head and what can be the alternative scenarios, what if this happens, so really managing unknowns and if you've done your homework properly, you should be able to react.
PART 2 - TEAM REPRESENTATIVES
Franz TOST (AlphaTauri), Bruno FAMIN (Alpine), Christian HORNER (Red Bull)
Q: Franz, can we start with you, because one of your drivers in FP1, at the end of the session, said it was the best day of his life. Tell us about Isack Hadjar and how you think he got on?
Franz TOST: I don't hope that this was his best day of the life, I hope that he wins races and championships. This shouldn't be the best day of his life. No, he did a good job, I must say. We were all impressed by him. He was calm when he went out, he was out with three different sets of tyres, the prototype tyre, the Medium and the Soft. And with all these different compounds, I must say that he really did a good job. His technical feedback was also quite good, because if you compare it to the data there is a very high correlation. And we are really impressed and I think that he will be soon in Formula 1.
Q: You've had so many young drivers pass through your team. Just how daunting is that first FP1 when it comes around?
FT: No, it should be motivating, not daunting. I like drivers who are optimistic or looking forward. You know, they never should take this pressure on them. I said to Isack, just enjoy driving your first time in a Formula 1 car, don't care about anything, and go for it. There is no pressure or nothing. If the driver loads the pressure on himself, he will not compete well.
Q: Now Daniel Ricardo was inside the top 10 in that first session. Do you feel you've hit the ground running here? Do you think you have a good base set-up?
FT: It looks like that the base set-up works. We did a lot of simulation work. And Daniel was quite happy with the car. A little bit too much understeer in the first sector. We have to work on this. But generally speaking, we should be with both cars in qualifying three. That's the target at least.
Q: Can we throw it back to Austin now, because I would like to talk about Yuki Tsunoda. His best result of the season so far. Would you say it was his best performance this year?
FT: Yuki showed a couple of good races, I must say. And we should not forget that we got two places because of the disqualification of Leclerc and Hamilton. Otherwise, he would have finished 10th. But it was a very controlled race from his side. I must also say that his tyre management was really good. And you can see now, he's in his third season, he understands everything much better, especially the tyres. And he handles also the races in a better way. He has a better race understanding. He reads the races now much more maturely. And therefore, he did a good race. Whether it was his best race, I wouldn't say so. But he did a really good race.
Q: It was Daniel's first race back post-accident as well. How long did it take him to get up to speed?
FT: Yeah, he's still in the period to speed up everything. Because if you're out Formula 1, and if you were injured, it takes time and I said to Daniel from the beginning onwards, when he came to Austin that Austin will become a difficult race, don't care about this, just get used to the car get familiar with everything. And Mexico will be a similar challenge. I expect you will see the old Daniel, whom we know who can win races, in Sao Paulo, but it looks like that he is already here, on this level.
Q: And what about the 'super sub', Liam Lawson of course. He did those five races. How do you reflect on the job he did? And do you think he deserves a race seat in Formula 1?
FT: Liam did a fantastic job with us, because we must not forget the circumstances when he, the first time, drove in Zandvoort for us, he wasn't prepared for this. He just had to jump into the car. It was raining. He had to use full Wet tyres. He was never in a Formula 1 car with full Wet tyres and also not with Intermediates. And he did everything without any mistake and he showed a good race performance in Zandvoort. And I think his highlight with us was in Singapore when he finished on the ninth position. Singapore is not an easy track. He was competitive from the very beginning onwards, no mistake, nothing and he deserves a seat in Formula 1 and I expect him, at least in 2025, to be in Formula 1.
Q: Franz, final one from me. The Constructors' Championship. AlphaTauri currently holds the wooden spoon, but you're only two points behind Haas. Have you got enough in that car to climb up the order?
FT: I think we have enough in the car. We can be in front of them but to be in front of them is one story, to score points is another story. Because if all the top teams finish, it's not so easy to be within the first 10 and to score points. But of course, we do our best. There are still four races to go. And I'm optimistic that we will compete well in the future and beat these teams.
Q: Bruno, if we could come to you, please. Let's start by talking about Jack Doohan and the job he did for your team in FP1?
Bruno FAMIN: Good afternoon, everyone. Jack did a very good job. He did the job we wanted from him. He made no mistakes. He was regular in his lap times during the long stint he made at the end of the session and we got the information we wanted to get from him and we are very happy with that. I think he has been instructed that as it was FP1 we were not looking for pure performance at all; it was not the point. And we're happy with what he has done.
Q: Let's look at the bigger picture now. Pre-Belgian Grand Prix, before the summer break, Alpine was averaging four points per race. Since the summer break, you've almost doubled that average. What do you put that down to?
BF: Yeah, but it's still too little. Because we are still not where we want to be. Last year we were fourth in the championship, today we are sixth and there is no perspective to improve this position until the end of the year. We need to really progress. Where I'm happy is that I think we have improved at extracting the performance from the car, trying to get the best from the race. Pierre is on a good series of good results. Unfortunately, Esteban has got some race events, again in Austin, where he had made a very good start. But I'm happy with the improvement of the team on the track side. But we still have a lot to do to really improve our level. That's why we're working hard in improving the things at the factories and trying to get the best out of our next car.
Q: Now, as you say, Pierre has got some momentum. He's scored 36 points since the summer break. Where do you feel he's stepped up?
BF: I think it's his first season in the team, his first season outside of the Red Bull environment. And I think he had to learn quite a lot how the team was working. And it took some time to get the right context, the right feelings, the right way of working with the team and I think the team has improved also the way of working with Pierre and we find we found a right or good or better set-up in the second part of the season. And this is why we are getting there and Pierre is getting better results.
Q: And Esteban has had three retirements in the last five races. It's a difficult moment for him. What sort of headspace is he in at the minute?
BF: Yeah, it's a difficult moment. But I think there is no doubt about his performance level. In Austin he made a very good start. He was about to do a very good performance, ahead of Pierre maybe, depending on the strategy later. But I think it was very good and I have no doubt that Esteban will also soon make some good scoring until the end of the season.
Q: Eric Meignan has joined the team in Viry-Chatillon as technical director of the power unit. Can you talk us through that decision and what he brings to the team?
BF: We're very happy to welcome Eric in Viry and I think he will bring a lot because he's a long experienced guy in Formula 1. And I think he will challenge, he will challenge our team. He's coming at the right time to challenge our guys for preparing better the 2026 PU generation and I'm very confident that he will make a very good job with all the guys in Viry. He has started already and I think he will very quickly be operational.
Q: And does his appointment free you up to focus on other aspects of the race team?
BF: For sure. I have quite a lot to focus on. It will be a strong support on the technical side. We have good technical guys in Viry already but I think to have a full-time, on-site technical director will really help everybody.
Q: Christian, five Formula 2 drivers were out in FP1 here, but none of them were driving an RB 19. What are your plans in this regard?
Christian HORNER: Well, we're obviously planning to do that in Abu Dhabi in the last - if you like - standard race of the year at a circuit that we've got quite a bit of data on. So in the heat of the day, that first session in Abu Dhabi tends to have not a great deal of car set-up value so that's when we're going to elect to put both rookie drivers in our cars.
Q: Can you give us some names?
CH: Yep. Jake Dennis is going to be driving one of the cars and Isack will be in the other car so it was good to see him put in a strong performance with Franz's team today.
Q: And what about this weekend? Checo told us yesterday how much this race means to him and how much he dreams of winning it. How would you rate his chances of doing just that?
CH: Well, for sure he's got a chance. I thought he drove a good race in Austin last weekend and that should have given him a good boost of confidence coming into this race and the amount of support, the amount of backing that he has here, if there's any such thing as crowd power, he's going to be overloaded this weekend. So he seems pretty relaxed. I spoke obviously with him earlier this morning and I thought he had a good session so he's hit the ground running and that's always good to get off to a positive start.
Q: Tell us more about the crowd power. How difficult is it for Checo to focus on the job in hand? And how can you as his boss help him?
CH: Well, he's watched it with Max in Zandvoort and it's kind of the Mexican equivalent here. There's just huge passion and it's great. Every time he gets in the car, they're cheering. If he drives out of the garage, if he walks from the paddock, from the garage to the hospitality, you'd think he'd won the World Championship. So it's fantastic to see the passion and the following that there is here in Mexico. I know he's incredibly proud of that, he's a very proud Mexican and I think he would love nothing more dearly than to try and win this race and at least be on the podium.
Q: Christian, how do you view the opposition at the moment? It feels that everyone's closing up on you. Max just nine seconds ahead of Lewis Hamilton at the chequered flag on Sunday. How do you view the threat from Mercedes, from Ferrari and others?
CH: Well, it keeps moving around. Alex Albon stepped up this morning and he looked very racy, so it keeps moving around behind us. And of course, you have to remember that since the summer break, we've really added very little performance, if anything, to the car. With the wind tunnel restrictions that we've had, we've elected to use that on RB 20, next year's car as opposed to continuing the development on RB19. And that's not to say, whatever we do now, we don't learn and apply for next year but we've managed to be consistent at a whole variance of circuits and it was great to get the win last weekend, it was great to win the sprint race in what has just been a truly remarkable season for us.
Q: Christian, Niki Lauda used to say that you learn more from losing than from winning. Do you share that sentiment and if so, what lessons have you learned from such a dominant season?
CH: Well, look, Niki was a very wise guy and he was quite right. The days you lose, as long as you're prepared to accept the lessons are the days that you learn the most. And I think that you're always learning, the races that you win there are always things that you can do better. So even the analysis out of last weekend of… we were very strong on Saturday, our opponents were close to us on Sunday, and there's some mitigating circumstances surrounding that now. So you can never rest on your laurels. You've got to keep looking forward. You've got to keep pushing, you've got to keep looking forwards because for sure, everybody behind you is.
QUESTIONS FROM THE FLOOR
Q: (Alex Kalinauckas – Autosport) Christian, from your seven years' experience working with Max Verstappen, it's best part of a decade now and it will be well over that by the time his current contract is ended. What can you tell us about his motivation and what drives him and how do you think that helps him win as prolifically as he does?
CH: Well, he's an out-and-out racer. He just wants to race and whether it's racing Grand Prix cars or racing online, he's hugely competitive, hugely hungry. He doesn't want to leave anything on the table, whether it's a sprint race, whether it's a Grand Prix, whether it's a qualifying session and the one thing that he certainly doesn't lack is motivation in any way, shape or form. And I think it's that inner desire that really, really drives him. You see it in his driving, time and time again and I think he's now coupled that with experience, that it doesn't all have to be done on the first lap. And I think his race in Austin was excellent, the way that he managed the tyres, the strategy, and the passes when he needed to make it was absolutely decisive.
Q: (Ronald Vording - Motorsport.com) Christian, I think last week you said that Sprint races in Formula 1 are not necessarily bringing yet what we want from them. Afterwards, we heard some ideas about reverse grids or a standalone championship. Max commented yesterday, he said 'I don't need a standalone championship because I take zero satisfaction from winning a Sprint'. What's your take on it or might it be time to think about ditching the Sprint format as a whole?
CH: It's interesting. I think it'd be interesting to look at the data at the end of the year of how popular have the Sprint races been because at the end of the day, it's all about the fans. And the reason we do Sprint races is to try and provide more entertainment, to create a more attractive event. And I think that it's still a very new concept and I think we have to be honest with ourselves. Like I was just talking about the car where we can always improve the car, I think we can always improve the format. And I think we need to look openly and honestly at the end of the year, when we've got all the samples of these Sprint races and say okay, what can we do better? What can be learned? And how can we improve the spectacle and the event? And I think there's many things that could be done to improve it.
Q: Have you got any ideas that you can share with us now?
CH: Well, I'm sure you've got some good ideas, Tom, maybe you go first. But I think for me, parc fermé is a bit of a joke. You get one session to set your car up and then the engineers may as well go home at that point. So that needs looking at and that I'm sure was a contributing factor to the ride height issues that the teams that fell foul of the regulations. Effectively, it's just a long run on a Sprint race and there's no real jeopardy to it, there's no real incentive behind it and I think it just needs to be looked at and modified to say, 'OK, how can it be improved? How can we make this better? How can it be more satisfying for the drivers?' And if the drivers enjoy it and find it rewarding, and the teams find it rewarding, then I think the fans ultimately will. But I think we should really go to the fans and get their feedback, as well, of what is it that they want?
Q: (Silja Rulle – Bild) Bruno, Mick Schumacher was testing for Alpine a Le Mans prototype. You already found some nice words on what he was doing? Could you please elaborate a bit on what he did particularly well and what the schedule is about to be and when you will have talks about if you actually go on a deal with him?
BF: Yes, Mick tested the car in Jerez 10 days ago or eight days ago. We were very happy with his performance, his global performance, how we was with the team and I think he was happy too. That means that we can still discuss about trying to do something next year together. But here we are only.
Q: (Luke Smith – The Athletic) Christian, a question for you about the Las Vegas Grand Prix coming up. It's going to be a huge commercial boom for Formula 1. But there's a discussion about how valid are these races for fans? How much of a real fan experience is there going to be on the track? How do you see F1 approaching the balance between these great marketing events that ultimately are going to be commercially very lucrative versus the pure racing side of things that we get in other tracks?
CH: I think Vegas could promise to be quite an exciting race. I watched the drivers on the simulator running around it the other day, and it's got a straight as long as Azerbaijan into a sharp left hander. And so I think there is going to be plenty of action there. It's going to be cooler in the evening, tyre temperature could be crucial. And that's going to move things around us as well. So I actually think the Vegas race – whilst the format and the layout of the circuit is, shall we say, is more of a simplistic one, so is Montreal and that also produces great races. So I'm pretty confident that the event in Vegas will be not only a spectacle off track, and certainly from what we're seeing in the build-up to the race it's more akin to a Super Bowl than a Grand Prix. Tom's going to have to get a new suit, maybe an Elvis suit! So I think it's going to be a hell of a show for Formula 1 but the most important thing is that as a sporting spectacle, it delivers and it produces a great race and the amount of interest that there is in the US is phenomenal and I think that we really need to deliver to make sure that we capitalise on that interest.
Q: (Carolina Figueroa – Mas Por Mas) Christian, what is the probability that Checo could be qualifying in the first line or the top three?
CH: Well, that's where we want him to be and ideally need him to be, is to be in those first couple of rows. Again, it's a track you can overtake at with such a long straight, but you need to be in the first couple of rows here. We saw our drivers in '21, I think they qualified third and fourth here and we still led into the first corner. So grid position isn't absolutely everything. It's one of the longest runs to the first corner on the calendar. So getting a good start as well is hugely important.
Q: (Filip Cleeren – Motorsport.com) Question for Christian but the others can weigh in as well, if they want. Christian, it's been a year since you were found in breach of the cost cap. Now that you've had another year working under another audit, how satisfied are you now with the process and with the cost cap itself? And then at the time, you said it was a draconian punishment. Obviously, the team hasn't done too badly since, so how much has it really impacted the team?
CH: Certainly, you've not seen the full impact yet because it obviously has compromised the amount of development that we've been able to do this year and we've had to apply… Thankfully, we came out with a very strong car at the beginning of the year and we've been able to apply most of that development time, from quite early in the season, to next year's car. So that's been important. I think the process of the cost cap is evolving. It's a very complex set of regulations that have evolved and the degree of scrutiny this year was phenomenal, in terms of the rigour that the FIA went to. It was a full colonoscopy that we experienced during the summer. And I think that the FIA are learning as well from their side, and the rules have evolved. Of course, every company is structured in a slightly different way as well which adds to the complexity, whether you've got subsidiary accounts or what your reporting group is for example, and so that has a bearing as well, so it's a very complex set of regs and I think the FIA have actually done a pretty decent job from what we've seen over the last 12 months.
Q: Bruno, can we get your thoughts as well please?
BF: Yeah, I think the cost cap process is very complex, that's for sure. And it's true that the FIA is also learning as we are. Now we are implementing the PU cap as well for 2026 then it's very difficult. In Viry, we are working on different projects: we're working in Formula 1, in Formula E, in Le Mans programme and trying to assign the right expense to the right project is sometimes very difficult and the FIA is helping us, to be honest, to trying to make it clear as we are trying to help the FIA as well to improve their process because it's so complex that it's quite easy to make a mistake somewhere or to make a misinterpretation of what they want but there is a constant contact communication with them and we are working together on that.
FT: Cost cap? So far, we haven't had any problems. We are always below and therefore it's nothing for us to comment.
Q: (Alfredo Narvaez – Uno TV) Checo told us yesterday that the team have made great improvement. I think we all saw a lot of improvement today. Do you think it's going to be enough to be the second place at the end of the season? And is that your main goal to the rest of the season?
CH: Well, yeah, there's two goals remaining this season. One is to keep winning and two is to secure that second place and it's something as a team, we've never done. We never achieved it with Sebastian and Mark, we came close last year with Max and Checo, and Checo is in a strong position. So it will be a great achievement in a season where, with the level of dominance that we've had, with an incredible car. But he's been working hard with his engineers. He's been working hard behind the scenes, I think, to make sure that he's on the front foot coming into these remaining races. And I think that we saw he had a strong start today and a good race just a week ago in Austin and hopefully he can build on that confidence and that performance.
Q: (Angelica Medina – Reuters) Talking about Max and Checo. Yesterday, Max was talking about raising awareness of respect in sport, and therefore the campaign Racepect. So what are your thoughts about supporting Checo and this rivalry that people think there is?
CH: Well, first of all, I need to really disappoint you that there is no rivalry between the two drivers. They actually get on very well, they've got on very well for three years. And whilst I'm sure the media would love them to be at each other's throats, unfortunately for you guys, they aren't, they work very well together, off track and on track, as we've seen on many, many occasions. And I think that it's a great initiative, the Racepect thing that I witnessed on the way into the circuit today, because it crosses all areas, it's not just about sport, it's life in general. And I think there's always passion associated with sport, which is great. Fans will always have their drivers and their teams that they support and there's going to be incredible support for Checo here as there has been for Max in Zandvoort and Belgium; for example, all the British drivers in Silverstone and that's sport. Manchester City play Manchester United this weekend and I'm sure they're going to be a pretty vocal crowd there in the UK, and I'm expecting great support for Checo and the team, but respect above everything is important.
Q: (Jose Gabriel Gomez – Soy Referee) Christian, [inaudible] said yesterday that he doesn't think this year will be a victory for Red Bull because the Hermanos Rodríguez doesn't suit the RB19. But history says otherwise, because you have four wins here. So then how can you help Checo to get his first win here in his home race?
CH: Well, I hope he's wrong. I think one of the things that we've been good at this year is being versatile across many, many different types of circuit. Now, of course, this is a different challenge with the altitude and the nature of circuit that it is. But we rely heavily on data and past experience and we had a good first session. But there's some unexpected results in there as well. Alex Albon looked particularly fast this morning. So there's still a long way in this weekend to go, we've only done one session. Let's see how things pan out in the second practice, third practice and then obviously qualifying and the Grand Prix itself.
Q: (Alex Kalinauckas – Autosport) Christian, you talked about Max's immense hunger and desire to win earlier. I'm just wondering, does that remind you of any of the other Formula 1 multiple world champions and if it does, which ones? Thank you.
CH: I think all the greats had a huge hunger and determination. Whether it's in Formula 1 or in any sport you have to have that burning desire from within and when you look at some of the legends in this sport, whether it's the Sennas or whether it's, you know, currently the Hamiltons or any of the drivers that have gone before. Going back through all of the ages, back to the Clarks, the Stewarts, the Fangios. They all had an inner drive and an inner belief and I think that we saw that in Sebastian, who also was hugely competitive, didn't want to leave anything on the table. And I think Max even takes that to another level. He's not obsessive in chasing records or statistics, although he knows more than you think, but he has an inner desire, an inner belief, an inner hunger that drives him. And as I say, if you look across some of the greats across many sports, you see that as a common trait.