FIA Team Principals press conference - Qatar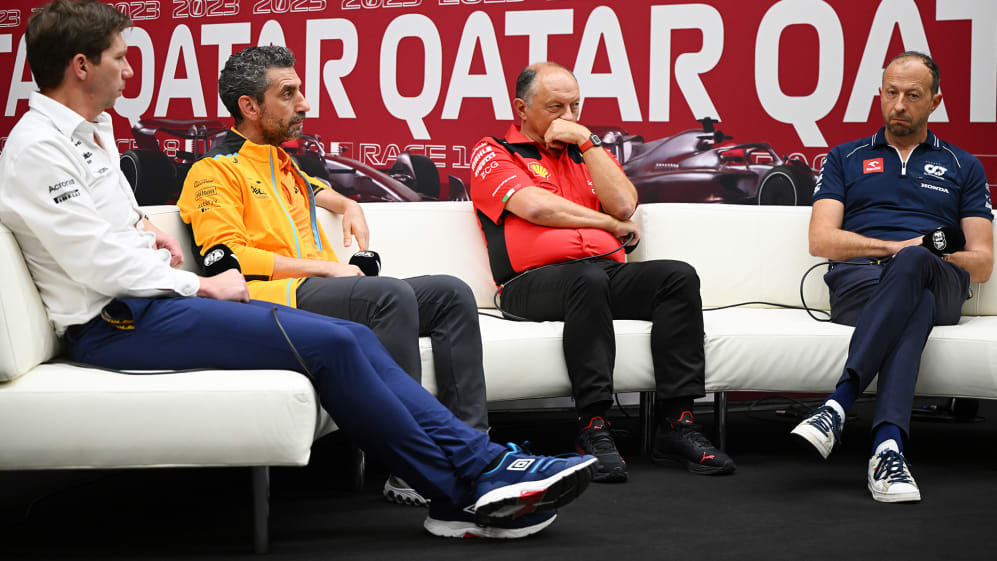 TEAM REPRESENTATIVES
James VOWLES (Williams), Andrea STELLA (McLaren), Frédéric Vasseur (Ferrari), Peter BAYER (AlphaTauri)
Q: James, perhaps we could start with you. A frustrating couple of races for the team in Asia. Although you scored no points, what positives do you take from Singapore and Suzuka?
James VOWLES: First of all, thank you for reminding me we didn't score anything! The positives are this: at a track that should have been our weakest of the year in Singapore, we were in contention to score a good amount of points. Perhaps, even equalising near-enough the best result of the year so far. And that's a positive to take out of it: even when we're down, we have strength that comes back. Now, the situation came towards us, but actually that situation was created weeks before by saving the right tyres and executing the plan. In Japan, the positives to take out of it is we exposed some weaknesses that we have actually, within some of our procedures. And it happened at an event that didn't cost us anything on points. But with the right attitude, which is what the team's gone through, we actually found ten other areas that we can improve upon. So, there's a wealth of positives and really, the final one is what you said: we didn't lose tremendously in the Championship but we want to be fighting for our own Championship, rather than relying on luck.
Q: Can we talk about your drivers now. Logan in particular, he's getting quicker, relative to Alex, but he is still making mistakes. He's even talked about dialling it down, coming into the Qatar Grand Prix. What is the message from the boss?
JV: You've nailed it. He and I talk at least once a week, if not multiple times a week. The pace is there. That's the thing that we wouldn't be able to fix or repair – but what happens is, when it comes down to the crunch time, there are elements of inconsistency that creep in, and in form of that, goes into an accident sometimes. In Suzuka the lap he did was, line-on-line on the data with Alex, but obviously it's marred by the fact that the last corner, he had far too aggressive a throttle application and there was a crash, and a significant crash as a result of it. What we're working with him on is actually the progression up until that point, he dialled it from two seconds away from Alex to within a tenth in FP3 – in fact he was faster in FP3. And it's actually keeping that mindset all the way through that we're trying to do. We have – and I've said this publicly – a responsibility to invest in our rookie drivers. We've put him there, and we've given him nearly no testing mileage. I'm used to 30,000km, not 850km. But what we want to see is continued progress and now a focus on making sure we keep that consistency in there, which will then deliver results.
Q: No points on the board for him so far. Are you sensing a little bit of frustration coming in?
JV: I think from him the frustration has been there for many months actually. He went into Bahrain – probably the worst thing that can happen – he went into Bahrain overlapped with Lando in terms of Q1, and he thought perhaps the challenge in front of him may not be as significant as it really is. What you then saw after that time… and Alex has grown, I think, across this season, and the gap started to grow, as you found a driver that's now frustrated, his normal tools aren't producing the quality of lap-time that was there previously. He knows how to win. He's won in Formula 3, won in Formula 2 but applying that now in Formula 1 and then not achieving results creates more and more frustration – and then that ends up with over-driving, fundamentally. That's the dialling back bit.
Q: While we're talking about frustration. Alex Albon has spoken recently about the amount of contact being made on the race track. He's even said that drivers learn nothing from five-seconds penalties. Do you agree with him? What is the solution?
JV: I think we all harbour frustration from what happened in Singapore, because the Championship here, against our rivals, will be fought down to a point at the end of the season, and so to lose a couple of points in that circumstance is frustrating. However, the penalties have been very fairly applied. For what it is, the penalty is fairly sensible. You have a much quicker car, clearly five seconds doesn't impact them, but I'm actually more for keeping consistent penalties rather than anything else. In terms of learning, I think there are some drivers that perhaps race differently to others… but my view on this is that they also normally get penalised physically in as much as the car being damaged. In this case, they didn't as much. I think it's fairly balanced at the moment.
Q: OK, final one from me. Can we look at the bigger picture. Andretti. An 11th team in Formula 1. Can we get your thoughts on that please?
JV: My thoughts are very clear. Williams is against the addition of an 11th team. And very strongly against. But I'll explain the reasons behind that and why. My responsibility is to 900 employees within my company. If you go look at Companies House, you can go look it up for Williams, we've submitted it now, you can see that we're lossy. We're very lossy. In fact, compare it from '21 to '22, you'll see that losses are in the tens of millions more. Compare it to '23, which you won't see but I'll guarantee you, it's multiples above that. The reason why is we're investing in this sport, to become better. We believe in where the sport is going, we believe in the direction of travel of the sport. In order to do that… the reason why is we actually have, I think, a sustainable entity for once. Teams are working more and more together, we have close racing as a result of things – but it should be known that this isn't just us that are not financially stable. I'd say probably half the grid aren't. I think the addition of an 11th team is a sensible thing – but only at a point where the 10th team on the grid is financially stable. I'm fortunate to have owners that really believe in what we're doing and to invest in what we're doing – but we need to take care as a sport to make sure we look after that. Everyone says we're in a good place – we are in some regards, but now those facts down the line, that this is tens of millions, or, in fact, hundreds of millions you'll see shortly, being invested to make the sport better, it becomes very clear why we're very careful about diluting what we've already got – because it's just more losses on the table. Now, we've been clear from the beginning, more than happy to bring in new entities, but the pie has to grow as a result of it, not shrink, and so far it's just shrinking. For clarity on that, that's not against either Andretti or GM, quite the opposite. I welcome GM open-armed, and Williams welcomes GM open-arms and I hope to forge a relationship with them, should things not work out. They are an incredible entity that I think will make the sport better. So, it's not that we're close-minded to more people coming into the sport, but what we're very careful on is protecting the sport we have right now.
Q: Andrea, can we come to you and perhaps start with that topic of an 11th team and Andretti. What is your viewpoint on that and what is McLaren's viewpoint on that?
Andreas STELLA: Well, our viewpoint is coherent with what we've been saying so far on this matter. If the entry of an 11th team is additive to the sport, then we see this positively. And checking whether this is additive is the duty of the FIA and F1. And at the moment, we just trust the work that these institutions are doing.
Q: Okay, thank you. Let's talk about McLaren now. A very fruitful trip for the team to two very different racetracks in Singapore and Suzuka. Would you say McLaren now has the second fastest car in Formula 1 at every racetrack?
AS: I would not say so. Because in Suzuka, given the track characteristics, I think we were fairly quickly 2nd team, but we were not in Singapore. So, we know we have work to do in tracks that have low speed corners, bumps, very demanding on traction. So definitely we have some more work to do to become the second best team at all tracks.
Q: How ambitious are you for the team for the remainder of this Championship? You're 49 points behind Aston Martin, 113 points behind Ferrari. How far can you climb?
AS: You know, like I've said already, I don't look how far we can go. I just look, what do we have to do now to go as far as possible? So myself, and all the team, we are all focused on keeping improving the car, getting the most out of every weekend, be reliable, operate trackside, as well as we can do and then we see in Abu Dhabi, the final classification.
Q: Talking about improving, let's talk about Oscar Piastri. Can we just get your reflections on Suzuka and the job that he did there? It was a new race track for him, he puts it on the front row. He gets his first podium in Formula 1. Just how did he handle that weekend? What impressed you the most?
AS: I've seen the qualities that he deployed to handle this weekend in Suzuka, they are very similar all across the season. Like he approaches in a very controlled way. He is fast, but he tries to make sure that he doesn't go too far in exploiting the car, just learn run by run. And we see that this progression is always quite consistent, up to the point where it was a P2 in Qualifying, which is quite remarkable considering that Suzuka is unforgiving track, you know, is an old school track, is narrow. There's a couple of places where you turn at more than 250km/h and you sort-of hope that the car will do what you want. And he was quick in these places actually. So it's very remarkable what he's been able to achieve so far and confirmed in Suzuka. Definitely in terms of outright speed. We saw that in the race, that in terms of achieving the consistency required to stay there, there's some more work to do. He just said that himself, straight out of the car, he actually focus more on this element than on the fact that he was on the podium. But we appreciate that. It just shows the commitment and the fact that he is ambitious. But we are also delighted that we could contribute to Oscar scoring his first podium. This is, you know, historical in his career, and we enjoy the moment together with Oscar.
Q: And for Lando, it's been four second places this year now. How close is that win now, do you feel?
AS: Well, the fact that you've been four times second actually doesn't change very much! Every event is a new event. So, you have to do the whole job, you don't accrue any credit with that. I've seen these results that you said, they just show that we have improved and we are now close. But if you see the performance step required, for instance, in Japan, to actually be P1, it's huge. It was more than half-a-second in Qualifying. And we don't even know in the race how much it was because Verstappen didn't need to push. So, we are very conscious that there's a lot of work to do ahead. But being P2 occasionally is a good position to be. We need to make the final step.
Q: Fred, coming to you now, like McLaren that Far Eastern leg was a very successful one for Ferrari. It's the first time we've had you in the FIA press conference since that win in Singapore. And my first question to you is: how important was that win for Ferrari?
Frédéric VASSEUR: Why, it's important in terms of points, in terms of reward, I would say – but I think the most important for us is that we have an extra push, to have the confirmation that we are going in the right direction, to build up the confidence for the drivers, for the team, for the factory. And it's for sure on this that you are building up the future. And I think we did a decent step on this direction.
Q: And when you became team principal of Ferrari, did you expect to win in your first season?
FV: I never asked myself this kind of question. This is that you are doing the job and you're trying to get the best from what you have, and to push – but you don't plan before the season, that we'd have to win one or two races, or we'd have to do this or this because if you start like this, you are starting on the wrong foot.
Q: How important was that win for Carlos then, in terms of his stature within the team and his own self-confidence?
FV: When I was saying that it was important for the self-confidence I was also thinking about Carlos, that on the top of this, it's not just a winner, it's a popular win for me with the pole position, with good strategy and the last 10 laps he was able to stay calm, to stay cool, to manage the situation. He knew that he had interest to keep Lando into the DRS zone and he did it very well. I think for him, for sure, it's a step forward. To win is one thing, but to win with the pole position and this kind of race, it's another step.
Q: Let's bring it onto Suzuka and the lessons that you learned there that maybe you can apply here in Qatar, which has similar fast corners. Your tyre degradation seemed to be very good. Do you think you could have been more aggressive at Suzuka? Was there perhaps more on the table than you actually got?
FV: When we have degradation, you said that you have to be more conservative, when you don't, you have to push more! No, I think we did it properly, that it was really on the edge in Suzuka, between two and three stops. At the beginning of the weekend, I think everybody was thinking about two stints and at the end, it was three. All in all, I think that we did a proper job into the management of the tyres in the race and we were fighting with Mercedes. And it was tight race with them. But overall we did well.
Q: And do you think you can be right up there with McLaren this weekend in Qatar?
FV: This weekend, I think it's quite difficult to read, but we did FP1 on a tough track and we have to go directly now into quali, that it's very windy. We change completely the condition, with the night, and the level of sand will change a little bit for the quali and it will be a tricky one. But so far on this kind of format we did pretty well and we can be confident.
Q: And Fred, last one from me. Can we get your thoughts as well, please, on Andretti and having an 11th team in Formula 1?
FV: It's not a secret that I'm not a big fan. That when we opened the door to an 11th team in the Concorde Agreement last time, it was for good reason, that at this stage Honda said already that they would leave F1 and Renault was on the edge. It mean that we had only Mercedes and Ferrari confirmed for the future. And we opened the door to an 11thteam in case of they could bring something substantial to the F1 – and I think at this stage that was mainly the engine. As James said before, all the teams on the grid they made a big effort… We have to keep in mind that three or four years ago we had almost half of the grid quite close to the bankruptcy and we have to avoid to be arrogant that F1… The life is a cycle and we don't know what could happen before 2030. And I would think that we would put F1 in a tough situation for this. Except, as Andrea said, also, except if the new entrant is bringing massive added value to the F1. And I didn't have access to the CEO of Andretti but I think it's the first question: what is the added value for the F1? We have already a 10th team who is American with Haas. We have an American driver on the grid. And the question for me is around this. What could be the value?
Q: OK, thank you Fred. I'm sure they'll be more questions for you in a minute. And, Peter, welcome to the FIA press conference. Can we just kick things off by carrying on with that theme of the 11th team? Where do you stand on that?
Peter BAYER: Just to try not to repeat what has been said. I think that first of all, looking at the process, which I know a thing or two about, I think we have to remember that the FIA when they kicked the process off it was be expected that one team might actually be chosen, because as far as I remember, the regulator is purely doing technical analysis of the finances and I think they've done a very thorough job on that without knowing the dossier of Andretti. And you can compare that to the tyre tender, you know. You have companies applying to supply tyres and then the FIA will do the check on they can supply tyres. But then I think that's the big step ahead now, it's handed over to Formula 1 to see how to integrate this team into the grid on a commercial basis. And I think I agree with what has been said. You know, I remember before the cost cap has been introduced, we had three team owners who actually called us and we had discussions back then about, you know, that they can't sustain this sort of investment any longer. We had Racing Point going into administration in 2019, I think, '18? You will tell me, it shouldn't keep guessing! And, and so I think that needs to be kept in mind, really. And so, yeah, I would probably follow my colleagues.
Q: OK, thank you for that. And can we just talk about what you're doing at AlphaTauri now? For people who aren't familiar, Peter was F1 Executive Director and Secretary General for Sport at the FIA before you took the current job. How is life on the team side of the fence for you?
PB: Well, first of all, Fred used to invite me for a coffee, which he doesn't do anymore. Honestly, I'm enjoying it a lot. I have the unique opportunity to have Franz with me on a day-by-day basis and teaching me a lot about the life of a Formula 1 CEO. But what I do like a lot is, you know, the clarity of our objective. It's two cars, two drivers and make them go fast. And that's so different from my previous job, which had, you know, 1,000 different priorities, different championships, and I like that. The purity of that challenge is something I like.
Q: And when Laurent Mekies comes on board as the team principal, how are you going to split roles with him?
PB: Laurent, clearly, will take care of all the sporting, technical, the team side. He will be the team principal and he will represent the team on a regular basis at the track. Whilst for myself, the focus will be on the strategy of the team, making sure that we, you know, maximise synergies with Red Bull Racing in different areas, and I will take care of the commercial side, as well as working on a regular basis with the owners and to make sure that we develop the team in the right direction.
Q: Can we talk drivers? Liam Lawson, can we get your thoughts on the four races he's done so far?
PB: Well, I think everybody will agree that, you know, his baptism in Zandvoort was incredibly challenging. And with, you know, the rain and the track being a difficult track and he mastered it, and he kept performing. He's done an excellent job working with the engineers. You can hear him… Well, actually, you don't hear him because he's listening. And then he's improving lap by lap. He's a very quick learner. He's fighting. And I really have to say, I admire what he did in Singapore. His car seemed to be double as wide as the others. And I called him Liam the lion afterwards, because I thought that was an impressive performance. And he keeps delivering, so very happy to have him on board as part of the family.
Q: Very happy to have him on board, but not as a race driver in 2024. How did you reach that conclusion?
PB: Well, you know, we had lots of discussions about the future of the team and our shareholders said, you know, 'we want you to continue and educate young drivers, but we also want you to be successful'. And I think, ultimately, you can't have both. You can't have two young, inverted commas, drivers in the team. And we were looking at what do we need to deliver that purpose and we finally came to the conclusion that, first of all, we only have two seats and Daniel is offering a lot of expertise, especially when it comes down to the set-up of the car, which is something that we were struggling with. Yuki, over the years has grown and is now coming to the pinnacle of his performance curve. And so we thought that those two make the right team. On top of that, I think it's also good to have somebody like Liam just behind them to keep the fire warm under their seats and to make sure that we progress as a team.
Q: Peter, that is a change in philosophy for the team because it came into being back in 2005 to educate young drivers. You're saying that is no longer the reason the team is here?
PB: It is, but not absolutely. I think the reality today is if you're looking at the grid, it's so competitive, it's so tight, that every 10th of a second is being fought for by our colleagues here, and we came to the conclusion that in order to be contenders for the top midfield, we need one experienced driver but we'll continue to grow young talent that ultimately shall end up in Red Bull Racing.
Q: OK, final one from me. How's Daniel? Can we expect him back in Austin?
PB: That's definitely the plan. He was in the simulator on Monday. And he said that he could, you know, go almost until the end. But it was not 100%. And we didn't want to rush things. And given that, again, on the other hand, we have this amazing luxury of having a top third driver who can jump into the seat, with Liam, and so we together we decided to give him a bit more time and he should be in the car in in Austin.
QUESTIONS FROM THE FLOOR
Q: (Jon Noble – Motorsport.com) James, can I just pick up something you said earlier to make sure I've not misunderstood it. Did you say you've got one eye on a GM deal for the future? And if that's the case, have there been any talks, negotiations with them so far?
JV: No, no, we don't. We obviously have a Mercedes power unit in the back. We have nothing agreed yet for '26. My point was more that an organisation, an OEM like GM absolutely would be welcome in our sport, and we would give welcome arms also to them at that stage but they're clearly linked to Andretti. It's not a question of that and we're not in talks with them at the moment.
Q: (Matt Kew – Autosport) Question for James, Andrea and Fred: there's a very high chance that Max could win the championship in the sprint race. What does that say to you three about the modern day value of a Grand Prix, that the champion should be crowned outside of a Sunday?
JV: I think it says we're not doing a good enough job, is the reality behind it. They've done an exceedingly strong car all year round and Max has been, I think, another level of maturity this year and that's the result of it. But that's on our shoulders to do a better job and catch up and obviously easy to say, I'm further back than the rest of my colleagues on this sofa. But I think it represents a driver that's absolutely in his element, maturing every year and a team that is also doing the same.
AS: Well, I think in terms of the sprint event, that's potentially an unintended consequence of this format which I'm sure will be considered. But as you were making your question, actually, I thought the same as James: well, I would like to be in that position and have this kind of problem that is on a Saturday. So yeah, that's it from me.
FV: But honestly, I think they did a very, very good job, Max and Red Bull, from the beginning of the season. They didn't give up so many points that it was incredible. Even when they had a tough qualifying, they were able to come back. And for me, it doesn't matter if they are champion on Saturday or Sunday, that I think they did just did a mega job. But, on the other hand, I think that the Championship also is a very good one, that it's not because Max will be champion this weekend or not, that it's changing something that we have three, four, five teams able to be on the first row and it was not very often that we had this kind of situation. It's just pushing everybody to do a better job next year.
Q: (Edd Straw – The Race) James, your argument is that F1 is effectively not ready for an 11th team. Does that therefore mean that the FIA was wrong to have opened up this expression of interest process? Because if that's a reason for not letting another team in, that means that successfully applying was effectively therefore impossible.
JV: I don't think it's impossible, because you're looking for… I think all of us have said the same thing. What we're looking for is that pie to grow significantly enough that we're not losing money or losing elements but gaining as a result of it and there is opportunity to do that. And the FIA did everything correctly. What they're looking at is does that individual have sufficient money, sufficient facilities behind them in order to do a good enough job, and that was all certified and signed off and that all makes sense. What I'm now talking about is an individual with 900 people's responsibility on my shoulders, what needs to be there which we're yet to understand or see, which is how does the pie grow from this so that I'm not having to ask my board, my owners fundamentally for even more money again, because right now, that's the direction of travel and that's our concerns.
Q: (Adam Cooper – Motosport.com) Andrea, you announced that you've hired the F3 champion - or added him to your driver development programme. Can you tell us a bit more about how that came about, what your plans are for him and what his potential is?
AS: Yep. So we've been following Gabriel for some time. We are building this driver development programme which is actually quite new. We started just a few months ago. So we are populating the programme with the most exciting talents and definitely we thought that Bortoleto was one of those. The programme - the guidance is given by Emanuele Pirro, as you know, and Emanuele prepares, fundamentally, the key development aspects that are relevant for us. These guys will compete in junior categories so our involvement is more support, support to their development rather than a direct involvement. We're really very excited that we have this new entry in our programme and the programme itself will retain the characteristic of being limited in terms of the drivers that will be part of it, this is something that I can confirm.
Q: While we're talking young drivers, Fred, Ollie Bearman, it's been announced, is going to get a couple of FP1 runs with Haas. He's a Ferrari young driver. How highly do you rate him? And what are your hopes for him in 2024?
FV: 2024 he will do F2 again. But you know the situation, that we already had the discussion - I think it was the last press conference - about the junior series and the general programme is that the step is quite high with the F1, because we have no testing anymore, we have more and more sprint event with just one FP1. We have three tests during the winter, it means that it's quite difficult to adapt to the F1 and the rookies not always successful. I think Oscar did a very good job also because he had one year of preparation last year and he was already used to the F1. And we have to prepare in advance and it's why we give him two FP1s this season with us and probably much more next year and we will prepare him for the future. So far, he's doing a very good job in the junior series but we know that it's a long way.
Q: (Luke Smith – The Athletic) James, another question for you on Logan. Now you've got the only seat left on the grid for next year, you said that you want ideally to have him in the cockpit for next season. Are you planning to give him the fullness of time to the end of the season before making a call either way, or do you anticipate you might be able to make a decision any sooner?
JV: No, I suspect it'll be to the end of the season. I think we've already committed to the direction of travel we're in, he has targets to that and it'd be wrong to go against that decision point. So end of the year.
Q: (Matt Coch – Speedcafe.com) James, you mentioned the losses the team has made in the last couple of years. In 2021, it was 11.9 million, about 12% of revenue. According to Companies House last year, I think it was 17.9 million, with revenues increased of 46 million, but again about 12%. But cash in the bank, you improved. A couple of points: can you give us a sense of what the increase in spend has gone towards? How much of it is discretionary and how much of it is ongoing versus a one-time expenses, noting the CapEx restrictions that you've mentioned previously?
JV: So first and foremost, on the CapEx, some good news, from my perspective anyway: good work with all the teams has meant that we've managed to unlock an exemption in our favour of 20 million also. So there was agreement and good discussions that have been taking place since February. So part of the reason why you're going to see a massive increase in our bill is we have CapEx to spend now, not perhaps the 100 I was looking for but a good step in the right direction. More importantly, when I was referring to before, about the teams starting to work together, and coherently, we're there. We have an agreement on the table after six months that is sloped. So teams at the front will not get as much as teams at the back. We will benefit more, which is in line to a certain extent with the facilities. So that's part of it. The second part of it is that there's quite a large amount of change that we need to do within Williams. I've been very clear and open about that. Part of it is CapEx, for sure. Part of it is growth of the organisation and change in the organisation and part of it's growth of the site. So when you put it all together, you'll start seeing large, large numbers appear on the table.
Q: (Tim Kraij - GPblog.com) Just to follow up on that question. Maybe a question to all. How do you look at the new additions to the CapEx limits?
JV: I'm pleased we got there with a resolution and it will help me tremendously in the start of our journey anyway.
AS: Well, first of all I would remark it was a positive process, where teams and the institutions that led the process managed to find an agreement. For us, this is welcome news. We're going to use the extra allowance and so I think that's a good thing for us.
FV: Yeah, I'm not really convinced that… First, if you asked your engineers if they want to get more, they will always say, yes, we want to get more. No, guys? It's a normal process. And I think that we opened the door a couple of times to change into the cost cap regulation and this is very dangerous. But again, I'm coming back to the previous topic, that we have to keep in mind the situation of 2019. And it's not because the business is going well today that we have to change everything and to come back to the previous situation. And I think we are taking every single opportunity to break everything and this is dangerous.
PB: Yeah, I agree with Fred actually. Having been involved in the development of the cost cap, the idea was really to make sure that all the teams will either squeeze into a certain number or have a chance to actually hit that number. Now, on the OpEx we're having inflation indexation, on the CapEx we have another increase and whilst in principle it's nice, but currently we don't have the money, so I have to try and find the money, the sponsorship, or maybe or [inaudible]. It's challenging, because you're making a plan and you're deciding on your investment and then suddenly, within six months, regulations change and you have to go back to your shareholders in my case, and that was not as pleasant as it might look. No, but we'll deal with it. But that's probably my opinion.
Q: (Jon Noble – Motorsport.com) The commercial situation surrounding an 11th team or a 12th team is going to have to get enshrined in the next Concorde Agreement, which you're all going to have to sign off on. In previous Concordes it involved the situation where teams had to score two years out of three to qualify, and it was only top 10 got prize money. Current Concorde, it's the anti-dilution fee has got around that. What sort of structure needs to be put in? Would you support going into the next Concorde Agreement in terms of dealing with a potential expansion of the grid?
FV: OK, doesn't matter the format, the organisation and the rules. At the end of the day, if you are 11 teams, you are more exposed than if you are 10. When you are in a positive situation, the business is going up. I think everybody is positive, optimistic, but I'm not sure that it will stay like this forever. And we have to really pay attention. On one hand we are opening to increase the cost on every single meeting. We put inflation, we change the index for the inflation blah, blah, blah, and we increase the CapEx. And now we want to dilute more the incomes. I can perfectly understand the situation of Peter because I was exactly in the same one 12 months ago. And it's not easy also to run a business and to do forecasts when you have this kind of change so often and honestly we are not learning from the past and this is a big issue.
AS: Well, I think the matter you mentioned is actually complicated because there could be implications. Sometimes these implications may not be clear in the first round of conversations. So, like any other team, we will be having conversations with F1, with the FIA, and we will see what the proposals are and we will make some careful evaluation. So I think it's a delicate matter that needs consideration.
JV: I think it follows what I said before, it's not that there's no room for an 11th team, it's just we have to be financially stable to do so. And it's Fred's point as well to a certain extent. I appreciate we're increasing things but we are getting ourselves towards financial stability for the first time in forever, really. Let's get to that point and see where we are. So it's not actually against an 11th team whatsoever at all, and I think Concorde should reflect that. Let's grow at a point where we can grow. I'm not sure that's today.
PB: Nothing to add, really. I think it's an ongoing process and the Concorde negotiations last time around took two years. I hope this time we'll be getting it done faster, but it's something that will be discussed behind closed doors with the responsible people.