FIA Team Principals press conference - Saudi Arabia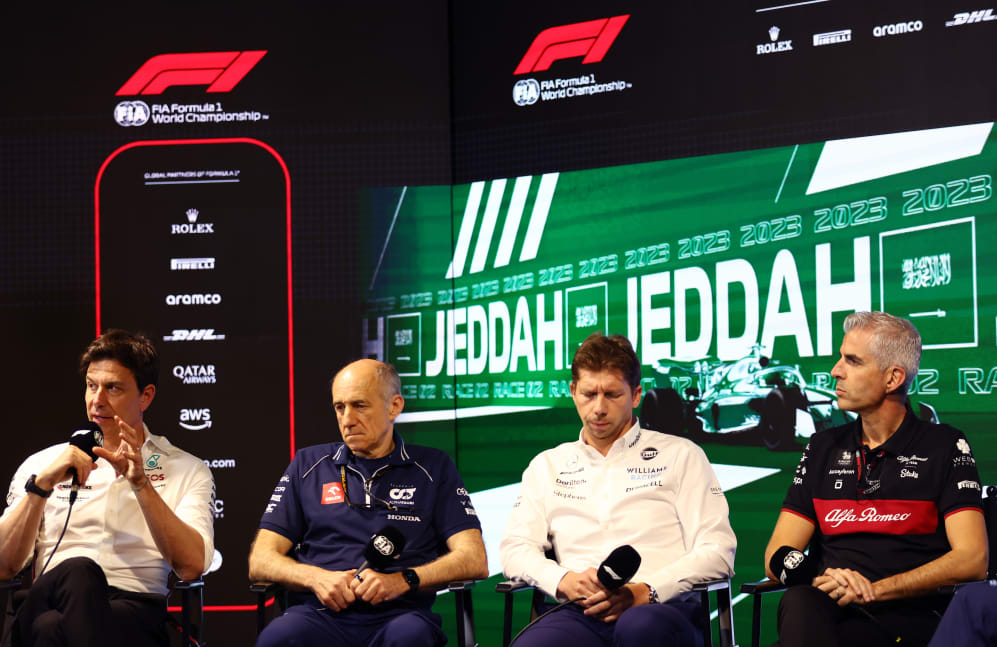 TEAM REPRESENTATIVES
Toto WOLFF (Mercedes), Franz TOST (AlphaTauri), James VOWLES (Williams), Alessandro ALUNNI BRAVI (Alfa Romeo)
Q: Alessandro, what a great start for Alfa Romeo in the Bahrain Grand Prix, Valtteri coming home in eighth place. Tell us about his performance – because some people in the team are saying it's his best drive for Alfa Romeo. Would you agree with that?
Alessandro ALUNNI BRAVI: It was a great performance for the team, of course, and for Valtteri. Last year, as you remember, we struggled with the start, with the first lap. I think that he had the very best start of the last two years with us, and then we had a solid performance in the race, which confirmed what we have seen during the test. But, of course, it's the first race, so we don't need to rest on our laurels. We need to work hard. We have another test, a very important one, another attempt today, a very important one in Jeddah this weekend, so, let's keep our feet on the ground. We know we want to fight with Alpine, with McLaren but the Championship is long.
Q: As you say, one swallow doesn't make a summer – but how much confidence does Bahrain give you coming into this weekend?
AAB: It gives confidence that the work we have performed during the winter went into the right direction. We know that we had some weaknesses in last year's car, there are areas we need to improve quite a lot and we did a step. How much this step will be, big or sufficient, we will know during the season.
Q: How much more performance do you think there is to come from this design?
AAB: It's not about performance or this design. It's about how much we will be able to develop the car during the season. This is a starting point. We need to be consistent in developing the car. This was one of the areas where last year we miss something. It's where we are working more.
Q: Tell us a little bit, if you could, about the chemistry inside Alfa Romeo at the minute – particularly the influence of the drivers. They seem to be working very well together. We saw that when Zhou went for the fastest lap, sacrificing the end of his race in Bahrain.
AAB: There is a good spirit within the team. Both drivers have been working very well, also last year. They complement each other. And, of course, this is the direction we want to be. There is teamwork in every area, starting from the driver.
Q: James, coming to you now. It's only a sample of one race but what is your assessment of the FW45? What can you achieve with that car this year?
James VOWLES: It's got a lot of the characteristics of last year's car. So, what I mean by that since there's going to be tracks where it's very strong as it was last year as well. I think here, for example, you'll see it suits the track a little bit more. But exactly as mentioned previously, we need to take care, because these two tracks are not the normality throughout the season. There are plenty of other tracks where there are some weaknesses that are definitely inherent in the car, still in the car. That will come forward.
Q: Now you've had time to get your feet under the table at Williams, since we last spoke to you in preseason testing. How would you describe the vibe in Grove?
JV: The best word I could use is 'spark'. There's a spark. And it's fascinating to see. There are shoulders lifted, there's heads held high now, there is really direction that they can see where we're going and how we're moving forward. It's a team clearly that have had a tremendously difficult winter, and difficult few years even prior to that. But they can start to see the light at the end of the tunnel and direction we're going in.
Q: And how different to Mercedes, your previous experience?
JV: Yeah, I mean, it is very different. You have to take into account that Mercedes was dominant for so many years. It has facilities beyond dreams and desires. To a certain extent, Williams didn't necessarily have that. It had a period of its history where it didn't have the investment required and it reflects that in the building that's there. However, what I can see between both organisations is passion: desire to effectively move forward and do the best you can and that remains there whether you're at the back of the grid or the front.
Q: Now you've started to make changes already with the announcement of a new Chief Operating Officer of Frederic Brousseau. Just tell us: what is he bringing to the team?
JV: Some of the key elements are… a Formula 1 Car is circa 15,000 components that have to be built, produced and fit together within the space of a few weeks. To get that properly done, you need an amount of planning across all of your organisation. And that's really what he brings to the table. He's done that at Pratt & Whitney, he's been there for over 20 years, he has a good experience and good knowledge about how to bring thousands of people – in our case, hundreds – together in a key clinch moment. And especially under the cost-cap: the more efficient you can be at doing that, the more money that's available to develop the car later.
Q: So, is that the most important hole that you needed to fill first, and then what comes next?
JV: I wouldn't say it's necessarily the most important, but I think it's a key element of every aspect of the team. Going forwards, it's still… there's a technical leadership where, at the moment, I have lots of people standing in and doing a great job, but we need to supplement them with good experience from industry.
Q: Final word on the drivers. Alex Albon, great job to the points last time out, but specifically Logan Sargeant. He seemed pretty stoked after his debut in Bahrain. Just what has impressed you about Logan so far?
JV: From the first laps of testing, immediately you could see that the pace was there. I was a little bit reticent in wondering whether it would take him a little bit of time to get used to it. The second aspect is, it's his first grand prix. The pressure on your shoulders is enormous and he took it in his stride. He was three-wide through Turn 1. Normally in your rookie race, that ends up in disaster and he just dealt with it, with enormous amounts of maturity, and from then onwards, and I'm sure as you'll see, throughout the year, he'll step forward.
Q: What's his feedback, like?
JV: Very good. It's as you would imagine: he hasn't got the experience that Alex brings to the team. But he has this young, fiery passion that comes with things. He wants every millisecond you can out the car.
Q: Franz, sadly, no points for AlphaTauri in Bahrain. Is that the current level of performance of the car or did the weekend throw up some unforeseen problems?
Franz TOST: Unfortunately, I think it's currently the performance level of the car, because we expected a much better car. We struggled in Bahrain, looks a little bit different here. I hope that at least we are with one car in Q3, but we have to do a lot of things to make the car faster. And especially on the aerodynamic side. There are different programmes going on, but the engineers tell me that we make some good progress, but I don't trust them anymore. I just want to see the lap time because this is the only thing which counts.
Q: Franz, can we break it down. What are the issues with this car?
FT: Too little downforce. Not enough downforce, therefore the car is unstable under braking, overheating the rear tyres, washing-out at the apex, bad traction. Everything what you need to do a good lap time.
Q: And do you expect, with only five what we call 'braking events' here in Saudi Arabia, do you expect to be more competitive here?
FT: Yeah, here in Jeddah the characteristic of the racetrack is completely different. And both drivers were, yeah, not satisfied with the car but said the car feels better than in Bahrain. We have still some understeering problems which we have to get rid of, and the rest, and we will see.
Q: Franz, you say you don't trust your engineers anymore. Do you mean that?
FT: Yes, because during the winter months, they told me the car is fantastic, we're making big progress, and then we come to Bahrain, and we are nowhere. What should I say?
Q: Can we talk about the drivers. A lot was made over the winter of your desire to see Yuki step up. Have you seen the improvements you wanted?
FT: Yes. Yuki made a big step forward. Not only from the driving side. Also from the technical side. His technical feedback is really good, and I must say, also, his race was competitive. I think he got the most out of the car. And Nyck is still learning. What we have to provide the drivers is a fast car and then they are there. Both of them are high-skilled drivers; both of them showed in the past that they can win races, that they can win championships. It's up to the team to provide them with a competitive car.
Q: How's Nyck settling in?
FT: Very good. I must say that he is quite familiar with the team, with the engineers and it's, as I just mentioned before, up to us to give him a good, competitive car.
Q: Because Helmut Marko did say after Bahrain that he'd like to see Nyck step it up. Do you agree with him?
FT: Nyck will step up. If he has a good car, then he will be there. You know, if you are a young driver, a newcomer in Formula 1, then it's even more difficult if the car causes troubles. It's easier with a competitive car to show good performance. And I'm convinced that Nyck will increase his performance and that he will show us good races.
Q: Thanks Franz. Toto, coming to you now. So, we had Lewis in here yesterday and he revealed that Red Bull, he thought, were one and a half seconds a lap faster in the race in Bahrain than Mercedes. Do you expect to be closer here?
Toto WOLFF: I think in motor racing, everything can happen, and Bahrain is a track that is very different and so is Jeddah, like James mentioned before. But there are no miracles in this sport. And I hope that we can perform better than we did in Bahrain. At that stage of the season, and where we are with our position, it is very much trying to find performance for ourselves. I don't think that we can beat the teams in front of us. That's the reality. It's about tuning the car to the best of their abilities here on track. And then see where we end up in Qualifying and in the race.
Q: But looking at the season as a whole. If it is one and a half seconds a lap, as Lewis says, Does the W14 have the development scope to close that gap?
TW: We are very clear and transparent in the team, where and how much is missing. And we will just need to relentlessly push to find more performance and for sure what we're not doing is giving up, even if at that stage, you're looking at the gaps and thinking 'how are we ever going to bridge that?' But the drive is there, determination is there and I think, different to before Bahrain, we pretty much know where we need to tackle the performance deficit.
Q: Have you pinpointed a race where you need to have made significant progress? Is it Baku, I think I've heard mentioned, where we're going to see some significant developments?
TW: We have set ourselves, internally, strong targets because we know where the deficit is but I wouldn't want to talk publicly about it because it would just put pressure where… we have enough pressure doing it ourselves.
Q: Well, talking of pressure, Lewis said yesterday that he used an unfortunate choice of words when he talked about the team after the race in Bahrain. Do you agree that it was an unfortunate choice of words and have you spoken to him about it?
TW: Well, we speak all the time, but it's not a single word that matters in the team because we know each other so well. We know there are emotions at play with him, with me, with many others in the team and that we wear our hearts on our sleeves, and sometimes you say things that in the media being very quickly translated in a controversial way or polarising, which, inside of the team, never cause any waves because we know that the emotions can run high. And to be honest, if I'm watching a lap time deficit, a coming together or a race that doesn't go well, I'd also like to say that I'm not happy where the team, where the car has been developed to. But that's OK inside of the team, we want the emotion high and we have tough love, we are saying it straight out when it's missing and nobody's ever going to… not take it on the chin in the team.
Q: The driver silly season has come especially early this year it seems, much of it involving Lewis, whose contract is up for renewal at the end of this season. Are you keen to get those contract discussions started especially early?
TW: Well, I have no idea what is being said in the silly season. I just know where we are with Lewis and with George and nothing else is relevant and we're talking when we want to do it and how but we just need to change some terms, the dates basically.
Q: So you're confident that Lewis will stay at the team beyond this year?
TW: I'm absolutely confident.
QUESTIONS FROM THE FLOOR
Q: (Jon Noble – Motorsport.com) Toto, George said yesterday that there was a big meeting in Brackley after Bahrain going through what's gone wrong, the action plan, everything's now set in place and you know the path you're going down. What is the plan to turn things around? What are the short-term possibilities and potential change of concepts and all new direction for where you go?
TW: There's many big and many good meetings happening in the team and it's quite an interesting process because… We had the perfect storm last year because the car got better and better and then you start to question the concept of the car less than you probably should. And now we have to prove that we're not happy where we've landed, we're overall not happy about the amount of downforce, the mechanical balance, I mean all of it, it never comes alone. And I think all these meetings are giving us more clarity, and more focus where we need to tackle in order to turn this around quickly.
Q: (Dieter Rencken – Racing News 365) Toto, could you just clarify: if you change concept, you have to change the entire chassis? And do you have budget for that and crash tests and whatever?
TW: No, I think that it's out of the question that you change the chassis, because simply there is not enough budget in the cost cap. But changing the way the aerodynamics work and bodywork is perfectly within the scope.
Q: (Matt Kew – Autosport) Toto, the team has been very honest, issuing a letter this week to all its fans, which I understand for an eight-time Constructors champion that the results aren't where you want them to be but it's not a total disaster to where even Lewis qualifying or going out in Q1 last year. So why did the team feel the need to be that honest and address it so publicly?
TW: Yeah, it can always go worse, don't remind me of that Q1 last year, that's still a little bit of a trauma. I think we really over those 10 years have created a culture which is around tough love. We were able to have conversations that are maybe in some other groups or companies or teams out of the ordinary, but in our team we are just able to confront each other with the reality. And the reality is always based on our own expectations of our own performances and now we can say, you know we got it wrong last year and this is where it was and we really continue to push hard to get the car to a better place. And at the end of the season, we were able to win a Grand Prix and we were in a way respectable considering where we started the year. So going into 2023, the expectations were, we're going to close the gap more and we're going to be able to win more races and hopefully fight for a championship and that hasn't happened and therefore, after Bahrain, this is the status quo. And it will be the status quo in Jeddah because there ain't no miracles in the sport and we're just honest about it. And we take the responsibility and accountability. I hate the results, because of what we all expected from ourselves, and so does everybody else in the team.
Q: (Luke Smith – The Athletic) Toto, picking up on mentioning tough love a couple of times there, I did want to ask about Niki and how much you're missing him particularly at this tough point, Niki was very forthright, often an important source of counsel to you as well. So particularly now are you missing him more than ever.
TW: Niki's missed all those years because Niki always simplified things to really what mattered. And so I'm having to think what would he have said, and how would he have positioned and the two of us worked well together in that sense that sometimes oversimplification can lead you straight to the results but there are lots of nuances. This is a technical sport so maybe my role was to translate it in a way that we actually were able to execute it in the car design. But this is very simple: the stopwatch never lies, and we see on the data where we are missing and that needs to be corrected.
Q: (Scott Mitchell-Malm – The Race) Question for Toto again. Sorry.
TW: I'm going to ask some questions to the other guys. It happened to me too.
Q: (Scott Mitchell-Malm – The Race) There were comments last year and in Bahrain from the team that you had assessed other design options, but were adamant that this concept was the best way to go. What's changed? Why is there now a belief that if you go in a different direction, it will be better when that wasn't what you thought before?
TW: I think we'd really tried hard to make it work, because the data that we have extrapolated showed us that this works. And we were proven wrong, very simply. And you can see that the two quickest cars, including the Ferraris – the three quickest cars - that have a similar concept of how they generate performance, and it's very different to ours. And at a certain stage we came to the conclusion, we got this wrong. Simply, we got it wrong. Why we got it wrong, we're still analysing because we follow data and we followed what simulations tell us, in that case we were misguided by those data. And all of us involved in the decision-making process came to the conclusion well, we can't continue that way. We really tried to stick to it and we don't want to, under any circumstance, run in a one-way street saying, 'we're going to make this work no matter what', because it doesn't work. And I don't want to lose more time so my colleagues, so don't want my colleagues as well. So…
Q: Given everything you've just said, what are your goals for the remainder of 2023?
TW: The goals: I'd like to win every race starting Sunday but that's not realistic. The goals are that based on the understanding that we have now, that over the next iterations of updates and learning, we can shave off a lot of performance deficit because now we know and now we have all taken a decision in which direction to go.
Q: (Phil Duncan – PA) Toto, I know on Lewis you said that you're absolutely confident that he'll stay but is there any part of you that's concerned or worried that he might start speaking to rival teams just to explore his options, if he isn't convinced that Mercedes can't return to winning ways? Or do you think it's Mercedes or bust for Lewis?
TW: I don't think that Lewis will leave Mercedes. He's at the stage of a career where we trust each other, we have formed the great bond among each other and we have no reason to doubt each other, even though this is a difficult spell. But so nice it will be when we come out of this valley of tears, and come back to solid performances. As a driver, nevertheless, if he wants to win another championship, he needs to make sure that he has the car. And if we cannot demonstrate that we're able to give him a car in the next couple of years, then he needs to look everywhere. I don't think he's doing it at that stage, but I will have no grouch if that happens in a year or two.
Q: (Adam Cooper – Motorsport.com) A question for Franz for a change. Obviously, a lot of stories around the team in the last couple of weeks, Helmut made it clear in interviews that the team has to perform commercially and on the track. Can you tell us a bit about your recent discussions with Helmut, with Oliver. Are you confident you've got their full support? What do you have to do to turn it round?
FT: To perform better. Totally easy.
Q: (David Schneider – Hersey Shiga Global Sports) A question for Franz. You mentioned both drivers need a good car. When do you expect the first major updates or does it require more radical approach like let's say Mercedes?
FT: No. We are coming up with updates to the next races. We bring something to Melbourne and afterwards also to Baku. It's within our programme that we bring to nearly every race a small upgrade.
Q: (Ben Hunt – The Sun) A question for Toto. Lewis has announced that he's separated from Angela [Cullen]. I just wondered whether you were aware that this was coming? What's in play to help Lewis this weekend? I just wondered your thoughts on it?
TW: I don't know what has been announced. Angela was part of the gang for a long time. I think in every team, whether that is his close circle, or also in the wider group, you know, this is not a static situation that you can freeze, because we all develop as people, we develop as an organisation and if things don't work out anymore, then we need to be honest about it and then bring change. Angela will always be a mascot of the team. She's the only one who has a louder voice than a starting car. But, you know, if this is what he decides, we will always absolutely support him, whatever direct direction he wants to take.
Q: (Ian Parkes – New York Times) James, Toto has spoken quite a few times now about tough love within Mercedes. Obviously, you were there through a period of sustained winning and titles. But can you give us an example of that tough love that you perhaps experienced?
JW: So first of all, it's never one systematic item, it's more about the fact that you can have openness and honesty to talk about problems, without fear of repercussions, without fear of what the implication is on the relationship. Toto and myself, last year, if I take that as an example, had many of these conversations, and actually our bond became stronger, not weaker, as a result of it. But you need to have the environment where you have no fear about what the implication is on the relationship, but more that you both want the same goal of moving forward. So that's really what tough love is about.
TW: It's a shame that that James has gone because now I could say, well, it's all your fault. And we never blame the person we only blame the problem but he's gone, so I need to find him in his garage!
Q: (Scott Mitchell-Malm – The Race) A question for James. I think you used the word 'reticent' earlier, just about early expectations for Logan, where his pace would be at the start. And his performance in the season opener seemed to maybe surprise a few people that perhaps underestimated him. And that maybe fit with a bit of an expectation that he was picked for commercial or marketing reasons, as an American driver. Where do you see Logan's place and worth in the team?
JW: So, my path for Logan actually crossed several years prior to that. He came to Mercedes as a sim evaluation [driver] and I was interested in looking at him because he had performance, especially when you go back to his Formula 3 performance in an average team. He was there with Oscar [Piastri] and I rate Oscar also highly. At the time in Mercedes we had a good suite of drivers. So that was where my relationship with him ended. He then, prior to me arriving at Williams, Williams funded, it's very important to state this, his Formula 2 career, so he is now salaried as a professional driver and Williams funded him because they had deep belief that he was the real deal. And my reticence came from the fact that prior to that it's difficult to really judge him. But I have to say, he's now been in the car, I now have the ability to look at his data, and he is here on merit, and as a result of Williams investing correctly in him, he's now a professional driver deserving driver on the grid at the same time. So it just shows you that my previous life I was wrong and Williams were right.
Q: (Louis Dekker – NOS) Toto, do you consider the budget cap your real enemy this year? Is it finance? Or is it mainly a question of time, too little time?
TW: I think the budget cap, in a way, has more positives than negatives. But obviously, if you're on the back foot, like we are at the moment, it doesn't allow you to build a second chassis. But I think our fundamental problem is not building a second chassis or throwing stuff at the car. It's more about a direction that we've taken that's wrong. And I think if we… When we change it now, that's going to be limited by the budget cap, but not in the way that you would expect, like we're not able to develop. We're still able to develop but it will mean we need to spend time on a new concept, on new ideas, and we need to discontinue the old one. So in the short term, it could mean you make a step back before making two forward, but these are the rules. They have been introduced exactly for the reason to put the field stronger together, which will eventually happen. I mean, Red Bull is showing us that if you do a good job you can outperform everybody else. But for us, these are the rules and we need to still do a better job.
Q: (Ian Parkes – New York Times) Following up, Toto, is it likely, then, that you might change chassis completely for next year, because you know you've got that resource? And are there any plans in place at the moment that you're already starting to develop the '24 car?
TW: So when you speak about the chassis, the question is, do you speak about the monocoque and basically the tub or are we speaking about everything else around? And I think the monocoque is one thing, and that's obviously there are weight implications, COG implications, where does the driver sit, more forward or more rearwards, but I think the biggest gains that we need to find is how can we extract more downforce all around the track. And these are the areas we are chasing now, and once you come to the conclusion in the next few months, that that was the right avenue, then things are going continue that way. And if we see that is not enough to actually challenge for the front, then there might be more radical decisions that need to be taken.
Q: Alessandro, can I bring you in? We've had Toto's thoughts on the budget cap. What are your thoughts on it? How important and integral is it for a team like Alfa Romeo?
AAB: For us it has been really important, as we showed last year, that it allowed us to be more competitive and of course during the period there will be a convergence between other teams that are sitting at the back and the teams that are in front. It is very important. It has been instrumental, not just in terms of performance, but also to have a sustainable model for Formula 1. So I see positive things.
Q: (Dieter Rencken – Racing News 365) Franz, based on what you said earlier on, you seem to have similar issues, or your team has similar issues, to Mercedes with the car. However, your concept is based on a concept which is winning at the moment, namely the Red Bull one. So how do you fix your issues, particularly given the budget cap scenario as well?
FT: The budget cap does not prevent us for development work, you know, this is included in our business plan. And the question is now: do we go in the right direction? As I mentioned before, during the winter months, we saw that, at least on the paper, on a computer, we made big progress in comparison to last year's car. But all these figures nowadays, as I mentioned before, I don't trust them anymore. I want to see now with the next steps that we go in the right direction, that we can improve the performance of the car, that we are able to do this. And this is a special design work on the on the floor, brake ducts and all the other aerodynamic parts. And I think now with all the knowledge we have after Bahrain test and after the Bahrain race, the engineers should be in a position to sort it out and to come up with new parts which improve the performance of the car.
Q: Would you describe it as tough love at AlphaTauri, Franz?
TW: He's only tough!
FT: (Laughs) I don't care about that! I just want to see a fast car. Whether tough or not, I simply don't care.
Q: (Scott Mitchell-Malm – The Race) Sorry, another one for Toto. And sorry if I'm being particularly dim on understanding this. You said, you're still trying to understand why you got it wrong, why the data misled you. How can you commit to another direction if you don't fully understand that yet? Are you going effectively a little bit blind to something as a learning exercise, just to see if that throws up more information than you could tell on your initial simulations or is there something else?
TW: We do understand, crystal clear, what we've done and why we ended up in a place that doesn't bring us performance. But understanding it from the, let's say, scientific side isn't yet, you know, it's sometimes difficult to find a way back into real performance onto the car, but we have a big step ahead to what we've seen after the test, in terms of our understanding.
Q: (Adam Cooper – Motorsport.com) Toto, can you clarify Jérôme [D'Ambrosio's] new role? Can you say getting more deeply involved in the future? Is he a potential replacement for you one day, down the line?
TW: Well, Jerome is taking over some of James's topic, so if Jérôme is here we wouldn't have missed out on Logan, right? So he's looking after the young driver programme in very close cooperation with Gwen [Lagrue], who has been doing it very successfully over the last few years. With Gwen's team we are looking at grassroots motorsports from the early stages of go-karts, and this is where Gwen is very active, and he was the one working with James, and now within the Brackley structure it's Jerome who has taken that over, and he's looking at things and there's plenty of plenty of scope that James did beyond the strategy work. So I see Jerome growing in the organisation, but at this stage, that's his area.
Q: (Matt Kew – Autosport) Another question for Toto. On Jérôme obviously, he has existing ties to Susie through the Venturi relationship. Is that how you came across him and decided he would be a good fit for this role?
TW: I have known Jérôme since a long time, because back in the day when he was in the Renault driver development, I thought about managing him. So it's 15 or 20 years ago, and then we had a look again at him when he when he dropped out of the programme. So I've known him as a racing driver, but never from the human standpoint, and never from the managerial side. And I think when Susie offered him the option to jump out of the cockpit into a management role, he took it with both hands and they were quite a good competitive duo, and Jérôme led it into another year and finished second in the Formula E Championship. I think he has the knowhow of having been a racing driver at a very high level. He was a go-karting world champion. He's been in Formula 1 and on the other side, the skills as a manager. So where that will lead him is a question; today it's at a very early stage. He is just coming in in the driver development part and administrative functions. And we shall see where that goes.
Q: (Dieter Rencken – Racing News 365) Franz, based on your earlier question: these misleading numbers, how much have they got to do with the fact that you switched wind tunnel from your own to the Red Bull one, different scales and whatever else?
FT: It has nothing to do with this year's car because we changed the wind tunnel last year. That had a big influence, but not this year.