FIA Thursday press conference – Austria
DRIVER GROUP 1 – Zhou GUANYU (Alfa Romeo), Pierre GASLY (Alpine), Fernando ALONSO (Aston Martin), Carlos SAINZ (Ferrari), Logan SARGEANT (Williams)
Q: Carlos, if we could start with you please. Can we throw it back to Canada first of all? How much of a boost was that race, after a difficult Saturday?
Carlos SAINZ: I think it was a good boost for the whole team, mainly looking at the race pace after a couple of difficult races where we were struggling with race pace. Finally in Canada, we seemed to have good race pace. Also, the fact that we were going forward in the race and not going backwards, makes a bit of a difference also for the perception of things. We actually finished fourth and fifth, that is a very similar result to the other race weekends that we've had – but the perception, the way that we were on the race, the pace was definitely different, which was good news. Yeah, a boost of motivation for the team.
Q: You managed to control your tyre degradation very well during the race. How did you manage that?
CS: The same as any other race weekend! Just a lower deg circuit, which helps us for sure. It just shows that when you have a good race car, your tyre management is good. Also, the strategy is simpler, also it's easier to make the strategy work. So yeah, that's what we're focussing on. To make sure that we focus on the race pace, make sure we have more often the car of Canada, than the car of Barcelona, and that will help us in the races, move forwards, make our strategy more flexible – and obviously have more fun in the race.
Q: You went to Canada on the back of a Pirelli tyre test at Barcelona. I was wondering if you found anything in that test that helped you with tyre management in Canada?
CS: No, unfortunately – or fortunately for Pirelli – we were testing the new no-blankets tyres, which obviously, you cannot learn much or apply much for our situation this year. Obviously, I still prefer to run, still prefer to do the test. And there's always things that you can try with your driving, but it's not like in this test you can actually really test anything or put something in place for the race weekend.
Q: Okay, final one for me, Carlos, you're running upgrades this weekend in Spielberg, what are you expecting from them?
CS: Well, another step in the right direction. This is definitely the target. The team back in Maranello has done an incredible effort to bring them forward to this race. I cannot thank enough the people back in Maranello with the extra hours that everyone's put in to try and revert the situation and trying to put those extra minutes, extra hours of work to make these parts arrive. It's been a huge effort by everyone, and from here, I wanted to congratulate them and tell them that we're going to do our best to make them work well. And hopefully they're all worth it and we can be competitive this weekend.
Q: In terms of lap time?
CS: I'll tell you when I test them, and I can feel them.
Q: Pierre, coming to you. Some big news with regards to Alpine this week. A €200million investment in the team. In layman's terms, what does that mean for Alpine?
Pierre GASLY: What does that mean? Well, that means that we obviously got more investment. But what it means, I think, is just the vision of the team. Of Alpine, of the Renault Group, of the Formula 1 team, to expand, to improve for the future in Formula 1, and try to use the expertise of these people that are coming on board. Three big firms: Otro, RedBird and Maximum Efforts joining on board. And they've got really good expertise and also other sports: NFL NHL, in football, in many other disciplines that will be trying to use as much as we can to improve our strength.
Q: One of the investors is Hollywood star Ryan Reynolds. Are you a fan looking forward to meeting him?
PG: I must say I'm personally a fan of him and his work. I think is definitely one of my favourite actors. And yeah, definitely super-excited to meet him at some point during the season.
Q: Now, can we talk about qualifying? In Canada, you were baulked by the man on your right. It's a very short lap here in Austria: are we going to see more problems like that in qualifying here, and what can you as a driver do to prevent that?
PG: Stay away from Carlos! Nah, it's always tricky. Obviously in Canada it really impeded and had a pretty big impact on our whole race weekend. I think as a driver you always try to do your best. There are some tracks which are very easy to control the traffic, some others which are way more difficult. Montréal is one of these tracks which is tricky. Austria is going to be bad, and I think in this specific track, everyone, as a team from drivers to engineers to everyone that can help and support us inside the car to do a better job, will have to be on their top game. Because it's a short track, four kilometres, everybody's trying to get gaps. But yeah, then you don't want to impede anyone. I was on the other side in Barcelona with Carlos, then Carlos was the role reversed in Canada, and sometimes it does penalise your entire weekend: it's not only just Qualifying, but from the moment you start P17, at the back of the grid, it just changes the entire philosophy of your race. So yeah, it's going to be tricky but hopefully everyone's going to manage it in the best way they can.
Q: If you get a clean run this weekend, what's possible?
PG: I think, at the moment, we're trying to get consistently in the top eight. We are, like, just on the edge. Sometimes we're in the fight, closer to the top five, but I think it's trying to get a clean weekend, which we didn't have on my side for the last few races. So really, that's going to be the main focus. Obviously have a Sprint race, while will allow us to potentially score more points. A different format, it's going to be interesting. The package is working, we have pace in the car, we got speed, we've got a good race car on Sunday's as well – but we just need to have a clean run.
Q: Fernando, coming to you now. Aston Martin introduced a significant upgrade last time out in Montréal. This is a very different kind of race track, so, in terms of performance, what are you expecting?
Fernando ALONSO: I don't know really. I think we have to see tomorrow in the free practice how the car feels, how competitive we can be this weekend. I think we had different performance in Barcelona and Canada, different feeling with the cars, so yeah, hopefully we are closer to a Canada kind of performance and try to deploy a little bit more of the package. Because in Canada, I think the weekend was very short, after the cancellation of FP1. So, it's going to be a very short weekend here again – only FP1 – but hopefully we can test a few things on the car.
Q: Now, you were nine seconds behind Max Verstappen in Canada. Do you feel the gap between Aston and Red Bull Racing is coming down? Or do you think that was track-specific?
FA: I don't know. I think we need to wait for different layouts, different circuits because, as I said, in Barcelona, just two weeks before Canada we were 55 seconds or one minute behind the leader. So, I think it was track-specific. It was a very good weekend for us, but I hope we can close that gap, yes.
Q: Okay, that's Red Bull. What about your battle with Ferrari and Mercedes? How do you see that playing out this weekend?
FA: Well, that's definitely more interesting for us. I think Red Bull is in their own league at the moment, this year. So, for us, it is important to score points with both cars every weekend and try to keep up the fight with Mercedes and Ferrari, which obviously is still hard to believe for us, that we are in this battle. When we started the season in Bahrain we were definitely not expecting to be up there, and now we are just enjoying every weekend and it's good to be in this battle.
Q: Zhou, coming to you. Since we last saw you, you've been enjoying Paris Fashion Week. Just tell us a little bit about that. Did you enjoy it?
Zhou GUANYU: Yeah, I do. Obviously, it kept me busy. I went there for a sponsor of mine, which is Dior. I think Pierre was there as well, the day before that, so yeah, had an enjoyable time over there, and seeing a few friends as well, and yeah, now back obviously to racing and hopefully can climb to where we left-off three weeks ago – because Canada for me was kind of one to forget, and try to learn from that.
Q: We'll come on to the on-track side of things in a minute. Just one more thing about your interest in fashion. Where did it come from – and in years to come, would you be interested in having, I don't know, your own label?
ZG: That's in the plan of maybe when I'm retiring – or Fernando's age maybe! Right now the main focus is obviously racing – but besides that I obviously have a high interest. My family, my mother, used to be one of the designers back in the day, so maybe I get that from her. So yeah, I always had a high interest, but obviously Formula 1 is a bigger platform for me to be a bit more myself, and that spills out into the fashions. So yeah, I'm happy to obviously design some cool stuff. To wear your own clothes, I think that's definitely the coolest thing that can happen.
Q: On the on-track side of things, you say Canada was a race to forget for you – but Valtteri finished in the points, backing up your points finish in Spain, the race before. Just how good have these last two races been for the team?
ZG: I think it's definitely a further step up. Like we said in Monaco. We have introduced this new package and it hasn't been upgraded since then but it's clearly worked much better in higher-speed tracks, even though in Montréal on a medium-low speed track it seems to be working in the right direction. And now hopefully that does bring us forward into a more competitive fight day, even though I think it's very close between us, Haas and the Williams, fighting behind for the Constructors' Championship – but we are closing the gap. And it's nice to see that both cars are able to fight at least in the point positions where, let's say, after Bahrain we seemed to be missing a little bit of pace. No, we were able just to find a bit, back to normal, fighting for the last two positions in the Top 10. So, it's a good step forward and we're looking forward to convert that into hopefully a double-points finish very soon together on track.
Q: Logan, so just how excited are you to be back at the Red Bull Ring, where you've enjoyed so much success in the past?
Logan SARGEANT: Yeah, it's been a good one to me in the past. Obviously, it's not been the easiest, last couple of races. So, you know, the plan is to get back on track. Seems like the upgrade's working well. So, hopefully we can get things moving in the right direction, and rebound on a track that's been good to me in the past.
Q: You're going to get the upgrades on your car this weekend. What are you expecting from them?
LS: Yeah, I think from what I've spoken to Alex about it, it seems like the characteristics of the car are relatively similar, which is good for me because it's not like driving a whole new car – but at the same time, just more compliance. It's quicker, more downforce, so it's just better all around.
Q: And do you expect this layout to suit the FW45?
LS: Yeah, I don't think it should be too bad. I think it's one that will be on the better side for us. It's still going to be a challenge, for sure. Hopefully we can use everything. It's a Sprint weekend; weather conditions look a little bit tricky as well, so we'll do our best to keep ourselves in the fight.
Q: How much are you looking forward to the Sprint? Because Baku was a slightly inconclusive one for you, wasn't it?
LS: Yeah, it was. But honestly, I enjoy it. I don't mind having the one session straight into Qualifying. You know, I was even enjoying the Sprint Qualifying the next day. Obviously, it didn't end well. But for the most part, it's good: it gives us more, in my opinion, opportunity under pressure, which is nice. And also, to have two races is good for me to keep learning.
QUESTIONS FROM THE FLOOR
Q: (David Croft – SkySports F1) It's a question to everyone really. Afternoon, gentlemen. I don't know if you're going to have a driver's briefing before Qualifying or not this weekend but as we've got a quarter of the grid with us, how are we going to sort the traffic out for Qualifying? How do you go into a qualifying session knowing that speed differences could be rather large here, and people could get impeded? Do you try to have a chat beforehand? Do you try to form a plan so that no one gets impeded or not? Or is it just part and parcel now of the way Formula 1 qualifying is going to work out?
FA: Yeah, it is a topic every weekend and especially in short circuits. I don't know. There are a few options to improve this: one is single lap qualifying, like in the past. That would be ideal, in my opinion, because only one car on track and full TV coverage for that lap, for everyone's sponsors and things like that. And that created a little bit of drama in case of weather changes in between qualifiers, you could see in pole position different cars, different names. So that was, I think, my preferred option. You can split the grid like junior formulas, they do in Monaco, and things like that. But it is a topic now.
CS: Yeah, I think the shorter-term solution would be to at least do Q1 on a split: 10 cars, one from each team in a qualifying group. Then, I think by Q2, the traffic already improves quite a bit. Q3 is not a problem. So, it would be only short tracks, Q1s maybe. Divide the session by half and do eight minutes with one group, eight minutes with another group. Anyway, it shouldn't affect, because the performance of the cars are split. And yeah, that's the shorter-term solution. The single lap qualifying is maybe something to experiment with, as Fernando said. Also, maybe in Sprint weekends, to try, if it would work. I personally, was a big fan of it. Because I do like that feeling of suddenly having the whole track for you and having the pressure to perform only in one lap. I think that would be really good fun for us, I think for our sponsors, and for everyone. But maybe for the TV would be a bit boring for you. But I don't know, depends on the technology. You also have to animate that single lap. If you could put a ghost car of the fastest lap, I think with the technology that we have, nowadays, something like that could be achievable, with the mini-sectors, with a ghost car, with that kind of stuff that I think we should look into.
ZG: Yeah, I mean, they pretty much had everything with the ideas. But these days, I think the drivers rely a lot on mirrors and engineers. Obviously with the speed travelling around the Red Bull Ring, it's going to be very difficult for us, especially when there's a massive train coming into the second-last corner. But coming into the future, I think these ideas could be a way forward. Also, there could be idea on the dash, maybe you get to see when is the next car, how many seconds close by you, in the future development on the dash, system-wise but that's pretty much everything I can think of.
Q: (Jesús Balseiro – Diario AS) Question for the two Spanish drivers. Last year, Carlos was often on the podium and this year Fernando is – but there has never been two Spanish drivers on the same podium – so how far do you think is that moment, and what needs to change, what has to happen for the two of you to be second and third or first and second maybe?
CS: Yeah, I think Fernando is getting a podium every weekend, so I am the one to blame! So yeah, hopefully sooner rather than later I can join him in one of those podiums, and celebrate together with champagne, which would be great for Spain. And for us – as we've always been good friends and we've always had a lot of respect for each other.
FA: Yeah, the two Red Bulls out will be a way to achieve that sooner.
Q: (Edd Straw – The Race) One for Carlos, you talked earlier about the stint performance of the car in Canada. It sounds like there's some confidence that it's a kind of global improvement, not just track specific. So, if that's the case, why are you confident? What's changed? Have you found gains in set-up? Tyre treatment? What's unlocking this improved performance in race stints?
CS: I didn't intend to sound it like it was a genuine gain. I do think it's also track-related. Why? Because in Canada, there's basically… nearly zero deg, which helps us and then there's also no high-speed corners, that helps us. You put these two things combined and you have a race where the race pace, because we have less deg, and a car overall it was more competitive because there's none of the high-speed corners that we had in Barcelona, that we were struggling a lot. We are obviously trying to improve these weaknesses every race and, for sure, in Canada, we were trying to do steps. And here, with a package we're bringing, we're also trying to improve the performance. So, we might see an improvement and a tendency starting from Canada – but I do think still Canada suits us more than Austria. But let's see, it could also be different because here in Austria last year, we were also very competitive. So sometimes in F1 you have your circuits: weekends where the car just works better than others, and it's how it goes sometimes.
Q: (Zsolt Godina – F1Vilag.hu) Carlos, a few weeks ago you said that Ferrari would have to make a lot of changes on the car in order to catch the Red Bulls. And obviously we see these upgrades. Do you think that with these upgrades you can still catch the Red Bull this year? Or are they mainly for 2024?
CS: There is a big gap between the Red Bull and us and to think that we're going to cut the gap with one upgrade, I think would be naïve and not realistic. Is the upgrade going to help our weaknesses and hopefully make us come closer? Yes. But at the same time, if Red Bull brings an upgrade to Austria, or anytime soon, it also means that your upgrade is less big. So, it's all relative in F1. I do hope that this upgrade is opening, a bit like we saw in Barcelona, a bit of a window of development and new opportunities and new ways to set up the car that help us move in the right direction. But I think it would be a bit optimistic, let's say, to think that suddenly we're going to be level par with Red Bull, with how competitive they are.
Q: (Christoffer Linden – Vasbladet) Question for Zhou. What do you feel is the biggest challenge at this track that would interrupt your point scoring for Alfa Romeo?
GZ: Traffic in qualifying. I think that's a big topic. I think I had to had one last year. But apart from that, in general, let's say our car seems to be quite strong on high-speed tracks. Here it's a little bit mix of a few slow corners in Turn 1, Turn 3 and Turn 4. But in general, let's say, my feeling is that with the race track, with a bit more higher grip in the tyre mark, it works better for our car. So hopefully, you know, besides from Montréal, was like a tough qualifying for both cars, we've been struggling a lot in the lower temperatures, that maybe put us a little bit more in the window, you know, fighting together, hopefully for Q3. And then that makes life much easier in the race, with strategy and plans. But yeah, you never know, in these days, it could be a track that suits our car with the same package, we go to a different track, we could be struggling more, so we have to see.
Q: (Luke Smith – The Athletic) A question for Logan, please. You broke the mould as an American driver coming up the European ladder all the way to Formula 1; you made that adjustment to Europe very, very early. How important do you feel it is for any future Americans hoping to follow in your footsteps to also make that early shift? And how much of a difference in racing cultures do you see between the United States and over here in Europe?
LS: Well, racing cultures I'm not really sure, because I raced my whole life in Europe. I think it is important though. I think if you don't make the move, you're just sort of a step behind. You know, there's no way you can travel back and forth. It's just too difficult. But yeah, I think it is a big sacrifice. But I think if you want to reach Formula 1 that's the way you have to do it. And to be honest, I look at the karting list nowadays, and I see a lot of American kids in it. So, it's good to see and I'm actually familiar with a few of the names from sons of previous drivers. So yeah, hopefully we can see more Americans coming through and into junior formulas soon.
Q: You say you're a step behind if you don't make the move to Europe. In what way are you a step behind?
LS: A step behind in the sense of, as I said, you can't travel back and forth to Europe for every race. And, you know, if you really want to progress on the European ladder I think that comes to needing to commit to moving to Europe and, you know, putting in maximum effort to reach Formula 1. If not, you're always a bit late.
Q: (Christian Nimmervoll – Motorsport-total.com) A question for Fernando. Fernando, you said you're on this amazing and surprising journey with Aston Martin that basically started last year in Abu Dhabi during testing. When you think back on that day, do you think that the platform was better than results last year showed? Did you already have a feeling back then that the car, there's probably more in it than it seemed?
FA: Not really. I think when I tested in Abu Dhabi, I felt the car was good and it was competitive, but it is true that in Abu Dhabi the car was very similar to what I drove [with Alpine]. I remember on the grid, it was ninth, Sebastian, and me, I was P10. So we were in the same row of the grid. So, I think the performance of the Aston in the last race and the Alpine that I was driving, it was very similar. So when I jumped in that car, I felt OK. I felt also similar to what I drove the whole season. But I think they made a lot of progress during the year. So that's why [when] we think of Aston last year, we may think of the struggles at the beginning and mid-season, but I think at the end of the year they had a reasonable car. So the step over winter was just a normal progress that they followed all throughout the year.
Q: (Carlos Miguel Gomez – Marca) The question is for Fernando and for Carlos. It's the first time you stay in the same room, in the press room? And if I can make a question. I know the answer, but how is your relationship? Is it as good as ever? Because we read sometimes, here in Spain, stupid things. What's the reality between Carlos and Fernando, their personal relationship?
FA: I think we've been in the same room many times. You were not here?
Q: (Carlos Miguel Gomez – Marca) No, it's the first time this year…
FA: Ah, not this year?
CS: But also Miami, no? I think after Quali we were.
FA: No, no, for sure. I mean, we were, maybe not this year, but many times and as Carlos said before, we know each other for a very, very long time and we are good friends, inside the circuit and outside as well. And as you said, you know, there are many stupid things and this year because I have a competitive car and we are fighting close together on track, as you said, in Spain, we are like this. We have to accept, us, and we have to unfortunately know that the level of journalism in Spain is low. Not for you. But generally. So that's the way it is. That's why, you know, we are not often in Spain, unfortunately. And we try to avoid our country, unfortunately, for many things.
CS: I agree. I think you guys can even tell, it's not like we need to be in a press conference to prove it or to show it. I think also if you look at when we are in Drivers' Parade or around the paddock, you can just tell the relationship is like it's always been with me and Fernando. It's true that this year we are more… There's more competition, because we are fighting for similar positions, but that for me always stays on track and will always stay on track. And I know how to separate the track to the outside of the track. I think I've always been good at it. Fernando has always been good at it. We are both obviously mature enough to know that, and we're just going to try and enjoy the moment, because it's a good moment for Spain, a good moment for Formula 1 in Spain. The interest that we have is huge. And to spoil it with stupid stuff that might come out is I think not worth it. But honestly it's not worth even giving my attention and commenting on it. Because it's giving importance and attention to people or someone that just doesn't know or just wants to do something bad, so I'll leave it there.
Q: (Josh Suttill – The Race) Carlos, it's almost been a year since Ferrari last won a race. How close do you think the team is to ending that drought?
CS: Yeah. Also a year since I nearly got burned. But yeah, It's been a long year for sure. And I think from Austria last year until now, it's been tough. We had a bit of a dip in form towards the end of last year in race pace and then we carried that, let's say, difficult moment into this year and we are in exactly the turning point, or in the point of where we are trying to turn things around to make the car competitive again and to try and win again. It's not going to be easy because there's another team called Red Bull that have killed everyone, killed the opposition in a way, no? And we're not the only ones suffering it. There's teams also, like Mercedes, that have suffered their good job, and it's down to us now to revert it and to try our best to win again.
Q: (Silvia Arias – Parabrisas) A question for Fernando? You just said that the possibility to be, as always, on the podium, if the two Red Bulls are out. Well, what about Mercedes? Are you worried about Mercedes, about what they can do? How much can they improve? Or do you feel Aston Martin is…
FA: No, of course. Of course, of course, Mercedes is going to be very, very competitive. They are a very strong team. Very strong drivers. And they will be in the fight every weekend, for podiums, for race wins. They said, even, that they will bring some significant upgrades to the car and hopefully make some fight with Red Bull as well in the future. So I think Mercedes proves many times that they will be a contender for everything, every weekend. So obviously our target and our goal is to catch Red Bull eventually, one day, but in the process of doing that we know that Ferrari and Mercedes, they will be very strong.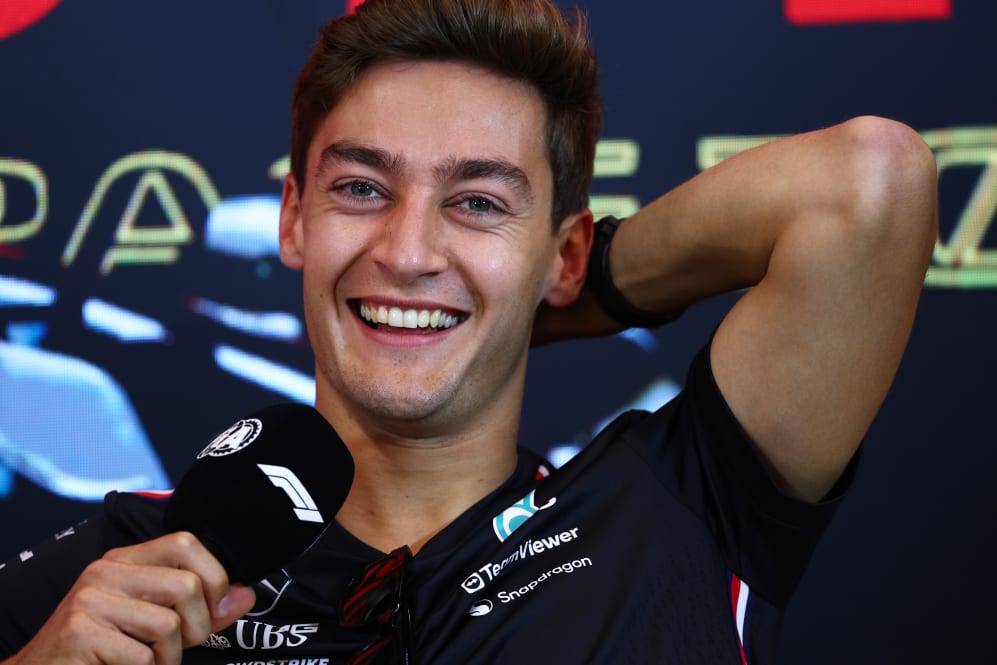 DRIVER GROUP 2 – Nyck DE VRIES (AlphaTauri), Nico HÜLKENBERG (Haas), Oscar PIASTRI (McLaren), George RUSSELL (Mercedes), Max VERSTAPPEN (Red Bull)
Q: George, can we start with you? Sorry to remind you, but it was an unfortunate end to your race in Canada. But let's focus on the positives and just tell us were you pleasantly surprised by the pace of the car last time out?
George RUSSELL: Yeah, definitely. I think going from… That's a nice replay you've got there, I appreciate that! Yeah, I think going from Barcelona, which was probably a circuit that suited us down to a tee, then to Canada, a totally opposite circuit, to see that we still had pretty good pace, fighting with the Aston's and Max didn't seem too far ahead, either, things are definitely going in the right direction. So this will be another interesting weekend. Sprint race, never straightforward, but I think, as a team, we're making really good progress.
Q: Do you think the characteristics of the Red Bull Ring will suit your car better than Montréal?
GR: Yeah, I'd say so. I think it will suit us better than Montréal. I think Silverstone will be slightly a step in the right direction again, more similar to Barcelona. But as I said, you know, we're developing really, really well, at the moment. The team back at Brackley and the team here, are doing an exceptional job to improve what we've got, and try and close that gap.
Q: Now, both Mercedes and Aston Martin look a little bit closer to Red Bull last time out. Is that the reality of the situation? Or are they still one, two, three steps ahead of you?
GR: I mean, it feels to a degree, that they're coming a little bit closer to us. I think when you look at the average compared to the whole field, for whatever reason, it seems like Red Bull may have taken a small step back. But you know, when they're three steps ahead, they're now two steps ahead. So, they've still got a lot of margin. I was told recently, about half an hour ago, that they've won the last 17 out of 18 races, so they are cruising at the moment. They're doing a really good job. But hopefully, it's not too long until we can turn the tide.
Q: It was you who broke their run in Brazil last year, wasn't it? Look, final one from me, George. Both you and Lewis had crashes in Q3 at this track last year. Just tell us a little bit about how difficult it is to set the car up for this racetrack?
GR: I mean, it's got a combination of corners, being on the hill it's always quite exposed to the wind, so you get these moments where it catches you out. But, you know, it's the same for everybody. Last year wasn't our finest Qualifying session. But we had a good race. And this year's going to be a different dynamic again, with the weather that may be here throughout the weekend, with only the one practice session. I'm excited to get going.
Q: Alright. Good luck. Nico, coming to you now. Let's throw it back to Canada first. Such a strong Saturday for you. Just how do you reflect on the weekend as a whole?
Nico HÜLKENBERG: Yeah, obviously, what's the Saturday worth if the Sunday goes the way it did? I mean, we were quite unfortunate with the timing of the Safety Car. That was pretty costly for me personally. But we definitely… It's a trend now that we've been struggling on Sundays with pace, you know, with tyre management, with degradation. It's something we are aware of, we are working on it, trying to get on top of the situation more, but obviously a weekend with a big contrast. Great Saturday and then a more tricky, difficult Sunday.
Q: But Nico, why do you think there is such a discrepancy between the pace of the car over one lap on a Saturday and its race pace?
NH: Well, obviously in Quali you get new tyres all the time and they don't get very old, and over 60-90 seconds the tyre can sustain those forces and the grip quite well, but if you're talking a stint of 20, 30, 40 laps, it's obviously a very different cup of tea and a very different challenge for the tyre. So it just tells us something about our car, the characteristic we have, I think doesn't suit that so much in race conditions when we're in traffic, when we're surrounded by other cars, we just struggle, we struggle too much. And we're trying to address that.
Q: So how confident are you coming into this weekend? Because this track has been good to the team in the past, fourth and fifth in 2018. Both cars in the top eight last year. What can we expect this time around?
NH: It's difficult to predict. It's a Sprint weekend on top of that, so very busy, very hectic. Hopefully, there'll be some weather that can play into our hands. But yeah, we need to see in a few weeks and months how we can address it and how much progress we can make. But it's not going to be an easy ride from here.
Q: Alright. Well, good luck. Thank you. Nyck, coming to you. Can we throw it back to Canada? It was a difficult one for you and the team in Montréal? Just how confident are you of turning things around here at the Red Bull Ring?
Nyck DE VRIES: Yeah, I think I personally didn't do a good enough job. I think, as a team, we also struggled a little bit. It just shows that the midfield is very close. I think we're getting a nice replay of me and Kevin not braking. But basically, from P 11 to P 20, everything is so close that when you don't execute a good weekend, it immediately puts you on the back foot. And it doesn't necessarily have anything to do with direct car performance or development. It's just a matter of not making the right calls throughout the weekend. And it was obviously a challenging weekend with different circumstances. Rain in qualifying. It just showed how competitive it is and how tight it is. So I'm sure that we'll be back to where we were earlier but we've got to make sure as a team that we stay on top of everything. And obviously, yeah, I've also got to do my job.
Q: So, what is the key this weekend to a better result? Is it just having a clean weekend and optimising what you've got? Are you relying on the updates that you're bringing here?
NDV: I think optimising what we've got. Obviously, it's a Sprint weekend, so there is less time and it will be a little bit more challenging and there will be a little bit more uncertainty, especially with the weather conditions we just checked for Saturday. But yeah, I think executing the maximum out of our package will be crucial.
Q: Now, it's one of the team's home races this weekend. Just how much more pressure is there on your time at a race like this?
NDV: Yeah, I mean, it's almost the home race for everybody. I mean, for all of us. We are at the Red Bull Ring with Red Bull, but historically we have a lot of orange coming out for Max and supporting our dominating man. So I guess we'll see a lot of orange again this weekend, which will be cool.
Q: Nyck, I'm sure there'll be lots of support for you as well. Look, final one from me. You're coming back to a track that you know well. What sort of difference does that make to you?
NDV: Yeah, I think it definitely helps to know the track, it just gives you that bit of confidence to push right away, which is even more important this weekend, because we have such little track time ahead of Qualifying. So yeah, I'm looking forward to it. Actually, the next five weeks, we have four European races on permanent tracks, which we all know, so it's going to be a fun time ahead.
Q: Max, before we talk about this weekend, can we talk about mega-trucks?
MV: Yeah, we can.
Q: You raced one against Yuki Tsunoda recently; what was it like to drive?
MV: Quite painful. I thought the suspension would do a better job but it didn't really, so it was actually jumping around quite a lot.
Q: Let's bring it on to this weekend, I touched with Nyck on…
MV: That was it?
Q: Did you beat Yuki?
MV: No, I didn't. Well, not in the race, but in qualifying I did, but I had a bit of weight penalty. It's like 40 kilos I think. It was good. We had a good day and we definitely laughed a lot and that, for me, was the most important thing as well.
Q: Let's bring it on to this weekend which is, Max, a poignant one, because it's the first Austrian Grand Prix since the death of Red Bull founder Dietrich Mateschitz. Are emotions running high this weekend?
MV: I think we've had already a few Grands Prix without Dietrich, of course, by our side and you just have to face it, you have to deal with it and we race also to make him proud and just carry on that legacy. So coming here, home Grand Prix, we always enjoy coming here anyway and we want to win, definitely.
Q: And chances of winning? The gap to second place was down to nine seconds last time out in Montréal. Helmut Marko said after the race that it was to do with the track temperature and things like that. Do you expect to be more dominant here at the Red Bull Ring than you were in Montréal?
MV: I don't know, honestly. In a Sprint weekend so many things can go well or can go wrong. It's always very hectic so I guess we'll just find out honestly. I don't know. We can speculate about it now but we'll find out on Sunday.
Q: There's a lot of orange in the grandstands, as Nyck just said. Any message to your fans this weekend?
MV: Don't get too drunk. Just watch the race, enjoy. It will good to see them. It's always nice to see the orange colour next to the track. I think also, about this track, on any grandstand that you sit in, you can actually see a lot of the track and that makes it very unique, I think.
Q: Oscar, thank you for waiting. So you're returning to a track that you know well. What sort of a difference does it make to you?
Oscar PIASTRI: Yeah, it's always nice to come back to somewhere more familiar. It's not guaranteed to bring results like we saw in Barcelona but no, it will be nice to have a few laps and especially with one practice session tomorrow, it's nice to have a bit of prior knowledge.
Q: Now it feels like there's quite a lot resting on this weekend for McLaren, because you're running updates. What is the mood in the camp ahead of what is a significant weekend?
OP: Yeah, we're excited. We've got upgrades on Lando's car this weekend. The plan was both of us to have (it) in Silverstone but the team have done a very good job of getting one set forward for this weekend. So yeah, looking forward to seeing how that performs and of course we've got a stable package on my side of things, we know exactly what it's capable of, so still try to get into the points and do what we can.
Q: For cricket fans out there, Oscar's been warming up with the Australian men's cricket team. You were in the nets at Lords earlier this week, just tell us about that. Scary?
OP: No, they were taking it pretty easy. Either that or it is much slower than it looks! But no, they were really good guys, nice to do something different. I played quite a lot of cricket growing up, so very cool to see it up close, to go to Lords as well, it's a pretty cool ground. Almost as good as the MCG (Melbourne Cricket Ground)! No, really enjoyed it. The game is looking pretty close at the moment so yeah, hopefully we can add another one to the tally.
QUESTIONS FROM THE FLOOR
Q: (David Croft – Sky Sports F1) Nyck, you were really honest when Tom was talking to you about your season so far and about the job you're doing. But when you hear comments from Helmut Marko to the extent – and I'm paraphrasing – 'Christian and I don't often disagree but he didn't want Nyck and I did and maybe he's right'. How does that affect you; does it serve as extra motivation or does it really upset you?
NDV: I think Dr Marko would appreciate it if I proved him wrong on track. That's all I feel about it and what's within my control. So that's it.
Q: (David Croft – Sky Sports F1) And what can you do to make things better on the track, because as the races go on, that, I would imagine, leads to more and more pressure to get it right?
NDV: Yeah, but equally there is no need to force anything. I think whenever you are trying harder or trying to force something that is not kind of ready then it won't happen and then mistakes will happen. So I think the key is to just continue as we are and continue to focus on the job, remain patient, and then I think the potential is there. So, it's just a matter of trying for things to come together.
Q: (Silja Rulle – Bild) To all five drivers, who would you say are your top three drivers of the season so far, if you only count drivers' performance and not the performance of the car? And maybe bad luck?
GR: I don't know, to be honest. I think we're all so focused on our job that obviously Max is the one doing the solid job week-in, week-out. He's the number one at the moment. Number two and number three? No one else cares about. We're all after number one, so yeah, that's Max's spot at the moment.
Q: George, I'm not convinced you've answered the question…
GR: I haven't but… This sport's incredibly difficult to judge and it's… I think that's the challenge of Formula 1. We've said it before. As drivers, we want to be in a position where we can go head to toe (sic) week-in, week-out with everyone on a level playing field. In an ideal world, all of the cars are the same and then we truly know. Max spent three years at Red Bull winning a couple of races here and there and now he's winning 20 a year or whatever. It's not because he's suddenly got a second a lap faster over three years of driving; he's just doing the job when the car's giving him the opportunity. Many drivers are doing a good job. Fernando's doing a good job, Lewis is doing a good job, Lando, Oscar's doing a good job. Hulk, P2 last week, he's doing a good job. Who knows? I hope that answers your question.
NH: OK, short and not painful: Max, Fernando, Pierre.
NDV: Max. Max Emilian Verstappen. There were three names! Max, Fernando and Yuki.
MV: I don't know to be honest. Like George said, it's impossible to actually fully know because you can only compare to your team-mate, and the other cars you don't know how the performance actually is so I don't know. There are a lot of good drivers on this grid who all deserve to be in that top three. so I don't know.
Q: Are you a second a lap faster than you were three years ago?
MV: Absolutely!
Q: Oscar?
OP: Max, Fernando as well I think and I would agree with Yuki as well. I think he's done a good job this season.
Q: (Arjan Schouten – AD Sportwereld) Max, you've never been in the position, as Nyck is in now, under pressure, looking for points but you do work with the same people: Horner, Marko. Do you talk with Nyck about his situation and what would be your best advice to him now?
MV: Well, I think we all know that this is motor sport in general, right? You need to perform to the best you can. It's not forever anyway but like Nyck said, you can't force things as well. So it's about how you work together with your team, gain more experience as well and at the end of the day, it doesn't matter what people above you say, it's about how then you learn from your weekends, learn from your mistakes like we all do, and yeah, just get on top of the car a little bit more, feel a bit more comfortable and definitely don't force it. Just talk to engineers: what can we do better, what can be worked on? And then at one point, when these things click a little bit more, you can get these results and then if you have one good result maybe it leads to another one and then you feel a bit more comfortable anyway. So yeah, it's a lot of things that have to come together at the end of the day. Don't get too stressed about it, but just work hard together with all your people involved who can actually make a difference and influence your performance. But I don't even need to tell Nyck, he knows that, he has a lot of experience. We'll see again this weekend to be honest and this is for everyone, of course, it's not only Nyck, everyone, every single weekend you have to work together with your engineers because again, we, like this year we have a very quick car but if I would just sit back and relax and think that everything will come to me then the results at one point will stop coming and you cannot let that happen.
Q: (Matteo Beretta – F1inGenerale.com) In the previous session, Fernando says that it could be interesting going back to the single lap Qualifying due to the traffic in Qualifying, like in Canada it was a big problem. What are your thoughts about this hypothesis that Fernando made and how do you think the traffic problem in Qualifying could be improved?
MV: It's quite cool but again there's also track evolution, so not sure it's the best idea. But again, yeah, there is always traffic, but this has been for Monza… You just have to try and manage it. I know some tracks, of course, are a bit better than others but yeah, it's a tricky one.
NH: I feel like, as Max said, some tracks are more difficult than others but I also feel that some teams and drivers are better than others, and pay more attention and some less. And some create situations more than others and I personally like how our Qualifying is. I think it's quite good to watch, it's quite good fun from inside the car so I'm pretty happy.
GR: Yeah, same as Nico, I think Qualifying's pretty good as it is. Traffic is sometimes bad at certain tracks. I think the only suggestion we had in the past was to have like your GPS delta on the dash, so you're not relying on your engineers because when you're going slow the cars come at you so quick and we're always relying on our engineers to tell us, so put it in our hands to manage and not somebody else's.
Q: (Luke Slater – The Telegraph) George, last year you came here with a pretty quick car, ended badly in qualifying but you had a good race. Where do you think the strengths are this year: different car compared to last year on this track, strengths and weaknesses?
GR: Yeah, I think we've made a lot of changes to the car since then. It'll probably be a good baseline to look back compared to last year as obviously the circuits we've been at recently, bar Barcelona, have been pretty unique circuits. Yeah, I'd like to think we'd be in a slightly better place. We've definitely made improvements with how the car handles through the corner, making improvements with the overall downforce which we know we've still got gains to be made. But I see no reason why we can't have a strong race on Sunday. We know that qualifying is not our strength but if we get things right, there's no reason we can't fight for a podium.
Q: (Daniel Majer – Rallycafe.Hu) Max, Nico and George: Stefano Domenicali recently said that the 2026 engines are going to be a bit louder than the current ones. What are your thoughts about that? I think that it's important for the younger fans, because of the sound. Do you have any memories from your childhood when engine sound first struck you?
GR: Yeah, I think we'll all welcome that. I think the perception of speed with sound sort of goes together. So it's like in the UK, there used to be a car that was a Citroën Saxo and people used to put this massive exhaust on it and you'd hear it coming from miles away and you think it'd be a Ferrari, and it turned out to be this Saxo. But I think there's something to be said that you want that noise, that buzz around the track. Yeah, I welcome it, definitely.
NH: Yes, same. I think from back in the day when I came to always approaching the track before my time in F1, you could hear the cars miles and miles away and that was part of the excitement, you get goosebumps. It's an emotion and I think we've had definitely less of that. It's much better now than I think initially, 2014 and '15 were not so great but I think definitely positive news.
MV: Yeah, I wonder, of course how much can be done but for sure, back in the day, if you would walk into the paddock and there was a free practice session going on it was quite… From a far distance you were like, wow, this is incredible even though the speeds were, on a straight, slower than what we're doing now. So yeah, the sound definitely has a big, big influence on that. I would definitely welcome it.
Q: (Adam Cooper - Motorsport.com) George, you guys have got a meeting with the FIA later today. Are you happy to have that chance to have a dedicated slot to have a chat with them? What are you hoping to get out of it? And what are the key issues that you'd like to see covered?
GR: I think the biggest thing is that there's always a lot of question marks, regardless of whether it comes to race scenarios, penalties, no penalties, race start, people cutting the corners. My example, even, in Barcelona where I took the escape route, should that have been penalised or not? And I think it's important, maybe twice or three times a year that we come together with the guys making the decisions so they hear our views and we also hear theirs. You obviously want this consistency and that's what we're trying to achieve.
Q: (Josh Suttill – The Race) George, you've not had many incidents in F1 but previously we've seen you write a letter of apology to Williams after a crash at Imola a few years ago. Was there anything like that after Montréal on Sunday? And also do you now feel that you're better at dealing with those kind of moments and moving on from them?
GR: No, I think the emotions that… I spoke with obviously all of the engineers and mechanics and apologised for the off, but it was simple as that: move on, onto the next race. And yeah, definitely better at dealing with these emotions. I think, as a driver, you never want to make mistakes, you never want to fail or lose, but I think these moments make you stronger as a driver, as a human being, and you need those failures to progress. It's history for me now, not even thinking about it, onto this weekend. Won't be my last crash, for sure, it's part and parcel of pushing the boundaries. Obviously, you want to limit it, but it's just one of those things.
Q: (Christian Nimmervoll – Motorsport-total.com) George, talking very fine margins there, but there's a perception that in some of the earlier races of the season, you seem to have a little bit of an upper hand related to Lewis, whereas this seems to have changed, ever since the updates were introduced, again, very fine margins. First of all, do you have the same perception? And do you think there's a connection with the update or is it just pure coincidence?
GR: I think it's pure coincidence. I think it's like he says, very fine margins. I think out of all the teams on the grid we're statistically the closest of everybody in terms of team-mates. Lewis is obviously a very strong driver. Yeah, it's funny. I think at the start of last year, I think Lewis was on a higher level than I was, yet I was well ahead of him in the championship. And now this year, I think we're at a very close level, and the championships… I'm 40-odd points behind him. Ultimately, that's the only thing that matters. We're going into this weekend and we'll see what we can do but certainly the last couple of races haven't been the best run of form for me. But as I said, history now and let's see what the upcoming races bring.
Q: (Sam Johnston – SkySports.com) Max, Lewis has been talking in the pen and he's been saying that he thinks it's a bit unfair, given how far ahead Red Bull are, that how much time you're going to have to develop next year's car, that you will have already started on that and it would make sense to introduce a date where all teams can start working on next year's car. He gave August as an example. What's your reaction to that? Do you think it's a reasonable suggestion? Or do you just think your performance earns you the right to do that?
MV: Life is unfair as well. It's not only in Formula 1. Like I said, a lot of things are unfair, so we just have to deal with it.