FIA Thursday press conference - Azerbaijan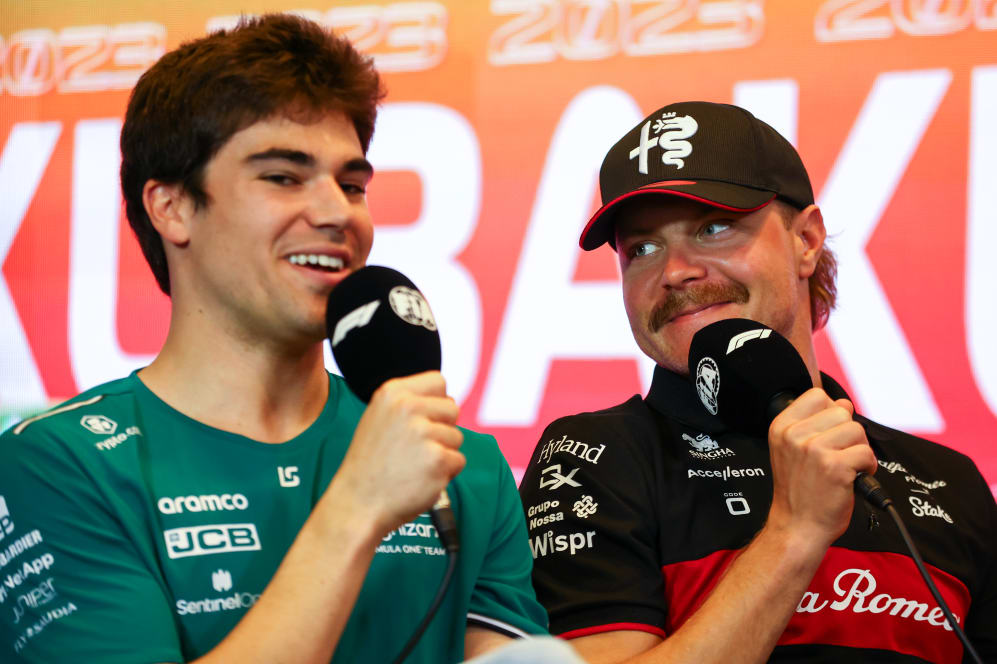 DRIVER GROUP 1 – Esteban OCON (Alpine), Yuki TSUNODA (AlphaTauri), Kevin MAGNUSSEN (Haas), Lando NORRIS (McLaren), Sergio PÉREZ (Red Bull)
Q: Yuki, Let's start with you. Are you a fan of the April break? What have you just been getting up to?
Yuki TSUNODA: Yeah, I'm really fond of the April break. I had three weeks, it was really nice. Definitely it felt long in terms of like the race side, but actually I still relaxed a lot and recharged myself. Still definitely did training and also had an extra two days in Australia, which was good after the Melbourne Grand Prix. And yeah, just now, I feel more ready compared to even the last three races. So looking forward to the races ahead.
Q: Before we get into Baku this weekend, I just want to ask you about the impending change at the top of AlphaTauri, because Franz Tost has announced that he's going to be stepping down as team principal at the end of this season. Can we get your thoughts on that?
YT: Yeah, it was really surprising news for me. I had, like, lunch with him, like, five days before the news or something like that. And actually he didn't mention about those things. So yeah, I was surprised. At the same time, kind of, there was already kinds of rumours from the beginning of the season. So it actually it came true that he's stepping down. But still, there's 19 races to go to make him happy. Hopefully we can end the season in a positive way for him. To do that, obviously, we need a lot of development we need to do but yeah, we have an aggressive plan to do it. And looking forward to it. And at the same time feeling really kind of appreciative to him that he trusted my speed the last three years. And he was always supportive next to me. So yeah, I'll try to make it up for him the next races.
Q: Well, what about this weekend? You had points in Australia for the first time this year. How confident are you feeling?
YT: In terms of confidence, quite similar as the last three races. But I would say last two years when we see, based on the last two years with AlphaTauri is always having a quite good performance here. So I think the track itself maybe suits us more compared to the last three races hopefully. So yes, still feeling optimistic. Still will be difficult to score points but anything can happen here, especially with the new sprint qualifying format, so excited.
Q: Expect the unexpected. That is the tagline of this race. Thank you, good luck to you. Kevin, coming to you now. Before we talk racing, Guenther Steiner's book, 'Surviving to Drive' has hit the shelves, just wondering if you've read it yet?
Kevin MAGNUSSEN: No, he didn't give me a copy. So, I'll see if I get time to read it.
Q: Maybe the audio version? You could have…
KM: Has he done it?
Q: Yeah.
KM: OK. Himself? With his voice? OK. He has a lot of time. Yeah, cool.
Q: OK, well, what about this weekend for you guys? What can we expect? Just give us a few thoughts on where Haas is at, the performance of the car and whether it'll suit the Baku street circuit?
KM: Well, I mean, last year, we were going pretty well and we didn't have a low downforce configuration for last season. So, we do this year, and hopefully that's going to be making a difference. I think we were pretty quick. But actually I was stuck behind Esteban for quite a while and couldn't get past him, there was no chance. So, hopefully we can at least be a bit more racy and competitive. If we have the pace we can pass people. But it's a very competitive midfield at the moment, very tight. And you know, it's hard to know where you're going to be, but I have a good feeling.
Q: Kevin, what about your own performance this year? Obviously, those points in Saudi Arabia. But are you finding it difficult to get confident in this car? Are you less confident in it than you were last year?
KM: Yeah, I think so. There's been… I think we've found it for qualifying and the race, or all of the three weekends we've had so far, but we haven't started off in in the right place with the set-up and then, you know, you lose, you lack a little bit of confidence, because if you start in FP1 pretty close to what you're going to run in qualifying, you get a lot of laps with that car and that balance and you can optimise your driving style around that and it's never optimum going into qualifying with a different set-up, a new set-up you haven't tried. So I think that's the target for us: to hit the ground running a little closer to what we are going to run in qualifying and the race and hopefully that's going to be a step forward for us.
Q: And with the new format this weekend, you really do need to hit the ground running, don't you? Can we just get your thoughts on the changes to the Sprint format?
KM: I think it's exciting. You know, it will be only FP1 where you're sort of just driving around and then all the other sessions there's pressure on and it's more exciting, I would say. It's going to be even more important to hit the ground running in FP1. You're not going to make big changes from FP1 to Quali. So it's a bigger challenge, but it's the same for everyone. So I feel it's exciting. I'm looking forward to it.
Q: Thank you. Esteban, coming to you now. Now, it was a very frustrating end, not only for you, but also for your team-mate in Australia. Have you and Pierre talked it through? And does this one come under the heading of a racing accident?
Esteban OCON: Yeah, I mean, it was definitely a racing incident. It was a tricky restart I think for everyone. But yeah, as I said, I think we debriefed it completely and, you know, there's no issues or kind of things of that sort. So, you know, it could have been anyone, really, in that incident, looking at that Turn 2 in Australia. But yeah, just looking at what could have been. It could have been definitely a good result for the team. We had good pace in the race. And, yeah, that's obviously very encouraging. So, we've got some updates here. Some new bits. The guys have been working flat out. First, to repair the cars during these three weeks' break, so yeah, big, big thanks to them for doing all that. And obviously, they were coming with some new parts. So yeah, it's exciting.
Q: What are you expecting from these new parts? And the new floor in particular?
Esteban OCON: Yeah, it's always great to have new parts on the car. And last year it was one of our strengths. Each time we were putting something new we were gaining, definitely, a good chunk of performance. So, you know, it's exciting times. There's a lot more stuff coming as well, later on. And, especially on a week like that, where we're racing constantly and it's a big weekend for points, hopefully, it's going to deliver and I'm looking forward to it, can't wait to see what it gives us.
Q: Well, big weekend for points, maybe this weekend as well. Are you confident that you can go better than you went in, I think 2017 was your best result here, P6.
EO: Yeah, I mean, we'll see. But obviously, you know, there are more opportunities than in 2017, so, I think we always had a car to be able to score points here. And we've always been, you know, quite fast in some areas, and we had… We know where the weaknesses were in the last couple years. So, you know, hopefully we'll start in FP1 and we'll have great surprises. So let's see.
Q: Lando coming to you now. You're looking refreshed. How was the break? Did you watch the Masters? Did you go to the Masters?
Lando NORRIS: Yes and no, no. Nope. Of course, I watched it. Silly question. But yeah, just enjoyed a nice few weeks away. Went back for Easter to see my family in Glastonbury and just the rest was spending some time with some friends between the UK and Monaco but yes, I watched the Masters. Watched the whole thing. Of course it could be Tiger's last one, so cool to see him. Sad to see him withdraw, but hats off to John, to take it away as well. But yeah, apart from that, just enjoying the time away, some sunshine and making sure we're ready for the next decent amount of races.
Q: Yeah, it's getting busy now isn't it. And you enter this busy period on the back of two points finishes for McLaren in Melbourne. Given that you were in the points there, you've got a significant upgrade on the car this weekend, do you feel like the team is starting to build some momentum now?
LN: I don't want to get ahead of myself. I think Australia was definitely a better weekend for us, things definitely went our way a little bit more. I think we were unlucky, which made things look worse than they were in the first few races. We do have the upgrade. I think that was made clear and obvious very early on in the season. But what we have now is where we wanted to start the year, you know. It's what we should have started the year with. So, like, Esteban said, a lot of upgrades and a lot of other teams also have upgrades. So our job is to try and bring slightly bigger things and try to play a little bit of catch-up. I think what we have this weekend is just the baseline we should have started the year with, and it's about understanding what we have now. It's a better baseline. There's more room for opportunities and more room for improvements with what we have. So yeah, it's definitely going to make us take a small step forward. But to other people also bringing upgrades it's going to be slightly smaller. So, yeah, I'm excited. The team did a very good job to bring these things through and to get them ready. But it's about maximising what we have now.
Q: Quick word on the Sprint. Now that the Sprint has no bearing on the Grand Prix on Sunday, can we expect drivers to be more aggressive in the Sprint?
LN: I would expect so. You know, there's still a budget cap. So you know, you want to damage the car in any way. You don't do anything silly. Especially for us, when we're wanting to improve the car as much as possible, the least amount of damage we can cause, the better. But I'm excited. I think it's a better format. I prefer it a long way compared to what we had before. So you have more room, more opportunities for everyone. I like the fact that you have two qualifyings. I love the format of practice, qualifying on Friday. So the pressure is definitely higher. But yeah, I enjoy it more.
Q: Two qualifyings: do you think that grid will look the same both times?
LN: I mean, top eight cars, most likely. Alpine were very, very quick in Australia, too. So I'm expecting it. Maybe there will be some little changes here and there. But the majority will be pretty similar.
Q: Thank you, Lando. Best of luck this weekend. Checo, thank you for waiting. You're looking refreshed and ready. Enjoy the break?
Sergio PÉREZ: Yeah, a really good break. It felt nice to spend some time with family, with friends after these intense first three races. And yeah now looking forward to the rest of the year, and looking forward to coming back to Baku.
Q: We'll come on to Baku in a minute. I did just want to ask you about Melbourne quickly, and specifically the Saturday of Melbourne. Various issues that day in FP3 and qualifying. Are you concerned at all that what happened there could happen this weekend again, in Baku?
SP: It obviously stays in the back of your mind. But you have to reset yourself and move on from that. I think there were many specific issues that we had, all that day. It was a horrible day that Saturday, FP3 and Quali, really bad. But I think we understood a lot of the problems that we had. It was not just a single problem that would be really easy just to get rid of. It was a combination of a few things that caused us to have these problems. So hopefully, we don't get to see that again. You don't want to see that, especially here in Baku.
Q: Well, you had a great race, the team had a great opening three races. Do you feel that this spring break that we've just had, the four weeks off, have come at a bad time for Red Bull Racing? Do you think it's given the others an opportunity to catch up?
SP: Yes, certainly, of course, when you are in a strong position, you just want to keep going and don't let others close up the gap. But of course, everyone is working flat out. And we are also doing the same. So, we're not taking anything for granted. Hopefully we're bringing some upgrades here. And hopefully we are able to keep on top.
QUESTIONS FROM THE FLOOR
Q: (David Croft – Sky Sports F1) Lando, thanks for your answer about the Sprint race. But I was interested in everyone's view of the new format, the new changes, the brand new weekend that we've got for six races this season. How does it change your mindset approaching a Saturday? Approaching a Friday? Are you in favour of the new changes? Is it going to make the racing better? Just appreciate your thoughts on that?
SP: I think we have to remain open. Let's see how it goes. I just feel like there are places where you can bring this Sprint format. Baku, normally, generally, the racing is great just with the standard format, so probably there are races where we need to be more selective with the races where we need to improve things. But yeah, let's see. I really don't have a strong opinion. I think it puts a lot of emphasis to be strong, to have a very solid FP1 and then from that onwards we'll see. Every session becomes really important. But yeah, at the end of the day, I think Sunday is the priority for everyone.
LN: I think the revised structure for it, I prefer. I don't want to have a Sprint race every single weekend. I think it's still important to have what we've had for many years. I think that's what makes Formula 1 exciting and cool. I love just having the Saturday Quali and the Sunday race. But I think every now and then having the Sprint races is good for the fans, good for the people watching. I think it's exciting to change things every now and a little bit for us. But a better structure of doing that. I think having it separate to Sunday, kind of having Saturday on its own, is a good thing. So yeah, I'm excited, I think it should make for a better weekend altogether.
EO: No, I agree with Lando, in the regard that it's exciting. You know, it's cool to have more racing, a more exciting weekend, but maybe not every weekend. That would be something to look out for. On the other hand, I think as a driver, it's great that you go straight into that Qualifying Sprint, that Shootout Qualifying without practice before. Because that could bring some uncertainty. Some drivers are not going to be, you know, awake, they are going to make mistakes, and it's not going to be the same. So we'll see. That brings opportunities and brings, you know, skills to the driver more importantly, so I look forward to that.
KM: Yeah, I agree with most of what's been said. I mean, it's more exciting. There's more stuff happening. Not that a normal weekend is boring in any way but there's a lot of running that doesn't count for anything. And having most of the sessions in the weekend counting for something I think is cool.
YT: Yeah, I agree with the drivers. It's definitely exciting. Especially Saturday, just when you wake up and have breakfast, and you're straight into Qualifying, which is like, you have to really wake for Qualifying. So it's really exciting. And yeah, I can't wait.
Q: (Adam Cooper – Motorsport.com) A question for all five of you. Another Sprint question. Obviously, this new format is designed to encourage you to push in the Sprint. But if you're running 15th after a few laps, or if you had a problem in the Sprint Shootout Qualifying, what's the motivation to push and risk the car for Sunday? And also use up engine miles? Is there a point where it just becomes a test session and you might even come in the pits and try different things and so on?
SP: I will go first, no problem. I think it's a balance. I think someone mentioned earlier about the budget cap. None of us want to make any damage to our cars, because that can be very penalising on bringing future upgrades and it can have an impact on your future races. So, I think it's not like everyone is going to be taking silly risks for a few points. At the end of the day, it's important to be able to bring the car home and have a good Sunday. So I think it's not going to change that much.
LN: No, I mean it's still a race, there's still points and you never know when a Safety Car can come out and things can happen. Points only up to eighth, so a bit harder for some of the midfield cars maybe to get into achieving something. But yes, Sunday is still the main day for us. I think for everyone. So it's still a race at the end of day, so I don't think you'd ever give up, it's just doing the best you can.
EO: It depends on the situation obviously If there isn't really anything to fight for… But that's not how we are going into the weekend. We're going to try to push as far forward as we can. Testing things? Well, you can't really. If you box, you can't change the set-up after the first Qualifying. So no, I think keeping on going, getting the knowledge is probably the best thing to do.
KM: Yeah, I don't think you're going to just pit if you're not in contention for points, but I think if you're P9 towards the end of the race and there is an opportunity to attack, but it might be a slightly risky one, you're going to be more likely to go for it with how it is now. So I think that's an improvement. It's not going to change the world.
YT: Yeah, same as the drivers and especially like Lando said, we still have a budget cap and lots of things we have to develop through the year. So yeah, still, we have to make the car back home safely but at the same time we are going to be aggressive as much as possible.
Q: (Niharika Ghorpade – Sportskeeda) A question for Yuki. Franz Tost feels you'll be ready for a Red Bull car in 2025. In your own assessment, if you were to be put into a top team now, how do you think you would perform?
YT: Yeah, I saw that, and yeah, but to be honest, I'm really focusing on what we have now in the AlphaTauri. I think there's still a lot of things to work on. Obviously, I'm happy to hear from him, especially positive things, I guess. I mean, being a Formula 1 driver, you have to be ready, always, when you have the call from a top team. We have to be ready. I think, in the end, everyone's ready, just how much we can extract from yourself, every race. So, I'm feeling ready, but at the same time, first of all, I need to improve myself more. And I know the current clear target for this year as a team, and also for myself. So, continue this momentum, like I have the last three races, probably even more. And first of all, I just want to make him happy at the end of the season. To say thank you to him and, at the same time, definitely we want to finish in a positive way definitely even compared last year.
Q: (Maxime Malet – L'Equipe) Question to Esteban, after what happened in Melbourne do you have stricter orders regarding racing your teammate, or you think it will be the same as in the first three races?
EO: No, I mean, these things should not have happened at the first place. I mean as I said, it could have been with any other drivers that it could have happened. You know, there were cars spinning on the right; cars going off on the left. And it was a restart for one lap. So everything could have been won or lost. And unfortunately we lost a lot in that one. But no, I mean, we're both very sensible. And we know what we're doing.
Q: (Pedro Fermín Flores – TheGodFlores) Question for Sergio Pérez. Checo, in Australia, we have, unfortunately, three versions of your troubles on Saturday: your version; Christian's version; Helmut's version. You have told, five minutes ago, that it was a combination of troubles. There is one only version of this combination? Or is your version, Christian version and the Helmut version?
SP: That's what I hear from my engineers. I think we are very transparent within the team. And that was the feedback that I had, and I think sometimes yeah, everyone hears different versions, but at the time, I mean, we've always been transparent and that's the main version and the main thing that happened on Saturday,
Q: Checo, what do you think is going to be the car's biggest strength here in Baku this weekend?
SP: I think our straightline speed should be one of our strengths. It will be very interesting, though, to look at how the new tarmac is. To see if that changes at all. Because just having FP1 to pick up the right downforce level, will be one of the keys, you know? Because I think that will really make things up on Sunday. If you're able to have the right downforce level, and be good through the straights, but also being good and looking after your tyres. That will be the main thing.
Q: (Tim Kraaij – GPblog.com) Question to Checo. You've had a lot of success on street courses. Why is that – and does it give you extra confidence when you come over here in Baku?
SP: Well, I think what you've done in the past doesn't really matter. Every weekend it's a new challenge. And we come here to Baku and the challenge is even greater with just FP1 and then straight into Qualifying. I think on the street circuit it is important first to finish and normally if you're able to finish then there's always a good result ahead of you. So, I think just making sure, Baku is always very easy to make mistakes and finish your weekend. So, I think that will be priority number one, to finish the races – both races – and yeah to build that confidence in FP1 will be key.
Q: Checo, it's not just street tracks. I mean, here in Baku in particular you have a great record: four podiums, a victory, second last year. What is it about you and Baku?
SP: Well, I enjoy this place, certainly. I've had good races, good cars as well, that has helped me in the past. Those days with Force India, we even made it to the podium and also in Qualifying, we were strong. I think it's a circuit that really suits my style and that has helped me to shine a bit more in this place.
Q: Can I ask you what your style is?
SP: I think we'll see! Hopefully, my style is the same and it will suit me on the weekend, you know, because as I say, always, you're finding different challenges. And I think adapting to it, making sure you're able to get a good rhythm on the braking in Baku, it's key.
Q: (Adam Cooper – motorsport.com) The F1 Commission agreed to give all of you a fourth power unit for this season. Is that a sensible move? Are you now hopefully you can make it without penalty? Or is it inevitable that there will be one in the last few races with 23 races?
YT: Oh, yes, it will be nice. I think most of the teams or you know, ourselves last year anyway, we're putting extra engine, and always someone have to start from behind. So, it just definitely makes sense to increase the amount of engines we can use in the year. So, I think it's a good thing for everyone, I think.
KM: Sure. Good thing.
LN: I mean, I needed it. I lost my first engine in Round 1. So, nice thing for me. Bit of a disadvantage still but at the same time, yeah, definitely for me a nice thing. So I'm happy with it.
Q: (Owen Lloyd – Insidethegames.biz) Just back to the Sprint race. With more points being added to the season, surely that's just going to increase the disparity between the top teams and the bottom teams. Can that be a good thing?
SP: Well, I think it definitely brings things closer because you don't have that much preparation where it will be easier, let's say, to exploit your potential. I think just having FP1, if things are not solid, already from FP1, you won't be able to exploit your capacity of the car. So, I think certainly it brings everyone a lot closer.
EO: I think it's been good in the past for Alpine and for myself, the sprint race, so I don't see it that way. I see it as a good thing.
DRIVER GROUP 2: Valtteri BOTTAS (Alfa Romeo), Lance STROLL (Aston Martin), Carlos SAINZ (Ferrari), Lewis HAMILTON (Mercedes), Alex ALBON (Williams)
Q: Lewis, can we kick off with you? How was the break? And we saw you went back to Donington Park last weekend to support your brother in the British Touring Car Championship. Just tell us how have you been? How are you now?
Lewis HAMILTON: Good afternoon, everyone. I'm doing great. Really happy to be back in Baku. Strange to have that break only after the first three races but it was great to spend… I love being in Australia, Australia was a great race for us. But then to spend a bit time with family, get back to the factory, work at the factory, then some time with friends and just kind of unplug for a little bit, which is great. And then my brother, who I'm incredibly proud of, continues to be such a great voice, every year he raises his own money because obviously, racing in a series and in a sport where there is no access for people who particularly are disabled. And he stands for so much. And yeah, it's been difficult. He's been fighting to try and make up for the disability he has with his legs, and it's a continuous fight. But he got sixth in the race. And I was just standing in the crowd just watching this as a fan. I was so excited. And no one knew that I was there. I was just jumping up and down and trying to support him. So yeah, very proud and excited for this weekend. The weather was perfect. He pitted on the first lap. And so everyone else was on slicks, and then he made up.
Q: Before we get on track here in Baku, I did just want to ask you about a technical change to the technical department, a staff change with James Allison, coming back into the role of technical director. Can we get your thoughts on that and what sort of impact you think James is going to have?
LH: Well, James has always been a part of the team, obviously was focused a little bit on another area before. I think having him step back in a little bit to support and work alongside Mike, I think it's only going to strengthen the team moving forwards. And he's obviously got an amazing amount of experience. So, I think moving forwards, I think it's just going to be great for the team. Particularly with all the things we want to achieve, not only on track, but off track. I think it's going to be good.
Q: Let's bring it on track then. Great podium for you last time out in Melbourne. How confident are you of repeating that this weekend?
LH: I'm as confident as I can be, I guess. A lot of work has been done in the background. I think the last race was really, really great for us; we worked really hard to get that sort of result. It won't be easy to do again. We know that Ferrari will be quick, the Red Bulls will be quick, Astons will be quick as well. So I hope that we're just in the mix. I hope that we get to battle with them. This is an amazing event for us to do that. And particularly with the shakeup of the whole format of the weekend. It's probably the most exciting weekend so far this year, and I'm looking forward to seeing how it turns out.
Q: Do you welcome the shake-up?
LH: Absolutely. Yeah, I think it is going to be tough for everybody. But we're all in the same boat. And you know, what a track to be able to do it at, where overtaking is possible. It's great racing here. We always have mostly the best races here. And so yeah, it's definitely difficult to just have one session where you probably get, like, 20 laps, and then straightaway, you're into Qualifying. But, that's what we're here to do, right?
Q: Carlos, that's what you're here to do.
Carlos SAINZ: That's why we're here! We come all the way to Baku and another 23 to do! Well, another 20. But yeah. I think the format is a bit different to last year. So it will create a bit of a different weekend format to us, a bit of a different approach. But in the end, we're racing, every lap that we will do will be competitive like always, so I welcome it.
Q: But how different will your approach to Saturday be now?
CS: Saturday… so what do we have in Saturday! We have the Shootout Quali. That will be difficult, especially waking up in the morning and going straight into Q1. That will be like… I need to do a good warm up, maybe a cold shower, make sure I'm really woken up for pushing flat-out in one of these cars, bumpy cars on the straight first thing in the morning. I'll make sure I do my morning routine well because it will be intense. And then the Sprint Quali – still called Sprint Quali, yeah? I think it's going to be fun.
Q: The Sprint.
CS: The Sprint, sorry. 17 laps. Exciting, I think. More racing. More important laps in the weekend, obviously tougher, both mentally and physically for us – but if it makes the fans happy and the media happy and makes the product better, we will do it.
Q: And what about Ferrari's chances? It wasn't a great race for you guys last year with the double DNF. Knowing your car as you do now, how do you rate your chances?
CS: We do know our car much better, especially after these three weeks. We've managed to put together some good analysis and good directions set for the future, to chase in our development programme. This was target number one of this three-week break, to really identify the weaknesses that we have. The strengths of our direct competitor, in this case Red Bull, that is a clear step in front of everyone, and we try the best we can to come back to fighting them as quickly as possible. Our chances this weekend should be similar to the chances in Australia. It is true that in Australia, we took a bit of a different path on setup that seemed to work. We were quite quick in the race, where in the past we've struggled. So, I hope that we can keep going in that direction and feel more competitive this weekend again.
Q: Final one from me, staff movements at Ferrari as well. Racing Director Laurent Mekies is going to be leaving at some point to become the team principal of AlphaTauri. How much will Ferrari miss him?
CS: Well, personally, because I can only talk from my personal experience, I think he's a great guy, very valid, very strong figure. He's taking a step up in his career, so I can only be happy for him. I think obviously when you're offered such an important role, I think you have to take it. But yeah, we are also hiring staff, is not like we are only losing no? We're doing the best to restructure our team, to make it stronger. And I'm sure there's going to be people coming, people arriving to compensate for the last few losses that we have. It's just that maybe sometimes the losses are quicker than what you managed to get people back . But I'm quite confident with Fred's approach to the management and the way it's being handled because I see good things coming.
Q: Quickly, Spain has a new hero as well. Jon Rahm.
CS: Masters winner! I'm actually playing Augusta in a couple of weeks. I am so excited.
Q: With him?
CS: I wish it was with Jon! One day, maybe. But it was an amazing achievement. I think he's become one of the mentally strongest sportsmen out there today. Number one in the world. The way that he has managed to play this season is amazing. And I have a lot of respect for him. I had the pleasure to meet him and I actually have a collaboration sponsor the same as him, so I will meet him more during the year.
Q: Valtteri coming to you. Let's start with your thoughts on the Sprint. Do you welcome the changes to the format?
Valtteri BOTTAS: I do. I like the fact that it's straight into action – just one practice but it becomes obviously more and more valuable and everyday has a session that really, really matters. Saturday is a proper day – but as Carlos said, it's definitely more demanding mentally. Maybe even physically. Because here you need to be switched on for the whole weekend. You can't just you know, take the Friday is in the normal practice day, but I think it's good.
Q: And what about Alfa Romeo's pace? I mean, after a strong start to the season in Bahrain, you seemed less competitive in Saudi Arabia and Melbourne. Is that an accurate reflection of what happened and how do you expect it to be here?
VB: Three very different type of grands prix, some of them we had some issues. Good thing is that there's still 20 races to go, which is a lot. And actually, we welcomed this mini-break, let's say, to try and understand, figure out how can we, you know, find those, those gains that we're looking for. But it's so competitive at the moment, like if you're a bit off the pace with the car whatsoever, it's many, many places. And it's a tight mix. But again, very different track. You need a really efficient car here, aero-wise. See where we are but yeah, we've been working a lot and done lots of work in the sim as well, since the last race and definitely understood a few things.
Q: How is the correlation between the factory and the racetrack? I mean, you had the new nose and front wing in Melbourne. Did that do what you were expecting it to do?
VB: Yeah, absolutely. It's good. It's good. And the simulation tools, they are always improving but already on a good level. So yeah, we have some things in the pipeline, which I hope it will help us with.
Q: Lance, let's start with the Sprint; seems to be the way we're going. Your thoughts on the changes in the format and also just having a sprint race here in Baku?
Lance STROLL: Yeah, I think it's exciting for everybody, keeps everyone on their toes all weekend. Like the guys have said, there's not much time to get into the groove and get the car in a happy place, where you want it. So I think it's fun. It's going to be exciting for the fans too, which is great.
Q: Now, you scored your first podium back here in 2017. Finished P3, just behind Valtteri actually, 0.1s. I don't know if you remember that dice. But do you especially enjoy driving this track?
LS: I do remember it. I remember being second for like 27 laps and then losing it in the last metre of the race. Yeah, time goes by quickly, it's already six, seven years ago, but great memories here. A track that's a lot of fun to drive, really challenging and always offers great racing, good overtaking opportunities and that makes it a lot of fun.
Q: And the car has been quick at all three race tracks so far this year. Do you see any reason why it can't be competitive this weekend as well?
LS: Yeah, it's been a great start to the season for us. Another good result in Melbourne, third and fourth. I think we've definitely seen on different kinds of tracks – Bahrain being a very different kind of track to Saudi and again, in Melbourne, we were pretty competitive at all those events. And coming here again, it's a very different kind of track to Melbourne, to Jeddah, the last couple. So we'll see where we sit, but I don't think there's any reason why we can't be competitive again this weekend.
Q: Alex, thank you for waiting. The vibe is very positive about the Sprint and the changes to the format so far. Do you agree with everything the other guys have said?
Alex ALBON: Yeah, especially for midfield teams there's a bit more going on. And I think on Friday, there's maybe some teams that won't get it perfect and that's good for us. I think it creates opportunity for some others to get on the pace early and I think we welcome that. It's a good change from the original Sprint race format, where obviously it would sometimes filter out the differences in qualifying. This is a good way to do it.
Q: Right, so you think the format is an opportunity for you. What about this race in general because the Williams seems very slippery in a straight line? Do you see this as one of the better tracks for the FW44?
AA: Along with Monza and these kind of circuits, it does have that aero efficiency that suits us but these corners, these almost repetitive 90 degree, third-gear corners… I wouldn't say low speed is necessarily our strength. So it's going to be a mix. We're obviously hopefully going to be quite good down the straights, but it's more or less about minimising as little an amount of time through the corners so let's see.
Q: Williams has the same number of points after three races as it did this time last year. That doesn't tell the full story does it?
AA: No, I wouldn't say so. I'm trying to think when we scored a point last year? Melbourne. It is true, I think obviously we had, again, a very strong showing in Melbourne. We had a really good race. We had a brake failure in Jeddah, we had a human error in Melbourne, but I think if you look at how we've gone about this year, we've made some great steps forward. Melbourne, we were generally the best of the rest outside of the top four teams, so it's looking on the up and I think the motivation and the energy in the team is very positive. It's exciting to be back in the fight and to be able to fight some midfield teams. I do think some of the races earlier in the year have suited our car a bit more; the circuits tend to suit us. Hopefully the same here in Baku. So we just need to make the most of the opportunity. And I think there are a few teams now bringing some upgrades soon, already in Baku some of the midfield teams are, so it's going to be a development race. But for now we're well in the mix and it's nice to be there.
Q: Have you got new bits this weekend?
AA: No, nothing major so kind of seeing how our rivals improve and looking around us a little bit.
QUESTIONS FROM THE FLOOR
Q: (David Croft – Sky Sports F1) Lewis to you first, good to see you. Lando Norris was sat here a few moments ago saying that the upgrades they're bringing should mean that their car is where it should have been at the start of the season for what is round four. By the time Mercedes bring the full upgrade package to a racetrack will that car be where it should have been at the start of the season, or hopefully better? Or potentially not where you wanted it to start the season? What's your thoughts?
LH: I think it will be an upgrade, naturally, but I think it will be the start of a new path for us. It will be, at the core, still the same car, but part of the path to getting it to where we want to be, so we're not going to hit the ground and be where we wanted to be at the start of the season. We're not making up that crazy ground that there is but I think it's really positive. So much great work has been done back in the factory to… it takes time to progress in the right direction, so I'm excited for it.
Q: (Adam Cooper – Motorsport.com) Question for Alex and Carlos: Franz Tost is stepping down or retiring at the end of the year. Just wanted your thoughts on him as a person and the impact he had on your careers?
AA: I like Franz a lot as a person. He was a true kind of racer. I felt like he was very technical in his approach and I think as he had so many rookies coming into the team, he definitely had an understanding for what it took. And my first… I spent six months more or less in the team at the time, he really got me to understand what it takes to be an F1 driver and almost get prepared for it, because I think coming from F2 you never really understand what you're in for. But he's obviously had that experience with a lot of people, a lot of drivers. I enjoyed my time and I wish him all the best in his... I don't know what he's going to do afterwards, I don't know if he's said, I don't know if it's retirement or not.
Q: I think he said go skiing.
AA: Enjoy going skiing.
Q: Carlos?
CS: Yeah, obviously a lot of respect for Franz. He's been part of that team for a long time and there's so many young drivers that have been part of, at the time Toro Rosso now AlphaTauri, and he's helped all of us to become better drivers, better professionals, better persons for sure. So I wish him all the best for the future and I hope to see him around in the near future back in F1.
Q: (Niharika Ghorpade – Sportskeeda) With the lack of long run data available on Sprint weekends, how are the teams planning to go into the unknown when it comes to knowing what the rivals are doing, especially on these sprint weekends?
VB: I think it's a combination of simulations, experience gathered in the past years, gut feeling, different calculations and whatever feedback we can give as drivers after FP1 from the laps we do, and the tyre wear numbers that we see; all these things are just taken into consideration. And then you need to make a plan based on those and hope it goes right. So obviously, there's lots of preparation done before the weekend already and we kind of have an idea, but we need to confirm those things in practice. So yeah, definitely, you need to get it right. And it's not easy.
Q: Carlos, have been doing more work in the simulator ahead of this race, because of only having one practice session,
CS: Personally, I've prepared the race as a normal race and the long run, you have to believe the simulations. The data that comes out of the sprint qualifying is also important for the main race; let's not forget that the main race is still the one that gives out the most points and I guess that sprint race will give us a lot of information going into the main race.
LS: I thought Valtteri's summary was very good. I don't think I could have really said it better. It's tricky, there's not a lot of time to… like I said before, to get everything right. So it's just… with what you're able to do with one practice session, trying to put it all together.
Q: (Pedro Fermín Flores – TheGodFlores) Valtteri, here in Baku, everybody's talking not only about the Sprint race format, but talking about the book by Guenther Steiner. I want to ask you, when they will have a book from Valtteri Bottas?
VB: It's a good question.
CS: There was a song. There was a song about you.
VB: Ah, that one, yes. Okay. Now, I got it. So you were asking me when there's going to be a book? Maybe one day. I have some good stories that have happened to me throughout my career so far, and hopefully many good stories to come. But I haven't set a date yet but maybe eventually I'll do something. Good to hear.
Q: Valtteri, if you do a book, will you voice the audio version yourself?
VB: Can do, if it helps. Good idea.
Q: (Adam Cooper – Motorsport.com) Going back to the sprints, obviously, the point of these changes is to encourage you all to push harder in the sprint because it doesn't affect the grid position for Sunday. But if you have a problem, or you're running 15th or something halfway through the sprint, how motivating is that to push on and risk the car and is there a point where it just becomes a sort of test session?
Q: Lewis, you were very articulate about it earlier. Just talk to us about the risk/reward of Saturday afternoon Sprint?
LH: I don't think it makes really a lot of difference now. Obviously before, where you finished in the sprint was where you obviously qualified for the race. Now it is a practice session but there are points at the end of it, I guess. I don't think we'll be going more out than we normally have done in the past. What I do think is - and I think it's great that we are doing these different format weekends - but there's a lot of time where we could do more running. And I know we always talk about what's the best in terms of environment and all those sorts of things but I don't know if it'd be better for the fans but there's a lot of… there's a huge break between these sessions and we could be doing more running or whatever it may be. If that was better for the fans, for example, so maybe we'll look into that in the future.
CS: I agree. I still don't think it will be like we need to or be in it for us, it will be still important laps, important points for the championship. Important learning for the main race so I don't think an F1 driver will change massively the approach to the start, to the fighting. We will still approach it as a normal race and I'm trying to think something else to tell you but that's it. I don't think it will change our approach much.
VB: I think it's like, for example, if I would be on the last laps in ninth position, which is just outside of the points in the sprint, then definitely you go for it. Obviously, if you break your car or something, then that could have consequences for Sunday. But then on another case, there's not a huge difference, but I think a welcome one. So at least you know that you can try and if you're just on the edge of the points. And to your question, you're like 15th or something, you still go for it, it's the nature of us. You don't give up and in this sport you never know what happens so you go 'till the end.
LS: I think you'd never know what happens. You could be 14th or 15th, and two laps to go, three laps to go, the safety car comes out and something like that and that can give you an opportunity to fit new tyres, whatever, and score points. So I don't think that changes the mindset as a driver. Just never give up 'till the chequered flag.
AA: Yeah, I think everyone's kind of said what is the feeling, basically. The only thing I'd add is that there are four teams now that kind of regularly score points, and it's the top eight that do score points in the sprint race, so it's going to be one of those situations where I think you're going to get quite a repetitive order in that sprint race: the same people scoring points. Maybe, if anything, I think they're racing each other anyway but there is a… I think there is that kind of divide between the midfield and the top end. Already, in the normal races, most of the positions are fought… ninth and tenth. I think it's been a big battle in the midfield - a good one - and that's been those positions and of course, you capitalise when there's the DNF or to get eighth or seventh, let's say, whereas now we need a bit more than that. I think it's going to be tricky to get into the points for a sprint race.
Q: (Matt Kew – Autosport) Lewis, why are you and Fernando specifically as sharp as ever? Is it to do with diet? Is it to do with exercise, changing characteristics of the car of the era or is it just an acceptance that you guys are generational talents that you can define the odds?
LH: I can't speak for Fernando but you can tell, obviously, from looking from afar and how Fernando is driving, the talent clearly hasn't left him and I don't believe it does leave us. I think it's also to do with your work ethic. He's clearly in great shape, and he's doing an amazing job. I think racing is really enough in our DNA, in our blood and we don't put less work in now than we did when we were younger. I think there's more information out there, how to be fit and healthy. You see it with the greats like LeBron and Tom Brady. And so I think there's probably even more focus nowadays than ever before from an athlete's perspective and how to get absolutely everything out of your mind and your body and yeah, still hungry as ever, and clearly Fernando is too.
Q: (Phil Duncan – PA) Lewis, there's been a bit of speculation in the last few days about Leclerc possibly speaking to Mercedes. I know by now you'll be used to drivers being linked to your seat but does it have any impact on you and possibly trying to get your deal over the line or any bearing on your future?
LH: No, not really. I think maybe some of the drivers will speak or have relationships with different bosses and stuff. No, I like where I am, I love my team and I think I'm grateful for the journey we've been on and what we're working on moving forward so… doesn't have any impact, no.