FIA Thursday press conference – Great Britain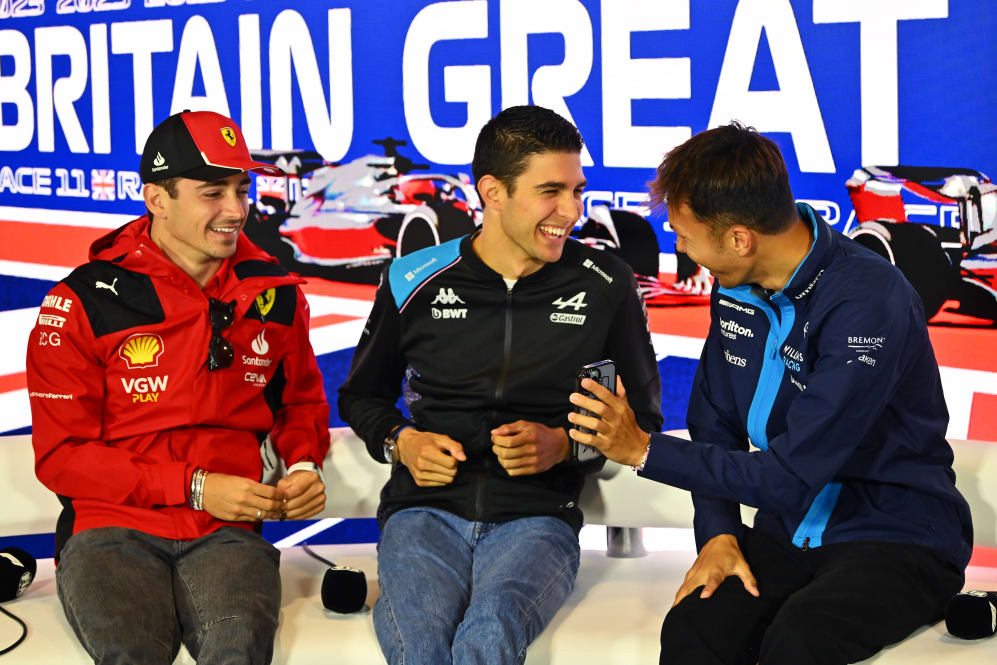 DRIVER GROUP 1 – Lewis Hamilton (Mercedes), Charles Leclerc (Ferrari), Esteban Ocon (Alpine), Alex Albon (Williams), Yuki Tsunoda (AlphaTauri)
Q: Alex, please tell us, Silverstone? Why is this place so special to you?
Alex ALBON: Well, I actually grew up around this area. I learned my ARKS test, which is how you get your racing licence, I did it here. So you could say this was the very start of my racing career. I learned how to drive. They asked you what does your right foot do? What does your left foot do? All that stuff.
Q: What did you say?
AA: I don't know what I said. I'm sure I said it correctly. I said right foot is go and left foot is brake. They ask you about the flags as well. No track limits there though…
Q: Look, you won the Formula 2 feature race here back in 2018. Just tell us a little bit about what you need to be quick around Silverstone?
AA: Well, firstly, obviously, high speed is where it stands out. It's also very windy here. I feel like around this kind of circuit, where it is quite open, and I'm sure these guys will agree with me, but wind is very difficult to master in tracks like here, where tailwind, headwinds, it's changing the balance so much, so to be on the limit throughout the whole corner, it's very easy to underdrive a part of the corner which has a bit of a headwind and you can use a little bit of that wind to push a little bit more into a corner. So, yeah, that's really it.
Q: Alex, there was a lot of excitement around your seventh place finish in Canada. Austria proved a little bit more challenging. Just what can we expect from you and Williams here?
AA: To be honest with you, I think Austria was still a great weekend for us. I just think Canada was a super weekend. So we were still happy with Austria. The pace was great. I think, you know, during the whole weekend our worst result was 13th, which was the Sprint race. And even then we were running in seventh. So I have to say, as a team, we're confident. We feel like with this new package we're in a good place. There is no secret that the last couple of circuits have suited us a little bit more than the ones we're going to go to. Silverstone? Maybe not quite as good as Canada and the Red Bull Ring, but still good. So let's see.
Q: Alright, best of luck this weekend. Thank you, Alex. Lewis, if we could come to you now. Home race. You have a fantastic record here at Silverstone. Can you just describe the connection that you have with this place?
Lewis HAMILTON: Yeah, good afternoon everyone. So happy to be back. This Grand Prix is the best. Well, I remember coming here the first time when I was a lot younger, racing cadets. I think it's around like the Brooklands area, they had, like, straw bales. I remember crashing. It wasn't a good race. But then, racing, coming here for my first time in Formula Renault. And coming and watching the race, I think, for the first time – I must have been like 13, or 14 or something – with McLaren, and just standing at the back of the garage, dreaming of one day being in the car, and then getting into formula one and having the first year and it's been phenomenal journey that I've had here. I remember the crowd the first time, in 2007, when I got the pole. I think that's probably the only time I've ever heard the crowd over the sound of the car. So that's pretty special.
Q: You mention the crowd, just describe what a capacity crowd does to the work that you do in the car. Is it as Nigel Mansell always said worth half a second?
LH: I wish it was worth half a second, because we really need that right now! I mean, I hope so. I think it's hard to quantify. I think, overall, the crowd just lifts you and the whole team up. And there's this kind of feeling of floating when you come here on that positive energy that everyone brings, and just seeing so many flags, so many caps and people supporting us. It really just helps spur you along. And when you're in the car as well, when you see them, you can see them through so many of the corners on the outside of the circuit and it's really just really encouraging. And I always remember my first win here, just continuously being encouraged by the crowd on the outside of Abbey and so…
Q: Lewis, Austria was a bruising weekend to quote your boss, Toto Wolff. You've got upgrades on the car here. What are you expecting from them?
LH: Yeah, so we have a new front wing. So it's just one step, hopefully, further in the right direction. It's not a huge, huge package or anything like that. But we're just [going] step by step, hopefully trying to close down the gap. Obviously, Austria was not a nice weekend for us all. But that's where we learn the most. That's when we pull together the most as a team. So, I was in the factory on Tuesday and Wednesday with the team. And everyone's back in, flat out, just focused on turning that negative into a positive here this weekend.
Q: Alright, well, best of luck. Thank you. Charles, coming to you now. I saw pictures of a great chess match between you and your brother on the way to the UK. Who won?
Charles LECLERC: He did, unfortunately.
Q: Is that a regular occurrence in the Leclerc household?
CL: Not really. But we try and play here and there, whenever we have time. And yesterday was one of those games. Normally I win, but yesterday I didn't.
Q: Well, let's talk about the on-track bit now. Great to see you and Ferrari back on the podium in Austria. With those upgrades, just how much progress do you feel Ferrari has made?
CL: I think since Barcelona really, the feeling is going in the right direction. We couldn't really prove it at any other tracks since Barcelona, but in Austria, the feeling was good, and the pace was a bit better than what we had for the first part of the season. So that was good. I think it shows that there were some steps forward made. However, we shouldn't get carried away. I mean, Red Bull is still a lot in front. And I think this track this weekend will expose a bit more our weaknesses. So we might struggle a bit more than what we've seen in Austria. But it's clear that the feeling and the pace is a step better.
Q: You said after the race on Sunday night that the tyre deg was better. Will the new constructions that are coming from Pirelli this weekend help or hinder you, do you think?
CL: I'm not sure yet. I'm not sure. I think, again, during the free practices it's going to be very important to assess that, to see how much of a difference it is in terms of tyre degradation, if we need to fine tune the car to these new constructions. And then we'll see. But we don't know yet whether it's going to be a benefit or a weakness.
Q: Best of luck to you. Esteban, let's come to you next. Now. Your retirement here last time ended a bit of a run for you. Because you'd always finished in the points at Silverstone, until last year.
Esteban OCON: Yeah, very true. Thanks for reminding me of that. But yes, it's usually a good weekend for us. It's usually a track that I really enjoy, that I've been driving well on. And it's been just a fun weekend as a whole. I think it's the home of motor sport, you know, when you come to the UK. I spend quite a lot of time here in general, working with the team around Oxford, and it's a bit of a home race for all of us. Yeah, we're going to see where we are exactly. I think Apex GP is bringing some upgrades this weekend. Sonny Hayes is in good shape. So we're going to see how that works.
Q: How do you think your upgrades are going to play against his?
EO: Yeah, I think we've worked well on bringing, you know, parts for both cars. So yeah, we're having a front wing this weekend. That should be helping our performance in general. So we're going to test that this weekend.
Q: Alright. Best of luck to you. Yuki, coming to you now. Austria wasn't a straightforward weekend for AlphaTauri. How hopeful are you to be able to turn things around here in the UK?
Yuki TSUNODA: Yes, probably one of the worst races of this year. But I just forget those. But I learned a lot of things from that race. So it's good. I think it just makes this race a [chance to] refocus again. I think we will also bring quite a good amount of upgrades. So looking forward to that. Hopefully that works well. And in that case, I will just try to maximise that opportunity and aim for the points.
Q: Where is the car lacking at the moment? What do you need from these upgrades?
YT: In Austria it was a bit of everything. We are having too much drag. So currently, just really, straight line speed is really poor, but at the same time, because we don't have much downforce, we don't have much load. We want to put downforce, but if you put downforce, the drag is going to be worse. So we need less drag. At the same time more load, so a bit of everything. These kind of upgrades will bring us a little bit different approach, which, of course, in general, load as well, but a bit of difference. So yeah, I'm feeling optimistic, I think. Yeah, in the data and simulator, I feel quite good. So, yeah, I just have to try it on track and see how it works.
QUESTIONS FROM THE FLOOR
Q: (David Croft – Sky Sports F1) A question for Lewis. The upgrades, you mentioned them, step by step. If, at the end of the season, or towards the end of the season, they haven't produced the results you want. How much of a bearing does that have on your future with the team? The contract is still not decided. I'm sure lots of people here were hoping for an announcement. Do you look more long term? Or do you think that we're not heading anywhere with this project, it might be time to do something different?
LH: No, no, that's not what I'm thinking. Before the end of the season we will be already well into the contract. I still have 100% faith in this team. And it has taken longer for all of us to get to where we want to be. And it's definitely not easy. But I believe that we will get there. I think we've just got to continue to work and chip away at it. And that's what we're trying to do. That's why we've got the upgrade here for the front wing, we will have bits over the following races, hopefully. It could come soon enough. But I'm pushing as hard as I can. I was having big meetings with the team earlier this week, speaking to the head of aero, to the head of vehicle dynamics, trying to… Also with what's in mind for next year's car.
Q: (Adam Cooper – Motorsport.com) Lewis, how excited are you that the filming has finally started? Can you give us a bit of an insight into what your involvement is going to be over the season? Because obviously you're busy with your day job. For the other guys: any thoughts on the movie? And what have you been told about your potential involvement in the filming?
LH: There's not much more I can say apart from what I've already told before. It was really exciting to see… I just saw Jerry walking in. I haven't been to see the garage yet. But I know, on the other side, I was here a week or two before Austria, watching Brad practice. And it's massively exciting to see it all coming together. And to know that we're finally starting to film this weekend, it's like there's nerves naturally, because it's something we've been working on for so long. And we want everyone to love it and to really feel that we encapsulate what the essence of this sport is all about. So that's our goal. I hope we can do you proud.
Q: Lewis, did you give Brad any tips? You say you were watching him drive?
LH: I was just watching on the wall. So I don't know…
Q: Were you impressed?
LH: I mean, he was just coming by flat out. But we did do a day together at a track in LA. And yeah, he drove… For someone that hasn't raced, he's definitely already got a keen eye. He loves watching MotoGP, so he's always been a racing enthusiast. So he already had a knack for the lines. And he was definitely fully on it, which is good to see.
Q: Alright, we'll just do one more. Esteban, let's get your thoughts on the film. You mentioned it earlier. What have you been told as to your role?
EO: I've been listening to what Lewis was saying and reading in the press as well. And I'm sure the movie is in good hands, you know, with Lewis. Obviously scared that it always goes too far in one direction. But I think, you know, with Lewis on board advising everything that's needed to keep how our sport should be is definitely interesting. And I just love racing movies, motor sport movies, and I can't wait to watch it.
Q: (Luke Smith – The Athletic) Another one for Lewis about the movie. The authenticity is such a big thing that you've been playing a role in, talking to the filmmakers. To have F1 open its doors as it has, having an actual garage with an 11th team in there as well, how important has that been? How pleased have you been by the way the sport has embraced this project?
LH: Yeah, I've been really incredibly grateful to them. I don't know if this would have been possible 10 plus years ago, when the old management was in place. They wouldn't have perhaps seen this as an important step in terms of the sport's growth. But we've already seen the great work and impact of the Netflix show and I think this will take it to new heights beyond that. So yeah, I think there's so many people around the world, as you've seen already, that are so excited about this sport, wanting to learn more. And the fact that we will have all the original characters that are actually on the grid, and then Brad, is pretty cool.
Q: (Alex Kalinauckas – Autosport) Another question to Lewis about the film, please. Joe spoke last weekend about making it the most authentic F1 film ever made. I just wondered how hard is it going to be for the team when it comes to filming what you guys are doing in the cockpit to show what you're really doing, beyond what f1 already shows?
LH: I'm pretty certain, I mean, our cameras are a lot better than what you're seeing when you're watching TV. I've seen all the footage of the camera positions. I've spent time with Joe, trying to make sure we've got the best camera positions and the frame rate is different, it's going to look fast. I think it's going to look faster than it does on TV. Because I think it's something to do with the frame rate that we have to have. But Joe is an incredible director, and I think you're going to see him really… You've already seen what he's done with fighter jets, what is what he did with Maverick. So just think about what he's done with that in terms of the dogfights you saw from those jets, which was pretty epic. And bringing that technology and that viewpoint into our world, I think it's going to be amazing.
Q: (Matt Kew – Autosport) For Lewis and for Alex. Not on the film just for a moment. A protest could feasibly happen at any race but there has been a lot going on, with Wimbledon being targeted, as well as other events recently. And obviously, they did get onto the track here last year. So how concerned are you drivers as a collective? What have you been told about protocols? What can you do to avoid it if you were to come around a corner and see people on the track?
LH: I mean, we've not yet spoken with the FIA in terms of what we would have to do. But naturally, we're really hoping that we've learned a lot from last year's experience and that won't happen this weekend. I believe we have 100 more marshals this weekend, who are there to be supportive and make sure that this doesn't happen as well. And I think, at least from my perspective, and I think my team's, we are very, very focused on sustainability. We believe in what people are fighting for. And we are making those changes as a sport. But safety is key. We don't want to be put in harm's way and we don't want to put anyone else in harm's way. So if there is if there was to be one, we hope that it's not on track
AA: I think Lewis summed it up very well. I think there is possibly quite a high chance of something happening this weekend. But we just have to wait and see and obviously more than anything, with the sport that we do, it is a bit of a concern just purely because… I think a pitch invasion is one thing but obviously with cars and moving parts and all this kind of thing, it gets a bit more dangerous to some extent. So yeah, I think on that side we're still yet to have a meeting with the FIA about what would happen in a circumstance like that but, yeah, we just have to be prepared for it.
Q: (Phil Duncan – PA) A question for you Lewis. After the last race, Toto said about your contract that you weren't talking any more about money or duration, it was about other topics. Is that how you see it from your side? And also, Toto had a message for you in the last race about can you just get on and drive the car please. Did you speak to him about that? Did you have any bother about that comment from him?
LH: On your first point, yep, that's correct, and then on the second part, the best thing about our partnership is that we can be direct with each other and Toto is just an out-and-out racer, so he was just trying to encourage me. That was his way of doing it. We always learn from our experiences. On my side, I've reviewed my comments and where I was at mentally and will make sure I adjust that for the future, and yeah, it was supportive.
Q: (Giles Richards – The Guardian) Question for you Lewis. You expressed sympathy in the past for the Just Stop Oil protesters, which you've just discussed. Would you support them if they protested this weekend – but without endangering life and without going onto the track?
LH: Yep. I support peaceful protests, so… yeah.
Q: (Anno Hecker, Frankfurter Allgemeine Zeitung) Question to all the drivers. Can you just elaborate please how much of an inspiration Lewis has been to you on your journey to F1 and also, how important he is to the sport – besides being a seven-times World Champion.
CL: I grew up watching Formula 1 and obviously Lewis was a part of the drivers always on top and fighting for Championships, so he's definitely a part of me dreaming of becoming a Formula 1 driver one day. And I think of what he's doing now. He's going over the 'only a driver' kind of thing and he's doing many more things outside of Formula 1 that are helping Formula 1 to expand even more – so it's great to have him. Having said that, whenever I put on the helmet, Lewis is a driver like every other and I try to beat him as much as they others. But it's great to have him on the grid. I think it's amazing for the sport.
Q: Yuki, your thoughts on Lewis please
YT: So, the first time I saw him, I was seven years old when I went to the Japanese Grand Prix at Fuji. My friend, a karting friend, was driving with his helmet, like with his replica. So, I can't still believe I'm driving with him but he's obviously, like Charles says, been fighting for Championships every year. Unfortunately, we're not driving together, in the same field right now. We're in different positions, I don't feel like we're driving similar… we're driving in the same race but I don't feel… but it's definitely cool and I still can't believe that 12, 13 years after I'm driving with him. Every time I see him in the track, it just feels exciting. Feels definitely not real – at the same time I'm really honoured and happy that I'm able to run with him.
Q: (Josh Suttill – The Race) Charles, last weekend you spoke about not being entirely comfortable in changeable conditions. Given we're at Silverstone and that's a big possibility, are you any more confident? Have you taken anything from last weekend that would give you a bit more confidence?
CL: I mean, I am confident in a way that, whenever I've been working on something in my career, I've always made steps forward – and pretty quickly. And at the moment, this is probably my biggest focus: what can I do as a driver to put the tyres always in the right window, coming into these conditions. This is probably the factor that is over everything else, so there's been a lot of work on that, and I am confident I did steps forward, yes.
Q: (Adam Nicholson – Total-motorsport.com) For Lewis and Charles, with you both locked in a battle, with Aston Martin as well, behind Red Bull with Red Bull looking a bit clear at the moment, are you worried that they're going to get a jump on starting to develop for 2024 before you can switch to that, because you're focussing on this season for longer?
CL: I'm not particularly worried, it's part of the game, no? Whenever you have an edge in one season, then obviously the risk for the other teams is that this team is trying to take time in order to develop next year's car. But, in the end, it's quite linked, in a way. We are still mainly focussed on this year's car because we've got clear weaknesses and we know that we need to address those, and when we will have addressed those, then it goes together: next year's car will be much better – so, yeah. But again, what gives me confidence in this time is that we have a very clear plan in what we want to improve. We've already done steps forward in the last three races. There are many more things coming in the next races, in order to not only be in front of Mercedes and Aston but to be fighting the Red Bulls as quickly as possible and we are on the right track, I'm sure.
LH: Not much more for me to add to that. It's very much the same. It wouldn't be helpful for us to just stop working on this car and focus on next year's car. We've got to utilise the time we have to track to develop the car that we have and fix those problems, just as Charles was saying. And I'm confident we will get there. It's just a question of how long that will take.
Q: (Keith Collantine – racefans.net) We're all obviously aware of the terrible events as Spa last week, which have led some drivers to call for more changes to that track. Lance Stroll was saying he believes the Eau Rouge section is too dangerous and needs to be changed immediately, whereas Max Verstappen was saying actually it's wrong to single-out Spa when there are other tracks, such as Jeddah, which are arguably more dangerous. I'd like to hear your thoughts where you stand on this please. Charles, I believe you already spoke to this in the press conference in Austria but Lewis, Esteban, anyone else who'd like to comment please.
LH: I don't really know what to say. I'll need to look into it. I think it's definitely devastating to see that we've lost two youngsters in such a short amount of time – but I do trust the FIA, have done such a great job with safety. I know that's such a focal point for them, they make so many changes, year-on-year at every circuit and I'm sure they'll be looking very much into Eau Rouge and seeing if we can improve that. And, I agree, we do need to make some changes: you're coming over a hill , you can't see, particularly in the bad weather condition, and this has happened now twice. So, we definitely need to take a step.
EO: I think there needs to be a review on everything that happened. It is a tragedy. The weather conditions are the things that makes these conditions very tricky. It's not like there's only 20 cars in those championships, there's more than 30. I've been in that position in the past, at the back like that, and not seeing anything, and the visibility is the main factor in that race. And for most of us, we drive blind in those moments, so I'm sure the FIA is looking into it, to try to improve the situation. I think we have some mudguard tests here next week, or pretty soon, which is supposed to help visibility. The issue is that we should not learn the hard way, this way. And yeah, it's a very sad moment for motorsport.
Q: (Weian Mao – Formula Vision) Question mainly for Lewis. With the new calendar coming out, Chinese GP is back in next year. You are the most successful driver in Shanghai with six wins, and you always have a lot of support in China. How much do you miss coming back to China?
LH: I miss going there a lot. I've always enjoyed the trips out to Shanghai and the fan base there was continuously growing. Even though the race was quite far out of the city, we had, I think, a pretty decent turnout. I don't really know why I had so much support there but very much enjoy driving that track. I've had some difficult races and some amazing races on it. It is an amazing circuit, so exciting to get back there for sure.
Q: (Alan Baldwin – Reuters) Another question for Lewis, about the movie again, I'm afraid. I know there's a lot of excitement about it but one of the things that gets pointed out quite regularly is that Brad Pitt is 59. I'm sure his character will be much younger in the movie – but do you think audiences can suspend disbelief to that extent – and how much have you been involved in creating that with an older actor perhaps, and creating the illusion.
LH: Well, firstly, Brad looks like he's aging backwards, so, I mean, he looks great for his age, and of course that was a big topic at the beginning when we were discussing the original… the first story. He's super-fit, he's been training, and I think with… at the end of the day, it's a movie, so there will be a Hollywood element to it that will make it believable. Brad's such an iconic actor, he's always done such an incredible job, so I can't tell you how excited I am to have Brad Pitt in the Formula 1 movie. It's incredible. I think he's going to do a great job.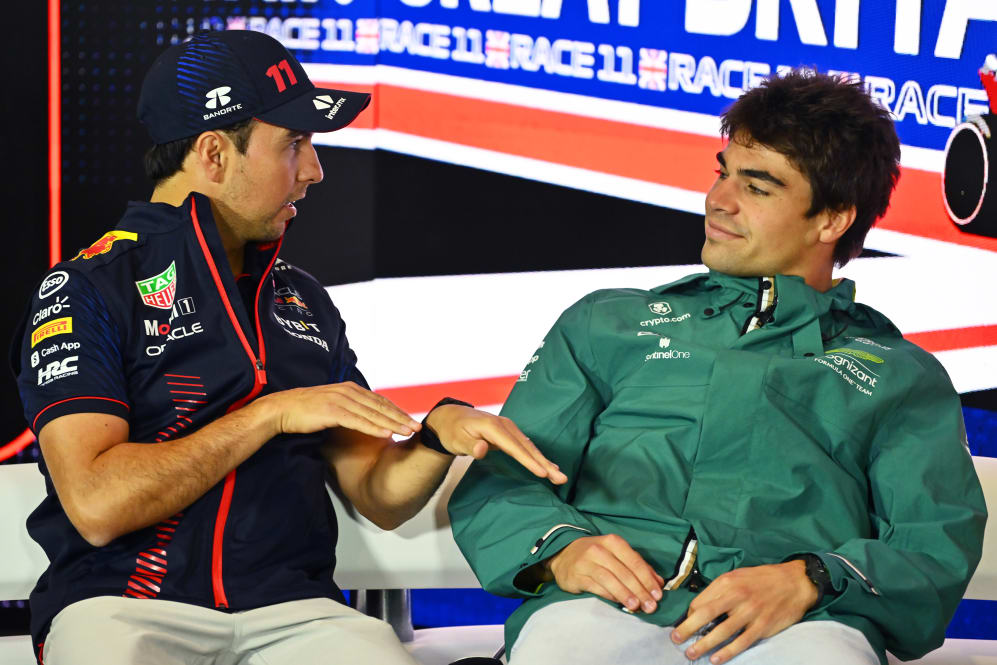 DRIVER GROUP 2 – Sergio Pérez (Red Bull), Lance Stroll (Aston Martin), Lando Norris (McLaren), Kevin Magnussen (Haas), Valtteri Bottas (Alfa Romeo)
Q: Lando, so Silverstone. How are you feeling?
Lando NORRIS: I'm super-excited. Finally, my home race for the season. So, yeah, I'm feeling good: we've come off the back of a very good weekend, I probably couldn't have asked for a better weekend to come into my home race. Excited, some more things to look forward to this weekend – but just, I guess, the rest of it. Not the driving part – the driving part I'm always excited for – but the rest of the weekend, the fan stage on Sunday night, probably the thing I look forward to the most already, so yeah, I look forward to the whole thing.
Q: It was, as you say, a very strong result in Austria. You had upgrades there: there's more new bits on the car this weekend. What can we expect from you in the British Grand Prix?
LN: I'm hoping for something similar. I don't expect it really to be any better, but I think that's still me remaining positive. I'm still looking forward to it. We definitely took a step forward, we caught up with some of the competition, we overtook a lot of the competition – but Austria has always been our best race of the season, like by quite a way, so I think we can try to maintain that pace this weekend – that's our aim – doing any better than that is a bit of a stretch but we're definitely getting there. A couple of little things on the car this weekend that we can add to it. If we can just start to consolidate these positions, or this area that we're racing in, then I'll be happy. But it's close. If we can race against Mercedes and Aston this weekend, I'll still be happy.
Q: By 'consolidate' do you mean try and build some momentum? Is that what you're after?
LN: The whole season we've been a little bit up-and-down. Some tracks, the car works very well and some tracks not so much. We made the car quicker. We didn't make it any easier to drive, and I think that's our next target to try to achieve. But like I said, Austria's our best race, so I don't think it's going to get much better – but you never know. This weekend we'll try to do better, but just try to maintain that area that we're racing in. If we can race against Astons, I think we'd still very happy; if we can race against Mercedes, I think we've still be very happy. But even doing that I think is quite a big ask still.
Q: You've had a fourth-place finish here at Silverstone. What would it mean to finish on the podium?
LN: If there's one place in the whole season that I'd love to do it more than anything, then it's here. As much as I would love any podium, or any win, whatever it is, the one place I would love to do it – even over Monaco and all of those special places – the home race for me is the one place I'd love to do it. So, I guess I've grown up watching Lewis do well here and it be one of his most competitive circuits, you see what it means to him and at the same time, what it means to the fans, and the supporters who are there, cheering the Brits on, so if I and we as a team can deliver a good result for the home fans, that would make it even more special.
Q: Lance, when we talk home races, for a team, it doesn't get much more local than this, for Aston Martin. Are you getting the home race vibes?
Lance STROLL: Yeah, for sure, it's right across the road. So, doesn't get much more of a home race for the team than this one. It's great. I mean, just for everyone in the team, lot of guys over at the factory that don't really get a chance to come, watch some racing very often and see the car this weekend, have a chance to come over and see the car and get a feel for the race weekend, which is cool. And a great track to drive. One that's always a lot of fun.
Q: Let's talk performance, what are the employees going to see on the track? Although fifth and ninth was a good haul of points for the team in Austria, the car seemed to lack a little bit of the edge that it's had at previous races. Why was that?
LS: I don't think it was our most competitive weekend. We have some ideas why but I think we're… we have a few upgrades this weekend, a few bits that we're bringing to the car to try to improve some of the weaknesses that we had in Austria. So, I hope we can be a bit more competitive this weekend.
Q: What were the weaknesses? Was it to do with straight-line speed? Is that what we're talking about here?
LS: Little bit of straight-line speed, some thru-corner balance issues, and we didn't look to be as competitive as some of the other teams, and then high-speed corners also, last week. Just wasn't one of our most competitive weekends but a few bits coming on the car this weekend, so hopefully we can be a bit stronger.
Q: Checo, coming to you now. First up, how are you feeling? Because you weren't sounding great last weekend, it has to be said.
Sergio PÉREZ: Yeah, I'm happy I made very good progress. It was a very tough weekend but here we are, fresh and ready.
Q: And who are you looking to intimidate this weekend?
SP: Hopefully not Carlos again! And yeah, hopefully we can have a bit more of a quiet race. It was quite hectic the last weekend.
Q: It was a wonderful drive from 15th to the podium last weekend. You said after the race that you've got your confidence back, so what is possible this weekend?
SP: Well, I think it's possible we are just back to our form we had earlier in the season. I think we just had a bad few races. We understand why now and hopefully we are able to keep this consistency going forwards, until the end of the year, basically.
Q: And which section of this Silverstone Circuit is going to play to the strengths of the RB19?
SP: I think it should be a really good circuit for us. The high speed has been our strongest point, so I do expect us to shine, probably – and hopefully a bit more than previous weekends.
Q: Last one from me: you spent seven years driving for the team just across the way. How well do you feel you know Silverstone?
SP: I think we all know it really well. Not only in Formula 1 but also from the junior categories, doing British F3 for a few years; you do a lot of testing in this circuit, with different configurations, different layouts. I think it's a place that we all enjoy a lot and know it very well.
Q: And when you're debriefing with your engineer, is it corner numbers or names?
SP: Numbers, definitely. We keep that consistency through all of them. They like to call them by the name but I think it's better to keep that consistency.
Q: Kevin, you raced a lot in the junior formulae in England: British Formula 3 championship; is it corner names or corner numbers to you?
Kevin MAGNUSSEN: Numbers for me as well. I always forget the names. There's a couple of them I know but I always forget.
Q: Well, let's talk performance. Great race from 17th to 10th here last year for you. How confident are you have more points this weekend?
KM: I think after the couple of races we've had lately, it's not easy to be super confident. I think our car is often very strong on Saturday, strong on one lap, low fuel, new tyres but in the race on Sunday we seem to struggle a lot more than others. So that's what we're focusing on at the minute. And trying to improve the situation on Sunday, when we have to do more than one lap on the tyres.
Q: What are you doing as a team to improve the situation?
KM: Well, first phase is investigating what actually is causing our issues. We seem to just have a lot of degradation, lap time degradation. It's not like we're graining the tyres or damaging the rubber, it seems to just lose performance more than others. So we can qualify well but then we would seem to just travel down the field in the race. So that's not a great situation. I prefer it to be the other way around: to have a strong car on Sunday and you can fight your way forward. At least you have something to fight for on Sunday, but at the moment it's a bit of a tough situation.
Q: And do you think Silverstone's fast sweeps will exacerbate the problem?
KM: Yeah, I think it's definitely one of the highest speed circuits of the year and I'm hoping that we can have a bit more strength here. I think our car seems to be pretty strong in high speed corners and it's a very low braking circuit so maybe that's going to be interesting for our problems, to see if that has an effect that we're not using the brakes so much. But yeah, we'll see.
Q: All right, final one for me: you've just driven your 150th Grand Prix. Are you proud of that stat?
KM: I don't think it's a stat that in itself is something to be… Well, I guess, at the end of the day, getting to Formula 1 was a dream that I had for many, many years. And if you'd told me as a 10-year old kid that I'd be 10 years in Formula 1, that would have been something to be proud of back then and it still is now but I think when you're here, you're dreaming of bigger things and the next big thing, so I don't think it's the number that… I don't hope it's the number I'm going to remember for my Formula 1 career for but we'll see.
Q: All right. Well, I'll ask you about it when you get to 300. Valtteri, thank you for waiting. So a pole position, several podiums here at Silverstone including back in 2014 with Williams. Which of those memories is the standout one for you?
Valtteri BOTTAS: It's quite hard to remember all the moments in detail. Probably, I think, I would go for the 2014, that was pretty sweet year overall but in any case, every time if you're privileged to get on the podium it's a really cool situation, obviously.
Q: Well, let's talk about on-track performance then. I think a podium might be a little bit too much but you are running some new aero bits this weekend. What are you expecting from them?
VB: Definitely needed, these upgrades, and the whole factory has been working flat out to get two sets of those for this weekend. Last weekend in Austria, just overall lacking a bit of pace, and by pace, just no chance of getting into the top 10. So hopefully it will give us a boost and actually it's more like also targeting the high-speed nature of corners. So yeah, let's see how it goes, going to be interesting tomorrow.
Q: Valtteri, it's been a tough year for Alfa Romeo. Your best result of the season was back in Bahrain. The team is now eighth in the Constructors' championship, just a couple of points ahead of Williams. We're almost at the halfway point of the season. How confident are you that Alfa Romeo can pull it back from here?
VB: I think this weekend is quite important. I think if we can make a step here, then that gives us a lot more confidence for the rest of the season. But we keep fighting. It is so close that any small gain makes a big difference and obviously things are always track dependent as well, so we'll keep working hard.
Q: You want to make a step. What does success look like for you this weekend?
VB: I think this weekend, getting points, ideally with both cars; that would be success at this point. So that's the target.
QUESTIONS FROM THE FLOOR
Q: (David Croft – Sky Sports F1) Lando, Craig Slater asked me on Sky Sports news about two hours ago who was going to be the top Brit in the British Grand Prix this week? Who's going to be the top Brit at the British Grand Prix this week, because it's quite close between you and the two Mercedes guys?
LN: Yeah, depends if Lewis keeps it within the track limits! I'm hoping for a fight. I think if we can fight with Mercedes we'll be happy. I think last weekend Mercedes just had a pretty tough weekend. Through the rest of it they've been quicker than us in every single race this season, in Qualifying. If we can race with Mercedes, I think it would be good, not just for our own pace and facts, but also for the fans, because that's the majority of the Brits. Of course we've got Alex there as well. But I want to say me, I want to be confident in saying me. I think after FP1, FP2 we will be able to get a good read on where we stand and if it's close enough to Mercedes, then I'm looking forward to Sunday, so you can come out on top.
Q: Lando, the weather looks a bit iffy for Sunday. Are you doing a rain dance?
LN: I think we understand the reasons why we were particularly good in say Monaco and Canada-ish, why we were competitive there in the rain. I think we know why it worked, where we're very strong and where we're struggling a lot more. And some of them kind of go hand-in-hand and then provide the reasons for why we were also strong in a wet but I wouldn't say we were outstanding last weekend when it started to rain in the Sprint race[LS1] . Certain places we were strong, but certain things we really did struggle with so…I don't know. I think we have to wait and see how we just perform on this track. We'll see how Friday goes then I'll be able to understand if we can be a good contender in the wet or not. But I always enjoy those conditions. We had them last year and Qualifying went well so I don't mind but for the fans, I want to say I hope it stays dry. I hope.
Q: (Matt Kew – Autosport) Lando and Valtteri, a protest could feasibly happen at any race but it seems like the risk is significantly higher for this weekend after what's gone on at Wimbledon, various other events. How concerned are drivers as a collective that you might come around a corner and see something you don't want to see, especially after they did successfully get onto the track last year?
LN: I said in an interview the other day…I'm a driver at the end of the day but you have to accept what people want to do in certain situations and I understand it in certain situations, but it's just something that I don't think…It can't happen at a racing event like what we have here. If it happens in – and I hope it doesn't - but it happens in the paddock and things like that, I guess that probably causes different scenarios. But it just can't happen on a race track because you put actual people's lives in danger. I guess not just the people who are doing it on circuit, I don't know if they realise the consequences of what can happen but the consequences would be pretty extreme. So I don't know. I kind of think it's best not to think of it but it's happening more and more, it seems. They have the right to do it and so forth but there's a time and a place and that just needs to be understood because it also causes consequences for the people who are on track driving such as us. I don't know really, but at the end of the day it just can't happen on track. I think it's quite simple. If it does then the consequences separately should be pretty severe, I would say.
VB: Not so much to add actually, pretty much the same thoughts as what Lando has, that the consequences would be not so nice, so I really hope that people understand that, and like Lando said, there's a time and place for these things and I hope people are smart.
Q: (Luke Smith – The Athletic) Lando, another one for you about the F1 movie: we've seen the 11th team pop up in the paddock this week. Have you had a chance to go down to the garage and have a look yet? And what do you think about having such an integral… another team in the paddock and having it so embedded within the F1 world to give it good authenticity?
LN: I think it's great. I think to be part of…I don't know if we're really going to be in it that much, but to be part of something I think is pretty, pretty cool. I know, actually, the stunt double… I forgot his name. Who's the main actor? Yeah, that one! Sorry, my bad…Yes, the stunt double for Brad. The weird thing is, he doesn't have any hair, so I don't know how it really correlates well, but he's the stunt double for the driving scenes. He's been talking about it and saying some things, and it's all sounds pretty cool, looks pretty cool, they're doing a good job as a big production obviously. Yeah, nice, especially for us to be part of something, whether we're really that involved in it or not but for them to…The garage is pretty nice. Kind of jealous of some of the things that they've got. But good for that. I know they're going to be on track driving at certain times and from what I've heard Brad's done a good job as well with the driving and stuff like that. So yes, cool. I just hope they don't ruin our...I think they're joining us on the installation lap on the race from what I've heard, so I just hope they don't ruin that. But yeah, we'll see.
Q: (Adam Cooper – Motosport.com) For all of you, next week McLaren and Mercedes are doing a test of the FIA wet weather mudguards here at Silverstone. Do you think that could be a good solution and bearing in mind what happened at Spa, if they do work, would you like to see them fast tracked to Formula 3, Formula 2, Formula Regional and so on?
SP: Yeah, I think if they work, I will definitely like to see them put in, certainly Formula 1, although it's going to be quite penalising, maybe more for some teams than others in terms of downforce, but I think it's where it's something that safety should come first and it might allow us to race in more dangerous conditions, especially what has happened last weekend, I think it's something that we got to improve. But for now I think it's just important that race directors let us race only when it's safe, and actually the whole grid is able to see something,
LS: Yeah, it's a huge safety issue at the moment and it needs to be addressed. We can't see anything in heavy wet weather. I can remember Japan last year, I can recall many races over the past few years in Formula 1 where you just cannot see anything when you're behind a car and it's extremely dangerous if someone has an incident in front of you and is sideways in the middle of the track. You can't see where you're going. We shouldn't be racing in those conditions and it's terrible what happened last week. I don't think that race should have gone ahead in those conditions with the layout of that track. And I remember being in that exact situation in Spa where you're coming up on top of Eau Rouge and you're in the middle of the pack and you can't see anything. I don't think we should be racing like that, so it definitely is something that if it works, has to be put on the cars as quickly as possible. And if it doesn't work we shouldn't be putting ourselves in situations where we're racing in conditions where we can't see. Accidents can happen and they can be really severe accidents. So definitely, if it works, get it on the cars as quickly as possible and hopefully it does work and it's a great solution going forward to wet weather racing.
LN: I'd say it's about time that we're going to do something. I think as drivers we've said it for years that something needs to be done. I think we've been lucky that nothing has happened within…I'd say Formula 1, or many other categories, and in the worst case, sadly, we've had to lose a life for people to realise that those things can happen and if it could just happen there it could have happened last weekend for us in Austria. It's a shame we had to see such a consequence for people to understand what can happen in any case, but yep, I think it's something that needs to be done. I would say it's the biggest safety concern at the minute within Formula 1, no matter what way you look at it, you just say what's the next thing that can improve safety the most? It's actually being able to see where we're going. That helps sometimes, so yeah, I look forward to it. I'm doing a test so we'll see soon how good it's going to be but if it doesn't work, something else needs to be done to find a solution.
KM: I don't think I can say much that hasn't already been said. But I agree with Lando, it's the next biggest thing right now. I feel very safe enough in a Formula 1 car in all situations but this one, when you can't see, it feels a million times more…It feels ridiculous, when you're doing those speeds and you might as well close your eyes. There's zero visibility, and it would be great if that could be improved significantly.
VB: I think it's great the test is happening and we always need to find some kind of solutions and just really hope that it helps even a bit but like I said, meanwhile, it is a big issue and we shouldn't be starting races in conditions or any category shouldn't if you basically can't see so that's the big thing.
Q: Thanks to all five. It's worth saying that the FIA is constantly working on all aspects of safety. Right, next question, please.
Q: (Matt Kew – Autosport) Valtteri, in the last couple of weeks Audi has removed its CEO. Has Andreas or anyone else at the team reassured your colleagues at Sauber that for 2026 nothing changes?
VB: No, all on plan I believe. It's still obviously far away but I haven't actually heard anything else. So yeah, it should be all good.
Q: (Aleksander Ginter – Parc Fermé) Checo and Lance, I believe Andrew Shovlin mentioned that new tyres favoured cars with good rear end. What's your take on this? Have you done any preparations and what are your expectations you may see from the new tyres?
SP: I think this tyre construction is done to favour a few teams, so I think someone is going to make it better. I don't know if it's us or another team but certainly there is a characteristic change in the tyre and especially in the highest speed, we feel. So it will be interesting to see what happens also with the degradation because we haven't done much work on that.
LS: Yeah, I don't have much more to add. But good information from Andrew. I will see tomorrow how they feel.
Q: (Sam Cooper - Planetf1.com) Lando, the calendar came out on Wednesday with 24 races on it. Are you the kind of driver that wants as many races as possible? And if not, what's your ideal number for a year?
LN: Ha, five, six! I've seen it. I'd say 24 is a lot. If I had to put like a perfect number, I would say it's probably closer to 20. But there are too many tracks, there's a lot of tracks that people want to go to and so on. I think Zak's mentioned it a few times, like 20 is a good number, also for the lives of mechanics, engineers, everyone that travels, they're away from their families, kids and so on, for so many days, more days than us as drivers are away, so it's tougher for them. So I think when we talk about things, we must speak more as voices for those people than probably for ourselves. Like 20 but then with rotating tracks. Sometimes you want to go to certain places in different years. You just can't go to all the tracks that people want to go to, it's as simple as that. It's nice to see they've put some effort into organising it in a slightly better way, but still it's a tough calendar, it's one of the longest calendars we've had. As long as they keep trying to improve it and do better but I'd say 20 is a better number for everyone, just for the health and everything of all of the Formula 1 people.
Q: (Luke Smith – The Athletic) Lance, Tom mentioned about the factory being across the road. Obviously such a huge development has gone into that, it's pretty much unrecognisable from what it was before. How impressed have you been by the efforts there and the work and to be a driver for that team? How proud are you of everything that's gone into the factory?
LS: Yeah, it's incredible. It's incredibly exciting for everyone at AMR. It's a much better working environment than what we've been in for many years. I also just think it's a really exciting opportunity to grow as a team going forward and to expand and be better and build better cars. It's a great opportunity as a team to grow and move forward.
Q: (Adam Nicholson – Totalmotorsport.com) Kevin, with Frederik Vesti leading the F2 championship, have you been impressed by his performances? And as a fellow Dane have you had any contact with him?
KM: Yeah, I've known Frederik since he was a little kid. He was good…I think he still is good friends with my little brother, and they went karting together back in the day. And, now, Frederik is one of the leading youngsters outside of Formula 1, I would say, and he's doing a great job leading the championship in F2 and showing great consistency and maturity. I think the whole of Denmark is very excited for him and about him and hopefully there'll be a spot in F1 for him in the future.