FIA Thursday press conference - Netherlands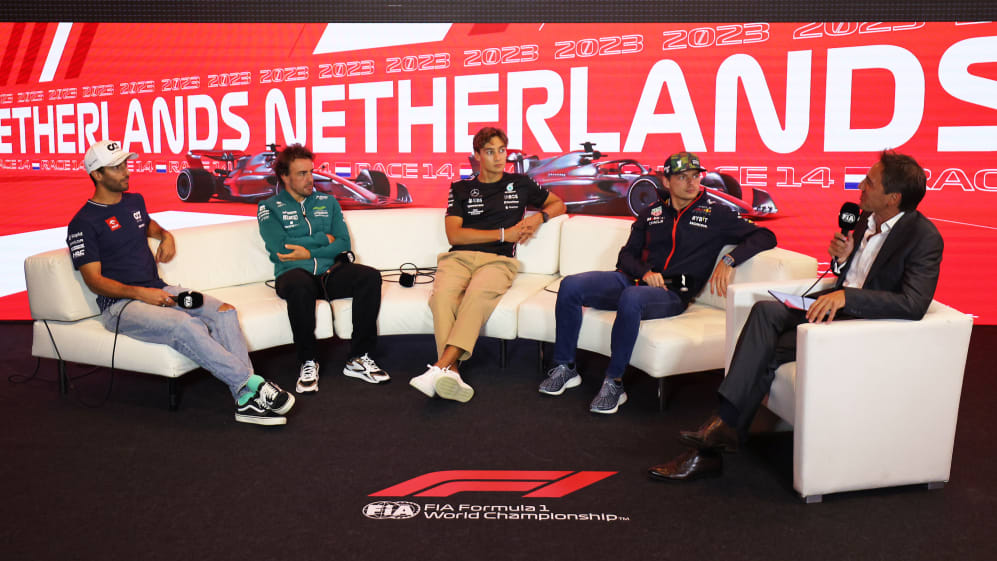 DRIVER GROUP 1 – Daniel RICCIARDO (AlphaTauri), Fernando ALONSO (Aston Martin), George RUSSELL (Mercedes), Max VERSTAPPEN (Red Bull)
Q: Max, if we could start with you, please, first of all, how was the summer break for you?
Max VERSTAPPEN: Yeah, it was good, just enjoyed time with the family and yeah, just pretty relaxed. Slept a lot, which I think was also important, so yeah it was very good.
Q: And were you able to switch off from Formula 1?
MV: Yeah, of course, the summer break is a bit different to the winter break but enough, yeah.
Q: And what a place to get back in the car, your home race at Zandvoort. Can you just tell us what is it like to be you here in front of these orange grandstands?
MV: I wouldn't wish that on anyone! (laughs) No, no, it's a great weekend for me to come to. It's honestly great to see all the fans next to the track and it's also an amazing track to drive, so all of those things together make it a fun weekend.
Q: And let's talk about objectives. It's been an amazing first half of the year for you. What are the goals, both for this weekend and for the remainder of the season?
MV: Just try to keep on doing the same thing, that would be nice but of course after a break you never know how you get back into things, also at the track, and also the weather what is forecasted, I think it's always a bit more tricky. But we'll see, we have a quick car but it's again about putting everything together to have a really strong weekend.
Q: And how much does the team's unbeaten run this year play on your mind and on the minds of everyone in the team?
MV: Honestly, I don't think we really think about it too much because we just want to look ahead and try to always bring the best possible car to the track. I think everyone is always trying to prepare in that way. And yeah, of course, we want to win here. There's no secret about that.
Q: How magical would that be? You've won from pole for the last two years here at Zandvoort. To do it again?
MV: Yeah, it's one of my favourite places to be and to win, of course, is always very special here so for sure that's the target for the weekend.
Q: George, coming to you, we saw on Instagram that you tried a lot of water sports during the break. How many did you master?
George RUSSELL: None. It was good to sort of branch out and do some of these things. Historically, I've never really wanted to do any additional sports, especially in the season, in case of injury. But I felt like I wanted to try something new and keep my senses alive. Try a bit of foiling, a few injuries along the way but I've fully recovered now and looking forward to the weekend.
Q: Few injuries along the way?
GR: Yeah, when you fall off a foil board and you land on the…
MV: Ego!
GR: Yeah! There's a lot of videos I didn't post of falling off big time so, no, I really enjoyed it to be honest. I think for a lot of us when you're so focused throughout the year just to have two full weeks doing nothing, you get a bit bored after a bit of time so to have a bit of an activity, it was quite fulfilling to make some progress and not fall off by the last days.
Q: Is it true that you bumped into Daniel at some point in the break?
GR: I'm so fortunate! No, it was good, it was good. We both knew we were going to the same place. Bumped into Logan as well. So yeah, it was..
MV: Was it at the salad bar?
GR: Daniel was very well behaved. I was pretty impressed. I think Daniel had done his partying for six months prior, so no, it was a good week.
Q: Now let's look at the rest of the season, George. Ten races to go. What are your goals?
GR: I think we want to just keep on progressing, I think, as a team. We're in a good position in the Constructors' Championship, P2. We've made progress. We're in the fight with Aston Martin. McLaren are obviously looking pretty strong but we want to keep on improving. We obviously would love to win a race this year, but Max and Red Bull are really, really strong but I think the goal for us now is to seal that P2 in the Constructors.
Q: You finished second here at Zandvoort last year from P6 on the grid. Do you expect the car to be as competitive this year?
GR: I see no reason why not. I think these type of circuits, high downforce circuits, we tend to go well. Budapest, we were fast. Here, it was probably one of our most competitive circuits along with obviously Brazil. But we don't know what the weekend is going to bring. The weather, again, looks very up and down but I think it doesn't matter the conditions, I feel that we can have a strong weekend.
Q: Fernando coming to you. How was the break? Did you bump into these guys as well?
Fernando ALONSO: No one. I was in Spain but it was in my hometown, not Ibiza, not Mallorca, not these places. So yeah, a little bit of family, relaxing and getting ready for the second half.
Q: How easy do you find it to relax mid-season?
FA: Quite easy. Why not? We all need a little bit of time off. More than us probably is the team: the mechanics, everyone needed that break, especially after July with four races. And yeah, I think it's going to be quite demanding now with some back-to-back races, always flying around and the last two obviously, Vegas and Abu Dhabi quite far away. So yeah, batteries are fully charged.
Q: And I guess that time at home gave you a chance to reflect on the first half of this year. You scored points in every race. Just sum up those opening 12 races for us.
FA: Let's say it was unexpected, in a way, how competitive the team was. From the first race we found ourselves in a very strong position so we maximised every opportunity in the first few races. And then in the last few events, we were maybe not as competitive as the first part of the year but we still scored points, as you said, in every single weekend. And now in the second part of the year, I think we want to go back to a more competitive position. I think everything is so tight now behind Red Bull with Mercedes, Ferrari, Aston Martin, McLaren. So we want to be in that fight until Abu Dhabi and that's the aim.
Q: But Fernando, how do you recapture that early season form?
FA: I think this is Formula 1 and these things are changing so quickly. So I think it was a surprise for us. The car was fast but I think the team was outstanding over the winter, understanding what the problems were last year and yeah, I think reliability, everything, the strategy, we did things really good in most of the races to get those results. It's not only the pace of the car; you need to master everything in the weekend from free practice one until Sunday. And then, yeah, I think we are like playing in Champions' League at the moment and we are finding ourselves with the very top teams, trying to over develop off-track and this is going to be the biggest challenge for Aston Martin now.
Q: You've got some improvements on the car this weekend. What are you hoping from them?
FA: To get a clear direction, not only for this year but also for next year in terms of direction on the car. I think in in Canada we brought some new parts as well, and Silverstone and now these new aerodynamic parts that we bring here, hopefully, add the performance we expect.
Q: Back on the podium?
FA: I hope so.
Q: Daniel, coming to you now: At Spa you said that you were going to spend the summer break working on your fitness. What kind of shape are you in now?
Daniel RICCIARDO: You tell me.
Q: You're looking great, I have to say but were you working on power, were you working on endurance? What do you get up to?
DR: In a way George said it. I had so much off time this year relative to running a full schedule, so I'd kind of had my break and my time off. So yeah, I didn't need the summer break. Obviously I know everyone else did and I understand that, but I'd had mine, so it was really just a good chance for me to catch up a little bit while the others were switching off. I still definitely had a good time and switched off from racing, but I was certainly looking after my body more than I usually would on a summer break. But I think as well, this kind of second chapter of my career, I am feeling just different about things and I feel like at least right now where my head's at, I'm in a very good place and taking it seriously. Not, obviously, putting unnecessary pressure on myself or anything, but just have some goals to achieve and some things to chase. So that's where I'm at.
Q: What are your goals?
DR: To be fast.
Q: How do you reflect on the two races so far that you've done for AlphaTauri?
DR: Firstly, I'm definitely thankful to get the two races before the break. I think a more conventional way was to put me in for the second half of the season, but having those two races and then the break to reflect on it, but also then work on some things now coming into the weekend, I think that was really beneficial. So I think when the team told me it was going to happen very soon, part of me was like… 'ah, maybe we should wait for the break'. But personally I'm very happy that they kind of threw me in a little bit at the deep end and I think it prepared me a lot better for the second half the season. I think Budapest was… I honestly couldn't have asked for much more on that weekend. I was really happy with my performance and how I got into it. And then Spa, yeah, let's say the little bit of a mistake in qualifying on the Friday then affected the Sunday. But I think the approach was right, and I just obviously paid the price for let's say trying a little bit too hard, probably. But then Saturday kind of cleaned up a few things. Obviously, it was its own day but I was happy with the Qualifying and the race so overall, it's been good. I'll just keep working on it. But yeah, I feel like I've hit the ground running and feel content.
QUESTIONS FROM THE FLOOR
Q: (David Croft – SkySports F1) Welcome back, everybody, surprisingly, a question from Max as we're here at Zandvoort. And as you go for nine wins in a row this weekend, you still say that it's not a formality and that there's plenty of competition out there. But your boss Christian Horner says that it's a little less stressful on him than it was say 2021 this season. He rather prefers the fact that Red Bull are dominating unsurprisingly too. What do you think though, as a racing driver? When Mercedes were dominating Lewis was very much saying that 'I want competition, I want someone to go wheel-to-wheel with me'. Is that where your head's at? You'd rather win by having competition on the track or you're rather happier to have a nice, straightforward Sunday afternoon?
MV: I would rather, of course, have a very straightforward race all the time but that only happens maybe once or twice in your career, that you have a season like that. But again, we are also racing drivers, ones that… the teams are a lot closer and you are racing, then, for me, that's also fine. But of course, it's always a bit more relaxing to win it more comfortably.
Q: (Luke Smith – The Athletic) Max, this race arguably wouldn't exist without you and your success and everything you've done for Dutch motorsport. And on a Dutch sporting level as well, you're probably the biggest superstar since maybe Johan Cruyff or someone like that. How does that weigh on you in terms of what you've done for this country as a sporting star? And seeing fans out there, people with tattoos and stuff like that because of you: what do you make of that?
MV: Honestly, I think it's just great. It doesn't bring for me, a weight on my shoulders of extra pressure. I think it's just amazing that this is possible. I think nobody, like 10 years ago, even thought about a Grand Prix here. And that we're able to do that now is just fantastic and hopefully, of course, it will continue for a while. But for me, it's just amazing to be here, to see all the fans and drive such an incredible track.
Q: (Jesus Balseiro – Diarias AS) Fernando, you got six podiums at the first part of the season. Do you expect being back on the podium in this second part of the season and would you be disappointed if not?
FA: I will not be disappointed but it is more difficult now. I think there is more competition up there, fighting for podiums, as we said before. Four teams now, fighting quite closely so it's going to be difficult to get another six in the second half but I will be happy with two or three, I hope.
Q: (Jake Boxall-Legge – Autosport) Daniel, I guess in the first couple of races you were spending a lot of your time getting up to speed and getting used to the demands of F1 again. Now you've gone through that process, are you able to start reflecting on your experiences and start driving things towards 2024? Or is there still more personal growth that you need to do?
DR: I think I'm in a good place. I think the six months off, I did a lot of personal growth or reflecting and kind of just got things right again. Obviously I've only had the two races but those two races, not only on track but I think off track and the way the weekend ran and how I felt on a personal level, was exactly what I wanted and the level of happiness and enjoyment and drive and motivation. I think that was probably what I'd been looking for a little while. So now it's just get back to it, but maintain the things that I've learned in that time off, carry those with me, as I said now, for this chapter two of my journey. It's things that I'll hold along the way and make sure I don't get back into any old habits or anything like that. But it feels refreshing. I spoke actually to Fernando, I remember it was on a flight, I can't remember where it was, but he touched on the time off and the benefits of that and I certainly feel that. I know all of us are different and respond to different things but… I wasn't sure if I would need 12 months off or two years or whatever it was, but the six months was really powerful for me.
Q: (Daniel Moxon - The Daily Mirror) George, you mentioned earlier about winning a race this season is going to be tough and I think it's fair to say that few would bet against Max and Red Bull going into any given race weekend but if the opportunity were to present itself, let's say some misfortune befell them, do you feel like you and Mercedes are in prime position to be able to take advantage of that?
GR: Yeah, absolutely. I feel like as a team, we've gone strength to strength this season and obviously there's a lot of expectations upon us going into this season and perhaps why people are calling our season a bit of a failure and of course, it's far from where we wanted to be, because we want to be fighting for championships but to call P2 in the championship, 50 points ahead of P3 at the moment, a failure is far from reality. We know we've got a lot to improve. We've made really good progress and I think going into this second half of the season, we can be there to hopefully pick up any pieces that fall our way. But we just never know. I think last year we had the mentality that Singapore would probably be our only opportunity in the second half to win a race and when we didn't win in Singapore, it was a bitter disappointment and there was no expectation going into Brazil and we came away with the victory there. So we treat every race as an opportunity.
Q: So just to be clear, do you feel Mercedes has the second fastest car now?
GR: As Fernando said, it's really close between us, Aston Martin and well… four teams, Ferrari and McLaren at the moment. I think we're probably the ones that are consistently there fighting between the second and third fastest team. But the team have done a really great job to maximise the points and as I said, delivering week in week out so I'm not going to sit here and say we are the second fastest team. I'm not too sure but I think we're in a really strong position to secure that P2.
Q: (Niharika Ghorpade – Sportskeeda) Daniel, from the previous answer, you mentioned not wanting to get back to old habits. Could you elaborate on that, please?
DR: Yeah, when I said it, I wasn't really sure what I meant! Sometimes I just talk and things come out, whatever! Yeah, amongst all the words you picked up, but no, I guess what I meant was… probably not bad habits just getting into any negativity and places where… Obviously when the results aren't going well, of course, it's hard to still be really positive ball of energy. But there's things that you can do. I have awareness now of if things start to maybe… if I feel like I'm falling into a place - as Fernando said - of negativity or something then I think I have the awareness now to not kind of slip into that. So just through experience, in short, through experience, I'll know now what is the right path to take and what isn't and hopefully I answered it. I don't know. Something like that.
Q: In your head…
DR: There's a lot of things going on in my head!
Q: …how far ahead are you planning? Is it just race-by-race at the minute, are you thinking about 2024 and even 2025?
DR: I'm definitely taking it race-by-race but in terms of where I'm at, I'm not just saying 'oh yeah, I'm just going to finish racing this season and then see what happens'. I want to be racing for a few more years now. I think six months ago that was not my answer. I didn't know what my answer was and that was something I was really trying to find out during this time off but coming back in, I've described it to some people like it feels like me ten years ago. I feel like I do have that young energy again and that motivation and ultimately that happiness and that love to be back on the grid and to be racing. So yeah, the plan in my head is a few more years – but as far as… performance-wise, I take it race by race.
Q: Fernando said in a recent interview that he's trying to enjoy his career perhaps more than he did in the early part when he was just constantly thinking of the next race. Are you determined to enjoy this bit more perhaps than you did the early part as well?
DR: I want to. I mean, that's really what I've been trying to get back to. Get back to the start. Get back to the early days and the real roots and the core of why I got into this and the things that motivated me and why I wanted to be here in this position, so yeah, just kind of strip everything back and get back to the pure enjoyment of the sport and the love of it. Yeah, it obviously probably got a bit clouded over the last year or two and I certainly found myself not in a place where I was enjoying it as much as I wanted. So, that's really that. As I said, six months ago I wasn't sure if… I remember we sat down in December and I wasn't sure if I would get back in the sport, or race again. I even just take this now as every weekend is a bonus. I'm here; I'm racing; I'm loving it. I'm going to enjoy it. There's not really too much pressure or anything. I feel I have a point to prove but I'm not carrying too much weight with that.
Q: (Sergio Lillo – Relevo.com) Question for Fernando. 20 years ago you won your first F1 race. Don't know if you have any special memories from that afternoon, and have you imagined to be here 20 years later?
FA: No, I was not thinking that 20 years after that race, I will keep being here in this paddock. But yeah, it's the way it is: I keep racing and I love what I do so I'm happy to be seated here. And I don't remember much about that afternoon, no. I only know that we went to Poland for an event right after the race which was quite painful. Because it was my first even grand prix [win] and we could not celebrate anything, not in the pitlane, these pictures with the mechanics or anything like that. We just ran to the airport.
Q: (Carlos Miguel – Marca) Question for Fernando. I stay in Hungary, I remember no party that time – I remember! It's about the third position in the Championship. Do you think it's possible to finish the Championship in that position and how much importance is this evolution to know if it's possible to beat Hamilton for the Championship?
FA: The Drivers', you mean? I don't know. I think it's going to be up and down. Every weekend it's going to be different. As you said, probably this will change, race to race. It depends on improvements for any other teams. At the moment I think Mercedes has been a little bit faster than us. And they are delivering every weekend the result that is available there and we've been a little bit more inconsistent, so we need to get back to the performance of the first couple of races. And yeah, let's see.
Q: (Luke Smith – The Athletic) Fernando, in the interview I believe Tom referenced there, you talked about F1 and how maybe it's not as pure as other forms of motorsport you've done, such as endurance racing or Dakar. Was that a feeling you'd always had through your career? Was it only when you did these other categories and maybe got a bit older that you perhaps saw F1 in a slightly different light – and is it always going to be the nature of F1: you think 'oh it's a bit more glamorous' and it's more about the parties and all the other stuff as opposed to the racing?
FA: I think I always thought about Formula 1 in the same way. Even when I was in the younger categories. After discovering a few of the other series as well, I still think the same, yes. I think here is a little bit different than elsewhere and a little bit more politics involved, obviously the importance of the package and the car and the input from a driver is a little bit limited by the performance of your own car, and things like that. So, you need to work in a different way, so it's a little bit less pure, let's say.
Q: (Joost Smedema – NOS) Question to all drivers. We've had dry sunny races so far at Zandvoort, the forecast is very different this weekend. Max, what do you expect this track to be like in the wet?
MV: Slippery! I mean, I don't know. Bit of new tarmac, when it's wet it's a bit more slippery than in the dry but you adjust to it, so it's a bit different to the last few years but we were probably a bit spoilt the last two years with the weather around this time, more or less. At the end of the day, it's the same for everyone.
Q: George, racing here in the wet?
GR: Yeah, same as Max: it'll be slippery in parts. Probably a bit of a challenge but the same for everyone and I'm kind of used to it now! Every since race…
MV: Since Baku! Every race weekend we've had some sort of rain.
GR: Maybe we need to start developing the cars for the wet instead of the dry moving forwards, who knows. That's a joke, by the way!
FA: Nothing to add. I think visibility will be the biggest concern. It's a short circuit. The gaps between the cars will be quite short, so let's see.
DR: I won't be repetitive, but I'm going to ask a question: how bad does it look? What is your forecast?
Q: Sunshine and showers, I think, for most of the weekend.
DR: Let's ask the local. Do you have a weather update?
MV: One minute, get the phone out. Hmmmm…
DR: While he's looking, it is crazy how much wet running there's been this year.
MV: Saturday probably a bit worse than Sunday.
DR: Do you think the last corner is full in the wet?
MV: You try it first! With DRS open!
DRIVER GROUP 2 – Carlos SAINZ (Ferrari), Pierre GASLY (Alpine), Logan SARGEANT (Williams), Kevin MAGNUSSEN (Haas), Zhou GUANYU (Alfa Romeo)
Q: Kevin, please can we start with you, because the big news this morning is that you and Nico will be at Haas in 2024. Fantastic news for you. Can we just start by getting your thoughts on a seventh season with the team?
Kevin MAGNUSSEN: Yeah, seven seasons. It sounds like a lot, didn't feel like that many but very happy to continue. Of course, you know, we have a job to do right now and it would be really fulfilling to see the progress into next year that we're working on right now and yeah, I know this team very well, it's my home in Formula 1. It's great to have another year on it.
Q: You know the team very well, you know Gene and Guenther very well. Just how straightforward were the negotiations? Was is very easy? 'Same again please!'
KM: Yeah, pretty much. It's always very simple with those guys and yeah, again this time it was not really any long negotiations and stuff. It's always very simple. So that's good.
Q: Now, you said a moment ago 'we have a job to do'. Does Haas have everything it needs to challenge at the front of the midfield in 2024?
KM: I think so. It's so tight that I think anyone, every team feels like they can do that. We've seen some teams make very big progress this year and we haven't really done that. I think we've kind of stalled in our development with the car. We're in a very good place as a team, in a place that we haven't really been in before. I think it's a very healthy team right now. Just, we are underdelivering on the car. I think all the ingredients that we need to make that step forwards, I think we can do that, probably this year hopefully but certainly into next year there should be a good chance.
Q: And can you tell us about your relationship with Nico Hülkenberg? How do you complement each other? How is he different to your previous team-mates?
KM: He's doing a good job, that's the most important thing. I think it's nice to be working with an experienced driver and it's nice to be fighting someone who's super-quick and always on it in both qualifying and the race. There's stuff to learn from him, and that's also raising my game so I think that's a good driver pairing. I work well with Nico and I think we respect each other well and can benefit off each other.
Q: And bringing it onto this weekend, you have some upgrades on the car. What can we expect from you, Nico and the team?
KM: It's a small upgrade. I don't even think we're expecting any increase in downforce, as such, it's more about cleaning up some stuff and working on our tyre issue. We get very hot tyres and part of the upgrade is trying to resolve that and help that issue. Hopefully that can be an advantage and a big step forward but, as ever, there's some work to do every time you bring upgrades, and we'll see how it goes.
Q: Zhou, can we come to you now. You went back to Shanghai during the break. How was it?
Zhou Guanyu: Hi, it's great to see you all here. Yeah, it was a good time to be back. Haven't been back in summer for such a long time it was nice to get 36°C temperature-wise – getting ready a little bit for Singapore coming ahead. Yeah, good time, decided to fully switch-off, just to reset a little bit, away from Internet, social media, just having a good time and mentally, mainly reset for the coming races.
Q: There hasn't been a Chinese Grand Prix since 2019. What sort of reception did you have in Shanghai?
ZG: It was actually great to be back there, because I went back, firstly, I had a few days with the sponsor of the team and also my personal people, and it's just great to see so many people turn-up for some events and the popularity also of motorsport is just growing. Especially, I think, for the younger generation, back in China, people ten years younger than me, five years younger, they know so much about Formula 1 in general so it just shows how much this platform has been improving – not just in the US, also back home in Asia. It's good to have that, and most importantly, the home race is coming back next year, so I'm really looking forward to what's coming.
Q: Now, the summer break also provides a chance for some reflection. When you think of those 12 races that started the year, what were you pleased with. Where do you feel the team needs to improve?
ZG: I think the most important part is that I'm trying to raise a little bit my game in terms of improving performance and the weakness last year wasn't maybe as good as one-lap qualifying pace, and also the start was very inconsistent for our team and this year we've definitely been, let's say, a lot more to the point, compared to where we were last year – but we're definitely missing a little bit of performance in general. Expected a lot more, of course. So, it's not been an easy season but let's say it's clear for the goal in the second half of the season. Want to achieve that P7 in the Constructors' Championship and it's very close between us, AlphaTauri and also Williams and Haas. I still think we can do that, upgrades coming for the next few races but not here, so we're looking forward to that.
Q: And Zhou, Kevin knows what he's doing in 2024. When do you expect to hear?
ZG: I mean it's been going on, us talking together, before the summer shutdown and also we are still discussing together with the team. As I say, happy place to be, right now, and also knowing the team, moving forward in the future, heading off to a works team, so it's good for us and for myself, I'm just trying to do the maximum I can here on the track and the rest is up to time, up to more further detailed discussion together – but I think, let's say, this time last year I was a lot more nervous than I am now. So, hopefully I'm able to set everything down and have a good future ahead.
Q: Logan, how was the break. We know, because we found out in session one, that you bumped into a couple of other Formula 1 drivers.
Logan SARGEANT: I did! It was nice just to get a few weeks to step away, really reset, reflect, recharge the batteries. It was nice to be able to fully disconnect from racing for a little bit and just enjoy a bit of time with friends and family, so that was nice. Yeah, did bump into George, was good to see him and yeah, it was a nice break.
Q: You said it gave you time to reflect. What conclusions did you draw about the opening 12 races?
LS: Yeah, just… accepting the challenge of what the first half of the year was. Understanding how I need to improve but, at the same time just trying to enjoy every moment of the season so far. I think I know what I need to do in the second half of the season and I feel like having that chance to reset and attack and just try to maximise my performance.
Q: You said you know what you need to do in the second half of the season. Can you share with us your thoughts on that?
LS: Yeah, I just need to clean things up. I've made some costly mistakes this year at the wrong time and I feel like if I can clear those up, be a bit more consistent and yeah, if I can deliver the way I know I can deliver, everything will be good.
Q: If you look back at the races, Silverstone was your best result, 11th. What was the car doing there that enabled you to have such a good result. Annoyingly just outside the points – but how do you replicate that?
LS: I think sometimes you put the car on the ground and it's in a better place some weekends than others. And I think Hungary and Spa didn't quite work out for us but yeah, we just need to be hopeful, keep trying to work to put the car into the best place heading into each weekend and hopefully another opportunity arises for me and the team.
Q: And what about this weekend?
LS: I think looking at the characteristics of the track it's not going to be an easy one for us, to say the least. But, again, mixed conditions look like they're on the horizon and hopefully we can capitalise on that if it comes. On paper it isn't great for us but we'll make the most of it.
Q: Kevin knows what he's doing Zhou says he's in a comfortable place. What about you?
LS: I think from my side, I just need to worry about improving, show a good step from the first half of the season going into the second and just work on improving myself and as long as I do that, all should be good.
Q: Pierre coming to you. So, the break, how was it? I saw you playing golf. In fact, you were quite busy weren't you?
Pierre GASLY: I must say I've loved having a couple of weeks off from the craziness and the fact of being busy and, you know, having a bit more downtime with the family, with the friends and being able to recharge and do the stuff that you like: being an uncle for a few days, a brother, a son, and just enjoying a bit of a party with my friends as well. So I feel definitely mentally, physically recharged and very energised for the second part of the year. And yeah, I was just telling Carlos, I was lucky enough to do my first eagle of my life during the summer, which brought a huge happiness and a huge smile, which was followed the next day by my worst golf game ever. So it's a pretty frustrating sport, but the same time I managed to improve some of my Padel and my golf game. So really happy with that.
Q: Golf is funny, isn't it? The more you play, the worse you get. That's how I find it anyway.
PG: Well, he knows more about it. But you know, I kind of built up the confidence. And then I hit 18-hole scores and played my worst game ever. And, yeah, all that confidence I built up, I need to restart all of it again. But no, it's just good, you know, to have this free time and to be able to do different activities and kind of put motor sport away for a few days.
Q: Can we talk about motor sport, though. Some senior management changes were announced over the Spa weekend, just before the break. What sort of an impact do you think that will have on the team?
PG: Yeah, obviously, it's a couple of changes, which occurred in the last weekend in Spa, but I think, all in all, it's looking at making the next step for the team, sort of evolutions. It's not a complete restructuring of the entire team. So, you have new people in new roles, with some experience, with a lot of experience in motor sport. And I think it's a good opportunity, a very good opportunity for the team to kind of make that next step.
Q: And how important was your third place in the sprint at Spa just to keep everyone motivated?
PG: Well, I think it's not a surprise to everyone that we've all been quite disappointed with the results in the start of the season. We haven't matched the expectations which were set. And it's like everyone, if you don't get the result, you kind of feel some disappointment, the mood is slightly down a bit. And I think it was mostly important to keep all the guys extremely motivated, still in a positive mindset. And just based on all the smiles that I've seen after the after the top three in the Sprint… you could see it just the next day, the energy and the positivity inside the garage was just different. And that's what we need to build up on for the next few weekends. We don't have the best package, but we're still able to get some strong results at times. And we'll try to do that and achieve that every single time we can until the end of the year.
Q: Pierre, tell us a little bit more about the package you have in that car, because your technical director, Matt Harman, believes you can have the fourth fastest car by the end of this season. Do you agree with him? Do you believe genuinely in that?
PG: I think this was quoted quite a long time before the summer break. So, you know, I don't want to go into too much details about that. This was the clear target at the start of the year. I think now we just need to take race by race and just try to make the best we can with the package we have. And we'll see at the end of the year where it puts us, but anything we can learn in the coming weeks and coming months will be useful for next year's cars as well, which is crucially important if we really want to make the next step, which is the target for all of us in the team. And that's where the focus will be going.
Q: And what about this weekend here in Holland?
PG: I would be happy with some rain. So last time out in Spa, it worked out pretty well for us. So I think it always gives more opportunities and more chances. I think, in the dry we know we are there for the points. It's a very tight battle in that midfield and can swing one way or the other very quickly, depending on if you're able to extract the maximum out of the car. But in mixed conditions I think there's clearly more chances for so. Yeah, excited to see what's going happen this weekend..
Q: Good luck. Thank you, Carlos, coming to you. You look very relaxed and happy. How was the break for you?
Carlos SAINZ: It was very good, thank you. Yeah, standard, usual for me: time with family, friends and just relaxing. You're still obviously in the middle of a Formula 1 season, no, so it's not like you suddenly stop thinking a bit about how the first half went, what could you do better in the second half. You still need to keep yourself fit and ready to go, because you are still racing in Formula 1. It's not like the winter break where you have a bit more time. So yeah, relaxed but also switched on to go again.
Q: Well, what is the mood at Ferrari coming into the second half of the season?
CS: I think the mood is basically trying to understand as much as possible about this year's car. We are FP1s, FP2s every weekend trying something different, you know, to try and understand these regulations and to try to see where we may be lacking compared to, obviously, the reference Red Bull and how we can make the 2024 car quicker. We're also spending a lot of time in the simulator, trying different things. Spending more time than ever really on getting the season turned around and putting everything that we can into place to get ourselves in a better place for next year mainly.
Q: You say you're trialling lots of things during practice. What aspects of this car please you and where are the causes for concern?
CS: Starting with the later one, I think it's no secret that this year we've lacked like some consistency from the car. It's very difficult to predict which circuits we're going to be quick at and which we're not going to be quick. I think the best example was the difference between Hungary and Spa. I think when you see our car we expected Hungary to be a good weekend, we expected Spa to be a weaker one, and it was actually the opposite, which just shows that there is maybe something intrinsic that we don't fully understand and we cannot predict very well. And this unpredictability, this lack of understanding, is exactly what we are focusing on to try and piece together everything and this is where our focus is going to be this weekend and obviously in the second half of the season. On the good side of things, the car always offers some good opportunities in Qualifying to maybe qualify a bit ahead of what the race pace of the car might be, and if you do a good lap in Quali maybe you can hold on to a podium place, if you then have a smooth race without too many troubles. Yeah, the focus will be getting the car again quick on the race mainly and try to hold on to those good Qualifying sessions if we have the opportunity.
Q: Well, talking about good qualifying sessions both you and Charles were in the top three on the grid here last year. So what are the prospects for this weekend?
CS: Again, I don't know, because if you look at the track, you could say 'yeah, should be a better one for us' but then you look at Hungary and it wasn't, so it is extremely difficult to predict right now for us this year. Also, I think the fact that the field is so tight, you know, with Mercedes and now McLaren joining, there is still obviously Aston Martin and obviously Red Bull ahead of us, we are all within a tenth or to tenths of each other every Quali and every race and if you know you're going come out on top of, or behind that battle, it means you can qualify P2, P3 or qualify P8, P9. So, the performance swing or let's say the result for such a small performance swing is huge. So I think it will be tight again this weekend.
QUESTIONS FROM THE FLOOR
Q: (David Croft – Sky Sports F1) Carlos, let's have a chat about your car. You were just talking about it then. It sounds, from the outside, like Ferrari have no understanding on the car whatsoever. Is that fair to say? And if so, how disappointing, as a driver, do you find that after 12 races of a season?
CS: We've done 12, there's 10 left? Well, then we still have 10 to fully get to understanding everything. It's not a secret that this year, since we were in Bahrain testing, we saw something in our car that we didn't fully comprehend and we honestly very quickly identified what the main weakness of the car is and this we know. Then there's other things like predicting which tracks you're going to be better at than others. There's the wind sensitivity, there's the track temperature sensitivity that we have, which at the moment makes it a very peaky car, but what we want is to understand exactly the reasons for that. And I think we're doing a pretty good job of trying and trying completely different things and having different theories that are we're putting together for next year's car, and hopefully next year it pays off. At the moment we can only focus on that and doing everything we can.
Q: (David Croft – Sky Sports F1) A good job of trying is different to a good job of understanding. Is there anything about this car that you now understand?
CS: Yes, the core problem of the car, we do understand what it is and since the first developments of the year we are trying to get it better. And the whole development programme has been focused on improving that main weakness that we have. Then there's many other factors, you know, that we are also trying to figure out. But, again, the differences are small. I think, especially when you try to beat Mercedes, when you try and beat McLaren now, Aston Martin, it's all within a tenth. And what we need to focus on in these last 10 races is putting the weekend together and seeing if we can if we can finish on top of that second place in the constructors that I think is not going to be easy.
Q: (Luke Smith – The Athletic) Logan, a question for you please about James and your relationship with him so far this year. He's got a strong record working with young drivers. How has he helped you take steps forward through your rookie season? And he's placed a big emphasis on changing the culture at Williams. So how have you felt that within the team during this time working with him?
LS: Yeah, I feel like since James has come into the team, I feel like he's impacted the team in such a positive way. I think the mindset of everyone in the team has switched for the better. I think, from my side, he's been hugely helpful in helping me on the driving side. He understands the cars better than anyone I've worked with before. And he also is very good at understanding the human element, the mentality side of the game as well. And he's helped me on all those things combined. So it's been really nice to work with him. And I think, even in long-term vision, he understands exactly where he wants to go with the team. And he's a great leader. And I think he's going to be really good for the team moving forward.
Q: (Yvo Pakvis – Panorama) This is a question to Carlos and Pierre. You were both teammates of Max Verstappen a couple of years ago. You've both seen the hype around this person grow, especially in a place like this. When you were driving next to him could you see that coming that hype?
CS: I think if there was something that Max never lacked, it was hype around him. I think he had the hype even well before his debut in Formula 1, when he was already in F3, he had already a lot of following. I think he's first year in F1, he came in and stormed F1 and had a lot of following behind him. So yeah, it doesn't surprise me at all, because I've always, since I debuted with him in 2015, which is now nine years ago, it's a lot of time, eight years ago, I've always seen that hype, and I've always understood it because obviously he's a special talent and someone that is performing really, really well since the beginning.
PG: It was clear already from the very young age, when we raced in karting the hype around him was already very different to any other drivers. So yeah, it was clear going up the ranks that there was more attention, more focus, driven by the name, the performances, all the hype around yours and Max relationship. So, it was no surprise and the way that he came to Formula 1 and performed and switched to Red Bull just amplified everything that followed. But I would say it's no surprise that he's where he is today and he's got the following, especially in the Netherlands. From an outside point of view he seems to be pretty much the icon of the country. So it explains why 99.9% of the grandstands are full of orange when we come to Zandvoort.
Q: (Filip Cleeren – Motorsport.com) A question for Pierre please. Just picking up on the management changes at Alpine. It all happened quite suddenly. It was quite drastic at Spa. At the time, did you need much convincing that this was the right thing to do? And now you have had some more time to think about it, how confident are you that this is actually going to shorten Alpine's journey to the front?
PG: I believe in the changes. I believe in the project. Obviously I believe in Luca De Meo's management strategy. Obviously you can't expect very short, huge improvements in terms of performance, but you know, results will speak for themselves in the coming season, '24, '25, I think. It was fair to say we were all disappointed with the performance we've showed in the start of the year, and at the same time, I just came in in January, the chance to work with Otmar, Pat and Bat for a very few months, and they've got a lot of experience in there. So I don't think I'm the best placed to be asked on all those changes. But what I can say is I have full trust in Luca and, you know, it's a sort of evolution. It didn't have the trajectory that we wanted and I'm confident this is a sort of fresh start and an opportunity for all of us to kind of get back on track and make the best of it.
Q: (Kevin Scheuren – Motorsport-total.com) Logan, the Williams situation is pretty fascinating to me. Although being an American owned company, you still have the Mercedes engine in the back, so there are basically two Mercedes drivers who are in need of a cockpit for next year. One, for sure, Like Mick Schumacher. The other one might be Frederik Vesti, if he wins the Formula 2 championship. How do you cope with the pressure that basically your seat is most likely being the one that is hanging in the balance?
LS: I think it's F1 and the pressure is always there. It doesn't matter what position you're in, what team you're in. It's a performance driven sport. I think we all understand that. So it's all going to ultimately come down to that. It's going to come down to how I perform, how I improve. And yeah, we're all aware of that and understand that going into it.
Q: (Carlos Miguel – Diario Marca) Carlos, what are you feeling when you arrive on a Thursday at a circuit and you know that on Sunday Max Verstappen will win again. And do you believe that Formula 1 may have to make something to stop Red Bull and Max, this domination.
CS: I don't fully believe Max is going to win every weekend. I know you guys see it in a very drastic, dramatic way. Obviously, I know what my chances or my probabilities are, but there's still a probability that Ferrari can win a race this season and that I can be there to win it. And I think no one's perfect. Hopefully, at some point during the season, Red Bull makes a mistake and I go into every weekend thinking I need to be there to grab it. That's my mentality. That's my focus, trying to be there for any given opportunity. Because even in the most dominant years of Mercedes, of Red Bull, of Ferrari, there was always one race know that you could make a difference or something could happen. And as a driver you live, especially in these kind of years, you live a bit on that motivation or on that thinking. And if not, I have plenty of motivation to fight for podiums, to fight for top fives. I love Formula 1. I love going to race every weekend with Ferrari and I love having the opportunity to also develop this year's car, give the feedback and see the impact I can have on next year's car. This is also what a driver lives for and I love that challenge. I think that summarises everything. Second part, I always try to put myself in the position of others when doing this or analysing these questions. And I say if my team had done what Red Bull has done, and I am doing the job that Max is doing, I wouldn't like Formula 1 to change anything, because I think we deserve to be in the position they're in and they've simply done an incredible job with this year's car. Max is driving at a very high level. He obviously also has a bit of margin to do a mistake here and there and still win the race. But he's not doing any big mistakes. Red Bull is not doing any mistakes and unless proven the opposite they deserve to have the success they're having, because equal opportunity for everyone and they are beating us and they are dominating F1 in a fair and square way. So nothing to say. Congratulations and keep enjoying. We will try to do to get better as soon as possible.