FIA Thursday press conference - Qatar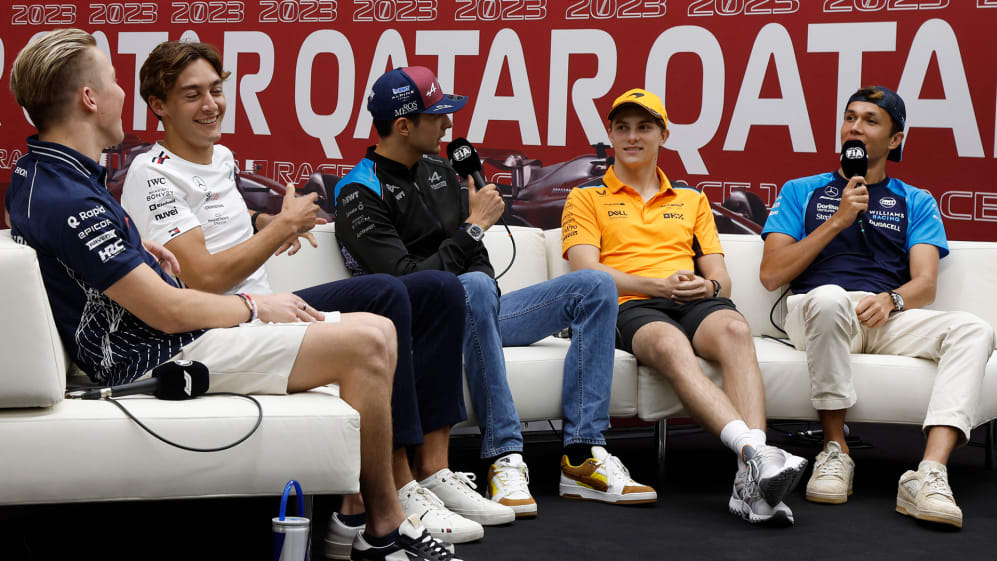 DRIVER GROUP 1 – Pierre GASLY (Alpine), Sergio PÉREZ (Red Bull), Fernando ALONSO (Aston Martin), Nico HÜLKENBERG (Haas), Zhou GUANYU (Alfa Romeo)
Q: Nico, let's start with you. I want to start with a former winner here in Lusail. Of course it was back in 2009 in the GP2 Championship, but what are your memories from back then?
Nico HÜLKENBERG: Good memories! The result was good. But I remember the track was fun. Very fast, very flowing. Good kerb riding. And yeah, I enjoyed it back then, so looking forward to obviously getting out there this time round. A little bit more hot and in a faster car but happy to be here.
Q: How will that previous experience help you? Because of course you weren't racing in 2021?
NH: Yeah, it's always good to have a little bit of track knowledge, rather than you know, from zero. So definitely, it's a better place to start from. It's obviously a few years ago, so I have to refresh it quickly with the Sprint weekend. Obviously, only one practice session. So yeah, challenging. A hectic weekend ahead for everyone.
Q: Now that you've been on the sim, I don't know whether you've walked the track yet, but give us your first impressions of the track today. And what do you think you're going to need from your car to be quick?
NH: I think the track hasn't really changed since back then. What happened around, obviously the paddock, grandstands and infrastructure around has been upgraded as you can see, so that's nice, that they made a good effort and, and helped the infrastructure. Car-wise, you need a lot of downforce, good balance, the usual things.
Q: If you were quick at Suzuka, two weeks ago, will you be quick here?
NH: I think there's a good chance for that. Yep. Unfortunately, we weren't too quick!
Q: Not long to go though, Nico, because of course, you've got some upgrades coming at the next race in Austin. I guess they can't come soon enough?
NH: Yeah, exactly. We're obviously anticipating those ones and it's been a long time coming and looking forward to that a lot. So, this is the last weekend with the old package and car so we try to survive as good as we can. And then, all eyes on Austin and the rest.
Q: Final one from me. It's your teammates birthday today, giving him a present? Nice welcome?
NH: Yeah, he got a cake and another special gift later. It's a personal one.
Q: You going to share it with us?
NH: It's a toilet brush.
Q: Is that an in-Haas joke?
NH: Exactly! Not sure you want more details!
Q: Checo, can we come to you now. You were also in that GP2 race back in 2009, which Nico won…
Sergio PÉREZ: I won the day after!
Q: Split the honours! And, of course, you were racing here two years ago as well. Just give us your thoughts coming into the weekend. The car was quick in Suzuka, as Nico says, means it should be quick here as well.
SP: Yeah, I think so. I do believe that it's going to be a similar trend in high speed, with a lot of high speed content. Obviously, conditions of the track are going to be very different and it's going to be an interesting weekend, with FP1 and then straight into qualifying. We will probably find three seconds slower track in FP1 with all the sand on it. So, it will be an interesting one, also going into the night for Quali. I do expect a very interesting weekend overall.
Q: Checo, what is your mindset coming into this weekend, because it's been a difficult couple of races for you in Asia. So, how are you feeling coming into this?
SP: Yeah, Asia wasn't good for me at all. Singapore and obviously Suzuka. But I think we've learned a lot what went wrong in Suzuka. So, I do expect to be in a much better position this weekend.
Q: Tell us a little more. What have you learned through your discussions with the team since Suzuka?
SP: Yeah, it's mainly the direction we took with the set-up of the car. We over-planned a few things, and now looking back at it, we do understand where it went wrong. And yeah, I really hope that we are able to have a much straightforward weekend here.
Q: And this is the first time we've had you in the press conference since Red Bull won the Constructors' Championship. How different does this title success feel, compared to last year?
SP: Well, no difference at the end of the day. It's great to keep that momentum going in the team. I think that has been something incredible as a team to achieve because… I'll say that last year it was harder to get it because certainly Ferrari had a faster car than us, at least for more than half of the season. And we still managed to get it. But the way we got this one, I think with a more dominant car, they're just different. But at the end of the day, they mean the same.
Q: And Max can win the Drivers' Championship this weekend. How important is P2 for you?
SP: Well, it's important because that's the best I can get now. So, I think all the drivers in here want to get the best possible season. And more than that, to me, it's very important to finish the season on a high. Because that only helps the start of next year. So, to me, it's very important to get on top of it and make sure that we are able to deliver in the next six races.
Q: Pierre, coming to you now if we could. You've been back in Qatar since we last raced. Of course, you were here for the World Cup final at the end of last year. Apart from the result, was it happy memories…
Pierre GASLY: You're turning the knife inside right now! No, I must say, it was an incredible sporting evening – probably the most beautiful sporting event I've been to. It was such an intense game. A World Cup at stake, ups and downs throughout the whole game. I really believed at some point we were going to get it – and unfortunately it didn't come our way in the end. But no, it was a great time in Qatar and I'm definitely happy to be back.
Q: Talking of intense games, you were playing Padel yesterday, I understand. The Padel bug seems to be spreading along the pit lane. How was it? Who won?
PG: Well, we had our neighbour, Nico was playing on the courts next to us. There was quite a few drivers actually. Singapore as well, there were quite a few drivers to play. So yeah, we decided to go for a game, which turned out to be pretty good for me. Nice wins. And that was definitely good fun. And also, just to get some time out, getting some workouts. And yeah, definitely, it's going to be tough physically this weekend. So I think in the end, I ended up spending two and a half hours on the court. I loved it so much. So it was a good exercise.
Q: In 33°C heat as well…
PG: Yeah, exactly. I mean, just want to get the body used to the temperature. So it's very intense and probably didn't expect it to be as warm as it is, so it was good to get some early exercise in.
Q: Now, Pierre, can we throw it back two weeks to that last lap in Suzuka, when you were asked to give a position back to your team-mate. You seemed unhappy about that after the race. Having debriefed with the team, do you still feel unhappy?
PG: Everything has been discussed and yeah, I'll leave it there.
Q: What are the rules of engagement now within Alpine?
PG: As I said, everything has been discussed and I have no further comment on that.
Q: OK, I'm going to move on. Let's go to Enstone. You get back from Suzuka and Renault boss, Luca de Meo came to Enstone in the UK to give a speech to the team. You and Esteban were there. How inspiring was that?
PG: Yeah, I was at the simulator on that day. And no, I think it was definitely very inspiring, keep to push the team forward and pushing for change and improvement. So no, I think it was very positive. And yeah, it was great to be there, all united as a team.
Q: And final one for me. Let's talk about this weekend, performance of the car. And also, you were one of quite a few drivers who had a puncture here last time. Are you concerned about that coming into the weekend?
PG: Yeah. I mean, it was definitely a challenge last time out in 2021. So, I think we'll have to keep an eye on this quite aggressive, aggressive kerbs. I think some of them have been changed, so it's not really something we are too worried about. But obviously it stood out on that particular track compared to others. So, we'll keep a close eye but yeah, last time out. I started in second, we have a great qualifying. It was a definitely a positive weekend and, you know, Alpine had a very good race with Fernando finishing on the podium and Esteban in the top five. So, I think we know the team has a good record here on this track and hopefully it can still be the case this year.
Q: Fernando, coming to you. No paddle for you while you've been here?
Fernando ALONSO: No, not yet!
Q: Not yet means you might join the paddle gang going forward?
FA: Let's see. Let's see how it feels in the car tomorrow, how demanding is going to be the weekend.
Q: Let's talk about you coming back to Qatar, because, of course, it was here two years ago that you got your first podium of your comeback. Excited to be back?
FA: Yeah, definitely. I think the track is quite nice to drive. I think it powers a little bit the Formula 1, the aerodynamics and the high speed corners, really… it pumps up the adrenaline while driving. I think it's going to be a little bit different. New asphalt, new facilities as well in the paddock, and hopefully good fun.
Q: How different will the track feel, do you think, in the new generation cars compared to the '21 cars?
FA: I think it's going to feel better, to be honest. I think the new generation of cars, they've been quite okay at high speed corners and are struggling a little bit in the slow speed corners and here is all about high speed. So, I think the cars will feel good. And yeah, I think the question mark is the new asphalt: how grippy it is and how dusty is going to be in the Free Practice One – but yeah, the Sprint weekend obviously will add spice to everything.
Q: What about your hopes for the weekend? Are we expecting similar to Suzuka, do you think?
FA: I guess so. I think it's going to be not too much of a difference. I don't think anyone is bringing big upgrades to this weekend and the characteristics of the car and the circuit are quite similar to Suzuka, so I guess it's going to be not too different.
Q: And what about the battle in the constructors championship with McLaren? Lando Norris seemed very confident after Suzuka that they can close the gap.
FA: Yeah, obviously they have the momentum for sure. And they've been quite fast. But every weekend we see up and downs for everybody. They've been very strong before the August break in Austria, in Silverstone. I think they were close to being both on the podium in Silverstone. And then in Zandvoort, we were on the podium and they struggled a little bit. So, it's good if they're overconfident, and let's see if we can beat them in Abu Dhabi!
Q: Zhou, thank you for waiting. So, give us your first impressions of this Lusail track – because you didn't race here two years ago.
Zhou GUANYU: Yeah. I mean, it's pretty nice. A lot of medium-high speed, which I really enjoyed it, and especially the heat, I think, this weekend. I expected that, to be honest, and so humid as well. So, it will be a tough – let's say challenging – and demanding weekend for all drivers, that's for sure.
Q: And what about the upgrades that you have on your car? You introduced them in Singapore, got to know them better in Suzuka. What have you learned since Suzuka that could help you here?
ZG: It's definitely helping us moving forward. But nevertheless, other teams are also bringing a big packaging to last few races. So the gap kind of seems very similar. But we do feel like we had a reasonably good, let's say strong, race craft in Suzuka, and we're just missing quite a bit on Saturday. So I think, you know, if we can start further up and having a cleaner qualifying session, then we can definitely be there fighting with the points. But it's not going to be, let's say, an easy end to the season – but we will never give up, we'll just keep pushing to the end.
Q: Zhou, final one from me, you had your technical director James Key with the team at Suzuka. He said it was a fact-finding mission. What feedback did you give him?
ZG: It was really actually useful to have James finally here on the trackside, just to see a little bit of what's going on behind the things. He was joining, of course, before that on our online meetings, but I think when you are actually at the track, you can see a bit more where we are missing and heading to the right direction for the future. Especially for next year's car and the development. So, I think it was a very strong, straightforward weekend for James to see where we are weak at, and where are the points we can maintain for the coming season.
QUESTIONS FROM THE FLOOR
Q: (David Croft – Sky Sports F1) Big topic of conversation this weekend is Andretti Racing – although Nico's gift to Kevin of the toilet rush might knock this one off the headlines for a few days – but the FIA have approved on sporting grounds Andretti Racing to take part in Formula 1 in the future. You often say as drivers no one hears your opinion or listens to it, but I'm really keen on your opinion on this one. What do you, as drivers, think of extra competition, potential extra opportunities for yourself in the future, should Andretti Racing do a deal with the Commercial Rights Holder?
FA: Yeah. A great team. I know Michael, and he will be, obviously a great name to add to Formula 1 but there are other people in charge of this kind of decisions and first the FIA and the FOM and the teams as well. So, yeah, you know, for me, it doesn't… I don't know exactly what to say. Whatever is the final decision is going to be OK. I like Michael, as I said, I like the organisation, but I also understand other things, and I will support as well, whatever Aston Martin the position and, you know, I will be okay with anything.
SP: Yeah, pretty much. I think it's a good name to have in Formula 1, obviously but at the same time, that decision doesn't really rely on us. So, let's wait and see. But it will be a good name, and certainly a good team to bring on to the sport. See what happens in the end.
Pierre?
PG: Nothing more to add.
Q: (David Croft – Sky Sports F1) Could I just ask, whatever the team is, would you like more competition on the grid? Would you like to be racing against more drivers in the future?
FA: We'll speak about the future but I don't know how many years I will be here, but I don't know in Formula 1 there is not much of a battle between teams and even if we are 50 on track, we will only fight against one or two drivers, because they have more or less the same package as you have. There have been some discussions in the past as well, even having three cars per team, things like that. So, at the end, you never know what is the best solution. But as I said, I think we have very good people deciding these kinds of things. We trust completely the FIA, the FOM, so we are in good hands.
Q: (Adrian Rodriguez Huber – Agencia EFE) Question for Fernando. Fernando, you had a brilliant race two years ago here but you also just said could be looking more like Suzuka? How close or how far do you think this weekend can be compared to two years ago?
FA: It could be far away because we've been… we were on the podium two years ago, and it seems a bit optimistic this weekend to think about the podium – but let's see. I think it's going to be a stressful weekend for everyone with the new asphalt, as we touched, this temperature, only one free practice to optimise the set-up. So, I think no one will arrive 100 per cent to qualifying on Friday because there is not time enough on the free practice. So, if someone gets to qualifying only 60 per cent optimised and another team gets 90 per cent optimized, maybe there is a better chance. So yeah, it is interesting. But looking back at Suzuka, I think it could be a weekend that we are not maybe at that type of performance.
Q: (Alex Kalinauckas – Autosport) A question to Fernando and to Sergio and Pierre please. Lots of tracks have particularly famous corners or sequences of corners – you think of Maggots and Becketts at Silverstone or Eau Rouge at Spa or Turn 8 in Istanbul back in the day. Does this track have anything similar? Is there anything for you, as drivers, that's particularly challenging or exciting?
PG: I don't know if we can compare with the iconic Maggots, Becketts and Suzuka. But I do feel this track has quite a lot of character. It's very twisty. I do like the high-speed section, so coming to Turns 14, 15. Because 14, it was almost flat out. It's just on the edge of being flat out, so it's really a corner where you are really maximising the load of the car and the Gs you're feeling there. So it's a nice challenge, especially coming into qualifying. And then the one that follows, the left corner is same, it's a very high-speed one. So coming after that triple right it is probably my favourite section of the track. And the rest is very twisty, medium speed, very flowing, where you can carry a lot of speed, be quite smooth with your lines. So, as a track, I do feel it does have quite a particular and unique touch.
SP: Yeah, I think here the challenges are more on the weather. For example, the wind can be quite a big thing around here, the sun changing session to session, or during the session. You have a very different balance throughout. So I think that makes it very challenging to pick the right spot on the car. And I think going into a weekend like this, having FP1 and then straight into qualifying, I think there will be a lot of chaos tomorrow and a lot of things that we have to put in place before we are able to extract the maximum.
FA: More or less the same. The last sector I think is quite unique in the Championship, what we face here in Qatar, and hopefully not, but maybe the track limits.
Q: (Luke Smith – The Athletic) Checo, a question for you, Max is set to win the championship, probably on Saturday, this weekend. What have you seen change about Max this year compared to last season? Have you seen him take another step forward? And you've spoken about the development of the car maybe working away from your driving style a little bit this season? Was there a particular point in the year you can pinpoint when you started to feel that drift away from you?
SP: I think first of all, Max has done a tremendous job. I think no credit should be taken away from the season that he has done. I think he's driven on another level compared to anyone else. And I think that's something that I have a lot of respect for. And then secondly, from my side, I feel like Barcelona was quite a turning point, my weekends were starting to become… I was always chasing the weekend. Sometimes you have weekends where things are coming a lot more naturally and you are just two or three steps ahead, you know, and I feel like since Barcelona I was starting to struggle and have some deficits with the car.
Q: Thank you Checo. I'd like to expand this to Pierre and to Fernando as well, please. Andrew Benson from the BBC wanted your thoughts on the season that Max Verstappen has had this year.
PG: It's another season of breaking records. So you know, I think it's, as Sergio says, I think he's in the best seat in the paddock to really assess and see the achievement that Max is doing this year and over the last couple of seasons. So, I think big congratulations to him and his team and the position that he is in. I think it's no surprise that to anyone that he is very talented. And I think the team they are making with Red Bull is just performing at an extremely high level. And also the amount of mistakes they are [not] doing is just unmatched compared to any other team. So yeah, you can just respect and appreciate the work and the results they're having. But hopefully that domination can come to an end sooner rather than later.
FA: Same.
Q: Fernando, can we just have a few thoughts from you on Max, rather than just 'same'?
FA: Yeah, I mean nothing more to add. Big congratulations. What an incredible season, breaking so many records. And when you are doing so many races… And they were not easy races, sometimes, they were tricky with the weather conditions. We went through, I think, June, July and all the races were hit by rain on Saturdays or Sundays and, you know, it was sometimes tricky, and when you make no mistakes and you deliver the job every Sunday, you know, it's big respect.
Q: Fernando, you've gone wheel-to-wheel with Schumacher, with Hamilton, with Vettel. Can we include Max Verstappen in the same breath as all of those guys?
FA: I think honestly, I've been only wheel-to-wheel with Michael.
Q: Can we compare him to Michael?
FA: Maybe. We have to wait and see. I think the next few years will be even better for Max. To be honest, he'll keep adding championships. So we will compare him to Michael even closer in the future.
Q: (Alan Baldwin – Reuters) A question for Checo, just on that subject. What is Max doing differently compared to last season that you can see. And also, if I could just ask Nico… I'm sorry to lower the tone, but I'm just intrigued by this toilet brush. If there's anything you can tell a family audience?
SP: Hard to answer. I think he's just able to deliver, weekend in, weekend out. Like Fernando says, it doesn't matter what conditions he has, the level of confidence he has with the car at this stage is extremely high. And we see it with the results. He's just able to deliver. He's been able to deliver in any conditions.
NH: All I can really say is that, you know, in the European season, the driver rooms are in the back of trucks, and we share a toilet and a shower and stuff. So that's all I can say.
Q: (Adam Cooper – Motorsport.com) For all five of you, do you sometimes get frustrated by the fact that we hear all your radio conversations and things are sometimes taken out of context? I'm thinking of Suzuka, where Pierre and Fernando both had conversations that got a lot of attention from the public and the media.
ZG: I'm OK with that. I think my highlight was Monaco last year, where I needed to change to new pants after I nearly crashed in the tunnel! In general, I think I'm OK with all of that. Anyway, the teams hear everything, but I think all of that is decided by Formula 1, which radio is being published out to the people watching at home. I think it adds a little bit of entertainment to the sport but of course some of them you say… You always have to be a little bit careful with what you say, because it could be quite bad for you. But it's fine. It's the same for everyone.
NH: Personally, you know, no problem with that. I think we all know that if you say something interesting, worthy, it will be out there. So we know the consequences. And obviously we have control of that. We don't have to say it. But obviously sometimes in the heat of the moment or an emotional moment, you do have an outburst or whatever. I think it's fine. You know, we're racing, but at the end of the day we're also entertainment. And that's an extra element of entertainment. So yeah, all good.
Q: Thank you. We're running out of time, maybe just you, Fernando. Fed to the lions? FA: Yeah, I have no problem at all. Obviously, in Suzuka it has been, yeah… It was difficult to get the point of the media. Even, I think, last Monday motorsport.com still put in the radio. So it was one week after Suzuka, saying that I was in traffic after my stop, which I was a little surprised, because I don't know what negativity is on that, discussing with the team. And obviously you have no information about how the weekend goes, you know, the meetings that we have on Sunday morning. Even on the grid, you know, the conversation on the grid on Sunday in Suzuka, we were talking, 'don't stop too early, because then with our lack of speed on the staights, we will be in traffic and we will get stuck'. So, when the radio comes out, obviously the level of maturity and complexity on the comments, 99% of the people cannot understand.
Q: OK, we will do one more. Pierre? PG: He said it all.
DRIVER GROUP 2 – Liam LAWSON (AlphaTauri), George RUSSELL (Mercedes), Esteban OCON (Alpine), Oscar PIASTRI (McLaren), Alex ALBON (Williams)
Q: Alex, let's start with you. You didn't race here a couple of years ago. So first impressions of the circuit, please?
Alex ALBON: I haven't done my track walk yet. I was going to do it at 2pm and then thought better of it due to the outrageous heat. So we're going to delay the track walk. But it looks amazing. I drove it on the simulator. A lot of fun. I'm interested to see… I don't know if anyone else has walked it yet, but the kerbs and everything will be interesting, because track limits might be a thing I reckon around here.
Q: And in terms of car performance, where do you see Williams here?
AA: I would like to say, scraping through Q2 and then hoping for a good lap into Q3. You always have… Why is that funny? Scraping through Q1… Sorry. Yes. Is that what I said? Scraping through Q1.
EO: Which session, Alex?
AA: I reckon my first lap will be okay, but not great. And then, second set I'll be OK.
Q: I'm glad we clarified that! What is the mindset Alex coming here? Because the last couple of races have been tricky for you.
AA: It has been. I think, Singapore it was quite a tricky track for us - always. And I think the temperature didn't help. Suzuka, likewise. I think more than anything, the last few races have been quite hot and overheating the tyres. So I think we're going be really good this weekend, because it's quite cool around here! But it will be OK. As a track, it actually does suit our car. What is interesting is the wind around here. It's a very strong tailwind through most of the corners. And that is not that fun.
Q: Well, Williams cars in the recent past have been very wind sensitive. Is it the same with this one?
AA: Yeah.
Q: There's increasing speculation as to who your team-mate is going to be in 2024. Do you think Logan Sargeant deserves a second season in Formula 1? Have you seen enough?
AA: I'm not the one to decide. But I know Logan pretty well. I can see his performance. I do think he doesn't get the credit that he deserves. There is a lot of speed and talent within Logan. I think it's just been a little bit offset with a couple of mistakes that he's had. But in all seriousness, I do think he is… I mean, I'm not the one to say it. But I get on very well with him and I think he just needs a bit more time and confidence. And he'll get up there.
Q: Final one from me. We've seen a few collisions between drivers in recent races. And you have said that five second penalties aren't teaching the drivers anything. And I'm quoting you when I say that.
AA: Strong words!
Q: What do you mean by that? And what is the solution?
AA: That was obviously right after I had a crash! But I think the main thing about it is… To be honest with you, thinking back on my words, it's not so much about teaching drivers, it's more the fact that the car that's quicker tends to be able to get away with these incidents, quite often, position-free. What I mean by that is, for example, if I take my Monza race, I was holding off Lando the whole race, but if he had just cut the chicane for one of those laps and overtaken me and then pulled away, he would have got a five-second penalty, but he would have pulled away and had nothing done to him. Likewise, for example, with Checo in Singapore, he can take that risk because there's a very good chance he can pull that five seconds away from me, so it definitely puts drivers in a position where the car behind can be a bit more aggressive than the car in front – as in, if I defend and I do a mistake and I get a five-second penalty, quite often, more than not, I'm going to lose two or three positions, because I'm holding up a train. So there's a bit of… [to George Russell] What's so funny? Am I ranting!? [Laughs] So that's it!
Q: Alright. And is there a solution? Is there a short solution you can tell us about now?
AA: Disqualification! Yes. I do know that we, as drivers, we want consistency, but there is a genuine feeling that it is very hard to be consistent in these positions. And I understand, and I do sympathise with the FIA, that it's not that easy to do. [Laughs] What would you do, George? I don't have an answer, but if you gave me a bit more time, and a bit more time to talk, I would come up with an answer!
Q: Alright. Alex, thank you for your time. Good luck this weekend. Oscar, let's bring it on to you now. Game of paddle last night with the man on your right. Have you had your first victory of the weekend so far or your first defeat?
Oscar PIASTRI: Both. We played a few games – tiebreakers. But yeah, a couple of both. Not getting my expectations too high.
Q: Well, look, huge race for you in Japan, of course, with the first podium. You've been back at the MTC since then, celebrating with the team. What was the mood in the camp?
OP: Yeah, very happy. I'd like to hope that they were quite happy after that weekend. But no, just very happy. But I think also, now it's – which is also quite an exciting feeling – is that it's in some ways less exciting than the first podium. Because we've had a couple now, obviously. So, I think it's becoming somewhat more normal for us, which is a very exciting place to be. And yeah, I think we're hungry for more. So yeah, very, very happy. The team were very celebratory towards me for the first podium, of course. But I think there's a sense that we can achieve that more often now. And of course, we're trying to set our sights on even further ahead.
Q: Well, what about this weekend? Lots of fast corners, like at Suzuka. So are you feeling quite confident coming into the weekend?
OP: I think it should suit us reasonably well. Obviously, the high-speed corners are nice for us. But you know, it's going to be a very hot weekend. It's a Sprint weekend. Some unknowns on the track. And you know, we're also quite sensitive to stuff like that. So, on paper it looks reasonable, but I don't think we'll know fully until tomorrow.
Q: Final one from me. The race pace on Sunday. You said after your podium in Japan that you weren't fast enough in the race. Having debriefed with Tom [Stallard] and your engineers, do you understand why and can you make changes for this weekend?
OP: Yeah, I think so. We went through it all properly. And I think it's part of the learning experience, going to these new circuits and high-deg races. So, going through it all and hopefully we can improve on it next time.
Q: Esteban, so you enjoyed the Padel with the man on your left?
Esteban OCON: It was great fun, yeah, it was a good little heat acclimatisation. So yeah, it was good. It was good. We had fun.
Q: 33 degrees. I saw it on the ground.
EO: Very precise. You're stalking my Instagram. I'm not scared at all.
Q: Now, Suzuka: double points finish for the team. Nice for you, particularly after a couple of difficult races so nice to be get some points back on the board.
EO: Yeah, exactly. Obviously it's been quite a few races that we were supposed to score points and unfortunately we didn't manage to finish those. So it was nice to finally have a double points finish for the team. A strong weekend, I would say, as a whole, especially the race which was a good one in terms of pace of overtaking after a difficult start. So I think we can be proud of that one. And obviously this weekend, we're bringing some small updates to the car so we hope that this is going to bring us some more performance.
Q: Esteban, what about that last lap when you passed your team-mate just coming around the final corner because he seemed still to be frustrated when we spoke to him half an hour ago. He was monosyllabic on the subject, not wanting to answer questions. What are the rules of engagement at Alpine? What was your interpretation of what happened on that final lap in Suzuki?
EO: Yeah, we've discussed it internally, which is the most important and we know where we are going from now. But it's been a similar thing a couple of years ago with Daniel, as I said, with Fernando. We've made those switches from one side or another and the important thing for us as a team is to maximise the result that we can get, and we try and do that in that race. Unfortunately, we didn't manage to get one more position so we made the switch back. But now we know where we're going with the team and that's the most important.
Q: Do you understand Pierre's frustration?
EO: I'm always on the side of… I prefer to race. It doesn't matter what there is to gain in front; there shouldn't be artificial racing in any way and I'm more of an old school guy on that one and I just prefer to race, doesn't matter what the circumstance is, even if there is a podium to get in front. But I also understand the side of the team, which is to try and get as many points as we can which is normal. So you need to understand both.
Q: You've been at the team for a while. Luca de Meo came to Enstone last week, spoke to the whole team including both of the drivers. How inspirational did you find that speech and was the messaging similar to previous speeches that you've listened to?
EO: Yeah, I was having performance meetings on that day and obviously, yes, I attended the speech of Luca and Luca came to reaffirm and motivate everyone inside the factory. It was good that obviously he visited us. He replied to a lot of questions as well from everyone. And, yes, of course, there's things that we need to improve and we are on the way to be doing that and I'm sure that we are going to be able to achieve it in the future.
Q: George coming to you now. More Padel here. I feel I have to start almost every conversation with a Padel conversation because it's what seems to be going on when you arrive at a new race track.
George RUSSELL: Yeah, I think golf is out the window for most of the drivers now, it's into Padel but it's such a great sport and it's good to get together and have a bit of a game before for the race.
Q: Now, I've just spoken about Pierre Gasly's frustrations after the race in Japan. You struck me as a frustrated figure as well. Having debriefed with the team and spoken to Toto Wolff, how do you reflect on that race?
GR: Yeah, I think there's not really much more to say to be honest. We were on different strategies. Obviously, when you're in the car, and obviously, as I said, straightaway emotions are running high, it's a long race, physical race, trying to make the one stop work but at the end of the day, we're on different strategies. I can circle back to Miami this year when the roles were reversed and we were on different strategies and the team came in to say, let's not hold one another up. So nothing more to say from my side.
Q: And were you happy to be on that one-stop strategy?
GR: Yeah because I think we would have finished P7 regardless, even if I was on the two-stop. It gave us a small opportunity to get a much bigger result but we knew it was definitely a long shot but I think in the position we are at the moment, in a race like that we've got to roll the dice and there was nothing gained, nothing lost.
Q: And this racetrack has got lots of fast corners, similar to Suzuka. So do you think you're going to have to roll the dice again this weekend?
GR: I think the Sprint race mixes things up a little bit but for sure McLaren are going to be really quick here I think, as we saw in Suzuka. Obviously Max will be, as always, week in, week out, so that will be a challenge. Our fight is with Ferrari at the moment. P2 in the team's championship is our goal to achieve so that's what we're chasing.
Q: Twenty points the difference between you and Ferrari. How intense is it? How predictable is it?
GR: I think it's going to be close towards the end of the season. I think there's been a lot of missed opportunities on my side this season so we should have had that sewn up already. But I'm confident we can secure that while still on the journey, putting a huge amount of emphasis on next year's car because P2 is obviously very important but making sure we hit the ground running next season is the most important.
Q: Liam, thank you for waiting, good to see you again. Can you clarify: when did you get the nod from the team that you were racing this weekend?
Liam LAWSON: On Monday. So, I was sitting at lunch and had a random number call me and it was a FaceTime. So I was really confused because people don't just FaceTime randomly so I answered it and it was just Daniel's face and he basically said that he thought he'd let me have another weekend. So yeah, obviously good to be back, good to be in the car. This weekend's a very different circuit but I'm excited.
Q: How difficult is it for you living race by race? How does it affect your preparation?
LL: To be honest, after Japan I guess it was looking more likely that we'd be driving so we just carried on preparing like normal. Obviously I didn't assume I was driving but we just prepped like a normal situation like I would be so it's a bit different. Obviously, I want to be here full time but just trying to make the most of this.
Q: And during that FaceTime on Monday, did Daniel give you any indication as to whether he'll be back for Austin? How long is he going to give you in the car effectively?
LL: I think that's definitely the target. I think that's more likely, I would say it's more likely that he would be back in Austin, but obviously I can't say for certain. But yeah, obviously, we have over a week to say to give more time to be ready for it so I would say it's probably Austin.
Q: And Liam, how are you approaching the F1 Sprint this weekend?
LL: I think it's going to be quite tough: obviously my first sprint weekend, we have less practice time. It's the same for everybody but obviously I haven't been here before so I think it's going to be different. But I'm excited to at least experiences a sprint weekend before I step back again.
Q: And what about the race track? First impressions, have you walked the track?
LL: No, not yet. I think all of us are waiting for it to be as cool as possible so we'll do that later but it looks – at least from the simulator – it looks pretty cool. It just looks very fast, lots of high speed so I don't know how we're going to fare this weekend in terms of pace, but I'm excited to drive the track.
QUESTIONS FROM THE FLOOR
Q: (David Croft – Sky Sports F1) It's a question to all of you because you've all got views on this, I'm sure, as drivers. But there's a possibility of an 11th team. The FIA have approved Andretti Racing but there's a lot of hoops to go through. But as drivers do you want to see an eleventh team on the grid. Would it be better for you in terms of racing against more drivers? And would it help drivers like yourself, Liam, who might be struggling to get into Formula 1 because the seats just aren't there at the moment?
LL: Yeah, in my situation I think, yes, it could definitely help, obviously having more cars on the grid for racing, but it's something I've never really thought about because it's always just been 10 teams like this. So yeah, honestly, I don't really know. I think, specifically for someone like me, yes, it can help make their step in Formula 1.
GR: I think Formula 1's the pinnacle and we want to see quality competition so I'm not for, I'm not against, but definitely if there were to be an extra team it's got to be a quality outfit, one that can add to the sport. And we want to see competition, in an ideal world you want to see all ten teams fighting against one another. So I'm sure F1 will come to the best conclusion and answer whatever it may be, but we've got to have quality over quantity. But as I said, I don't feel strongly.
EO: I think it's great to see that there's so many interests for Formula 1 at the moment and that the sport obviously attracts a lot of new partners, a lot of big names in general, but I don't know what the future would hold. As George said, F1 of course we will come to a conclusion soon so we should know pretty soon.
OP: Yeah, as George and Esteban have said, it's up to F1 now to decide. I think it could create opportunities for younger people coming through but yeah, as George said, it needs to be a team that is going to bring value to the sport of course, so yeah, it's up to F1.
AA: Not much more to add.
Q: (Matt Kew – Autosport) Esteban, on Luca coming to Enstone to have a chat with you, why do you think he did it now because it's a long time after Spa when there were the changes and the team performances are fine so why do you think he picked that moment to come and sort of gee everyone up and get you all motivated?
EO: But I think it's always a good thing to see your boss coming into the factory, stepping in the doors and just re-motivating or motivating everyone. I think it's a great thing, showing that the plan with Formula 1 is completely within Alpine and that really shows how much he cares about the project. So it's always the right time, there's no bad or good times, it's always the right time.
Q: (Nicolas Blasquez – AFP) Esteban, Bruno Famin has been confirmed as a team principal. Is it good for you to have more stability, or for and Pierre it doesn't change anything?
EO: The person I'm speaking to, and there is a very important topic or matter, is Bruno for me, he's my boss, obviously, at the moment, inside the team. I don't know the titles exactly but I know he's the one that I need to speak to.
Q: (Luke Smith - The Athletic) George, I have a question for you with your GPDA hat on. We're here in Qatar, we're going to be here for another ten years and obviously there are question marks over human rights and things like that during the World Cup that was a very big issue. For you, as drivers, are how do you balance up… ultimately, you are here to race and you're paid to race wherever F1 goes but also using F1 as something to help enact positive social change and coming to countries where there maybe there does need to be a bit more change?
GR: I think, first and foremost, as drivers, we put our trust in Formula 1 to help with these decisions. It's important that we do see change and I think change is happening. It obviously doesn't happen overnight. It's obviously a very important topic with many places we go to, but I think Formula 1 and sport generally can have a really positive impact for the local culture and issues that that they're facing. So yeah, I hope we're here for the right reasons.
Q: (Luke Smith - The Athletic) Just to follow up on that, is that something that you as a collective do talk about when you have these GPDA meetings as well and in your interactions with F1 or is it more a kind of every man for themselves, do they think individually?
GR: I think we've had conversations in the past. Obviously, there were the obvious issues we had in Saudi Arabia last year where we were very united with our views and our thoughts. As I said, just globally, as drivers, we are putting our faith and trust in Formula 1. I trust in Formula 1, I trust in Stefano and I do believe we're here for the right reasons and I do believe change will be happening over time.
Q: (Luke Smith – The Athletic) Oscar, it's McLaren's 60th anniversary this year, it's obviously been a big point of focus for the team. For you, in your decision to sign for McLaren, how much of its history, its heritage was in your mind? For example, going to the MTC, walking up that boulevard, seeing all of the history that you're now writing a chapter of, how important is that to you?
OP: I think it's always a nice thing to look back on and have those achievements within the team. I don't think it was a massive factor in signing for the team. Of course, I am looking much more at the present and the future of what the team can deliver. I think we've shown this year that we're on the right track. Of course, having that success in the past is always a nice thing to have, and nice to look back on and use as motivation. Obviously, championships that were won 20 or 30 years ago are not going to directly impact much of the current so it's nice to look back on but I think more the people, the team that are there currently and going into the future, that's probably a much bigger aspect.
Q: (Matt Coch – Speedcafe.com) Liam, obviously not being on the grid next year is disappointing but what does your programme next year look like? Do you have any visibility because I guess you won't be able to do the Friday sessions given your race experience now?
LL: Yeah, right now I think it's more or less being discussed and being planned out but for me, it's reserve at this stage so I'll carry on going to all the Formula 1 races but outside of that, it'll be normal simulator work. And other than that, I'm honestly not sure right now,
Q: Liam, hypothetically speaking, could you be loaned to another team, a non-Red Bull team?
LL: I don't know, honestly.