FIA Thursday press conference - United States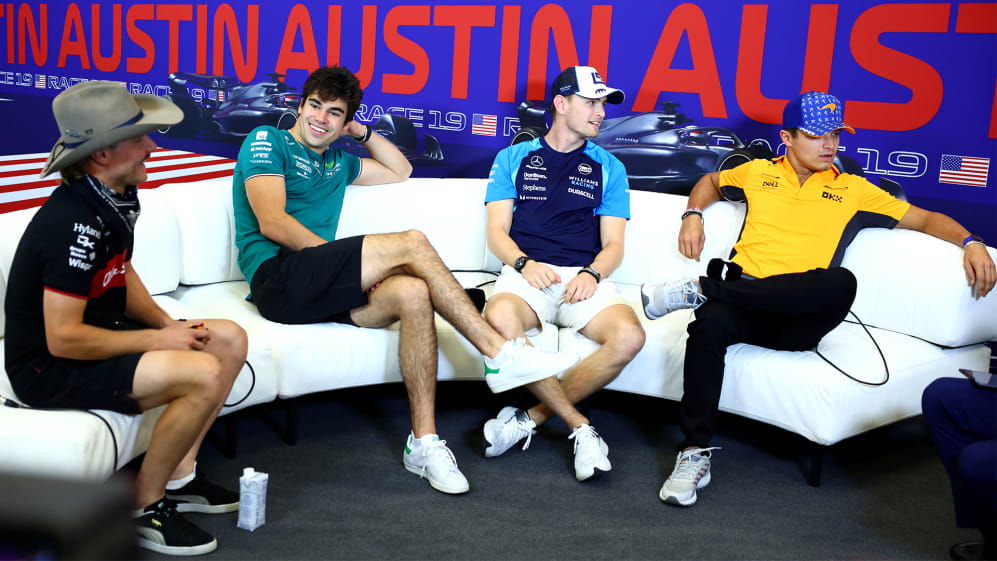 DRIVER GROUP 1 – Valtteri BOTTAS (Alfa Romeo), Carlos SAINZ (Ferrari), Lance STROLL (Aston Martin), Logan SARGEANT (Williams), Lando NORRIS (McLaren)
Q: Welcome, Logan, we can't really call you a local boy because it's not Miami, but it is your second home race of the season. Logan, just how much are you looking forward to this one?
Logan SARGEANT: Yeah, a lot for sure. It's a very good track for me with Williams; obviously joined the Driver Academy here in 2021, did my first FP1 here last year. And it's the first car track in America that I've ever driven so it's nice to be back and nice to be back in an F1 car.
Q: Well, you mentioned that FP1 last year, you did 23 laps. How crucial is that, given that we're going into a sprint weekend?
LSa: Yeah, I think it's definitely going to help, considering the sprint. It's quite a tricky track to get to grips with for sure, sector one in particular, but I think having that knowledge from last year is going to help and I think one FP – we just did it in Qatar, I didn't know that track and it was okay so all should be good.
Q: What about the car here? The Williams hasn't been updated much recently. What are your expectations?
LSa: Yeah, it's definitely been difficult. Obviously, other teams are bringing more and more upgrades. We're sticking with what we have and focusing on next year, but as Alex showed in Qatar there's always opportunity, just being in the right place, keep it clean and that's what we need to try and do. You never know until you put the car on the ground, but I'm sure it's going to be a difficult weekend as always, always fighting to try and push ourselves up the grid, but it's not easy with where we're at the moment.
Q: Well, what would it mean to get your first points in Formula 1 on home ground?
LSa: Yeah, it would be awesome. I mean, that's the goal. We're going to do everything to put ourselves in that position, obviously, two qualifyings in two races to do well and I believe we can do so.
Q: And the weather is beautiful here in Austin; it's going to be 30 degrees plus every day. Do you expect this to be as hard physically as the last race in Qatar?
LSa: I don't think that's possible. No, I think it'll be okay. I'm from America, I've never felt heat like I felt in Qatar. So yeah, I think it should be fun.
Q: Logan, how long did it take you to recover from Qatar because I remember you telling us in the press conference earlier in the year that you don't use a drinks bottle. Has there been a change of plan?
LSa: I have been using the drinks bottle from Singapore onwards. To be honest, in that heat, it wasn't really helping much. It was burning hot water. The seat was boiling or blistering hot. It was just a tricky one. But yeah, it wasn't ideal.
Q: Lance, while we're reflecting on the heat of Qatar, how did you find it? How long did it take you to get over it after the race?
Lance STROLL: Yeah, it was hot, for sure. I think we all felt it. It took me a good few days after the race to feel 100% again.
Q: Do you suffer from the same heat issues that Fernando does in the car underneath the seat?
LSt: Yeah, my ass was on fire. I think all of all of ours were!
Q: Now it was a frustrating race as well as the heat. It was a frustrating race for you because you actually finished in a points-paying position, but then because of track limits violations you dropped out of the points. Do you expect track limits to be an issue here in Austin?
LSt: For sure, there's a few corners here you've got to watch out for. I think it's something to think about at a lot of tracks now with the track limits being a challenge.
Q: And what about car performance this weekend? What can we expect?
LSt: We have a few bits coming into the car this weekend. So I hope we can be competitive.
Q: And McLaren are just 11 points behind Aston Martin now. Are you feeling to continue the heat theme? Are you feeling the heat from McLaren?
LSt: Yeah, they're quick so not ideal. We'll see what we can do from now until the end of the year.
Q: Carlos, let's come to you now. I'm enjoying the look by the way.
Carlos SAINZ: Yeah, I just wear whatever they tell me to wear but if you guys like, I like it.
Q: Tell us a little bit about what you've been up to this week. I think you came via New York, there was a Ferrari gala. How was that?
CS: Yeah, I've been also trying to recover from Qatar but not so much physically because I didn't race but mentally from not being able to take part in that race, which, in hindsight, actually, there was a race to miss probably Qatar, looking back and looks like a good one to maybe skip. But yeah, it's been a couple of days in New York with an event and getting to see the city for the first time. I had never been, believe it or not. It's been nine years on the road, travelling the world in F1 but I had never stopped in New York before so I got a couple of days there. Big, quite a bit of traffic, love the restaurants, loved Central Park but now in Austin ready to focus on what matters, at least trying to get hopefully back in the podium this weekend.
Q: You talked about not racing in Qatar. Just tell us what you did during the race. Did you get involved in strategy? Or were you just an interested observer?
CS: I was an interested observer but obviously looking at strategy and looking at… I was constantly looking where I would have been? Like the brain is always going to this race trace and saying I would have been here with my strategy, I would have tried to do this, this and then you just realise that it's not worth it because you get even more frustrated and you start thinking what if, what if, what if? Yeah, it was frustrating from a driver's perspective to watch the race from the barriers but it's how it goes. And yeah, hopefully looks like we will get a bit of a heat experience also here in Austin. Yeah, I love this track, I love how this place becomes on Saturday, Sunday with the fans and how cool it is to drive it. So yeah, I'll hopefully forget Qatar soon.
Q: Well, after the DNS, the did not start in Qatar do you have any reliability concerns coming into this weekend?
CS: No, we've changed a lot of parts in the car to try and obviously correct the issue that affected us in Qatar. We are trying also to find solutions in the long term, not only in the short term because it's definitely something that we are not happy with and we've also had issues in the past so yeah, a bit of a headache that is giving us this fuel tank now and then but yeah, we will try and put it back together this weekend and hopefully shouldn't be any issues anytime soon.
Q: Carlos, Lance has already spoken about the pace of McLaren at the moment. They're only 79 points behind Ferrari in the Constructors' championship. Lando actually said last time out that he thinks that gap can be closed. What are your thoughts?
CS: I think if we don't have any other DNS or DNFs, I think we should be able to keep them behind. Doesn't mean that they're not going to beat us. I think they're going to beat us in most of the races from here to the end of the season, if all things are aligned because they do have a very quick car nowadays and they look to be the only ones that can at certain times bother Red Bull and as we are in a track like Singapore, where maybe it's more us. But yeah, I don't know. I was playing golf yesterday with Lando and we were discussing whether they will be ahead this weekend, we will be ahead. Maybe qualifying, maybe race but basically we don't know. So let's see tomorrow.
Q: Who was ahead in the golf?
CS: We didn't compete in the end. But it was fun. We played 12 holes in Sunset so it was good fun.
Q: Valtteri coming to you now, love the Stetson although I think some people watching might have expected to see you wearing budgie smugglers. Is that right?
Valtteri BOTTAS: I could wear both.
Q: Are you wearing both?
VB: Who knows? I'll leave your imagination to decide.
Q: Now Valtteri, you've actually already been racing in the US; you were in Kansas, weren't you, I think, over the weekend? Was it the Belgian Waffle Ride? How did you get on?
VB: Correct, yeah. It's another gravel race I did with my girlfriend Tiffany and it was good. It's always seems to be the weekend before Austin so with the time difference it makes sense to come early and enjoy the event and yeah, it went well.
Q: And something else that went well was Qatar, of course, last time out: both you and Zhou finishing in the points. It had been a while. How much was that result needed by the team?
VB: Much needed. It really felt refreshing for everyone in the team because once you're doing so many races and without any points for sure, it starts to eat everybody's confidence a little bit, like you start to wonder, can you do it and now again, we proved for everyone in the team, yes, we can do it. If we get everything right, we can score. So definitely, yeah, a bit better vibe overall now and I hope that can carry for a bit better end of the season.
Q: Can it carry to this weekend? Do you think the COTA circuit will suit you?
VB: It is so hard to predict because the gaps are so small but at least now we've learned a lot more about the upgrades we introduced and we even have some new bits for this race so we'll find out very soon.
Q: Lando, thank you for waiting. Let's start with 100 races. That is more than Sir Jackie Stewart did in his entire career. Just how proud are you of that milestone?
Lando NORRIS: Yeah, pretty proud. I don't think many people in the world get to achieve such a thing. So that and also people who do enter Formula 1, not many people get to stay for a full 100. So I do want to stay for many more and I think that's still my next target. But 100 races, a lot of ups and downs, a lot of great memories. Good success so pleasant journey so far.
Q: Good memories, good success. Give us your best race so far.
LN: I don't know, I don't know what would be my best race. The obvious ones are always the podium ones. First pole position, first podium in Formula 1 are those ones you always remember. Maybe not the best. I think if I looked at results, certain other races, the one-two with Daniel in '21. Two races this year have been just very enjoyable, very strong. So many good ones, different places, Silverstone probably being one of the biggest highlights of it all, being my home race. So yeah, a lot of good ones. But ones I'm still trying to override by getting that first win.
Q: Well, what about this weekend? You're on a run, you've had three consecutive podiums coming into this weekend? How confident are you here in Austin?
LN: Not so confident. Just a lot more slow speed corners, which is not our strength. I think it's tough when you look at it. If we look at Singapore, obviously we're not bad in Singapore, clearly not as strong as Ferrari but still not a bad race. But we know on these types of circuits, Mercedes is going to be very strong, Ferrari is going to be very strong, Aston, here in the past have been very strong. It's just not a track… like we knew when we went to Qatar it was going to be a track which really suited us: a lot of medium high speed which is where we're very strong and almost on par with Red Bull. Less of that here and a lot more slow speed so I'm definitely not as confident but nevertheless, I'm not saying it's going to be a bad weekend. I think we can still fight. It's just going to be a much bigger fight, I think.
Q: You're having such a good run. I'm sorry to remind you of just a bad moment but in Qatar, qualifying didn't go so well for you with the track limits issues in Q3. Sorry to remind you that but as we go into qualifying here in Austin, does it require a change of doing something different in the cockpit? Are you going to do anything? Are you going to… tell us about your approach for qualifying?
LN: Honestly, I'm not going to change that much. The margins are so small and yeah, the thing which made it all worse is I was… not easily but… I should have been on pole in both… I say both occasions, definitely for Saturday, maybe not so much for Sunday, but at worst, I should have been first and second or second and first. So when I realised what could have been, and what should have been then coming to the race, how strong our race pace was on Sunday and at parts quicker than the Red Bull, I feel like there was a lot of missed opportunities from my side but at the same time, there's been plenty of other races this weekend where I've not made mistakes and I feel like I've performed very well but obviously the ones which always picked up all the bad cases, so yeah, I made the mistakes, I was frustrated at the time. I've moved on and I guess, yeah, it happens to everyone but I'll try and make sure it doesn't happen again.
QUESTIONS FROM THE FLOOR
Q: (David Croft – Sky Sports F1) To all the drivers except Carlos, for obvious reasons, because it's about Qatar. One of the by-products of what transpired in Qatar was that you were able to push for a lot more laps than you normally would in the Grand Prix race. So as drivers, do you prefer to go out and race hard and push like that and have more pitstops or would you prefer a Formula 1 where tyre management is very much the order of the day, and less pitstops?
LN: I like a mixture to be honest, I like both. You normally prefer the ones which are like this. I did enjoy Qatar just with racing, with the pitstops, more to do with strategy, things like that. I enjoy that side. I also enjoy the races where you have to look after the tyres and manage things. Having both is good, I don't think you just would want one of them. I feel like that's more prescribed racing rather than just natural racing. So it depends on circuits and characteristics, tyre wear, all of those things. But I enjoyed Qatar, just the conditions were obviously very tough, that's what made it so tricky. But it was more the temperature which made it tough. Of course, three pitstops, that can happen in any race we ever do but the conditions in that just made it even tougher.
LSa: Yeah, I think really similar to what Lando said. It's circuit-dependent and, yeah, a mixture is always good. But I think on that day in particular, I definitely would have taken a managed race.
LSt: Yeah, I think variety is cool. Just from kind of my point of view, I just think it's cool when we have wear management races versus kind of thermal management races, where the tyres are very thermally sensitive at some tracks and we're just managing that aspect of the tyre can be kind of dull and make racing a little bit boring but when it's more of a wear management race, then we can push and have to manage how much we push because the tyres are wearing out rather than thermally overheating. I think those races are better.
VB: I think naturally, you always want to push but on the other hand, that tyre management is another skill that you can make a difference as a driver. So again, for me same thing: a nice mixture is probably the ideal one.
Q: Carlos, I know you weren't in the race, but as an observer, did you like what you saw?
CS: I like from the outset, I like the three stop race. I didn't like that it was restricted to a number of laps because you could predict when everyone was stopping so I think there's some aspects of that race that looked interesting, like how much the drivers had to push and how many times you had to go through pits to then come back to the field a bit and find yourself in traffic and having to overtake but having the restricted laps on each tyre was… If you knew which tyre was everyone on you knew which lap they were going to stop. So almost there was not as much flexibility on the strategy as it looked from the outside. So yeah, hopefully the future is more on the side of pushing a bit more but two/three-stop races. Normally the best races in F1 are when it's just on the gap between a one and a two stop, like maybe we saw Suzuka or the tracks where the two strategies are as quick as each other and it's whoever optimises their own choice what makes it better or between two and a three. When it's in between, that's when the racing is good.
Q: (Mandy Curi – Motorsport.com) Do you think the drivers' health has been overlooked or forgotten in terms of the effects of things like porpoising and then lately the issues that you guys endured in Qatar?
VB: I think in short answer, no. I think the FIA, Formula 1 they did take things seriously after the race. It was always going to be a hot race but to be that big of a struggle for many drivers, that was a little bit unpredictable. It was just how humidity got that day, I think caught everybody out. I'm sure it's going to be a talking point in the drivers' meeting and going forward. So I think they are taking things seriously.
LN: No. I think they're doing a good job. I don't think anyone expected it to be as bad as what it was in Qatar. I think more can be done but I think they're fine. Also with the porpoising, no one knew it was really going to happen necessarily, probably apart from Red Bull. But they did the necessary things to limit it.
Q: (Andrew Benson – BBC) Carlos, this is for you. How are you thinking about your season, assessing your season so far with Ferrari? And where's your head at, at the moment, looking into your next contract? Do you want to stay? What are you thinking about?
CS: Yeah, answering the first part, I think it's been a decent season overall. I was feeling good with the car straight away from the beginning of the season. Then, going through this first phase of the year, where we were trying to understand where we were, why we were suddenly half a second off Red Bull. Why at other circuits we were nearly on pole. I think understanding what was going on and what had Red Bull done to all of us, which was to, all of a sudden, dominate the way they were doing. First part was obviously a bit under expectations, but then we put our heads down and we started working well, and we nailed the opportunity when it came in Singapore. And I think that means a lot for us this year. Where I'm at is that I'm comfortable. I'm happy in Ferrari. I trust the team. I see positive steps being taken in the right direction. I see a committed team working in the right direction. And I've always said, I'm happy here and that the winter was going to be a good time to sit down and see if we can come to an agreement for the future. Which, if they're happy with me, and I'm happy with them, shouldn't be too much of a problem. And yeah, it's hopefully going to happen this winter. And if not, it will drag for longer. But let's see.
Q: (Alex Kalinauckas – Autosport) A question to Carlos and to Lando, please. Very soon F1 heads to another new race in America, in Las Vegas. And I just wondered, what preparation work will you be doing for that race? What have you done already and have your teams briefed you much yet in terms of what to expect with the very cold conditions? Can things like that be programmed into your simulators for you to adapt to?
LN: I don't think, honestly, there's a lot more you do than normal. I've already done my simulator work for Vegas. The temperature is one to prepare for, both in terms of a driver's hands. You know, you need your hands to work well when you're driving, so being on top of all of that is something we're already looking into – just simple things sometimes, with hand warmers and gloves and whatever. Apart from that, no… Learning how to play poker, things like that!
CS: Yeah, same. I've done my simulator session already. Must have been 50 or 60 laps, which is normally what I like to do when it's a new track. And then I think the big thing there, as you said, will be the temperature and how the tyres behave in those temperatures. Also, given the track layout – very long straights – so, a tyre will cool down on those straights and then getting into a corner on a very low downforce setting, like we're expecting in Vegas, on a cold tyre, on a new surface, I think there could be many variables for tyres and temperatures in general to be a big talking point that weekend. And graining, if it's very cold, like we've seen in winter testing… Not in Bahrain, but in other venues. So yeah, I think those are the things we will be keeping an eye on, but until we get there… You can be as prepared as you want, but until you see what happens on the car, you cannot react.
Q: (Ben Hunt – The Sun) A question for Lance. Obviously, the last race was quite frustrating for you – you got the ticking off from the FIA. I just wondered whether you've patched things up with the person that you were pushing around at the back of the garage, we saw the TV pictures. I just wondered: have you sorted that relationship? Do you still enjoy being in F1?
LSt: Yes and yes.
Q: (Jim Vertuno - Associated Press) Logan, I'm just wondering what is Williams telling you their expectations are over these last five races? And are you feeling any pressure at this point in the season to deliver anything before the season's over?
LS: Not to deliver anything special but just to be consistent and clean. And that's been the message. That's all my goal is; to just have consistent clean weekends and try to be on the limit of what the car gives me.
Q: (Bob Varsha – Speed City F1) Lando, a question for you. Last time out in Qatar, your team produced the fastest pit stop in Formula 1 history. Was that due to any specific changes that you made? Or is it some other reason? And I'd like to hear from the other drivers, as well about how much time their teams devote to quick pit stops?
LN: No, nothing, nothing in particular, just hard work, I guess, is probably the best answer for it. It's something that the mechanics and everyone… I guess we have a whole team for it, here and back at the factory that do a lot of work with many people involved. But there's a lot of people involved in pit stops, it's not just simply the mechanics, you know, but the reviews and the equipment and everything, and it's something we've spent a lot of time over the last few years… And I say years, it's not like just suddenly the guys focus on pit stops and you do better you know, it's complicated. It's a tricky process to improve on. But, you know, over the years, and especially this year, the guys have done an excellent job of making that next big step to challenging, I think it was Red Bull, really. If you look at the top 30 fastest pit stops, like 25 were Red Bull. But we've got better and better and especially this year we've put in some very good performances, and even last year at times. So, just hard work is the best answer. Just like a driver doing a good job on track, it's the same for the mechanics with the pit stops. They look at the data, the analysis, they look at trying to improve every area possible, being physically fit enough, you know, all those things. There's no short answer for really anything in Formula 1. Just that and hitting my marks. Doing the simple things make a big difference sometimes. But impressive, you know, in a time when the pit stop almost should be slower than ever before because of heavier tyres and the limited things you're allowed with the equipment, no trick things like some teams had in the past. There's almost no way that they should be as quick as what they were, so I think that's another hats off to all the crew.
Q: (Niharika Ghorpade – SportsKeeda) A question to Logan. Looking throughout your junior career, you seem to have had the upper edge in qualifying, even against the likes of Oscar, Liam. Has it been a big surprise that you haven't been able to replicate the same in Formula 1? And where do you think you're lacking at the moment? And what needs to be improved?
LSa: Yeah, it's definitely been frustrating at times, for sure. It's always been one of my best things in the past. It's been frustrating at times. But at the same time I feel like since the summer break, I've really sort of found the speed again. It's just trying to put it all together when it matters is key, and especially you only get one lap at it in quali and it's either good or not. And that's the difficulty. But I feel like it is coming back to me.
Q: (Ian Parkes – New York Times) A question to Carlos. You mentioned at the very start that you said you had to mentally recover from not starting the race in Qatar. I appreciate no driver ever going to be happy not starting a Grand Prix. But what have you had to process to overcome what happened in Qatar?
CS: No, I was joking. Honestly, when it comes to this kind of thing, for me, it's a lot easier to recover. So, how do I explain it? When you have an issue that is out of your control, I feel like the day that that happens, you struggle more. You're more frustrated, against the world, against whatever happened, because you cannot control it, you feel a bit powerless and that day, Sunday, when it happens, you really are upset. But then Monday morning, after a good night's sleep you're like 'well, nothing could have happened, focus on the next one'. I find that relatively easy. On the other hand, when you know you've done a mistake, I find it more difficult to turn the page and I spend a few days dwelling a bit on what could I have done and how could I have avoided that mistake and what I could have done differently. Yeah, I think those are two differences. And that's why maybe Qatar heard a bit more because I couldn't even start and you go all the way, flying around the world, to not even start the race and you put in all that effort, it's frustrating. But then, Monday, I was honestly ready. That's why I said it, it was actually a bit in a joking manner.
DRIVER GROUP 2 – Lewis HAMILTON (Mercedes), Daniel RICCIARDO (AlphaTauri), Kevin MAGNUSSEN (Haas), Charles LECLERC (Ferrari), Max VERSTAPPEN (Red Bull)
Q: Daniel, it's good to see you. It's been five races. Welcome back. How are you? How's the hand?
Daniel RICCIARDO: I'm well. I'm very happy to be back. Thanks for asking. The hand is good. And yeah, I just want to get back to it now. It's nice. People ask me about it. It's nice. But I've also answered a lot of questions about it. So it's good.
Q: One more then. How tough has the recuperation been?
DR: Well, I would say, tougher than I thought. But I'm probably a bit of a wuss as well. So maybe not tougher than I thought! But yeah, I think it was really just when the accident happened, and we were aware of what bone broke, they seemed fairly OK with that bone, in terms of 'oh yeah, it's a relatively easy one', to let's say, fix. But then, yeah, when we got the surgery done in Spain, we got further checks done and it was just the break was a lot worse than it first seemed. So I think that's what took a lot longer for the recovery, and probably made it a little more painful for myself.
Q: And what about the car? It's changed quite a lot while you've been out of it. What are you expecting?
DR: So, I went out to Singapore where they had some pretty big updates. And that was actually a pretty positive weekend for the team. So that looked good. And the drivers were saying that they could feel some good differences. So yeah, I'm expecting a car that is a little stronger than where I left it. But I mean, it's going to be the third race I've done this year, so I'm still very green for this season. But in saying that, I'm not using that as an excuse, but yeah, everything kind of still feels new to me.
Q: Do you think Liam Lawson has done a good job?
DR: Yes. One does. He did a very good job.
Q: Lewis, can we come to you next. Sorry to kick things off by throwing it back to what was your most frustrating weekend of the season, in Qatar. Your first DNF, your first non-point scoring race. How do you reflect on it?
Lewis HAMILTON: Move forwards. Yeah, just excited to get… You know, the great thing about our sport is that there's always another day to get back on the horse and just been pushing, moving forwards and nothing I can do about the past. There's definitely things we can learn from, I can learn from, which I have, and just now focused on getting back in and excited for these next races that come, especially the back-to-backs.
Q: You talk about learning things. After the collision with George, you received a penalty for crossing the track and the FIA is now reviewing this type of infringement. Would you welcome any potential changes?
LH: Well, I mean, they have spoken to me and their actual point is, and I think it's important, it was just really, when I sat in the meeting, or in the stewards' office, obviously I put my hands up. In the heat of the moment, it was the wrong decision. And what's important is to send the right message, particularly for the younger drivers, throughout the ages, that that's not the thing to do. And I apologised at the time. And I think they're just looking at how to make sure that doesn't happen moving forwards.
Q: OK, let's move forward ourselves. Let's look at this weekend. You've got a new floor on the car. Carlos Sainz was telling us earlier that he thinks you're going to be very strong this weekend. Just what are you hoping for?
LH: Well, it's been a huge amount of work back at the factory. This is our last big update, or the biggest of the large updates through the season, and I'm really excited to see how it feels. All the amazing people back at the factory have worked incredibly hard during the whole season and hopefully this really kind of tips the needle a little bit and helps us in the right direction of where we want to pursue next year. But yeah, I don't know exactly all the different parts of the circuit that I'll feel it. But hopefully it's a global improvement and hopefully puts us a little bit closer to the guys ahead.
Q: Now talking of upgrades, Kevin, you have the upgrade package, finally, this weekend. What are you expecting?
Kevin MAGNUSSEN: Yeah, it's good. It's nice to see the upgrade on the car, finally. We haven't had many upgrades to the car this year. It's been a tough year in terms of just finding performance. The guys have been really struggling this year to make gains on the car we've had. And, you know, I think this upgrade is an exciting one, because it's very different. On paper, it's not actually meant to be more downforce as such, but it's a new concept. And it's hopefully the concept that we'll be using for next year's car. And, you know, if it's not a big gain in performance, then at least It's some good learning and research into next year,
Q: Where do you need the car to be better?
KM: I think a big problem with our car this year has been that it doesn't treat the tyres very well in the race. So, we'll just struggle with tyre life in the races. The pace that other people are able to maintain, we seem to fall off much more and that problem might be – although you're not putting extra downforce, like, peak downforce – if you can better the characteristics of the car, the through-corner balance and, you know, hopefully, the structure and the strength of the flow on the car, that could solve that issue or help that issue. So that's, of course, what we're hoping for. Yeah, nonetheless, it's exciting.
Q: Hope it works for you. Charles, coming to you now. In terms of performance, the Ferrari wasn't massively quick last time out in Qatar. Do you think you'll be closer this weekend?
Charles LECLERC: Well, I hope so. I think on paper, Qatar was probably one of the worst tracks for us, for the conditions, but also for the track characteristics in itself. Having said that, I think on Sprint weekends, the thing that has the most influence is how your FP1 goes, because then from FP1 you cannot change the car anymore. So the priority is to start FP1 strongly, and then to take the right decision with the set-up. And we know that this is crucial for the rest of the weekend. Much more than our car characteristic fitting the track.
Q: There's three very different sectors here. You've got the fast sweeps of Sector 1, then you've got the long straight in Sector 2 and then the twists at the end of the lap. Where is your focus in terms of car set-up?
CL: Well, the high-speed is where you need confidence, that's clear. But where we've been lacking a bit more in the last few races was the medium, slow-speed corners. So this is where we'll be focusing more.
Q: Best of luck. And Max, coming to you. Have you had time to have a title celebration since Qatar? Was there a big party?
Max VERSTAPPEN: I mean, nothing major, just a little bit with friends. And I mean, it was also just nice to be home a little bit before you know heading into this triple-header. So yeah, nothing too crazy.
Q: What about this weekend? You have a great record here at COTA, you've won the last two races. Do you feel you come into the weekend as the man to beat?
MV: Well, I mean, looking at the season, yes, but it's a Sprint weekend. We have to nail FP1 to make sure that the car is working well for qualifying. So yeah, a bit early to say anything at the moment.
Q: If you win on Sunday, it will be win number 50 of your career. That's a milestone!
MV: Yeah, it's a nice number that I never thought I would hit. But now that we are getting close to it, I mean, we want to, of course, try and expand a little bit more. But yeah, we'll see. I mean, it's more important that we just focus on the weekend, not on the number.
QUESTIONS FROM THE FLOOR
Q: (David Croft – Sky Sports F1) Lewis, a question for you. Let's go back to Qatar. While I understand why the FIA would look into their processes and would want to examine whether they could have done better with that incident, what I didn't get was why they needed to speak to you again, given that you'd apologised and held your hands up at the time? Do you understand why the FIA would want to speak to you again? Or do you think because of your status as the most high-profile driver in the sport at the moment you're singled out a little bit by the governing body for wanting to speak to you on this matter?
LH: No, I don't think I was singled out. I think, ultimately, it was just poor communication. I don't think what they had said is exactly what they meant. I think what they mean is that they're just going to look into how they can tackle those sorts of things moving forwards to make sure that it doesn't happen. And I mean, if you look at it, I think there was a karting incident recently where a kid was hit. So we really need to make sure that we're continuously focusing on safety. And I think that's really at the core, at the root of it, but I just think they probably need to speak to their PR agent to do a better job.
Q: (Rebecca Clancy – The Times) A question to all drivers, please. The FIA have announced today that the fine drivers can receive has been increased from €250,000 to €1,000,000. I just want to get your response to that, please. And if that sum – I'm guessing some of you didn't know – if that sum would make you think twice – I mean, I know you don't do it deliberately – but if it would make you think twice before committing an offence?
MV: I would like to know what that offence can be! One mil! If touching a rear wing is €50k, then I would like to know what one mill is. Then maybe we can also sponsor the bottles of wine. I'll get ready.
CL: It is a huge amount of money, so again, I have no idea about what deserves a $1 million penalty – but it's more than… I mean, some drivers are making less than that, so it's a lot of money and… yeah… I don't know.
KM: Yeah, I don't know what offence it is to be a million but that sounds ridiculous. I mean, Charles can give his watch – but I would disappear, never to be found again.
DR: I don't think much more to say. That's the first I'd heard. I think it's the first we all heard. So. Yep. Not sure. Scary!
LH: Similar to the guys. It's the first time I've heard of it. So I'm not really sure what it's referring to exactly. I think we need to… when it comes to things like this I really do think we need to be thinking about the message that this sends out to those that are watching. If they are going to fining people a million, let's make sure one hundred per cent of that goes to a cause. There's a lot of money in this whole industry and a lot more that we need to do in terms of creating better accessibility, better diversity, more opportunities for people who wouldn't normally have the opportunity to get into a sport like this. So many causes around the world. That's the only way they'll get that million from me.
Q: (Luke Smith – The Athletic) Daniel, a question for you. You love the Austin Grand Prix and the identity that this race has built up over the years, it's been such a strong pull. We're going to Vegas in a few weeks, we've got Miami on calendar as well but is this race always going to hold a special place for Formula 1 because of the identity is built-up and entrenched in the last decade?
DR: I believe so. Definitely. You know, I also welcome Miami and Vegas and anything else that comes up in the future, for sure – but this was… yeah, it feels like it has built up that identity of the American Grand Prix. It certainly feels very America out here. And yeah, I think it's something that we've all enjoyed and got behind. And I saw previously I think, Valtteri wearing the cowboy hat in the press conference and Zhou was, I think, looking pretty cowboy coming into the circuit this morning and all that. So, yeah, we all do love it, we get behind it. I think also the facility, the circuit, everything, the whole event is huge. I think last year was 400,000 over the course of the weekend, or something like that. So not only us drivers but everyone loves it. I think they extended it a couple years ago, was it? I think they named like a contract extension, which made me very happy. And yeah, it's a special thing. Even just having a circuit that's close to a city, you know? All us being able to stay downtown and experiencing a little bit of the culture of the city, as opposed to some circuits we stay in motor homes in a paddock and don't really see anything. I think that's also a really nice thing with this race.
Q: (Elizabeth Blackstock – Jalopnik) Lewis, I have a question for you. You've seen the ebb and flow of the popularity of motorsport, and especially F1, as it stands in America. We've had this recent growth spurt. How do we sustain that – and is this a lot different than what you've seen in the past?
LH: Well, thank you for the question. I mean, it's a very good question. I would probably be running the sport if I knew all the answers to that – but I think it's continuing to engage with the outside world and, and as I was mentioned before, really creating more accessibility. I think before, when I used to come out to the States, like 2007, the first time out here, and for many, many years, every time we stepped for that one race, that sometimes did and sometimes didn't happen in the years, you always find yourself just repeating yourself, educating. I couldn't fully understand when I went to NFL games, NBA games, seeing how passionate the Americans are about sport, how they hadn't yet caught the bug that many of us grew up catching when we were younger. And so it's been really, really amazing to see that so many, the whole country, really, a large portion of the country is now speaking about it. People own simulators, everyone wants to be a driver! So, it's been great to see. And I think we have to continue to look at what is next. I think having the three races out here in such a huge nation, I think is massively helpful. This is one of my favourite tracks, actually. Often when they build new circuits, they're not really like the classics. But this is a classic from the get-go. And it's one that enables us to have great races. And, you know, when you got up to up to Turn 1, you see that huge crowd, it's really quite amazing. So, it'll be interesting to see… I think, within our sport, we have to continue to work on making sure we're having close racing, because I think you've seen the social engagement drop a huge amount this year being that… so, it's obviously heavily impacted on competition. People want to see that. So, we have to make sure that we're making the right decisions, or the governing body is making the right decisions, to keep us close and great racing right to the end. We need to more grandstands. I don't know whether we need to lower the cost but maybe, I don't know. And then just looking in these different places, making sure that when we go into these different countries, we're working also on the impact, not just a circus that arrives and leaves a mess behind. But looking at how we can really leave a legacy behind in each of these places that we go to.
Q: (Christian Menath – Motorsport-magazin.com) Question for Max. It's one year now since Dietrich Mateschitz passed away and there seems to be a battle for power within the team now. How would you describe the mood in the team after everything should be fine having won both championships? So how would you describe the mood? And second part of the question, would you like to work with Helmut Marko in the future? Thanks.
MV: Yeah, I saw that from the outside people were trying to basically talk some BS, because I think the mood in the team is very good. Everyone knows exactly what their role is. And of course, you know, sad times last year when Dietrich passed away, but you know, we tried to keep that legacy, keep moving it forward. And everyone that we have right now in the team is very important to that success that we're having. So that's why there are also no changes for the future. So, I think that basically explains it.
Q: (Alex Kalinauckas – Autosport) Question to Kevin, please. Is a year on since the Haas team announced the title sponsorship deal that you've got with MoneyGram? I just wondered, from your point of view, has that changed the team much? Does it feel very different comparing 2022 to 2023?
KM: Yeah, it has. I mean, it's a good sponsorship. It's money – and we all know what that means in Formula 1. I think the situation we have right now, where we have five races left of the season, and we're bringing a fairly substantial upgrade, that is something that wouldn't have happened in in the past. We haven't brought many upgrades this year, but that's because the team hasn't found the improvements that justified producing a big upgrade and spending that money for not a big gain. So, you know, they've changed concept and they're now finding much more in the wind tunnel and it looks much more promising in the future development. So, bringing this upgrade with a few races to go is a very positive thing. You know, as I said, of course we hopefully it will improve our pace on track right now but even if it isn't, then it's still very good learning and very good research for next year's development.
Q: (Ronald Vording – Motorsport.com) It's a question to Max. One more on possibly getting your F1 win number 50 this weekend. Out of the 49 so far, which one is the most special to you personally – and it can be a different race – which one is the best in terms of your personal performance?
MV: I don't know. I think they're all just beautiful in a different way. But I think the very first one probably was the most emotional one – because that's what you always tried to achieve. And I think that was definitely a very special day for me and my family at the time. But to pick another one, it's tough. It's just about also enjoying the moment. I mean, maybe you think about it a bit more later on in your career, but not now.
Q: (Niharika Ghorpade – Sportskeeda) Question for Daniel. Your marketing and PR value have often clouded the narrative surrounding you. Do you think that undermines the driving talent that you've been on the grid, particularly in recent years?
DR: I would say, in short, no, I think, look, we've all certainly… all of our profiles have grown, in the last few years, in particular, since Drive to Survive. So we've all kind of felt a bit of that. I think just me with my personality, and also just having some fun with the sport. Yeah, that probably got a little bigger as well, because of that. It draws a few LOLs every now and then but I think generally, first and foremost, I certainly see myself as a race car driver, not an entertainer or anything like that. It is funny sometimes, people come up to me like: 'you were great in that season' and I'm: 'racing season – or Drive to Survive season?' So yeah, for sure, to some, we're maybe not all viewed as race car drivers. But yeah, it's just it's part of it. But I think we're all also, as I said, building profiles and a bit of a brand, but it's not anything that's taken away from the racing side of it. And that's first and foremost. And I think that's, for sure, through all of this, it can maybe get away from you a little bit of time so me coming back into it this year and having a little bit of that time off, it certainly made me kind of just figure out what I'm about, I guess, moving forward and how I want to go racing. Probably just removing a few things and kind of going back to a little bit of the basics. And yeah, just making sure that I am seen as a as a race car driver who's still hungry and determined and not someone who's just here for a good time.
Q: (Mark Cipollone – Autoracing1) I don't know if this should go to Lewis or Max or whoever wants to take it but track limits have been an issue and it's kind of gotten ridiculous at some of the tracks. And the FIA President is blaming the tracks saying 'you're doing to lose your race.' But is it the track's fault? Or is it the drivers'? You know, the accelerator works both ways, right? So, is it the drivers' fault or the track's fault? Or is there a solution to this?
MV: I will happily let anyone else drive my car, see if they can do better with track limits! Some tracks, yeah, just a lot of runoff, so naturally you are a bit… you find probably the limits a bit easier because we never really talk about track limits, for example, in Suzuka and that's probably a bit more of an old school track. So, for sure, yeah, the latest kind of track standards, they have a thing to do with it and it's a bit of a shame – because I feel like with some of these new tracks that you're more focused on a Quali lap to not go over a white line than actually finding the limit or just the pure enjoyment of pushing. It's more like you're looking at: 'did I make it or not?' Oh, yeah, I made it. It's a bit odd. We need to do a better job because I think this weekend will be the same story.
CL: Very similar thinking. I think there are some tracks that are much more difficult to manage than others. I think Qatar was one of those. I think here will be one of those too. I've always preferred, in the past, to use the red and white kerb because this is a reference that we can actually feel inside the car, whereas the white line… we are so low in the car that it's very difficult to see exactly where we are. If we are two centimetres out or exactly on the line is very difficult, whereas with the kerb, you can feel it much more what's going on and it's a better reference. But yeah, now it's been quite a long time that we are staying on the white line and is the way it is at the moment. We just need to try and find a way, especially with the way the kerbs are done and the tracks are made, in order to help each other, for it to become less of an issue in the future.
Q: (Luke Smith – The Athletic) Lewis to follow up on Elizabeth's question about F1 in the United States, can I get your thoughts on what both Las Vegas as a race, and also the movie you're working on are going to do for F1 in the US and taking things more mainstream?
LH: Actually, I should have actually mentioned that before. The movie is a huge step in that direction of broadening the horizon. I think that's really part of the new leadership, with Liberty, with the great work that Stefano and Greg are doing in being open to trying new things. And the fact that we're allowed to do this movie, and have the concessions in terms of allowing an extra team being on track and filming with these film stars is… it's never been done before. And it's great that we are embarking on things that we've never done before. And I think honestly, I really think they're doing an amazing job. Vegas is… there's going to be a huge spotlight on Vegas. And that will play an important part of our movie also, which we're really just working as hard as we can to make sure that it's a true reflection of this legendary sport. Both the old and the new. And also Miami, we've got these great cities here, with amazing fan bases in each of them, all providing a different atmosphere. I always felt that we needed more than one race here because the complaint was always people having to get up at 4 or 5AM or something, in the middle of the night to watch a Grand Prix. So, it's really difficult to get into it. And then also, it's only coming to the country once a year. So, I think this is really enabling it to be something with a buzz that's continuing. But we do have to continue to grow. And I think the movie particularly is going to help do that. It is the only truly international or global sport. And so we need to educate more and more people in it. There's still many people out there we've got to get to catch the bug. And there's plenty of growing to do.
Q: (Matt Coch – Speedcafe.com) One to Daniel, and if I may sneak it to Kevin as well. Liam Lawson obviously has had a taste of F1 now. What conversations have you had with him about, I guess, looking like he's going to sit next year out, and coming back to the sport? And then Daniel, if you could just expand on your thoughts of his little cameo in recent races, please.
DR: I don't know why you're not in Texas with that beard! It's kind of disappointing mate – you'd fit in well. So, Liam did a great job for sure. I think in terms of him, let's say, currently now having a seat next year, it's one of those ones where he's young, it's not like he's at the end of his career, he's very much in the early part of his career, so keep assisting, keep your head down. I think he did very well to create an opportunity for himself, so I think if he keeps on that course, his time will come. That's really it. We always feel, as drivers, we all obviously believe in ourselves so much that you always feel like you're ready. And why isn't it happening yet? Your career can be very long, I guess. It's not over. I mean, he's young. He's 21 or something. I'm sure he'll find a way on the grid if he keeps up what he's been doing.
Q: Kevin, sitting time out and then coming back?
KM: Yeah, I don't know what Liam's deal is but you know, certainly, he did a good job in those races that he did. So, I think all to play for him, I guess.