Feature
FIA Volunteers Weekend – What it means to marshal at the Monaco Grand Prix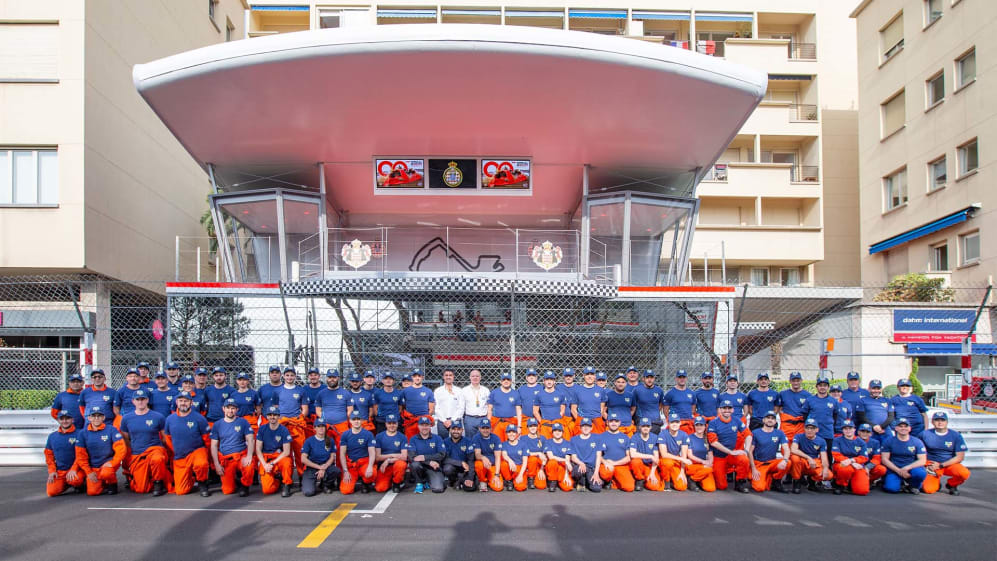 This weekend the FIA and motor sport worldwide will pay tribute to the amazing volunteers who selflessly give up time and energy to make motor sport happen around the world. As the celebration of their efforts begins, Jean Michel Matas, Chief Marshal at Formula 1's most famous race, the Monaco Grand Prix, reveals the commitment and intense training required to maintain safety and fairness on the streets of Monte Carlo. He also explains why volunteering at any motor sport event provides a unique perspective on racing and the men and women who compete...
When did you first start volunteering and why?
I started as a marshal at the 'S' near the swimming pool here in Monaco in 1972. Little by little I climbed the ranks until I became director. Back then I was actually competing in rallies, but I had a really bad accident which forced me to stick to the organisational side of things. It's been 47 years now.
How many marshals and volunteers are there for the Monaco Grand Prix?
There are 673 marshals in total. Of those, 39 are women. We see more and more women getting involved. This year, we even have mothers on the team who came back from maternity leave because they are just so passionate about the sport and wanted to remain involved.
What qualities are necessary to become a marshal in Monaco?
I'm sure it is not unique to Monaco, but we do expect them to be serious and to show a high level of commitment. It is volunteering, but commitment is still crucial. We expect them to be rigorous and to show discipline.
They also have to show dedication to the Automobile Club of Monaco. I'm not sure if it's the same in the other countries, but the marshals' organisation here represents the Automobile Club of Monaco. They are part of the club and so have to contribute to the strong positive image of the ACM.
The key word for us, at the end of the day, is not necessarily 'discipline' but 'safety' – their own safety, the safety of the drivers, the safety of the crowd. We don't want to see anyone hurt. It happens sadly, because it's a dangerous sport, but we are there to minimise that possibility. This is a city circuit; the cars go so close to the rails – there has to be extensive, strict training.
What training do they undertake?
They are required to take part in a training session approximately one month before the Grand Prix. Everyone goes through it, even the chiefs. There's a timed circuit, where they have two minutes to do a set list of tasks. It's not the Olympic games, but it enables us to judge their aptitude: their balance, attention and, of course, speed when climbing over the rails.
There are many different elements – some involve going over the barriers, some involve lifting the cars with cranes. We deal with interventions, pulling cars, learning how to turn cars over if they are upside down, as well as retrieving debris from the circuit. There are, of course, communication elements too. They learn how to do all of this and are assessed on their performances. Their performance is filmed, we show them the results, and follow it up with a debrief.
The chief marshals are also judged each year. Everyone has to retake the tests. It's compulsory. It doesn't matter whether you have been chief marshal for 15 years, you still have to take the tests and show you are physically and mentally capable of handling the responsibility of keeping the drivers and the event safe.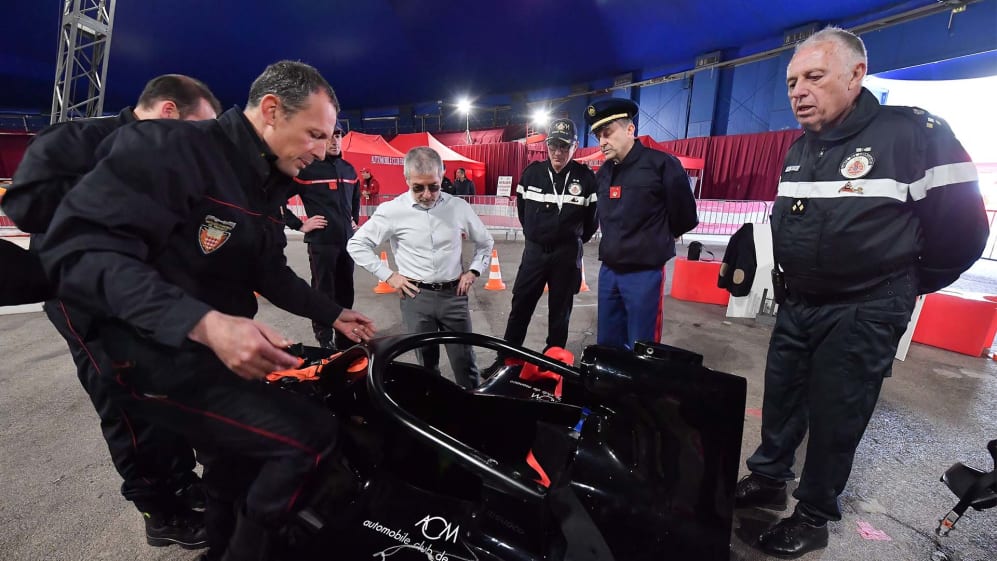 That's the physical part of the role, but what about their grasp of the regulations?
We have a special training session for flag marshals, where we set up a mini-circuit around Monaco, and do test runs of all the different scenarios – with electric cars. There are 8-10 different spots, and as the cars go around the track 'Race Control' will give them orders for different scenarios – yellow flag, safety car etc.
Can you describe the responsibility you feel looking after the safety of racing drivers?
The marshals are really attached to the drivers. It's visceral. They love to see them and have the chance to be near them. They know they aren't allowed to bother them, even if deep down the marshals are also massive racing fans who would love to get a hat autographed.
They have immense respect for the drivers. And likewise, the drivers definitely respect the marshals and their work. They have huge trust in us and the drivers are confident that our marshals' work is quick, precise and measured.
Everything is organised with extreme precision. The flag marshals are located within direct sight of each other; every angle is covered. Even if they have all sorts of technology in the cars now, flag marshals are still extremely important.
We're currently celebrating FIA Volunteers Weekend. What are your thoughts about marking the exceptional commitment of marshals and official and do you have any words of encouragement for people thinking of getting involved in volunteering?
It's great that we're celebrating this. Here in Monaco, we're going to be doing a small ceremony and we'll organise a group photo for all the people who volunteer with the drivers. It's all over social media, on the ACM social platforms too. It will be a day to celebrate volunteers all over the world, on race day.
In terms of encouraging people to volunteer… In Monaco it's quite easy as we have too many applicants and we even have to sort through them to determine who is best qualified. We do have to have age criteria– because of the physical demands. But even still, we love to have curious people apply – people interested in the sport who want to get more involved.
Having said that, it's true that over the last seven or eight years we have noticed that people come for one year but then don't necessarily do a second or third. I think that can be explained by the way society is going… Professional lives and private lives change quickly and people are busy with other things. It's a shame, because it's great to see familiar faces return each year. It can feel like a family.
We also have such a great diversity of profiles across the social spectrum. We have CEOs – there's a guy who runs a very large company on a day-to-day basis – there's a judge, doctors, pharmacists, all sorts! They are all simply passionate about the sport. We are lucky. I guess since Monaco is a special circuit, so it's not a surprise that everyone wants to be involved.
But I would always encourage people to volunteer at any circuit, because it's a very special way of experiencing the races.