Feature
FIGHT NIGHT: How brutal Singapore GP pushes drivers to the limit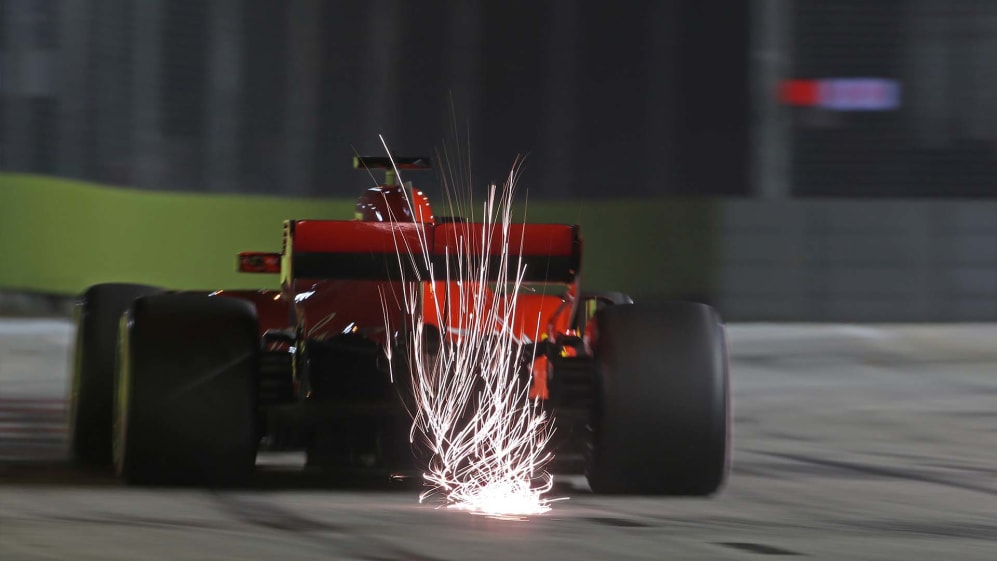 It's a quirk of the calendar that the drivers go from the shortest, fastest race of the year in Italy to, two weeks later, a Grand Prix at completely the other end of the spectrum: the ultra-demanding Singapore Grand Prix. Here's what the drivers have to cope with at the unique night race...
FIGHT THE HEAT
The heatwave that blasted Europe earlier in the summer felt a long way away in Italy, with ambient temperatures hovering between 17-19 degrees Celsius before climbing to 21 on race day afternoon. But F1's fraternity will likely be craving those conditions this weekend as those will ramp up by more than 10 degrees Celsius, as F1 lands in Asia. Couple that with humidity spiralling to over 80% and you have yourself one heck of a physical challenge.
Sure, it's a night race, so as the sun dips, so does the ambient temperature – but we're talking only by a degree or two. Inside the cockpit, it's still a staggering 60 degrees Celsius, which is only fractionally cooler than your average sauna. That's deeply unpleasant for the drivers, who are wrapped up in several layers of fireproof racewear and racing at the limit for nearly two hours.
Inside the cockpit it's a staggering 60 degrees Celsius, which is only fractionally cooler than your average sauna...
To ease the pain, you'll see drivers sporting cooling vests - which have pouches filled with ice packs - and cooling collars to help lower the temperature of their torsos ahead of sessions and aid recovery afterwards.
It won't have a massive impact on their core temperature, but it does make them feel more comfortable. The most effective remedy is an ice bath, usually a large plastic bucket found somewhere behind the team's hospitality unit, where drivers will sit for anywhere between five and 20 minutes, schedule dependent.
In the race, there's little they can do, other than cracking open the visor a little, to let in some air – which will more than likely be hot – or taking a sip from their drinks bottle, which will store liquid that is initially cold but within minutes resembles something more akin to a freshly-brewed cup of tea.
They need to drink it anyway, mind, as they will sweat off around 3kg of weight over the course of the race. Team members, who work in conditions of around 40 degrees Celsius in the garages, need to keep hydrated, too. Mercedes recommend a fluid intake of around three to five litres per day.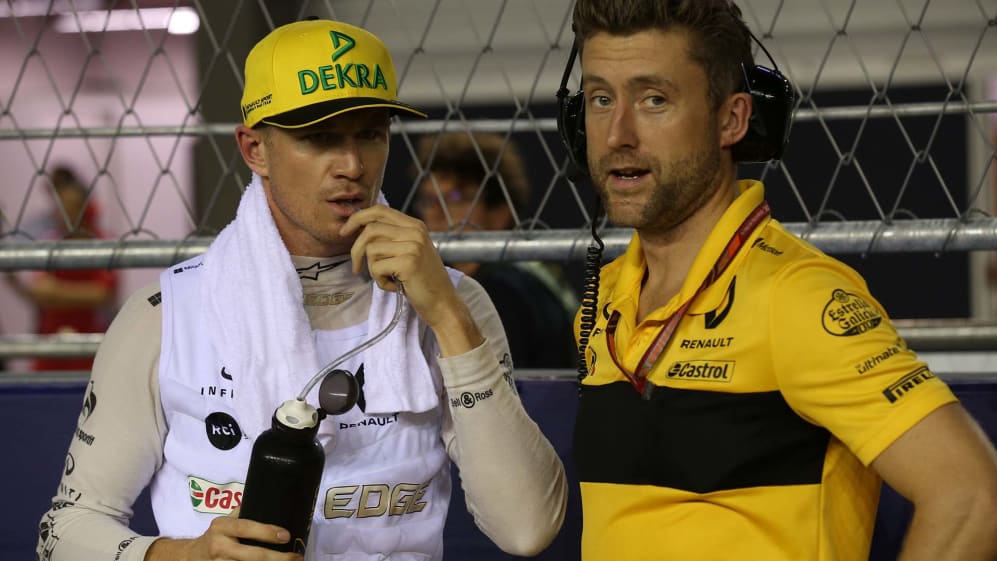 FIGHT THE BURN
At 5.063km, Singapore's Marina Bay Street Circuit is by no means the longest. But it is certainly the most demanding. It features 23 corners – 14 left handers, nine right handers if you were wondering – the most on the calendar, and they come thick and fast. The longest straight is a just 0.8km, offering the drivers very little respite - it's a full-on cardio work-out.
That'll be tough for one lap – but the drivers need to do 61 of them, as while street circuits usually have their race distance adjusted to compensate for the slower average speeds, Singapore doesn't follow suit. As a result, this is the race that comes closest to hitting Formula 1's two-hour maximum threshold limit.
Four of the 11 Singapore GPs so far have achieved that feat, with the 'quickest' race still taking one hour and 51 minutes. That compares to last week's Italian Grand Prix, which was done and dusted in just one hour and 15 minutes...
FIGHT THE FORCE
With 23 corners, the brake pedal will be getting a good pummeling in Singapore. On average, drivers use their brakes 15 times per lap – more than at any other circuit. That compares to just six times in Monza and 11 at circuits like Monaco, Baku, Budapest and Abu Dhabi. They also spend around 24 seconds per lap on the brakes, which accounts to 25% of the lap – 12% more than last time out at Monza.
Over the course of 61 laps, all this brake-usage accounts for a total load of almost 70 tonnes on the pedal (the weight of one of NASA's space shuttles), which roughly translates at more than 630kg (or 1,389lb) for every minute of the race. It's exhausting just typing that, let alone doing it - and that's just the legs. With so many corners, huge questions are also being asked of a driver's neck, arms and core.
Brake-usage accounts for a total load of almost 70 tonnes on the pedal over the race
With braking comes gear changes. There's around 62 of them over a single lap, the second highest number of gear changes on the calendar. But this figure varies wildly depending on where you are in the field. Lewis Hamilton, last year's winner, completed around 3,100 gear changes in 2018, compared to 4,140 for his team mate Valtteri Bottas, who spent much of his race in traffic on the way to fourth.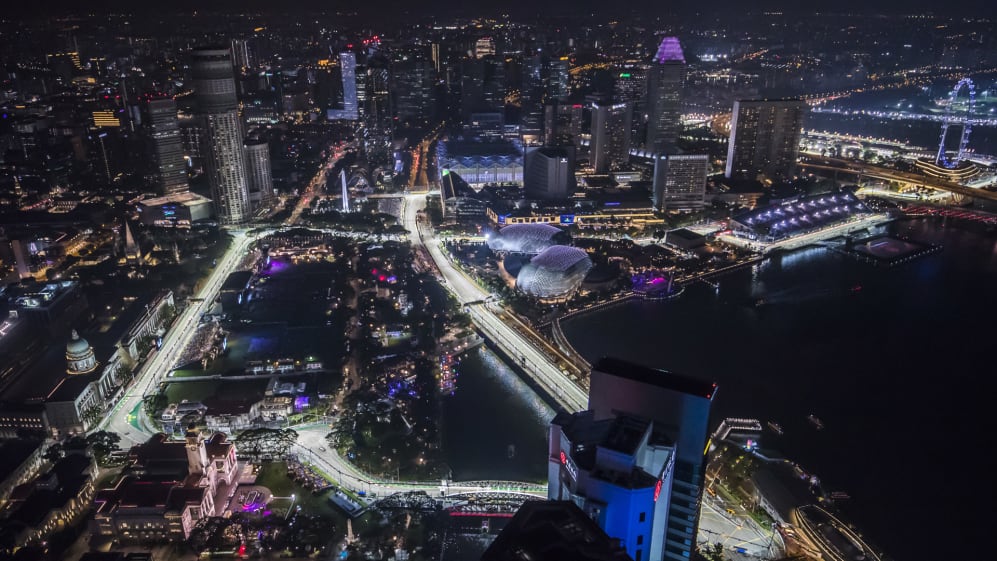 FIGHT THE CLOCK
One of the quirks of a night race is that the drivers and teams stick to European time, to align with the adjusted track schedule. The race, for example, begins around five hours later than at Monza, at 2010 local time.
This means over the course of the weekend the alarm will go off around midday, great news for drivers like Romain Grosjean who love a lie-in, with breakfast around 1-2pm. Lunch is served around 7pm, with dinner dependent on work load and session times, but likely around 1am onwards. Bed is about 5am, a couple of hours before sunrise.
Teams go to great lengths to ensure their personnel can adapt, from booking out whole floors in hotels to avoid disruption and requesting housekeeping staff to delay cleaning until the afternoon to insisting on black out curtains or blinds and moving hotel breakfast times to avoid an early alarm. Let's face it - the drivers need to rest up!