FIRST LOOK: Red Bull reveal striking fan-designed livery for Miami Grand Prix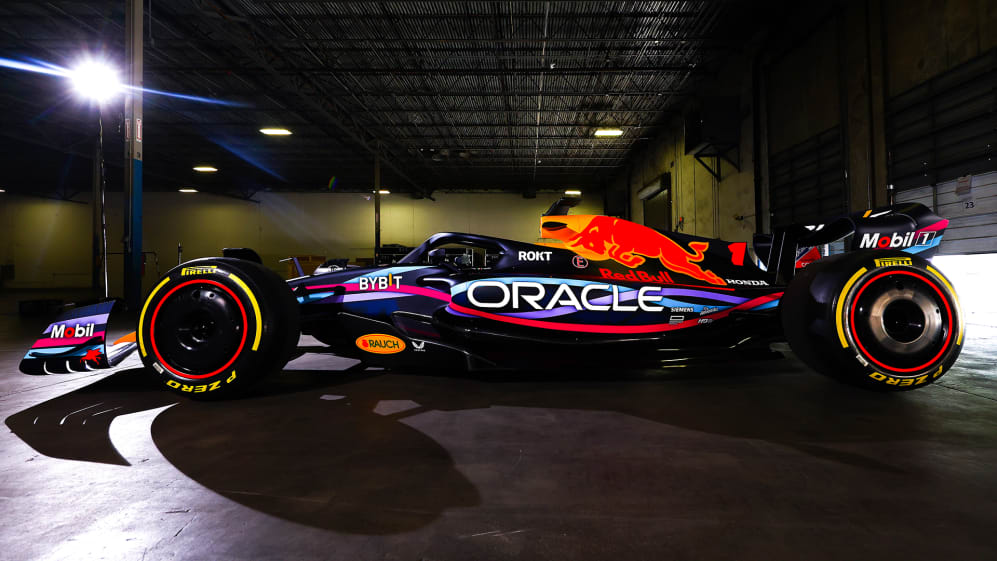 Red Bull have unveiled the first of three fan-designed liveries for the 2023 season as the team prepare to dazzle the crowds at the Miami International Autodrome this weekend.
The reigning world champions announced in February – during the launch of their RB19 – that they would run three fan-penned designs across the campaign, at Miami, Austin and Las Vegas.
IT'S RACE WEEK: 5 storylines we're excited about ahead of the Miami Grand Prix
And now, ahead of the second running of the Miami Grand Prix, the first of the special 'Make Your Mark' designs that will adorn Max Verstappen and Sergio Perez's cars has been revealed to the world.
After thousands of entries, graphic design student Martina Andriano was chosen as the winner, with her creation adding flashes of pink, blue and purple to Red Bull's traditional colour scheme.
The judging panel was headed up by Red Bull Team Principal Christian Horner and included representatives from the team's Title Partner Oracle, Principal Team Partner Bybit and Technology Partner Mobil 1.
"To give our fans the opportunity to influence our design at the three USA races is something you just don't see other teams doing," said Horner. "It's important to the team to be able to involve our fans in what we do and give them unique opportunities like this.
THIS WEEK IN F1: 10 quiz questions on all the latest F1 news between Baku and Miami
"I think Martina has done a great job and the livery looks incredible when you see it in real life. The design keeps the ethos of who we are but introduces Miami to the RB19 as well.
"We are definitely going to stand out when you see that car on track. I'm intrigued to see what people come up with for Austin and of course Las Vegas – that promises to be really exciting."
Oops! Error retrieving Twitter post
Designer and winner Andriano added: "The moment when I found out I'd won I was shocked and speechless, I couldn't believe it – it feels like a crazy dream.
"The first thing I thought about when I started my design was how the air flows through and over the car, then how it moves and how fast it is and that is where my inspiration came from. Then of course I wanted to represent Miami and Miami's race so all of that was the inspiration.
READ MORE: Launch date and new features confirmed for F1 23 game – plus watch the official trailer here
"Since I started studying my degree in graphic design I wanted to design something for a car, like a livery, a suit or a helmet, and even before that I knew that one day I wanted to work in Formula 1, so getting this opportunity from Oracle Red Bull Racing is something huge.
"This is going to be my first ever race, the car is going to have my design and I'm going to be in the garage. It's going to be an amazing week."