Podcast
FORMULA WHY: How do F1 simulators work and why do teams need them?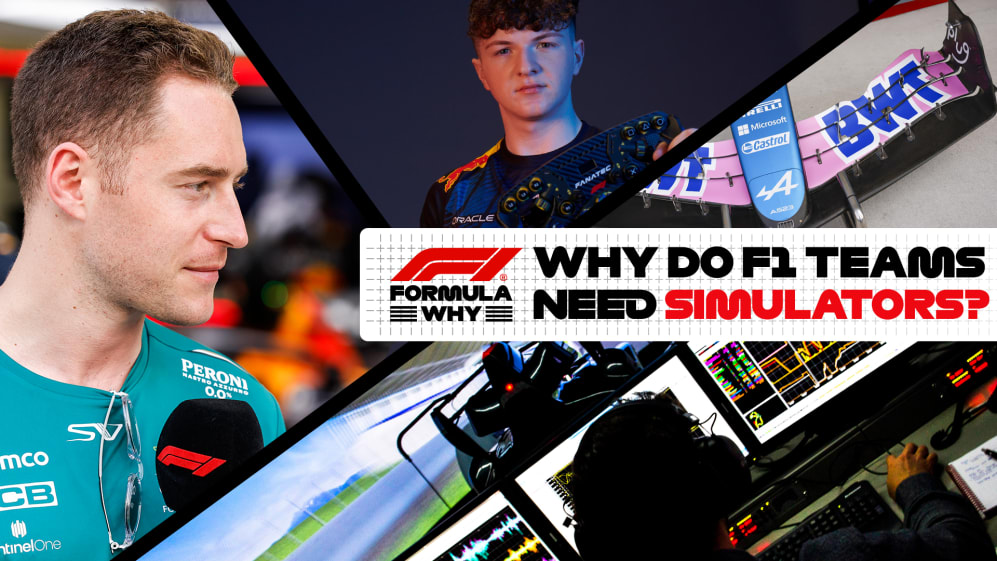 Formula 1 drivers can often be heard talking about simulator work during Grand Prix weekends. But why have these tools become such an important part of teams' preparations? The Formula Why crew are here with some special guests to explain all…
The new Formula Why podcast, hosted by Katie Osborne and Christian Hewgill, will see the pair answering 'why?' questions each week, with the aim of giving fans more knowledge about how F1 works.
READ MORE: 'If you can't see it, you can't believe it' – Susie Wolff on new global initiative F1 Academy Discover Your Drive
In this week's episode, they are joined by four simulator experts: namely Aston Martin reserve driver Stoffel Vandoorne, Alpine Technical Director Matt Harman, motorsport scientist Dr Diandra Leslie-Pelecky and Red Bull Racing Esports star Sebastian Job.
Former McLaren F1 racer Vandoorne takes a break from the Aston Martin sim to tell the podcast why they are so useful for drivers, as well as how the real and virtual worlds are correlated, while Harman runs through the process of testing new parts and car set-ups.
Alongside this, Dr Leslie-Pelecky breaks down how simulators work and what makes them so realistic, and sim racer Job tells his story of going from winning on video games to working in the real Red Bull F1 simulator, where he's helped to prepare race weekend set-ups for Sergio Perez and Max Verstappen.
Formula Why joins in-depth interview podcast Beyond The Grid and race analysis show F1 Nation in the official F1 podcast line-up, and you can listen to the latest episode in the player above or click here to listen.
ANALYSIS: Why Andreas Seidl chose to reunite with James Key as Sauber prepare for Audi transition
If you want to get involved in Formula Why, you can suggest a question for the podcast to answer by recording a voice note and emailing it to Why@F1.com.