Podcast
FORMULA WHY: How important is the relationship between a driver and their race engineer?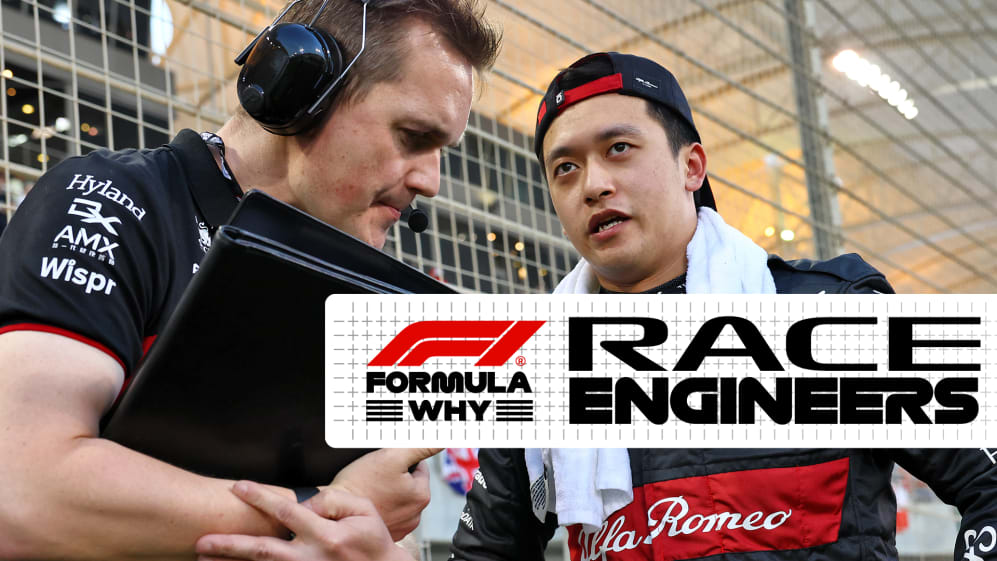 On this week's episode of the Formula Why podcast, the crew are joined by a couple of special guests, giving you an insight into the relationship between drivers and their race engineers, ahead of the Austrian Grand Prix.
The new Formula Why podcast, hosted by Katie Osborne and Christian Hewgill, will see the pair answering 'why?' questions each week, with the aim of giving fans more knowledge about how F1 works.
BEYOND THE GRID: James Vowles on his time as Williams Team Principal, Alex Albon, Lewis Hamilton and much more
And on this week's episode, the duo are joined by another dynamic pair, as Alfa Romeo's Zhou Guanyu and his race engineer Jorn Becker divulge all about what makes their relationship work so well.
Becker explains how he sees his job at Alfa Romeo, describing his role as a "technical manager". He also reveals what the preparation work is like between the two as they look to get the set-up right on the car ahead of the weekend.
Zhou also opens up about how he sees the role, describing it as the "most important" job for the drivers. He goes on to reveal the exact information he is looking to hear from Becker at different points in the weekend, and why he would choose to be a driver over a race engineer all over again.
Becker also discloses what he believes to be the secret to having a good relationship between driver and race engineer. He explains why trust is so key between the two, as it allows them to speak freely to each other.
Lastly, Zhou reveals what it is like to speak so often in a second language, and how and why they seek to make communication as short as possible during the race. He also reveals why he doesn't get irritated by Becker keeping the same tone of voice during the race, and why it is actually impressive.
F1 NATION: Red Bull at home, rivals on the move and building the 'ultimate champion' – it's our Austrian GP preview
Becker later explains why remaining calm is a key part of the role, and how he is able to do so despite all the different departments communicating to him all at once.
Formula Why joins in-depth interview podcast Beyond The Grid and race analysis show F1 Nation in the official F1 podcast line-up, and you can listen to the latest episode in the player above or click here to listen.
If you want to get involved in Formula Why, you can suggest a question for the podcast to answer by recording a voice note and emailing it to Why@F1.com.