Podcast
BEYOND THE GRID: James Vowles on his time as Williams Team Principal, Alex Albon, Lewis Hamilton and much more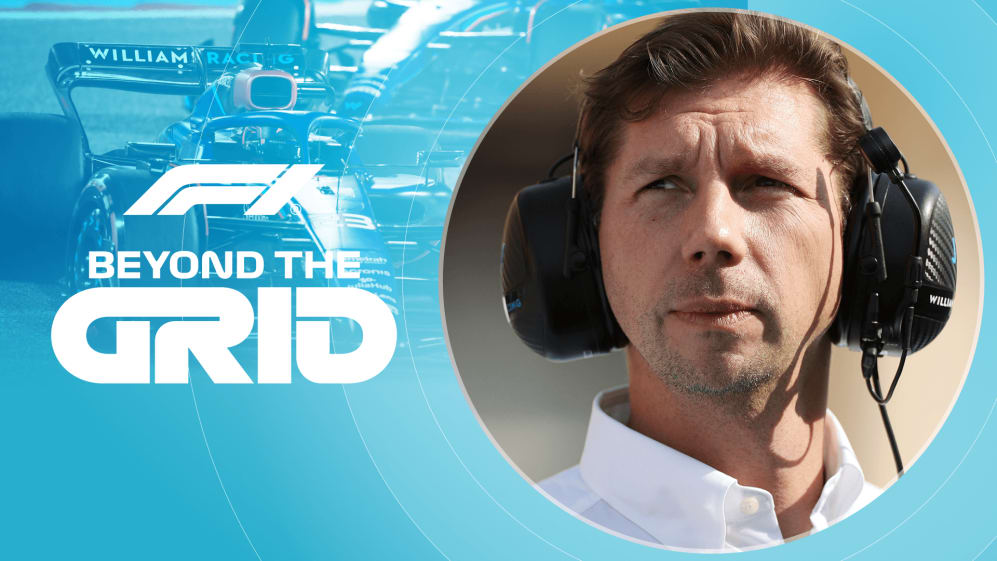 On this week's episode of F1's Beyond the Grid podcast, host Tom Clarkson is joined by James Vowles. The Williams Team Principal sits down to discuss all, from his time at the Grove outfit so far, Alex Albon's performances, what impressed him the most about Lewis Hamilton and plenty more.
Vowles joined Williams at the start of this season after being part of eight world championships in a row at Mercedes as Strategy Chief. He discusses what he learned from his time at the Silver Arrows, especially from Toto Wolff and the late, great Niki Lauda.
IT'S RACE WEEK: 5 storylines we're excited about ahead of the 2023 Austrian Grand Prix
He also reflects on Alex Albon's "drive of a champion" on his way to finishing seventh in Montreal and explains what makes Albon so good as a driver. The team boss expands on why he believes he is underrated, and his hopes for the Thai racer being part of Williams' long-term future.
Vowles also explains why Albon is the "perfect benchmark" for rookie Logan Sargeant as he reflects on the American's start to life in Formula 1. And Vowles explains why Sargeant has found the first few races so tricky having not scored a point just yet.
Vowles goes on to expand on why he chose to join Williams from Mercedes, and how he would reflect on his first 100 days in charge. He also reveals why he doesn't see the legacy of the Grove outfit as pressure, but rather as a chance to make the name above the door proud.
Vowles also opens up about the moment he called the Wolff family about possibly taking the role at Williams and explains what sets Toto Wolff apart as a leader, and how his mindset helped Mercedes become a "powerhouse" in Formula 1.
Later on Vowles reflects on how Lewis Hamilton impressed him year on year as he continued to improve each season, and how he learned "a tremendous amount" from the seven-time world champion.
FORMULA WHY: Undercut strategies, red lights, jobs in F1 and much more – your 'why' questions answered
Lastly, Vowles also gives an update on his search for a new Williams Technical Director, and how he plans to change the structure of the team before the end of the year.
He describes what success looks like for him in the short to medium term future, and why leading Williams back to the top would be his greatest achievement.
To hear Vowles' Beyond The Grid interview, hit go on the player above or head here to catch it on your preferred platform.