Report
FP1 - Hamilton leads Mercedes 1-2 in opening session of 2017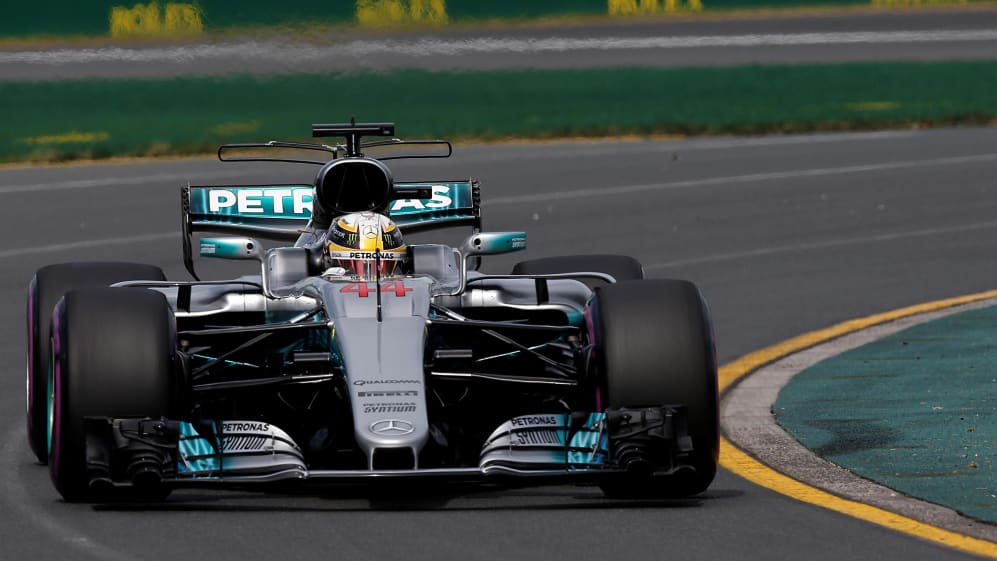 There was a familiar look to the top of the timesheet as the 2017 F1 season burst into life in Australia on Friday afternoon, with Lewis Hamilton leading new team mate Valtteri Bottas in a Mercedes one-two.
However, the world champions were the only team to sample Pirelli's ultrasoft tyres, with the rest of the field choosing to stick to softs and supersofts for the first 90 minutes of running.
With the purple-marked tyres bolted to his Silver Arrow, Hamilton lapped in 1m 24.220s, half a second quicker than his team mate, and - in a perfect illustration of the increased performance of the new generation of F1 machinery - already over a second faster than he went in final practice last year.
Daniel Ricciardo and Max Verstappen finished third and fourth for Red Bull, 0.6 and 1s back respectively, with their quickest laps coming on supersofts. Ferrari too stuck to the red-marked rubber and were rewarded with fifth and sixth for Kimi Raikkonen and Sebastian Vettel.
Four other teams rounded out the top ten, with Williams' Felipe Massa best of the rest, ahead of Haas's Romain Grosjean, Renault's Nico Hulkenberg and Force India's Sergio Perez.
Pleasant conditions had greeted the drivers as Grosjean's VF-17 led the cars out at the start of FP1, with a track temperature of 27 degrees C and an ambient of 21.
As ever, however, it was a game of hurry up and wait, as drivers did installation laps but nobody went after times to begin with as all the necessary systems checks were conducted.
With just over 20 minutes gone the grid's only true rookie, Lance Stroll, crossed the start/finish line and returned 1m 33.380s later to record the first officially timed lap of the 2017 F1 racing season for Williams.
That was soon obliterated by Hamilton with 1m 26.478s, then 1m 25.535s, on supersofts. For the record, this time last year he had been fastest in a mainly wet FP1 session with 1m 29.725s.
Bottas then went quicker still on the same rubber with 1m 25.142s as the track temperature rose to 32 degrees. Daniel Ricciardo moved up to second on the supersofts at the hour mark, with 1m 25.515s.
Ferrari, meanwhile, ran the softs, with Kimi Raikkonen fourth best on 1m 26.500s. and then 1m 25.994s, and Vettel languishing in the garage.
Force India initially looked strong with Sergio Perez on 1m 26.415s, as did Williams with Felipe Massa on 1m 26.853s and Stroll on 1m 27.611s for 11th.
Max Verstappen, however, was struggling with gear synchronisation on his Red Bull, Esteban Ocon had brake dramas on his Force India, and Jolyon Palmer only did six laps in his Renault.
Underlying how far behind they are on mileage after all their testing dramas, McLaren ran Stoffel Vandoorne on supersofts and with aero rake devices, going over ground others had long ago covered. As Fernando Alonso was an initial 12th on 1m 27.709s on supersofts, the Belgian stayed in the pits with further mechanical issues.
With 40 minutes remaining Verstappen got going properly but it was Ricciardo who set what would be the fastest supersoft time, with 1m 24.886s. Bottas then undercut that with 1m 24.803s on the ultrasofts, spoiling his final sector after going fastest in the first two.
Hamilton made no errors, however, resetting all three marks to go fastest with 1m 24.220s. Like all of the new cars, the Mercedes looked spectacular in places, but the Briton had things well under control as he beat his partner comfortably by 0.583s.
So, as expected, Mercedes, Red Bull and Ferrari filled the top six places, but it's early days yet, and a truer picture of outright pace should emerge in this afternoon's FP2 session.