FP1 - Hamilton leads Vettel in damp Austin opener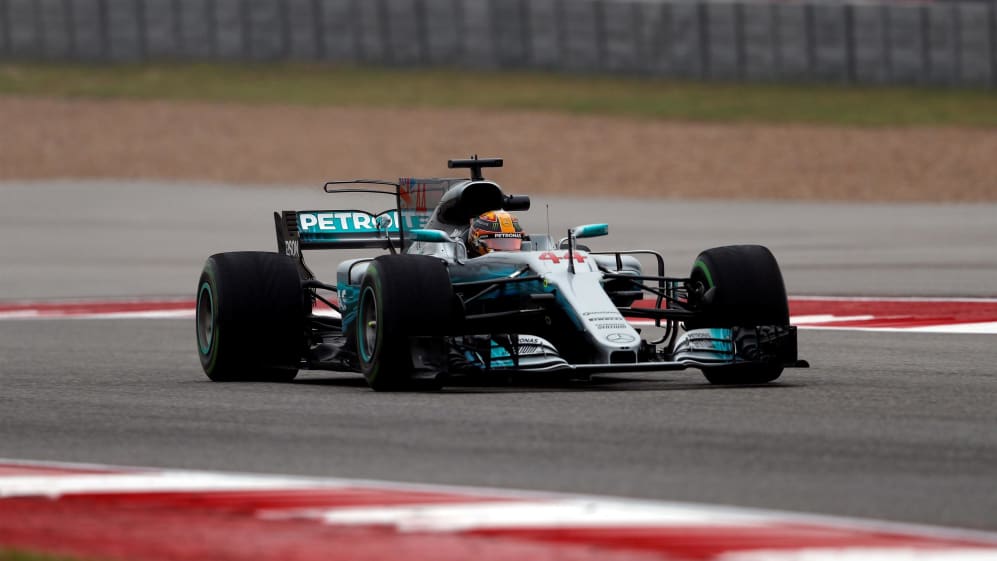 Lewis Hamilton clocked the fastest time around the Circuit of The Americas on Friday morning, as overcast conditions greeted the drivers for opening practice in the United States. Hamilton's best lap put him half a second clear of Ferrari title rival Sebastian Vettel, with Mercedes team mate Valtteri Bottas taking third.
Max Verstappen was the leading Red Bull in fourth, ahead of McLaren's Stoffel Vandoorne and Williams' Felipe Massa. Ferrari's Kimi Raikkonen was seventh fastest, followed by the Force Indias of Esteban Ocon and Sergio Perez. Carlos Sainz, in his first outing for Renault, completed the top ten.
The 90-minute session began with drizzle, and saw world championship points leader Hamilton heading the pace on Pirelli's intermediate tyres with a lap of 1m 50.146s, from Verstappen on 1m 50.314s, his team mate Daniel Ricciardo on 1m 50.494s and Bottas on 1m 50.529s.
As conditions improved after the first half hour, Verstappen moved ahead with 1m 47.927s as Hamilton sat in the Mercedes garage conversing with visiting brother Nic.
Soon after that, Vettel expressed the opinion that it was almost too dry for intermediates, but it wasn't until the final 35 minutes that Ricciardo went fastest with 1m 40.297s on supersofts, then improved that to 1m 39.366s as Toro Rosso rookie Brendon Hartley momentarily moved to second with 1m 42.055s on the now-pink ultrasofts.
As times began to plunge and found their new level, it was Hamilton who again led the way with 1m 36.335s to head Vettel by 0.644s as the Ferrari driver lapped in 1m 36.928s to narrowly displace Bottas on 1m 36.979s.
Verstappen remained close with 1m 37.339s, while Vandoorne was McLaren's leading player as Fernando Alonso failed to record a time due to technical issues. The Belgian jumped up to fifth late in the session with 1m 37.352s, but will get a grid drop for a new engine.
Another star was Massa, who was close to the top of the timesheets on intermediates and on supersofts, on his way to a sixth fastest 1m 37.570s for Williams. He headed his old Ferrari team mate Raikkonen, who posted 1m 37.598s. Ocon narrowly headed Force India team mate Perez, with 1m 37.808s to 1m 37.861s, both running the soft tyres.
Sainz made a successful start to his Renault career by taking 10th place with a lap of 1m 38.093s, as team mate Nico Hulkenberg, who faces grid penalties for new power unit elements, managed 1m 38.904s in the other R.S. 17.
Hartley took 14th place with 1m 39.267s on his first proper F1 outing, but was troubled throughout by his helmet lifting. He too will get heavy grid penalties for power unit changes.
Despite the mixed weather, it was a relatively quiet session, with only Toro Rosso tester Sean Gelael and Perez spinning when conditions were at their worst.
WATCH: FP1 summary