FP1 - Vettel edges Hamilton, Verstappen in Abu Dhabi opener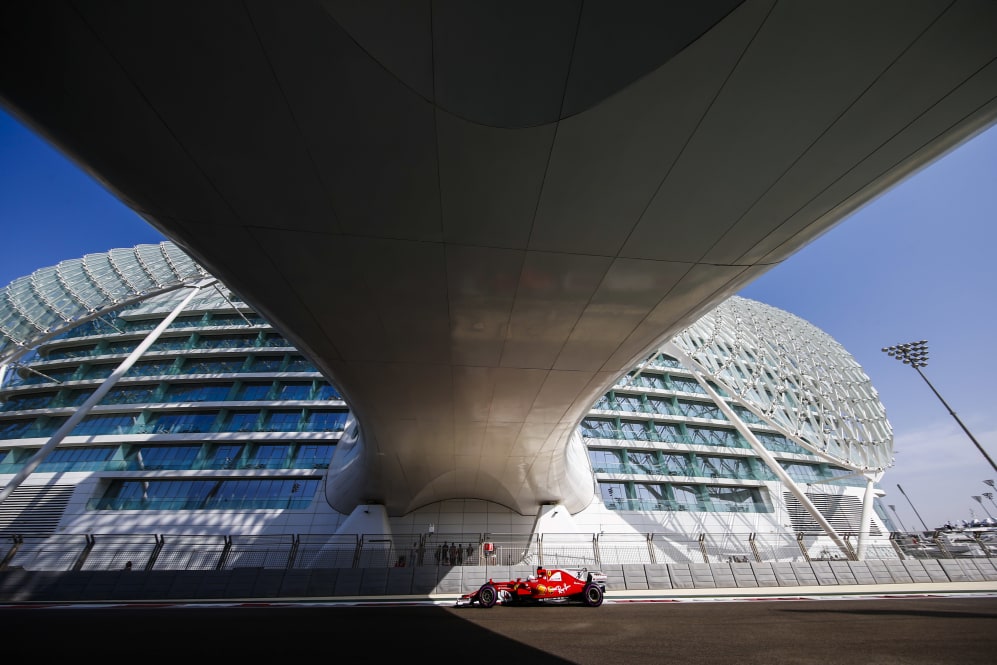 If first practice was anything to go by, this Sunday's 2017 Formula 1 Etihad Airways Abu Dhabi Grand Prix is going to be another closely-contested affair. Ferrari's Sebastian Vettel topped the session, but Mercedes' Lewis Hamilton was only a tenth behind, and Red Bull's Max Verstappen just another tenth adrift.
There was a slightly larger gap back to Kimi Raikkonen's Ferrari, the Finn edging the Mercedes of compatriot Valtteri Bottas for fourth, while sixth place went to Force India's Sergio Perez, followed by McLaren's Fernando Alonso and Stoffel Vandoorne. Williams' Felipe Massa and Red Bull's Daniel Ricciardo completed the top ten.
New world champion Hamilton had dominated the pace for the first hour with 1m 39.120s on the ultrasoft Pirelli tyres, comfortably ahead of team mate Bottas and early pacesetter Raikkonen.
Then Red Bull joined in as Verstappen posted 1m 39.154s on the same rubber with 32 minutes remaining. But it was Vettel who had the final say with 1m 30.006s with 18 minutes left on the clock.
For a long time it was a session without incident, but as the initial track (43 Celsius) and ambient (27) temperatures cooled a little, the surface got more slippery and there were spins for Nico Hulkenberg's Renault in Turn 14, tester Antonio Giovinazzi's Hass in 17, Romain Grosjean's sister car in 19 wherein he backed into the wall, and an off in Turn 1 for a struggling Lance Stroll's Williams.
The deteriorating grip also militated against further improvement. Hamilton looked very close to Vettel in the first sector, but the rest of the lap slid away, literally.
Raikkonen was the last front-runner to improve, taking fourth with 1m 39.518s, ahead of Bottas on 1m 39.714s.
Perez was in strong form to take sixth for Force India with 1m 40.293s, while sitting out the first 65 minutes didn't appear to hurt Alonso too much as he leapt up to seventh on 1m 40.522s ahead of McLaren partner Vandoorne on 1m 40.569s.
Heading for his final Grand Prix, Massa wheeled his Williams round in ninth place with 1m 40.723s, leaving a struggling Ricciardo down in 10th in the second Red Bull on 1m 40.773s.
GP3 champion George Russell was a respectable 11th in Esteban Ocon's Force India, while in the battle for sixth place in the constructors' world championship Haas were fastest with Grosjean's 12th quickest 1m 41.306s, with Toro Rosso next on 1m 41. 646s courtesy of Pierre Gasly in 14th. Renault's quicker runner was Carlos Sainz in 15th on 1m 41.748s, but the Spaniard only ran on supersoft tyres where the French team's rivals used the ultras.
It's worth noting that Gasly's team mate Brendon Hartley, who sat out much of the session, already has a 10-place grid penalty for having yet another MGU-H fitted to his Renault power unit.
WATCH: FP1 summary from Abu Dhabi