FP2 - Ferrari trail Mercedes and Red Bull in Texas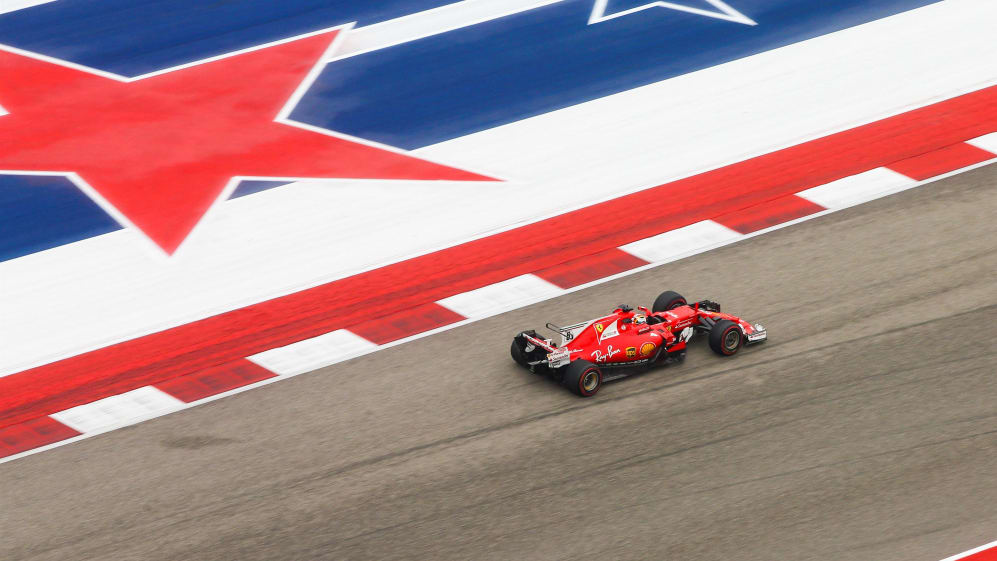 Ferrari's Sebastian Vettel completed just 11 laps in Friday afternoon's second practice in Austin, as Mercedes' Lewis Hamilton continued to dominate at the Circuit of The Americas. Vettel finished third fastest, half a second off his title rival and a tenth down on Red Bull's Max Verstappen.
Mercedes, Ferrari and Red Bull filled the next three places in that order too, with Valtteri Bottas heading Daniel Ricciardo and Kimi Raikkonen. The remaining top-ten places went to McLaren's Fernando Alonso, Williams' Felipe Massa, and Force India team mates Sergio Perez and Esteban Ocon.
With the track having dried after this morning's damp session, it was Bottas who initially set the pace, taking over from fast-starters Alonso and Ocon, but eventually Hamilton was comfortably faster on 1m 34.668s, as the Finn could not better 1m 35.279s, which left him fourth.
Verstappen popped in his 1m 35.065s lap shortly before Vettel posted 1m 35.192s. Of the leading four, the German had the toughest session. He was late getting out, and then had a huge slide off the road at Turn 19 when running on soft rubber. It was some time before the Ferrari emerged again, but as expected they clearly are not far off the pace here.
Ricciardo was fifth in the second Red Bull on 1m 35.514s, while Alonso stayed in play after his problems this morning and took a respectable seventh on 1m 36.304s. Massa was still up the sharp end for Williams, lapping his FW40 in 1m 36.460s to head the Force Indias, with Perez this time heading Ocon with 1m 36.481s to 1m 36.490s.
Just outside the top 10, Carlos Sainz narrowly headed Renault team mate Nico Hulkenberg, with 1m 36.529s to 1m 36.534s; the German spent some time in the garage with technical problems.
Further back, debutant Brendon Hartley still had some problems with aerodynamic lift on his helmet, and lapped in a 17th fastest 1m 37.987s compared to Toro Rosso team mate Daniil Kvyat's 1m 36.761s, which left the Russian 13th.
Besides Vettel, both Haas drivers had early spins.
WATCH: FP2 summary