Report
FP2: Raikkonen shades Hamilton at Marina Bay as Vettel clips wall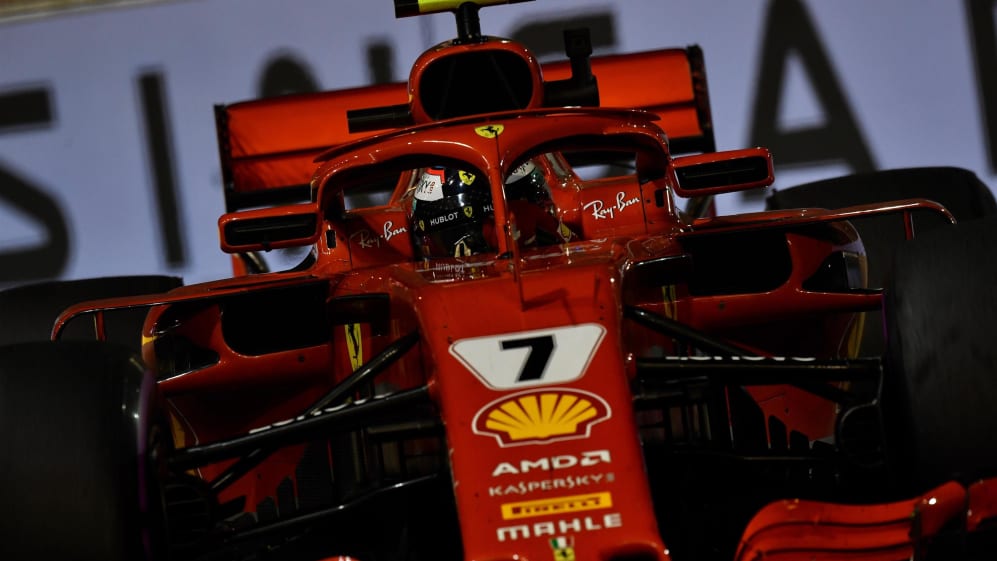 His career at Ferrari might be drawing to an end, but Kimi Raikkonen gave a reminder of the speed he still possesses, heading Lewis Hamilton's Mercedes around the flood-lit streets of Singapore in Free Practice 2.
Running in the proper night-time conditions that the drivers will face both in Saturday's qualifying and Sunday's race, Raikkonen posted a time of 1m 38.699s on the pink hypersofts – the very softest tyre in Pirelli's range, making its third appearance of the year this weekend – but Hamilton's quickest lap was just 0.011s shy of the Finn's time. That will encourage Mercedes, whose longer wheelbase car is, on paper, less agile than their Ferrari and Mercedes rivals around therefore less suited to the sinuous street circuit.
Behind Raikkonen and Hamilton came the two Red Bulls of Max Verstappen and Daniel Ricciardo in third and fourth. The Milton Keynes team had claimed a one-two in the late afternoon's Free Practice 1 session. But as both Ferrari and Mercedes turned up their engines for the qualifying simulation runs, Verstappen found himself over half a second adrift of the leading pace, with Ricciardo a further tenth behind. The team will be hoping that FP2 was a blip at what they believe should be a strong track for the downforce-focussed RB14.
Renault once again headed the midfield in Singapore, with Carlos Sainz going P6 on a track where he recorded his best-ever Formula 1 finish of fourth last year with Toro Rosso. A comfortable position it was not, however, with Romain Grosjean's Haas and Fernando Alonso's McLaren both within two-tenths of him – a particularly encouraging result for McLaren after their recent struggles.
There was an unlikely interloper in the midfield battle in FP2, however, in the form of Ferrari's Sebastian Vettel in ninth place. The German, hunting a fifth win in Singapore this weekend, was coming to the end of his first flying qualifying simulation lap when he clouted the wall at Turn 21.
Although it had initially looked to be just a little dink, it soon transpired that the contact had caused a much more serious problem, with pink fluid seen leaking from Vettel's SF71H onto the Ferrari garage floor. With 30 minutes of the session left, Vettel was out of the car, out of his overalls, and his running was done for the day. He'll be hoping for a better Saturday around one of his favourite hunting grounds on the F1 calendar…
Over at Sauber, and after his team mate Charles Leclerc had ripped his front-right corner off his car in Free Practice 1, Marcus Ericsson was also exploring the boundaries of the track in his C37, spinning out of Turn 5 and narrowly avoiding getting collected by Alonso's McLaren for good measure. Ericsson would finish up the session P12, pipping the fourteenth-placed Leclerc by over two-tenths.
Meanwhile at the rear end of the field, Toro Rosso and Williams continued to struggle for pace, Brendon Hartley's leading Toro Rosso in P17 some four-tenths off their nearest rival, McLaren's Stoffel Vandoorne, while Williams were having a torrid time, with both drivers lapping over 3.4s off the front-running pace. Then, just to add a bit of salt into the wound, Lance Stroll's brakes caught on fire, curtailing the Canadian's running.
All to play for then after an intriguing opening day at Marina Bay.